12 Sep 2017
Making a Haleakala sunrise visit happen - last minute

The sunrise beginning to become visible on the left, Venus barely visible in the middle, and the full moon preparing to set on the right.
We didn't do much planning before departing for Maui to start our trip since we're just staying with my parents here, but after reading some others' accounts of making it up to Haleakala's summit for sunrise we decided we should make an effort to fit it in. Unfortunately most reservations sell out weeks ahead of time and tour companies are both very expensive and pretty inflexible.
We ended up having an amazing time after doing some research about how to get last minute reservations direct from the National Park Service and about the different places on top of Haleakala where you can view the sun rise.
Reservations
Starting in early 2017, NPS switched to a reservation-only system for viewing sunrises at Haleakala because crowds were starting to get out of control. They allow about 200 cars a morning to enter the park, with most of those reservations getting snapped up soon after becoming available a couple months before the sunrise date.
However, 40 reservations for each day are held back and put online for reservation ($1.50 per car) two days beforehand. During our stay, these 40 tickets became available at exactly 4:00pm Hawaii Time each day, and sold out within 10-15 minutes.
We successfully set an alarm for 3:59pm two days before we wanted to make the early morning trip up Haleakala, had our reservation by 4:05pm, and watched the number of reservations still available dwindle down to zero by 4:10pm.
Departure Timing
Many tour companies require you to be available for pick-up at 2am so they have time to collect everyone before heading up the twisting mountain road toward the National Park entrance. If you're driving yourself you can start out later than that-but if you're too late in arriving you'll miss out in a parking spot at one of the top two viewing areas.
We left Kihei at 3:20am and felt like we timed it perfectly to end up in the second highest parking lot by 5am, with enough time before sunrise to figure out where we wanted to hunker down to watch.
The highest parking lot only holds about 25 cars, so you have to be very early to get a spot up there.
Viewing Location
If you're lucky enough to end up in the Summit parking lot, enjoy the enclosed viewing area and the windbreak it provides. I'll be jealous!
Most visitors, including all tour buses, end up in the 2nd-highest parking lot, which also holds the Visitor Center (and bathrooms). When we parked here it was about 40 degrees, felt like 40 mph winds, and the railing with the sunrise view was already 3-deep with tourists. At this point we honestly felt like getting up at 3am was not going to be worth it, and we'd spend the next hour miserable.
Pā Ka'oao Trail
Luckily, I had taken a close look at the NPS park map beforehand and read a bit about the Pā Ka'oao Trail, which is a quarter mile path up to the top of one of Haleakala's cinder cones. The top has a better view than the jam-packed railing below, plus rock walls on two-and-a-half sides to help block the whistling wind. Best of all, when we were there we were joined by a grand total of 8 others, for a much more serene experience.
The trail is well maintained and the steeper parts have high stairs cut out of the rock. There is zero lighting (which helps keep the masses away), so be sure to bring a flashlight.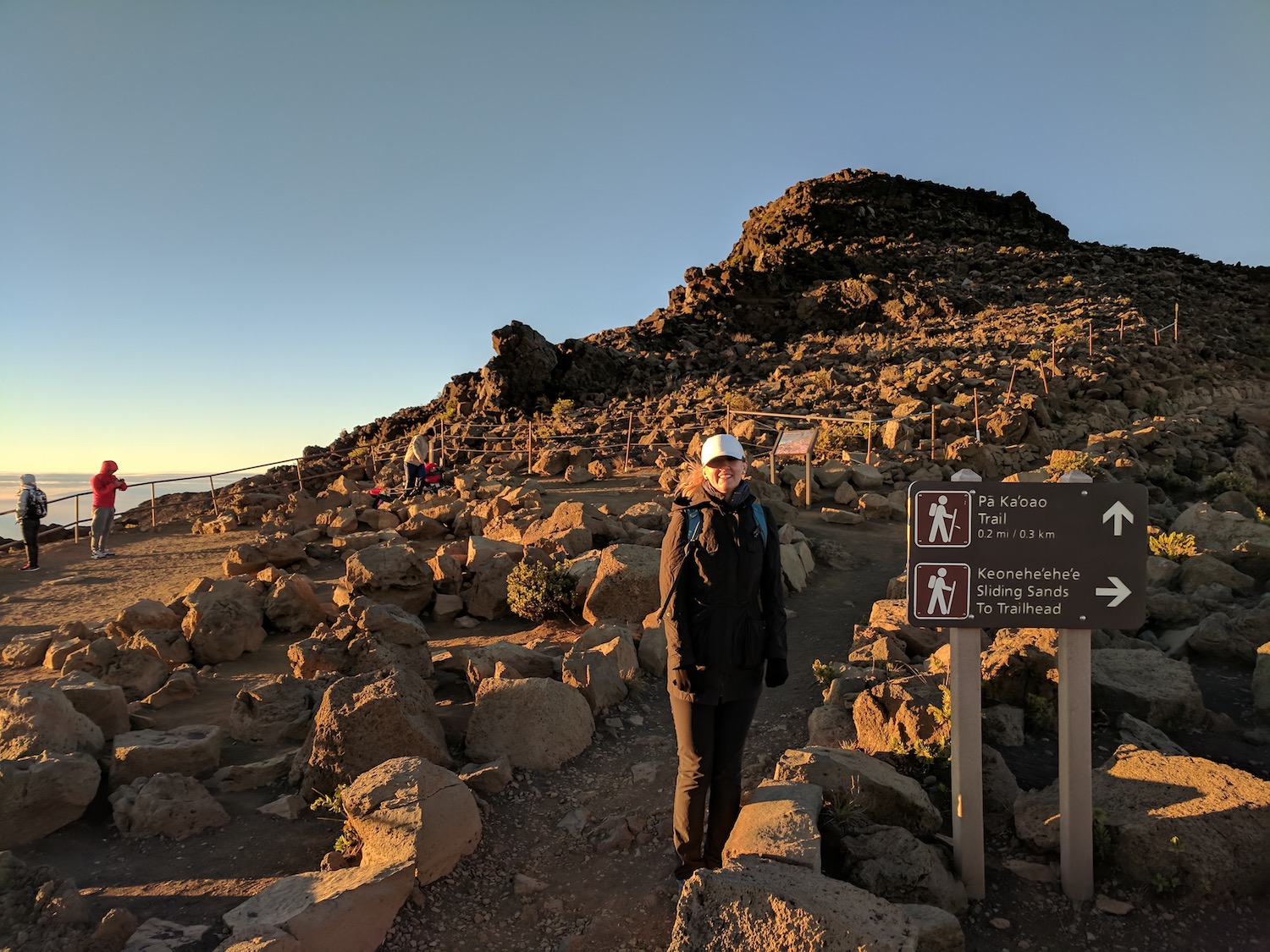 The primary viewing railing that was jam-packed with watchers is on the far left, follow the Pā Ka'oao Trail straight up and slightly to the right behind Amy for a much better experience. It's much less noticeable of a pathway when it's pitch black!
After the Sunrise
The whole Summit and Visitor Center area pretty much cleared out by about 20 minutes after sunrise, and as soon as Summit cars began to depart we were able to drive up to the top parking lot and check out a better view of West Maui. It's well worth the extra time to go a bit higher up and take in the full panorama - including a view of the Big Island on clear days.
We didn't come prepared for any real hikes, but some other visitors immediately set off on hours-long walk through the crater, which looked like a great time.
---