17 Feb 2018
Krabi to Koh Pu: Finding Quiet Among the Thai Islands
After reuniting following Amy's meditation retreat and Nate's adventures on the islands off the east coast, we crossed Thailand to begin our island hopping together off the west coast. We knew we were going to avoid the hugely popular Koh Phi Phi, where tourists flock to the beach that plays a starring role in a Leonardo DiCaprio movie neither of us have seen and instead look for places where it would be at least a bit quieter.
Krabi
First, we had to make our way from the east coast to the west. To do so, we took a bus from Surat Thani, where we reconnected, to Krabi. We opted to take a government-run bus from the bus station in Surat Thani Town, ignoring all the tourist mini-buses that offer to get you to Krabi because they charge more and often just drive you out of town and have you get on the same government run bus you could have taken from the start. Our bus ride was easy and uneventful, though we unfortunately showed up to the bus station just minutes after one bus left and so had to wait an hour and 45 minutes for the next bus to leave (they used to leave hourly on the hour but now leave at 10:40am and 12:30pm…).
We were only going to spent one night in Krabi before getting on a ferry to Koh Pu but that one night happened to align with one of Amy's friends from middle/high school being in Krabi as well. So, we were able to have dinner at the bustling Weekend Market and catch up over whole grilled fish, palm sugar puffs, Pad Thai, banana pancakes, iced chocolate, and impressively cheap beer. Plus, we were entertained by a variety show going on in the middle of the market where they had everything from break dancers to heart-felt though tuneless covers of American pop songs to fire dancers.
We stayed at Baan Andaman Bead and Breakfast because it was very close to where we would need to catch the ferry the next day. The room was spacious, clean, and had a little balcony, and breakfast was satisfactory as well. If we weren't heading to Koh Pu, we would have happily stayed longer.
Getting to Koh Pu
While a number of ferries stop at Koh Jum, the larger southern half of the island that Koh Pu is part of, there is only one boat that drops off near the northern coast of Koh Pu. This speedboat ferry doesn't have a website or consistent name, but any guesthouse in Krabi or Koh Lanta can easily book a ticket on it for around 400 baht (~12 USD). After a bit of chaos at the pier we were settled on the boat - which holds nearly 200 people when full - and on our way to Koh Pu. We were a bit surprised by the circuitous route it took, but apparently the river near Krabi is very shallow in many parts, requiring it. After close to 90 minutes the ferry stopped off the coast of Koh Pu and half a dozen longtail boats approached from the shoreline, quickly tied up, and then we started the most chaotic process of the day: getting ourselves and our bags transferred into the correct longtail boat.
We managed it, didn't drop our bags in the ocean, and about 10 minutes later were deposited on the beach near our bungalow. Since it was low tide, we had a bit of a walk, but luckily one of the hotel employees met us with a motorbike and took our large backpacks up to the reception for us. By the time we made it, the ferry we had been on was already out of sight and we felt like we had the beach nearly to ourselves.
Koh Pu
We stayed in the Bonhomie Beach Cottages near the north end of Luboa Beach. The bungalows are small but have nice little decks and an open-air bathroom area with shower. We paid extra for a Beach Front cottage, not least of all because it had hot water, which was definitely worth the extra expense. The one quirk of the place is that every time you finished using the bathroom you needed to remove everything because there was a troop of monkeys living at the end of the beach that were known to steal things out of them.
There aren't any standalone restaurants or really anything other than hotels accessible and so we ate all our meals at Bonhomie or at LuBoa Hotel just down the beach. The food is definitely more expensive than we were used to paying elsewhere in Thailand but not unusual for islands. It was pretty good, especially the Penang Curry and fried bananas with honey at Bonhomie.
The tide had a larger effect on the beach than maybe anywhere else we've ever been. At high tide, we could be in water up to our shoulders and swim around happily and in the same place at low tide the water wouldn't even reach our ankles. Watching the countless rocks be hidden and unhidden as the tide came and went gave a nice rhythm to the day. When the tide was high, the water was clear, warm, and lovely to swim around in. We especially enjoyed the two kayaks Bonhomie had for guests to use, taking them out in the morning when the tide was high and the water was calm.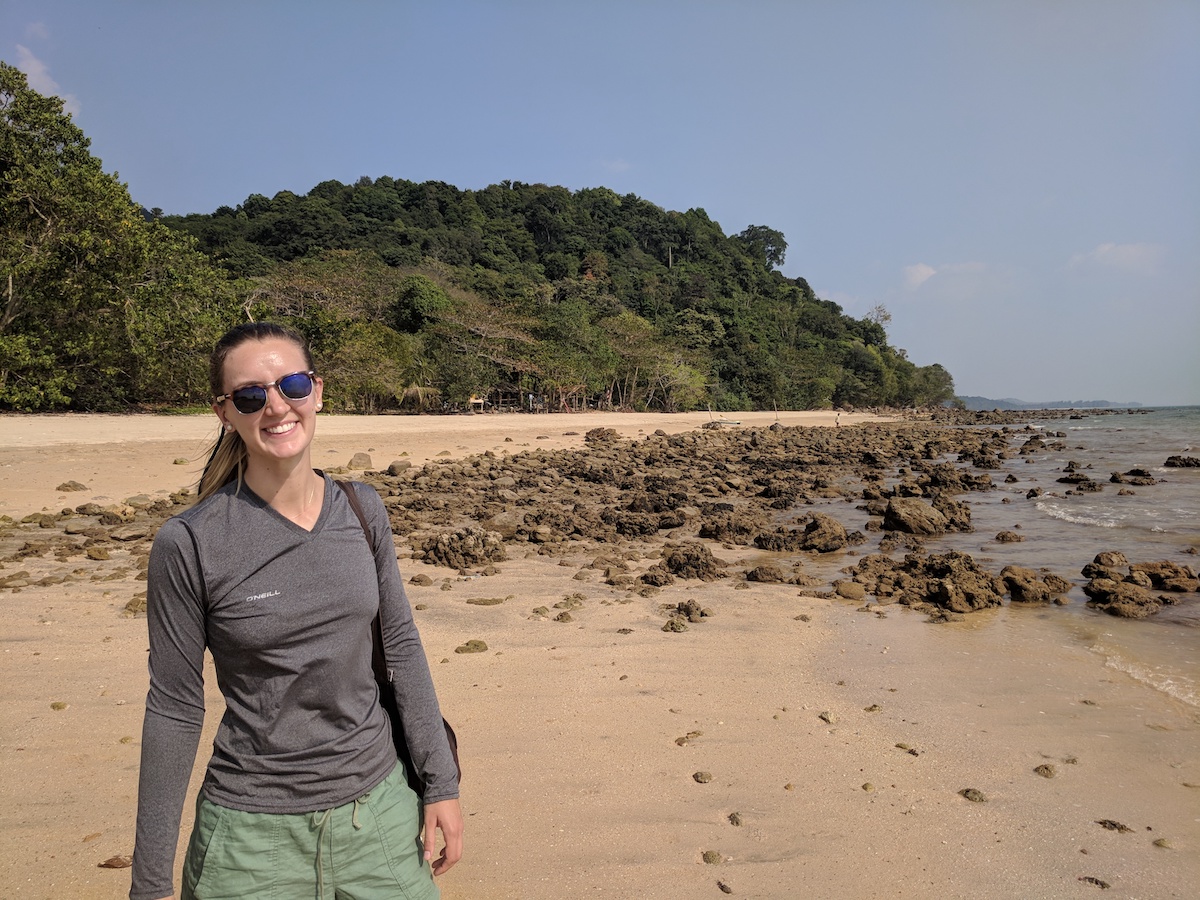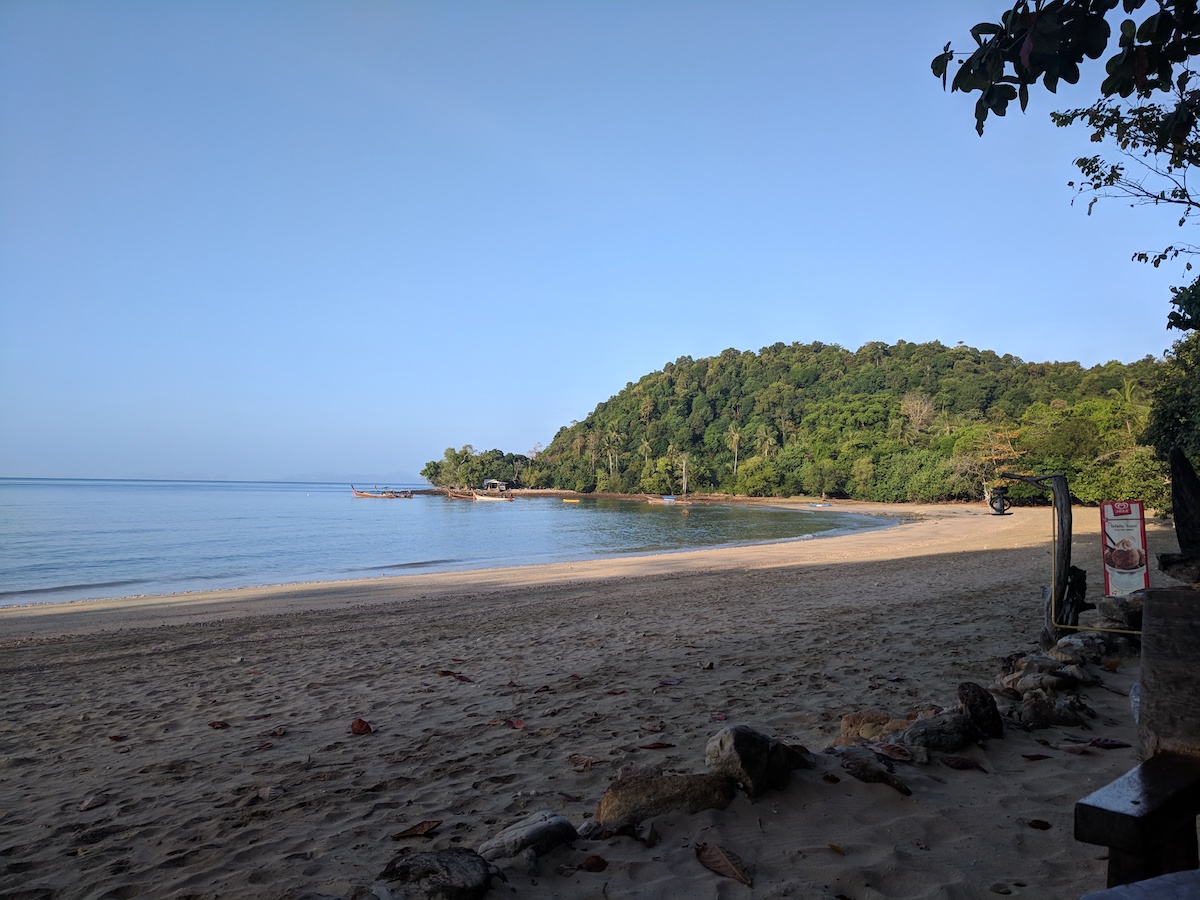 The same area at low tide and medium tide. At high tide, we were almost always in the water, so didn't take any photos!
It seemed that 90 percent of the people staying on the island were German tourists, mostly young families with small children. So, it was definitely not a party place and the only noise that disturbed us at night were cicada-like bugs that got very noisy starting around 5:30am.
How We Did with Our Budget
For our time on Koh Pu, we had budgeted as much as 42 USD a night for accommodations. We ended up spending 48 USD per night for a Beach Front bungalow that was lovely, even without some of the comforts most of our rooms have had. Luckily that extra spending was offset by cheaper rooms elsewhere in Thailand. We had also budgeted 8 USD per day per person for food and 10 USD per day per person for entertainment. Without any entertainment to spend money on, we spent 33 USD of that 36 USD daily allotment on food, most of it at Bonhomie itself. Including our 25 USD total ferry onward to Koh Lanta, we overspent our total budget by a bit, but it was definitely worth it.
---