12 Apr 2018
Japan by Bullet Train
After spending nearly four full days on trains in India, we were excited to put sleeper trains behind us and hop onboard a series of bullet trains instead. While I think I would have come away from our time in Japan very impressed by their train system regardless, having the Indian Railway to compare it to made it look very good.
During our time in Japan we took eight Shinkansen bullet trains, the speedy Narita Express from and to the airport, and dozens of subway and regional trains. Through all of that, we were never delayed more than five minutes (and any delay at all was rare) and were continuously impressed by how clean, efficient, and positively joyful our journeys were.
Our Route
While we flew into and out of Tokyo-Narita airport, getting around Japan is so easy that we didn't actually begin our exploration in Tokyo. Our overnight flight landed before 7am, so we took advantage of that time before we'd be able to check in anywhere to get ourselves from the airport all the way to Osaka. We also wanted to stay in only a few places so we would feel more settled in each spot, and could easily utilize the rail passes for day trips to other interesting cities.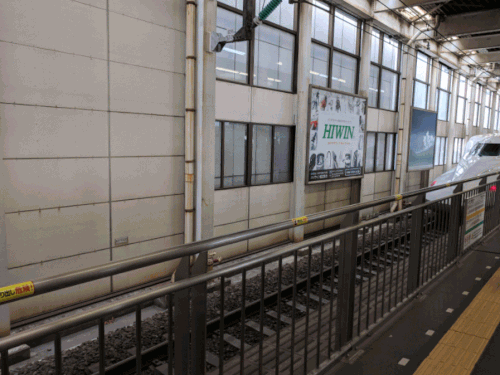 Our final route was:
Narita Airport (NRT) to Osaka (via Tokyo Station)
Osaka to/from Kyoto (day trip)
Osaka to/from Kobe (day trip)
Osaka to Hiroshima
Hiroshima to Tokyo (via Osaka)
If we had it to do again I'm not sure we'd change anything about this route. We really enjoyed our time in Osaka, and using the Shinkansen for quick day trips was a real treat (it is absolutely insane that both Kyoto and Kobe are only 15 minutes away from Osaka by bullet train). And sitting on trains for four hours to get from NRT to Osaka was a great way to ease into our time in Japan while exhausted from an overnight flight.
Getting Japan Rail Passes
The hardest part of our entire experience using trains in Japan was right at the beginning: buying our rail passes. While most of the content we found online about the rail passes is very clear that they must be purchased outside of Japan, this isn't currently true as Japan Rail is running a trial on selling them to tourists on arrival. But, it's still cheaper to get them before arrival, and since that trial could end at any time it gives a lot more peace of mind to buy ahead of time. If we were just taking a holiday to Japan it would have been easy to buy them online and have them shipped to us in the US.
Unfortunately, one of the few downsides of a full year of travel is that a trustworthy mailing address is very hard to come by. Since we were spending almost a month in India before arriving to Japan, I decided to go through an Indian travel agency to buy our passes, so we could avoid dealing with anything in the mail. The JR Group's Vendor List is a great resource for finding agencies to contact, and after e-mailing three of them in the Delhi area, KTC Grand Tours actually responded. It took more than a handful of emails back and forth, but we eventually had 14-day rail pass vouchers charged to a credit card and deliverd to our New Delhi hotel successfully!
Making Seat Reservations
While it's permissible to just board any unreserved seat car and try to find a seat, we wanted to avoid that for our longer trips since we were in Japan during the height of cherry-blossom season and a number of trains were standing-room-only in the unreserved cars.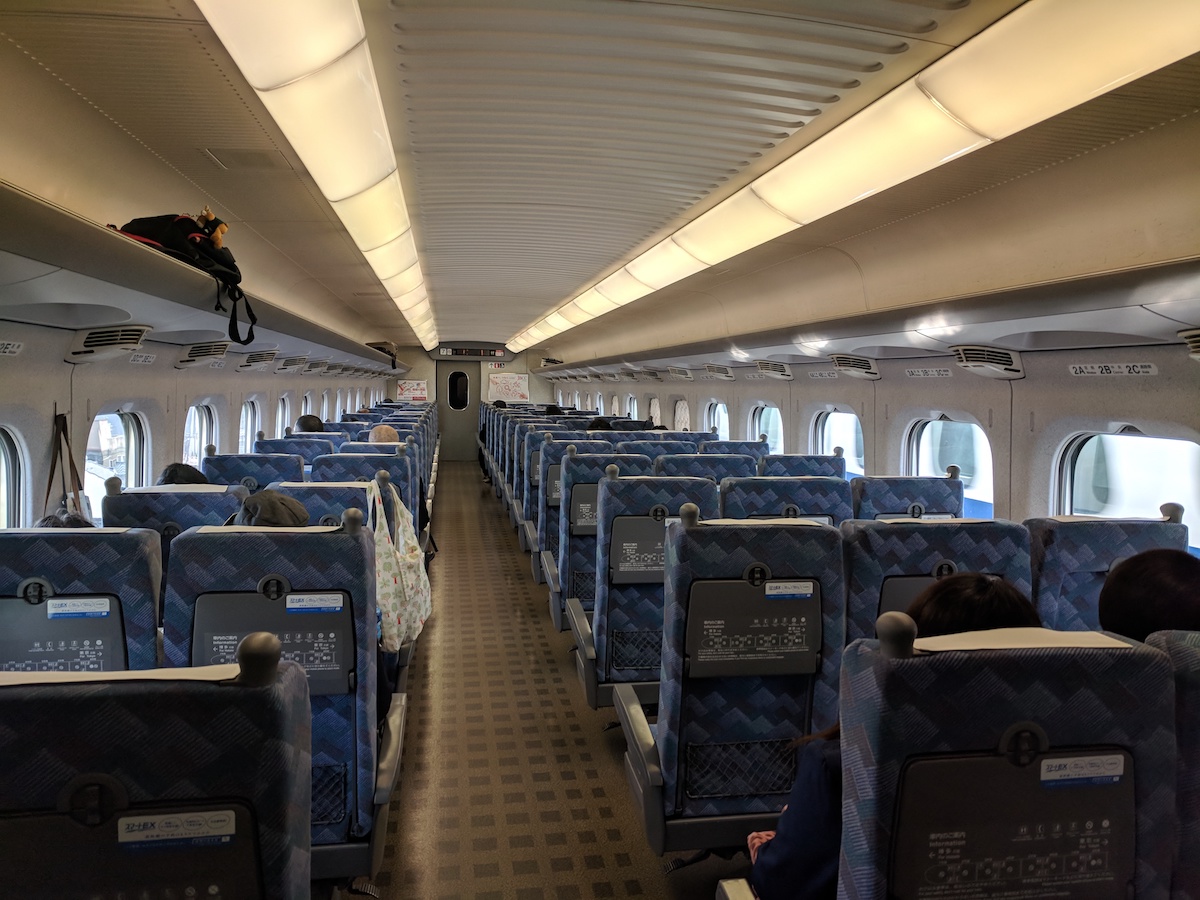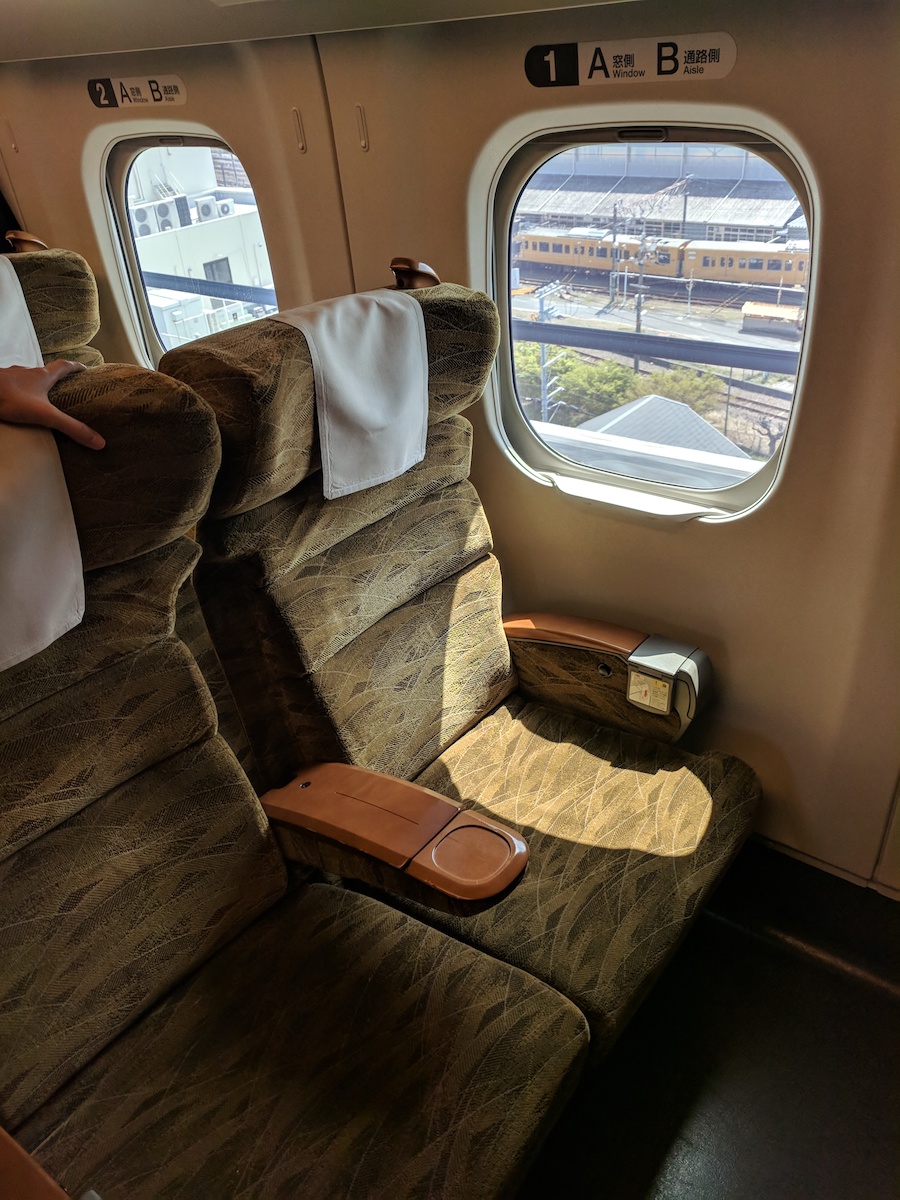 Left: Shinkansen Hikari. Right: Shinkansen Sakura's regular reserved seats car, nicer than the other Shinkansen trains.
🚅 At Narita Airport (NRT)
Once we landed and got through immigration/customs, our next stop within the airport was the JR East Ticket Office. Since it was so early in the morning the tourist-oriented Service Office wasn't open yet, but we were lucky (and walked fast through the terminal) and were first in line at the busier ticket station. We successfully traded our rail pass vouchers for actual rail passes, and quickly received confirmed seats on the next Narita Express train into Tokyo. The agent was only willing to do reservations for that day, but since we were going immediately onward to Osaka he handled those as well. Unfortunately no train in our timeframe had two seats together available, but he booked us two nearby ones and we ended up getting to sit together anyway.
🚅 At Tokyo Station
Once we made it to Tokyo Station we stopped at two different JR offices: a ticket office to buy contactless SUICA cards to use on the subways throughout Japan, and then a service office to try to get more seat reservations. They had prominent signs up noting that they would only make one reservation per time you went through the line, but when we got to the front and I handed over my handwritten list of remaining trains we wanted to take and the agent quickly got us seats on all of them without complaint. It seemed to have paid off to spend a bit of time on Hyperdia preparing a list of exactly what I wanted, as those having to go back-and-forth with agents were having a lot more trouble due to the language barrier.
🚅 At Ueno Station
The only remaining train we hadn't reserved–and needed to–was our Narita Express back to the airport, since we weren't sure exactly when we would want to depart. We left it to that day, since it doesn't normally fill up, and took advantage of a completely-empty ticket counter at Ueno Station to get it lined up. The agent had a weird amount of trouble figuring out how to issue the reservation but after consulting with her supervisor was able to figure it out and send us on our way.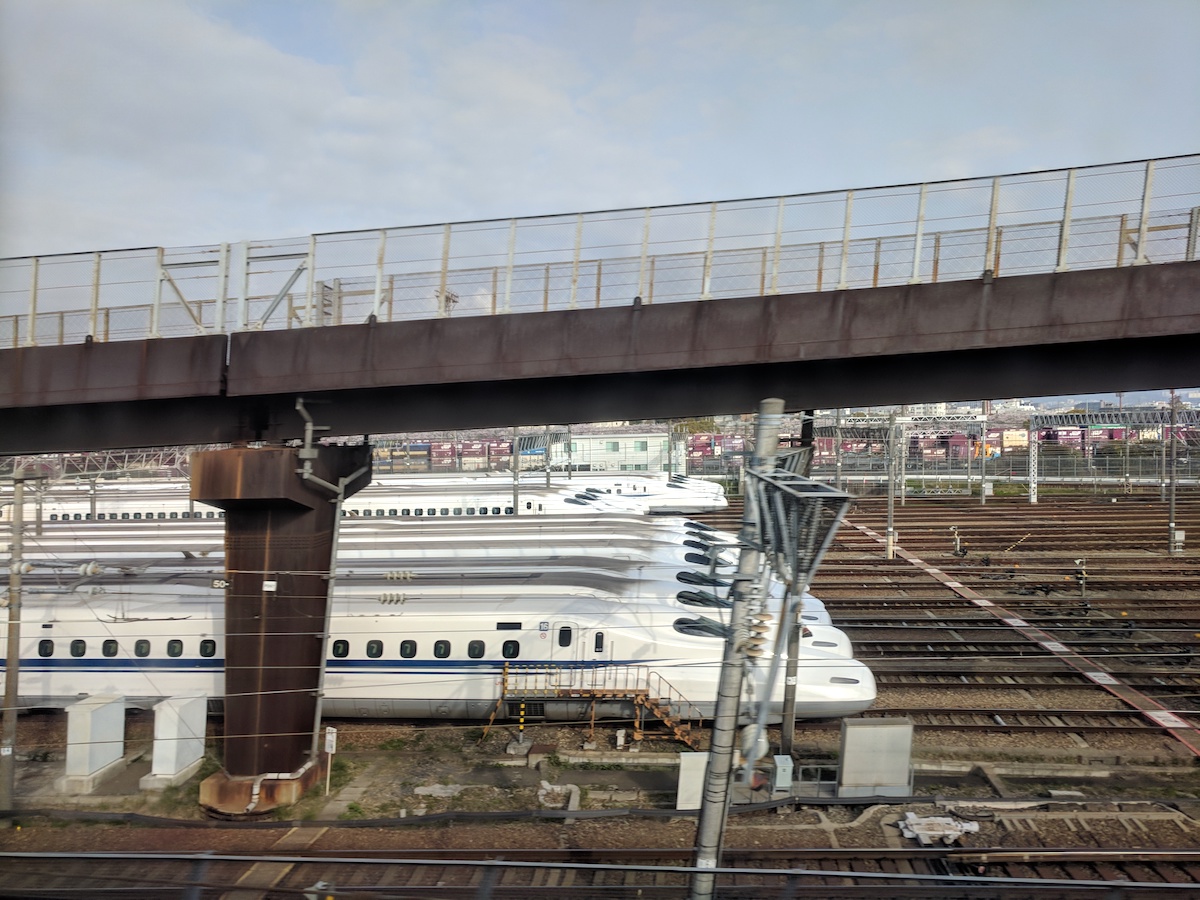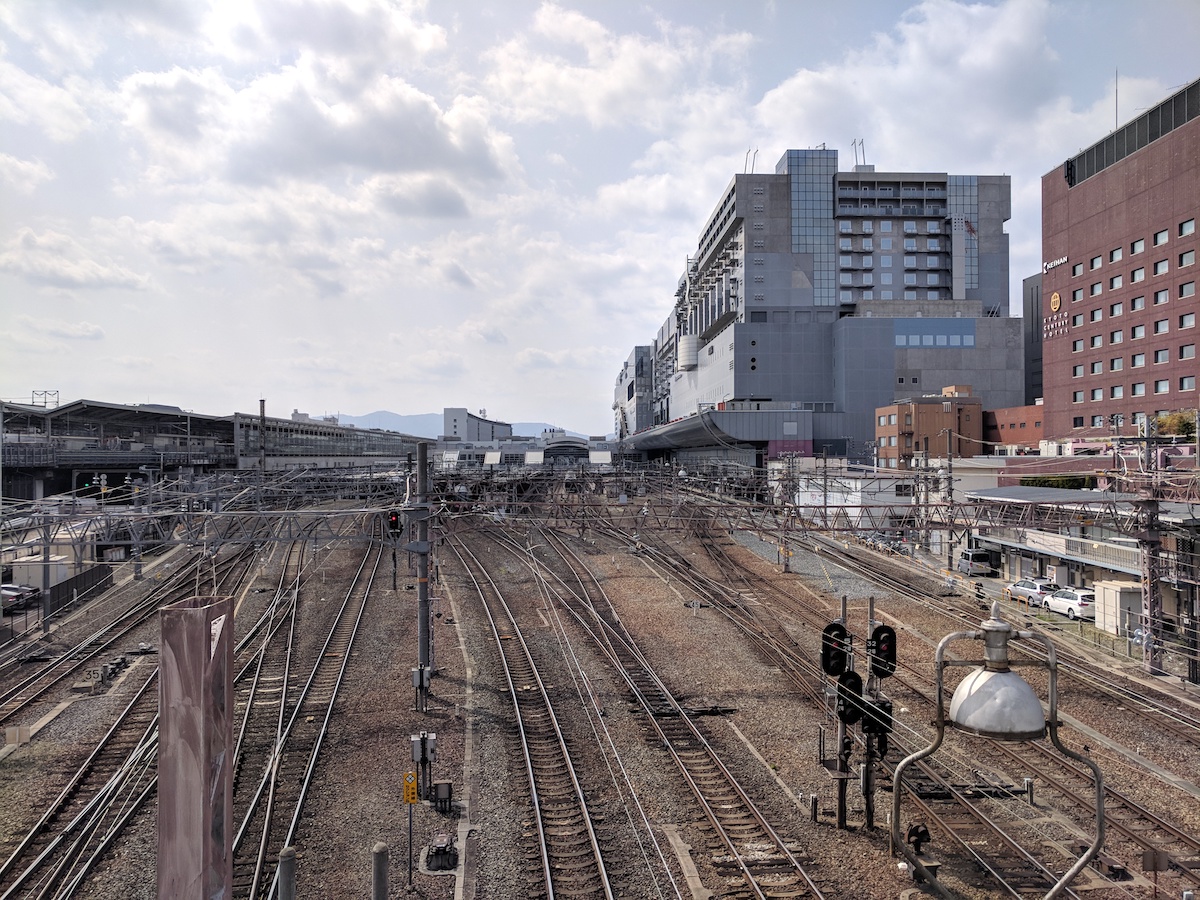 Trains can definitely take up quite a bit of real estate–but way less than parking for everyone driving themselves!
Eating
We had exactly the opposite problem eating on trains as we did in India: here we had too much choice at the station and then not enough time on the train to actually finish our meal!
It's popular in Japan to buy Ekiben–bento boxes filled with a variety of different pieces of food–at train stations to eat onboard the Shinkansen. The variety available in the boxes is really stunning, through nowhere more-so than Ekibenya Matsuri, where we got our first Ekiben at Tokyo Station. Without fail, boxes we bought throughout Japan were always fresh, always tasty, and always had at least one piece of food that we couldn't identify even after eating it.
While our 15-minute trains between Osaka and either Kyoto or Kobe didn't give us enough time to chow down, we did take advantage on our longer rides. I'm not quite sure anything beats having a bento box and a beer while zooming across the country at nearly 200 miles per hour.
JR Pass Value
Japan Rail passes are expensive. At 430 USD, each of our two 14-day rail passes cost about double what our more-extensive train travel through India cost. But, unlike Eurail Passes, JR Passes are actually a good deal if you're planning to do much travel at all on Shinkansen bullet trains.
If we had to pay for each of our journeys individually, they would have cost, per person:
Roundtrip Narita Express: 38 USD
Tokyo to Osaka: 130 USD
Roundtrip from Osaka to Kyoto: 27 USD
Roundtrip from Osaka to Kobe: 28 USD
Osaka to Hiroshima: 97 USD
Hiroshima to Tokyo: 177 USD
Regional Trains: ~30 USD
Total: 527 USD
Even if you ignore the Kyoto/Kobe day trips, which could have been accomplished by taking cheaper, slower trains, as well as the regional trains we got for free on the rail pass, just the Narita Express and long-distance Shinkansen trips equal the cost of the pass, which provides much more flexibility than individually-purchased tickets.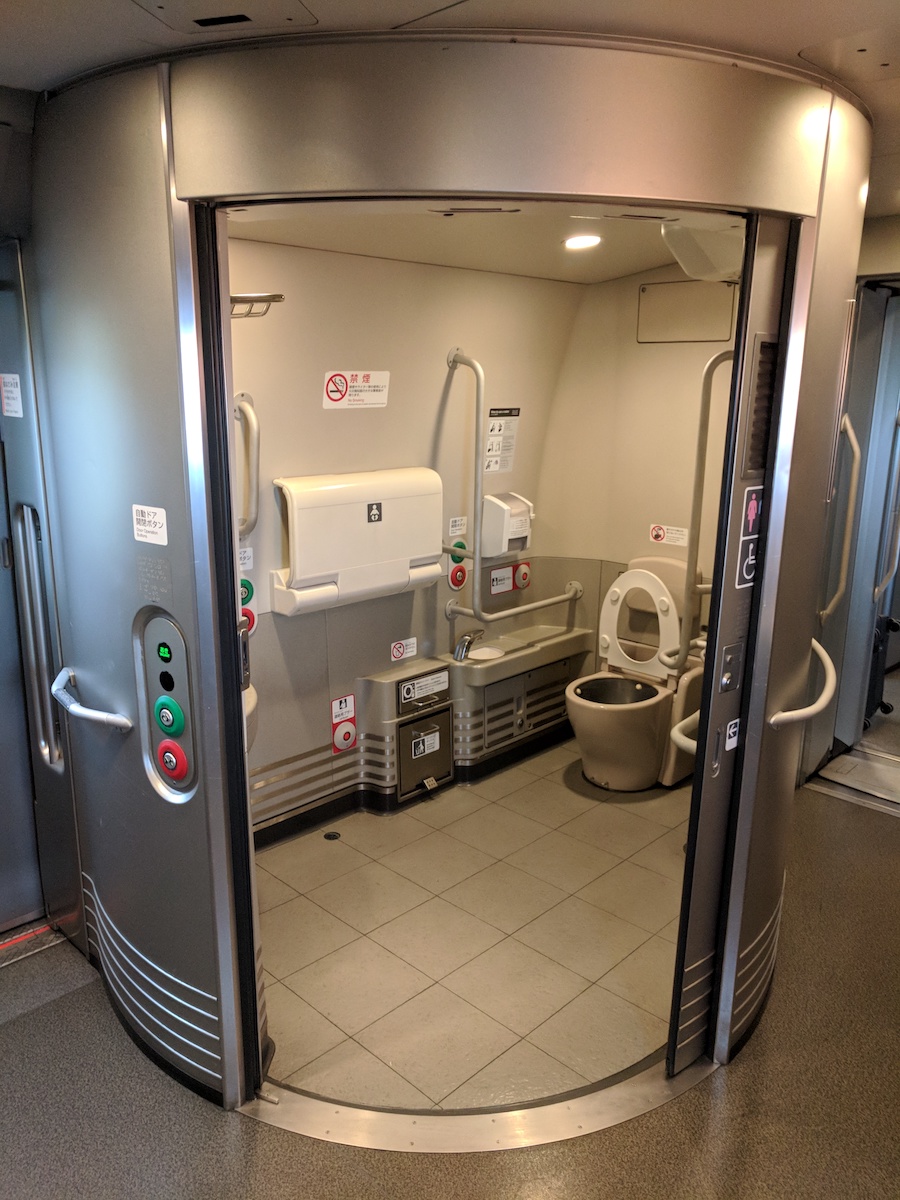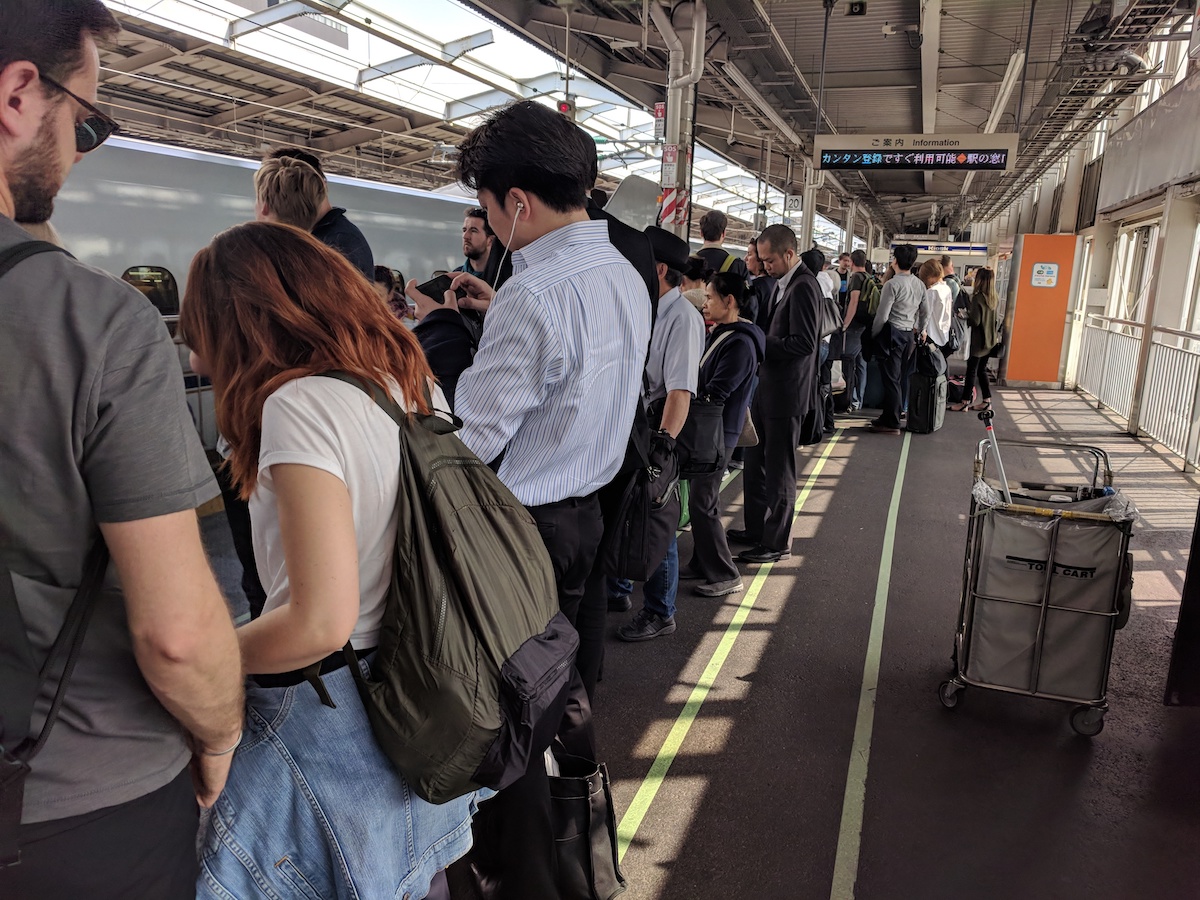 From the spotless, futuristic bathrooms to the neat lines on every platform, we really didn't want to stop taking Shinkansen around.
---