15 Jul 2018
Dublin: A Family Reunion
Our time in Dublin was shaped by a visit from my family. My brother, sister-in-law, nephew and mother all came to spend part of a week with us exploring the city. My nephew turned five while we were there, so Dubin definitely had more games of freeze-tag than our average destination.
We got really lucky with the weather up until our last two days in the city. We had beautiful sunny days that we only really appreciated once the gloom rolled in for the last two days of the visit. Turns out, sunny days make wandering much more enjoyable. Doing it while trying to share our very small umbrella makes it slightly less appealing.
Overall, we really enjoyed how much green space Dublin had and how easy it was to get around both on foot and by bike. It didn't have quite the same wide-open-spaces feeling as some of our favorite places on the trip, but still let us get our exercise and fresh air really easily. Plus, it was fun to be back in an English-speaking country for the first time in Europe! It is amazing how nice it is to have a friendly chat with a waiter or someone working the register at the grocery store.
What We Did in Dubin
Getting Around
While we mostly used our feet to get from point A to B (as usual), we also used the urban bikeshare program sponsored by food delivery service "Just Eat". The cost is awesome at 5 Euro for a 3-day card and the first 30 minutes of every ride is free. They were particularly helpful in turning the distance between our Airbnb and the hotel where my family was staying from a 30 minute walk to a 6 minute ride.
The downside was that during the week all the bikes in our area were taken before we got up and going in the mornings. We could still always get a bike to ride from downtown back to our neighborhood but we were unwilling to try to beat the morning commuters and just had to walk some days.
Adult Beverages
Dublin is a pretty accessible city, you can walk most places easily and that certainly comes in handy with how many adult beverages you'll (responsibly) need to try when you visit.
First off, you can't pass a pub that isn't advertising Guinness. It is everywhere and at least 60 percent of people in a pub are drinking it. So, of course, you'll want to see where this tall dark and delicious beverage originated. We took the self-guided Guiness Storehouse Tour that has you wind through the truly massive building at the heart of the still-working brewery. You can do a tasting where the key take away is to not sip Guinness. The foam is full of the nitrogen that's used to give it that creamy smooth texture. Gulp, don't sip.
At the end of the many exhibits on ingredients, process, and history you'll get to go to the penthouse bar for a pint overlooking the city. Dublin is quite flat so you can see all the way to Wicklow National Park and out to the ocean too.
If a dark beer isn't you thing, there is also plenty of whiskey on offer. Neither dark beer, nor whiskey, are Nate's things; so my brother, sister-in-law, and I did the Jameson Distillery Tour. The tour had been highly recommended but they don't actually distill Jameson at the Dublin location anymore so it isn't a proper distillery tour. If you want a proper distillery tour, Teeling is apparently the place to go. Jameson is much more a 30 minute high-tech whiskey education experience. Anything that could include fancy animation, has fancy animation. There is a touch and smell station for your second stop, and then a tasting that will make you hate Jack Daniels (well at least it made me question how I ever drank it).
After our tour, we grabbed our included cocktail (the fancy ones aren't included but you can get straight, on the rocks, or with ginger-ale). Then had to try their fancy and amazing version of an Old Fashioned. In hindsight, we should have used our ticket for an included cocktail for a discount on the Old Fashioned but you live and learn (and have too much whiskey).
If a tour isn't what you are looking for, there are endless numbers of pubs. Including one directly outside our Airbnb (luckily I am a sound sleeper and Nate had earplugs). One of the oldest pubs in Dubin is the Brazen Head, which was conveniently located just a couple of blocks from where my family was staying. The place is huge, so even when it is crowded there are usually seats if you just keep looking. We tried to go for live music but that room was packed. We were able to grab a booth though and enjoyed some beers in its cozy atmosphere while trying to sort out the rules of the game of Hurling being shown on television, something sort of like lacrosse but also very different.
For a more lively night out, you can go to the area called Temple Bar and any of the many Temple Bar Bars in it. We went to one Temple Bar in Temple Bar thinking it was the Temple Bar but it turns out that one is two blocks away. Still, there are plenty of lovely pubs ready to get you a Guinness.
Tourist Sites
We didn't just drink our way through Dublin though. There was also plenty of time for adventuring in really lovely green spaces.
We visited Phoenix Park twice because it is huge and we went to completely different parts when we visited. First, we started at the south east corner and worked our way in toward the middle where deer are frequently spotted. We managed to find 2 hiding in some tall grass but mostly we played tag with my nephew.
For the second visit, we headed to the opposite end where there is a Visitors Center, cafe, and playground. My family enjoyed breakfast at the cafe and then we played more tag in the ample grassy area outside. There is also a working garden you can wander through and some produce from it on sale.
We also saw that there were polo matches happening on the day of our first visit and would have loved to see one but we hadn't planned ahead and couldn't make it happen last minute.
Our only day-trip outside of the city was for my nephew's birthday. After digging into some Spiderman cake, we headed to Argdillan Castle about an hour north of the city to hunt for fairies. My sister-in-law and nephew had been doing research on fairies before the trip and while it is apparently best to keep your distance, they love children and if you treat them well they may just grant you a wish at their fairy tree. My nephew happily left them small presents outside each fairy house so he could have a birthday wish. The houses were hidden all over the grounds so it was fun for him to try to find them.
The grounds are huge with 194 acres total. We barely scratched the surface but enjoyed the beautiful panoramic views of the coast, the rose garden, the fairy trails (full of little fairy houses), and huge open fields for running.
We had lunch at the little tearoom that is low on options but affordable before heading back to the city with my nephew completely exhausted from a morning full of adventure. To be fair, I may or may not have taken a nap on the drive back. He may not have been the only one tired out.
A few of the major tourist stops inside the city that we visited were Stephen's Green, another park area with green space and a little playground. After we visited Stephen's Green, we were able to stop by a festival happening in Merrion Square that had dozens of international food vendors, comedians, acrobats, and games for kids. We stuck around after lunch to see acrobatic archery and while it was pretty low on the archery it was still an entertaining was to spend a sunny afternoon.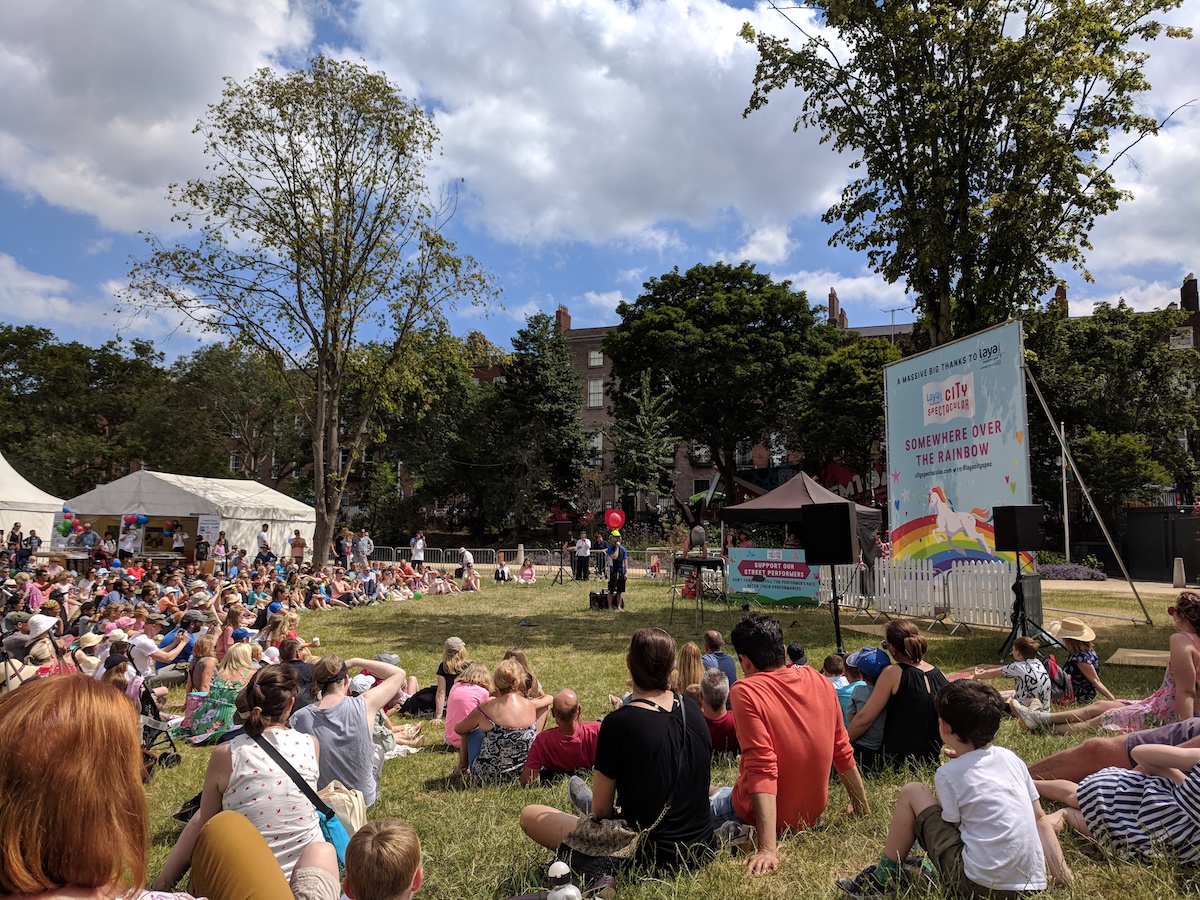 The Dublin Castle, which we chose not to tour and isn't all the impressive from the outside, and St. Patricks Cathedral.
The best stop we made in the city was the Natural History Museum, which is more commonly referred to as the Dead Museum. This museum is in the style of collections of old where collectors wealthy enough could amass selections of stuffed animals ranging from giant bugs to elephants and giraffes.
It is definitely a little morbid but the displays are surprisingly informative and interesting and it's just a weird place to experience…in a good way. Plus it's free, so why not check it out?
How We Did with Our Budget in Dublin
For our time in Dublin, we had budgeted 100 USD a night for accommodations. We ended up spending going just over that budget for the week in our lovely two floor Airbnb near the Kilmainham Goal and only a short distance from where my family was staying.
We had also budgeted 15 USD per day per person for food and 15 USD per day per person for entertainment. Out of that planned 60 USD total, we ended up going just over budget but our spending was almost entirely on food. Tracking our spending was a little harder for this portion of the trip because my family paid for some things and then we bought others. So it's not that visiting Guinness and Jameson doesn't cost money but either my family treated us or we made it up to them in food and drink. Overall we ended up just barely overspending our total Dublin budget but we had a lovely week with my family doing more tours and eating our more than we might have on our own (a very nice treat).
---