27 Jul 2018
Rotterdam & Amsterdam: Recuperating
Back in March or early April when we were planning our time in the Netherlands, I found out that getting an Airbnb or a hotel in Amsterdam is super expensive. There wasn't a single place for us to stay anywhere close to our budget. We considered our options and decided to stay in Rotterdam. It would be 45-60 minutes on the train to get to Amsterdam but we could still visit and we'd get to see a different side of the Netherlands than most tourists.
When we arrived, it was clear that Nate was fighting off a sinus infection. He didn't feel well for most of the stay and our adventures consisted mostly of short walks, lunch out, and afternoon naps. He tried to recuperate and I got a lot of reading done. It wasn't so bad but I can't say we are now experts in all things Rotterdam.
What We Did
Rotterdam is the second largest city in the Netherlands. It has a few canals but nothing like Amsterdam. It has a pretty active food scene and some interesting architecture. Supposedly, it has been experiencing a renewal as many young adults can't afford to live in Amsterdam and are starting to move to Rotterdam. Unfortunately, we saw very little of it.
We did make it to the Markthal, the food market/luxury apartment building, on a Saturday when the stalls spread down the street and well beyond the usual offerings inside. We had lunch, explored the different foods and crafts available and then headed to Zuiderpark, one of the large parks in the city to get some sunshine and take a little rest.
We made trips back to the downtown most days for lunch and tried some ramen (because of course Nate found a ramen place) and some Vietnamese food (I think our food preferences are solidifying a bit…). We did not do much exploring. It was hot all day and by afternoon we had would head back to the Airbnb to rest.
We've gotten very lucky with sickness on the trip (knock on wood!) and even our stomach bugs didn't usually put us out of commission for too long but sometimes you just need to drink hot tea and nap. Coming this close to the end of the trip, and especially with 10 days in Paris coming up, I was not going to let Nate be miserable for the foreseeable future.
All that said we still took a day trip to Amsterdam on our last day…
One day in Amsterdam
We spent a lovely 6 hours in Amsterdam. Even in that short amount of time, we probably overdid it by walking about 12 miles…
We took the train from Rotterdam to Amsterdam from the train station just a few minutes from our apartment. The trip only takes a little over an hour and you end up in downtown Amsterdam so it is easy to explore from there.
We spent the morning wandering through the canals of Herengracht, Prinsengracht, and Keizersgracht. Amsterdam's canals are famous for a reason. They are lined with cute row-houses and shops, completely inundated with bikes locked up to every unmoving surface, and have plenty of flowers and trees around them.
After walking for a couple of hours, we headed toward Albert Cuyp market for lunch by way of the Bloemenmarkt.
The Bloemenmarkt is right along a canal and a one stop shop for all things tulips (though there are some other varieties of flowers as well). There are bulbs galore to help you design your perfect tulip garden. It was fun to see all the different varieties and how the bulbs looked different from one to another but with a few stops left and serious uncertainty about what would make it through customs anyway, we didn't get any bulbs of our own.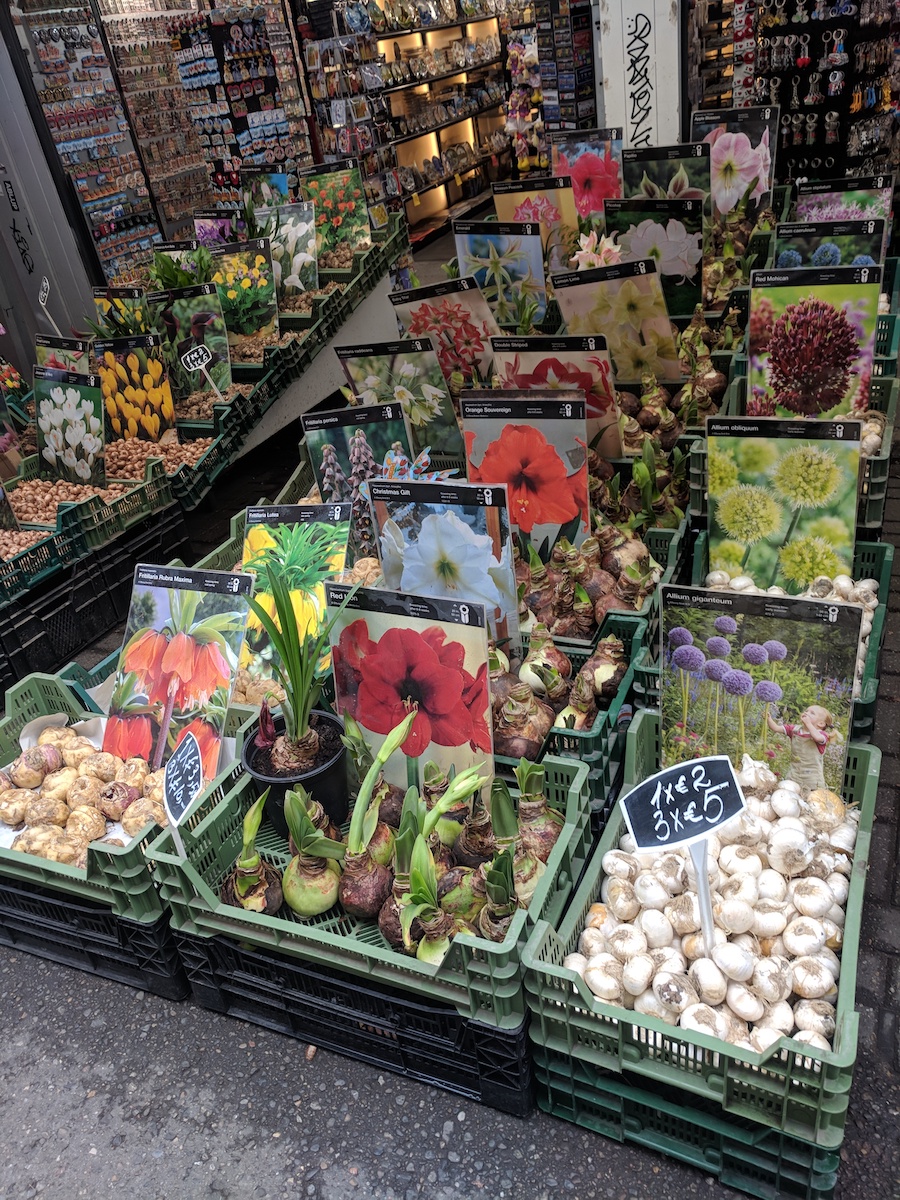 We had lunch at Albert Cuyp market, an outdoor market that is largely non-food stuff (to my disappointment) but has a little bit of every other kind of thing you could want. There are also a couple of food vendors including a delicious place for seafood and chips (fries) and of course stroopwaffel.
Nate has loved stroopwaffel for years, especially the United Airlines free ones that perfectly fit over the top of a cup of hot water to get nice and gooey. The stroopwaffel we got fresh at a little booth at the market were way better than any we had ever had before. Super crispy outer cookie with oozing caramel in the middle, yes please!
After lunch we wandered through the De Pijp neighborhood, visited Museumplein to see the I Amsterdam sign and relax in the grass to rest our very tired feet. Then we ended the day with a leisurely stroll through Vondelpark before heading back to the train station pretty exhausted.
How We Did with Our Budget in Rotterdam
For our time in Rotterdam, we had budgeted as much as 85 USD a night for accommodations. This wasn't anywhere close to enough for a decent place in Amsterdam but we got a lovely apartment in Rotterdam with an outdoor patio and tons of space for only 90 USD per night. Having the extra space was wonderful considering how much time we spent in the apartment so Nate could recuperate. Having more than a single room with a small bathroom is a big deal and this one had 3 whole rooms, a bathroom, and a patio. Basically luxury at this point.
We had also budgeted 15 USD per day per person for food and 15 USD per day per person for entertainment. Turns out when you are sick at home, you don't spend very much money. We ended up with over 100 USD in surplus coming out of our time in Rotterdam.
---