25 Nov 2017
Bolivia: La Paz, Lake Titicaca, and off-roading in the Bolivian Countryside
Visiting Bolivia was a wonderful break from our usual travel schedule. We were lucky enough to get to stay with our friend from university and her family in La Paz, which meant very little to no planning in advance, no need to worry about cooking or finding food, and getting driven around to see the beautiful sights in La Paz and beyond. Now that we've almost reached our 3 month mark, the timing was perfect.
You should be aware that for some strange reason all international flights land in Bolivia between 2:00-6:00am. We were lucky enough to have someone to pick us up at the airport in the middle of the night but if you're not so lucky be prepared to take a shared taxi and find a place you can crash once you get there.
What We Did
After 2-3 hours of sleep, we hopped in the car for a trip to Lake Titicaca. We stopped along the way for some breathtaking views of La Paz and the mountains that surround it. Admittedly, I hadn't done my research before this trip and so I was blown away by how beautiful the area around La Paz is. I'm embarrassed by my ignorance but glad that we had a reason to come here.
Packed into our friends' SUV, we bounced along some pretty rough roads and made our way through the countryside of Bolivia. The land is pretty desolate and there are only a few scattered towns for long stretches of time.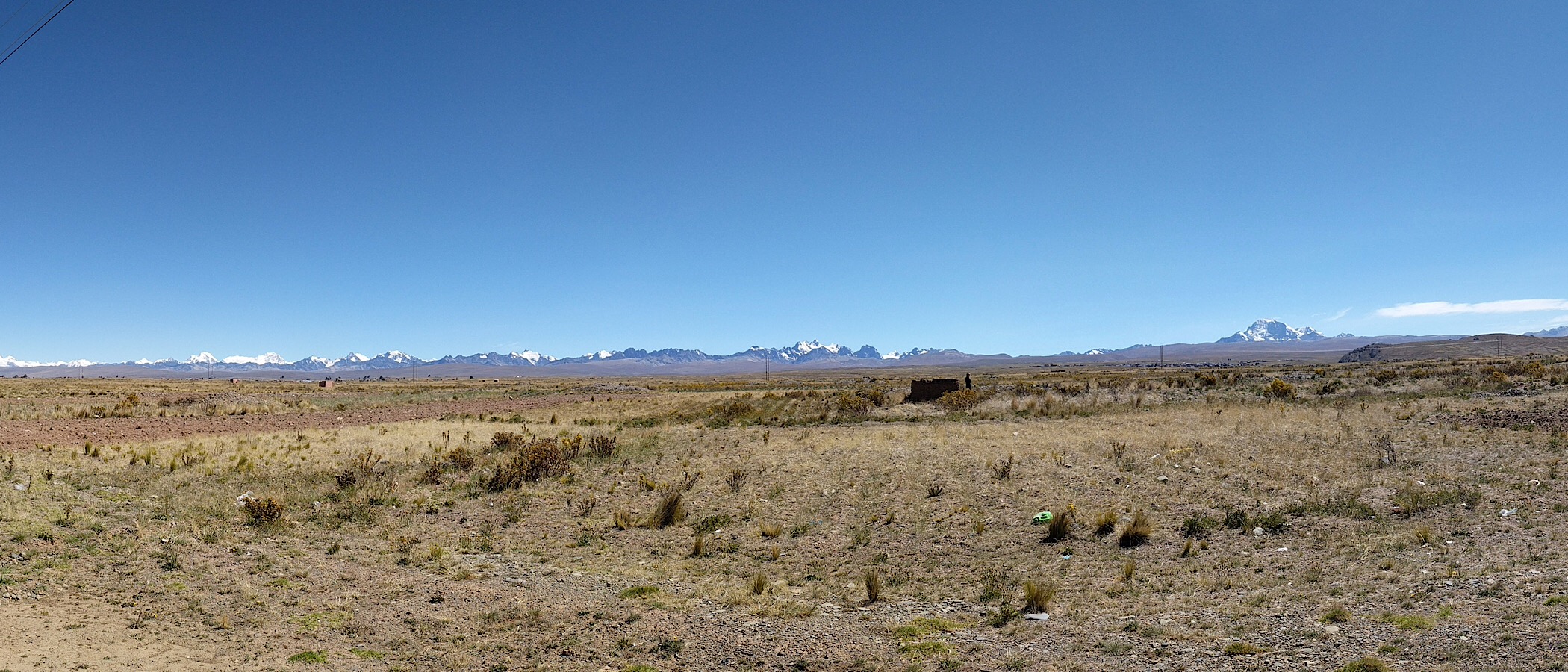 Pro-Tip: There are few places to stop for the call of nature, so if you find an abandoned mud hut or a well placed hill, you may need to be prepared. My friend's mother was more prepared than us with a "she-wee" (feel free to look it up). I was not so prepared but at least had toilet paper and some hand sanitizer. Always make room for these things. You won't regret it.
For the final stretch between La Paz and Copacabana, the town on the edge of Lake Titicaca, we had to drive the car onto a raft/boat/ferry. While even tour buses used this method of transportation, I was not as sure of the integrity of our craft. We made it to the other side, safe and sound, though.
In Copacabana, the main attraction is a boat trip to Isla Del Sol. There were plenty of people offering private trips but we opted for one of the larger boat trips that slowly made its way to the island. On the island, you can hike to ruins near the town of Yumani that is said to be the birthplace of the first Incas. Be prepared if you're hiking the island though, there are a lot of stairs and if you're not used to the elevation, it can be rough going.
While we were in Copacabana, we stayed the night at La Cupula. It was wonderful, not least of all because it was home to three fuzzy alpacas. It also had hammocks outside the rooms and a great view of the lake at sunset.
Pro-tip: alpacas liked to eat popped rice/rice crispy type cereal. Beware though, because if you are between an alpaca and its treat, it may attempt to mount you. No humans nor alpacas were injured but you've been warned.
On the way back to La Paz, we stopped for a lunch of llama steaks (a first for me and a very juicy piece of meat, if you're going to eat meat) and to visit the archeological site at Tiwanaku. Lake Titicaca used to reach Tiwanaku before drying-up to its current size and the area is now a UNESCO World Heritage site. The site is also still used in current political events, including the inauguration ceremony for the current President, Evo Morales.
The civilization at Tiwanaku predated the Incas and would have been a political and cultural center. There are some ruins that have been restored, while others are still waiting for excavation. The highlight is the Ponce Monolith and the Gateway to the Sun. There are two museums on the grounds but we unfortunately showed up at closing time and did not get to enjoy them.
The next day, we were really spoiled and our friend's mother booked us a driver and guide to take us around the city for the full day. We visited the witches market, hiked in the Valley of the Moon, rode the Teleferico cableway system, explored the central square, and rode out of La Paz to get an even better view of Illimani.
The Teleferico, the public cableway system, in La Paz was probably my favorite thing we did all day. The views are incredible and it's an inexpensive way to get a look at multiple neighborhoods. Plus, who doesn't like to enjoy a little Austrian engineering? The city is still expanding the cableway lines, with the white line set to open sometime early 2018. We took the green and yellow lines but if we had more time we would have ridden every single one.
The witches market is interesting, mostly because we had a guide to tell us about what the different kinds of offerings are for and give some history of the beliefs associated with items available. The area of the witches market is really filled with tourist trinkets though with a couple of shops selling potions and lucky charms. So, if you are looking for llama keychains or alpaca sweaters you'll find more of them here than you could ever possibly sort through.
The llama fetuses you'll see are not a joke or tourist trinket though. Driving through a less touristy market in El Alto, we also saw them available and they are apparently used for all sorts of offerings, as well as for the construction of new buildings to make sure they are strong.
Some people, though I will not make public the source of these rumors but she knows who she is, believe that for larger buildings the llama fetus is not sufficient and instead a human sacrifice must be made. Let's just say I don't believe the drunk people of La Paz need to worry about being thrown into the wet concrete of a building but I was not able to disprove this tall-tale either. So believe what you will.
Leaving La Paz, we stopped for an easy 45 minute hike around the Valley of the Moon, which supposedly got its name when Neil Armstrong stopped in the area for a soccer game and noticed the similarities between the terrain and well…the moon. Most of the area has been cleared for development but the part that remains is fun to explore.
Our final stop on the tour was about 35-40 minutes outside of La Paz. We were a little skeptical as we were nearing 5:00pm and instead of heading back toward the house we were headed through ever rougher streets and into less and less densely populated areas. However, our driver knew what he was doing and after swerving through more switchbacks than I was comfortable with, we ended at a spectacular view of Illimani and Cerro Mururata.
We ended the night with a 7-course dinner, including drink pairings, at a vegan restaurant called Ali Pacha. It was definitely much more expensive than we would have been able to fit into our budget but, like I said, we were really spoiled. I could not have been happier and even Nate had to admit that the grilled beet ceviche was delicious.
Thanksgiving!
At the start of the trip, we had resigned ourselves to spending American holidays in less traditional ways, likely by ourselves. I had mostly come to terms with it. Then it looked like it would work out for us to spend Thanksgiving in La Paz with friends having a huge meal and I couldn't have been happier. (Still coming to terms with spending Christmas day on a train in Burma…)
Sitting around a table covered in delicious food, surrounded by old friends and a few new acquaintances and sharing what we were thankful for, I couldn't help feeling overwhelmingly blessed (not in the #blessed way but so lucky that it is beyond a hashtag).
So few people get to pick up their lives and travel. Being lucky enough to be a place in my life where saving the money for this trip was possible, being comfortable enough to leave everything behind, having a person to share all of it with, and occasionally getting to meet up with some of my best friends in far-away places; WHO GETS TO DO THAT?! Me, apparently.
---