13 Oct 2017
Rio: So much to love, so little time
We spent a whirlwind 4+ days in Rio de Janiero. We could have easily spent at least two weeks but we also wanted to get away from cities for a while and head to an island and a smaller city on the coast, so compromises were made. I'll let you know when it's all over if we made the right choice.
What We Did
When we arrived in Rio, we unfortunately felt a little under prepared. We had gotten caught up enjoying ourselves in South Africa and São Paulo and hadn't made time to make much of a plan for Rio. Before the trip, I'd spent some time reading about the history and politics of Rio, especially around the World Cup and Olympics but hadn't actually put together a schedule of things we wanted to do our booked anything. It turns out knowing about political malfesance and structural inequality don't always equate to an enjoyable visit?
Day 1: For our first day, we did some quick googling and found a "free" (tip-based) walking tour through the downtown. Staying in Ipanema, we were never at risk of missing out on the famous (though impressively crowded) beaches, so this seemed like it would ensure we got a broader experience of Rio. Admittedly, we typically try to avoid these kinds of tours. They make us feel a little like cattle or school children being sheparded around. Despite my hesitation, I have to admit I enjoyed the tour. I would have preferred to walk a little faster (my DC/NYC pace is not the norm here) and I did feel self-conscious multiple times when our little group gathered around the tour guide but I learned some Brazilian history and saw some beautiful buildings that I otherwise would have either missed entirely or wouldn't have known what I was looking at.
Most importantly, we got to stop to eat a few things. We stopped at Cafeteria Colombo, which I had already been told was a "must-visit" and I was not disappointed. It is the oldest cafe in Rio and had been where the politicians and socialites went to be seen by the important people. You can have a espresso and either a delicious chocolate pastery or a savory chicken pastel, soak up the beauty of the building, and if you have more than the 3 outfits I'm rotating through right now it is a perfect place to dress up a little and pretend you're rubbing elbows with the rich and famous.
After our tour, we made our way back over to Copacabana and walked down the beach to Ipanema. These beaches are famous for a reason. They are situated between mountains, have gentle waves, and there are a million things going on everywhere you look. Between the vendors that are everywhere selling everything from fresh-grilled cheese on a stick to stylish sun hats, the infamous teeny tiny bikinis, children running around, or the volleyball games that are really soccer over a volleyball net; there is a lot to take in.
People-watching is excellent though so, we grabbed a beachside table under an umbrella and had some caiphirinhas while we soaked up the scene.
Day 2: While we've been traveling, Nate and I have been doing a lot of walking. I mean a lot. We're at 235 miles so far. Rio was no exception. We started our second day walking around the lagoon that was only a few blocks from our apartment. The lagoon has a walking path around it and on Saturday it was packed with runners, bikers, families playing on play grounds or at inflatable bounce houses, and plenty of stands selling coconuts.
After walking about halfway around the lagoon, we reached Parque Lage. It was a mansion at one point but is now a park, visual art school, and cafe. It has free entrance and so we walked around a little before grabbing a public bus back to the apartment. We only spent a little time at Parque Lage because we knew it was also on the agenda for the next day.
Then came the big adventure. You may have noticed a recurring theme, and it will come up again. Nate and I climb mountains. Sometimes climbing is really just hiking but this time there was some actual climbing going on too. We booked a guide, Mingo, through Ancoraue Climbing to hike Sugar Loaf (Pão de Açúcar), Originally we had hoped to hike all the way up Corcovado to Christ the Redeemer but over the summer too many hikers were robbed on their way up for us to be comfortable. So, while it will likely be controversial, we skipped Christ the Redeemer entirely and opted for Sugar Loaf instead.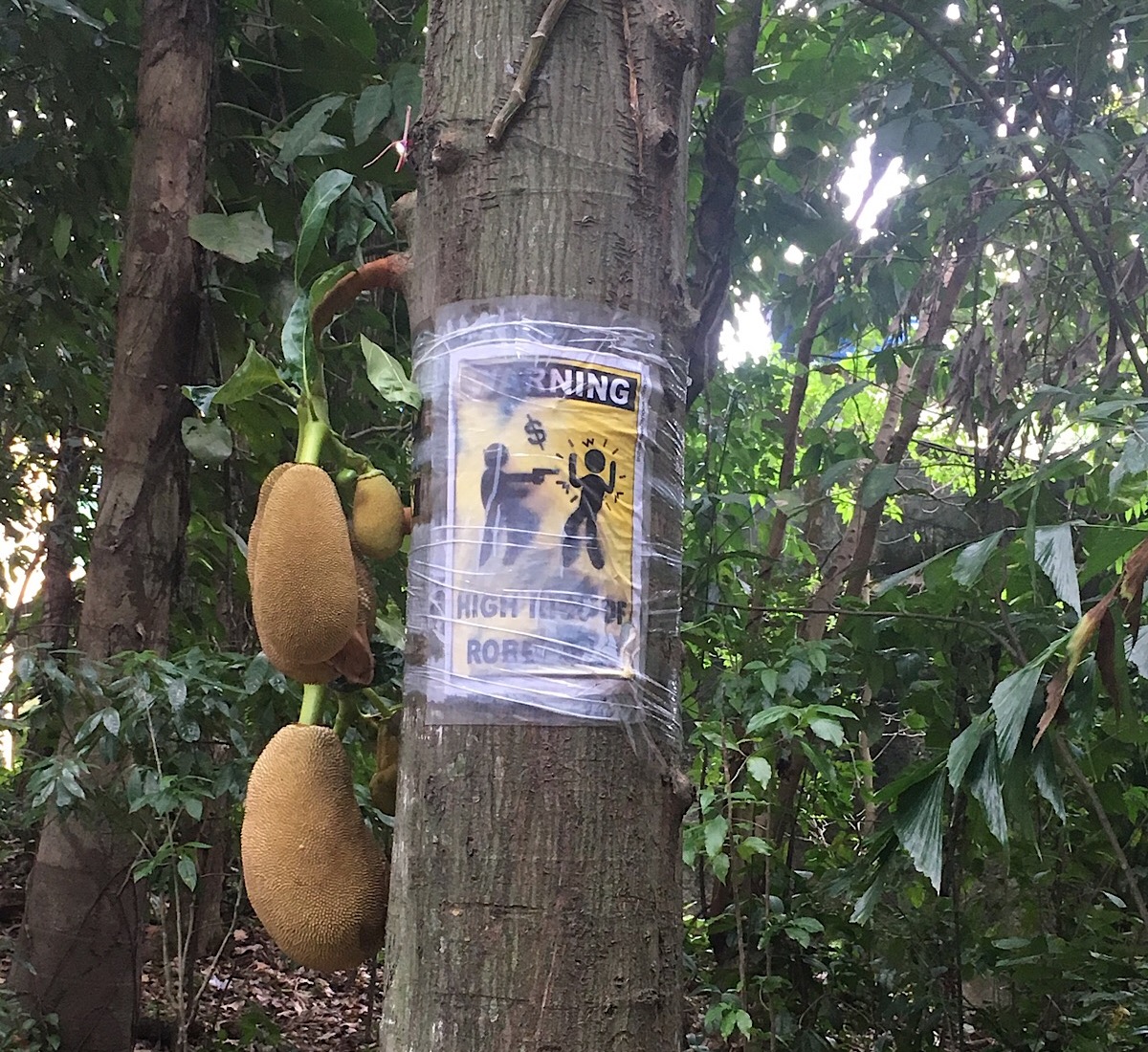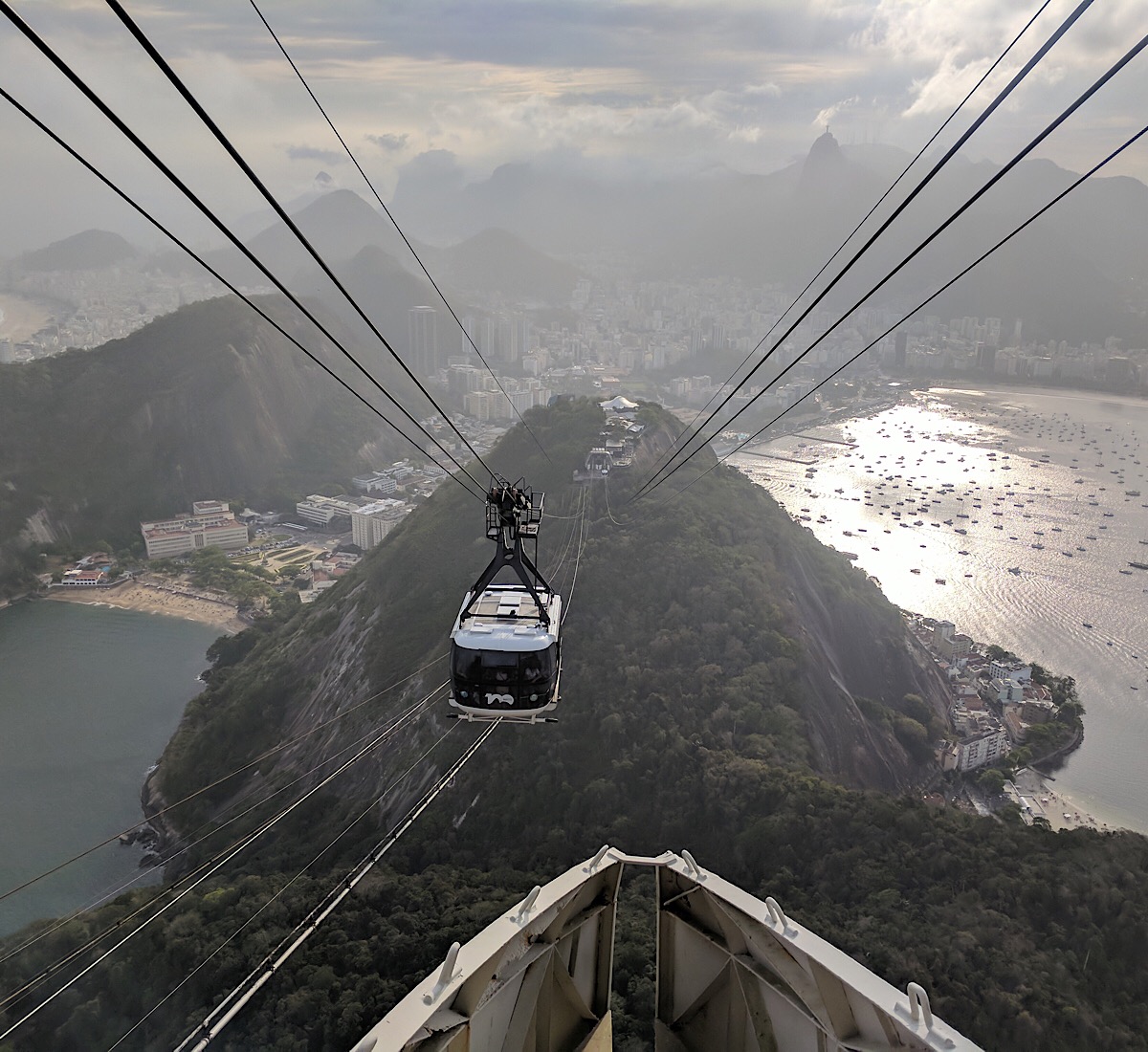 A sign that was put up to warn tourist about the robberies that have been happening on the trail to Chirst the Redeemer and the view of the cable car going up to Sugar Loaf.
I didn't fully internalize what I was getting myself into when Nate suggested the hike with a little climbing. I don't climb. I am also in denial about having a fear of heights. Still, I agreed and off we went with Mingo. The Sugar Loaf hike starts out simple enough, you walk along a nice flat path around the side by the ocean. Kids are roller blading, people are jogging, and there is a party boat just off shore blasting house music. How bad could this be?
Then we turn and the path basically disappears. No more flat walkway. Instead, we are supposed to walk up an incline that looks like 75 degrees and pretty close to smooth. Mingo assures me that if you put weight on the balls of your feet that it will be fine and that using your hands won't help. I know he is probably right but what do I do? Use my hands almost the entire way up in a pretty awkward bear crawl type position. Turns out I don't trust my shoes to keep me from sliding down the side of a mountain. Nate took to it like a natural though.
After over an hour of this steep incline search for footholds, we reached a portion for climbing. Nate definitely told me about the climbing. Yet in my head I pictured the climbing wall at my college gym, not a mountain with little crevices I'd need to cling to.
Luckily I'm stubborn and not one to be outdone. So into the harness I went. First Mingo went up, then Nate, both with little to no fanfare. Then it was my turn. It was going pretty well up until I was supposed to reach under a rock, hold on, then do a sort of swing step to bring myself over to the next foot hold before pushing myself over the top of the wall. I got through the swinging around portion better than I had expected but when it came time to push/pull muslef up I got stuck. I couldn't make it. So I plastered myself to the mountain, swearing under my breath and certain I was about to slide off. After letting me struggle a little to get up on my own, Nate offered a helping hand and I made it up. It was not graceful. I should really have done some practice climbs in the safety of a rock gym or something. After just a bit more sheer face walking, we made it to the top and got to enjoy a great view. As an added bonus, for those who make the climb, they don't charge you to take the cable car back down the mountain (!), which was great because I definitely wasn't going down the way we came up. After only 2.3 miles that felt way longer than that, the hike was a little bit of an adrenaline boost but left me happy and tired, just like any good hike should.
We won't be taking Mingo up on his offer for more challenging climbs in Brazil or Chile but I do plan on checking out some gyms when this whole trip is over. If nothing else it was a great workout.
Day 3: After a tiring day, we probably should've relaxed on the beach but we didn't. We walked about 13 miles around the other side of the lagoon we'd explored the day before to the botantical garden and Parque Lage.
The botanical garden was pretty but Kirstenbosch in Cape Town may have spoiled all other botanical gardens for us. Still, the addition of monkeys scurryng through the trees was a fun improvement.
After walking around the botanical garden, we made our way back to Parque Lage for a picnic. Unlike Kirstenbosch, picnics are not allowed at the Rio botanical garden. Parque Lage was a great place for a picnic though, and then we did more exploring than we had time for the previous day. One interesting characteristic about Parque Lage is that it is apparently the go to place for photo shoots of very-pregnant women. Everywhere we looked professional photographers were busy posing women that we at least 8 months pregnant.
Day 4: From the start, we knew we wanted to do a couple of things on the trip as special treats: food tours and cooking classes. Eating is an important way to get to know the places you're visiting, plus I wanted to come away from this trip with some amazing new foods/recipies in my repetoire.
Rio was the first of the food tours and we were not diappointed. We spent almost 7 hours with Tom from Eat Rio food tours and it was amazing. We started with exotic fruits, tried juices, fried balls of cod, stews, beers, and the best caiparinha I've ever had.
Two of my favorite things we tried were Jabuticaba berries that you pop into your mouth like muskat grapes and Caldo de Cana, which is freshly squeezed sugarcane juice. The juice was as sweet as the sweet tea I would drink growing up and was ice cold and refreshing on a hot Rio day. It was also fun to watch them feed the long sugar cane stalks through the juicer in the van behind the stand and see the juice gush out. While these were a couple of my favorite things, without exception, though others did no agree with me, it was all tasty.
I can't do justice to the food tour here but if you're ever in Rio, do the food tour and tell Tom I said hello. You won't be sorry.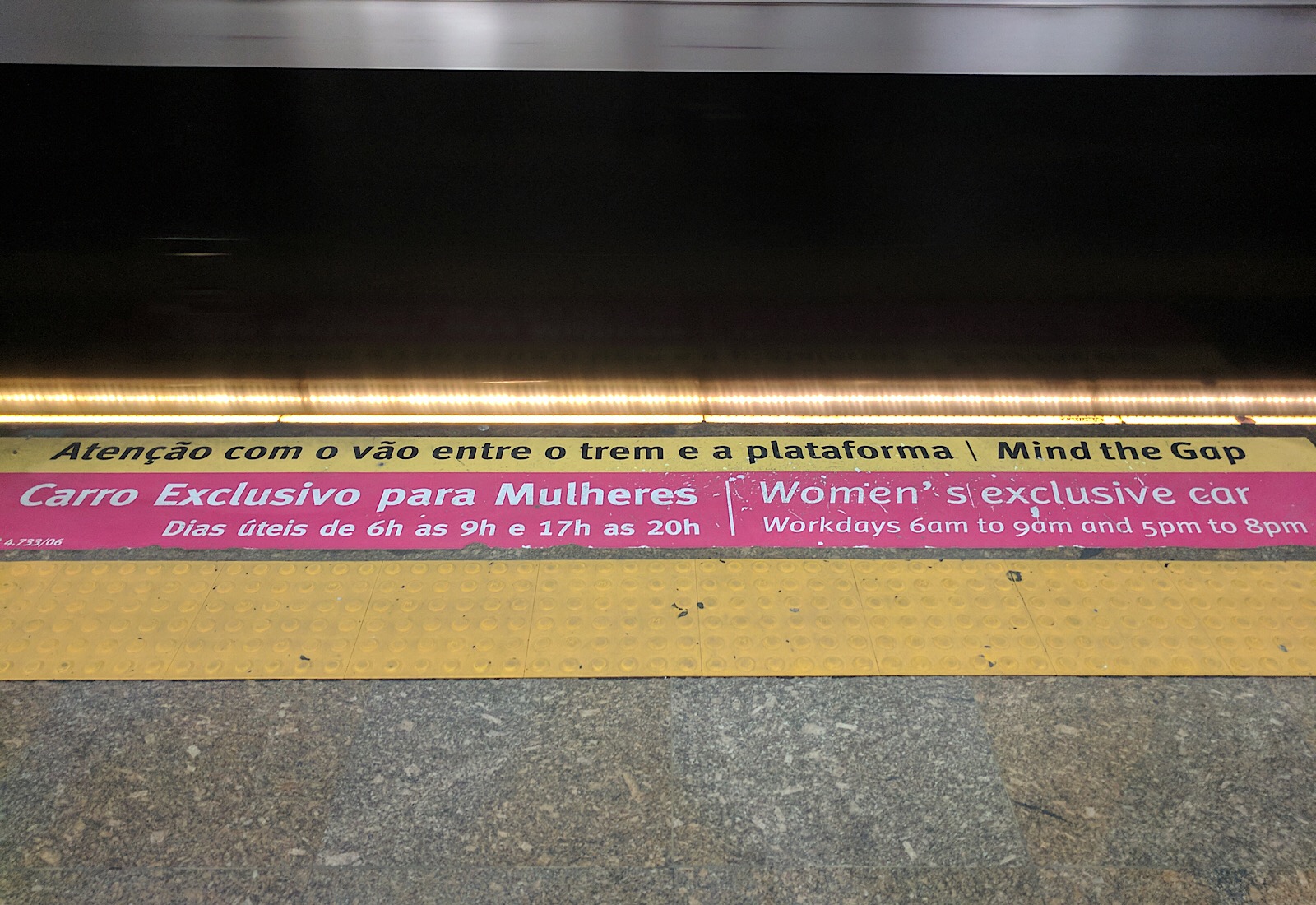 Day 5: We took a van to a boat to Ilha Grande. More on that to come soon.
How We Did with Our Budget
Our budget for Rio was the same as for São Paulo. We budgeted as much as $85 dollars a night for accomodations but we were able to find a apartment in Ipanema with a full kitchen for only $59 a night. The apartment wasn't anything special but the location was great and it had everything we needed.
We also budgeted $15 dollars per day per person for food and $15 dollars per day per person for entertainment. However, for Nate's birthday we ended up with a little outside-budget funding that allowed us to have a nicer dinner out and do a food tour that otherwise would have blown-up our budget. Still, we kept to our usual habit of making 2 meals a day at the AirBnB to save money, with the exception of our food tour day, and ended up coming in at an average of $49 a day for the two of us (out of $60 a day that we budgeted). This did not include our amazing food tour but included our guided hike/climb up Sugar Loaf.
We also almost exlcusively took public transporation. The subway system is very easy to use, clean, and the announcements are also made in English. In a sad bit of genius, there is also a women-only car on the subway for rush hour commutes. Is it sad that it is necessary? Yes. Would I ride in it every single day if I lived here? Yes.
---