15 Oct 2017
Ilha Grande: Hiking, Beaches, and No Cars
While we took a (hour-long) flight from Sao Paulo to Rio, we wanted to see a bit more of the Brazilian coast while heading back toward Sao Paulo for our onward flight to Argentina. After some research into the options, including the amazingly-named Ubatuba, we settled on short stops in Ilha Grande and Paraty.
After sifting through bus and ferry schedules, we decided to treat ourselves to a more efficient trip between Rio and Ilha Grande and booked a shared-van transfer for only a bit more than public transportation would have been. After a bumpy 2.5 hour van ride with us packed-in like sardines, we arrived at the pier in Conceição de Jacareí and boarded our boat to the island. Ilha Grande isn't far off the coast, only about 45 minutes by a slow boat like the one we took, and in-view from the mainland.
The magic of Ilha Grande is pretty clear as soon as you arrive. Everywhere, including the main town of Vila do Abraão, cars are banned (except construction vehicles) and streets are nothing more than pedestrian pathways. Locals walk, bike, or boat around, and have pull-carts for transporting bulky goods. Perhaps it was just the contrast from bustling Sao Paolo and buzzing Rio, but the complete lack of cars and laid-back island vibe were very welcome. We had booked an Airbnb about a 10 minute walk into the jungle hills from the pier, which was perfect for us–close enough to make everything super easy, far enough from the bars to be serene at night.
While there were two wider streets–mostly packed sand–by the pier; once we turned off those to head up to our Airbnb there was only a random assortment of roughly-connected concrete paths that became narrower as they wound their way past pousadas, restaurants, houses, and a brand-new one-room gym. Seemingly ownerless dogs and the occasional cat wound their way through the alleys or waited on walls to greet us as we walked past. Kids raced their bikes and dribbled basketballs with barely enough room for a person to pass. There was no one in a rush and nowhere to really rush to either.
What We Did
Day 1: We arrived, got some groceries from the main market in town (pretty limited selection, but pretty good prices), and set out right away on a path toward Preta Beach, west of the harbor. Going from boat to beach in about an hour was a pretty great start to the stopover! We enjoyed the beach for a bit and then finished the loop trail, checking out the old aqueduct and heading back toward town.
At the suggestion of Tom, our guide from our amazing food tour in Rio, we walked down the main beach to Lua e Mar for a long, relaxed candlelight dinner right on the beach. It was a little pricier than most fare for us on this trip, but ended up being enough food to feed us the next night as well!
Day 2: We set a pre-dawn alarm and set out from our Airbnb around 5am to hike to Pico do Papagaio, the highest point on Ihla Grande with panoramic views. Our Airbnb host had tried to persuade us to hire a guide, but after reading from TripAdvisor comments from others who had done it solo we decided to give it a shot. We made it to the summit by around 7:30am, just after the morning clouds had burned off around the top, and were treated to amazing views and a lovely picnic snack.
On the way up the only hikers we encountered were two young women and their guide (him in old jeans and ratty flip flops!) making their way down after setting out around 2:30am to be at the summit for sunrise, plus one lone hiker who had (illegally) spent the night at the summit. He stopped us to give us a lengthy warning about a creepy guy at the top with a bamboo stick he was scared of, and who we never encountered (the lone hiker had a bamboo stick, though…?). All told, we made it up the steep trail from trailhead to summit in exactly two hours (including water/photo breaks) and back down in 1:35.
While our host had warned us the trail was basically unmarked and that local orchid researchers had inadvertently created many false branches on the trail, we had no problem at all following the regular markers and clear primary trail until the summit area. Near the top there are many options, but leaving photo "breadcrumbs" of how to get back on our way down made it a piece of cake.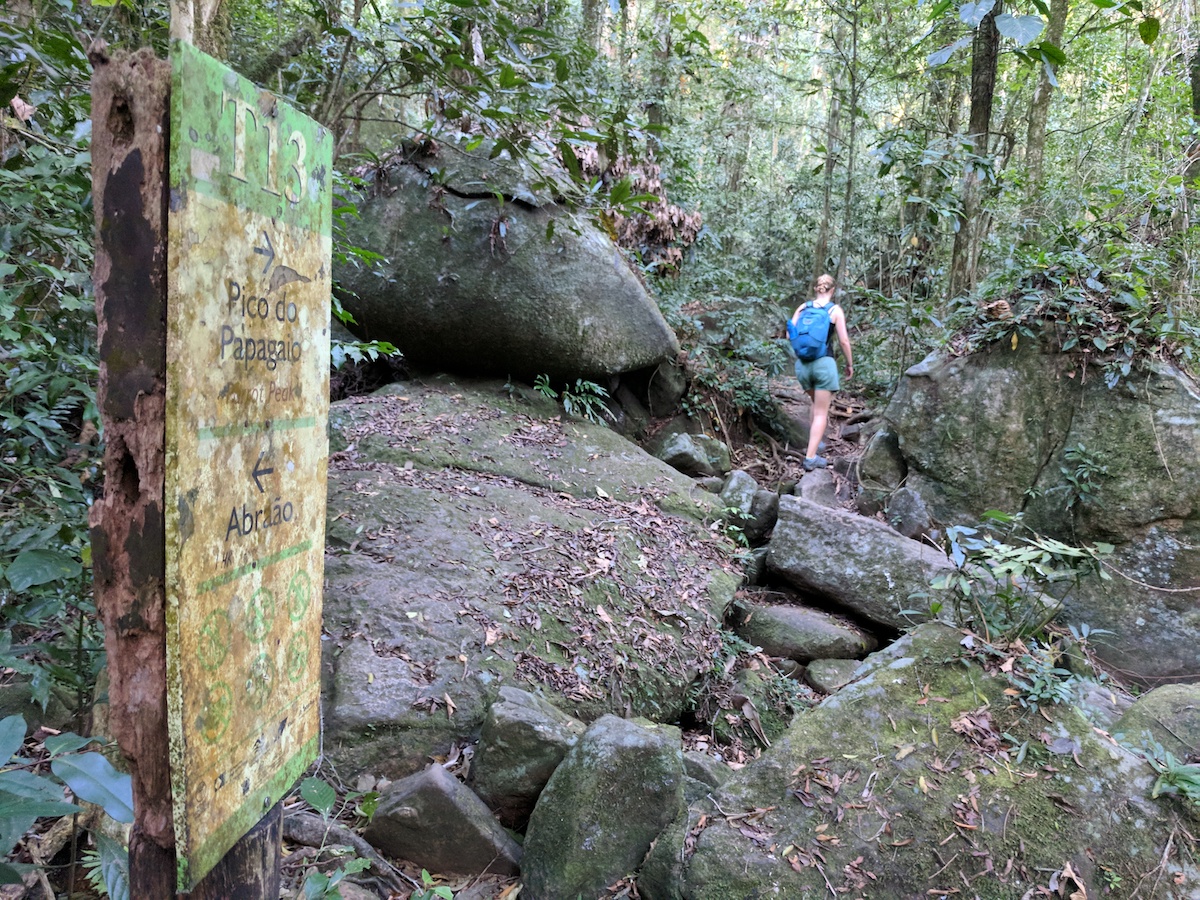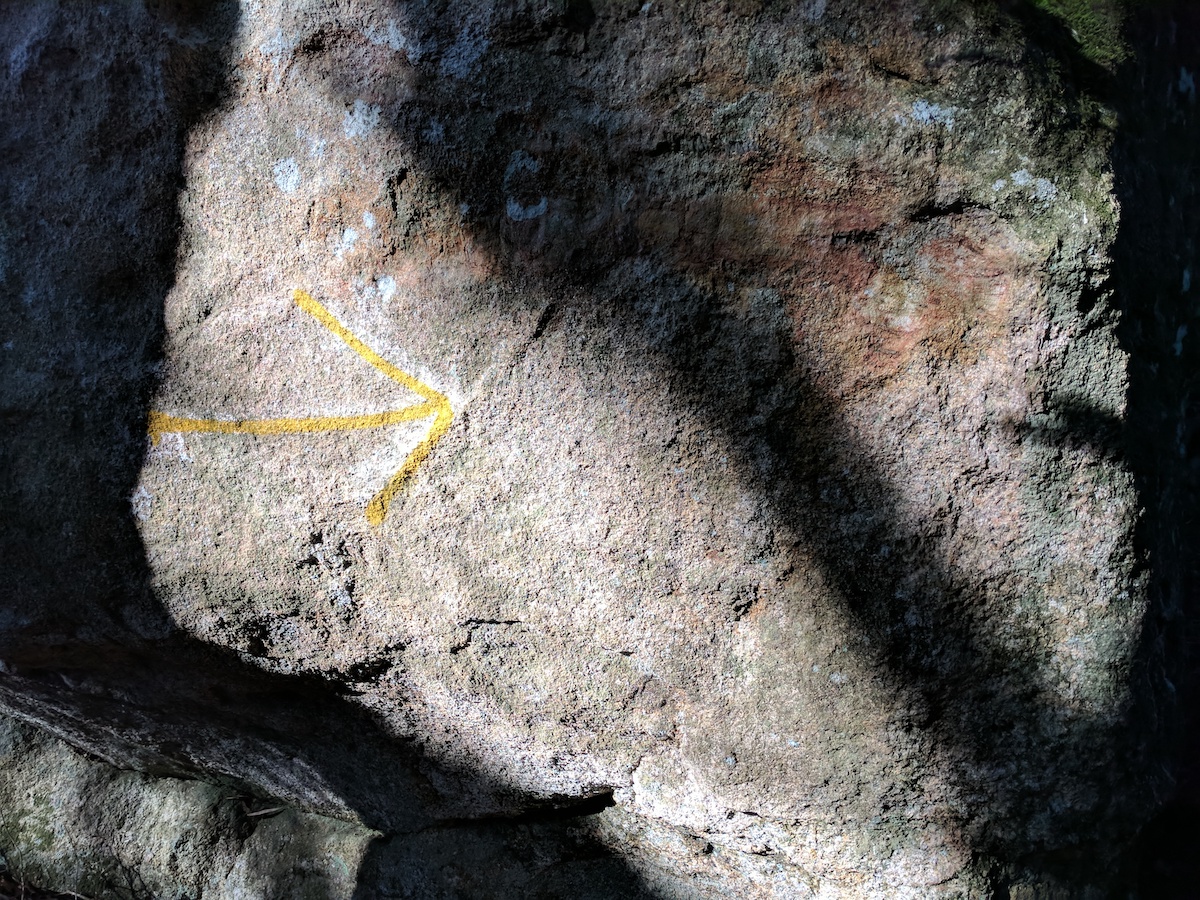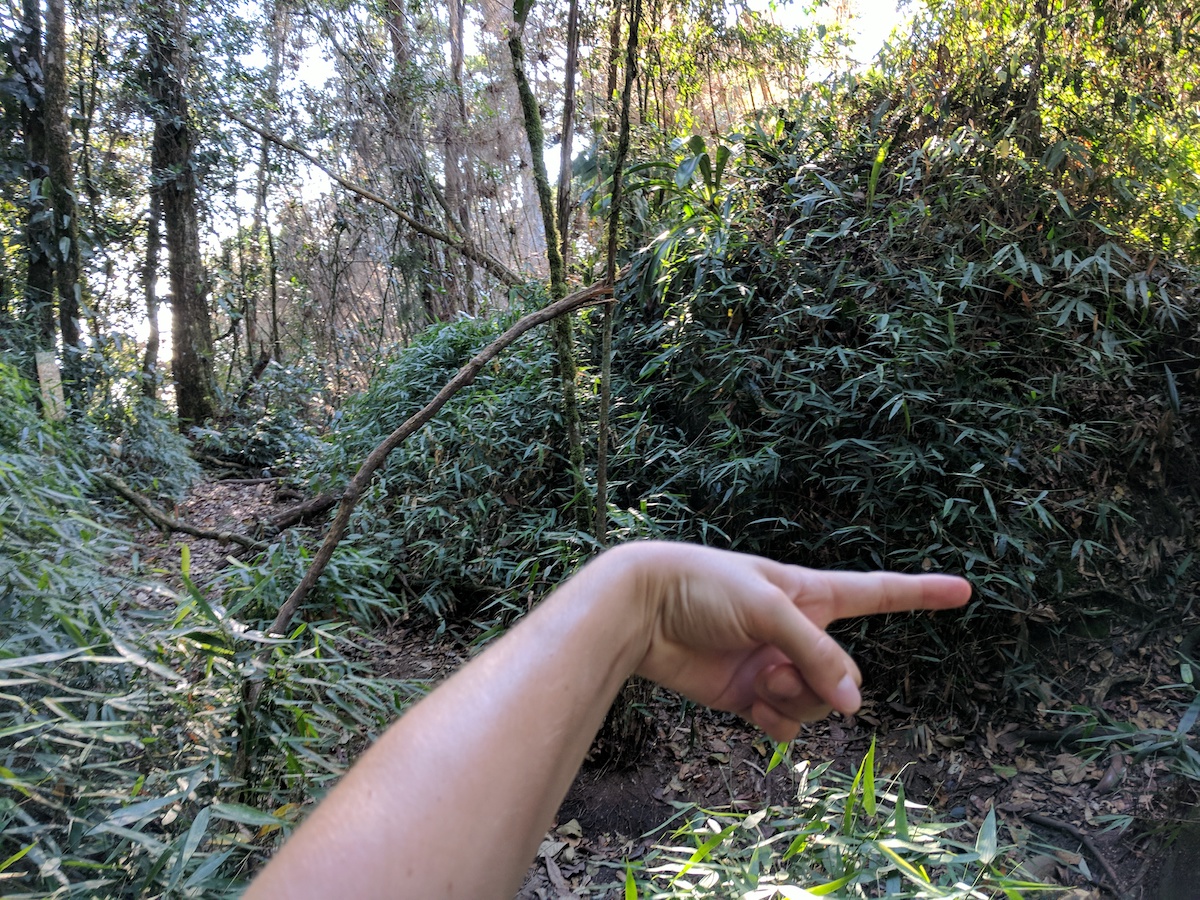 We made it up and down without incident through a combination of official and unofficial signs, plus photo "breadcrumbs" at unmarked trail splits.
After that 9 miles was behind us, we made a quick pitstop to swap out gear and headed out on a trail toward Feiticeira Beach via Feiticeira Waterfall. This hike took us about 1:40 on the trail, not counting the stop at the waterfall/swimming hole. At the waterfall, we saw others rapelling down the (~30 foot high) waterfall face with a guide, which didn't look like it lasted long enough to be worth the cost. After cooling off in the chilly fresh water pools, we got back on the trail and made it to Feiticeira Beach just after 1pm. This ended up being our favorite beach on Ilha Grande, especially before ~3:30pm when many tour boats doing a loop of the northern beaches showed up. It was quiet but not completely empty, and had food/açaí (a delicious purple dessert I've become quite fond of)/drink/taxi boat stands but no pushy vendors. We were pretty exhausted by 4:30pm and took a taxi boat (only 20 Real/6 USD pp) back to Abraão to grab a table at Café Do Mar to watch the final rays of sun fade from the sky before heading back to the Airbnb to enjoy our Day 1 leftovers.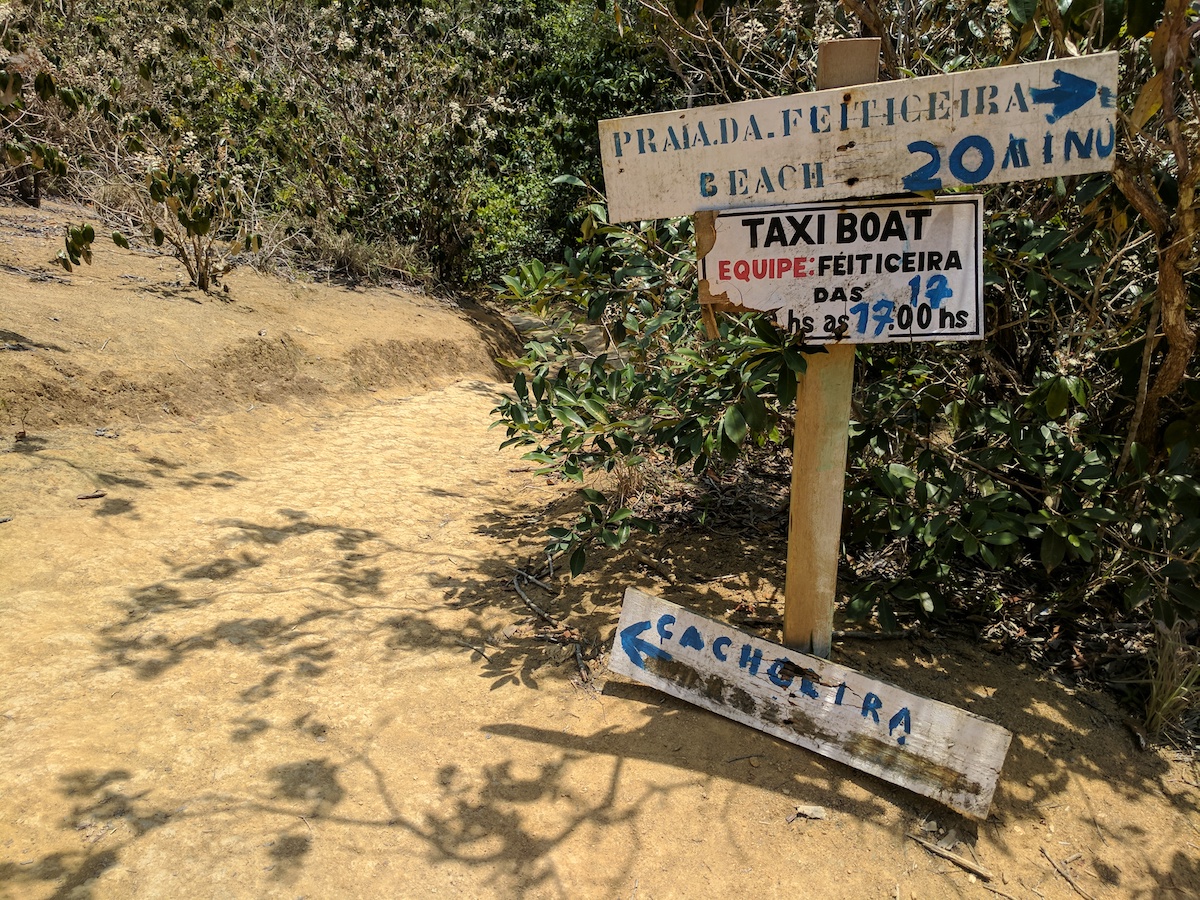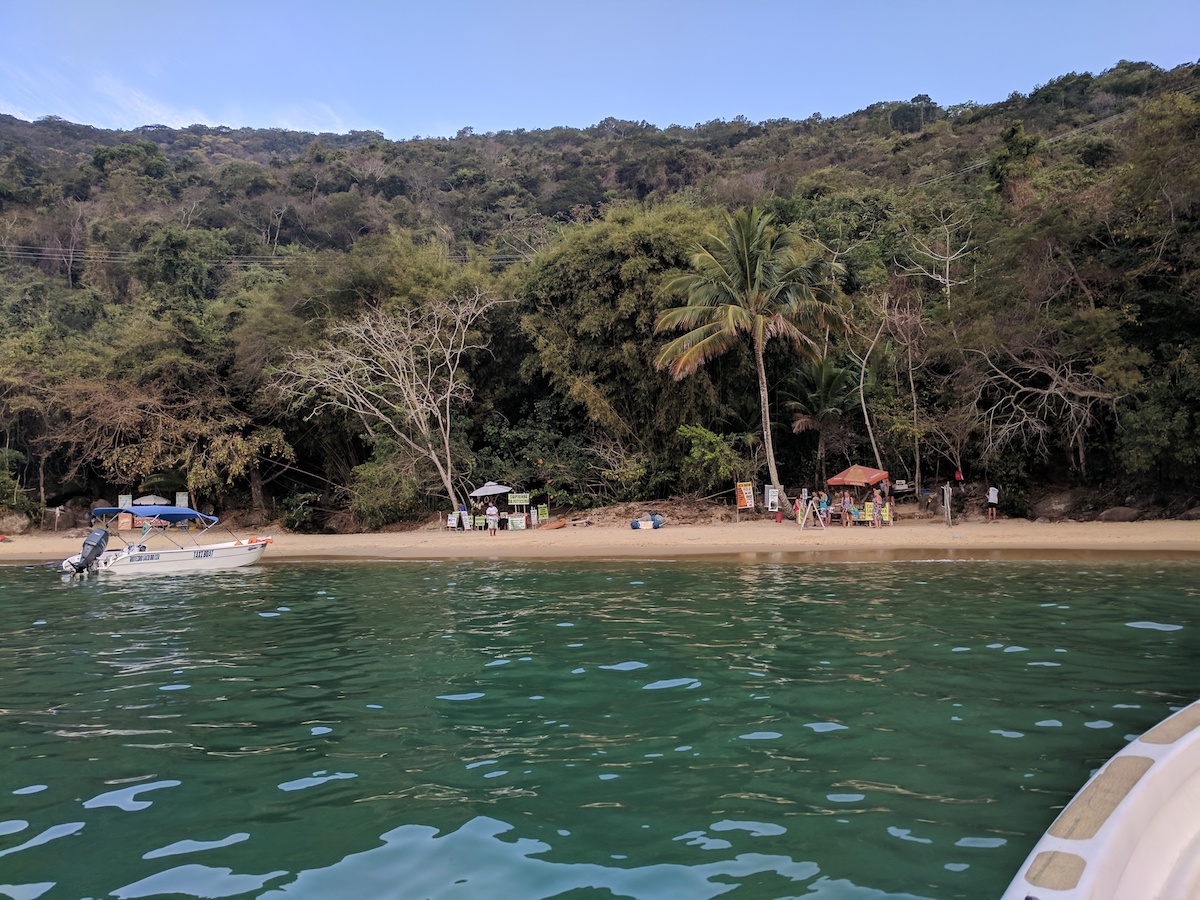 Left: Signs at the split between trails to the waterfall and to the beach. Right: Feiticeira Beach, from the taxi boat as we pulled away to head back to Abraão.
Day 3: After 15 miles of walking the day before we still weren't done and set out on an eastern route (albeit at a more leisurely time). From Abraão we walked to Júlia Beach and then on the T10 trail to Brava de Palmas Beach where we stopped to cool down, enjoy the shade, and have a snack. This was a lovely, pretty isolated beach that most hikers seemed to pass up in favor of larger beaches further down the trail.
Unfortunately when we packed up to head on, we didn't tie our picnic blanket onto Amy's pack quite well enough and it became our first real casualty of the trip somewhere along the next few miles of trail.
We crossed Palmas Beach, avoiding all the vendors hawking pre-reserved boats back from Pouso Beach, and back into the jungle over another ridge. After almost an hour, we reached Pouso, booked our cheap taxi boat back to Abraão for late afternoon (again only 20 Real/6 USD pp).
That set, we hiked the final trail leg about 20 minutes to Lopes Mendes and immediately saw why so many say this is their favorite beach on Ilha Grande. The super-wide white sand beach is undeniably beautiful, and it may be the softest, finest sand I've ever walked on. We didn't love how many people were there (having just done the short walk from their roundtrip boat) and how far the shade was from the water, meaning we weren't comfortable both swimming at once and leaving our pack unattended. We spent about two hours here before heading back to Pouso Beach to hop on our taxi boat back to Abraão, where we stopped at Lua e Mar again for a final Ilha Grande oceanside sunset drink.
Day 4: Unfortunately, our time in Illha Grande came to an end in only 3 days. Ths was our last day and with our 10am boat to Conceição de Jacareí to catch our van to Paraty, we didn't get to do much beyond have some breakfast, pack up our backpacks and head out. Luckily for us, after days of brilliant weather it was cloudy and dreary out which may be the only way we were able to make ourselves leave. Even though the weather had turned dreary, there was a sizable influx of new island visitors, likely coming to enjoy a long weekend for a Brazilian holiday we weren't familiar with. The 3 days we were on the island, we were rarely alone around town but the streets were easily navigable. The morning we left, the streets around the pier were choked with people carrying beach gear and trolleys loaded down with luggage. We thoroughly enjoyed our time on the island but our opinion might have changed if we had been there only for a peak summertime weekend.
How We Did with Our Budget
We had originally budgeted as much as $85 dollars a night for accomodations but we were able to find a nice Airbnb in the upper part of Abraão (an area I would recommend as very serene) with a full kitchen for $74 a night.
We had also budgeted $15 dollars per day per person for food and $15 dollars per day per person for entertainment. As usual, we self-catered 2 meals a day to save money, though here we decided to eat out at dinnertime so we could enjoy the sunsets and evening vibe after days of hiking and beaches. We ended up coming in at an average of $61 a day for the two of us (out of $60 a day that we budgeted). This included a fancy dinner at Lua e Mar ($88 for drinks, appetizers, and a seafood stew that ended up feeding both of us for two nights) and each of our taxi boats around the island ($25 total).
Overall, the prices were actually more reasonable than I expected, given it is a touristy island with all supplies arriving by boat, but about equal to Rio or Sao Paulo.
Just a nice hike through the rainforest... until you turn on the sound. We didn't actually see a single Howler Monkey on the trail, but heard them most of the early morning.
---