6 Oct 2017
5 Days in São Paulo: Parks, Museums, and Not Speaking the Language
Landing in São Paulo marked the first time either of us had been to South America. A new continent! I think São Paulo was a nice way to start this part of our trip off before we headed to Rio and the more popular/famous beaches and sights.
One thing that stood out right from the start was that I have been very spoiled traveling to places where English, even when it is not the official or primary language, is regularly spoken. Or traveling to Germany and Austria where my German is still good enough to get around comfortably. Coming from South Africa, where almost everyone we encountered spoke at least some English, the near complete lack of English in Brazil so far has been striking and humbling. We bumble through pretty well using a few phrases (mostly "não falo português"- "I don't speak Portugese"), pointing at menus, and hoping the signs we can't read don't say anything too important. Even simple things like making small talk with waiters and taxi drivers becomes nearly impossible. You don't realize how much those basic interaction mean until you can't really have them. As a coping mechanism, I've occassionally attempted to speak German, which doesn't make sense but when confronted with the need to be understood, it is what my brain has determined is the correct answer. Unfortunately, it was wrong.
Another thing that stood out was the traffic. It caused serious flashbacks to the unpleasant memories of the traffic in Los Angeles, except with more motorcycles and scooters weaving in and out. The city is much more sprawling than L.A. too, so I can imagine having to commute really changing my impression of the city. Luckily we were able to avoid the traffic except going to and from the airport.
What We Did
Day 1: We arrived and got enough groceries to have breakfast the next day. The apartment we were staying in was conveniently only two blocks from one of the only markets still open on a Sunday night. Then we promptly went to sleep (the time difference from South Africa was a little rough but 11 hour flights are starting to feel like a walk in the park).
Day 2: We walked down Avenida Paulista and enjoyed the hustle and bustle of the busy business street. We walked through Tenente Siquera Campos Park, which is a little urban jungle with walking paths and playgrounds that makes our small patches of green space in DC look pretty boring. Then it was on to the metro to visit São Paulo Cathedral (Catedral da Sé). We didn't want to join mass, so we headed to lunch at Mercado Municipal instead.
The market was shuttered in several sections but we found one section that was still busy with activity. Vendors were selling fruits, meat, and fish of every kind you could imagine and competing aggresively for business. We passed up the attempt to barter for fruit and moved on to Bar do Mané. We didn't know what we were getting ourselves into. Bar do Mané was established in 1933 and is apparently (little did we know) quite famous. We were able to grab a small table and even though we were unable to understand most of the menu, we were able to order two of the sandwiches that had pictures. Nate happened to get their famous mortadella and even decided to be daring and get the large version. When it arrived, there was enough meat on his sandwich to make 4-5 normal sandwiches. It was the biggest pile of meat masqerading as a sandwich that I've ever seen. Still, the food was delicious and quite affordable. We left full and happy. What more could you ask for?
From there we attempted to visit Jardim da Luz (only to find that it is closed on Mondays). Disappointed, we headed back for some real grocery shopping and to make dinner. An important aspect of the day was that it poured rain all day and by the time we got back to the apartment we were throughly soaked. It took two days for my poor ballet flats to dry out. We were determined not to let the rain ruin our day but it can really change the experience of discovering a new city…
Day 3: We visited the Museu de Arte (MASP) on Avenida Paulista because it is free on Tuesdays(!). I especially enjoyed the Gorilla Girls exhibit and recognized the unfortunate (intentional?) irony that the exhibit shared a space with the work of a male artist who focused exclusively on female nudes.
Then we walked down Rua Oscar Fierro, which is packed with stylish boutiques that featured beautiful evening gowns that sadly did not seem like a neccessity for the rest of the trip. Unfortunately, I started to feel ill (possibly because my body is still adjusting to this new temporary non-vegetarian life) and so we took a long afternoon break. Luckily I rallied enough to visit JoJo Ramen for dinner only a couple of blocks from our apartment. The ramen was delicious and I attempted to speak German to make up for my complete lack of Portuquese or Japanese (also an option) vocabulary. The staff were very patient with us and the owner (we think) was originally from the Philippines, but moved to São Paulo 9 months ago, felt our pain and had a lovely conversation with us in English.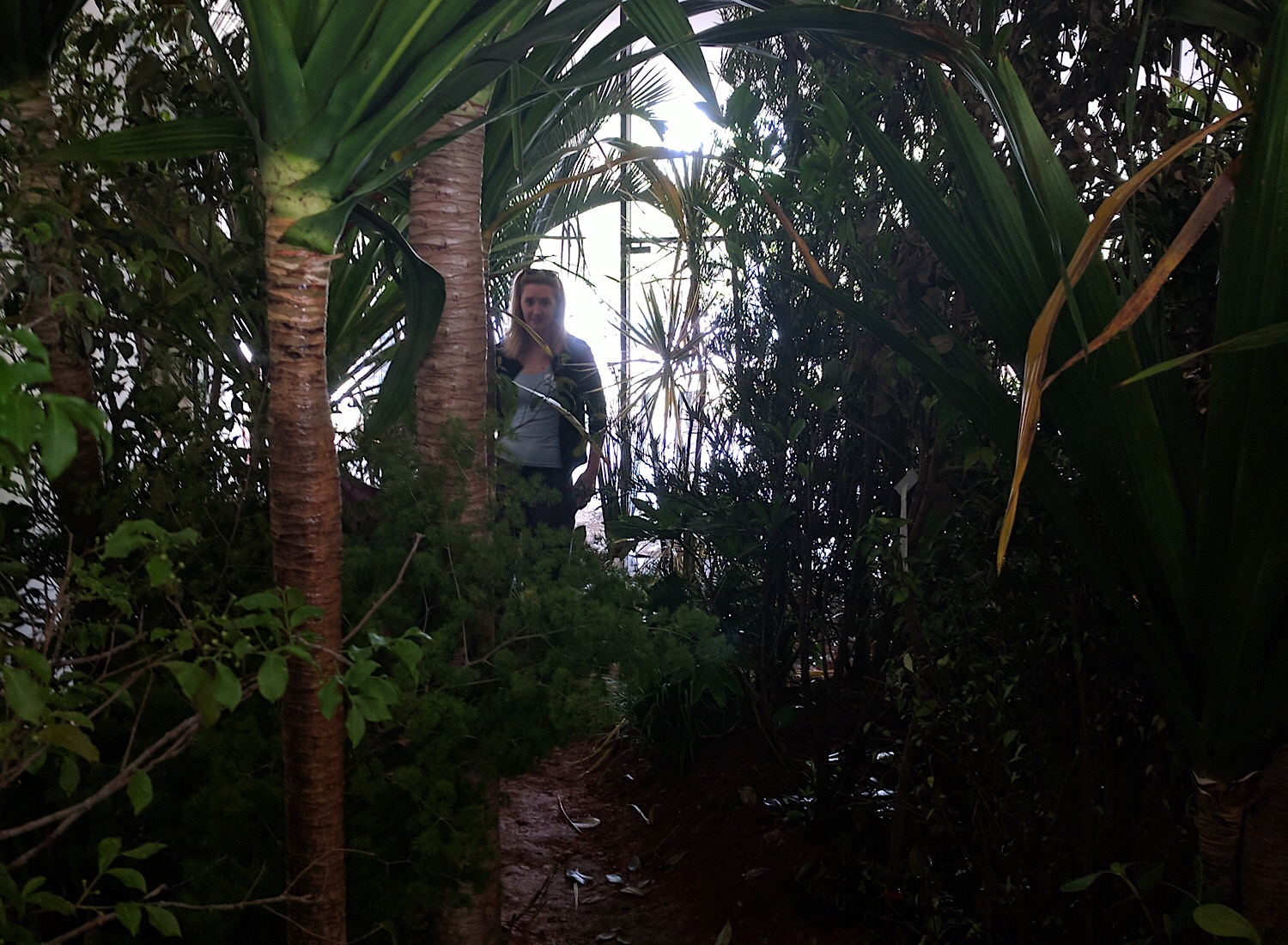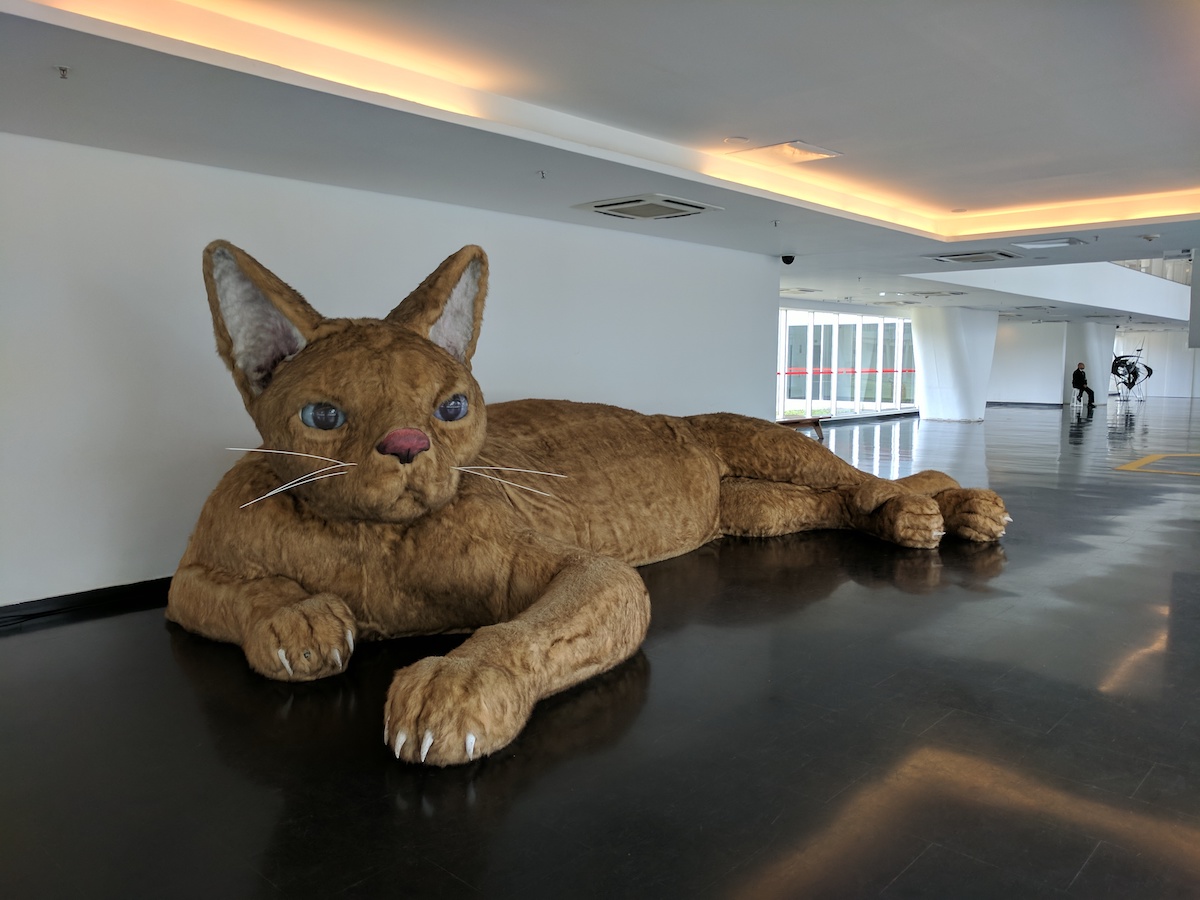 The first image is not a jungle, nor a park, but an exhibit at the MAM. The second image is a piece at the MAC and it's a purring, touchable, cat.
Day 4: We walked to Parque Ibirapuera, which is comparable to Central Park. It's a large park with plenty of bike paths, running trails, exercise parks, museums, concert venues, and more stands selling fresh coconuts than you could count. We ended up walking about 5 miles and visiting both the Museum of Modern Art (MAM) and the Museum of Contemporary Art (MAC). Full disclosure, when we came across MAM, we thought it was MAC and otherwise would not have visited. MAC is free(!), MAM is the equivalent of $2 per person. MAC has a lovely rooftop deck that looks out over the park and the city, while MAM is small and has a room that's full of plants (see photo above). If you find yourself in São Paulo, I would suggest skipping MAC and heading across the nearby elevated walkway to MAM.
We started walking toward Liberdade (Little Japan), which Wikipedia says is home to the largest Japanese community outside of Japan. Immigration started in the early 1900s after Brazil banned slavery as poor farmers in Japan sought jobs on coffee plantations for a chance at a better life. Now the diaspora is over half a million in Liberdade alone.
On the way to Liberdade, we stopped at Suzaku for lunch. The staff at the restaurant again spoke both Portuguese and Japanese but no English. Eventually we figured out that there was a fixed lunch special (rodizío) that you could order. This was great because it only required pointing at one thing, sitting back, and letting the food come. The only downside was that we weren't sure what food would be coming. It turned out to be appetizers of a cucumber salad, goyza, two kinds of dumplings, grilled salmon, and pan-fried mushrooms. That was just the "first course" and was followed by a huge platter of at least a dozen kinds of sushi, and a large conical salmon salad roll. If all that wasn't enough, then dessert came with the option of chocolate ice cream or banana flambé with vanilla ice cream. Like our experience at Bar do Mané, we didn't really know what we were getting ourselves into but we left full and happy (and just a little over budget).
Day 5: Unfortunately, our time in São Paulo came to an end in only 5 days. Ths was our last day and with our flight to Rio at lunchtime, we didn't get to do much beyond have some breakfast, pack up our backpacks and head to the airport again. It felt like we'd only just arrived.
How We Did with Our Budget
We had originally budgeted as much as $85 dollars a night for accomodations but we were able to find a nice apartment in Vila Mariana (a neighborhood I would recommend!) with a full kitchen for only $54 a night.
We had also budgeted $15 dollars per day per person for food and $15 dollars per day per person for entertainment. As usual, we did 2 meals a day at the AirBnB to save money and ended up coming in at an average of $44 a day for the two of us (out of $60 a day that we budgeted). This included a big dinner at JoJo ramen ($36 for two bowls of ramen, an appetizer, and beers) and an even bigger lunch at Suzaku ($43 for the two of us).
This also included Ubers to and from the airport and several subway tickets.
Overall, the prices were pretty comparable to D.C. prices, maybe a little cheaper, so it was definitely an adjustment from the bargain prices in South Africa.
---