6 Nov 2017
Buenos Aires Part II: Palermo
The Palermo neighborhood was the most frequently recommended area for visitors on all the travel sites I read before arriving. We were also informed by the owner of the apartment we stayed in as soon as we arrived that it is the best part of Buenos Aires. We enjoyed San Telmo too but it would be hard to argue that Palermo isn't wonderful.
What We Did
Day 1: Our first day in Palermo, we set off to explore a collection of parks north of the neighborhood. Little did we know, even when it is not a holiday, lots of things are closed on Mondays. This apparently even includes parks. So visiting the Bosque de Palermo park and all its lakes wasn't an option. We walked around the edges looking at the lakes and little islands from the other side of a fence. We also had no luck with the Eco-park, though it seems to be closed for an extended period of time. We still had a very enjoyable walk and the weather was excellent.
We also explored Palermo Soho, one of the smaller subdivisions of Palermo, which is packed with cafes, restaurants, and shops.
Day 2: As a special treat, I decided that I would take a yoga class. There was a studio only 3 blocks from our apartment with English-speaking instructors that I was excited to try. It has been harder than I thought to make time to exercise while we've been traveling. We do plenty of walking but making time and finding the energy to do yoga by myself in whatever space I can find in whatever apartment we are in at the time has been challenging. Taking a class again was a lovely change of pace and left me feeling energized, though it turned out that their only Spanish speaking teacher was filling in for my class. Turns out most of yoga is pretty straightforward, even if it's not in your first language. I think I'll make it a regular practice to try and find a studio in cities where we stay longer than a couple of days.
Our next stop of the day was not as successful as my morning yoga class though. We visited Museo Evita, which despite many reviews online and write-ups in guide books, was possibly the most disappointing museum I've ever visited. Evita was a very interesting person. Before we left for the trip I watched the movie about her staring Madonna and read her autobiography. There is a lot of material available. Honestly, I learned more from Madonna than I did from the museum. If you want to see some of her outfits up close and in person, then this is a great stop. Otherwise, it is absolutely not worth it. Information was sparse and the glowing praise of Evita was so skewed as to be distracting.
We wrapped up the day with a walk through the Botanical Garden. It is much smaller than others we've visited so far but was still a pretty reprieve from the city and free, so can't really complain.
Day 3: After traveling for over 6 weeks, Nate was getting pretty desperate for a haircut. Poking around online and generally observing the local haircuts (especially the frequency of mullets…) had not left him feeling confident he'd be pleased with the results but desperate times, desperate measures etc etc.
His haircut didn't turn out bad at all and I got to bide my time waiting for him at a cute and very pink cafe (La Panera Rosa) enjoying the best cafe con leche and medialunas (see below for more on these little delicacies).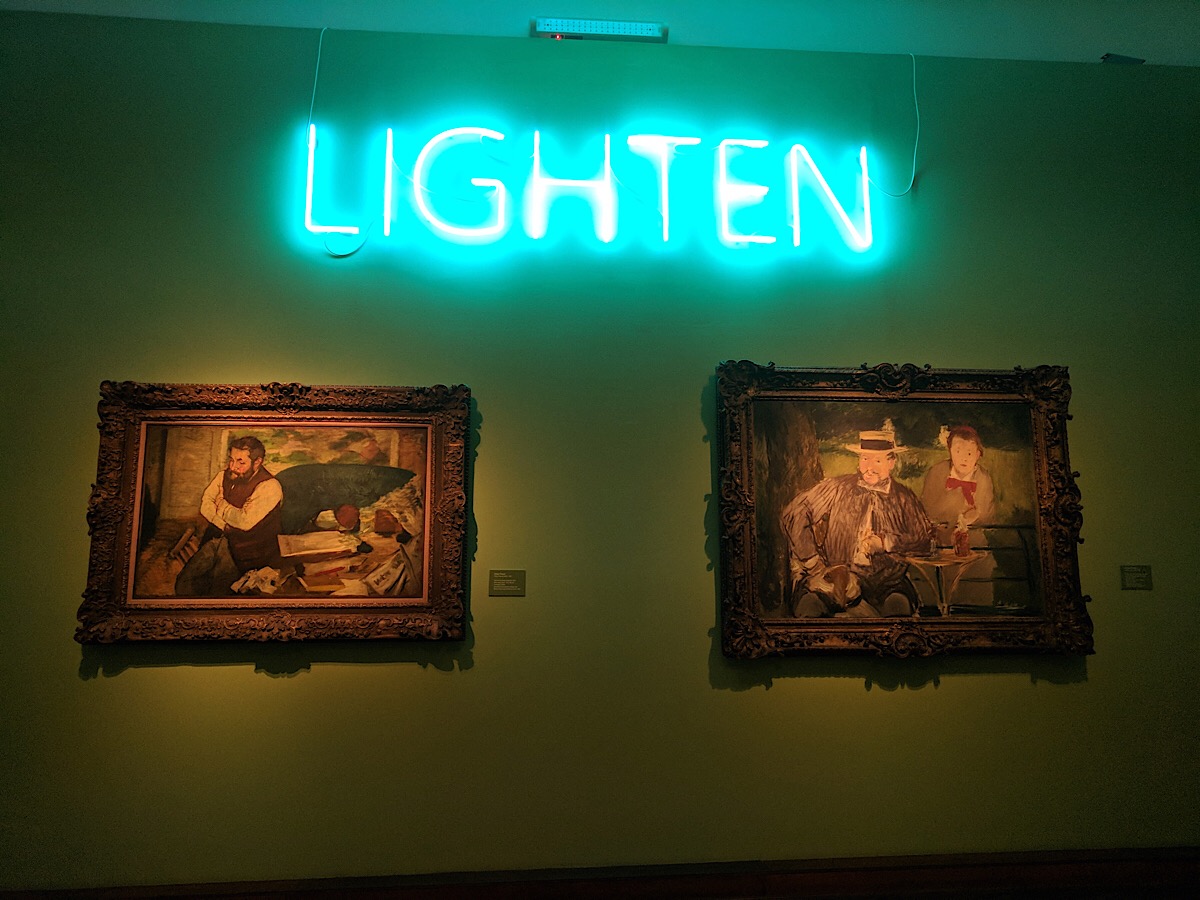 From there, we made our way to Flores Generica and the nearby Museo de Bellas Artes.
At the end of the day, Nate convinced me that we had to try a parilla. Parillas are Argentine grills that really run the gamut from very casual and more like lunch counters, all the way to quite a bit more fancy with white table clothes and waiters in suits. He, with the help of our food tour guide from Rio, identified Parilla Pena as the best option for a nice meal with quality service at a fair price. See below in my rave about the food in Argentina for more on this little steakhouse.
Day 4: We had been waiting to do a tour of the famous Recoleta cemetery in order to do the free English tour run by the city once a week. Finally, it was the correct day and we showed up ready for a similarly-enjoyable tour to our La Boca bike tour. Unfortunately, the English tours no longer run. According to the expat tour guide that was trying to solicit business outside the cemetery, they haven't been happening for three years. Does the city website still advertise these tours? Yes. Was I a fool to believe that government websites were updated more frequently? Yes, I should know better by now. Sigh.
Recoleta Cemetery is a strange but interesting place to visit. The contrasts between the ornate, sometimes quite old, mausoleums and the high rise apartment buildings and billboards just beyond the walls is interesting. The mausoleums can be many floors below the surface with steep staircases down into them. There are some that are extremely elaborate, others that are in disrepair. It is also strange to find ourselves perusing a graveyard. I know it happens other places too but it still seems strange.
My biggest regret is that the whole area is supposed to be home to a bunch of cats. There was evidence of them, lots of food and water bowls, but not a single cat decided to say hello while we were there.
The main attraction for most visitors to Recoleta Cemetery is the mausoleum of Evita. It isn't hard to find. It was the only place where there was always a group of people taking photos. It is covered in flowers and clearly gets a lot of attention. However, because she is buried in her family's crypt, it isn't nearly as ornate as many of the crypts for former Presidents, businessmen, or military leaders. It's fairly simple and if not for the crowds, you might walk right past it.
Day 5: Unfortunately, our luck so far with avoiding getting sick despite the travel, new places, and constant activity came to an end. It luckily wasn't too serious but first Nate, and then I, got sore throats and colds. We were still able to go out and adventure but ended up more fatigued and ready to get back to the apartment and rest than we otherwise would have been. We also really wanted to be well for our upcoming trip to Easter Island. So, we decided to take it easy. We did queue up for free tickets to a concert at the famed Colon Theater though. The last Sunday of every month there is a free concert at the historic theater and with tours costing nearly $20 a person this seemed like a much better way to enjoy it. The ticket office opened at 10:00am and we got there around 10:05am. There was a line out of the building but it moved quickly and by 10:20 we already had tickets in hand. The theater ended up not being completely full when we returned for the show, but we read they normally "sell" out quickly.
Day 6: Despite a continued sore throat, we decided to take a day trip after almost two weeks in the heart of Buenos Aires. We were running out of time and resting is not my strong suit. So we decided to head for Tigre, which is accessible using a train/subway that we were able to use the same card we used for the Subte (subway) in the city and on Saturdays, it is apparently popular for porteños (people from Buenos Aires) to go enjoy a slower pace and some time on the water.
The ride took about an hour with very regular stops but it was very easy. Tigre itself is mostly accessible by boat but we weren't up for the full day boat tour, really the only way to see some of the less accessible parts of Tigre where the rivers are not as deep, and instead spent the day walking along the waterfront, watching the boats, and having a long lunch outside in the sun. There were several craft markets set up around the docks where tour boats and taxi boats arrive and depart and a few well groomed parks. It was another slow day of exploring and with a small stash of cough drops we managed to enjoy ourselves but decided to head back in the early afternoon so as not to tempt luck too much.
Day 7: Sunday was concert day. After queuing up on Friday, we headed to our 11:00am concert. We knew almost nothing about what we'd be seeing. When we arrived, the interior of the theater did not disappoint. I was so glad we were able to get tickets so that we did not miss out. We were also very pleasantly surprised that our tickets were for very good seats in a box on the first level just to the left of the stage! The show itself turned out to be something of a school recital with two of the three performances coming from groups of students that looked to be in high school. Still, they were quite good and definitely worth the time we spent to get the tickets.
After the concert, we had some time to kill before our second attempt to take a tour of Casa Rosada, which was good because we needed to go ATM hopping.
There is a strange but apparently generally-accepted problem in Argentina if you need to get money on weekends. Many of the ATMs run out of cash on Saturday night and do not get refilled until sometime on Monday morning. Nervous about getting an Uber for our very early morning trip to the airport, we decided to reserve a taxi. The downside was that unlike Uber, we would need to pay in cash and we did not have enough. So we went ATM hopping. The most frustrating part, other than not getting money, is that the ATMs don't tell you upfront that they have no money. You have to go through the whole process. You put in your PIN, how much money you'd like, and then it tells you it has no money. We had to visit 5 banks, trying multiple machines in each, before we were able to find one that had cash. In the end we prevailed but if in Argentina, think carefully about your need for cash over the weekend.
Our last stop in Buenos Aires would be Casa Rosada. Luckily, we were able to take our tour without issues this time, after protests about the mid-term elections had led to a lockdown the previous week. The building is quite stunning, even after you get past the pink exterior and it was interesting to compare and contrast it with a visit to the White House. Security is definitely not as tight at the pink house but their cabinet room and hall for press conferences are significantly bigger and more ornate.
It was also interesting to once again see the outsized role of Peron and Evita. Evita's Salon is still kept in the President's wing, with her desk. There is also the official portrait of the two of them just outside. Presidents since Peron haven't even used the famous balcony where Peron and Evita would give speeches (and Madonna sang Don't Cry for Me Argentina) after Peron. It is considered Peron's balcony. The influence of Peron is everywhere.
Day 8: We had to be up at 2:15am to get a 2:45am taxi to the airport for our 5:00am flight. While it was worth it to get to Easter Island at 1:00pm instead of 10:00pm when we would have had a lot more trouble getting to our lodgings. An epic thunderstorm and my constant nervousness about sleeping through important alarms meant that I was running on about 1.5 hours of poor sleep. The upside is that there was no traffic on the way to the airport, so we made excellent time.
The Food, Oh the Food
I can't end my description of Beuenos Aires without going into more detail about the food we had though. We didn't do a food tour like we did in Rio but we had some great food.
Empanadas: These are everywhere in Buenos Aires. We tried our fair share including everything from those available pre-made at the grocery store (an easy dinner but nothing in comparison to the delicious ones available elsewhere) to homemade, hand-folded ones at several restaurants. Our stand-out favorites were both from La Quarencia. Mine was a Humita (sweet corn) empanada and Nate's was a spicy beef one. Competition was tight though and we tried over a dozen kinds of empanadas over our time in Buenos Aires.
Medialunas: Not quite as ubiquitous as empanadas, medialunas are buttery crossiants that are a breakfast/snack food offered at almost every cafe we passed. Most advertise either 2 or 3 medialunas paired with a cafe con leche (coffee with milk) as a deal. Both the medialunas at the Panamericano Hotel and at La Panera Rosa were my favorite. It was only the most strained self-control that kept me from getting 2-3 of these little bits of heavenly goodness every single day.
I've found a few recipes though and plan to try my hand at making them, including the rum/sugar glaze, when I get back from this adventure.
Parilla Pena As I mentioned above, Nate really wanted to try one of these Argentine grills. Parilla Pena is definitely a nicer version of the concept but still very approachable, and not super touristy like some others closer to the main hotel aras. The clientele while we were there was largely 60+ porteños. One group of 5-6 older men spent at least 2 hours, napkins tucked into their collars enjoying their dinner, and an assortment of older single individuals rotated through the tables in front of us, including one gentleman who ordered enough food to feed at least 3 people and contently went about eating it himself.
The main food at a parilla is the meat. I was a vegetarian for a long time before taking this trip and while I've been eating meat while traveling, I was hesitant to go to a parilla. It is a very Argentine experience though, and if I was going to eat a steak, this was the place to do it. Nate couldn't have been happier and I have to admit, the steak was good. It was really good.
We ordered a chorizo, which is not a sausage apparently but a rump steak, and a bife de lomo, which is a tenderloin. We also had an amazing slab of grilled provoletta cheese, and some papas fritas. The closest I got to real vegetables at this meal was a serving of olives as an appetizer.
The steak, specifically ordered as jugoso to avoid the apparent preference of porteños for well-done meat, was delicious. I haven't had a lot of steaks in my life but I have to admit, this was good. Before anyone gets too excited (my brother especially…) this will not be a regular occurrence for me, I'm quite attached to my herbivore lifestyle, even if I am straying to try new things during this trip.
How We Did with Our Budget
We had originally budgeted as much as $70 dollars a night for accommodations. We were $1 USD over per night on our San Telmo apartment but well under at $60 per night for the second week in Palermo, leaving us with a little extra savings overall.
One of the most notable shifts in our budget was that we had originally planned $24 a day for food and $30 for entertainment. Instead, we spent about twice as much on average ($49.25) on food and only $9 a day on entertainment. Basically, food was our entertainment here and I have absolutely no regrets about it, though it's probably good we walked so much…
---