31 Dec 2017
Nyaungshwe: Our Entry Point to Inle Lake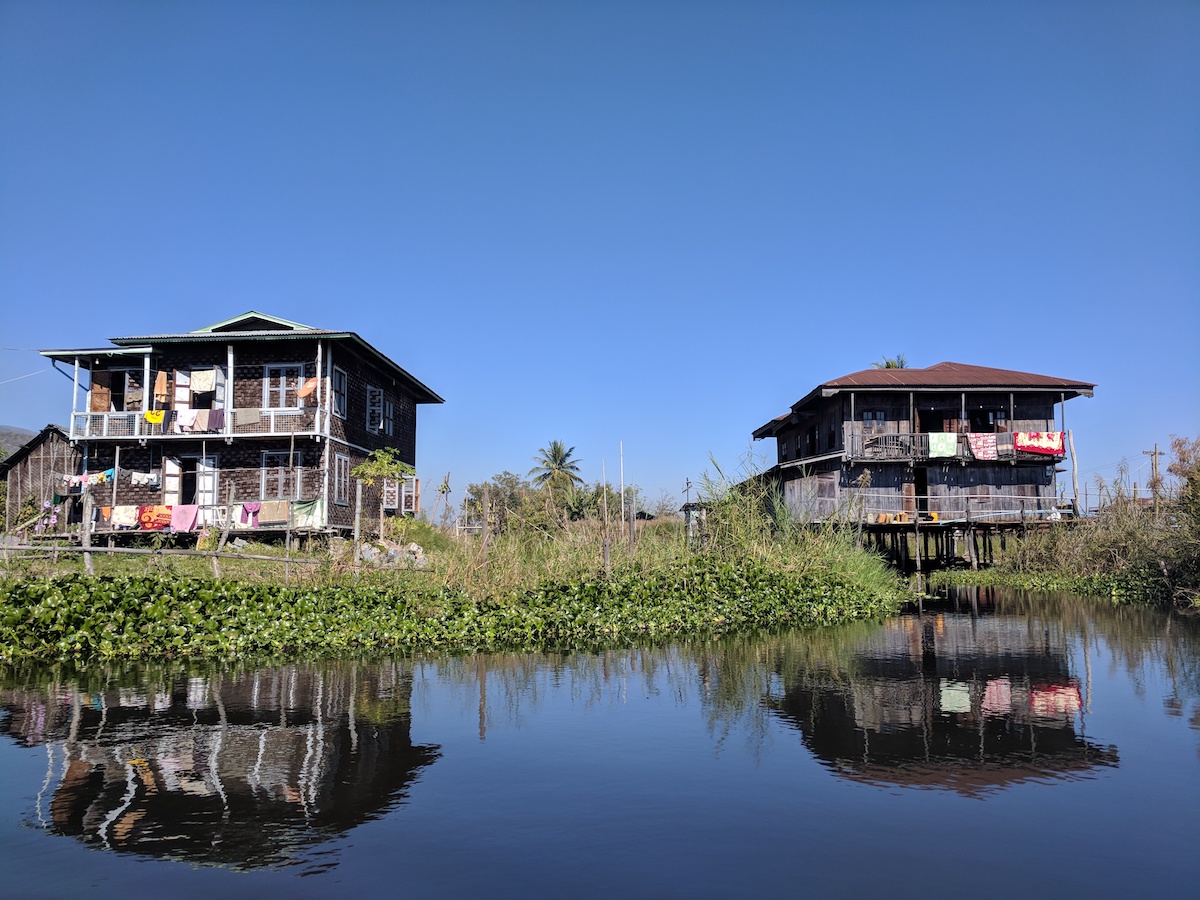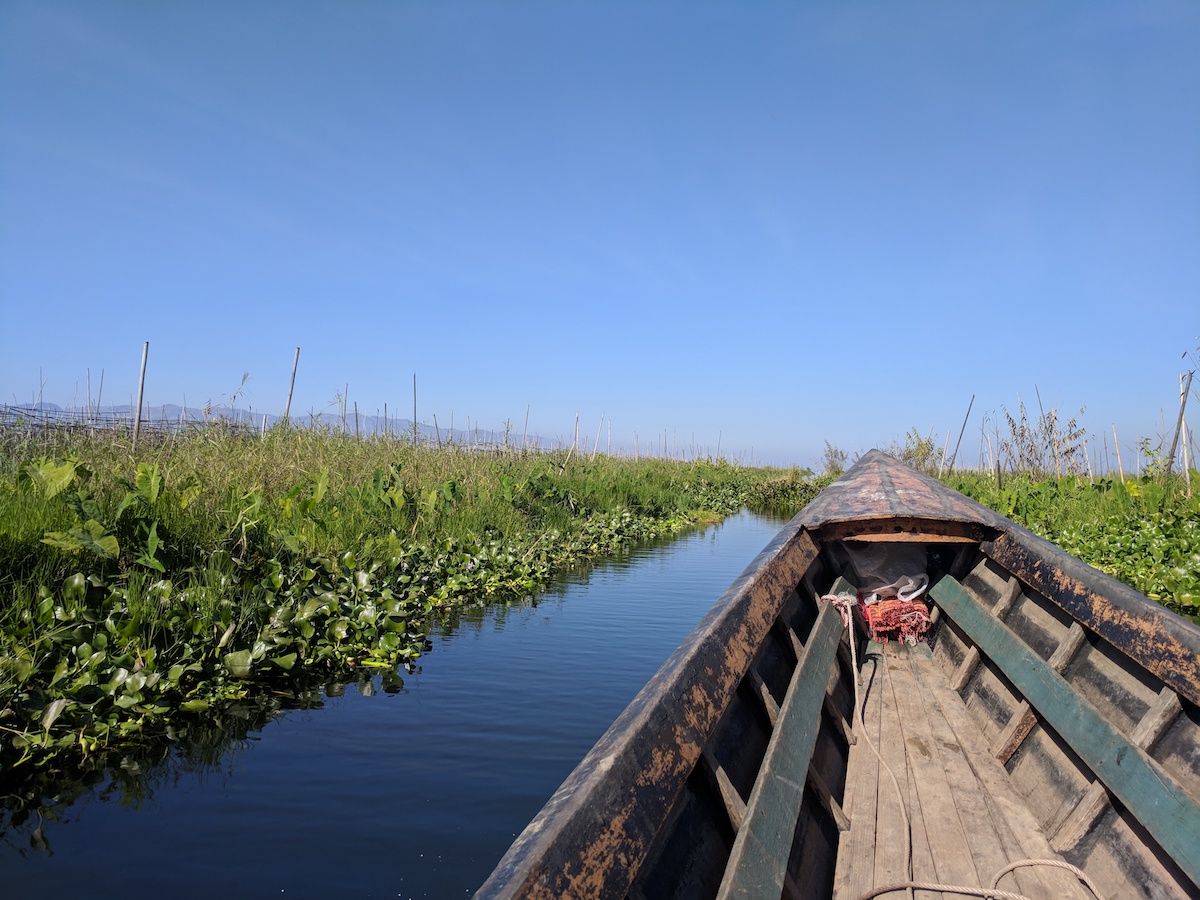 A view of the stilted houses on the lake and of our long boat making its way through the floating gardens.
After the hustle and bustle of Yangon, we made our way to Inle Lake. Instead of multi-lane roads we had to dart across dodging cars, the road was too narrow for two large trucks to pass on it, had no markings at all and traded broken concrete for dirt and gravel. Cars became fewer and the number of motorbikes loaded down with people and parcels of all different sizes increased.
Day 1
First off, I have to say that we borrowed heavily from this Travelfish itinerary.
Our first day, we arrived to Nyangshew in the afternoon and so we made our way toward the jetty to find a boat tour and figure out transportation onward to Mandalay. When you get to the jetty, right on the edge of town, it is not difficult to find willing boats. Even before we got to the jetty, men on motorbikes would slow down enough to ask us if we needed a boat for the next day. We wanted to go straight to the boat drivers though, and so we bypassed the men on motorbikes and pushed on to the jetty. Our research had told us that it would cost between 18,000 (13.50 USD) and 25,000 (18.50 USD) kyat to hire a boat and driver for the day. Because we wanted to visit the many stupas of Indein at the far end of the lake, we expected to pay around 25,000 kyat.
We spoke to one of the first drivers that approached us, learned about his proposed route and we were quoted 22,000 kyat. This would have been very reasonable but we wanted to compare trips and costs with a couple of other drivers along the jetty. So, we said we would be back. The next woman we spoke to wanted 25,000 and when we tried to negotiate downwards to at least meet our previous quote she insisted that we should pay the higher amount because it was Christmas. We passed and would have continued on but the first man we talked to had followed us and dropped his price to only 17,000 kyat clearly afraid of missing out on the fare.
So, we agreed to meet back at the jetty at 6:30am and gave him a 5,000 kyat deposit so that he could buy fuel for the boat. We would be taking our boat trip with a driver named "uh-uh" like the character from the musical Chicago he could speak a little bit of English so we could get by though it was clearly not going to be a narrated tour.
Our only other task for the day was getting a bus to Mandalay for the next leg of our trip. There are probably at least as many tour/travel agents in Nyaungshwe as anything else so deciding where to go to get the bus wasn't easy. We stopped in several shops to ask about their buses and prices before deciding on a daytime minibus that cost 12,500 kyat (9.17 USD) per person (the lowest quote we got) for the 6-10 hour drive to Mandalay.
With our chores completed we ended the day with a delicious dinner of dim sum very near our hotel so we didn't have to walk too far on the dusty and dark road to get back after dinner.
Day 2
Having booked our boat trip for our third/last day, we spent our second day riding some of the free bicycles provided by our guesthouse around the lake. In hindsight, we probably should have paid a little money for some nicer bikes. We picked two of the bikes that had both working brakes and gears but then realized my bike's gears didn't actually work and the seat of Nate's bike had a stripped bolt that meant it kept tilting up while you rode. After only about 10 minutes we ended up switching bikes so Nate had to work a little harder and I had to put up with adjusting the seat any time I went over a large bump, which on the roads around the lake was frequent.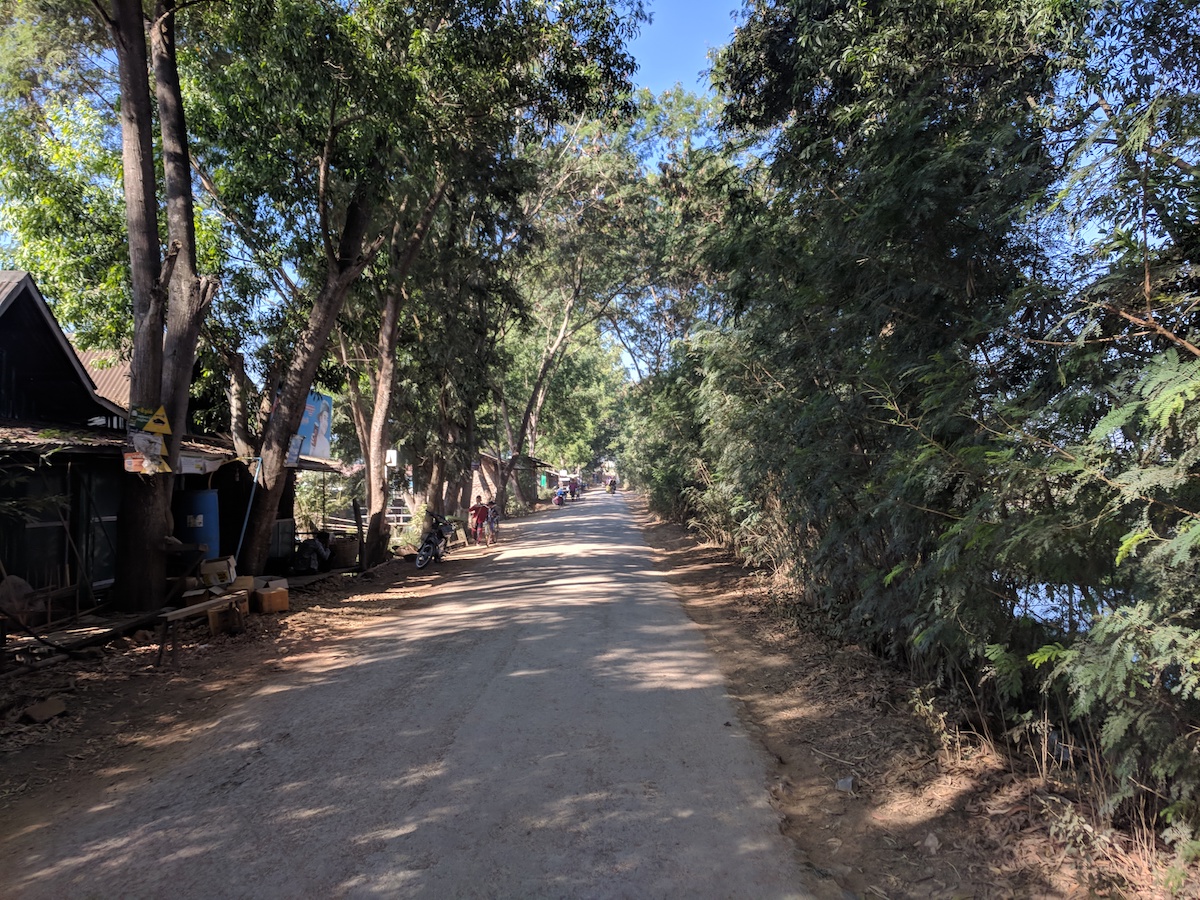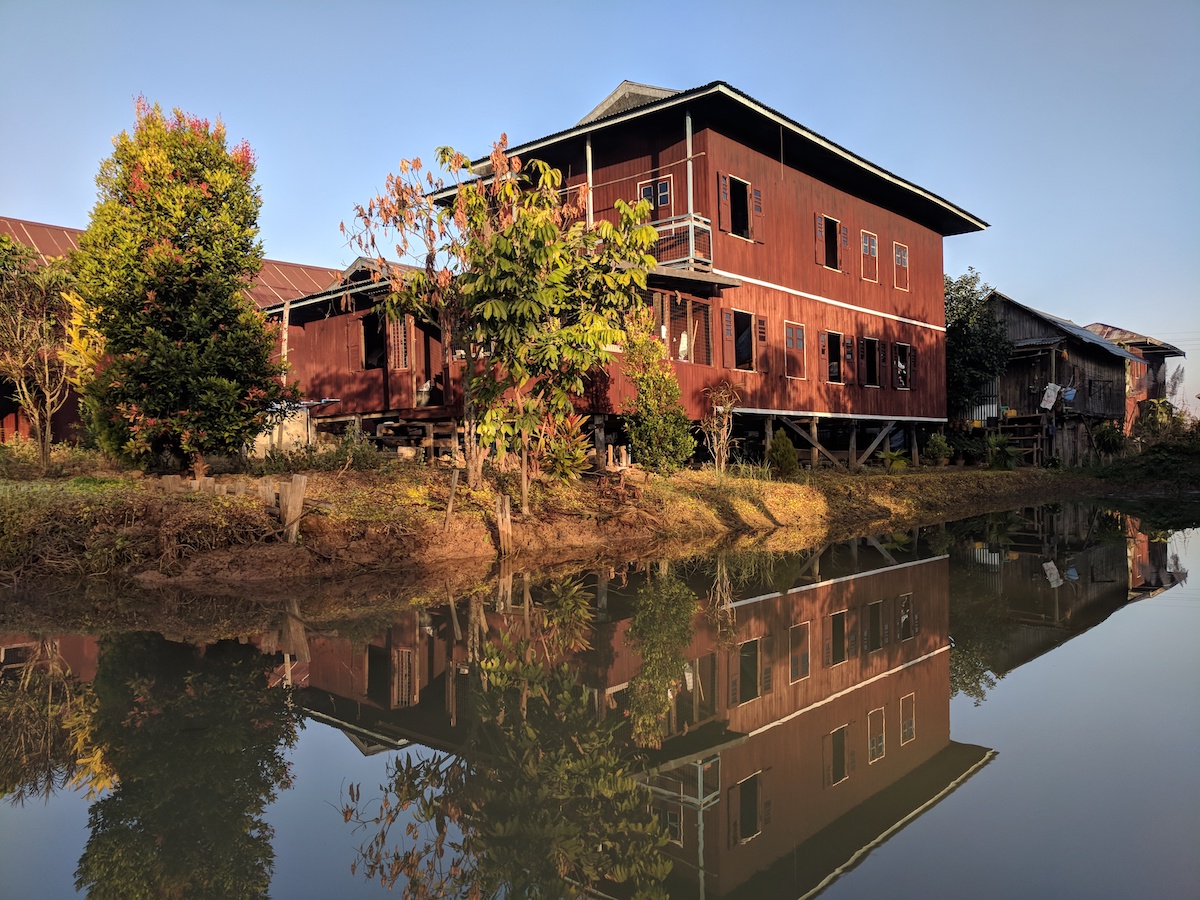 The nicely tree lined street we biked down as we headed around the lake and another very pretty stilted house.
Determined not to let the bikes ruin our fun, we road counter-clockwise around the lake through some small villages and past pagodas and swampy land on the edge of the lake. Instead of going around the entire lake, we took a shortcut by stopping at a dock to hire a boat to take both us and our bikes across the lake to pick up the road again. There are multiple places along the way where you could stop to get a boat and the men at those docks called out that this is where we were supposed to cross and some even followed us down the road on their motorbikes telling us we should turn around and that we'd missed the chance to take a boat across the lake. We hadn't though and found the dock we were looking for. Unfortunately, an enterprising young man, again on a motorbike, followed us to the dock and while we couldn't understand the Burmese conversations, we think he told the other drivers he'd gotten us from the road and we were his fare. We had done no such thing but at the time didn't see a way to avoid it as all the other drivers would longer engage with us. So, to get us and our bikes across the lake took 10,000 kyat, more than half of our rate for a full day on the lake, and it only took 20 minutes.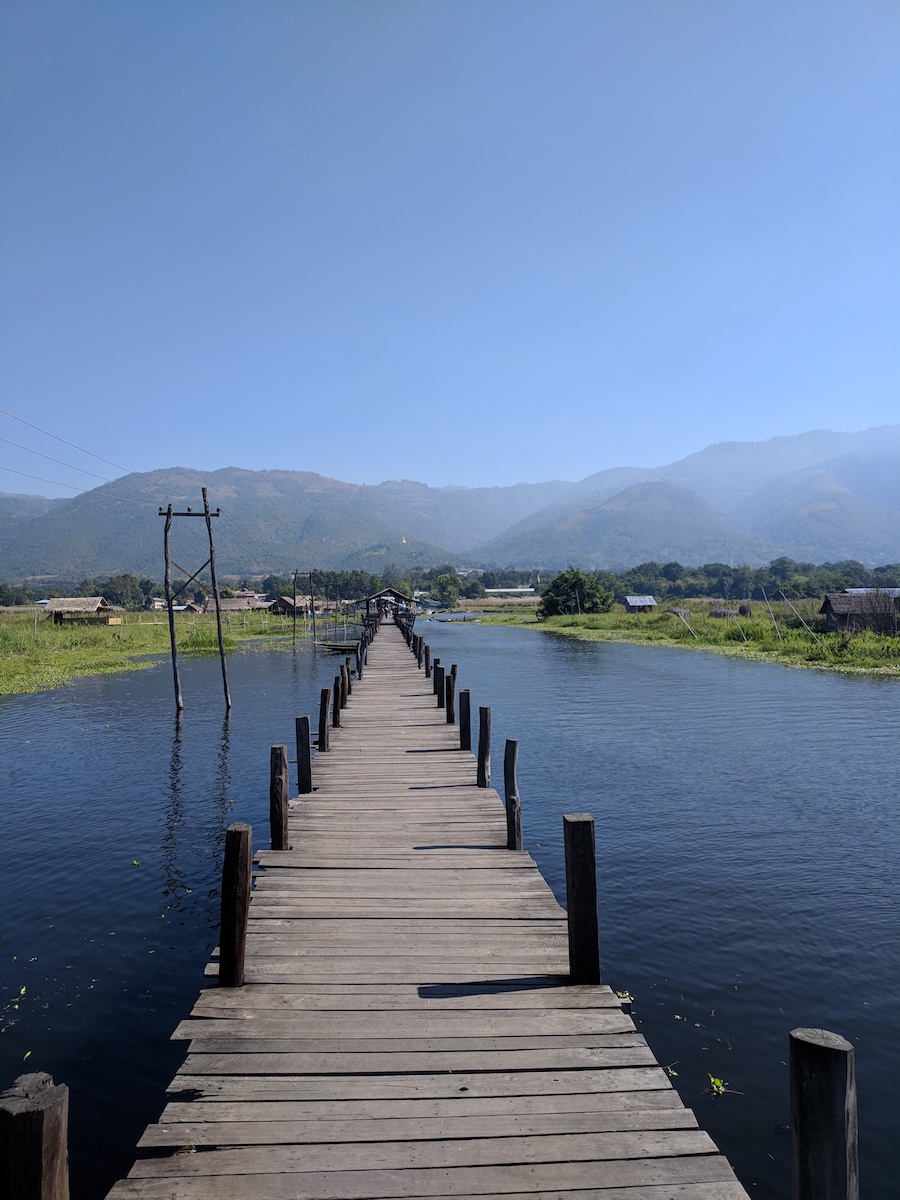 Our bikes piled up in the boat we took across the lake and the bridge out into the lake where we were dropped off.
Once on the other side, we continued our journey around the lake toward a much needed lunch. We ended up at the well-reviewed Inle Heart View which is partway up a hill well off the main road, but so worth it. The food was great, the service was slow, and it was a wonderful way to recharge.
Our final stop on our self-guided bike tour was at the Red Mountain Vineyard. Recommendations of things to do when you're not on the lake focus on two main options: hot springs and wine tasting. After reading reviews of the hot springs, we decided to pass by those and try some Burmese wine.
The view from the vineyard is quite nice and the area for wine tasting is shaded from the sun, which in the afternoon at 80 degrees was a welcome respite. We tried two white wines and two red wines for 5,000 kyat (3.67 USD) each. The wine was honestly not my favorite, though the white wine was better than the red. After Chile and Argentina, maybe I've been too spoiled. Still, the view and a break from the heat made the visit completely worth it.
Tired and sweaty, we made our way back into town for dinner and a much needed shower, thankfully with lovely hot water (unlike our experience in Yangon).
Day 3
At 6:00am, before the sun had come up, we made our way from our hotel to the jetty to meet our driver for the day. Despite hearing that it was best to get an early start, we didn't see any other tourists out as early as we were. Luckily, our driver was ready and waiting for us when we made it to the dock and we climbed into the long boat to snuggle up under the blankets they provided to protect against the chilly morning (Nate's was a pink My Little Pony blanket).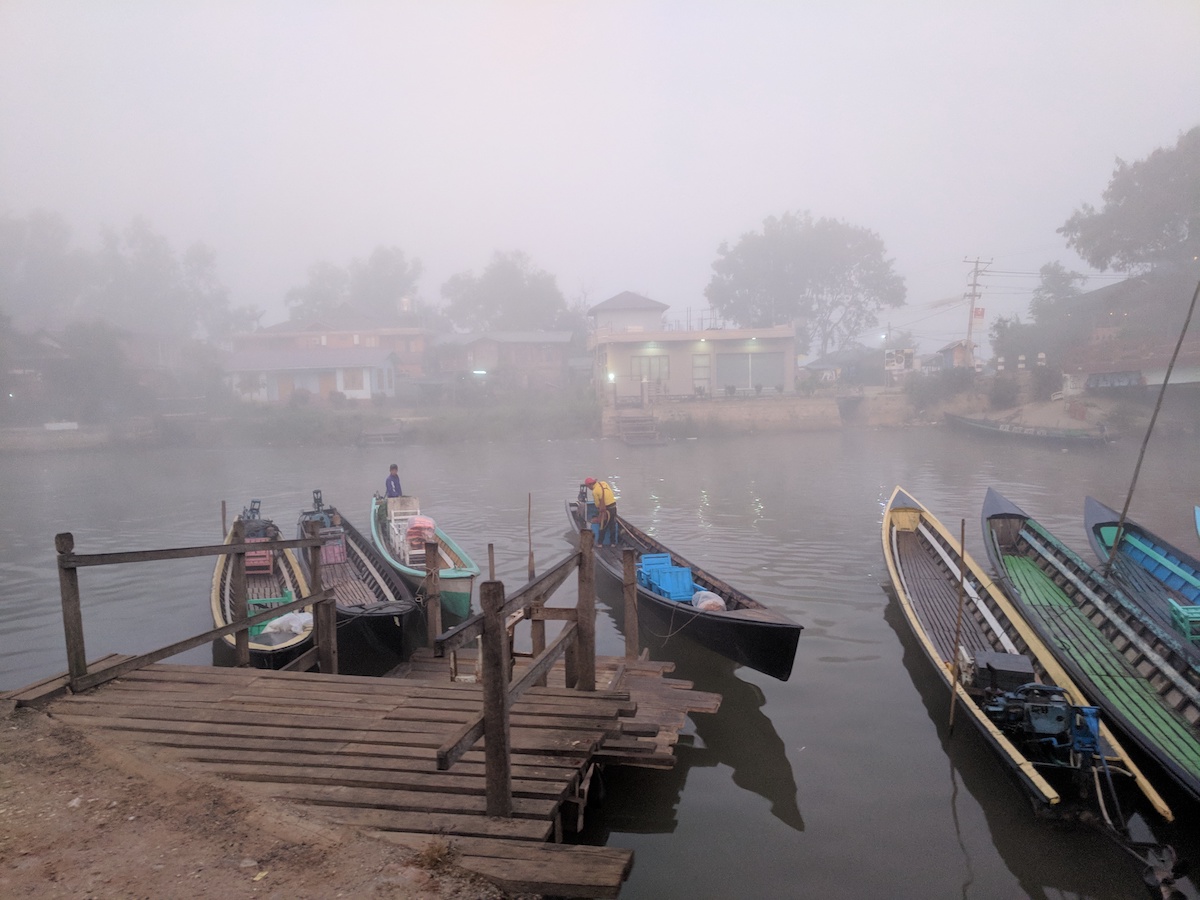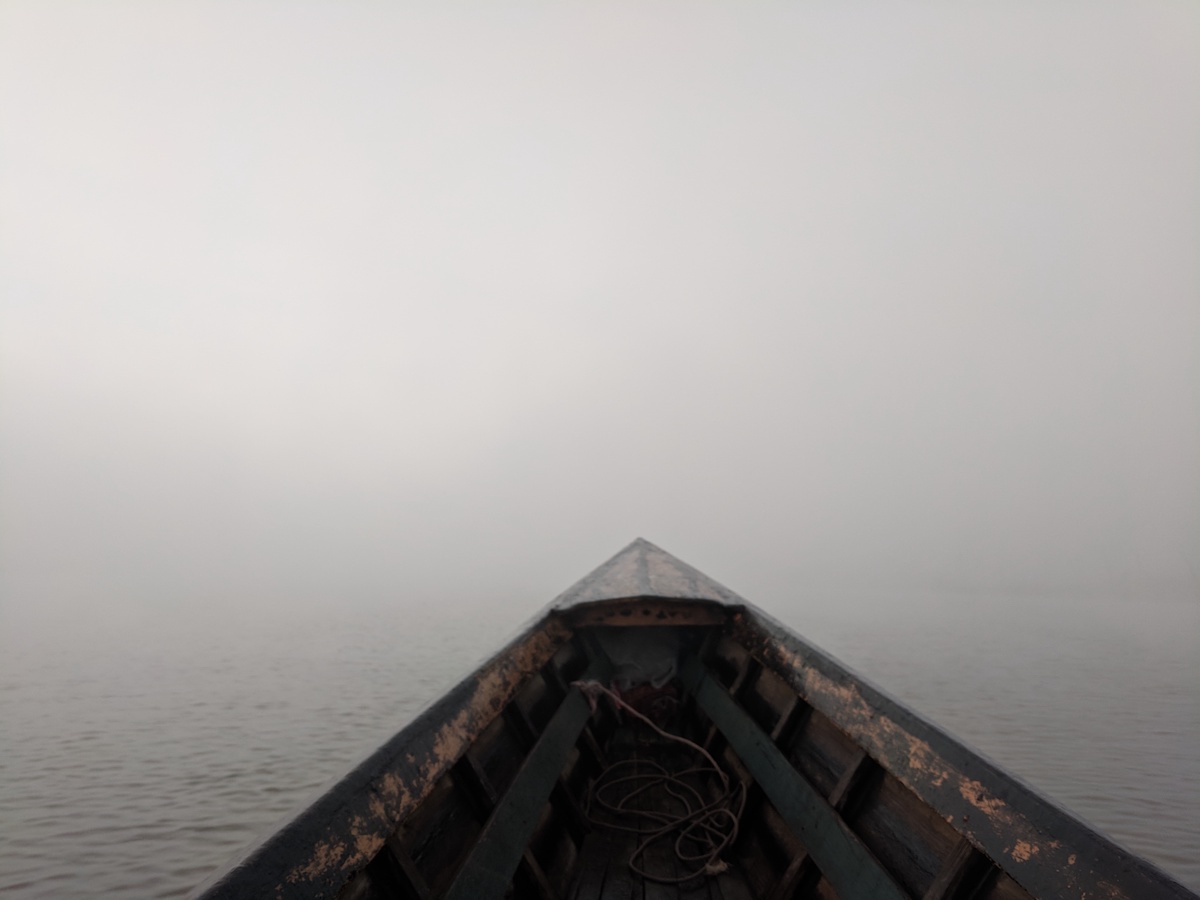 View of the jetty when we left for our tour of the lake and the very misty view for the first part of the morning.
Leaving town toward the lake, the boats heading to town were loaded with a dozen locals or completely full of produce or other goods. One we passed had rows of neatly lined up lettuce from one end of the boat to the other.
The sun had not risen yet and so a heavy mist was still settled on the lake. It limited viability but made for a romantic though slightly eerie atmosphere.
Most people report that right on the edge of town before the lake really opens up, there are fisherman performing the style of one-legged fishing/paddling that is famous on the lake in exchange for a small tip. We were apparently too early for this show though as there wasn't a fisherman (actually fishing or otherwise) to be seen. Apparently most people sleep in a bit more before starting their days on the lake.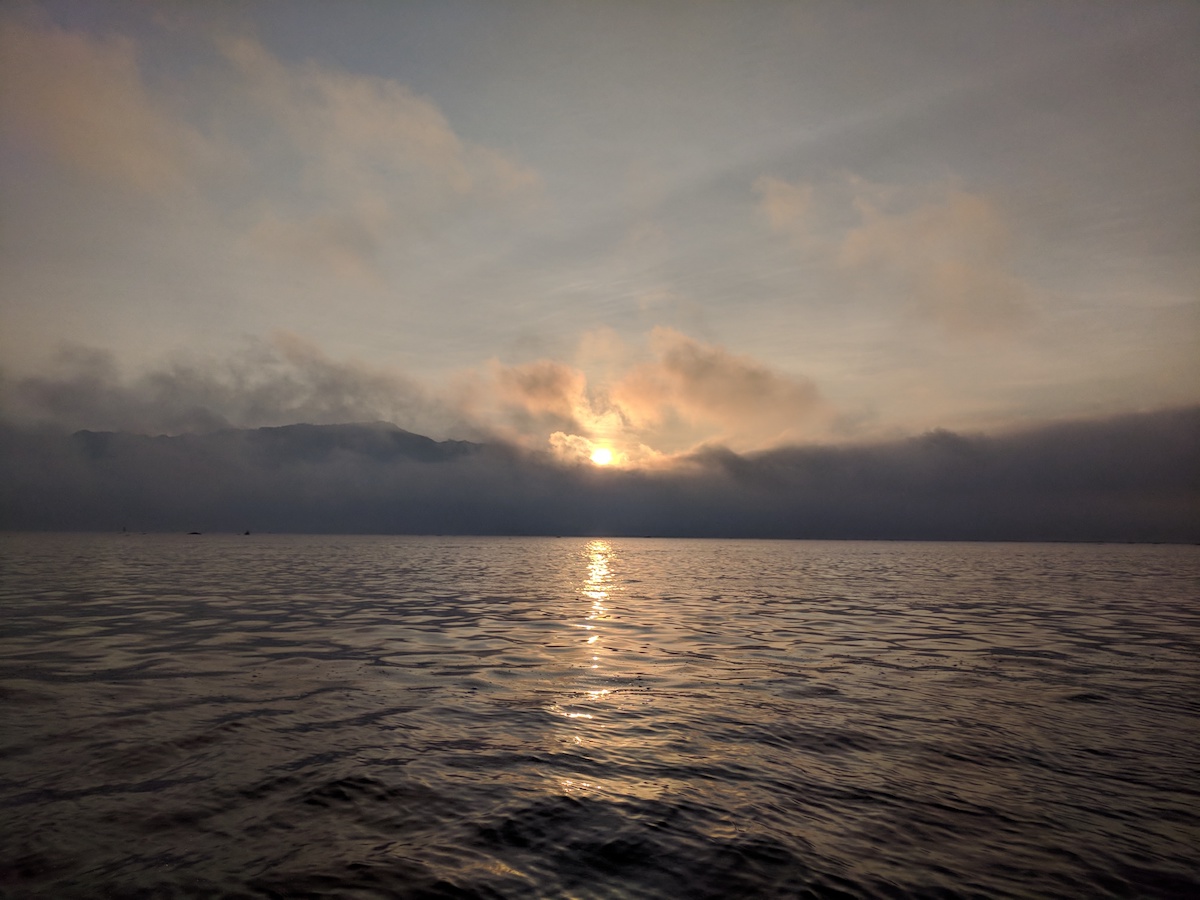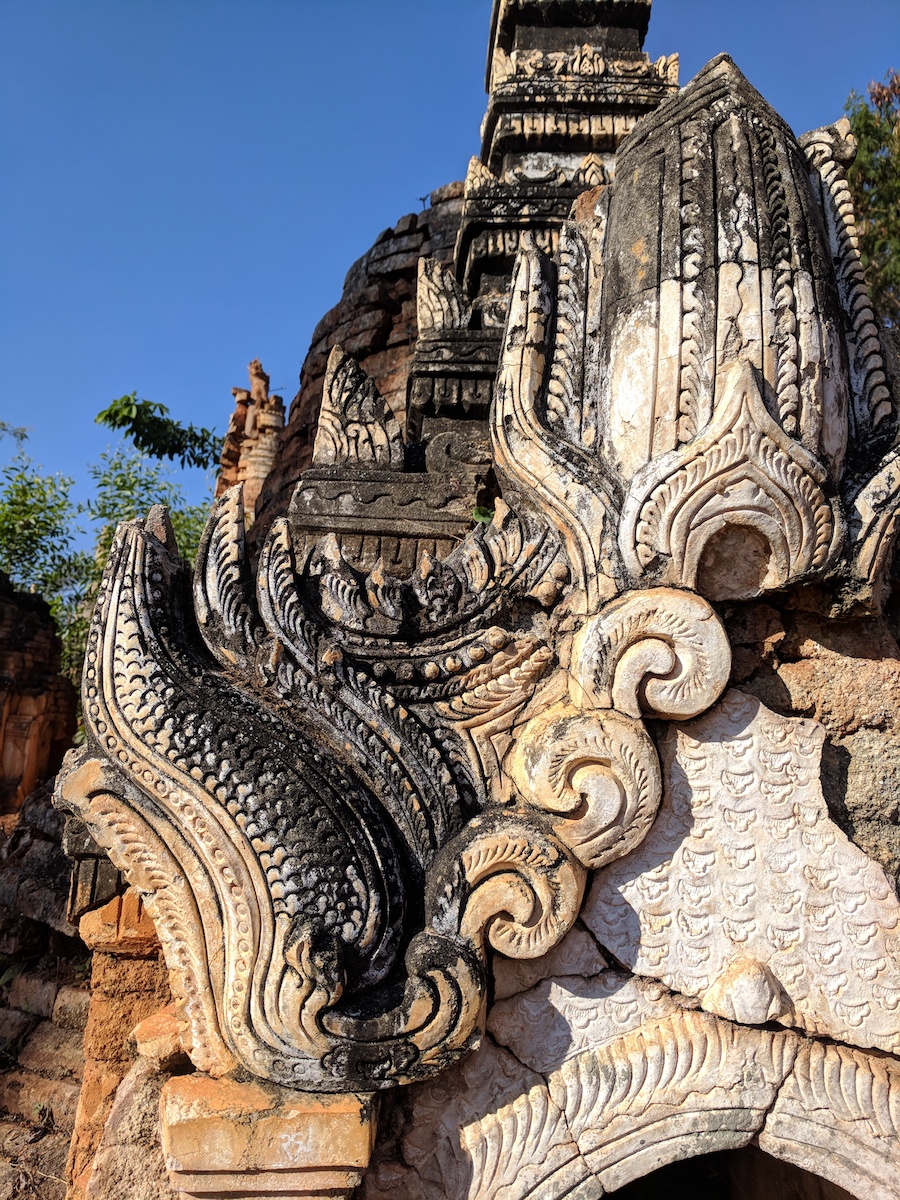 Finally the sun broke through to clear the mist and a view of some of the intricate stone work on the stupas of Indein.
Indein
We made several stops during the day but the best one was to Indein (also sometimes called Inthein). It is at the far side of the lake from Nyaungshwe and takes almost 2 hours to reach by boat but it is completely worth it. We arrived before the rush so the river leading to the docks wasn't packed with boats yet. We easily found a place to dock and then walked up to the bustling market. The 5-day markets are one of the highlights of a trip to Inle Lake but this one may be a more regular one because the rotating market was supposed to be further up the lake that day.
Beyond the market is a hillside covered in (according to our driver) about 1,500 stupas. Some are old and falling apart and others were built in the last few years. The older brick ones are slowly being reclaimed by the forest with trees sprouting from the top and their roots breaking up the structures of the stupas. The newer stupas are packed around the central pagoda on the hill where we found monks eating their breakfast and at least a dozen puppies following people around hoping for some scraps for their own breakfast.
When you enter the long covered corridor at the bottom of the hill, you may have to pay a 500 kyat "photo taking fee" if instead you loop around to any of the other places you can reach the stupas from, you wouldn't have to pay but it was such a small fee we paid it and went on our way. The corridor is full of vendors selling all types of tchotchkes, clothes, and jewelry but most of these still hadn't been set up when we got there. Getting your day started early has many benefits.
You can branch off the main walkway both to the right and to the left to wander among the stupas. Then, when you reach the top and remove your shoes, you can walk around the main pagoda with the many golden stupas and their dangling bells and golden leaves.
After wandering for about an hour enjoying the peacefulness of being some of the only tourists, we headed back to the market to get a snack. After a small and very early breakfast, we were not going to be able to wait for our lunch stop. Instead, we found a stall that had just finished frying tofu (the local version made out of ground chickpeas, not what we're used to in the States). The vendor filled a little plastic bag with them, gave us some pre-wrapped chopsticks and we were able to munch on them happily as we walked through the stalls selling medications, dried fish, fruits, vegetables, and even more trinkets.
Other Lake Stops
Beyond Indein, we also stopped at a monastery, a silver smith, and a "cultural center" where the long neck ladies, as they were called by our driver, weave traditional scarves.
It was clear that the stop at the silver smith was a chance for our driver to make a commission if we bought anything but the demonstration of how they make the silver wires they weave into intricate patterns for necklaces, bracelets, and earrings was still interesting.
I am conflicted about our stop to visit the Paduang women that wear and increasing number of heavy metal rings around their necks, wrists, and knees. The story we were told was that these women struggle to find work in their native part of Myanmar and so come to Inle Lake for short periods of time to earn money selling their scarves to tourist before returning home. There was an older woman who had the maximum number of rings on her neck, knees, and wrists. The total weight of these rings is 8 kilos or almost 18 pounds and she wears them all the time, to eat, to sleep, and to bathe. Younger women with fewer rings were busy weaving. Apparently women previously started with their first rings at age 8 but it has now slipped to age 15 and some women choose not to have them at all. I'm torn between providing these women some money to be able to take back and support their families and supporting a practice that sees uncomfortable at the least and possibly painful. If we had it to do over again we would have asked our driver to skip this activity.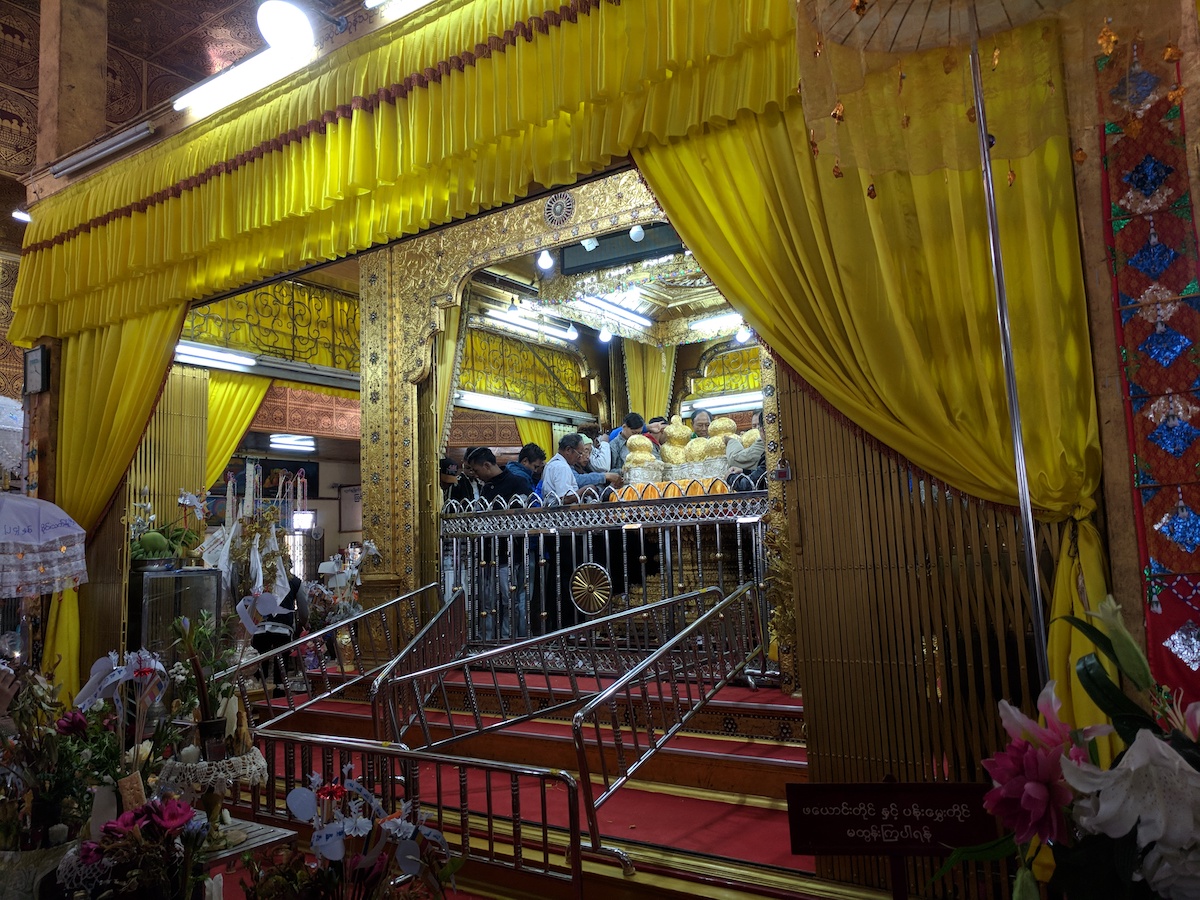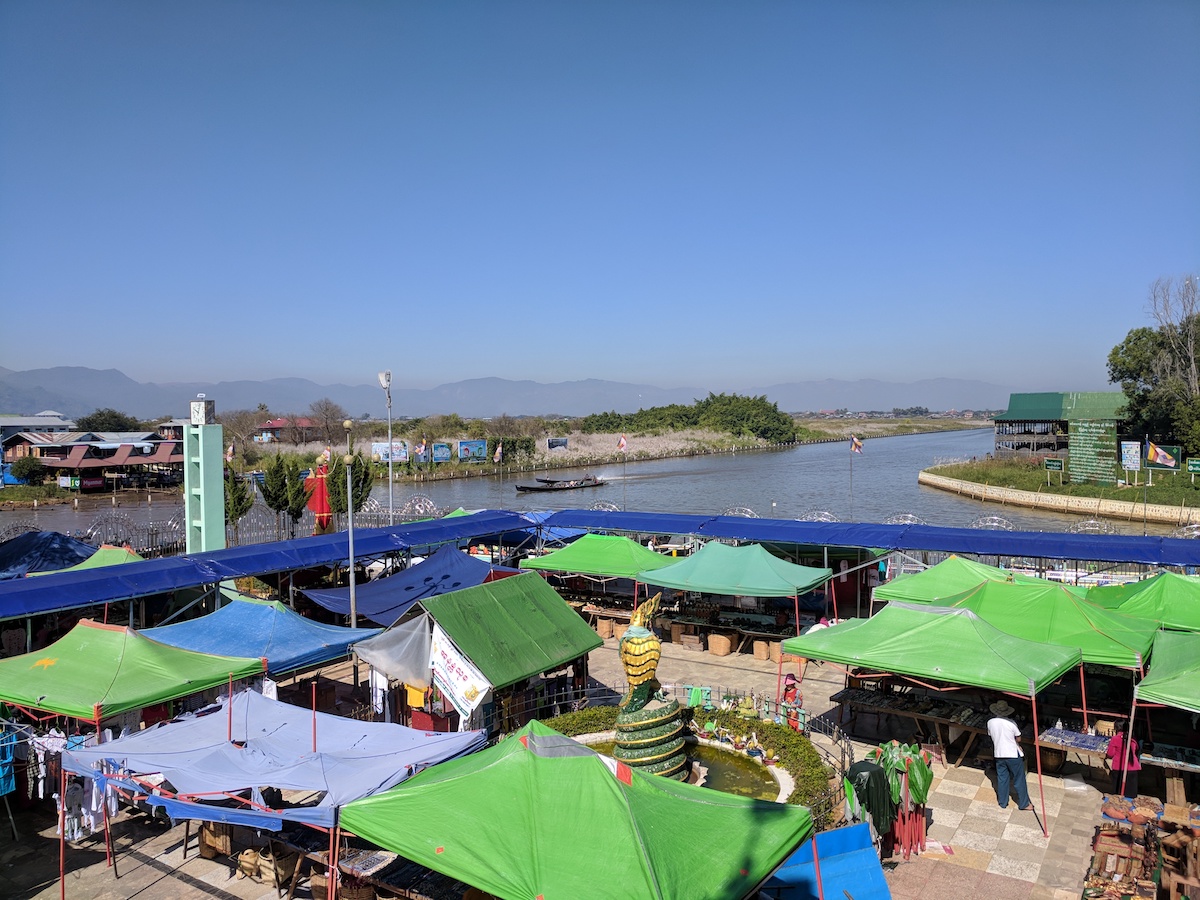 A view of many worshipers applying gold leaf sheets to what were at one time Buddha statues (though you can't really tell now) and the market set up outside the temple.
After 6 hours on the lake, we headed back. Sitting in the afternoon sun rocking a little as the boat cut through the water watching the birds diving to catch wish was a relaxing end to our day. When we reached the edge of town, as promised, a teenage boy was showing off his balancing abilities with the typical large fishing net. We were obliged to take a few photos and give him a small tip.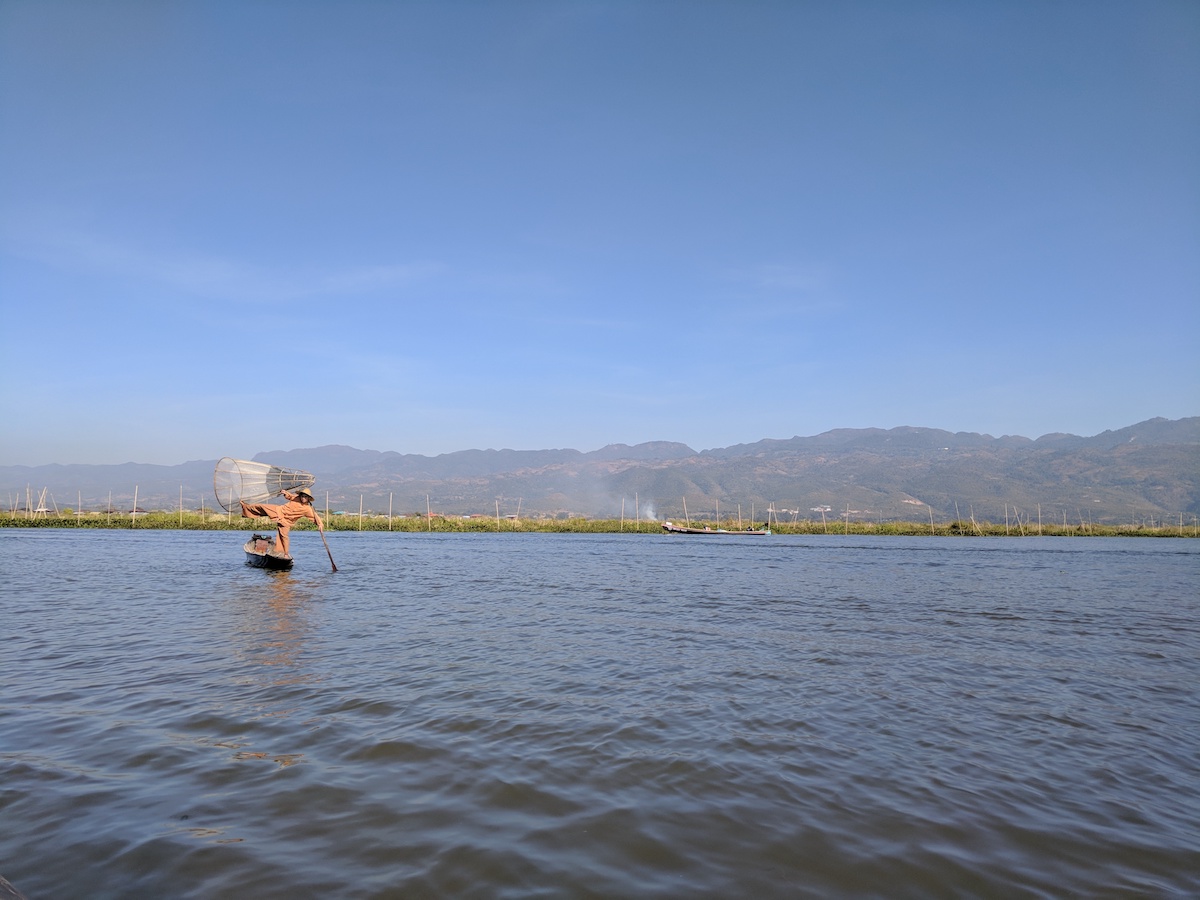 That brought an end to our adventure on Inle Lake and made for a lovely way to spend Christmas Eve.
For Christmas Day, we would pack into a mini-van of 13 people and make a 10 hour trip to Mandalay watching the Burmese country side pass outside the window.
---