28 Dec 2017
Yangon: Our Introduction to Myanmar
Our first stop in Asia was Myanmar, which we had been expecting to be one of our most challenging places to visit. It's the only country we're visiting not covered by my Google Fi cell service, for example, and there's a lot less information out there about things to do than for other countries. Our first city was Myanmar's largest, and we were very pleasantly surprised at how seamless our time in Yangon went - with much credit to how kind and honest the people we interacted with were.
We have 15 days total in Myanmar, split among Yangon, Inle Lake, Mandalay, and Bagan, following the fairly typical tourist circuit (not a ton of choice since a lot of the country is off-limits to foreigners), and spent the first four days in Yangon before taking the short flight up to the Inle Lake area.
What We Did in Yangon
Day 1: We arrived in Yangon in the late morning, after spending the night at the Singapore airport for a long layover between different sets of plane tickets. Unfortunately the airport hotels were sold out of their many beds for transiting passengers, so we got as much sleep as we could on some chairs in a quiet corridor but arrived to Myanmar pretty tired. Before leaving the airport we visited an ATM (with a 10,000 kyat note the largest common currency, a max withdrawal gives you a stack of bills about an inch thick) and a cellular kiosk (less than 5 USD for a local SIM card with enough LTE data service to cover our whole time in Myanmar).
We took our hotel's recommendation to go to 999 Shan Noodle Shop a couple blocks away for lunch and it quickly became our go-to spot in Yangon. With a nice mix of locals and tourists, the experience and value for your money is unparalleled anywhere else we've been in Myanmar - and that's really saying something! We ended up eating there three times in four days, averaging 6 USD total for appetizer/two mains/two drinks.
We used the afternoon to catch up on a bit of rest and then went straight out on our one pre-booked experience in Myanmar: a nighttime street food tour. Over about 3 hours we tried almost a dozen different local specialties–nearly all from street stalls we wouldn't have known how to order from (much less how much to pay). It was a really wonderful introduction to both the cuisine and culture of Yangon, and we both came away with favorites we've since had again elsewhere in Myanmar–crunchy tea leaf salad for Amy and whole steamed fish for me. While the hygiene at most street stalls here would make any westerner cringe–get back a used bowl, wipe it out with a dirty towel the nearby stray dog has been sitting on, and fill it up for the next person!–there are exceptions. We've focused on searching out stalls that are busy enough to be buying fresh ingredients daily and that have real soap/water washing stations set up behind them. I don't want to jinx us, but no digestion problems yet!
We had:
Mohinga: This fish and noodle soup normally eaten for breakfast is hearty and delicious – if we didn't have a whole tour of food lined up after we could have each had a full bowl.
Gypsy Snack: A made-to-order roll made up of a freshly-griddled crepe and greens/tomatoes/spicy filling.
Faluda: A cold pink and green drink that included green tea ice cream, bread pudding, tapioca balls, and jellied green slivers. Sickeningly sweet.
Shan noodle soup: Our most authentic noodle soup from the Shan state of Myanmar, with heavy Chinese influence. The hallmark distinguishing factor is the inclusion of a tomato base in the broth.
3 local salads: We enjoyed crunchy tea-leaf salad, a lemon salad (the lemons in Myanmar aren't nearly as sour as back home), and an unmemorable bean salad. The tea-leaf salad is a staple of nearly all meals, and was surprisingly amazing.
Whole Steamed Fish: A whole tilapia fish, steamed and picked-apart at the table with chopsticks. A little spicy and surprisingly easy to debone without a mess.
Deep-fried Needle Mushrooms: A surprise add-on since Amy found the fish a little too spicy for her, these tempura bunches of needle mushrooms were addictive.
Myanmar Beer: Easy-drinking and ubiquitous throughout the country - I feel like a quarter of all commercial buildings have at least one wall with an advertisement for it.
Day 2: We had picked a hotel in downtown Yangon, close to the street markets and Sule Pagoda, but not near the famed Shwedagon Pagoda. We decided to make a day of exploring the area north of downtown, with the idea that we'd end at the Shwedagon around sunset when it's supposed to be most beautiful. We had a great time and ended up walking 15 miles, but left a little too early and tired out before sunset - oh well!
We started out winding through the boardwalks and trails of Kandawgyi Park, just north of the Zoo (which we didn't visit). The park is mainly a windswept lake ringed by small pockets of trees and gardens, and is currently under pretty heavy renovation. Our bet is that when they're done with their work it will be a fantastic place to wander around and relax in shade, but is a little haphazard right now. After some time there, we went around the north side of the Shwedagon Pagoda and through the northeast corner of the People's Park to get to Sanchuang Street, which is filled with small restaurants and buzzing at lunchtime. We ended up eating at Siam Thai, which was good but nothing special, and then walked back to the northwest corner of the People's Park.
There, we found a hidden gem of an amusement park that none of our research had turned up, paid the 25 cent entrance fee, and wandered around checking out the rides and booths set up. Even though it was midday on a Tuesday there were plenty of locals enjoying the park. We decided we had to ride one ride while we were there and picked the log flume that had first piqued our curiosity from outside the gate. It was great, we didn't get any weird skin rashes from the water, and definitely not a stop we'll forget anytime soon!
After getting our fill of fun there, we walked through much of the rest of the People's Park and then around to the south entrance to the Shwedagon Pagoda. There's not much that I can say about this that hasn't been written elsewhere: it's mind-bogglingly old, visually stunning, and yet still a pretty peaceful place as far as tourist attractions go. We enjoyed exploring many of the smaller temples and buildings surrounding the golden stupa itself, and were thrilled we weren't on a group tour getting earpiece narration. The amount of gold and precious gems embedded in the Pagoda is staggering, and honestly hard to comprehend. While we had planned on making it to sunset, we were fading fast after so much walking and decided to head back downtown rather than wait around for two more hours.
On our way back we stopped at Junction City, a very out-of-place-feeling luxury mall in downtown Yangon and bought our tickets to see the new Star Wars movie the next day. We may be missing Christmas, but have to have a little reminder of home every once in a while!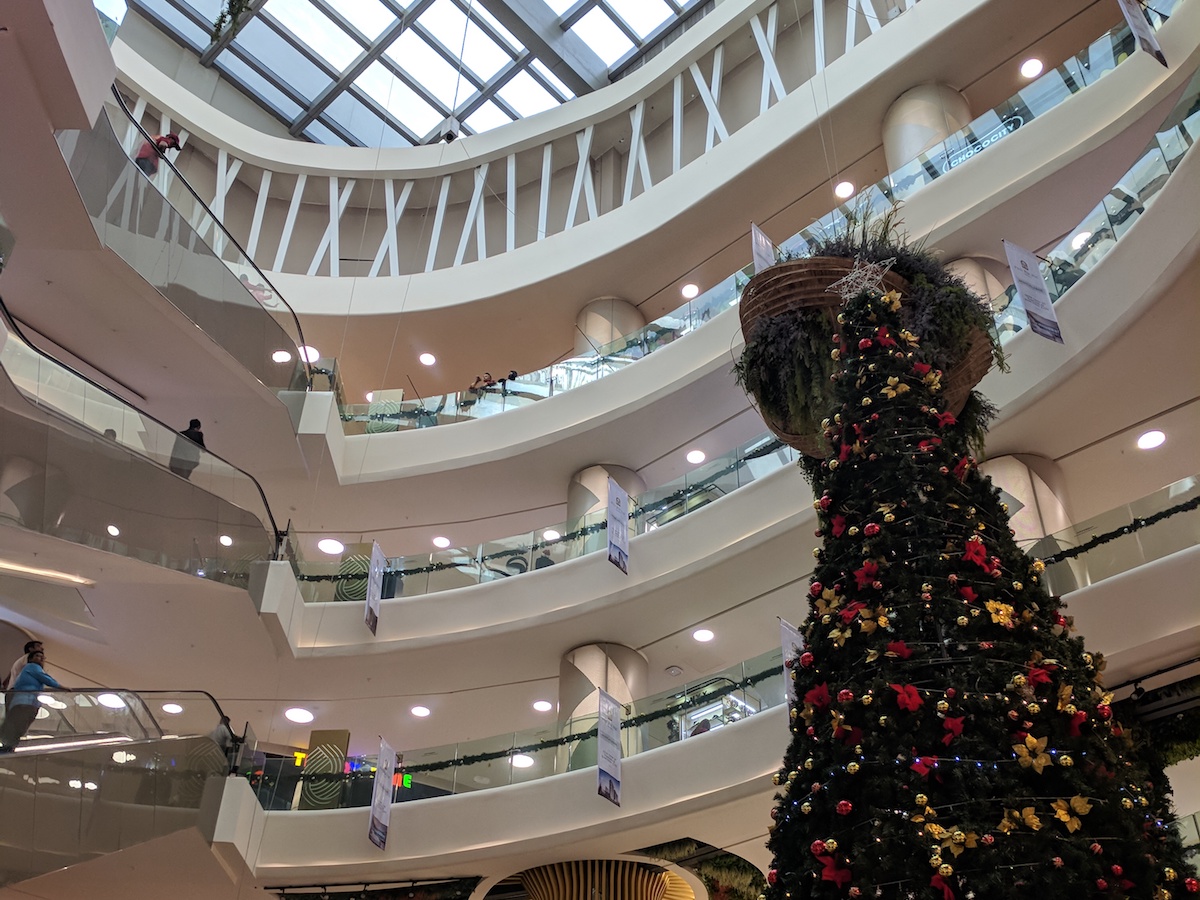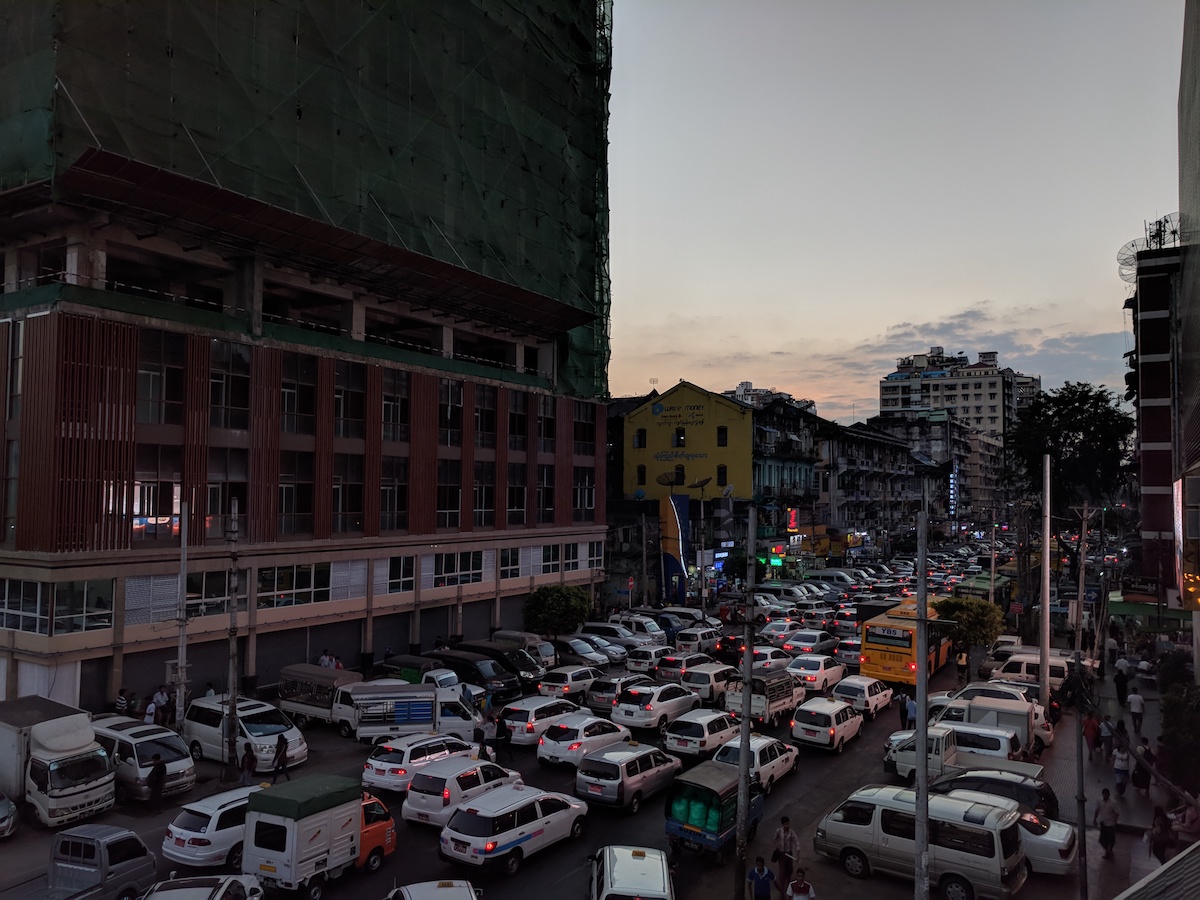 Left: Junction City Mall. Right: Traffic is a constant in Yangon, though motorcycles are banned downtown making it feel a little more sane.
Day 3: After exploring the north side of downtown the day before, we wanted to use the first half of our next day exploring the southside, where the city meets the river. Unfortunately the pleasant riverside street we imagined wandering down looking at the map was a bustling port expressway with no real views of the water to be had. We toughed it out all the way to the ferry pier to check out the (pretty uninspiring) options for a sunset boat cruise and then headed back into downtown. If you're doing a boat trip, we recommend taking a taxi both ways - this was not a fun walk.
We had lunch at Link Age, a restaurant halfway back from the pier area that operates as a charity training homeless youth for restaurant jobs. Then took a short break before heading back to Junction City for our Star Wars showing.
Once the videotaped Myanmar national anthem ended and the movie began, we had to pinch ourselves hard to remember we weren't actually back in Georgetown at our usual AMC. We had popcorn, nice seats, modern 3-D, and english with no subtitles marring the screen. The only real clue we were abroad was that the theater was 80% empty on opening week! When the final credits rolled and we walked back out into the heat of the Yangon winter, we felt our first real pangs of homesickness we've had over the first four months of our trip. I think our minds couldn't quite handle that we really weren't back home!
Afterward we walked to 19th Street, the strip of popular nighttime Chinese restaurants we had ended our street food tour at our first night. This was probably my favorite evening we spent in Yangon - sitting on the street nursing a Myanmar Beer, watching the street vendors and beer ladies going back and forth. We split another wonderful steamed whole fish and sat there soaking in the energy.
Day 4: Our last full day in Yangon, we started out at Bogyoke Aung Sann Market which supposedly has over 10,000 individual vendors selling primarily clothes and jewelry. After spending some time just wandering around a little stunned at the sheer volume of items for sale around us we set to work finding some pants for Amy, who needed ones long enough to be proper for temples and thin enough for the jungle heat we'll be facing for the next few months. We succeeded in finding a good pair and negotiating enough to only overpay a little - something we need to keep practicing before getting to parts of SE Asia with more aggressive touts!
Unfortunately I had come down with a cold of some sort–somehow magically not food poisoning–and we took it easy the rest of the day, just venturing our for a last lunch at 999 Shan Noodle Shop.
For dinner, we aimed to have a repeat experience on 19th Street, but after walking ~2 miles to get there were stunned to see a completely different atmosphere. The countless tables throughout the street were all stacked inside the restaurant doors, no vendors were milling around, and the whole place was mostly empty. It was Thursday night, and at the same time, so our best guess is that the police had conducted one of the enforcement visits our food tour guide had warned us about, "reminding" all the restaurants that they're legally not allowed to put tables in the streets. It was a real bummer, and hopefully just a temporary blip before they take the street back over another day.
Day 5: Our final day was not much of a day at all - we got up, packed, and headed to the airport for our flight to Heho, where we then took a taxi onward to Inle Lake. We flew FMI Air, in a very modern propeller plane with great service – highly recommended for the 65 USD per ticket we paid!
Our One Yangon Blemish
Our one real hiccup in Yangon actually came up before we got there. While trying to waste time in the Singapore airport before we were tired enough to fall asleep we took a look at our Yangon hotel booking so we'd know what to expect on arrival. We quickly figured out that we had somehow booked the wrong hotel after researching what we wanted - we had a reservation at the Chan Myae Thar Guesthouse instead of the Chan Myae Guesthouse. Reading their reviews and doing a bit of googling it seems apparent that this hotel opened second and chose the name to confuse travelers and benefit from the good reviews of the pre-existing Chan Myae Guesthouse - a practice that looks alarmingly common in SE Asia. We decided to cut our losses and cross our fingers, taking a taxi direct from the airport to Chan Myae Guesthouse, where we actually wanted to stay, and seeing if they had any rooms available. We lucked out, got a room, and had a wonderful stay.
How We Did with Our Budget
We had originally budgeted as much as $45 dollars a night for accomodations but ended up only having to spend $33 a night for a room at the preferred Chan Myae Guesthouse. The hot water was mostly non-existent (though they are upfront about the challenges of solar heated water), but otherwise it was wonderful.
We had also budgeted $10 dollars per day per person for food and $15 dollars per day per person for entertainment. We ended up spending only $25 per day total, including Star Wars ($10 total including popcorn) and the entrance fee at Shwedagon Pagods ($15 total). We could have spent a bit more if we took taxis everywhere instead of enjoying long walks, but with how cheap everything is we clearly over-budgeted here.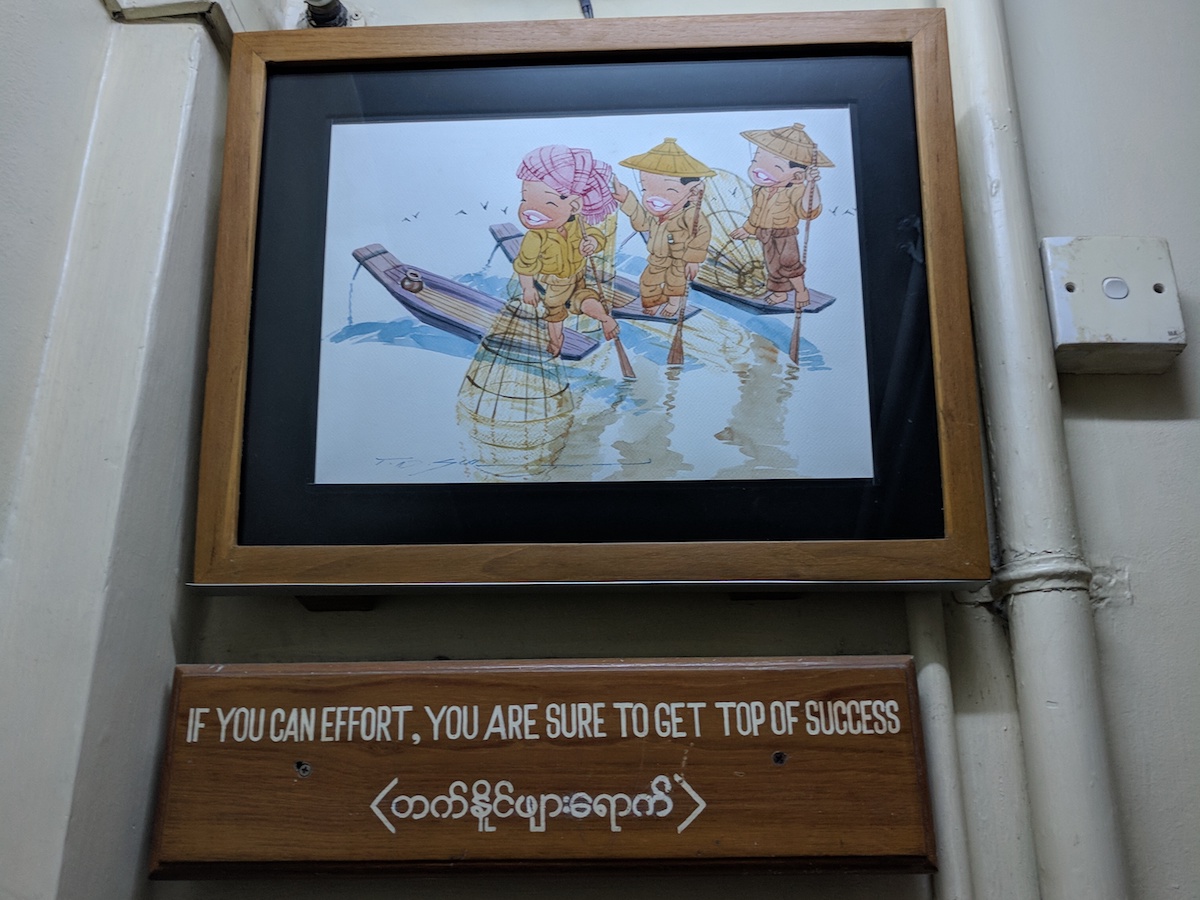 Our guesthouse wanted to be sure to encourage guest to make it up the 4 flights of stairs to their lobby.
---