8 Dec 2017
Western Peru: Arequipa and Lima
After our Machu Picchu visit we were ready to get back to our standard approach of independent travel and had a great time in both Arequipa and Lima exploring, learning some more about Peruvian food, and starting to plan in detail for our upcoming months in Southeast Asia.
Our original plan for the ten days between Cusco and departing to Australia included an unguided overnight trek in Colca Canyon which we were both really looking forward to. Unfortunately a stomach bug we both picked up in La Paz was still hitting us pretty hard so we cut our losses and dropped Colca Canyon from our itinerary, instead spending more time than planned in both Arequipa and Lima. While it was a tough decision at the time, looking back at it now that we're on our 15-hour flight to Australia it was definitely the right call. Sometimes you just have to know when to let go.
What We Did in Arequipa
Day 1: We grabbed a cheap Peruvian Airlines flight from Cusco to Arequipa that got us in early in the morning. We dropped our bags off at Hostal Bubamara (highly recommended–great breakfast!), got our bearings exploring the immediate area, and then headed to our one pre-planned activity: a cooking class with Peru Flavors. Unlike the class we took in Valparaiso, we had an actual chef as our instructor and learned some new techniques, rather than just being introduced to new recipes. Classes are a side business for the chef, so it was just the two of us with him in their restaurant kitchen as a sous chef prepared for that night's dinner service. We had a great time and learned some skills we'll definitely use again (ever try peeling ginger with the edge of a spoon? MAGIC).
On the chef's recommendation we also walked up to Yanahuara Overlook, with sweeping views of the downtown and surrounding mountains. Amy picked our dinner–vegan sushi at El Buda Profano–which won me over with its impressive mimicry of sushi standards.
Day 2: We tried to do the Free Tour Downtown Arequipa but no guide ever showed up (even though we had registered online ahead of time), so we explored the historic downtown area ourselves. After checking out the Plaza de Armas and surrounding area we walked up to Selva Alegre Park, a lovely space north of the main touristy area. We spent a good chunk of the afternoon reading and relaxing there as alpaca grazed nearby. For dinner we again stayed close to the Hostal and went to Indian Cuisine, which had some amazing chicken and curries. While definitely not Peruvian, if we're ever back in Arequipa we'll be stopping here again.
Day 3: We walked down to Mercado San Camilo, the main market for locals in downtown Arequipa. It's a great space and a true local experience, but unfortunately we still weren't feeling great and the smell of so much raw meat made us flee without staying for a meal. We had a wonderfully lazy day reading in a park by Puente Grau, visiting Yanahuara Overlook again, and having an early dinner at Pasta Canteen before heading to the airport for our short nighttime flight to Lima.
Arequipa was a great place to get some rest, recuperate a little, have a bunch of great food (though not of the Peruvian variety for the most part), and still get some real Peruvian experiences. We'd have loved to stay longer if we had unlimited time but felt the extra days would be better spent exploring Lima more thoroughly.
What We Did in Lima
Day 1: When we canceled Colca Canyon and extended our time in Lima we also booked an Airbnb in Miraflores for our five nights so we could get back in a routine of handling our own breakfasts and dinners while eating out for lunch. After picking up groceries nearby we walked down to Parque de Amor on the clifftop boardwalk along the coast. We also stopped at Larcomar, which is maybe the fanciest mall we've walked through on the trip–built into the cliffside and with views that would be stunning on a clear day. After a lap of that part of the coastline we headed back to Parque John F. Kennedy to grab a churro and some popcorn from the street venues to hold us over until dinner.
We ended up spending time in JFK Park almost every day of our stay in Lima - it's a great greenspace and is populated by very well-cared-for stray cats. Our one regret is that we didn't get to try Picaronnes (Peruvian donuts) since the food cart we saw there on our first day never returned.
Day 2: We had heard good things about both the Indian Market and Mercado de Surquillo. Our advice: skip the former unless you need tchotchkes and try to visit the latter on a weekend if you can. The Indian Market, and the competing Inca Market across the street, have a ton of scarves and figurines, but nothing particularly special and no food to graze on while exploring the stalls. The Mercado Surquillo, on the other hand, is where locals go to get their fresh seafood and produce and it didn't disappoint. We went with the intention of getting ceviche at one of the small restaurants inside that had been recommended to us, but with no actual locals sitting at those counters decided to explore a bit more and hit the jackpot. On the weekends in the alley outside the market there is are a number of cheap stalls specializing in quality traditional Peruvian food. We got a ceviche there, complete with fried calamari on top as is standard in Lima. It was fantastic, though quite a bit more spicy than ceviche we've had elsewhere, including other spots in Peru.
After filling up we again walked down to the coast, this time all the way down to the beach itself. On a nice, clear day the beach may be refreshing but otherwise it's not much–sand is rare and so sunbathers were stretched out on fist-size stones. On the return portion of our loop we ended up back in the Parque de Amor area and spent a while watching paragliders prepare, take off, and come in for windy landings. It looked like a lot of fun, but with how foggy it was throughout our time in Lima I'm not sure any of them saw very much.
Day 3: Our main activity was a food tour we booked with Food Walking Tour Peru after researching the many food tour options in Lima. We picked them because they're on the cheap end of the spectrum but have good reviews and advertise a pretty similar experience to the more expensive tours. We wanted to do their Downtown Street Food Tour, but unfortunately they canceled it due to holiday shopping making the tour area too congested to be enjoyable. Instead, we did their Barranco Bites food tour and ended up as the only two guests on the tour.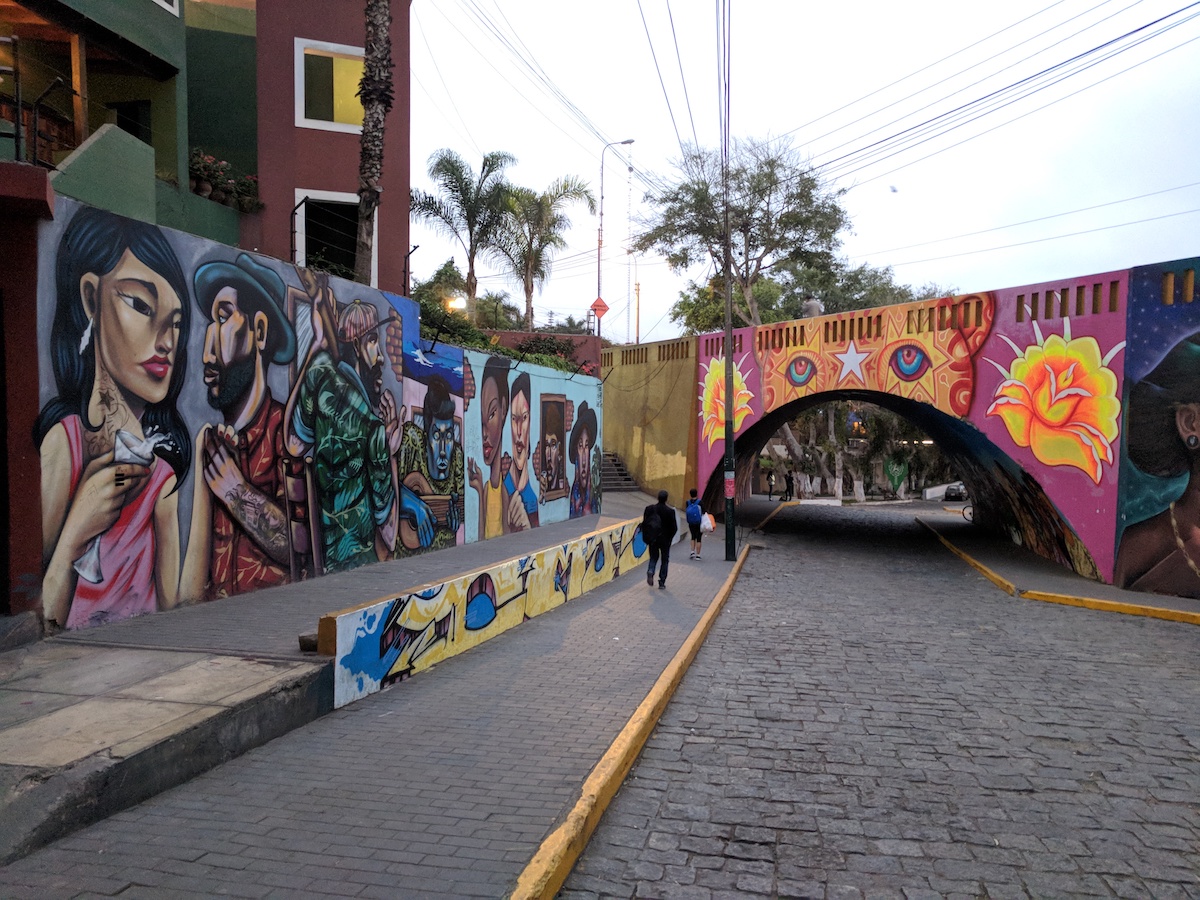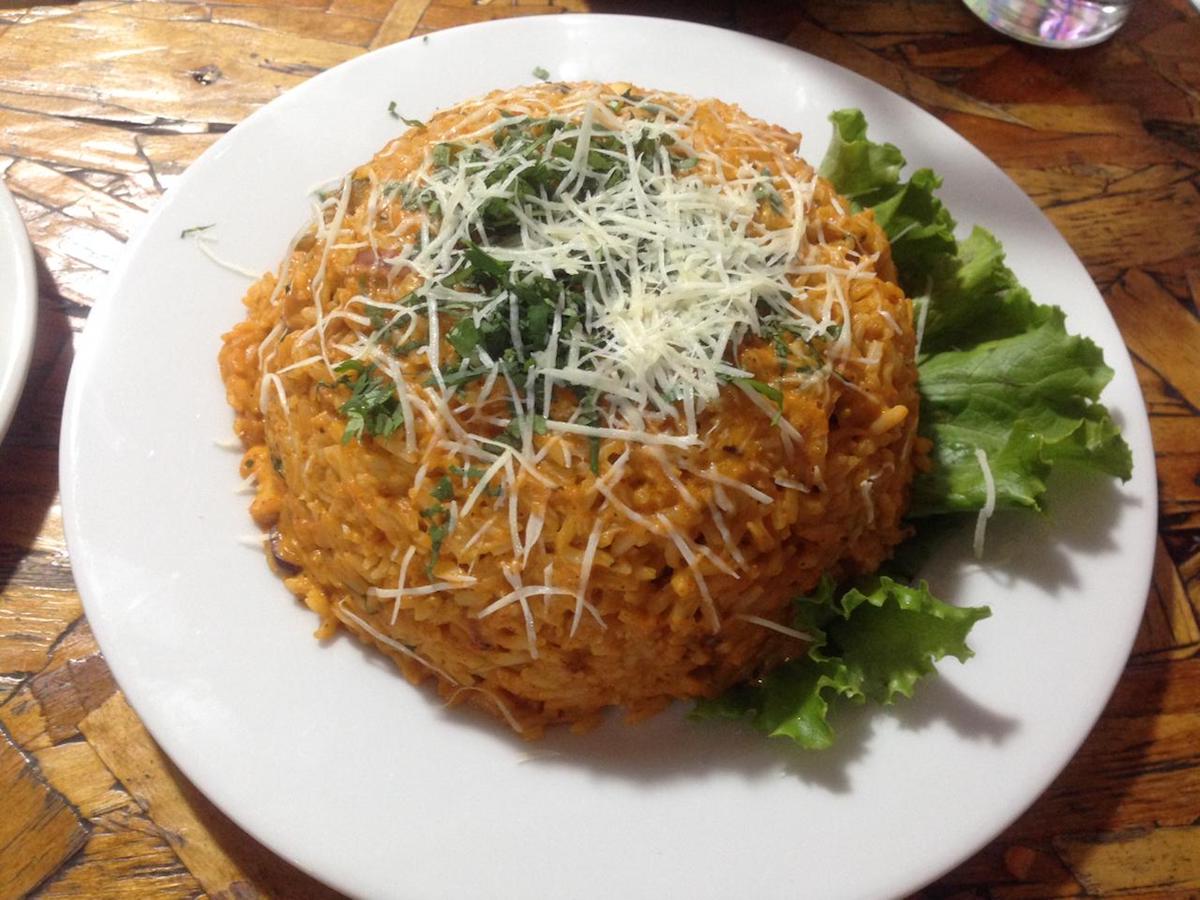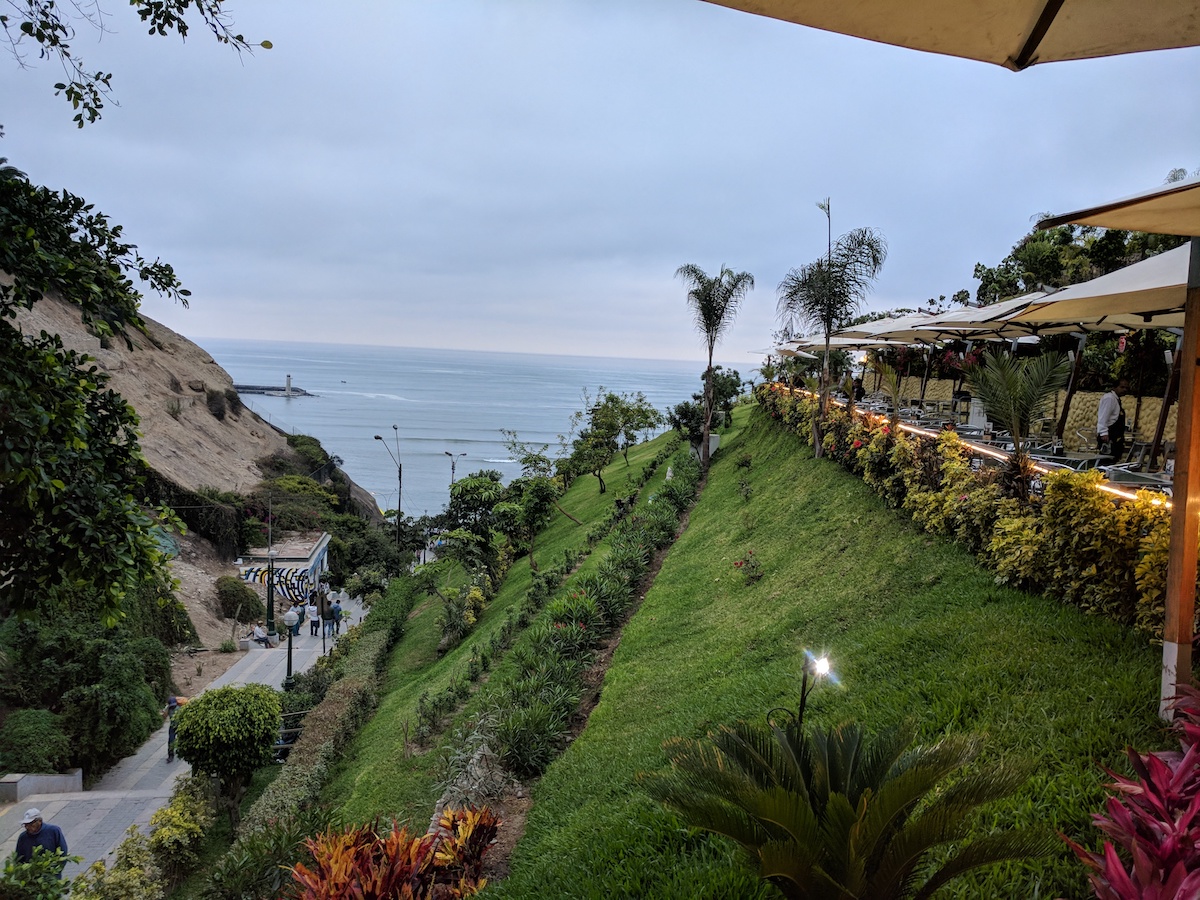 Left: Street art in the Barranco neighborhood. Middle: Standout dish Arroz con Mariscos. Right: The view at Restaurante Javier, where we had Anticuchos.
We had:
Aji de Gallina: A bright yellow chicken dish made slightly spicy by the ubiquitous local aji amarillo peppers, and mellowed by a rich cream sauce. Also popular as an empanada filling in Peru.
Inca Cola: A bright yellow, very sweet soda that originated in Peru but is now owned by Coca-Cola.
Ceviche Mixto: Ceviche made with a mix of white fish, shellfish, and other mariscos - this one wasn't anywhere near as spicy as the one we had at Mercado Surquillo.
Arroz con Mariscos: A really wonderful and surprising rice dish - somewhat similar to Spanish paella but juicier from their practice of dousing the rice/seafood in fish soup immediately before serving.
Chicha Morada: Another sweet non-alcoholic drink made from boiling local purple corn with pineapple, cinnamon, clove, and sugar.
Anticuchos: Skewer of sliced cow heart, marinated and grilled to perfection. Surprisingly tender and flavorful.
Emoliente: A non-alcoholic hot drink served at food carts made from barley, flax seed, lime juice, aloe vera, pineapple skin, and more. Supposed to be great for a number of ailments, the almost jelly-like consistency was a bit off-putting for me, but Amy loved it.
Pan de Maracuyá (Passionfruit): Banana bread, but better in every way.
Local craft beer: We ended the tour at Barranco Beer Company and tasted a couple of their beers produced on-site.
We had a great time on the tour, though it ultimately didn't hold a candle to our food tour in Rio–though we're starting to think no tour on our whole trip will!
Day 4: Since we missed out on exploring downtown Lima as part of a food tour, we decided to head there on our own to check out the area. We started out in the Plaza de Armas and checked out the side streets. Our favorite stop was at Parque de la Muralla, a lovely urban park and surprise archeological find tucked in behind the Basilica. Our stomach bug still hadn't quite gone away so after a couple hours downtown we hopped on the Metropolitano express bus to head back to Miraflores. (Pro-tip: if you want to explore the downtown but are staying in Miraflores, you shouldn't bother trying to take an uber or taxi. The Metropolitano is inexpensive and much faster. Plus, if you don't want to buy the card used to enter, just you give a local the 2.50 soles for your trip and they will likely be happy to swipe you in. At least that's what we did.)
Day 5: Our flight out of Lima wasn't until late afternoon so we had enough time to visit Huaca Pucllana, a pre-Inca pyramid temple that somehow survived the urbanization of Miraflores. The small entrance fee includes an hourlong guided tour of the site and we learned plenty: it took around 300 years to build, beginning around 200 AD, and was constructed primarily out of vertically-placed baked mud blocks that are surprisingly resistent to the ever-present tremors and earthquakes. After our tour we stopped at La Lucha Sangucheria nearby for a quick Peruvian fast food lunch that was honestly fantastic.
We then caught our flight down to Santiago where we spent a night beside the airport ahead of our nonstop 15-hour flight from Santiago to Melbourne, Australia. We're finally starting to feel like we're getting past the stomach bug we picked up a full two weeks ago–nothing like an extended bug to make you appreciate how much feeling 100% makes travel easier!
How We Did with Our Budget
We had originally budgeted as much as $45 dollars a night for accomodations but ended up having to spend an average of $50 a night across Arequipa, Lima, and the Santiago airport hotel (which was the most expensive night by far).
We had also budgeted $15 dollars per day per person for food and $15 dollars per day per person for entertainment. In Arequipa we didn't have a kitchen so had to eat out for both lunch and dinner. In Lima, we self-catered 2 meals a day like we typically try to. We ended up coming in at an average of only $51 a day for the two of us (out of $60 a day that we budgeted). This included both our Arequipa cooking class ($62 total for two) and our Lima food tour ($73 total for two) which we were able to fit in since even nice meals out could be had for less than $10 a person.
Overall, for this full stretch we spent $31 less than budgeted–not too shabby!
---