4 Dec 2017
Machu Picchu: Rain, Fog, and Sunshine
Machu Picchu is a bucket list item and not just for us but for the between 500,000 to a million people who visit it each year (estimates vary). It was one of the few places we were going to be sure to include on this trip no matter how expensive or inconvenient it turned out to be. While it was pretty expensive and more than a little inconvenient it was still definitely worth it (more on the logistics and the tour we booked at the bottom of this post).
We were also visiting during low season. So compared to what can apparently (based on articles and reviews) be a crush of people that leaves you waiting 2 hours in a line to board a bus up the mountain in the morning (according to our tour guide), the site was not crowded. That's the upside. The downside is that the reason it is low season is the rain (low season = rainy season). And rain it did. Almost the entire time we were in the Machu Picchu Sanctuary.
Sometimes your picture-perfect day isn't quite so picture-perfect and instead you are dripping, a little cold, and only catching glimpses of the ancient ruins through the quickly moving fog.
Guided Tour
We entered the Sanctuary with our large group at 7:45am and spent until 10:00am doing a circuit of the mid-level and lower ruins. Unknown to us at the time, our guide had decided it was "too foggy" to do the standard longer loop which includes the upper-level ruins as well, even though many other groups were doing that loop. We definitely learned quite a bit from our guide that we wouldn't have if we were just exploring the ruins ourselves, but the number of questions archeologists still can't answer about how the site was constructed and used meant it was still a pretty thin script.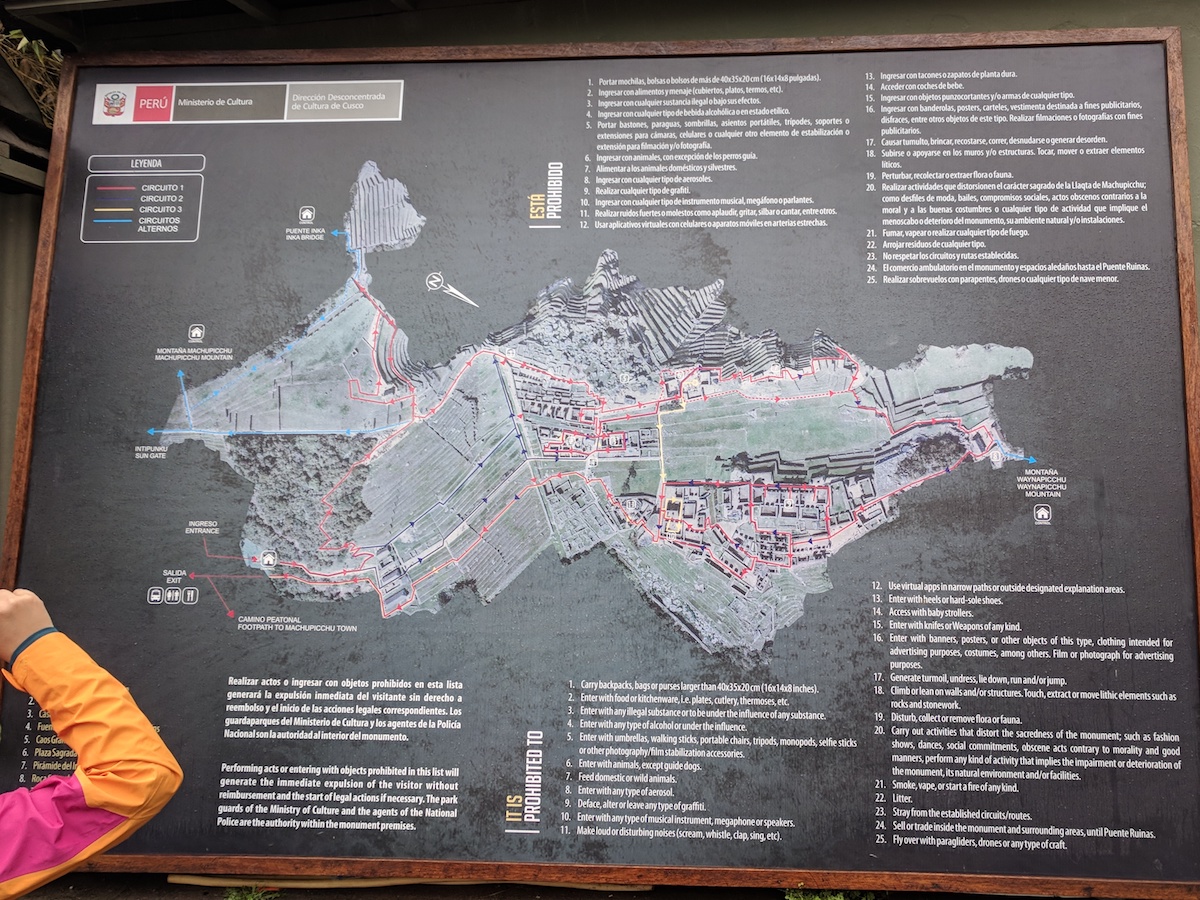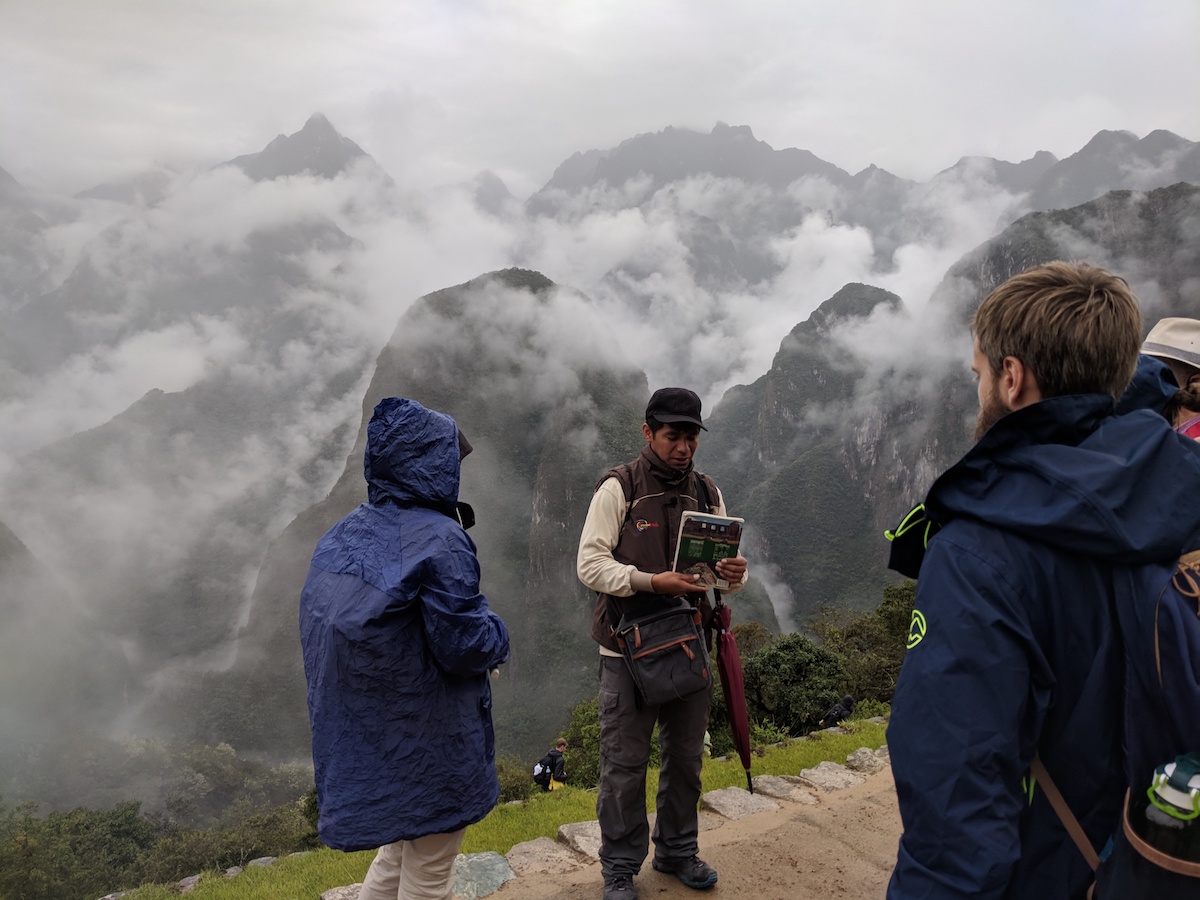 Left: The map of the permissible circuits - make your guide do Circuit 1! Right: Our guide explaining the circumstances of the "re-discovery" of Machu Picchu.
Since the mid-2017 rules changes, the site is strictly monitored by docents/rangers(?) and almost all paths are one-way only, meaning once you pass an area you can't backtrack, you can only move on toward the exit. The tickets also claim that they were only valid for one entry, meaning once you leave you're done - however our guide let us know the real rule is two entries per ticket. Well, first he said it was two entries, then when we said we would also be climbing Huaynu Picchu, he said we got another entry after that.
We put his theory to the test. The second entry, after our guided tour, to climb Huaynu Picchu was smooth sailing. We got another stamp on our ticket and we were on our way. The third entrance, after climbing Huaynu Pichhu, was not so smooth. Despite verifying the viability of a third entry with two staff members inside, the ticket checker sternly told us there were no exceptions to the 2-entry rule. We were not to be deterred though. Especially because the sun had finally broken through and the views would be so much better than they'd been all day. So, Nate deployed The Kindly Brontosaurus. If you're not familiar, the basics are that you stand a little out of the way, smile, and say something like "I'm sure we can figure this out". We explained that our tour guide had assured us we'd be able to go back in after our climb, asked to speak to a manager (who no one attempted to find), and stood smiling at the ticket taker. After only 2-3 minutes, he waved us through without further explanation!
You may know that I'm a pretty serious rule follower and honestly this was my first introduction to the Kindly Brontosaurus. Had our guide not told us this wouldn't be a problem and if we weren't coming to the end of a once-in-a-lifetime experience, I might not have deployed it. But I was shocked and thrilled at how well it worked (full credit to Nate).
Past the ticket-checker for our last time, we got great views from the Guard House (i.e. where 95% of the photos you've ever seen of Machu Picchu were taken) and got some better looks at other parts of the ruins on our way back through.
Huaynu Picchu and Huchu Picchu
Backtracking a step, after our guided tour, we also had a ticket to climb Huaynu Picchu. You have to reserve the add-on ticket to climb in advance and sign up for either a 7:00-8:00am or 10:00-11:00am entry. We chose the 10:00am entry but waited until almost 11:00am to enter in hopes that the rain would stop and the fog would clear up. It didn't. Moreover, the guards that the entrance to the trail informed us that the top would be closing at noon. Oh and the trail takes 45-90 minutes to climb.
So, unsure we would be able to see anything through the thick clouds, we began to climb with gusto hoping to make it to the top in time. The path snakes pack and forth up the mountain and is mostly stone stairs. Some of the stairs are wide enough to walk up comfortably, others are only barely wide enough for your shoe to fit sideways. Having been under the weather for several days, this was more challenging than I'd like to admit but we made it to the top! Only to find that the clouds had not dissipated and all we could see is beautiful white mist where Machu Picchu should have been looming below us. With no other alternative, we began the decent down the same narrow stairs, with a few crevices thrown in on the decent, back to the base of the mountain.
I've seen the pictures and the view on a clear day is gorgeous. We may not have gotten to see it but I'll put the climb into the "character building" portion of this adventure.
One good thing did come of our trip up Huaynu Picchu though, as there is a smaller mountain, Huchu Picchu, between Huaynu Picchu and Machu Picchu. We had a little extra time before 2:00pm (when the guards had said we had to be out of the area), so we dug deep and motivated ourselves to climb one more time over the complaints of our legs. It is a much less difficult climb, though you have to use a rope to get over one large boulder before you get to the top, and it only take 15 minutes each way. We enjoyed the view in between clouds and took a break before we planned to head back to the entrance of the trail. Around 1:15pm, one of the docents/rangers started calling to us from just below on the trail that it was time to leave that the trail was closed. In broken Spanish, we explained that it wasn't 2:00pm yet and that we had time to get back down before that. Turns out the top of Huchu Picchu also closes at noon (oops!). So, we dutifully made our way back down to the guard house and out of the trail. We ended up being the last ones out.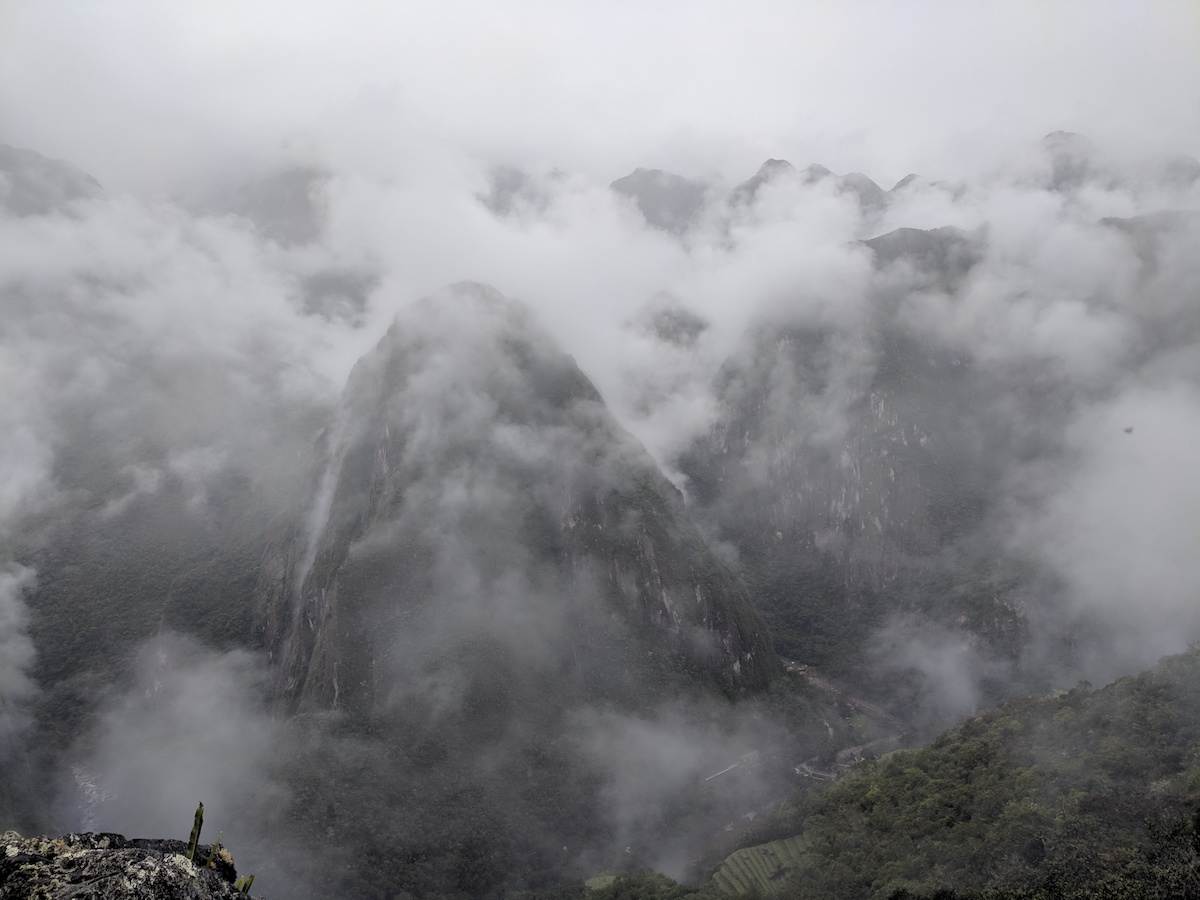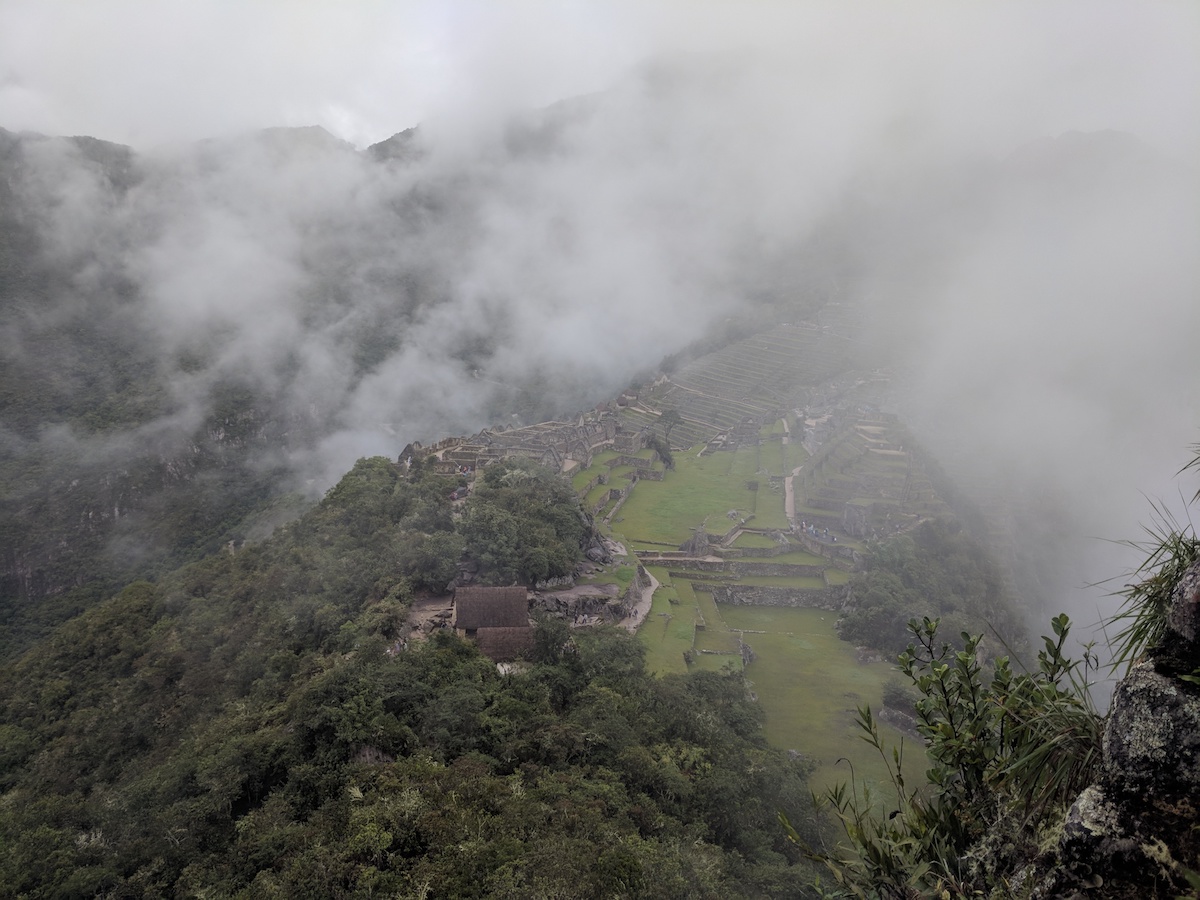 Left: Fog rolling through the surrounding mountains. Right: Our first clear view of the ruins from atop Huchu Picchu.
Getting Organized & Booked
We normally prefer to travel independently, making as many of our own arrangements as possible and staying as flexible as we can. After reading lots of blog posts and helpful websites, we felt confident we would be able to do everything ourselves. Unfortunately, we were ultimately stymied in our attempts and had to use a tour agency.
We failed because of two changes made by the Peruvian government as part of a mid-2017 update to their rules about entry into Machu Picchu. The more prominent change was that tourists are now only allowed to enter Machu Picchu with a registered tour guide. The second change, which a tour company told us about later on but is not advertised anywhere is that the Peruvian government disabled the payment processing system on their own consumer-facing website for Machu Picchu tickets, meaning you have to go through an agency (and pay their fees) to get tickets to the site before landing in Peru. This is disappointing and I hope will be reversed at some point. Most frustratingly, that's the only part they disabled, so you can waste all the time you want going through the registration/booking process only to lose any tickets you reserve when they inevitably time out since payment is impossible.
Since we'd need to deal with an agency no matter what, and since we didn't want to end up having to pick a random guide at the entrance to negotiate prices with before going in, we decided to just have a tour company handle all of our logistics for a two-day roundtrip visit from Cusco. After some research we went with View Peru who were very capable, if also very inconsistent.
Our itinerary called for:
Day 1

Car from Cusco to Ollantaytambo Train Station
Inca Rail from Ollantaytambo to Machu Picchu Pueblo (formerly Aguas Calientes)
Hotel in Aguas Calientes

Day 2

Bus to Machu Picchu Sanctuary
Guided Tour in English
Independent Huaynu Picchu climb
Bus back down to Machu Picchu Pueblo
Inca Rail back to Ollantaytambo
Car back to Cusco
Our All-Inclusive Experience
We were pleasantly surprised when our pick-up from our hotel in Cusco turned out to be a sedan, driving just the two of us the ~2 hours to Ollantaytambo Train Station (score one for View Peru!), and had a lovely time staring out the window at the changing scenery as we went ever downhill. (This is actually something I didn't understand about Machu Picchu - while it's at the top of a mountain towering over Aguas Calientes, it is still well lower than Cusco is.) We easily made our transfer onto the surprisingly-chic Inca Rail train for the final 90 minutes, again enjoying the amazing scenery while sipping on local teas and juices.
We were met at the train station and walked to our hotel - which made us feel a little silly but may have been a good thing since Aguas Calientes is pretty lacking in street signage of any kind. On our walk, we got our first big disappointment of the day, as we were told we couldn't go up the mountain as early as we wanted, we had to wait for the "7:30am English tour time." We stayed at the Wiracocha Inn, which was clean and comfortable. Our room opened toward the river at a small waterfall area so the only sounds we heard during our stay were rushing water, which was lovely - though some reviews say the club across the river keeps them up all night during high season.
In the morning, we were again escorted to the bus stop (making us feel pretty silly again), which is where we got our second big disappointment of the experience. We didn't necessarily expect a private tour, but did think we'd have a small group - instead we were lumped into a group of ~20, complete with audio-receiving headsets to be able to hear the guide over the next couple hours. We later noticed the pricelist at the tour shop we departed from only charged a 10 USD surcharge for upgrading to a private tour, which I can't understand why View Peru didn't offer as an option.
After our time in the Sanctuary, we caught the 4:15pm train back to Ollantaytambo. While the views on the way back were not as spectacular as the trip there because of the gray sky and clouds, the service was great and we were comfortable, though still wet.
At Ollantaytambo, instead of having a private car waiting for us, we were met by a representative of a van company who after a few mumbled words pointed to the 12 passenger van we were to take back. Our van wasn't full after the crowds thinned and so we were unloaded and sent to a different van, taking the last seats available. This was not nearly as enjoyable as our private car pick-up but it was taking us back to a warm room and dry clothes so we couldn't complain too much. Then, when we arrived in Cusco, instead of taking us back to our hotel, the driver stopped near the main square and told everyone to get out. We had reached the end of his route. Again, in broken Spanish, we tried to explain that we were supposed to be taken all the way to our hotel. No dice. Luckily, while Nate was talking to the driver, I head a woman outside yelling our names–she was apparently going to get us the final leg of this journey in a taxi back to our hotel (See what I mean with the inconsistency?).
Overall, we spent ~36 hours on this Machu Picchu adventure. It was expensive and not how we would have wanted to do it if left to our own devices but it was absolutely worth it, rain and all.
What We'd Do Differently
When we couldn't book our own ticket through Machu Picchu's website we ended up giving in and having an agency handle everything - now that we've been I wish we had persevered on putting together our own logistics and just having an agency get the tickets themselves for us. We probably could have gotten ourselves on one of the trains that goes all the way from/to the Cusco area itself and had a private tour guide without spending any extra money. That said - we spend a lot of time figuring out logistics for future stops and it was pretty great to not worry about this experience at all once we paid View Peru.
What We Did Perfectly
Spent as little time as possible in Aguas Calientes/Machu Picchu Pueblo. This small town at the base of Machu Picchu is the only way to get to/from the Sanctuary, and the town only exists to serve tourists. From the pushy doormen trying to get you to enter every single restaurant to the ubiquitous very-high prices, there is pretty much nothing redeemable about the area. We recommend eating at Mapacho Craft Beer on the south side of the river for semi-reasonable service and no pushiness.
---