5 Jan 2018
Bagan: Pagodas, Stupas, and E-bikes Oh My!
After our somewhat disappointing time in Mandalay we took a lovely ferry down the Irawaddy River to Bagan. While we were on the boat almost exactly the same amount of time as we were on our Christmas Day minibus to Mandalay, our time on the boat was way more relaxing and enjoyable. If you're moving between Bagan and Mandalay, we highly recommend taking an MGRG boat for the trip.
With four nights in Bagan, we spent most of our time exploring the countless temples spread throughout the area on e-bikes rented from our guest house. It was great to have the freedom to roam around on our own and the flexibility to stop anywhere we liked. At the end of our stay, we took an overnight train back to Yangon for our flight out to Vietnam.
What We Did in Bagan
Day 1: We arrived in Bagan at 4pm after our boat ride from Mandalay and walked from the pier to Golden Myanmar Guest House at the north end of Nyaung-U (an affordable neighborhood north of Old Bagan) where we had booked a room. Despite being in Myanmar throughout the winter holidays, this was the only place we had serious trouble finding an acceptable hotel within our price range - being between Christmas and New Year's it seemed to be a peak season. The room itself was pretty spartan, but the breakfasts were great and they even treated us to a free New Year's Eve dinner just-because, so we'd recommend it. After getting settled we walked down to Thi Ri Pyitsaya 4 Street, the hub of tourist activity in the neighborhood, and had a nice dinner at the jam-packed Weather Spoon's.
E-bike Days: We had picked our hotel partly based on reviews mentioning that they had quality "e-bikes" for affordable daily rentals, for use in exploring the temples spread throughout Bagan and the surrounding area. We ended up spending 8,000 kyat (~6 USD) per day three days in a row to rent an electric scooter (think Vespa, not Razor) that could carry both of us anywhere we wanted to go in the area for the full day.
On our first day riding around, we stuck mostly to the north and east edges of the area dotted by temples. This may have been a mistake as I wasn't a very confident e-bike driver quite yet and a number of these paths had deep sand, leading to one tumble into the weeds beside the trail and a number of other close calls. Otherwise, it was fantastic and a wonderful way to explore the area.
The most striking aspect of Bagan is how many temples there are, and as a result almost all of them are left unattended and often isolated throughout the day. This meant that we could choose where to stop, where to explore the inside of, and where to pass on by in almost total peace. We also used the Maps.me Android app extensively, as many prior travelers had left notes about which temples were particularly interesting inside or had roof access providing nice views. Unfortunately many of the temples with roof access were currently barricaded off and under renovation as a result of a major earthquake last year, but we still managed to find some good spots.
On the second day, we made our way into Old Bagan for the first time and discovered that a major regional festival was taking place at one of the main temples there and that the surrounding area was absolutely packed with Myanmar nationals, buses, and food stalls. Luckily Bagan is so spread out it wasn't hard to avoid this area, but did mean that we skipped a couple of the pagodas that are on a lot of "must-visit" lists.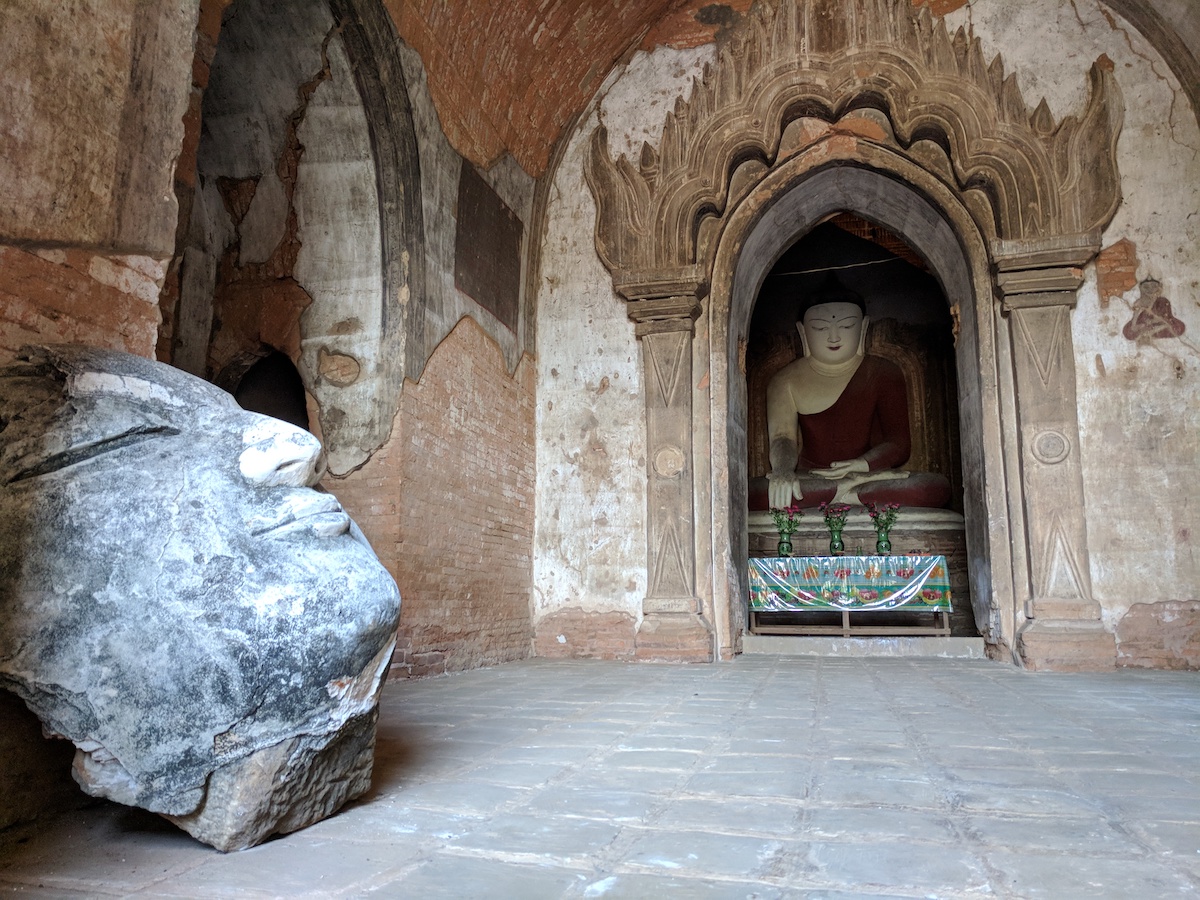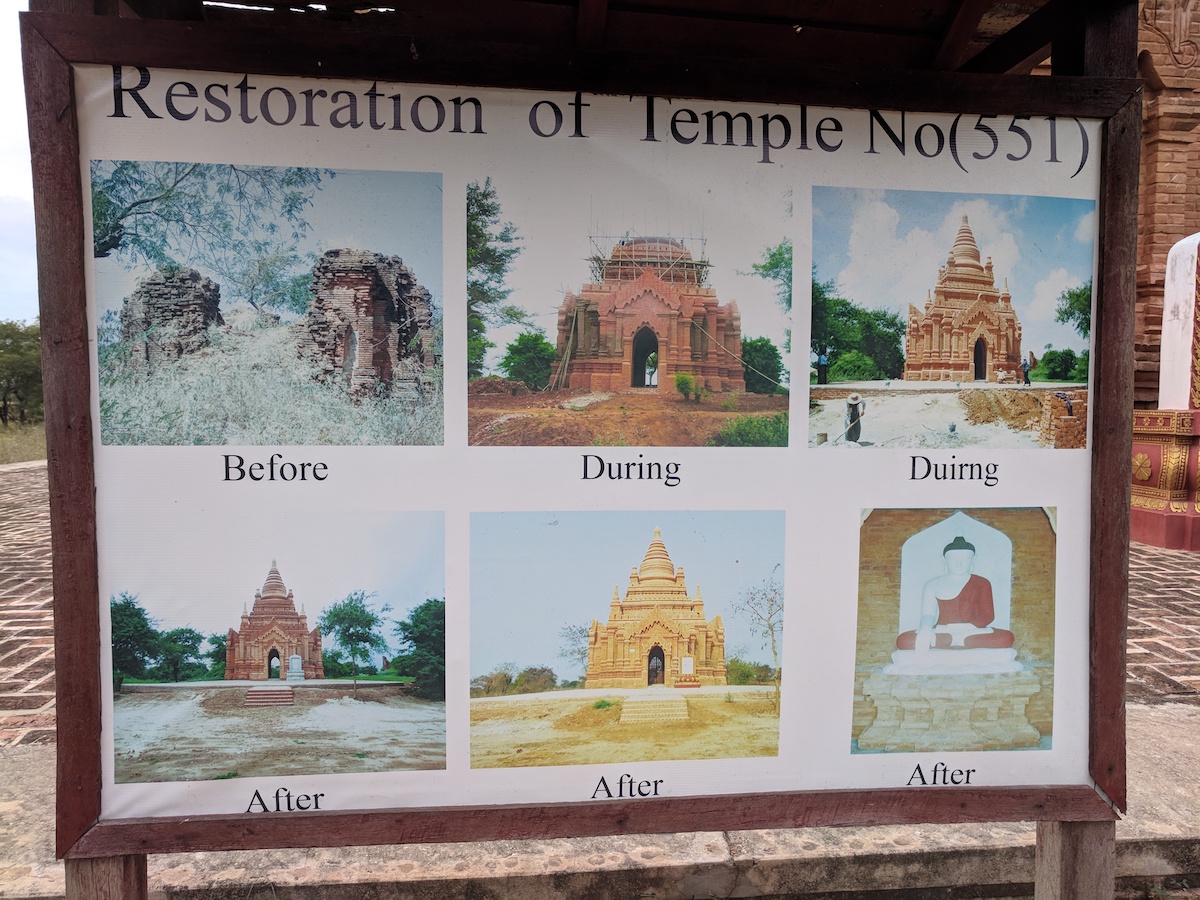 There is a wide range in the current conditions of different temples as individual families have adopted the responsibility for some structures.
On our third and final day riding around, we had already covered almost all of the area so spent time heading to some harder-to-reach areas, like the road south of New Bagan, finding some interesting spots and views where many visitors don't go. After three full days of e-biking around Bagan we were honestly pretty templed-out (there are only so many huge Buddhas you can see before they all blend together…) but we still felt spending three full days exploring was worth it so we never felt rushed or like we were forced to miss out on something that piqued our interest.
Sunsets: If you've read about Bagan, you know sunsets (and sunrises) are a big deal for travelers, especially in the Instagram age. Since so many pagoda rooftops have been closed off since the big earthquake there are a pretty limited number of places to choose from currently. Luckily, having our e-bike meant we got to avoid the manmade "sunset viewing hills" frequented by the large tour buses, but we could never escape the crowds completely.
On our first night with the e-bike, we went to a stepped stupa near the Bulethi temple. It was a great view, but absolutely packed with fellow independent tourists. Not incidentally this was the only place our government-mandated Bagan entrance ticket was checked. On our second night, we returned to a rooftop in the Shwe Nan Yin Yaw Monastic Complex that we had found earlier in the day–completely deserted–and ended up enjoying a lovely view with a good number of other tourists, though fewer than the day before. Our last day, we ventured all the way out to a pagoda behind the Utrecht Temple that had lovely views and was completely empty, but ended up leaving before sunset so we wouldn't have to make such a long trip in the dark on our e-bike.
Hot Air Balloons One of the popular activities if you visit Bagan is to take a sunrise hot air balloon trip. We considered doing this all the way up to the point when we learned it would cost about 400 USD per person for the 3 hour trip. Many people say it is life changing and completely worth it. We couldn't make the case to spend that kind of money though.
Day 5: New Year's Day! We had celebrated more than expected the night before when our guest house surprised us with a free BBQ dinner for all of the guests and staff–including a homemade alcoholic punch that was too tempting to pass up. We had been wanting to try this style of BBQ our whole time in Myanmar, but the street stalls that practice it all leave their meat skewers sitting over a warm (but not hot) vat of broth all evening, which didn't seem like the safest choice to us. It was delicious and a really nice surprise to ring in the new year.
On New Year's Day itself, we checked out of our hotel, had a nice long lunch at Bibo, and then took a taxi to the train station for our overnight train to Yangon which was an experience all its own.
Bonus Day 6: While we only spent five days in Bagan, we had a little time back in Yangon upon arrival before catching our flight to Vietnam and made a point of returning to 999 Shan Noodle House, which we can't recommend highly enough.
How We Did with Our Budget
For our 15 days in Myanmar overall, we had originally budgeted as much as $45 dollars a night for accomodations but ended up only having to spend $27 a night on average. We had actually planned to spend more but a too-good-to-be-true Airbnb in Old Bagan fell through and left us staying at a cheaper guest house. Throughout Myanmar we enjoyed the incredible hospitality at our hotels/guest houses and suffered through the inconsistent (or sometimes non-existent) hot water and internet blackouts.
We had also budgeted $10 dollars per day per person for food and $15 dollars per day per person for entertainment. Out of that $50 per day, we ended up spending only $47 per day on average, including our expensive Mandalay bike tour ($120 total) and our special Christmas dinner ($33 total). We could have spent more, but with how cheap nice meals were throughout Myanmar it would have been difficult.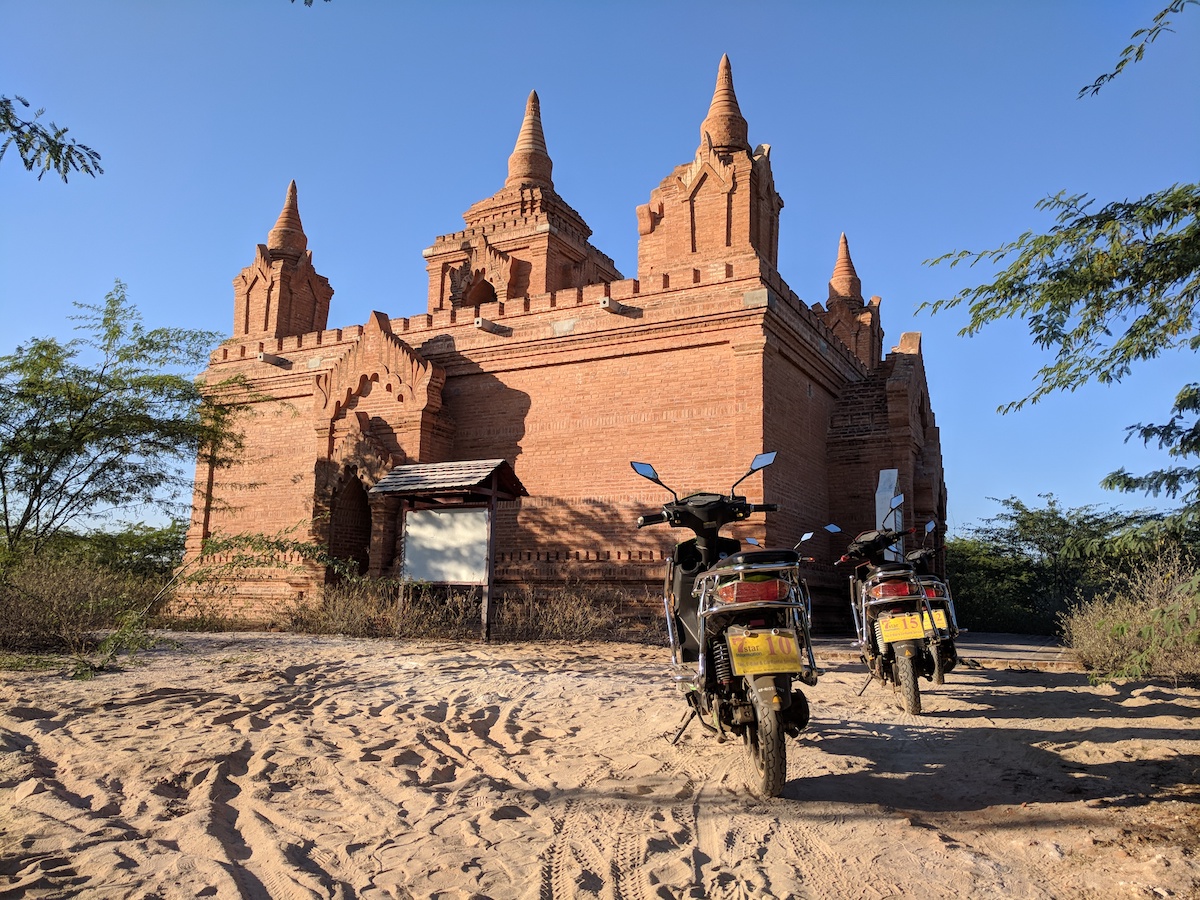 ---