17 Jan 2018
Saigon: Food, food, and a few other things
We spent four days in Saigon (the whole metropolitan area is Ho Chi Minh City but most people refer to District 1, where we spent most of our time, as Saigon) and enjoyed eating our way around the city. Compared to Hanoi there is a lot more variation in the popular local dishes, as well as more international food available. A lot of international tourists use Saigon primarily as an entry/exit point, spending only a day or two here. We loved having more time to eat, explore, and eat some more.
We stayed in an Airbnb in the neighborhood between the famous Bến Thành Market and the Bến Nghé river to the south and highly recommend the area, which felt super-accessible for both the touristy sights and local neighborhoods full of really good, cheap food.
What We Did in Saigon
Day 1: We arrived in Saigon on our overnight train from Da Nang at 5:30 in the morning, hung out at the station until the sun came up, and then enjoyed the cool morning air by making the ~2 mile walk to our Airbnb to drop off our bags until the apartment was ready for us.
We had about 5 hours to kill before we could go back and take a nap, so we walked another 7.5 miles around some of the tourist hotspots of downtown Saigon. We started off at the famous Ben Thanh Market, full of both shopping stalls and food stalls, before heading toward the Independence Palace and enjoying some downtime reading in the shade under the trees in the large parks across the street. We then continued our circuit, stopping at the 19th-century Saigon Central Post Office, seeing the under-renovation Notre Dame Cathedral, and heading to a fancy modern mall for some air conditioning and a snack. I had spotted a waterfront park on the map not too far away, so we walked over to Bach Dang Park where we were surprised to find a brand-new "waterbus" station, which we decided we'd try to use another day. By this time we were pretty exhausted and hungry so we stopped at the Ben Thanh Street Food Market for some tourist-friendly "street" food (we'd recommend skipping this, and would have too if we weren't so tired). By the end of this walk we'd seen pretty much everything in Saigon that a lot of the one-day tours cover.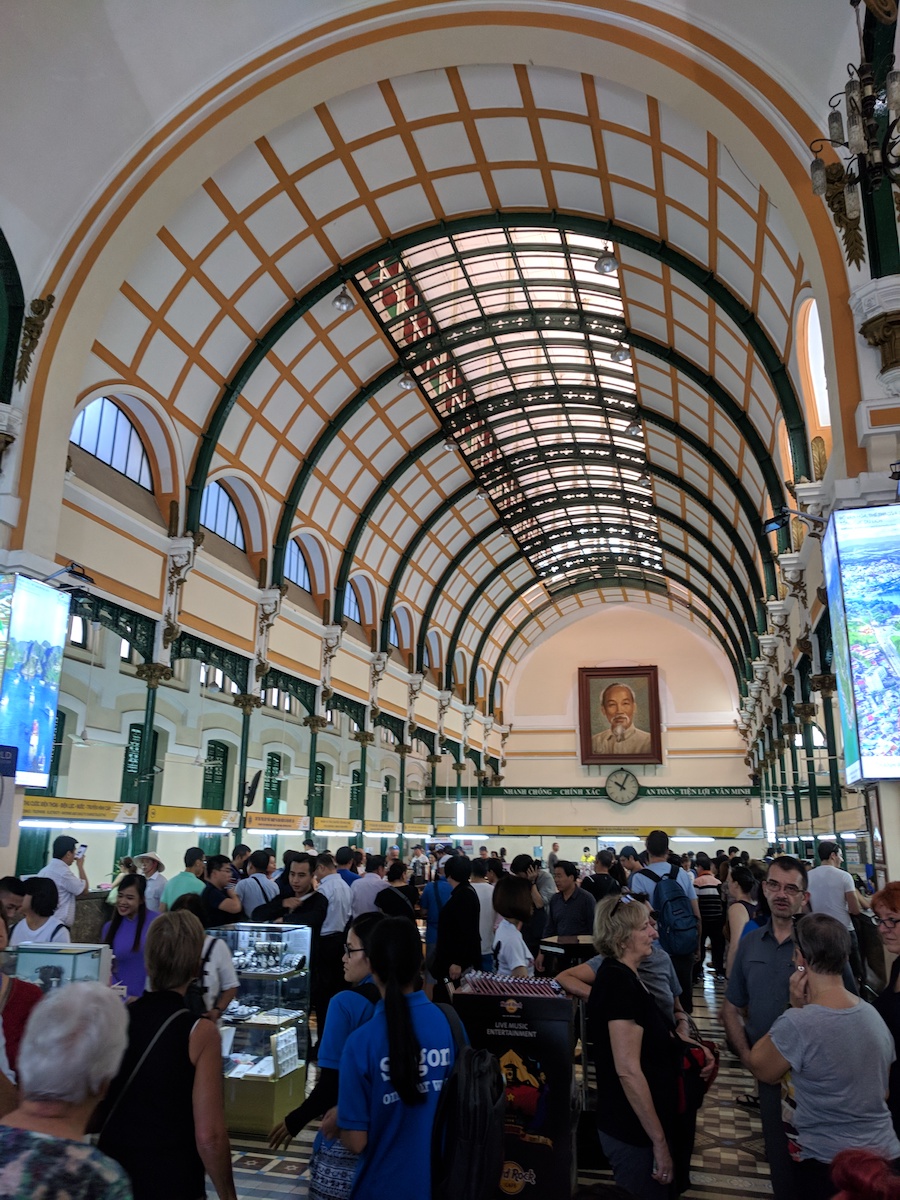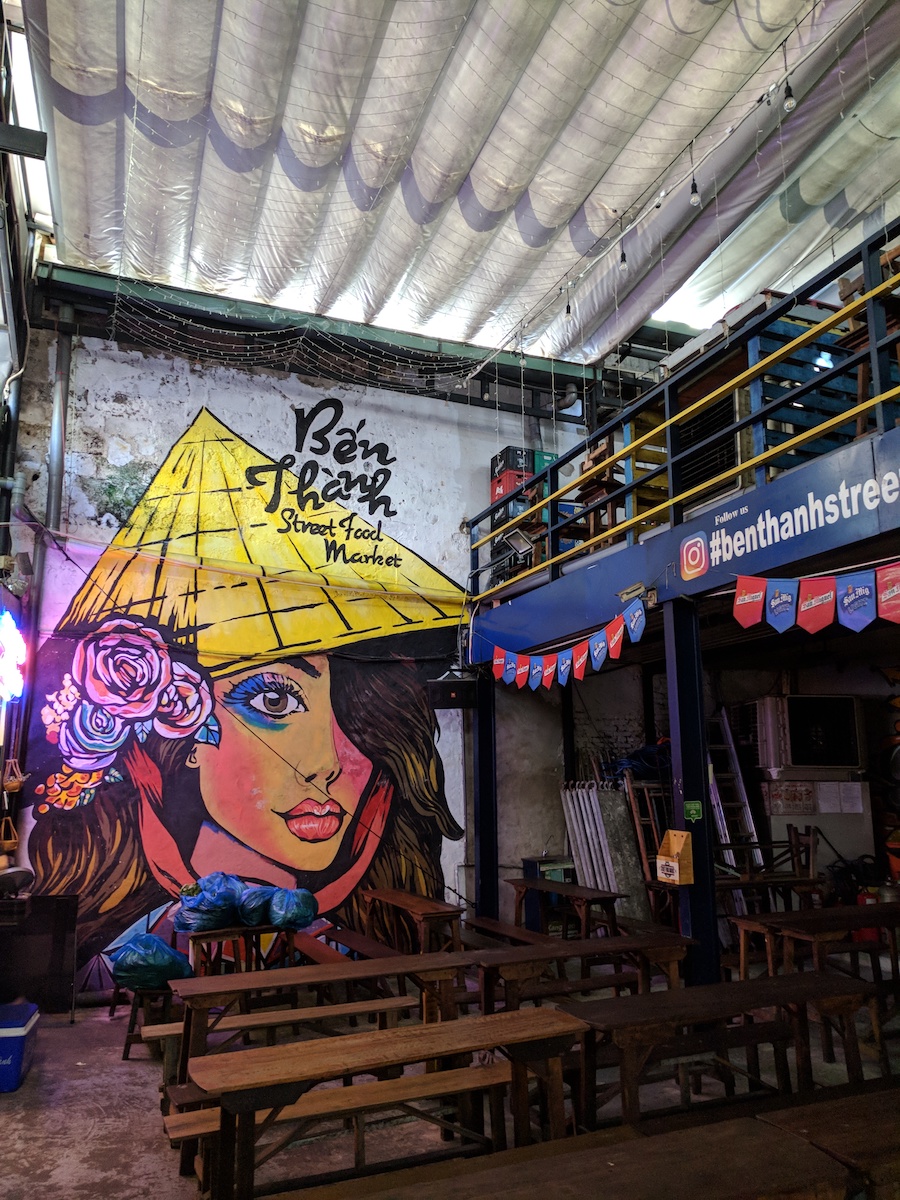 Left: The Central Post Office, a very-boring stop on most of the city tour routes. Right: The tourist-friendly "street" food market.
For dinner, I was excited to try bun thit nuong, a noodle dish topped with fried spring rolls and grilled pork, so we ventured into the Cô Giang neighborhood to Bun Thit Nuong Chi Tuyen, which was really exceptional. We were the only foreigners in the place but they were happy to put up with us and help us out when needed. When paying I accidentally used a 200,000 dong (9 USD) note instead of a 50,000 dong (2 USD) note and they shouted after me down the street so I could come back and get my proper change–doubt that would have happened in the middle of the tourist zone!
Day 2: In the morning, we headed to the War Remnants Museum, which focuses on the ongoing effects of the Vietnam war. Our route there took us through Tao Dan Park, which we highly recommend stopping by during a weekend. It was full of locals, including more than a couple dance groups perfecting their routines, and is a really nice escape from the bustle of the surrounding city. At the museum itself, we spent the rest of the morning going through the three floors of exhibits. The most impactful for us was the showcase of photos taken by news photographers from both sides who were killed in the war itself. It is a bit odd that they have matched exhibits about the crushing cost of war with glitzy showcasing of the weapons used to inflict that same damage, but definitely worth a visit.
After the museum we lucked into stumbling across "The Journey of Taste" International Food Festival in Le Van Tam Park. Full of stalls with street food specialities from around Southeast Asia it was fun to walk through the aisles and point at some items we thought we wanted to try. It was an event aimed fully at locals, so pointing and google translate got us by. We ended up having a wonderfully-refreshing passionfruit juice, a spongecake-like Bánh Bò Thốt Nốt bun, and a freshly-deep-fried baby octopus, all for a little over 5 USD. We then went to Bánh xèo Đinh Công Tráng, our intended lunch destination, and had a thoroughly-disappointing Bánh xèo pancake that paled in comparison to the ones we made it Hoi An.
In the evening, we enjoyed our one pre-scheduled activity for Saigon: a food tour around the city on the back of professionally-driven motorbikes. We were a bit nervous about riding on them, since traffic is so insane and lawless, but it ended up feeling pretty comfortable after a couple of minutes.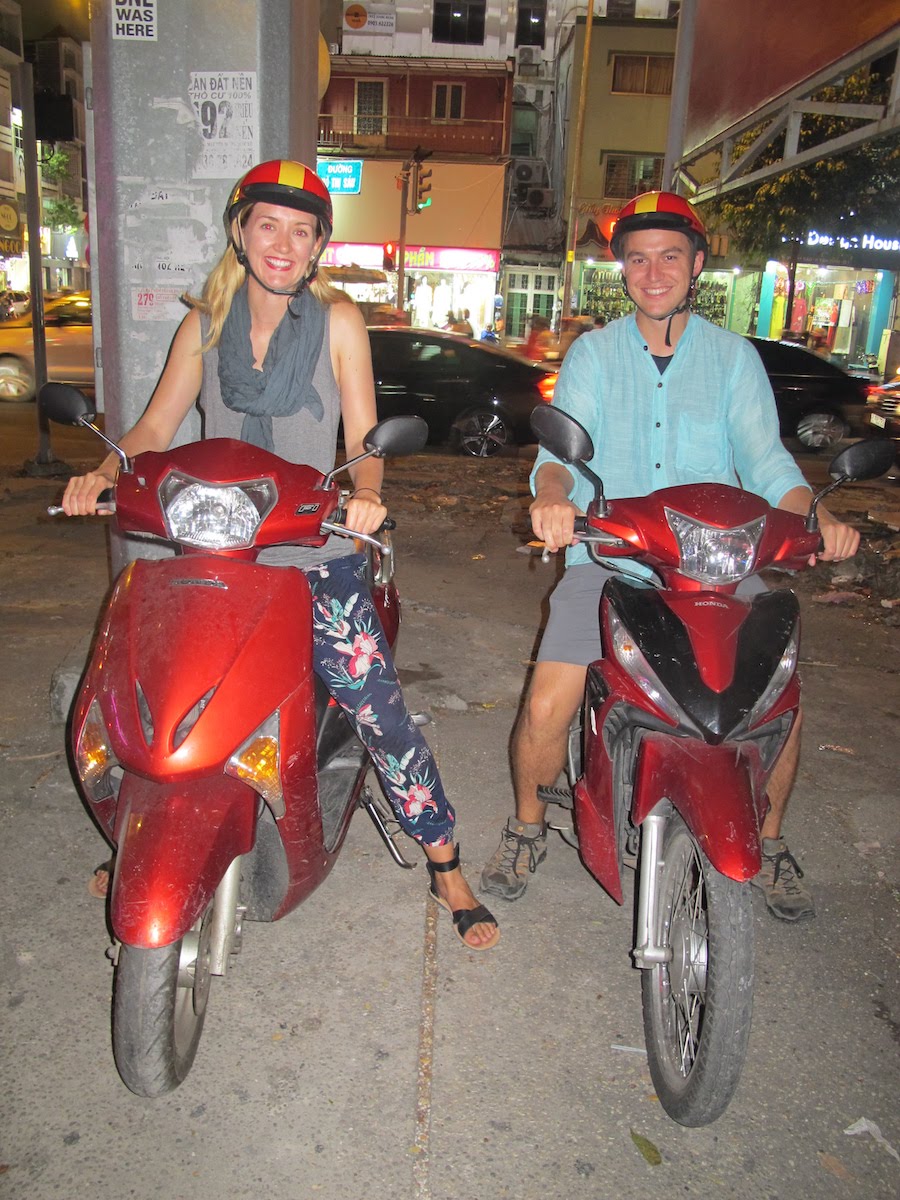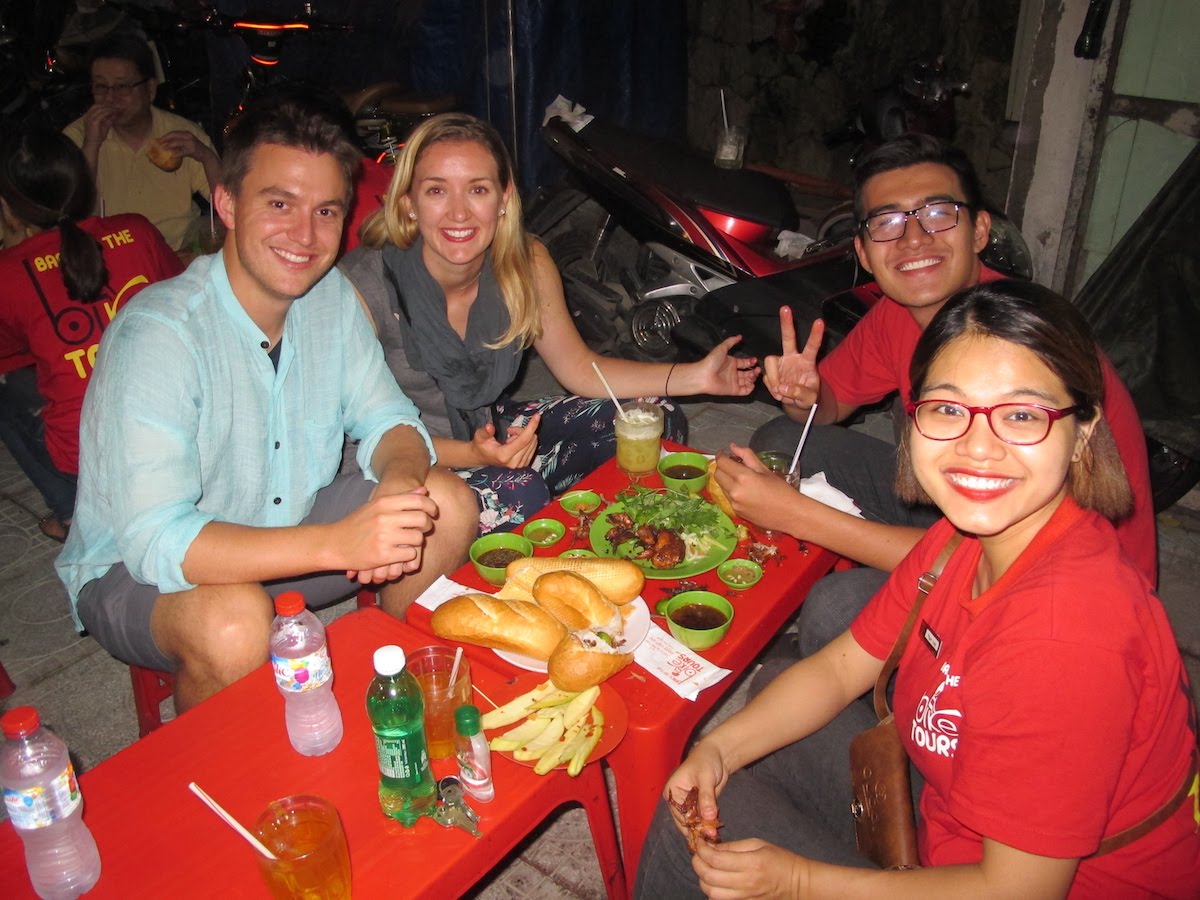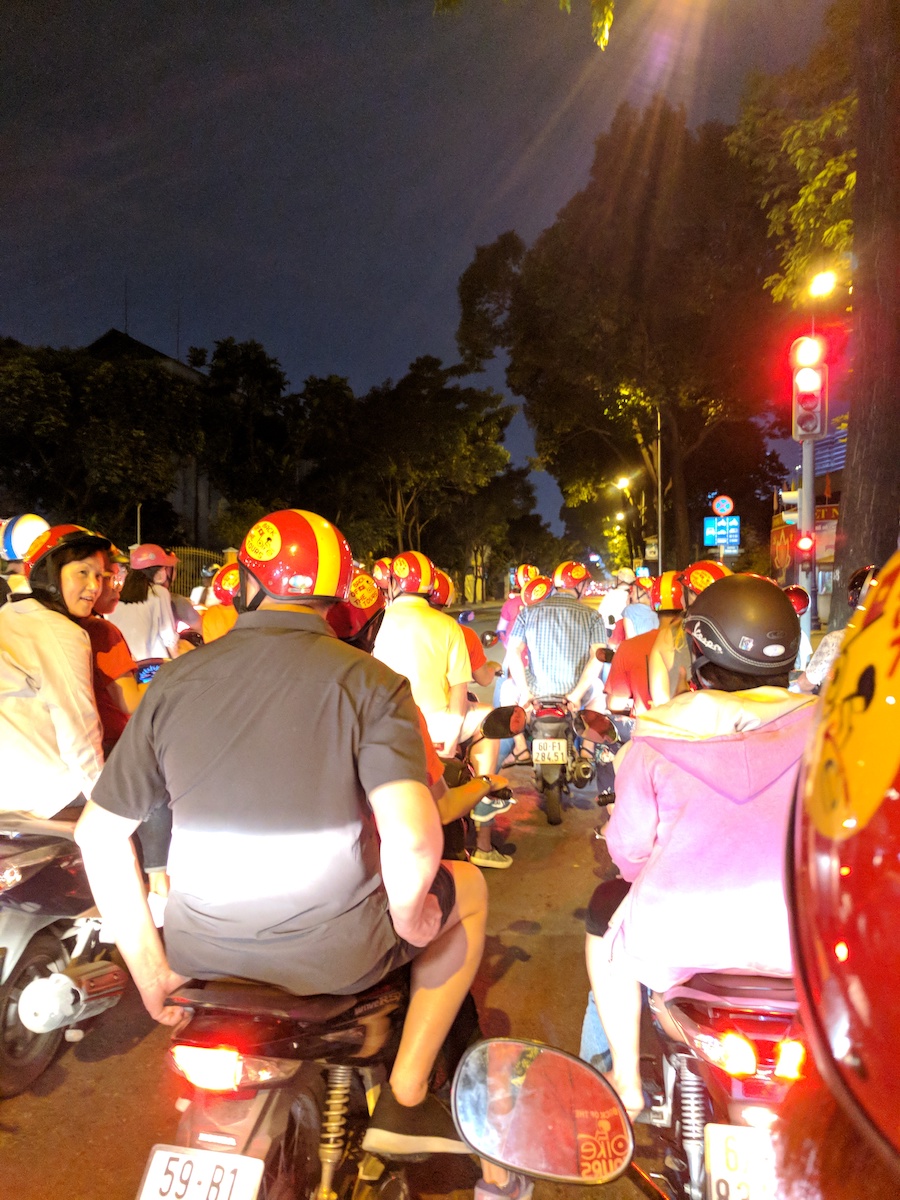 To be clear, we did NOT try driving the bikes ourselves–and were very happy with that choice! The traffic in Saigon was by far the craziest we've seen so far.
On our tour with Back of the Bike Tours, we had:
Papaya Salad: Shredded green papaya with marinated beef liver jerky, herbs, and a "secret" sauce. Really incredible, and probably my biggest regret of our visit is that we didn't make it back a second time.
Cút Chiên Bơ: Whole quail, roasted and buttered, and ready to be pulled apart with your fingers and dipped into an addictive salty and sweet sauce. We skipped eating the heads, which our guide demonstrated for us (remove the beak, then chew!).
Bánh Canh Ghẹ: Noodle soup served with a whole crab on top, which you pick the meat out of and eat separate from the soup.
Bánh Xèo: A pan-fried crispy rice pancake you wrap with rice paper and eat almost like a soft taco.
Hot vit lon: Common as a cheap, nutritious snack, we worked up the nerve to taste this hot boiled fertilized duck egg and only somewhat regretted it.
Mixed local fruit: Soursop, green guava, jackfruit, dragon fruit, watermelon, and a couple we had never heard of and can't remember the names of.
Sticky rice and ice creams: Three different flavors of sticky rice paired with ice cream or frozen yogurt. Weirdest were the whole hibiscus flowers that were a bit overwhelming.
Day 3: After happening to come across the brand-new Waterbus system (which opened just two months ago) on our first day, and finding out tickets were just 3 USD total roundtrip for both of us we knew we had to try it. After a bit of research online, I figured we could take the Waterbus up to the western tip of Thanh Da Island, spend ~2 hours walking the 2.2 miles that is the full width of the island, have lunch along the way, and come back on a waterbus from the eastern tip of the island. It turned out to be a pretty good plan, except the east/west road we'd be walking on the whole time turned out to be a bit busier and more industrial that I had imagined. And the lunch place I'd picked turned out to no longer exist, so we ended up at the overpriced Moon River, which we wouldn't return to. So it wasn't quite the relaxing island escape from the city we wanted, but it was still a nice change of scenery and pretty far off the beaten path. If I were to do it again, I'd take the Waterbus all the way to the east end of the island and walk a short loop, since things are much busier and prettier at that end.
Note: On Sundays, the "tourist villages" in that section apparently have a huge buffet that draws in hordes and hordes of people. We avoided it completely, as that didn't sound like fun to us.
At the eastern end of the island, before we could get back on the Waterbus, we enjoyed figuring out the local ferry system that exists in place of a bridge across that section of the river. It runs continuously back and forth across the quarter-mile gap, with a departure from each side about every 10 minutes. 2000 dong (8 US cents) per person.
For dinner, we picked up banh mi from Huynh Hoa, which is supposedly the best in Saigon. It was certainly a lot more filling than any of the others we've had in Vietnam, and the paté was stellar, but overall it wasn't as good as the ones we were scarfing down at Bánh mì Phượng in Hoi An.
Day 4: Our last full day in Vietnam, we treated ourselves to breakfast at Secret House, as the cơm tấm stall I had been eager to try scared us off by being completely empty. After spending some time preparing for Cambodia, we had lunch at Quan Ngon where I finally did get to try cơm tấm (broken rice with various kinds of pork on top), which was pretty good but not in the same class as my two favorites so far: bún chả in Hanoi and bun thit nuong in Saigon.
We then visited the Independence Palace again, buying our 2 USD tickets this time and exploring the grounds and interior of the re-constructed building. Since the capital is now in Hanoi, the building is unused by the government and set up solely as a tourist attraction. It was interesting to get to see the design, and to visit the underground bunkers where the President would reside during bombings in the Vietnam war.
In the evening, we were lucky enough to be able to catch up with an old friend of mine from DC who is currently working in Saigon. We shared our final bún chả of our time in Vietnam and she introduced us to an amazing milk foam tea that some young entrepreneurs recently introduced to Saigon. It was a great capstone to our visit and was just great to be able to catch up.
Day 5: Not much of a day at all - we got up on the early side, packed up, and walked to catch our bus to Phnom Penh, Cambodia.
How We Did with Our Budget
For our time in Vietnam, we had budgeted as much as $45 dollars a night for accommodations. We ended up spending $43 per night in Saigon for a nice Airbnb in what turned out to be a perfectly-located neighborhood. Our food tour guides were surprised at the location when they picked us up and impressed we had found a spot in such a good "locals" neighborhood. Unlike all of the hotels and guest houses we've been staying in elsewhere in Asia, we were on our own for breakfast but when there is 1.50 USD phở on every block it's really not too difficult to survive.
We had also budgeted 8 USD per day per person for food and 15 USD per day per person for entertainment. Out of that planned 46 USD per day, we ended up spending 65 USD per day on average, including our food tour ($134 total) and the onward bus tickets to Phnom Penh, Cambodia ($22 total). While this was over-budget for Saigon, we ended up 41 USD (~2%) under budget for our time in Vietnam overall.
---