24 Jan 2018
Phnom Penh: Sick and tired
We spent two and a half days in Phnom Penh before heading to Siem Reap to check Angkor Wat off our bucket list. Unfortunately, from the time we arrived I was fighting cold/flu symptoms. Being sick is never fun but when you're traveling it is the worst. We were in a new place with very little time and instead of going out to museums or to try street food, I required a two hour afternoon nap just to function enough to go to dinner. Honestly, the stomach bugs we've suffered so far seemed less disruptive than the aching, stuffy nose, sore throat nastiness I picked up (fingers crossed Nate somehow continues to manage avoiding getting it too…).
All that is to say, we didn't get to fully enjoy the city, and being sick may have tinted our views of it.
What We Did
Day 1: We arrived to Phnom Penh by bus from Ho Chi Minh City. We took the Mekong Express Bus from Ho Chi Minh City across the border, where they had someone help facilitate the process of leaving Vietnam and then entering Cambodia. We had gotten e-visas in advance, though the people on our bus that hadn't actually made it through the line at the checkpoint faster than we did. Everything went smoothly and as far as a 7 hour bus ride goes, it wasn't so bad.
As soon as our bus pulled up tuk-tuk (motorcycles/mo-peds with bench seats in small carriages behind them) drivers basically storm the bus trying to pick up fares. Tuk-tuks are everywhere in Phnom Penh and we rarely went more than a 100 feet without a driver asking us if we needed a ride or if we wanted to go to the Killing Fields (one of the museums about the genocide conducted by Pol Pot's regime and also quite far from the city so they get a lot more money for making those trips).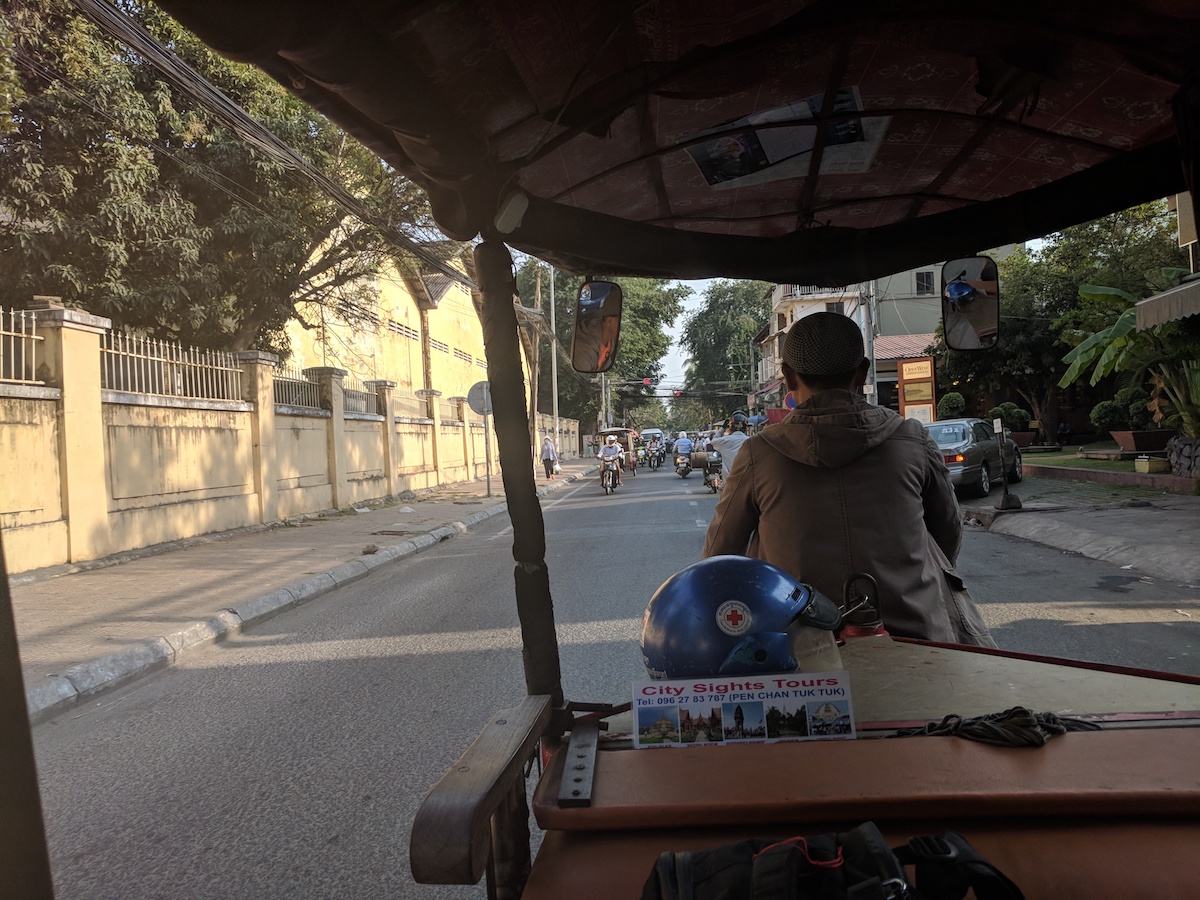 We had not yet gotten any dollars or riel but we were able to negotiate to pay our driver in Vietnamese dong and were whisked away to our hotel.
We stayed at the Alibi Guesthouse, which was perfectly adequate with a pretty spacious room and plenty of hot water, even though the water pressure was pretty poor. I've learned that having a small stream of hot water is much more enjoyable that a strong stream of cold water any day. We also got the option that included breakfast and the food was filling but nothing special.
Our first night, we walked through the parks right near our hotel where large groups of women do aerobic dance classes, children play badminton or soccer, and teenagers cluster in groups. Watching sunset over the Independence Monument, we made our way to dinner at Frizz. Frizz is a Dutch-owned restaurant that has a cute seating area and excellent fish Amok, a Khmer dish that Nate ended up enjoying much more than he expected. Prices were higher than we were used to in Vietnam with dinner coming to 12.50 USD. Interestingly, everything is generally paid for in USD here, except for amounts less than one dollar, in which case you pay in riel. So to pay for dinner we used 12 USD and 2000 riel (1 USD = 4000 riel).
Day 2: We had planned to go to the Killing Fields but I woke up feeling pretty lousy and so we opted to stay closer to the hotel. Instead, we walked along the riverfront, past the Royal Palace, to Wat Phnom. Wat Phnom is said to be a man-made hill constructed at the wish of a wealthy woman. The city much later took its name from the name of this hill. Admission to the park is 1 USD for foreigners but is a peaceful place to walk around, see the pagoda at the top of the hill, and then relax on a bench in the shade of the surrounding park.
We stopped for lunch at Hummus House and because I had very little appetite, I stuck with their signature humus for lunch but Nate enjoyed his kabab as well. It was pretty inexpensive and mostly catered to tourist or expats from what we could tell while we were there.
The only other thing I had the energy to do was go out to dinner - we picked Mok Mony which we had walked by the night before and looked interesting. It ended up being very good, especially the whole grilled fish that Nate had, but was our most expensive meal since our fancy Christmas dinner in Myanmar.
Day 3: Feeling a little better, we pushed ourselves out to the S21 Genocide Museum. This is not a happy tourist attraction but is really educational and well done. S21 is a "security facility" used to torture prisoners of the Khmer Rouge. The images displayed are graphic and the information is heartbreaking. I would definitely not recommend the visit for young children, though there were some there when we visited. The piece that stuck out to me the most was that the guards they used to torture prisoners were as young as 10-11 and rarely older that their early 20s. They were taken from rural villages and the regime made sure they had no education except for the skills they would need to torture victims. In the end many of them then became prisoners in S21 themselves.
After an intense morning, we stopped at Farm to Table, because yes they have farm to table restaurants in Phenom Penh that even includes chickens roaming around the tables.
Then it was back to the hotel for a much needed nap so that I'd be able to go out for dinner. Seriously, being sick while traveling really cramps your style.
For dinner we tried a local BBQ restaurant called Sovanna. There were a few other tourists there, mostly with Cambodian guides but it was mostly locals enjoying beers and BBQ. We mixed and matched a few different dishes, including some tasty beef heart and another serving of quail, though it wasn't anywhere near as good as the quail we had on our food tour in Vietnam.
As a last activity, and because we wouldn't get another chance, we pushed on after dinner to the popular night market. The night market has stalls filled with clothes, some geared to tourists (i.e. elephant tank tops that say Cambodia) but also stalls more targeted toward locals. There is also a small section on the end for food carts where we stopped for a dessert of coconut ice cream served inside half a coconut. We steered clear of shopping but enjoyed plenty of people watching before we walked back to our hotel by the waterfront, which was lit up with different colored lights wrapped around the palm trees.
Not Our Favorite
Overall, my head cold is probably the main contributing factor for our underwhelming Phnom Penh experience but we just were not blown away. Many of the museums seem horribly overpriced (the National Museum is 10 USD per person, compared to 1.5 USD for similar spots in Vietnam) and the heat and humidity can be intense and make doing nice long walks pretty miserable. After the cheap and accessible street food in Vietnam we were not nearly as enthusiastic about the offerings in Phnom Penh. Others who have visited found it lovely though, so maybe one day we'll give it another chance, hopefully when I'm healthy.
How We Did with Our Budget
For our time in Phnom Penh, we had budgeted as much as $45 dollars a night for accommodations. We ended up spending only $31 per night in Phnom Penh for a basic room in a good location, with the expectation that we'd use our savings for a nicer spot for our longer stay in Siem Reap. We had also budgeted 8 USD per day per person for food and 15 USD per day per person for entertainment. This is the same budget we had in Vietnam, so we were surprised that most food was triple the price in Phnom Penh! Out of that planned 46 USD per day, we ended up spending 45 USD per day on average, including an expensive dinner at Mok Mony (22 USD total) and the onward bus tickets to Siem Reap (16 USD total).
---