4 Feb 2018
Bangkok: Welcome to Thailand
Our first stop in Thailand was Bangkok, which we had been expecting to be a frenzied swirl of people, motorcycles, and street food. Overall, Thailand was one of the destinations we most looked forward to before starting the trip, and what better way to begin than in the largest city! Ultimately, we were a bit surprised by how much Bangkok was like some of the cities we visited in South America: huge but traversable, busy but not insane, and widely variable among different neighborhoods.
We have 28 days total in Thailand (of the 30 we're allowed without extending our visa), split among Bangkok, the eastern islands (Koh Tao and Koh Phangan), and the western islands (Koh Pu, Koh Mook, and Koh Adang) before exiting via ferry into Malaysia. Amy will miss out on the eastern islands, as she will be at a 10-day silent meditation and yoga retreat while I go get Scuba Open Water certified and savor some beach time.
What We Did in Bangkok
Day 1: We got in after a long but relaxing day of travel from Siem Reap, Cambodia in the evening, dropped our bags, and went straight out to find some dinner. We knew we had booked a hotel in the same neighborhood as the (in)famous Khao San Road where all of the rowdy tourists hang out, but we hadn't realized how short the alleyways between made the walk. We braved the crowds since we were so hungry and tracked down some shawarma for dinner as well as coconut ice cream and a folded banana pancake for dessert. Not a bad way to start, though also not "real" Thailand in any way.
We had originally booked Baan Kachitpan as our accommodations but after figuring out we'd booked the wrong dates a week before arrival ended up at New Siam Palace Ville, which was fine but nothing special (though their pool was a nice plus).
Day 2: As we do a lot of places we visit, we set out on a long walk on our first morning. We ended up making a 10-mile meandering loop through the heart of Bangkok. First, we walked along the banks of the Chao Phraya River toward the Grand Palace, with me getting shouted at by vendors all along the way because I had shorts on instead of the required long pants (we weren't planning to go inside anyway). We then continued generally southeast, with stops at Saranrom Park, the Pak Khlong Flower Market, and a park across from Wat Liap before getting to Chinatown and stumbling across Sampeng Lane, a narrow alleyway stretching over half a mile through the heart of Chinatown that is packed with small shops selling everything imaginable. We slowly made our way through most of it, surprised by the lack of bargaining (most shops are primarily wholesalers with prices labeled for buying 5+ of an item) and by the generous air conditioning coming from some of the shops.
We grabbed some pork skewers fresh off a sidewalk grill to hold us over until lunch, and then walked to Siam Paragon, one large western mall in a string of four that are all connected with each other by skybridges. We sought it out so I could visit UNIQLO in the hopes of replacing my worn-through linen button-downs, but unfortunately they seemed to only have winter clothes in stock, despite the heat and humidity. We did however treat ourselves to a (very) late Christmas treat–Cinnabon!
After getting our fill of junk food and air conditioning, we hopped on the Skytrain (or BTS) and took it to Sathorn Pier where we caught an Orange Flag Boat back up the river to our neighborhood. We had read this useful Travelfish article about the various boats, but did not quite grasp how crowded it would be. We spent 45 minutes onboard unable to move easily enough to turn around, and ended up wishing we had just taken a taxi.
Finally, we tried out the hotel pool and then walked a few feet down the alley to Yummy Yummy for a good cheap Thai dinner on the side of the street.
Day 3: After sleeping in a bit, we took another long walk the next day, this time heading northeast from our hotel. We didn't have any planned stops along the way, but did enjoy walking half the perimeter of the Chitralada Palace, which has a lovely bike path all the way around it. Our first destination was Toy Kuay Teow Reua Boat Noodles restaurant, which we arrived at a little after the lunchtime rush and had a nice, flavorful bowl of soup. (What sets this dish apart from others is the inclusion of pig's blood in the broth, which definitely added a nice richness without any weird flavor.) We made a second stop in the same alleyway for some fruit juice to calm our on-fire taste buds and then walked by the Victory Monument and got on the Skytrain again, this time headed north to Chatuchak Park.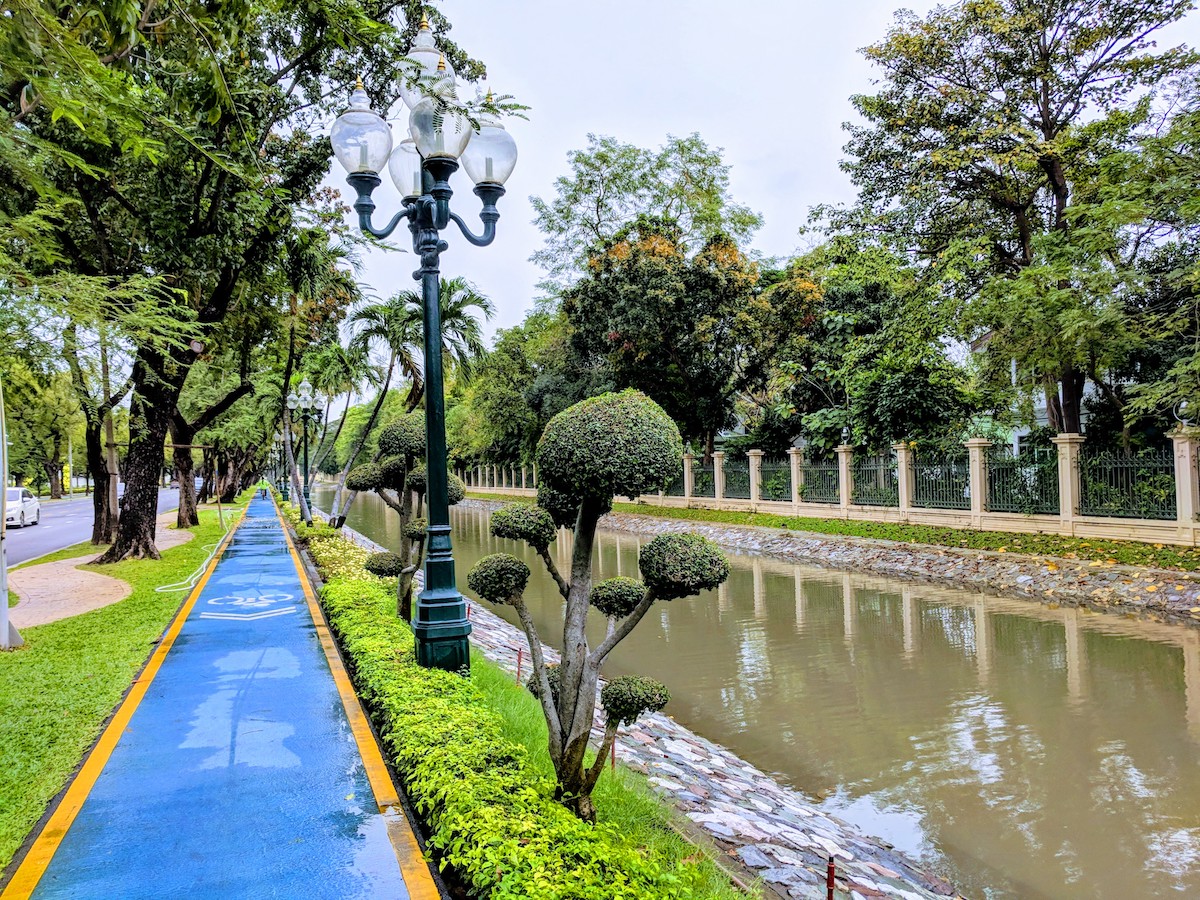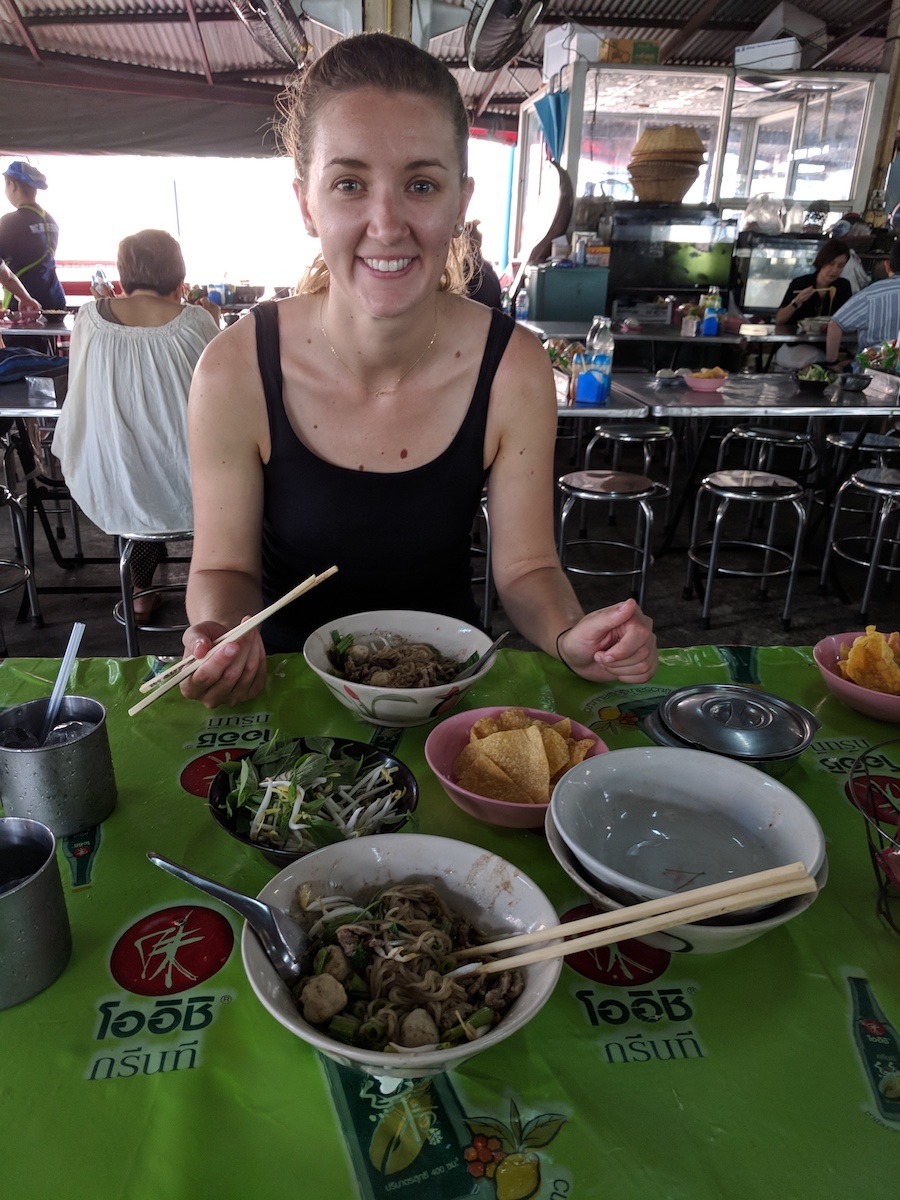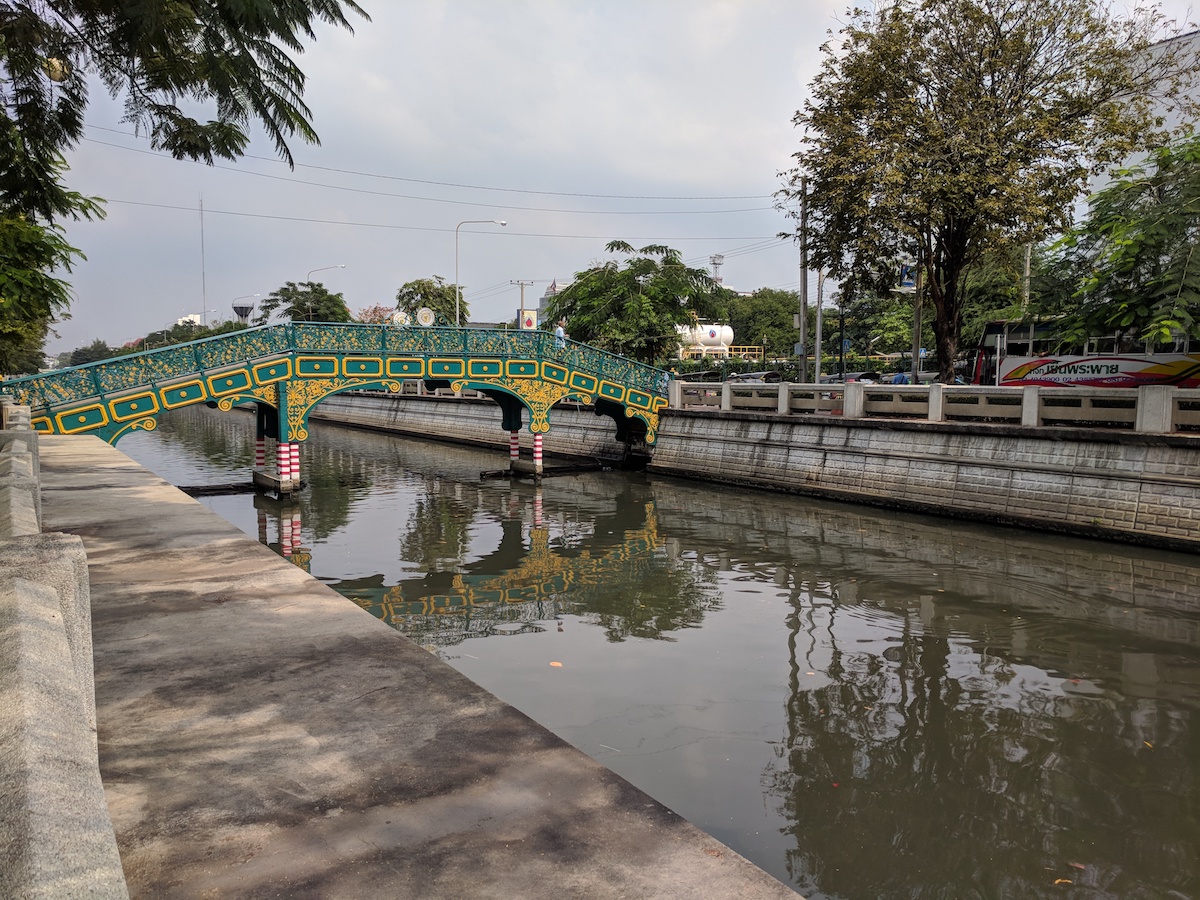 Left: Beside Chitralada Palace. Center: Boat Noodles. Right: One of the many canals we walked along.
We spent a bit of time strolling around the lovely park squeezed between the highway/Skytrain and the neighborhood, and then went down to the humongous Chatuchak Weekend Market. Supposedly the largest market in Thailand with over 15,000 shops spread around the space of a large city block, we only explored a sliver of the place before tiring of the crowds and heading to a much more relaxed spot next.
Another Skytrain ride away was Lumphini Park, which is a nice oasis in the middle of downtown. We could have spent hours in the shade by the ponds watching the large monitor lizards move about, except that the heat and all of our walking had tired us out pretty well. Learning from the day before, we took a taxi back to the hotel for 5 USD more than the Orange Flag Boat would have been, splashed around the pool a bit, and had dinner at a less-remarkable stall a few feet further down our alley.
Day 4: While we had walked around a lot of the heart of Bangkok by now, we hadn't visited any temples that make up a lot of visitors' itineraries. I argued against going to the biggest spots, since they're now so expensive, and Amy steered us to The Golden Mount which combined another nice walk with some stair climbing, wonderful views, and some temple sightseeing. At 2 USD instead of 15 USD for some of the other sites it was well worth it, and the grounds also include a nice, relaxing tree-lined park at the east end of the property.
We had a quick lunch at a Hainanese Chinese restaurant just across the bridge from there, and then set out on our second mission of the day: finding Amy a new wallet. Having seen a bunch of them in Sampeng Lane, we decided to submit ourselves to the frenzy again and Amy successfully came away with a nice knock-off for only 3 USD.
Day 5: For our last full day in Bangkok we were a bit at a loss for what we should do–our legs were a little sore from walking 30 miles in less than 3 days and we had worked through our to-see list pretty thoroughly. A couple days before we had happened to walk by the Dusit Zoo, so we decided to make a return trip and see what they had to show us. We ended up feeling a little foolish–we may have been the only foreigners there without small children–but it was also some good fun. Two of our favorite things aren't in the National Zoo back in DC: giraffes and a seal acrobatic show very popular among the under-13 crowd.
We enjoyed our last dinner in the alleyways by our hotel by eating a whole fish at the sidewalk stall outside Mango. Still not as good as the whole fish we had in Myanmar (I'm worried it'll never be topped…) but worth it.
Day 6: With check-out at 11am (and a hotel that charged more to stay late) we headed to the train station well ahead of our 7:30pm overnight train departure with the intention to drop our bags at the Left Luggage office and go explore the downtown area some more. Unfortunately, they tried to charge us double the posted rate, claiming that rates had "been updated" while continuing to charge locals that lower rate in front of us. I'm not sure if the cashier was going to put the extra in her pocket or if their manager is just trying to extort tourists, but we have a very low tolerance for feeling scammed and left with our bags. Luckily, half a block up the small street bordering the eastern side of the station is the Train Guesthouse, which was happy to securely store our bags for just half of the posted rate inside the station, and way less than what they were trying to charge us. If you're at Bangkok Hua Lamphong Station, we highly recommend using this guesthouse rather than the official-looking Left Luggage office with its disclaimers about them not being responsible for rat damage to your bag(!).
We decided to take it easy and walk back up to Siam Paragon to get some snacks and supplies for the train, and ended up wandering through all four connected malls to enjoy the air conditioning and people watch. It turns out that for young people in Bangkok malls are a huge social hub because they're one of the only acceptable places to spend time unsupervised, so we were far from alone in wandering around aimlessly chatting.
Before heading back to the station to board our train, we had dinner at a stall on the terrace outside the northwest doors of the MBK Center–which turned out to be maybe the best crispy pork I've ever had. At 2 USD a serving we got an extra for the train before heading out and savored every bite of it. If we end up back in Bangkok, this stall may be my first stop.
How We Did with Our Budget
For our time in Bangkok, we had budgeted as much as 42 USD a night for accommodations. After messing up the dates at our first-choice hotel and then re-booking late we ended up having to spend 47 USD a night for our room at the unremarkable New Siam Palace Ville. We had also budgeted 8 USD per day per person for food and 10 USD per day per person for entertainment. Out of that planned 36 USD per day we ended up spending 29 USD per day on average, including our splurge of a whole-fish dinner (19 USD) and all of our transportation within Bangkok (22 USD worth of taxis, Ubers, Skytrains, and Orange Flag Boats). Overall we ended up being just under budget for our Bangkok leg, which we'll surely use up on massages at one of our upcoming beach stops.
---