28 Jan 2018
Siem Reap to Bangkok by Taxi, Tuktuk, and Train
While we used a convenient through-bus service to cross the border between Saigon, Vietnam and Phnom Penh, Cambodia there is only one company doing the route from Siem Reap to Bangkok and it was too expensive from us. Once again, I turned to Seat61 - the best resource online about train travel all over the world and figured out that we could comfortably make the trip ourselves for less than a third of what the through-bus would cost (much less flying, which is what a lot of our fellow tourists do!).
No matter how you cross it will end up taking up most of a full day, but as long as you're prepared with snacks and water it's really not too bad. If we came back, or if we were heading back to Cambodia from here, we'd definitely do it again, though a train line that connects Phnom Penh and Bangkok is supposed to be complete sometime this year by later this year and would make the trip much easier.
Getting to the Border
The options for getting from Siem Reap to the Poipet border checkpoint with Thailand run the spectrum of cost/comfort from slow 5 USD buses that stop along the way hoping to pick up more locals to fast 30 USD private taxis. We chatted with a number of travel agents in town and settled on the option of a shared taxi for 8 USD per person - this meant we got picked up at our hotel at our preferred time and only had to stop to pick-up one other couple before heading straight to the border.
I still think we made the right decision, though had a bit of bad luck in getting accompanied by a sick toddler who proceeded to puke in the backseat of the car. That kind of bad luck probably can't be avoided with any option other than the private car, and a brief cleaning stop made everything right. We got to the border after about 2.5 hours in the car, ignored all the touts telling us it was impossible to book travel to Bangkok on the Thai side and we needed to do it with them, and headed to the immigration office.
Getting Through the Border
As with the overland crossings we made from Bolivia to Peru and from Vietnam to Cambodia, we had to make two stops: the first to get processed out of Cambodia and the second to get processed into Thailand.
Leaving Cambodia: There is a small office at the right side of the road for pedestrian crossers to use and we only waited in line for a few minutes before getting our fingerprints taken and being stamped out of the country. Oddly (to us) there wasn't any real security at that point and we could have doubled straight back into Cambodia to stay longer illegally if we felt like it. Instead we walked a couple hundred meters down the sidewalk, past the casinos in the duty-free zone, and into Thailand's land.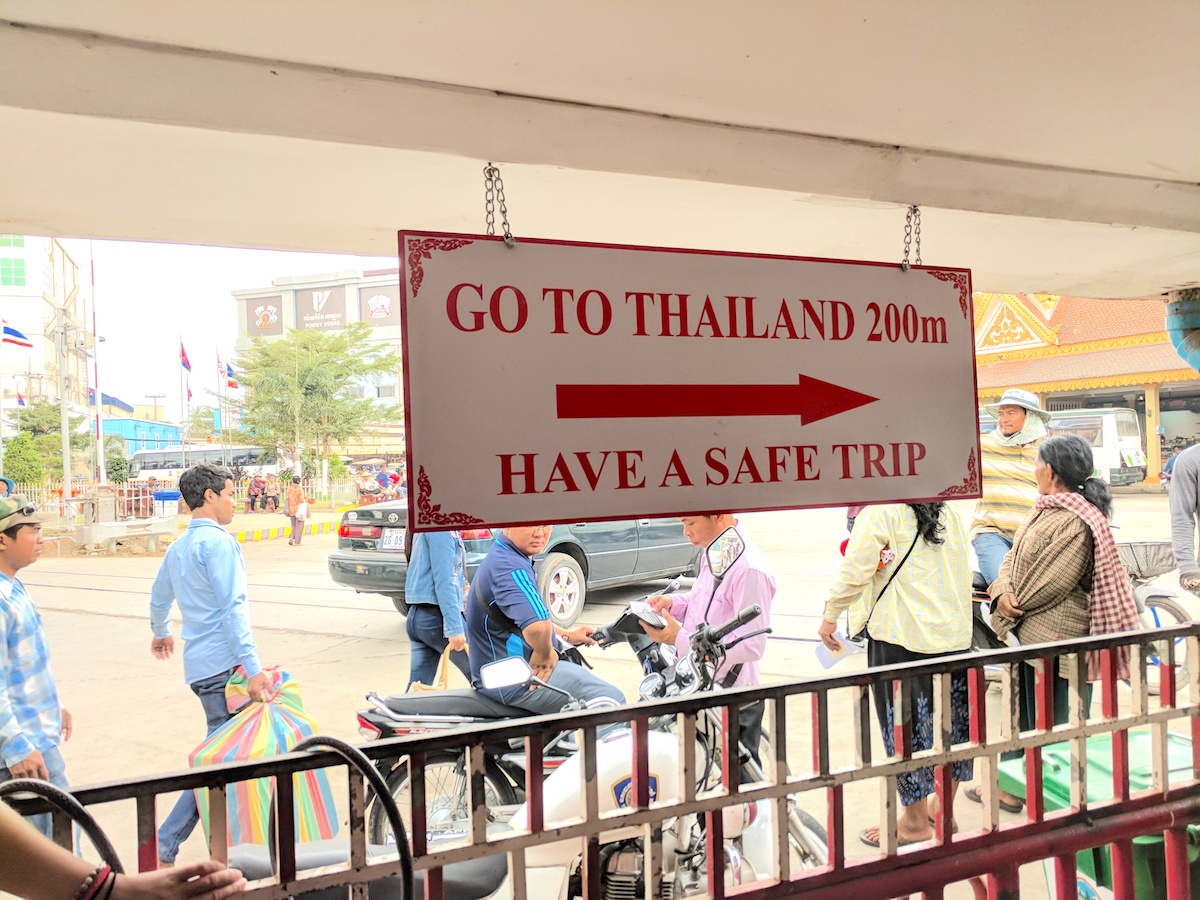 Entering Thailand: With how quickly we got out of Cambodia we were prepared to find a nice spot for lunch on the Thai side of the border before heading to our 1:55pm train. Luckily we had built in this extra time as we ended up waiting in line for our Thailand entry stamp for nearly 90 minutes. We seemed to have hit their lunch break so the line moved very slowly until the last 20 minutes when more windows opened up and we finally got through. While Thailand can require that each person has over 300 USD in cash on them and proof of onward flights out of Thailand, neither we nor anyone else we saw was asked for this proof (which is good, as we had neither!).
Getting to the Train Station
After getting our entry stamps and walking out of the building into Thailand we were a bit surprised by the total lack of touts bothering us. We walked about a block to the closest 7-11 (sadly without slurpees), got Thai Baht out of the ATM, and bought a bottle of water to get some change. We then found a line of tuktuk taxis waiting in an alley back toward the main street. After having every single driver we walked by in Cambodia ask us if we wanted a ride we were a bit surprised to have to get the drivers attention and ask for a ride down the road to the train station, a bit less than five miles away. We bargained a bit and agreed to 100 Baht (~3 USD) total for the trip, and probably could have gotten him lower if we had tried harder. After carrying our backpacks across the border and spending so much time in the non-air-conditioned Thai Immigration line the stiff breeze on the 5 minute drive was pretty wonderful.
Our Train
We got to the Aranyaprathet Station just over 30 minutes before departure and waited in a fast-moving line at the sole ticket window, which had just opened. We paid our 48 Baht (~1.5 USD) each for our tickets all the way to Bangkok and then found seats on the waiting train. All of the cars are open-window, non-air-conditioned, but with padded seats and not too crowded while we were onboard. We commiserated a bit with an older woman across the aisle from us, trying to fix one of the fans to point straight at her, and she got us to the move to the right side of the train so we wouldn't be in the sunlight. I got pretty hungry after seeing her takeout soup for the train ride and went back out to the vendors in front of the station to grab a couple bowls of pork noodle soup for us. The vendor was surprised to see a Western tourist and had some fun practicing his English while preparing the bowls, which were less than 1 USD each.
Walking, taking a tuk-tuk, and then waiting for the train to depart may sound a bit tedious, but compared to the annoyance of being crammed in a bus seat for six hours and being forced to stop at trinket markets along the way it was a pretty lovely way to spend the afternoon.
We left right on time at 1:55pm and spent the next 5+ hours reading, chatting, and snacking. Vendors would come through occasionally with drinks and food, though all ignored us because they didn't speak any English. If we hadn't come with our own snacks, I'm sure we could have figured out how to get some, though! The only real negative of the train was how much ash from small trash fires in the surrounding area would blow in through the open windows and swirl around the cabin, but it was all part of the experience. We pulled in to Bangkok Hua Lamphong Railway Station about 10 minutes ahead of schedule and took a look around the impressive station before finding a taxi for the 20 minute drive to our hotel (which ended up costing slightly less than the 5 minute tuk-tuk ride earlier!).
Overall
We're happy that we decided to save some money and go independently from Siem Reap to Bangkok. We spent our time in line surrounded by a lot of fellow young backpackers who were on buses on either side of the border and most of them left earlier in the morning and got to Bangkok around the same time, since they make meal/bathroom stops along the way. The views from the train weren't spectacular but there's no better way to see the countryside. Plus, there is just something relaxing about long-distance rail travel and the chance to interact with locals and really get into a good book.
---