26 Feb 2018
Langkawi and Kuala Lumpur
After spending 28 days in Thailand, we took a ferry across the border from Koh Lipe to Langkawi, Malaysia, our last island in a string of four in the Andaman Sea. Langkawi is often referred to as Malaysia's Hawaii and in a lot of ways that felt true–compared to any of the Thai islands we visited it is much more modern, and with beaches circling mountains it could compete on beauty as well.
We stayed at the Senari Bay Resort, a small single story guest house near the airport on a small strip of beach that is part of a marina for small boats. It was tranquil, relaxing, and within walking distance of the popular Pantai Cenang beach and its many restaurants. Our plan had been to take a ferry and train combination to get to Kuala Lumpur for a night between Langkawi and Laos, but our assumption that those train tickets would be readily available was wrong, as they were all sold out for two days. Luckily Malindo Air had cheap flights direct to Kuala Lumpur's smaller airport, so we made the switch and enjoyed an afternoon and evening in the city.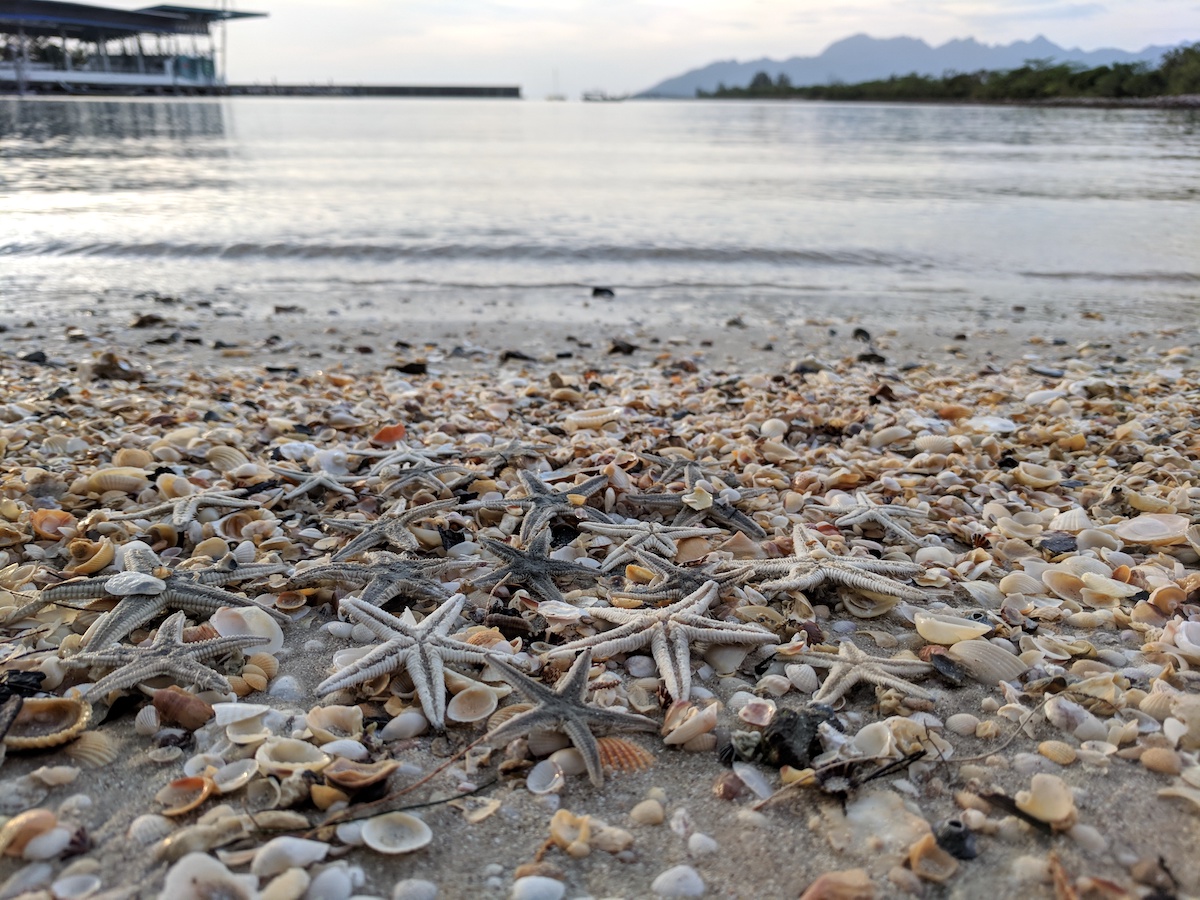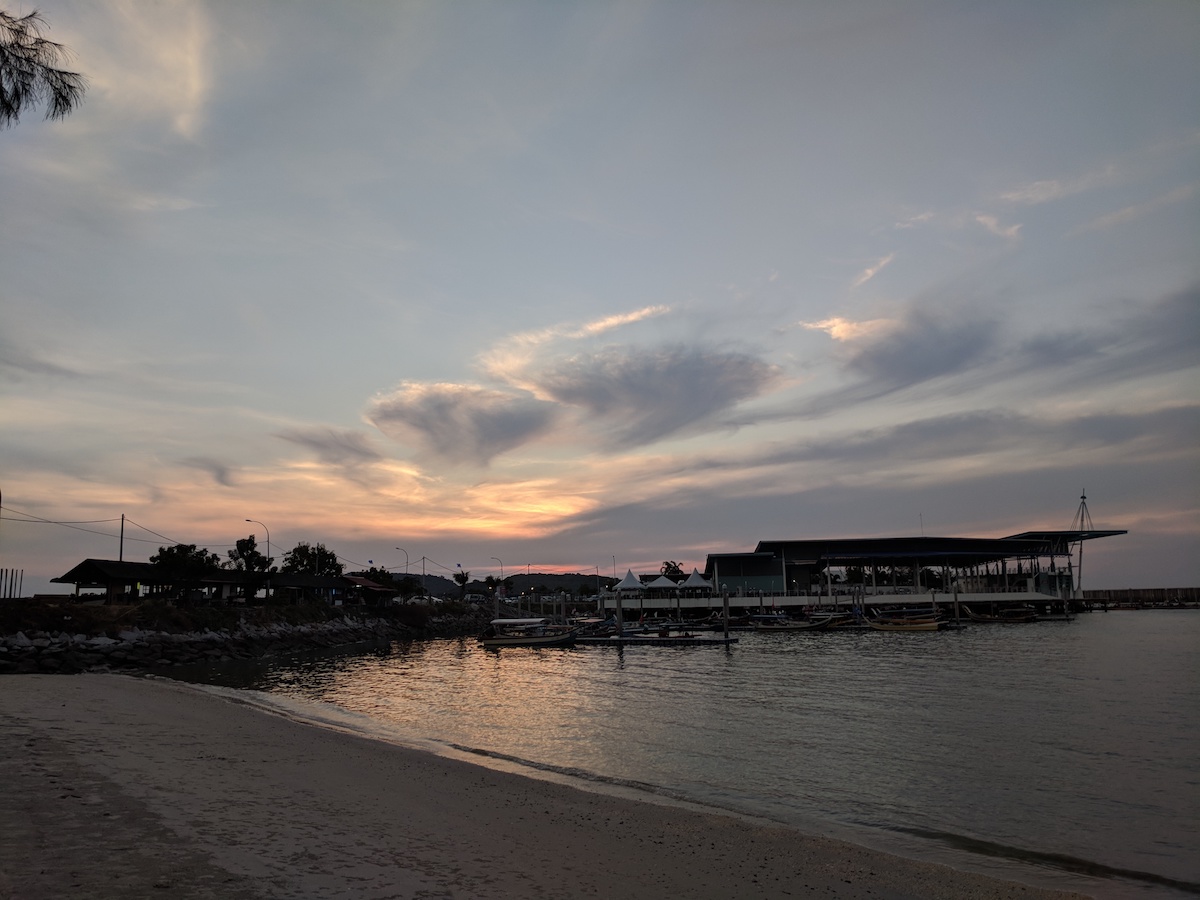 At the beach at Senari Bay Resort. There seemed to be a mass casualty event for small starfish while we were there...
What We Did on Langkawi
Day 1: We had researched boat options to get from Lipe to Langkawi and planned on taking a morning speedboat that was around 1,000 baht (~32 USD) per person online. We decided to wait to buy it in-person, and on Koh Lipe got it for only 700 baht (~22 USD) per person. The only downside was that by the time we had got tickets the morning boat was sold out, so we ended up on the afternoon boat and didn't get to Langkawi until 6pm. After so much time on Thai islands, and before that in Cambodia, getting to Langkawi felt a bit like returning to civilization. Outside the pier there was a real taxi stand, with posted (and fair) rates to everywhere on the island, and no one tried to rip us off during our whole stay!
After an easy taxi and a quick check-in, we regrouped, watched sunset from the hammocks at Senari Bay, and then went straight out to walk to a night market we had driven by. The Thursday Night Market on Langkawi was really fantastic–maybe the best market for local food we've experienced on the trip. There was a nice variety of stalls, plenty of locals eating there in addition to a few tourists, and everything we tried was tasty and cheap. We both filled up on a total of 10 Ringgit (~2.5 USD) and were pretty sad that it was only a weekly thing in that location, as we would have happily eaten there every night.
Day 2: After a good night sleep and our free breakfast of spaghetti (who knows…) by the beach, we walked to Pantai Cenang and along the beach to its end. The beach itself is really wide, with fluffy white sand, and is lovely except for how many stalls there are selling every manner of water-based entertainment. It gave me a bit more appreciation for places in Hawaii where jetskis are banned. Similar to Koh Lipe, we found a number of the more popular cheap restaurants were closed for Chinese New Year, so we ended up having lunch at D'Khas Cafe, which was okay. Interestingly the ubiquity of fruit smoothies that was true in Vietnam, Cambodia, and Thailand was not as true in Malaysia, with an iced lychee tea/juice taking its place.
We spent the very-hot afternoon inside in the air conditioning taking advantage of the good internet to get a little ahead on booking future accommodations. We're coming up quickly on 3.5 weeks in India where we're going to be moving pretty quickly through different places and spending a handful of nights on trains, so will have less time than usual for the necessities of travel planning. Once it cooled off a bit I enjoyed doing some trip planning from a covered hammock while watching a big thunderstorm roll in.
Since it was raining we didn't feel like venturing far and walked just down the street to Nelayan Sungai Chenang for a nice whole-fish dinner, before having one of our more embarrassing moments of the trip so far. For some reason we had got it stuck in our heads in Thailand that a normal-size-for-eating snapper weighed about a third of a kilo. It turns out they weight closer to 3/4ths of a kilo, which we learned after complaining about the weight charged on our bill 😳. Oops!
Day 3: We never planned on Malaysia as a true destination in its own right, which we were coming to regret a bit as the food was so good, everyone we interacted with was kind and helpful, and it was so easy to move around since nearly everyone speaks good english. For lunch on our last full day in Langkawi, we made the trek to Tomato Nasi Kandar for a self-serve buffet of local favorites, all atop rice. Everything was good, and again the employees were happy to redirect us when we couldn't figure out what order to pay/eat/serve in. At 6 USD total for both of us, including fruit drinks, it was a great deal.
For dinner we had planned to go to one of the more-touristy seafood places near the beach, but after 45 minutes of checking out different restaurants we abandoned our plan. Every place was either (a) inexplicably twice the price of neighboring restaurants; (b) full, with a line to get a table; or (c) ignoring us because we weren't Chinese tourists, their apparent target audience. We headed back toward the hotel and had dinner at Siti Thai Food, enjoying their speciality of spicy tom yam soup.
Day 4: We took our hotel up on their offer of a free 10-minute car ride to the airport and took off on our small plane to Kuala Lumpur's Subang Airport, which is much closer to the city itself than the main international airport. After flying so regularly around South America, we were now out of practice in prepping our bags to be flight-ready, since this was our first flight in almost two months(!) after traveling through Vietnam, Cambodia, and Thailand overland.
What We Did in Kuala Lumpur
After arriving at Subang Airport, we used the Grab app to get a ride straight to our hotel nearby KL Sentral train station and got checked in. By this time we were starving, so we walked across the street to a big shopping mall and treated ourselves to lunch at Nando's. We noticed there was a movie theater inside and were excited to see they had a showing coming up for Black Panther, in english, for less than 5 USD per ticket. Similar to our experience in Yangon, it was a bit surreal to walk out of an American blockbuster and still be in Southeast Asia.
To get back in the travel mindset we wandered down the street to Little India where we found Chat Masala, a popular-seeming all-vegetarian Indian restaurant. Amy wasn't very hungry so I took the opportunity to order us a handful of small dishes–none of which we had ever heard of (and which weren't described on the menu). We ended up with a lovely dinner, especially enjoying the Kadai Chicken and Bendi Masala. Plus we loved the sweet treat we had for desert for ~40 US cents, though we're still not sure whether it was Jelebi (which we ordered) or Jangiri (which was listed on the receipt).
After a good night's sleep at Hotel Sentral, we packed up again, made the 5-minute walk to KL Sentral, and boarded an Ekspress train to the airport for our flight to Laos.
We have a similar amount of time back in Kuala Lumpur between Laos and India, due to a flight timing change, and we're already looking forward to exploring the area a bit more.
How We Did with Our Budget
For our time in Malaysia, we had budgeted as much as 45 USD a night for accommodations. We ended up spending 46 USD per night for our spacious room at Senari Bay Resort on Langkawi and 39 USD for our one night at Hotel Sentral in Kuala Lumpur, putting us just under budget for the full stretch.
We had also budgeted 12 USD per day per person for food and 15 USD per day per person for entertainment. Out of that planned 54 USD per day we ended up spending only 25 USD per day on average, including our more-expensive-than-expected dinner at Nelayan Sungai Chenang (14 USD). It ended up being lucky that we didn't spend much in Langkawi, as we used up nearly all of our surplus buying KLIA Ekspress Train tickets (72 USD for six tickets total) to cover both of our layovers in Kuala Lumpur.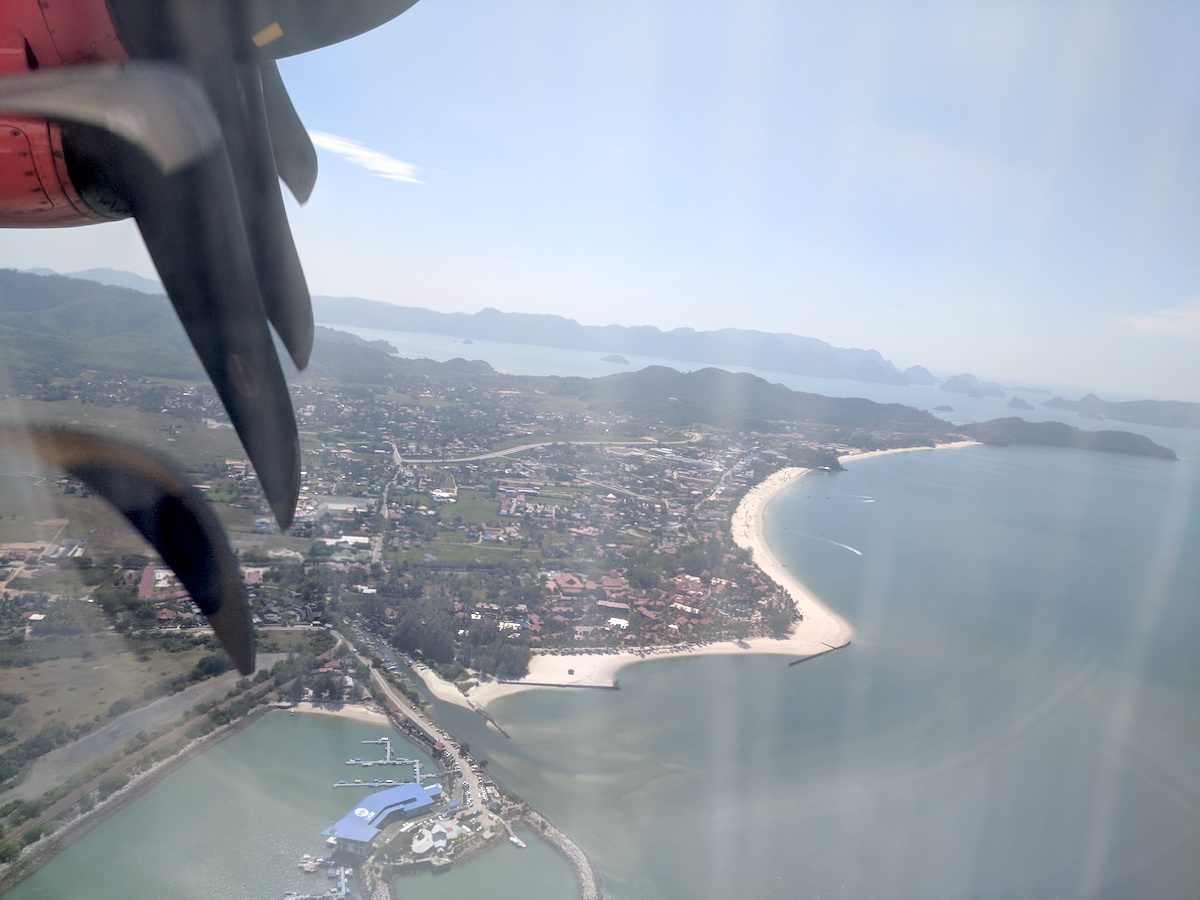 The small beach in the lower left is Senari Bay Resort, with the wide sweeping beach on the right the much more popular strip of Pantai Cenang.
---