23 Feb 2018
Finishing Thailand: Koh Adang and Overall
After enjoying some solitude on Koh Pu and exploring the more lively Koh Lanta we took yet another ferry to Koh Lipe and its next-door neighbor, Koh Adang.
Koh Adang is largely uninhabited forrest and a national park while Koh Lipe is home to about 500 people but caters to many more tourists. We lucked into a cheap rate at the Adang Resort which is the only hotel (though there are also some cabins rented through the national park service) on the island. The hotel ran long-tail boat shuttles to Lipe in the morning and evening so we were easily able to spend time there each day.
What We Did on Koh Adang
We arrived from Koh Lanta in the afternoon by ferry to a floating platform a few hundred feet off Koh Lipe, where we bought our national park entrance ticket (200 Baht or ~6 USD/person) and tickets for a boat to take us around Lipe and to Adang (100 Baht or ~3 USD/person). The boat ride took about 20 minutes and the views of the ultra-clear water all around us were stunning.
The Adang Resort is on a small strip of beach across from Sunset Beach on the western side of Lipe. During high-tide we could easily swim around but, as in Koh Pu, at low-tide the water retreated to expose lots of rocks and coral. So, we swam around and enjoyed the beach before having dinner at the hotel restaurant. The food was fine, we originally thought it was very overpriced only to find that food was equally expensive at most of the restaurants on Lipe as well. The restaurant also ran out of seafood, likely because of the high demand from other restaurants and hotels for the increased number of visitors for Chinese New Year, so we split a delicious tofu dish and a massaman curry each night for a little ~13 USD. These were some of the lower cost options but considering a 6 USD dinner expensive is something that could only happen after spending so long traveling in southeast Asia.
Our days on Koh Adang followed the same routine. We would get up and enjoy the included buffet breakfast before taking the boat shuttle to Lipe for lunch, returning in the afternoon to swim, watching sunset and the crabs that scurried across the beach, eating dinner at the hotel restaurant. Rinse and repeat.
Our first morning we did venture off on a short hike. Just off the end of the beach where we were staying was a path that led to "Pirate Waterfall". I have no idea what it had to do with pirates but it was an enjoyable hour long round trip. The path was pretty well marked though it did require that we climb up a short segment of rope to get up a large rock before reaching the falls. The falls themselves were not spectacular but were nice enough and it made for a good bit of morning exercise.
On Lipe, the main attraction other than the beautiful beaches is Walking Street. It's a strip of shops, restaurants, and tourist offices where we would walk each day, though some of the best restaurants for authentic food are down sidestreets. Sadly, when we first explored the area, we found that several of the restaurants, including one Nate particularly wanted to visit for Northern Thai food, were closed for Chinese New Year and would not be open the whole time we were there. Disappointed, we still managed to find good food, including a northern-Thai sour pork salad for Nate at Noy Wangcha-aon. Better than the food we found for lunch was the very inexpensive (~1 USD) smoothies/iced cocoas we found at a stall right near the main pedestrian entrance to Sunrise Beach. The stall seemed to cater equally to locals and tourists, which was not true of most places on walking street. The woman making drinks wasn't the fastest but was friendly and the drinks were delicious and cheap. We would take them down onto Sunrise beach to sit on the white sand beach and people watch before we needed to return westward to get the boat back to Adang.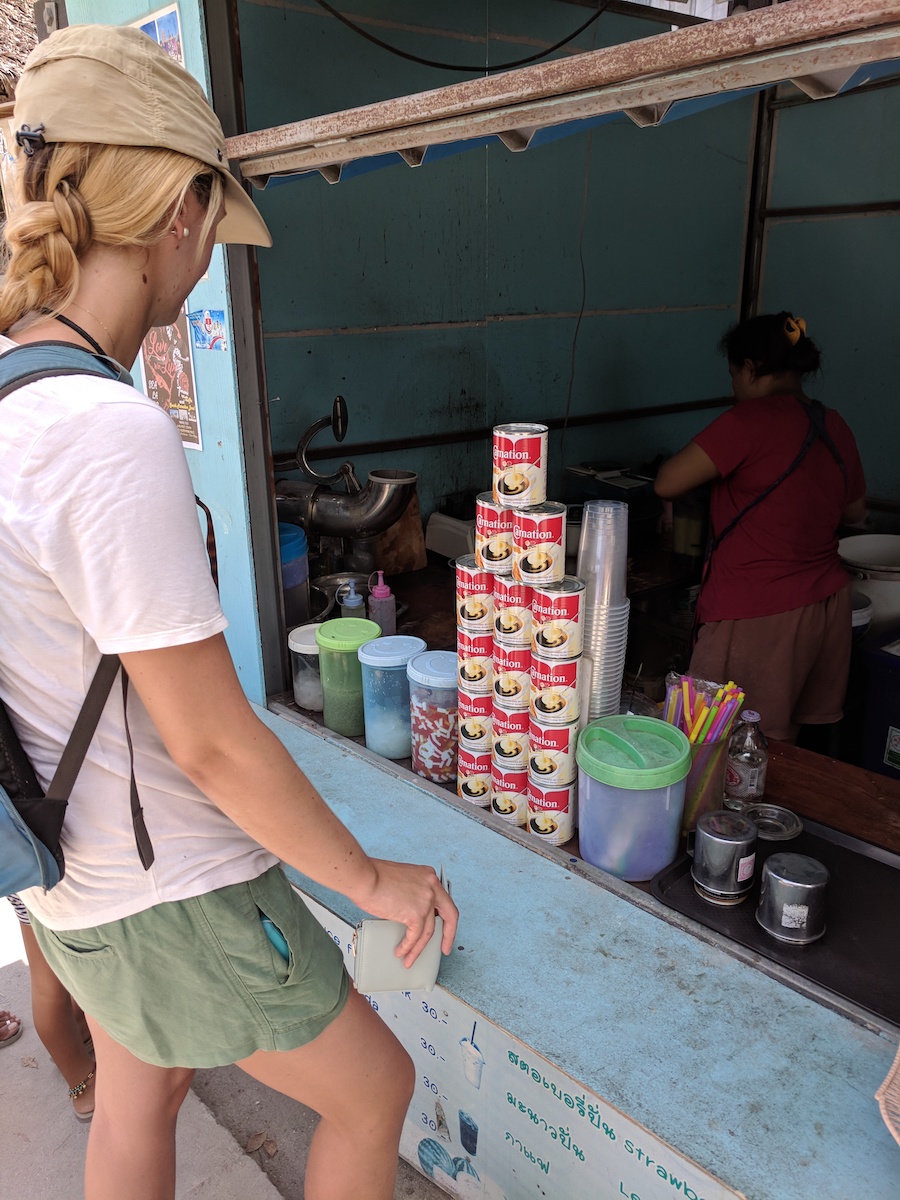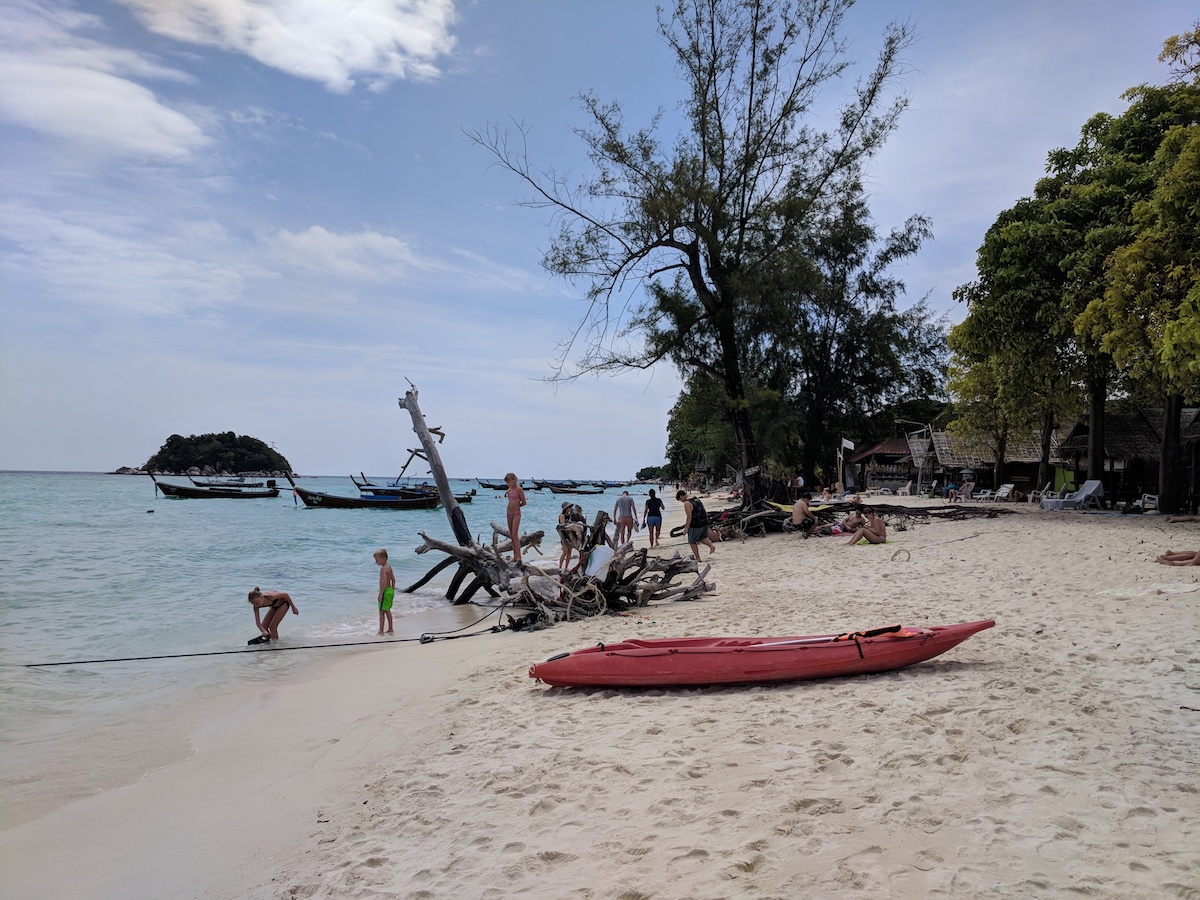 Amy standing outside the drink stand and the view of Sunrise Beach where we would sit and drink our cold beverages.
On our last day, also our last day in Thailand, we took our usual boat over to Lipe, walked with our big backpacks down to Walking Street for lunch, and then made our way to the ferry and immigration office for our departure. At this point we are pretty expert at the ferry process and managed to get ourselves and our bags on the boat without incident. Weirdly, once you give the immigration officer your passport it is held by ferry staff until you're onboard, when they call out nationalities and have you sort though a stack of others from your country to find your own. Through this process Nate and I found out we were the only Americans on the boat but that there were multiple groups of people from the Ukraine.
How We Did with Our Budget
For our time on Koh Aang, we had budgeted as much as 42 USD a night for accommodations. We ended up splurging on Adang Resort for ~75 USD/night, which is much cheaper than their usual rates. Luckily, we had a lot of savings from our bungalow on Koh Lanta to offset the extra cost. We had also budgeted 8 USD per day per person for food and 10 USD per day per person for entertainment. Out of that planned 36 USD per day we ended up spending about 33 USD per day on average, including our national park admission fees (13 USD).
Thailand Overall
Since we spent so long in Thailand, I wanted to summarize the experience a little more than I have for other places.
Spending
For our 28 days in Thailand, we averaged 15 USD per person each day on food and entertainment, 42 USD per night on hotel stays (though the costs varied from just 21 USD on Lanta to 75 USD on Adang), and spent 435 USD total on trains and ferries.
Island Preferences
We visited a lot of islands on this trip. Each had pros and cons but here are our main take-aways from each and our ranking for which ones we would consider returning to.
Koh Tao: Tao surprised Nate by being more enjoyable than he expected. There was good, cheap local food, enough to do to stay occupied for a few days, and lots of travelers but relatively few tourists. While he went for dive school, the diving sites themselves aren't anything that special.
Koh Lanta: Lanta was the biggest island we visited and had a good mix of nice resorts as well as budget accommodations, including our least expensive accommodation while in Thailand. There were lots of restaurants and bars to chose from, with a wide variety of both cuisine and price. There are also conveniences like 7-11 and mini-markets to pick up snacks, water, and toiletries or use an ATM. The beaches are some of the nicest with fewer rocks and coral, even at low tide.
Koh Pu: This island is perfect if you want to escape the world. There are not many people, internet is limited, and you can bask on the beautiful beach to your hearts content. The downside is that you will be limited to your hotel and the ones on your beach for food, unless you spend extra to be able to move around between beaches.
Koh Phangan: Picturesque, but a bit bland compared to the other islands we visited. The steep hills make getting around harder than it would be otherwise, though they do provide nice views. Nate doesn't regret going, but would have been happy to drop it.
Koh Adang: If you're looking for some peace and tranquility but want access to restaurants, bars, and shopping, Adang is a nice middle ground with its easy access to Lipe. For us, taking the boat back and forth was a little annoying as the tides made coming and going certain times impossible. Lipe is definitely on the more expensive side for Thai islands as well.
Our Itinerary Overall
If we could do it all again, I would have changed our itinerary entirely and visited just one island after my meditation retreat and used the excess time to backtrack to northern Thailand (Chiang Mai and/or Chiang Rai). We didn't do that largely because of the timing and location of my meditation retreat, which I wouldn't want to give up, BUT if not for that I think it would have been worth it to suffer through the extra long travel days. Since we aren't burned out from work, we didn't actually need all the recharging you can do on these beautiful beaches and got a little antsy for something more like our time in Vietnam or Myanmar.
---