20 Feb 2018
Koh Lanta: Beaches and More
After enjoying some solitude on Koh Pu, we took a ferry to Koh Lanta, one of the larger Thai islands in the Andaman sea. We had actually originally planned to go to Koh Mook, another quiet island, but decided while on Koh Pu that we'd prefer the chance to explore a bigger place next so we changed our plans last-minute. As a result we ended up with very limited choice of accommodations, with all of the mid-range options fully booked for Chinese New Year vacationers. With the choice between basic and luxe, we went basic and spent four nights in what may have been our most spartan accommodations thus far on the trip. The bamboo bungalow did make up for its open-air bathroom and full-of-bugs state by being just a few steps from the beach, though.
When not at our bungalow we spent time on the beach and exploring the island, including having some fun riding around Koh Lanta on a rented motorbike.
What We Did on Koh Lanta
Day 1: We arrived from Koh Pu in the early afternoon, grabbed a motorcycle-sidecar taxi, and were quickly at Lanta L.D. Bungalows near the north end of Long Beach. Our room wasn't quite ready so we dropped off our bags and found some cheap fruit smoothies a few steps away and cooled off in the tiny bit of shade on the beach. Compared to where we were on Koh Pu, this beach was much nicer, much bigger, and much more populated. Once we got settled into our bamboo bungalow, we enjoyed the hammock on the porch and then went for a nice long sunset beach walk. We checked out the many beach restaurants and ended up at Mr. Wee Pizzeria since it was one of the cheaper options and a pizza actually sounded good to us at this point. It was surprisingly good, and it's hard to beat sitting at a table on the sand, in the sea breeze, as the evening cools down. We finished off our evening by grabbing a couple of cold beers from a nearby minimart and hanging out on our porch while the room aired out. Luckily we were exhausted, or the bugs and vinyl-like sheets may have made it impossible to fall asleep!
Day 2: We got up early on our first morning (mostly because I couldn't sleep) and struck out to find a cheap motorbike rental. Unfortunately our hotel was sold out, but Amy found a shop a couple doors away at Me Me Hotel with one automatic scooter still in stock for just 200 baht (~6 USD) per day. We did the quick paperwork, put on our helmets, and carefully made our way north to Nang Sabai German Bakery, which had great fresh-made breads and good breakfasts. Compared to $2 bun cha in Vietnam it was a pretty bad deal, but worth it when we were paying so little for our accommodations.
After some time in the ocean back at our place, we motored out to lunch, finding a good pad thai and fruit smoothie stall that was charging prices we're more used to from the rest of Thailand so far. We got in a little more beach time and then headed all the way back to the pier area to find Laanta Seafood, which we had read was the seafood spot for locals on the island. The restaurant is on stilts over the water, and we got there just before sunset so had one of their best tables right on the edge looking out over the water. It was really peaceful, even though we were one of the only people in the restaurant until the sun finished setting and the place quickly filled up. We had so-so fried garlic soft shell crabs and an amazing whole steamed fish with pickled plum sauce, served over a flame and still bubbling away in the tasty liquid. It may have taken the prize away from Yangon's's 19th Street for our favorite whole fish, and at just 360 baht (11 USD). After dinner we wandered down to the Night Market which is really just half a street with a few vendors set up on it, nothing like the vibrant markets we've visited elsewhere. Since nothing there looked good, we stopped at Two Scoops on the way home for what we think was our first dairy ice cream in Asia.
Day 3: After enjoying the motorbike the day before, we decided to keep it another day and make the long drive south to Mu Ko Lanta National Park. We got on the road early to beat the crowds and stopped at Faim De Loup French Bakery, which turned out to be a disappointment. Despite a very simple order we ended up getting things we didn't order and not getting things we did. It all worked out in the end but if given the choice we would stick with the German bakery.
We got to the National Park by 9:30am, paid our entrance fee, and set out on their "nature walk" through the hills surrounding the area. While the signs tell you to expect a two hour walk, we were done in 45 minutes and ready to hop in the water to cool down. While we had seen a few monkeys on the trail, they ignored us and we were starting to think all of the Beware Of The Monkey signs were a little over-the-top. Once we were on the beach we saw why the signs are there, as they stalked the backside of the beach and picked their openings to try to run down on the sand and look through swimmers' bags for food or other loot. They give up pretty easily if you try to scare them off, which we had to do a couple of times to keep our daypack safe. Unfortunately the water also seemed to be full of some tiny stinging things, which wasn't awful but was pretty irritating, and we didn't stay too long. While the visit was nice, with how short we ended up entertaining ourselves there we probably could have spent the ~14 USD entrance fee better elsewhere.
On the way back we stopped at Bamboo Resort, which has a lovely outdoor restaurant on a cliff above Bamboo Beach. The views can't be beat, the food was alright, and they had gasoline to refill our motorbike, so no complaints here. After over 50 miles of motorbike riding we had had our fill and turned it back in, luckily avoiding any problems that we're told can sometimes pop up with rentals (them trying to charge you for existing scratches, etc).
Day 4: After all the moving around of the previous two days, we stayed in the area of our beach the whole day. Aleena's, a lovely minimart and food stall a couple-minute walk from our bungalow had great breakfast sandwiches which we enjoyed on the beach, and then Amy spent a good portion of the day pulling together her trip midpoint write-up with the limited internet access we could get from the restaurant across from the bungalow between swims (our bungalow had apparently not paid the bill for internet access when we arrived and once it was working the neighboring wifi was still better). Meanwhile, I was lucky enough to get to enjoy another on-the-beach Thai massage, and it was a relaxing, nice day.
Day 5: After four nights under an old mosquito net with bugs crawling up the walls around us, we weren't too sad to head out. More important, we've spent 25 days in Thailand already and we're starting to get a bit antsy to explore something new. Laos is only a week away, and we're really looking forward to it. Our final morning in Koh Lanta we had another breakfast sandwich and then got picked up and taken to the pier for our onward direct ferry to Koh Lipe, about a 3-hour ride.
How We Did with Our Budget
For our time on Koh Lanta, we had budgeted as much as 42 USD a night for accommodations. After changing our plans at the last minute, canceling (for free) our booking on Koh Mook, we ended up spending only 21 USD a night for bamboo beach bungalow at Lanta L.D. Bungalows on Long Beach. We had also budgeted 8 USD per day per person for food and 10 USD per day per person for entertainment. Out of that planned 36 USD per day we ended up spending 35 USD per day on average, including our wonderful dinner at Laanta Seafood (19 USD), our national park admission fee (14 USD), and our two-day motorbike rental (15 USD including gas). Overall we ended up being well under budget for our Koh Lanta stop, which will help after going over-budget on the ferries between islands, which ended up being more expensive than expected.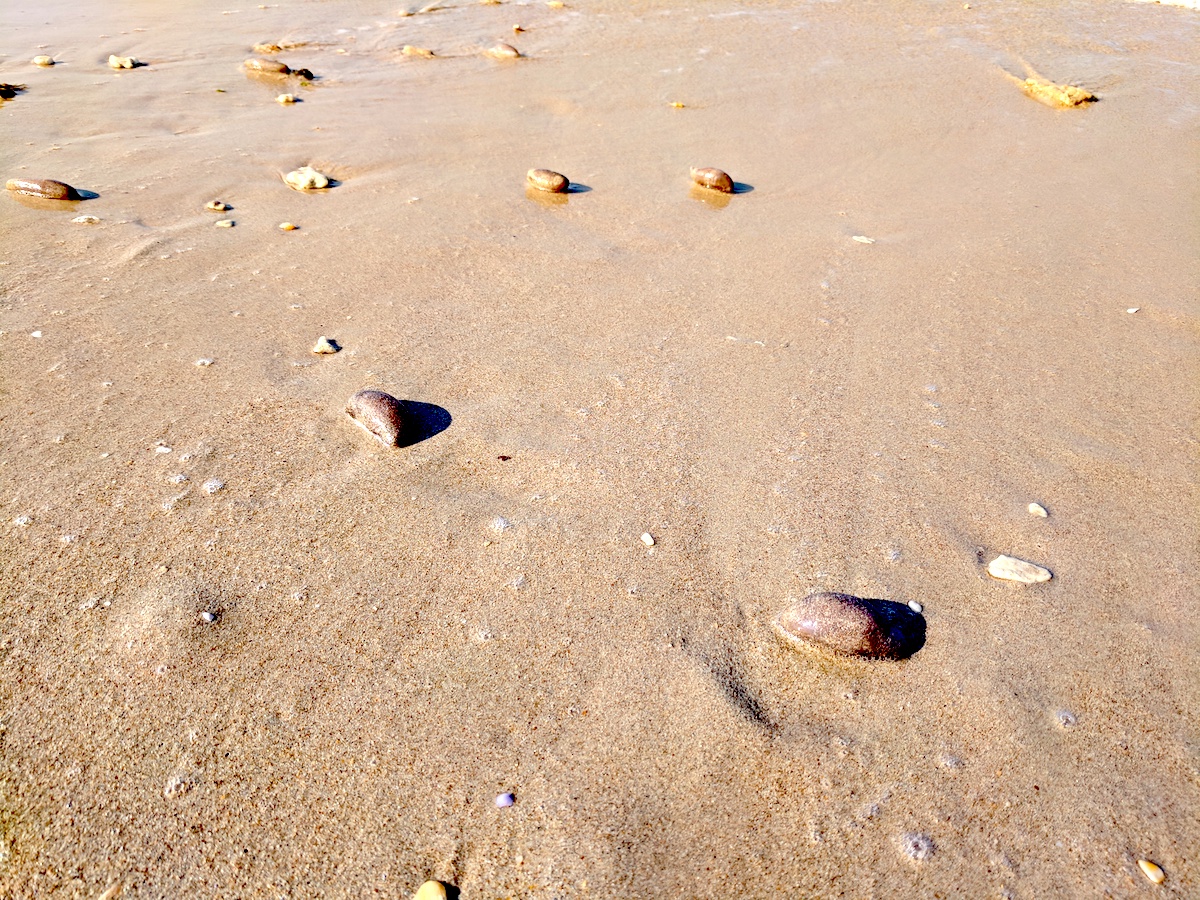 One evening these blobs emerged from the sand near the high-tide line and slowly wriggled toward the water. After the overnight high tide, they were nearly all gone. We never figured out what they were.
---