16 Mar 2018
Jaipur: Forts and the Simple Joy of Uber
After a packed schedule of tourist activity in Agra, we took another train (this time not overnight) to Jaipur hoping that it would be less overwhelming than Varanasi and allow us more freedom to explore independently than Agra.
We stayed at Jai Niwas, a cute little hotel that is tucked away down a side street and so away from the noisy traffic and general hustle and bustle. The rooms are situated around several small courtyards. The restaurant has tasty food at an affordable price and the internet was the best we've had in months. Needless to say, we were pleased with our selection.
What We Did in Jaipur
Even though most Americans have probably never heard of this city that makes up one corner of the Golden Triangle of tourist cities in India, it is home to over 3 million residents. With that many people, the streets are packed and hectic though with fewer cows than in Varanasi. There were surprisingly few restaurants and despite a few streets having sidewalks, it was not very walkable overall since they often end abruptly. The major difference between Jaipur and other cities we've visited so far was that Uber exists, is popular, and is easy to use. Using Uber isn't perfect but being able to request a ride and have someone pick you up without any haggling, having that person take you where you want to go without trying to sell you anything else, and having air conditioning along the way felt like a luxury. We were also happy to find the touts much less insistent here and willing to take no for an answer the first time. They were also more upfront about selling something rather than trying to start a casual conversation "to practice their English" before segueing into their sales pitch.
So, I may not have fallen in love with "the pink city" as Jaipur is often called, thanks to the pink color of many of the buildings, but it has some real upsides.
Day 1: We arrived around 1:00pm to the Jaipur train station, which was the nicest one we've been through so far. We were able to stop at an ATM on our way out and get an Uber to pick us up and drop us off at our hotel without incident.
We wanted to get a feel for the city and were hopeful that the fact that it has a metro (though it turns out not where we wanted to go) and is not as tourist focused as Agra would mean that we could walk around and explore more easily. So, we left our hotel and made our way a short distance to MI Road, an upscale shopping street. While the shops do cater to the middle class and wealthy with several western stores scattered in the mix, traffic is bad and the sidewalks are disjointed and don't seem to get any use. Still, we pushed on until we reached a McDonalds where we could get an ice cream cone after the lassi shop we wanted to visit was already closed. We only made it half a mile but it was about all I was willing to do as the sun was setting, so we headed back to the hotel for dinner.
Day 2: This was our big day of sightseeing. We decided to try out a feature listed in the Uber app as "UberHIRE" that allows you to keep an Uber for a period of time rather than just taking it one-way to a destination. We were picked up without a problem and made our way to the Amber or Amer Fort, the primary tourist attraction of Jaipur.
The Amber Fort is on top of a ridge about 14 km outside the city but with traffic through the center of the city it took us about 40 minutes to get there. When you arrive you can take an elephant ride up to the fort for 1000 Rupees for two people but we had no desire to do this and had our driver drop us off at the top parking lot instead.
The Amber Fort was our favorite fort so far in India. The rooms form a sort of maze through different courtyards and levels that you are free to explore, even without (or maybe especially without) a guide. Like the other sights we've visited, there are lots of inlay stone designs, though this fort also includes the Sheesh Mahal or the Mirror Palace that incorporates reflective glass in the intricate designs and is quite stunning.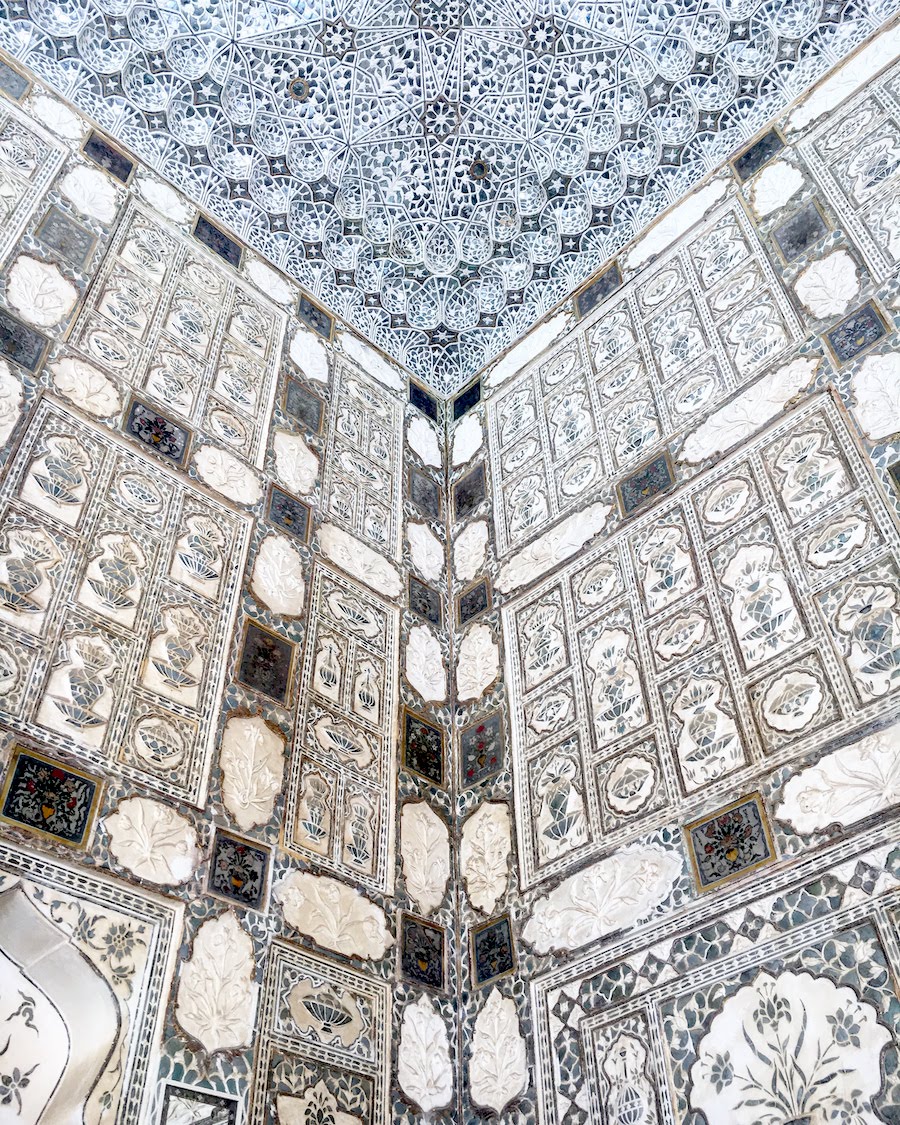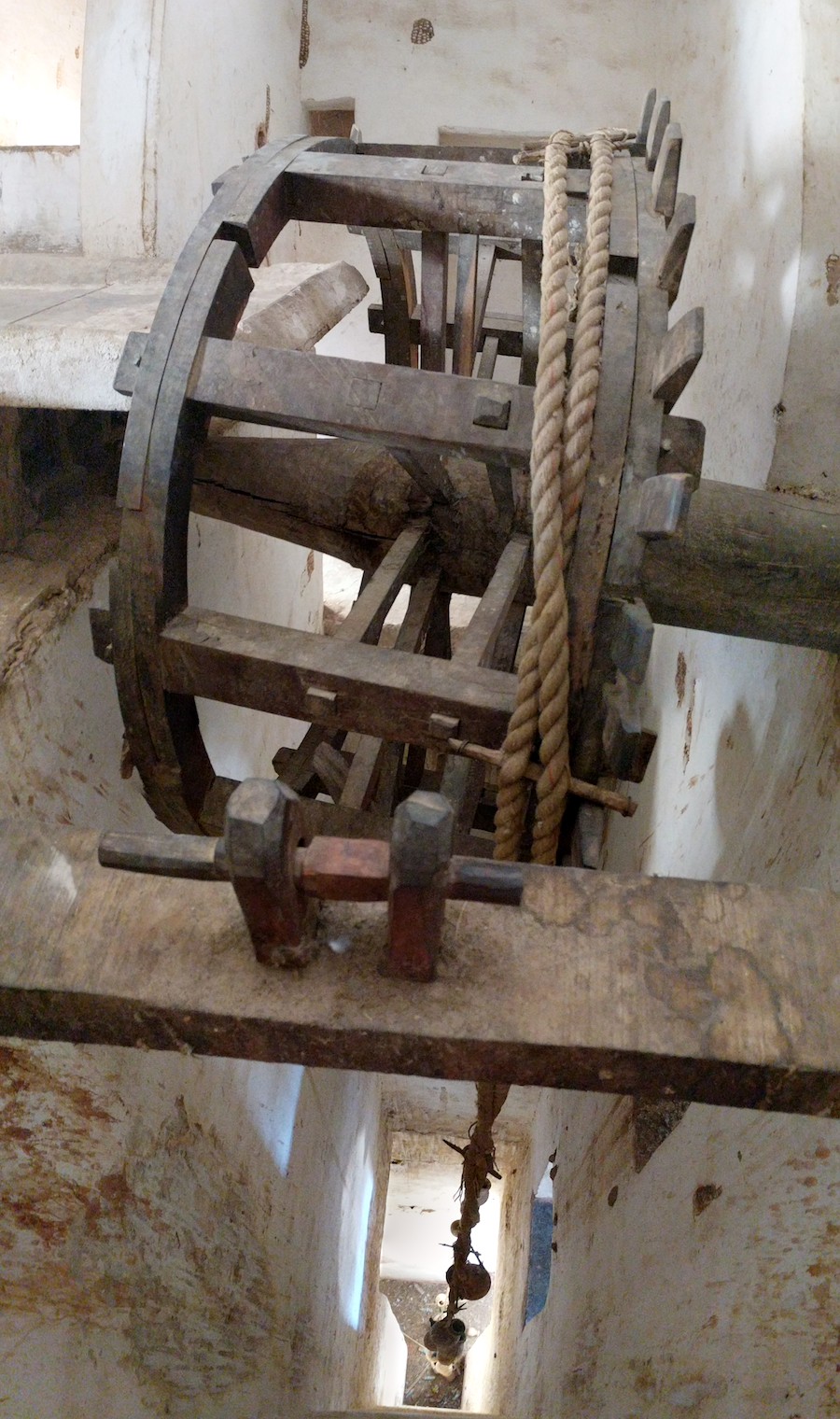 Left: The intricate designs of the Sheesh Mahal. Right: A historic water wheel we found exploring the Amber Fort, complete with dangling clay pots to move the water vertically up the tower.
After exploring the Amber Fort, we decided to also visit the Nahargarh Fort (some guides refer to it as the Tiger Fort). It's not too far off the route we needed to take back to the city anyway and offers panoramic views of the city below. This fort isn't nearly as interesting to explore, though there was some sort of modern art installation on display while we were there to spice things up a bit. We soaked up some of the views and then headed back to the hotel for some lunch.
On the way back to our hotel, we also drove past the Jal Mahal or "Water Palace", a palace surrounded by the waters of the Man Sugar Lake. You can't visit the palace unless you are visiting the very fancy restaurant there, so we didn't stop, but it is beautiful.
Overall, for 4 hours and two different stops along a birg circuit the way we paid 800 Rupees (~12 USD) including a tip. Our hotel offered a car service for visiting the same two forts we did at 1200 Rupees (~18 USD). We probably could have gotten a tuktuk for closer to 600 Rupees (~9 USD) but then would have had to go without air conditioning, which was nice to have between stops when the temperatures were over 90 degrees.
We made it back to our hotel for a late lunch and a little rest before heading back out for a walking tour. I had reservations about doing another Yo Tours walking tour after the one we did in Varanasi hadn't been as good as we hoped but the original reason I gave it a try was the good reviews for the Jaipur tour, so we decided to give it a second chance and ended up glad we did.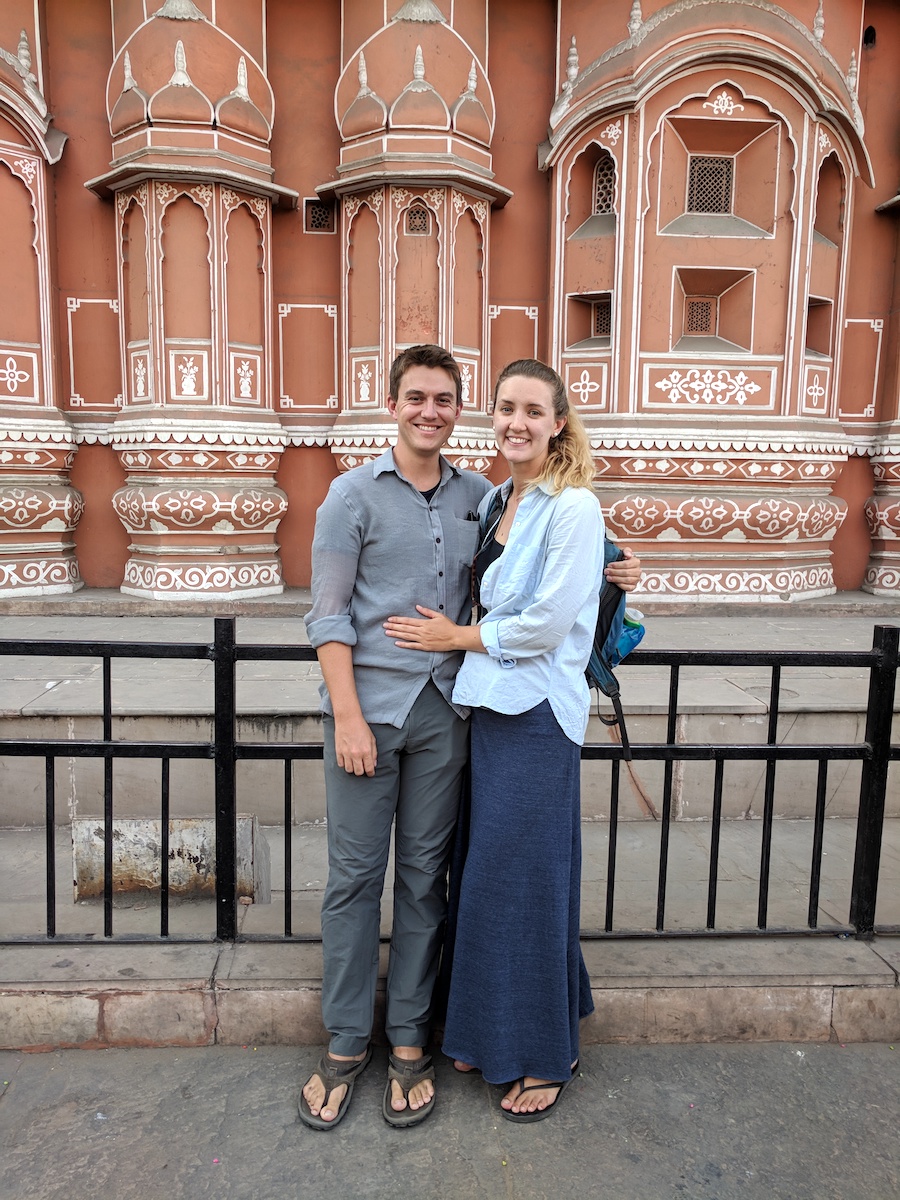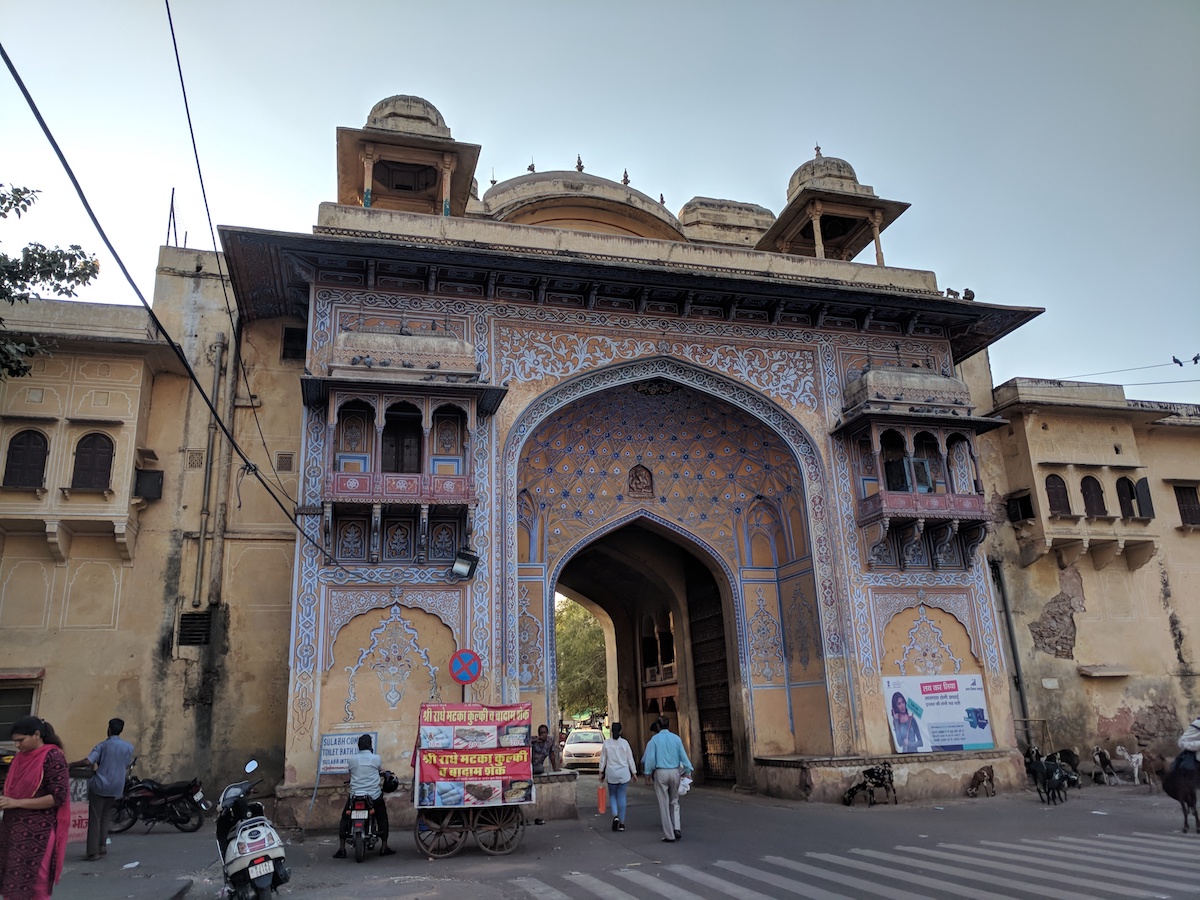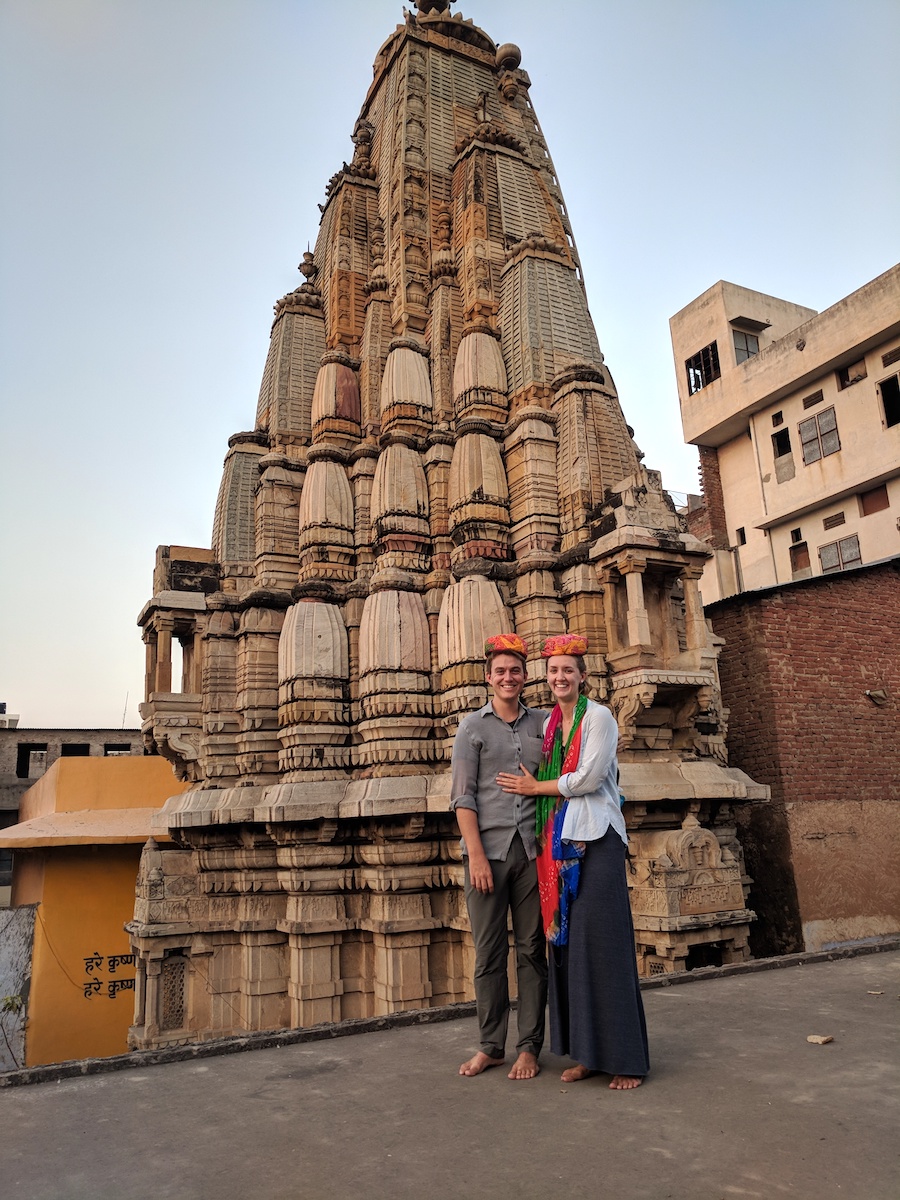 Left: Us in front of the Hawa Mahal. Middle: View of the City Palace gate. Right: Wearing silly hats our walking tour guide wanted us to wear at the end of the tour.
The tour didn't actually cover that much ground but did let us see more of the Old Town than we likely would have otherwise. We started at the Hawa Mahal or Palace of the Winds, where females in the royal family were able to hide behind the intricate marble screens and watch the comings and goings on the street below without being seen. From there we headed down some of the alleys, which are laid out in a grid-pattern though it doesn't give the same impression of orderliness that I got use to in downtown DC. We stoped to see houses that have been standing for 300 years, shops that use recycled paper to make boxes for wedding invitations, temples, and the more traditional stops at the City Palace, Jantar Mantar, and got a view of the seven-story Isarlat tower as the sun was setting.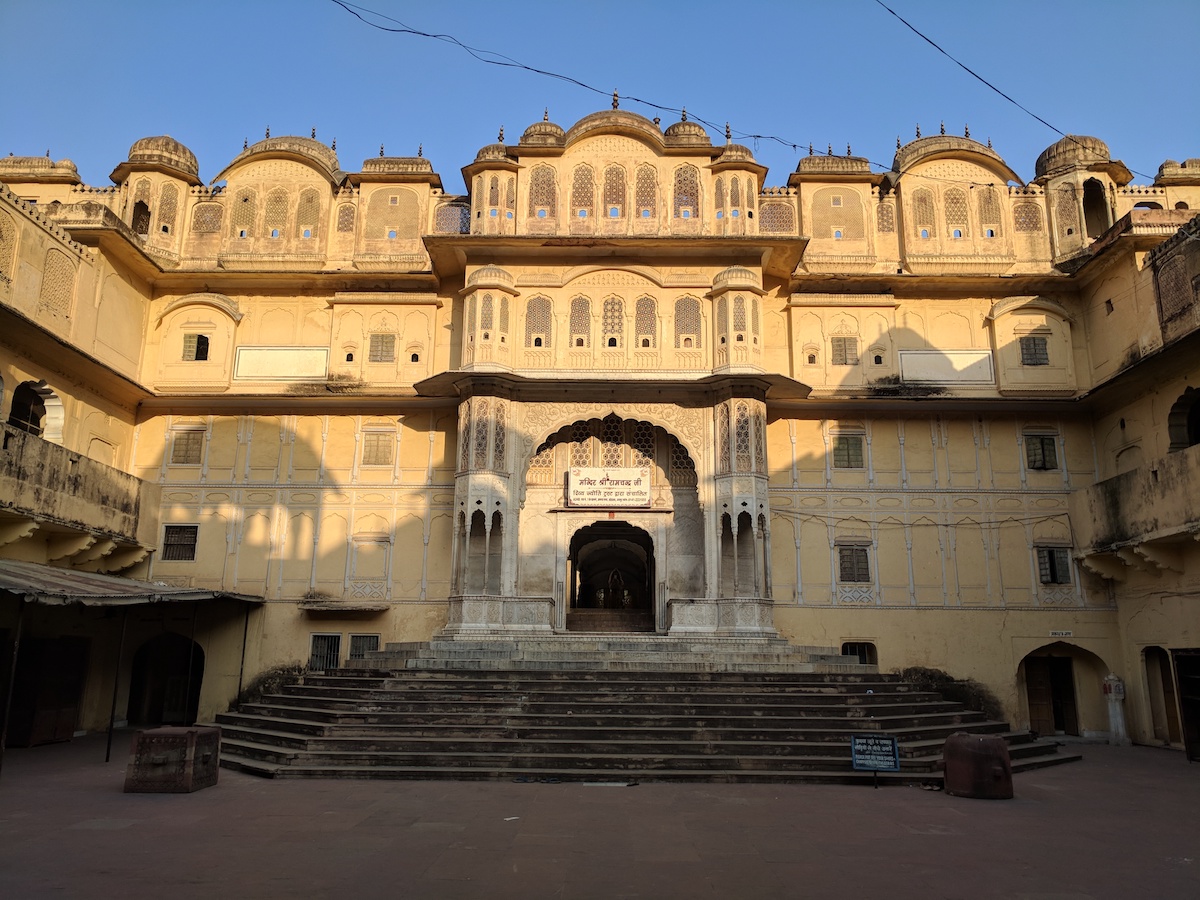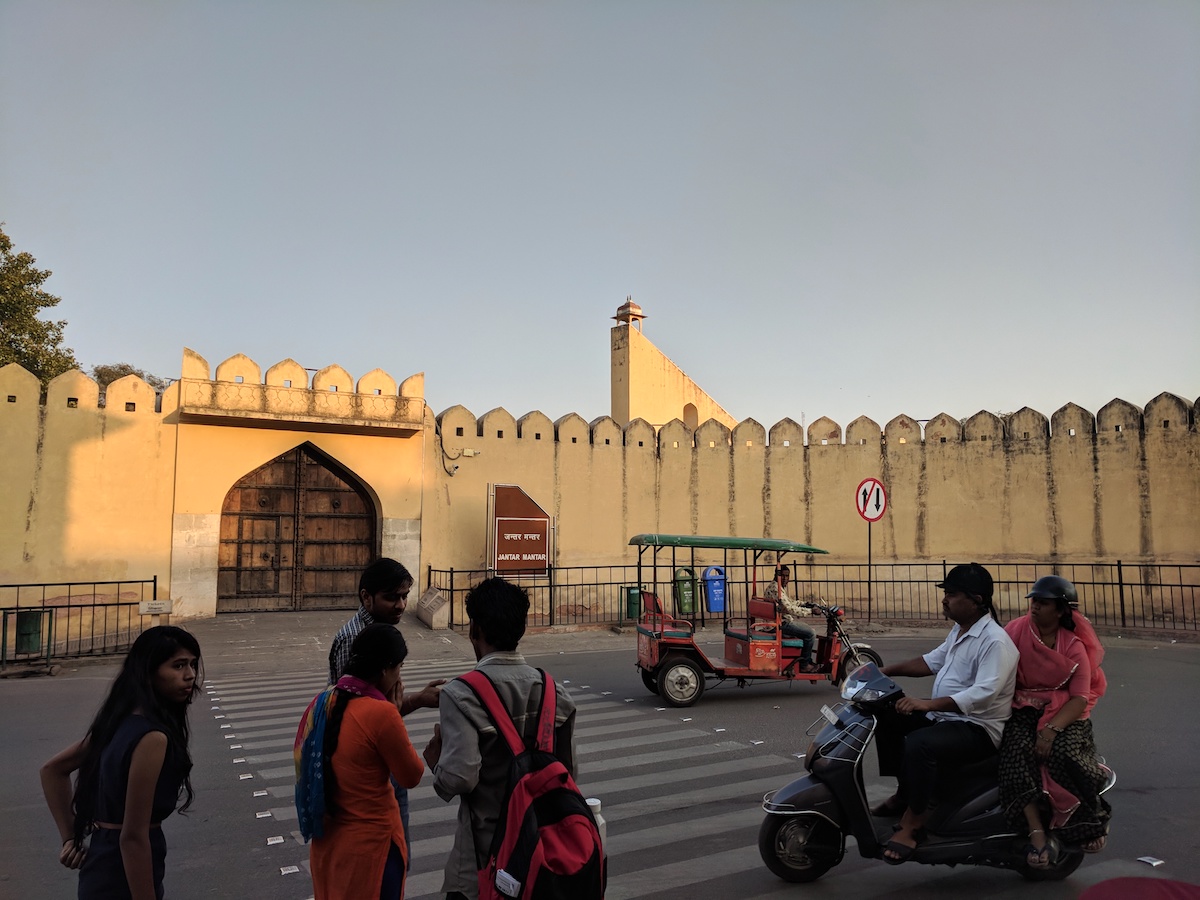 Left: The entrance to a temple to Shiva. Right: Jantar Mantar, home to a sundial supposedly accurate to 3 seconds.
My favorite stop of the tour was the last one, which took us behind an active temple to Shiva up on the roof of what seemed to be a family home in order to appreciate the southern style architecture that can't be seen from the outside. We ended the tour as the sun was setting and grabbed another Uber (if you couldn't tell I was really excited about being able to use Uber) back to our hotel for dinner.
Day 3: Despite getting to see the Taj Mahal and enjoying some of our sightseeing, I had gotten to the point where I was trying to convince Nate to forget our next two weeks in India and move up our flight to Japan to as soon as possible. It's not that there aren't interesting things to see here. There definitely are. I had just gotten frustrated with how difficult it is to explore, how much I felt like a walking tout target which can really erode your sense of trust, and the underlying discomfort of being surrounded almost entirely by men all the time. I hadn't expected it when we arrived to India but everywhere we go everyone around us is predominantly men, even just looking down the street there make be a couple of women but they are swallowed up by a sea of men driving tuktuks, walking to and fro, or just loitering.
An example of the small but illustrative situation that becomes tiring is asking for directions becomes perilous because unlike most places we've been, I don't trust that the person will tell us the right answer instead of taking us somewhere else that in some way ends with them getting a commission or will tell us the right answer but then expect to be paid for helping us.
Then there are the selfies. A surprising number of people come up asking for selfies with us. One woman even yelled across the courtyard of a temple to our guide in Agra to ask us for a photo. While I find it stange and a little uncomfortable, when someone asks we can we can say no and go on our way. The more annoying version is the men (it's always men) who try to surreptitiously take selfies with us in the background. It started with the man sitting in front of me on the plane for our flight to Delhi, then there are the men that come sit next to me or Nate somewhere and angle their phones so we are in the picture. One man even tried to sneakily get his small child to come sit with him because he was trying to get a picture with Nate in it while I was waiting to by tickets. Having strangers snap selfies with you definitely isn't the worst thing in the world but it wears on your nerves and adds to the general sense that you have to be on guard all the time.
All of these small discomforts had been building up to the point I wanted to just be done with it. In the end, Nate convinced me that the rest of our time in India was more promising than the time we'd spent so far (big exception for the Taj Mahal, which was exactly as wonderful as I thought it would be) and that logistically and financially skipping to Japan early didn't make sense.
Still, to let me recharge and get back in the spirit of adventure, we spent the full day at our hotel relaxing, catching up with people back home, and working on some projects.
Other than days we've been sick, I think this was the first day we just opted out of travel adventures and I think it was sorely needed. We often push ourselves to go out an soak up as much of each place as possible, especially places that we aren't staying for very long but sometimes you just need a break, even from travel.
Day 4: Our last day in Jaipur was a long one because we had to check out of our hotel at 11am but our overnight train to Jaisalmer wasn't scheduled to depart until 11:45pm.
After breakfast at the hotel, we got another Uber to take us to Hanuman Temple, more commonly referred to as the Monkey Temple, to the east of the city. To reach the Monkey Temple from the road, you first have to climb to the top of a hill along winding pathways. There are several vendors selling food you can feed the monkeys and they say doing so will bring you good karma but we decided to pass. At the top of the hill is a Sun Temple, which we thought was going to be the Monkey Temple, that has a great view of the city below (but also pushy residents trying to perform prayers for tips…). Then you continue on over the hill and back down into the valley to find the Monkey Temple. Entrance is free but there is a 50 Rupee camera fee and an additional 50 Rupee fee for video cameras. We made a spur of the moment decision, based mostly on the guy selling the photography tickets being very pushy and a little creepy, to pass on taking photos and just walk around. He wasn't too pleased but let us through anyway. Even though there are supposed to be many more monkeys out in the morning when it isn't so hot, we saw dozens sitting in shady corners and chasing each other through the temples.
At the end of your temple visit, you have to retrace your steps back up and over the hill unless you've hired a driver to circle around and meet you at the other side's parking lot. By this time it was over 90 degrees and made for a hot a sweaty walk but at the end we had another Uber waiting to take us to lunch with air conditioning blasting.
We stopped for lunch at Natraj Restaurant an upscale spot on MI Road walking distance from our hotel. We had been a little skeptical of it at first, since it was completely empty, but lunch was the best meal we've had in India. We each had a different Thali and I had some amazing masala tea. I liked it so much I had to have a second. The wait staff was very attentive and willing to answer questions when we didn't understand what we were looking at or what we were supposed to do with something (for example the anise they brought in a bowl at the end of the meal for us to clean our teeth).
Our final stop for the day, before we headed back to the hotel for dinner and biding our time before an 11:45pm train, was at the Raj Mandir Theater. I had read several accounts of tourists really enjoying seeing a Bollywood movie there even though they couldn't understand the Hindi. With several hours to kill and the temperature still in the 90s, sitting in an air-conditioned theater watching a movie sounded great.
The theater itself looks more like what you'd expect from a European operahouse than a movie theater with sparkling chandeliers in the lobby and a curtain over the screen. To add to the experience feeling like a theater for plays rather than movies, there was also an intermission.
The movie, Hate Story 4, was a mixed bag. It was a revenge film that didn't have the kind of singing and dancing numbers I was hoping for, the action scenes, by design or not, were impressively bad, and the occasional English dialog worse. It did have a female protagonist dishing out revenge on some murderous, womanizing men though, so it had some redeeming qualities.
We exited the movie around sunset to find that the temperature had dropped to a comfortable level and so we could sit outside at our hotel reading until dinner and then again until it was finally time to catch our train.
How We Did with Our Budget
For our time in Jaipur, we had budgeted as much as 45 USD a night for accommodations. We ended up spending 42 USD per night for our Deluxe room at Jai Niwas, which was really lovely.
We had also budgeted 10 USD per day per person for food and 10 USD per day per person for entertainment. Out of that planned 40 USD total, we ended up spending only 31 USD per day on average, including our 4 hours of UberHIRE (12 USD), the entrance fee for Amer Fort (16 USD total), and all of our meals (an average of 3 USD per person per meal).
---