13 Mar 2018
Agra: Taj Many Temples
After an overwhelming couple of days in Varanasi, we took an overnight train to Agra and jumped straight into two days of sightseeing at the well-known spots nearby, including the Taj Mahal.
We stayed at Hotel Atulyaa Taj, a fairly cheap hotel that is within walking distance to the Taj Mahal's Eastern Gate. We had originally planned to stay at the Coral Court Homestay but somehow fudged our dates when booking originally and by the time we noticed they were fully booked for our correct dates. The Atulyaa Taj was fine, but nothing special, and not somewhere we'd be excited to go back.
What We Did in Agra
The biggest decision we made about our time in Agra came while we were in Varanasi. After seeing how hard it was to get around independently, plus how exhausting it would be to constantly fend off touts wanting to "help" us, we decided to just take the plunge and hire a car, driver, and guide for our two full days in Agra. While this was a real investment ($130 total including tips), it meant that our full visit was pretty much seamless. Included in that price were transfers from/to the railway station, which was really nice after another delayed overnight train set our arrival time closer to noon than our scheduled 8:25am.
Day 1: Our sleeper train from Varanasi arrived to the Agra Fort station, a less-used one closer to the tourist area, where we were met on the platform by Rashid, who runs Mysha Tours. I had found them online and read much more positive reviews than of other similar services, so negotiated with him over WhatsApp from Varanasi and arranged all the details. We made the quick trip to our hotel to check in, drop our bags off, and grab some food, and then piled back in the car to head out exploring. As arranged, Rashid handed us off to a certified guide who would accompany us at each stop (tip: of all the guides in Agra, less than 100 are actually certified, no matter how convincing a forgery of an ID pass they show you while you stand in line trying to ignore their touting).
Our first stop was Agra Fort, a massive structure on the banks of Yamuna River that was completed in 1573. While you can only tour a portion of it (according to our guide about 25 percent), since most of it is still used by the Indian military, the area to see is still pretty big. Unfortunately we only spent an hour inside, getting a rapid-fire tour from our guide. Since we normally travel independently we were totally out of practice on getting a guide to slow down and let us move at our own pace, which we succeeded at for the other stops. As with most stops in Agra, the most interesting pieces are the stone/marble carvings/inlays and the way various religions are mixed together in one location.
Our second stop was across the river at Itmad-ud-Daula, a mausoleum often referred to as the Baby Taj, since some regard it as a "first draft" of the real thing. It really is "baby", though we still spent 90 minutes fascinated by the intricate work both inside and outside the mausoleum.
Our final planned stop for the afternoon was Mehtab Bagh, the restored gardens directly across the Yamuna River from the Taj Mahal. While the original idea was that we'd spend sunset here watching the Taj change colors along with the sky, we arrived around 4pm and didn't have the energy to want to stick around that long. Since we were there in dry season the river was quite low, which means the mesmerizing reflections of the Taj that exist during wet season weren't there to enjoy, either just a few cows/water buffalo grazing in the muck.
On the way back to the hotel, we made one more stop: at a marble inlay shop. While we generally disdain these types of handicrafts stops, where they spend a few minutes showing you their craft and then try to guilt you in to buying things, we decided to not veto this stop since we were amazed at all of the intricate inlay work we had seen at our stops so far. The demonstration was one of the better we've seen, and I left amazed at how soft marble seemed under the diamond-tipped tool they use by hand to gouge out channels.
We got back to the hotel just before sunset and decided to put on our swimsuits and see if the rooftop pool would be relaxing. Unfortunately the staff was busy setting up for a buffet dinner service–and blasting loud music–so we didn't stay long. The hotel dinner cost over 500 rupees (7.70 USD) per person, which may sound like a reasonable amount but would have ended up being over four times what we normally pay, so we decided to try Hotel Rashmi across the street, since they looked to have a much more casual terrace restaurant. That plan worked, and we enjoyed another tasty Indian Thali before getting to sleep early.
Day 2: We got up in the pre-dawn hours, ate some take-out paratha (pan-fried bread stuffed with minced vegetables) from dinner the night before, and met our guide downstairs before 6am to head to the Taj Mahal for sunrise. After a short walk to the gate, we joined an already-long line to await the dawn opening time, and then filed in through security and got inside just as the sun was starting to peep over the surrounding trees.
While we had gotten views of the Taj Mahal from Agra Fort and from right across the river, walking through the Great Gate and getting the first glimpse of the massive building as its designer intended–across the Garden–was still amazing. Yes, we were surrounded by other tourists taking the same photos, but this is one place that's really worth the trip.
We spent an hour getting a detailed tour from our guide and then another hour wandering around and enjoying the site at a slower pace while he waited at the exit for us. If you're coming to the Taj, it's worth it to wake up in the dark and get there early–we had no waits inside, it wasn't hot yet, and many of the touts who would have bothered us while we stood in line were still asleep: triple win!
After getting our fill of the Taj Mahal we stopped back by our hotel to enjoy a proper (included in our room rate) breakfast, and then got back in the car for the long drive out to Fatehpur Sikri. After about an hour, made slower by the closure of one side of the highway to allow pilgrims making the 20km walk from Agra to have a safe space, we arrived to a parking lot and transferred to a small bus run by the site that is the only way (besides walking a kilometer uphill) to get up to the main attractions.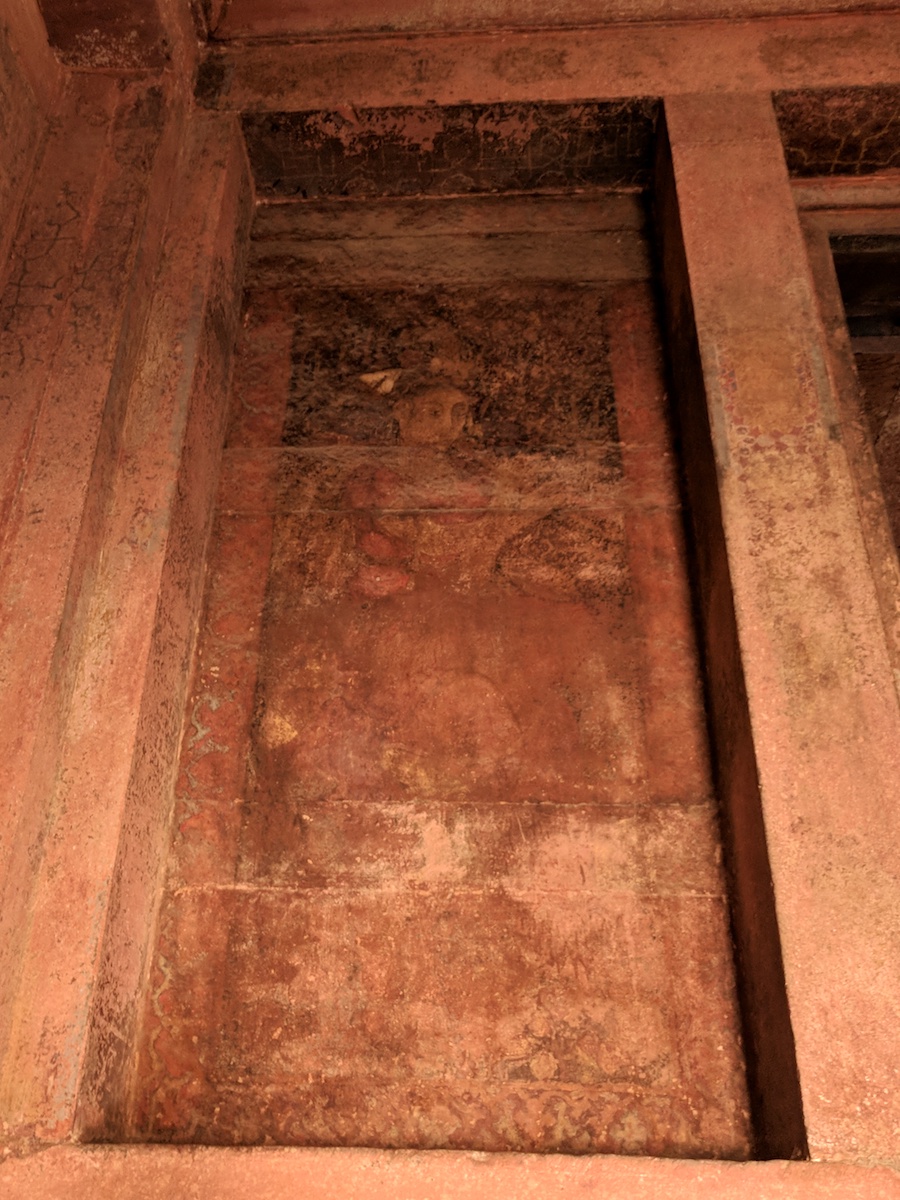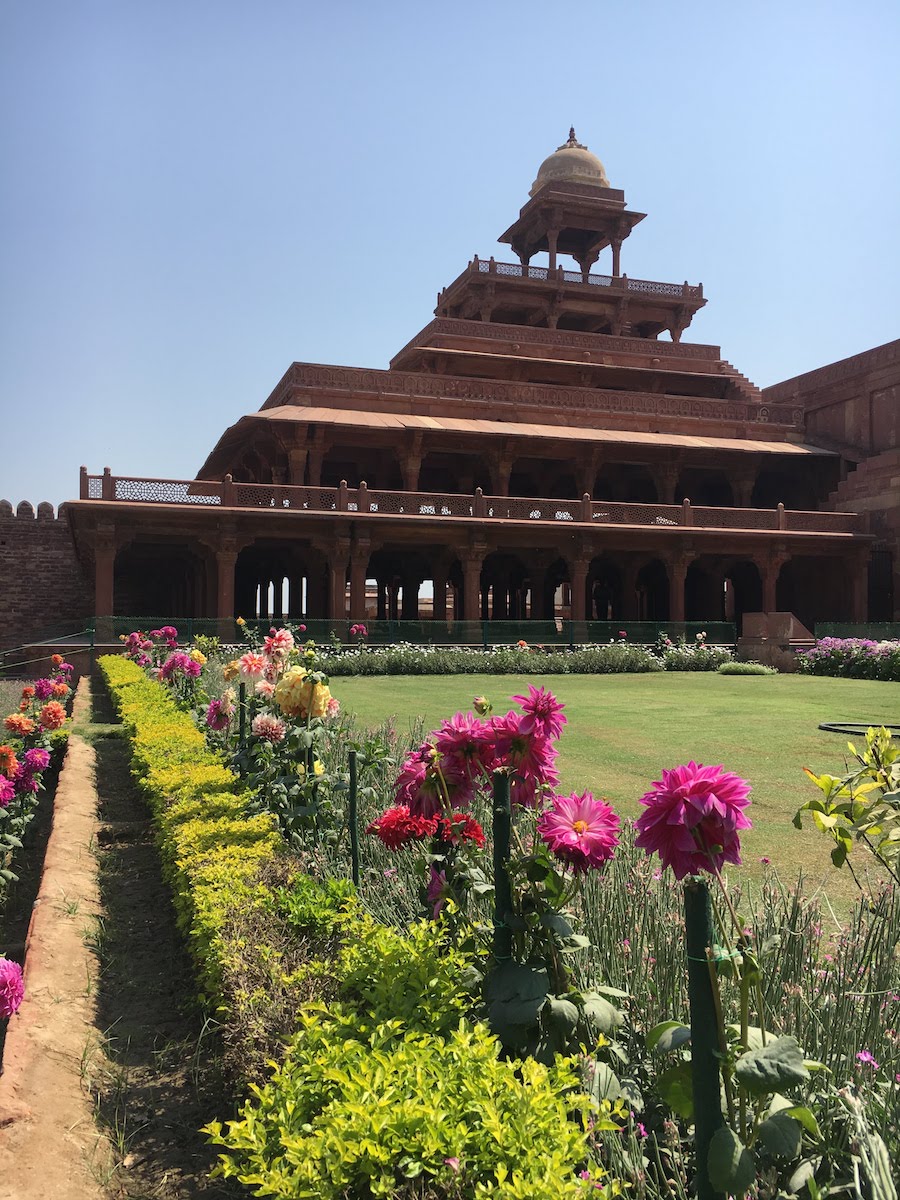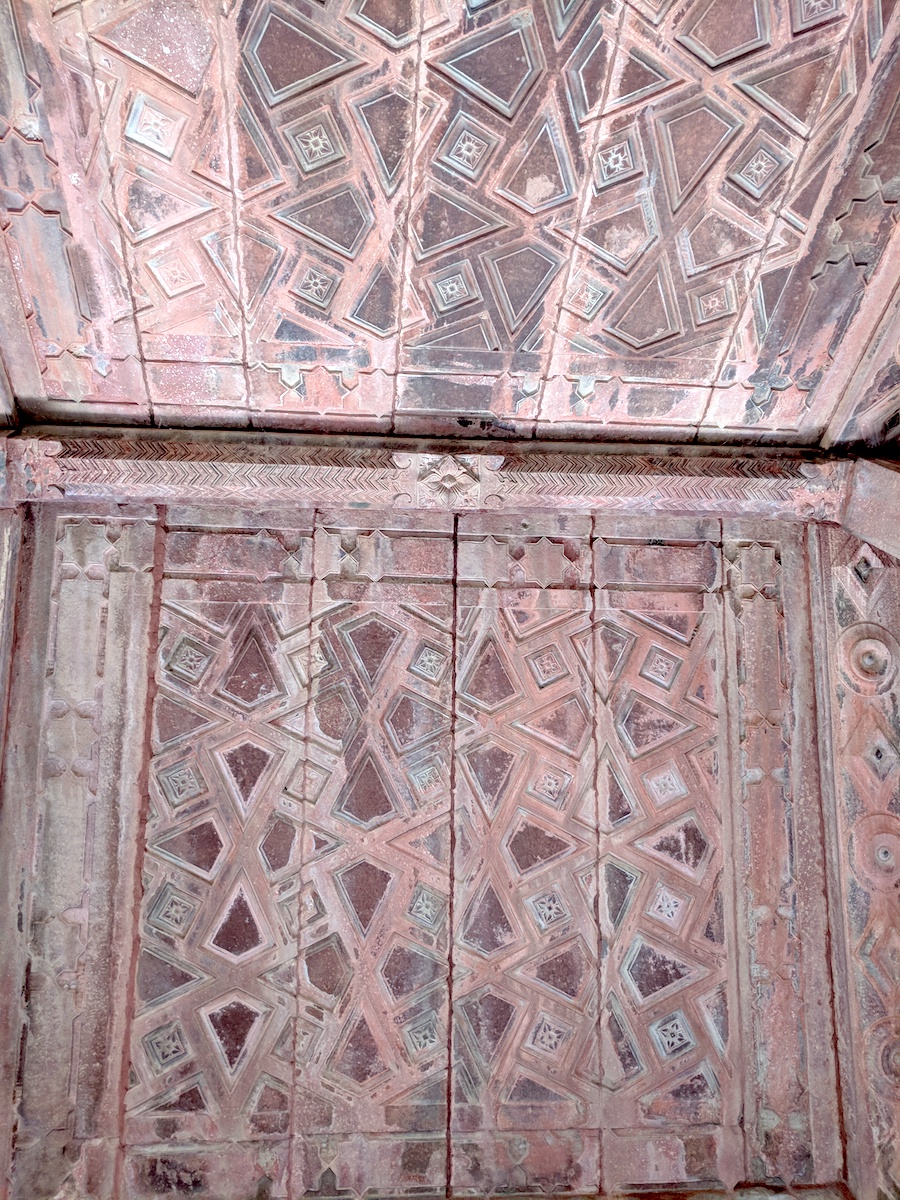 Left: The remnants of a painting older than the USA. Right: My favorite of the countless ceiling designs at Jodha Bai's Palace.
We first explored Jodha Bai's Palace, which was built by Akbar the Great in the late 1500s. We were pretty skeptical of a lot of our guides "facts" about the buildings here–as a lot of it seems to be just guesswork based on limited data–but it was still really interesting. The highlights were probably the 400+ year old paintings still barely visible on a few walls and the unique carvings on the walls of the queens' bedrooms, specialized to what that queen liked (e.g. pomegranates or dangly earrings).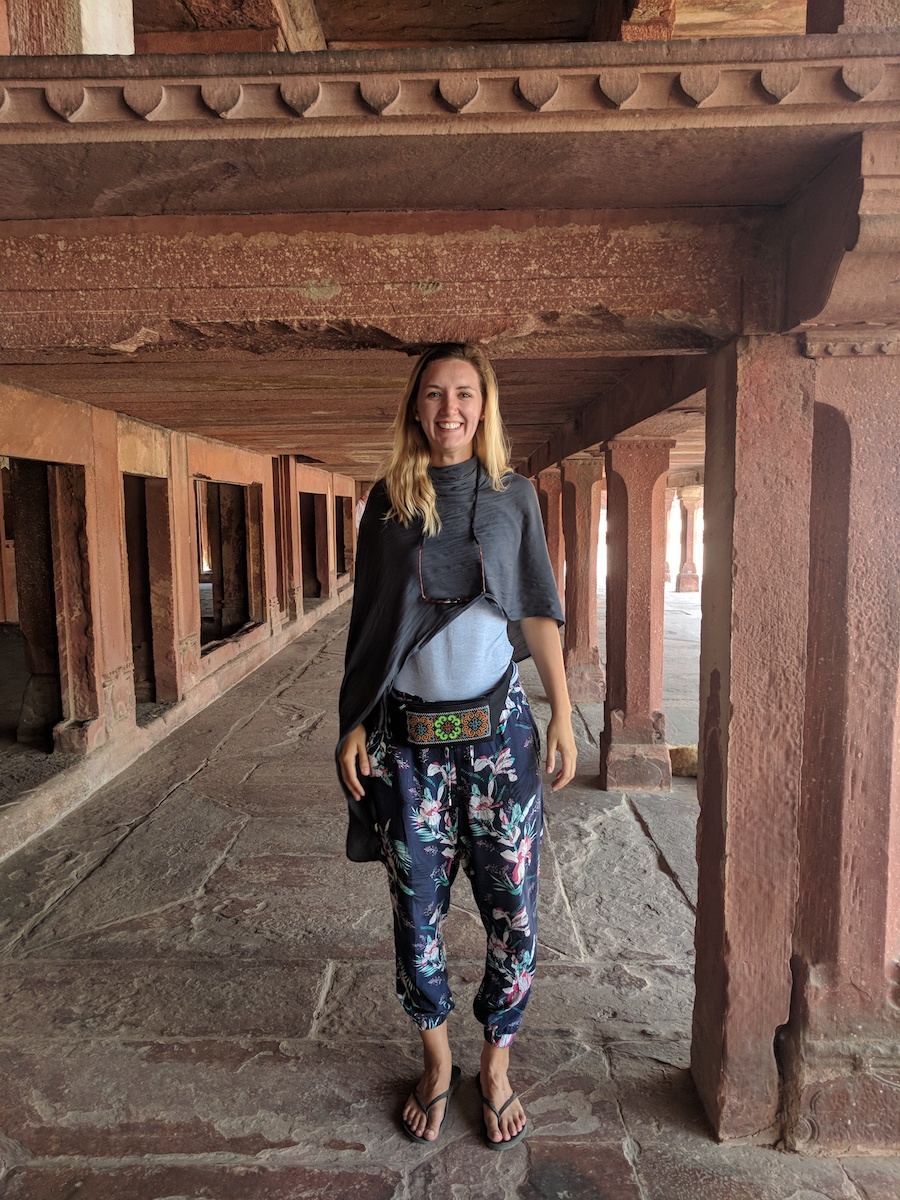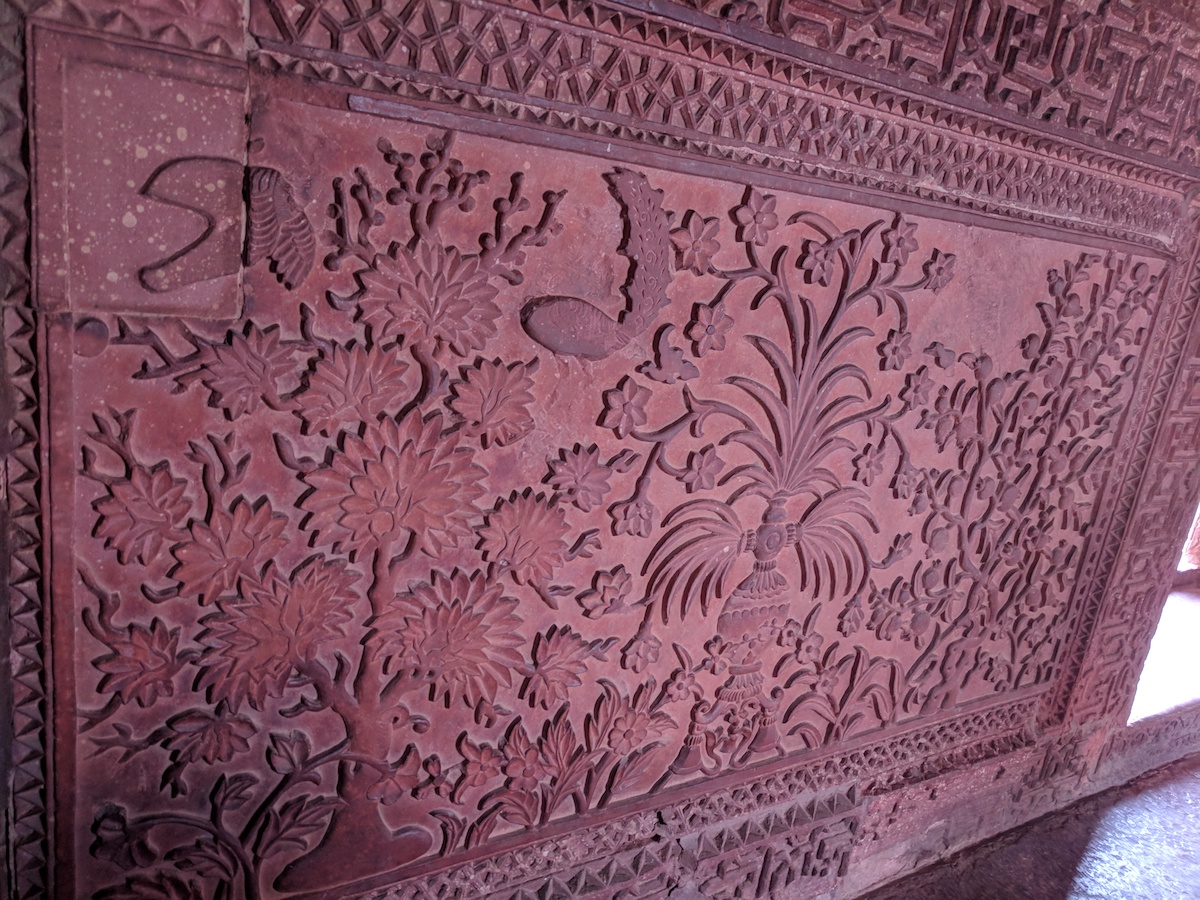 Left: Amy barely fitting under the ceiling constructed by a very short monarch. Right: The heads of animal carvings were gouged out after animal depictions were deemed disallowed by Muslim leaders.
We next walked over to the Tomb of Hazrat Salim Chishti through the King's Gate. Our (muslim) tour guide was noticeably much more excited to show us this area than anywhere else on the tour, which made what was otherwise kind of a dull place a lot more interesting. Beyond the active worshipping in the tomb itself, and the amazing (and gigantic) marble inlay of passages of the Qur'an, we also really enjoyed the large open-air honeycomb hanging off some of the archways. Unfortunately, because we needed to leave our shoes outside and the stone floors were very hot in the midday sun we had to stutter-step our way from one shady spot to another and couldn't linger in the large courtyard area.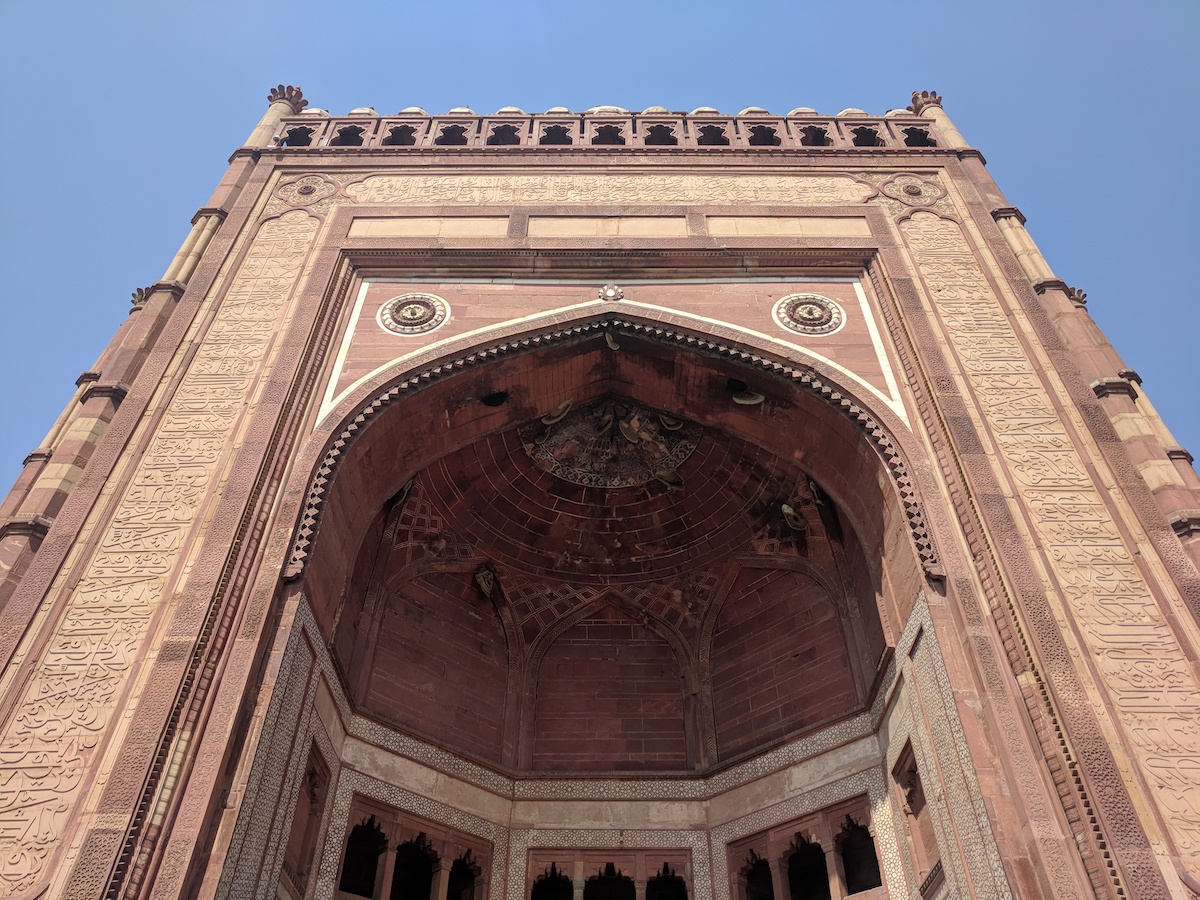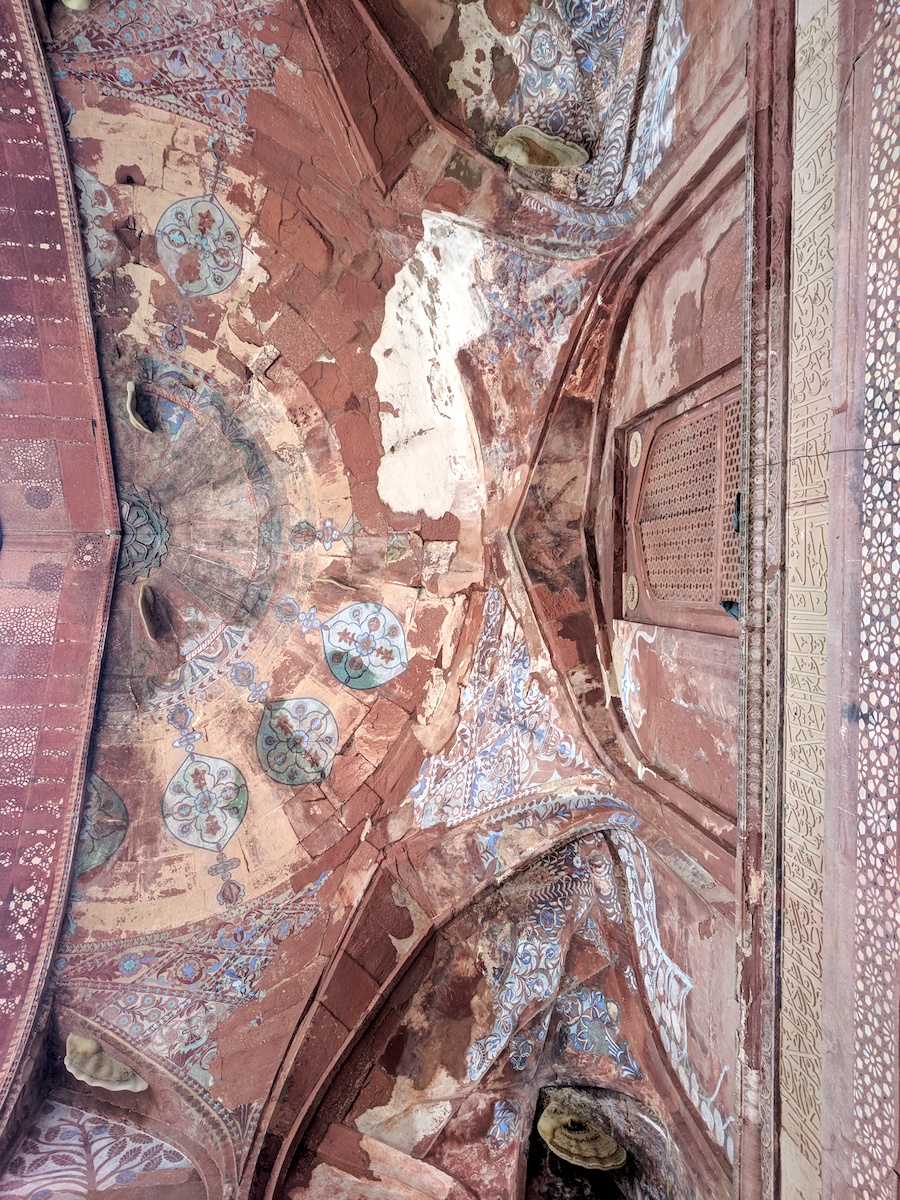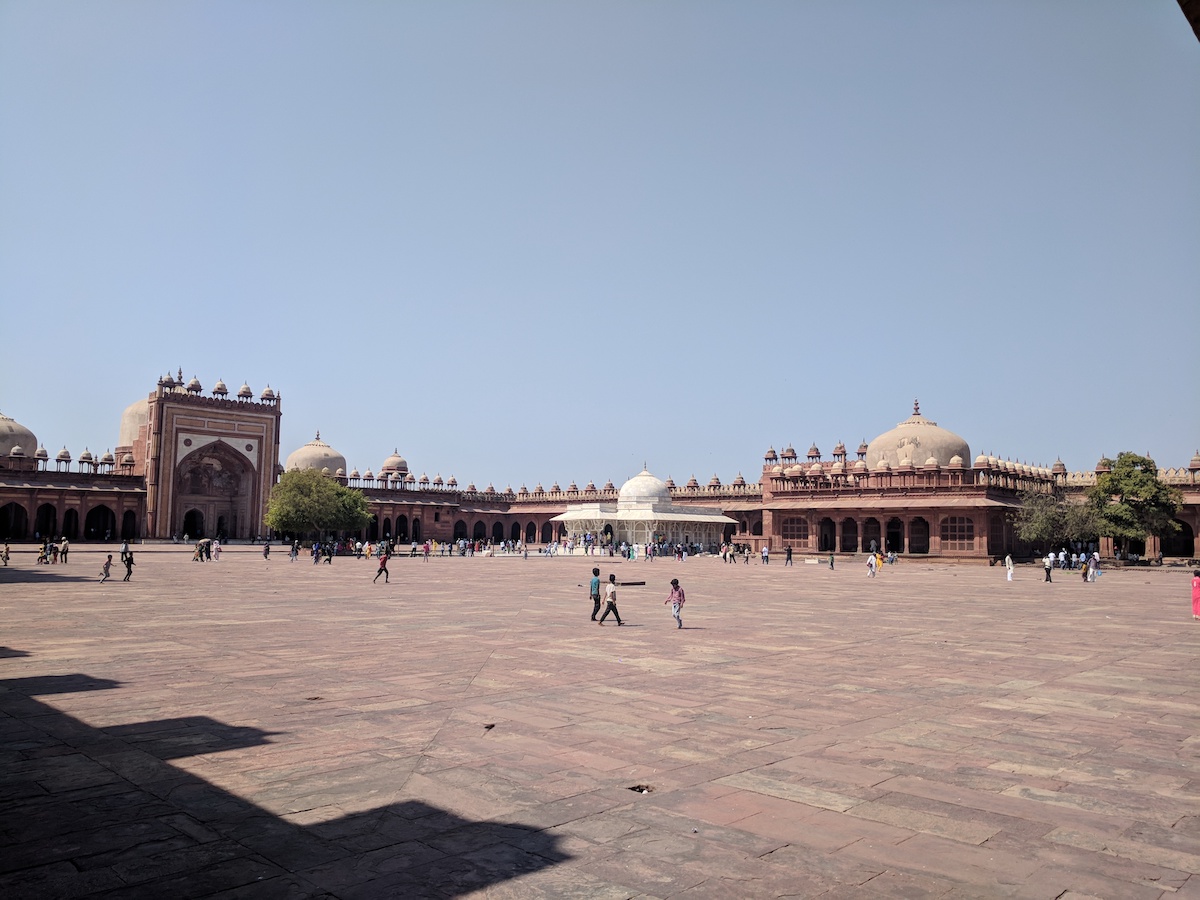 The Tomb of Hazrat Salim Chishti. The dangling honeycombs are visible attached to the arched roof of the center photo (click to enlarge).
After another hour in the car we made it to the Tomb of Akbar the Great. At this point we were both tired from our early AM alarm and a little mentally exhausted from seeing so many places, so we didn't spend as long here as we otherwise would have. The most unique aspect of the site for present-day visitors is that its a favorite of young Indian couples with few options outside the view of their families to have some time alone. While a tomb may not scream romance, the well-manicured lawns and lounging exotic deer make it pretty nice and it was the quietest place we visited all day. From the backside you could find spots where you couldn't hear anything but birds chirping, a real rarity in India from our experience so far.
We vetoed the guide's desire to take us to a painting workshop and got back to our hotel just before road closures went into effect to accomodate French President Emmanuel Macron's visit to the Taj Mahal. We had another dinner across the street at Hotel Rashmi, though this one was really disappointing, and then got to sleep since we'd have yet another early morning.
Day 3: We used our Taj Mahal alarm timing one more time, packed up, grabbed a take-out breakfast from the hotel, and then got a final ride from our drive to Agra Cantt train station, where we were headed to Jaipur from.
On Having a Guide
Having a private driver in Agra was a huge time saver and stress reliever, as we never had to negotiate with taxis or put up with inflated one-way prices. Having a guide with us was more of a mixed bag. On one hand, he kept the touts away and pointed out a lot about the carvings/inlays that we otherwise would have missed. On the other hand, he often went faster than we wanted (until we got in a rhythm of him giving his rapid-fire tour and then hanging out at the exit until we were done wandering) and some of his information was definitely not true (including one case in which the official sign behind him noted his "fact" was a common tour guide myth!). I think I'm glad we had a guide for our Agra whirlwind, but also very glad we normally don't. We definitely won't choose to have one at our next stops where what we learned about interpreting the art largely applies.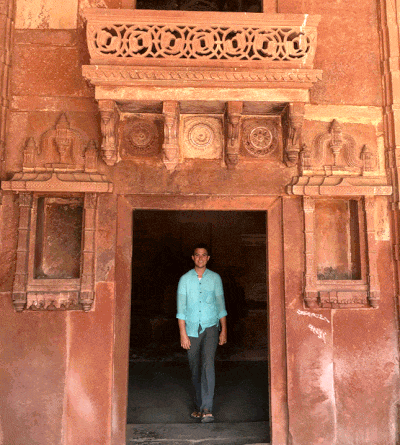 How We Did with Our Budget
For our time in Agra, we had budgeted as much as 45 USD a night for accommodations. We ended up spending 55 USD per night for our room at Hotel Atulyaa Taj, choosing to spend the extra to be right near the Taj Mahal (which didn't end up making a ton of difference). With just two nights here, we were able to balance out that cost with other, cheaper bookings elsewhere in India pretty easily.
We had also budgeted 10 USD per day per person for food and 10 USD per day per person for entertainment, plus an extra 30 USD to cover our Taj Mahal admission. Out of that planned 55 USD total, we ended up spending 117 USD per day on average, with most of that on our car/driver/guide (130 USD including tips). Just for meals, we averaged only 2.8 USD per person, while site admissions took a toll on our budget (51 USD not including the Taj Mahal's 30 USD fee).
One final note: This trip has really made me appreciate how nice it is to not have to tip. For almost everywhere we've been, tips at restaurants are not expected, and hospitality staff are actually trying to help you rather than just get a tip. Being in India, where neither is true, has made me long for the simplicity of not having to worry about tipping, and wish that the U.S. would move to be less tip-based in the service industry.
---