12 Mar 2018
Varanasi: An Assault on Your Senses
We originally planned to have 3 days in the holy city of Varanasi but lost nearly a full day to an epic 9 hour train delay on the way from New Delhi. Honestly, two days was about as much as I could handle.
From the moment we stepped out of the train and started to make our way through the city, it was overwhelming. The streets are narrow and on the larger roads traffic is going both directions in both lanes, people and cows are walking through traffic, and a cacophony of horns reverberates off the high walls and digs into your brain. All this before we had to dismount from our tuktuk for a 10 minute walk through ever narrower alleyways leading to our hotel.
The alleyways are thick with people and motorbikes even where it's clearly insane to try to maneuver a motorbike. There are cows everywhere and where there are cows there is cow poo. The air is thick with the smells of delicious food cooking, burning bodies (with many cremations happening at the Ganges), burning trash, animal (and probably human) waste, and insense. When I researched coming to India, multiple blogs insisted that you should not try to visit Varanasi first, that it would be a rough introduction. I wish we'd listened.
What We Did in Varanasi
Day 1: We arrived in Varanasi in the evening, even though we were scheduled to arrive at 8:30am. Thankfully, at the last minute we had arranged for the hotel to pick us up at the train station so someone met us at our train car and ferried us to a waiting tuktuk. We may have been able to negotiate a slightly lower price with a tuktuk ourselves, but it is chaos outside the station and we would have really struggled to find our hotel because the tuktuk had to stop well before we arrived because the alleys became to narrow for it to continue. After dodging motorbikes, cows, and people we finally reached the hotel and I just refused to go out into the now-dark, twisty-turney alleys again to find dinner. So, we rescheduled the walking tour we missed while stuck on the train, ate a lovely dinner at the hotel overlooking the Ganges, and went to sleep early questioning what we had gotten ourselves into.
We stayed at Hotel Alka, which is highly recommended for good reason. The room we stayed in was basic but had everything we needed. They have a great view of the Ganges, which can be easier to enjoy with a little distance, and the food in the restaurant is both tasty and affordable.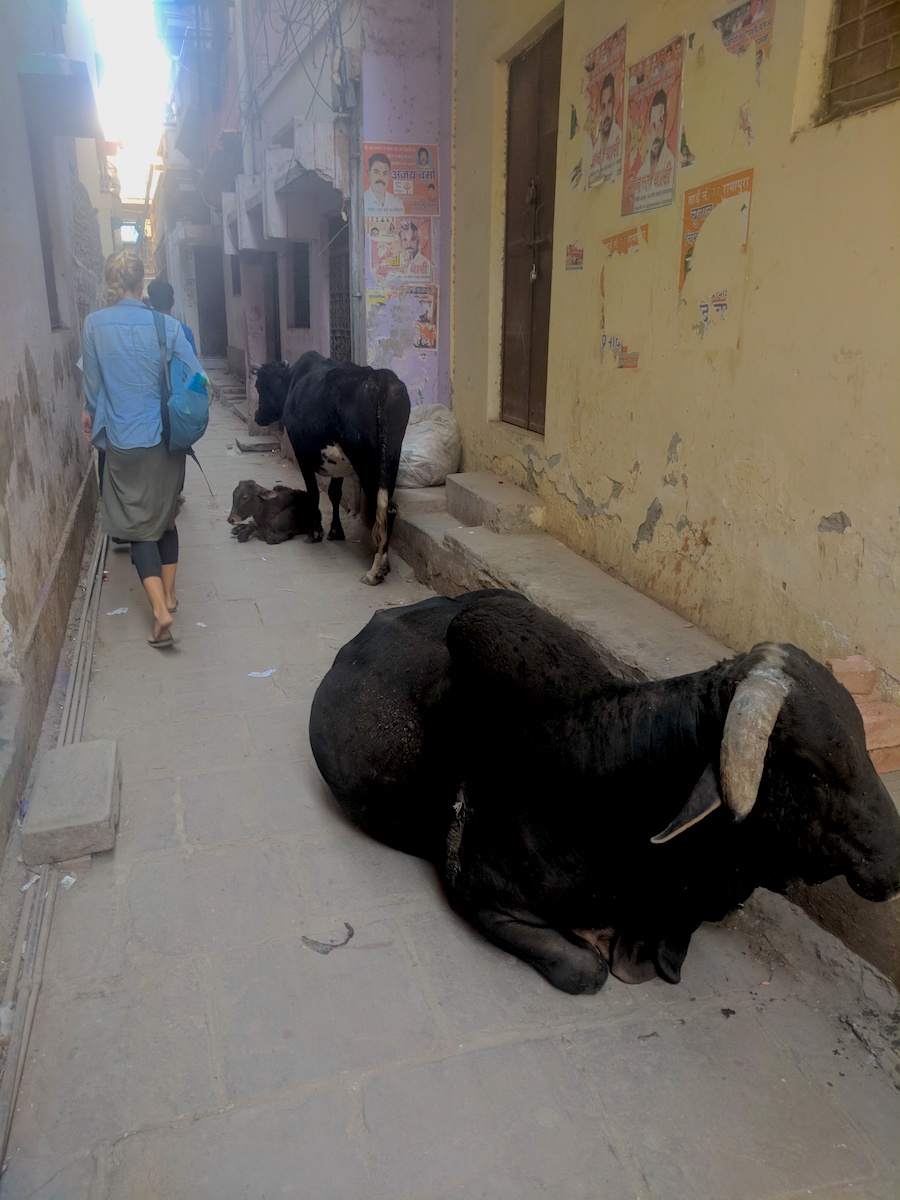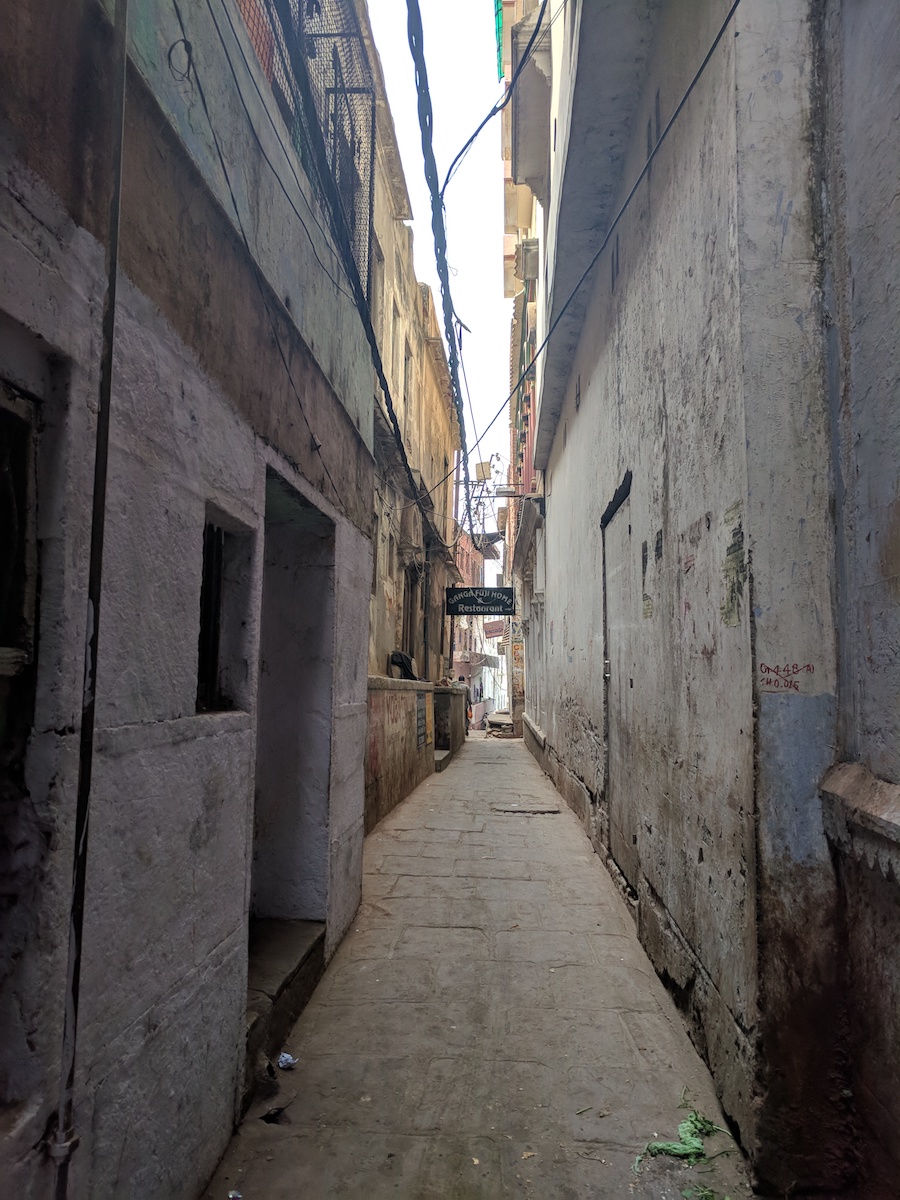 Just a couple of the alleyways we took and only a couple of the many cows we passed. Plus some goats climbing around.
Day 2: Our outing for the day was a "free" walking tour similar to the ones we'd enjoyed while we were in South America. We only took one wrong turn trying to make it from our hotel to the point where we met our guide, which I considered to be a pretty big success.
The tour focused almost entirely on the main religious sites in the city. For a city so central to multiple religions, though like India itself it is mostly Hindu, this made sense, though we had hoped to learn a little more about how people live their lives day to day in what seemed to us to be utter chaos.
We started our tour heading down a busy street and then past the Golden Temple, the most important temple for people of the Hindu faith, comparable to Mecca for those of Muslim faith. We did not attempt to enter the Golden Temple because the line stretched far beyond the entrance in a narrow alley but it was clear that many had made pilgrimages to visit this site.
We eventually made our way to the Dasashwamedh Ghat, which is supposed to be the oldest ghat in Varanasi but at the very least is a very busy one. The ghats are a must see, though you can't really miss them, and were full of life with people bathing in the water of the Ganges to purify themselves of sins before visiting the temples. There are also people doing laundry, there are sadhus, beggars, children playing games, dogs fighting, and goats climbing all over things.
From Dasashwamedh, we continued along the other ghats past docked boats and more bathers toward the Kathwala or Nepal temple. Our guide told us that in Varanasi you can see a little bit of each part of India (and beyond) by the different ghats. The Kathwala temple is above the Lalita ghat and has intricate woodwork around a red-colored building. One of our large doses of sexism surfaced here when our guide tried to explain how women tame the animal nature of men. He explained that a man's father chooses a good wife for him but that all the man can think about going into the marriage is sex (partially because it's an arranged marriage and he may have never really spoken to her before) and so when they are first married they treat their wife like an animal but over time she is able to tame them and by honoring and respecting them make them better. Needless to say, I may remember his viewpoint more than I remember the woodcarvings.
From there, we wove through waterfront alleyways and emerged in a more open space just above the Manikarnika or burning ghat, which is the main site for preforming cremations in the city. Women are not allowed near the burning ghat (according to our guide because they have soft hearts and so they shouldn't see the bad in the world) but we were able to look on from a distance as male members of a family carried a body down to the edge of the water on a bamboo ladder to be burned on a funeral pyre. Several cremations were active when we arrived and a new one began before we left–and this ghat burns 24 hours a day.
Our last real stop on the walking tour was the Scindia Ghat where there is a temple to Shiva that is partially submerged and sinking on one side (according to our guide this is because of a curse put on the king who had it built for forcefully removing poor sadhus to try to maintain the temple for the wealthy only). During the rainy season the entire temple can become fully submerged.
Overall, the walking tour with Yo Tours was just okay. It got us out walking around the city when we might not have otherwise but compared to the 3 hour walking tours that shared more than just basic facts about the top sight seeing stops, like tips on where locals live and things to watch our for or how to order the delicious sweet thing you don't know the name of, this tour was less than an hour and a half and really just covered the basics with a spoonful of sexism thrown in. I wouldn't recommend it, especially if you're already staying right on top of the ghats.
On our way back to the hotel, we stopped at Shree Cafe just before Deshbandhu Chittaranjan Das Park for another Thali (sampling platter) lunch. The standout in their Thali was a Gulab Jamun, a deep-fried dumpling that is soaked in a sugar syrup laced with rose water.
Even after a very enjoyable lunch, we were hot, sweaty, and tired. So, instead of venturing out for more sightseeing I went to a yoga class at The Yoga Training Center that was the closest studio with both TripAdvisor reviews and drop-in classes. The building was only a 5 minute walk from our hotel and there were plenty of signs painted on different walls along the way to keep me from getting lost. The class was mediocre but I left feeling better than when I arrived, so I can't complain too much. The teacher that everyone raves about online only teaches the 8:30am class and so while I got to chat with him for a few minutes, I had a different teacher for my actual class, which may have made a big difference.
Realizing that even after over 6 month of traveling almost entirely independently, that just wasn't going to work in Varanasi, we decided to book a tour through our hotel (I know how lame that sounds but please don't judge) to see some sights and occupy us until we could catch our second overnight train onwards to Agra the following evening. With our remaining hours in Varanasi scheduled, we ventured out to another nearby restaurant, Niyati Cafe for another vegetarian Thali dinner. (These Thalis are probably our favorite part of India so far.)
Day 3: Our entire last day was covered by the tour package we booked from Hotel Alka. Despite having a pretty detailed poster in the lobby about what the tour would include, it was surprisingly difficult to nail down details about things like what time we would start and end. Our first activity was a sunrise boat tour of the Ganges though. The driver met us (we were joined by a Swedish traveler also staying at our hotel) at the door and walked us to his small rowboat just before dawn. The river is full of similar small boats (or some much larger motorboats for big tour groups) watching the city wake up. It was the most peaceful period of time we spent in the city.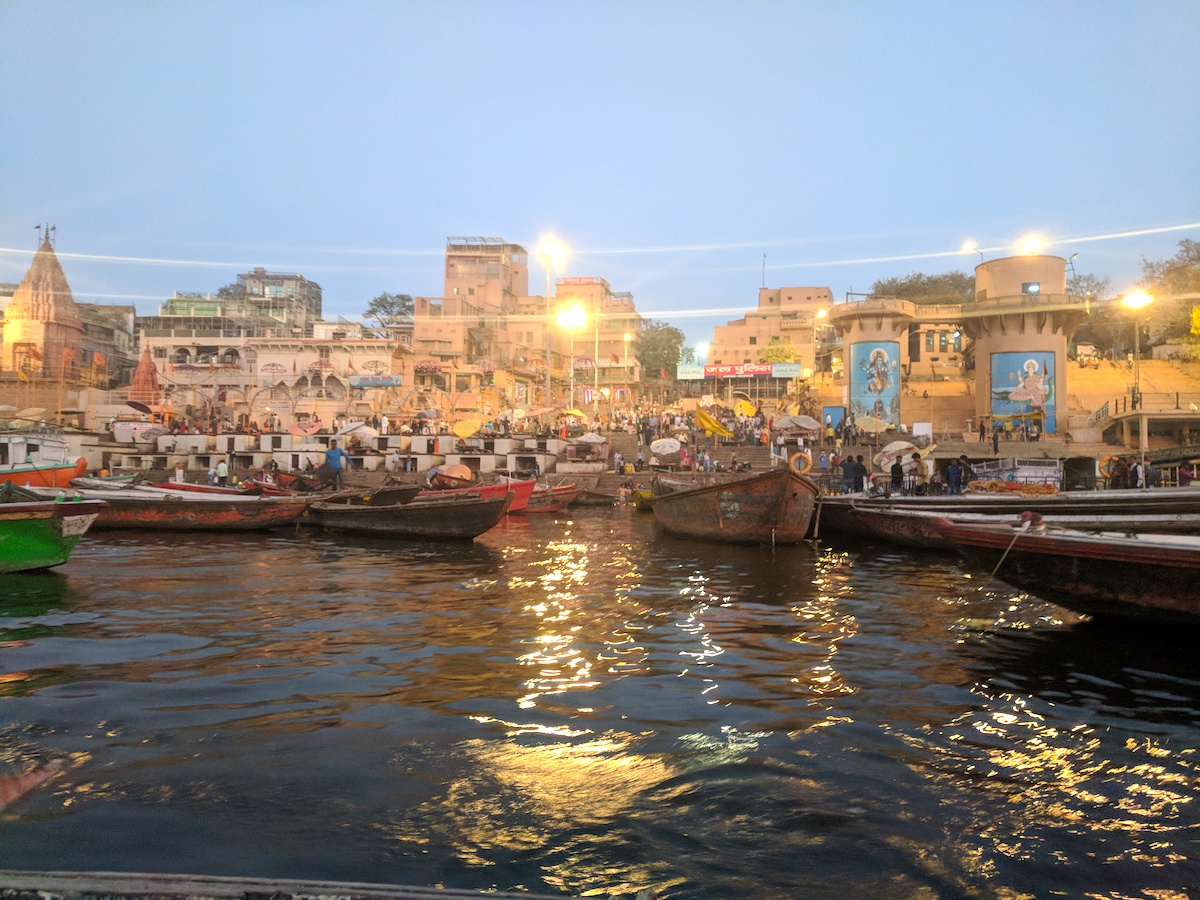 Afterwards, we headed back to the hotel for a quick breakfast and a short break before meeting the guide that would take us around the rest of the day.
The majority of the tour was made up of visits to different temples. All of the temples are still actively used and so were crowded with people who came to worship. We visited:
Banaras Hindu University and the New Vishwanath Temple: Banaras sits on a large area of land, almost like a small city unto itself. The streets were quieter here and the temple was not nearly as crowded as others.
Mother India temple/Bharat Mata Temple: This isn't a traditional temple but is home to a huge stone topographical relief map of India and the surrounding countries. The map is impressive in its detail but there isn't really anything else there.
Shree Durga Temple: This was the busiest temple we visited, apparently Fridays are days to worship goddesses and so it was more crowded than other days of the week.
Sankat Mochan Hanuman Temple: Like many temples in Varanasi, this temple had a metal detector outside and we were prohibited from bringing anything but our wallets inside (no phones).
Visiting so many temples makes sense in the holy city of India but it became difficult to appreciate the differences in each one and to keep them straight in my memory. The only non-temple stop was for a silk weaving demonstration that we tried to skip but the other guest on the tour was interested in. The guide assured us that it would be no problem if we didn't buy anything after we made clear that we had no intention to. We spent 5 minutes or so looking at some very interesting man-powered weaving machines, one using punch cards and one that took a two person team but created weaving that looked like paintings. The demonstration was interesting but was followed by the obligatory visit to the shop where saying we didn't want to buy anything did not save us from the show and guilt of them bringing our all the different things that might make us change our mind and buy something. In the end we accepted their business card instead and extricated ourselves successfully.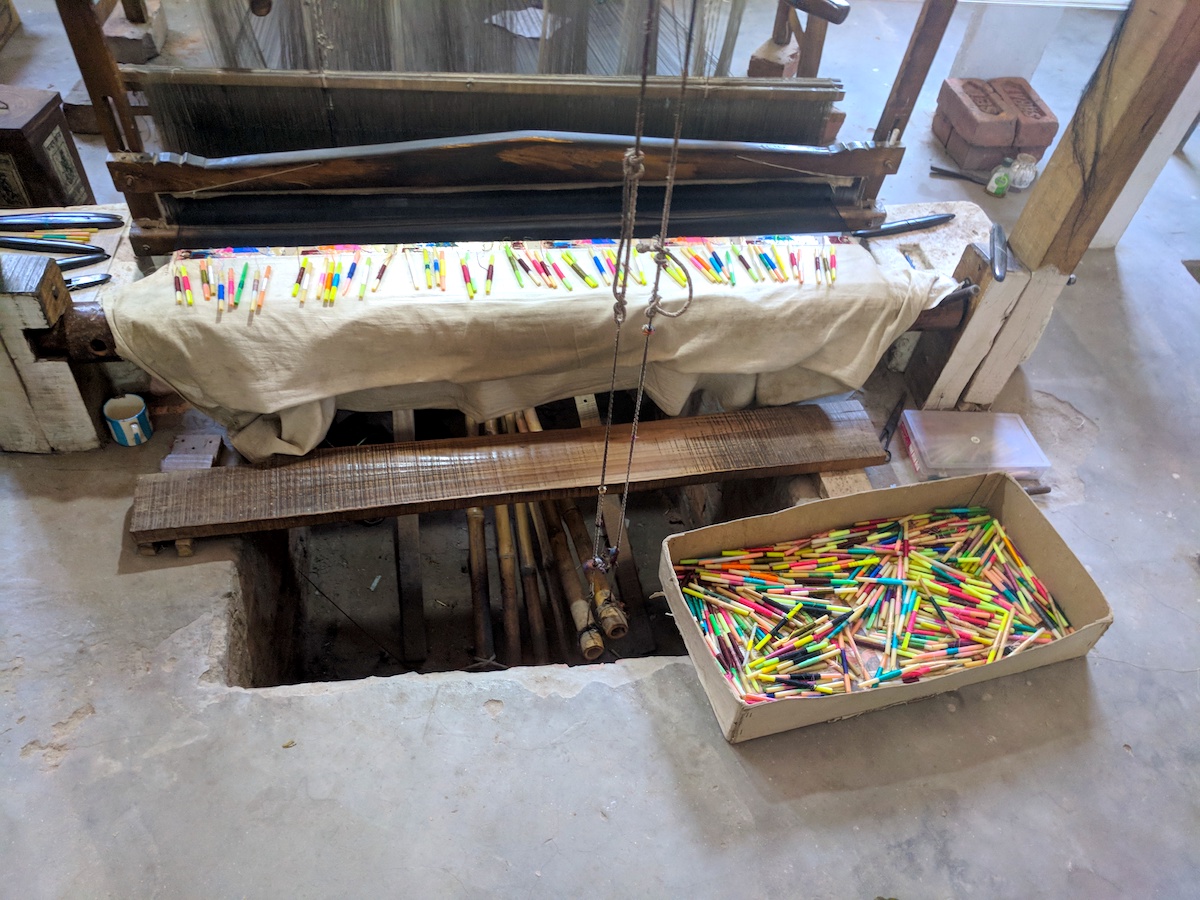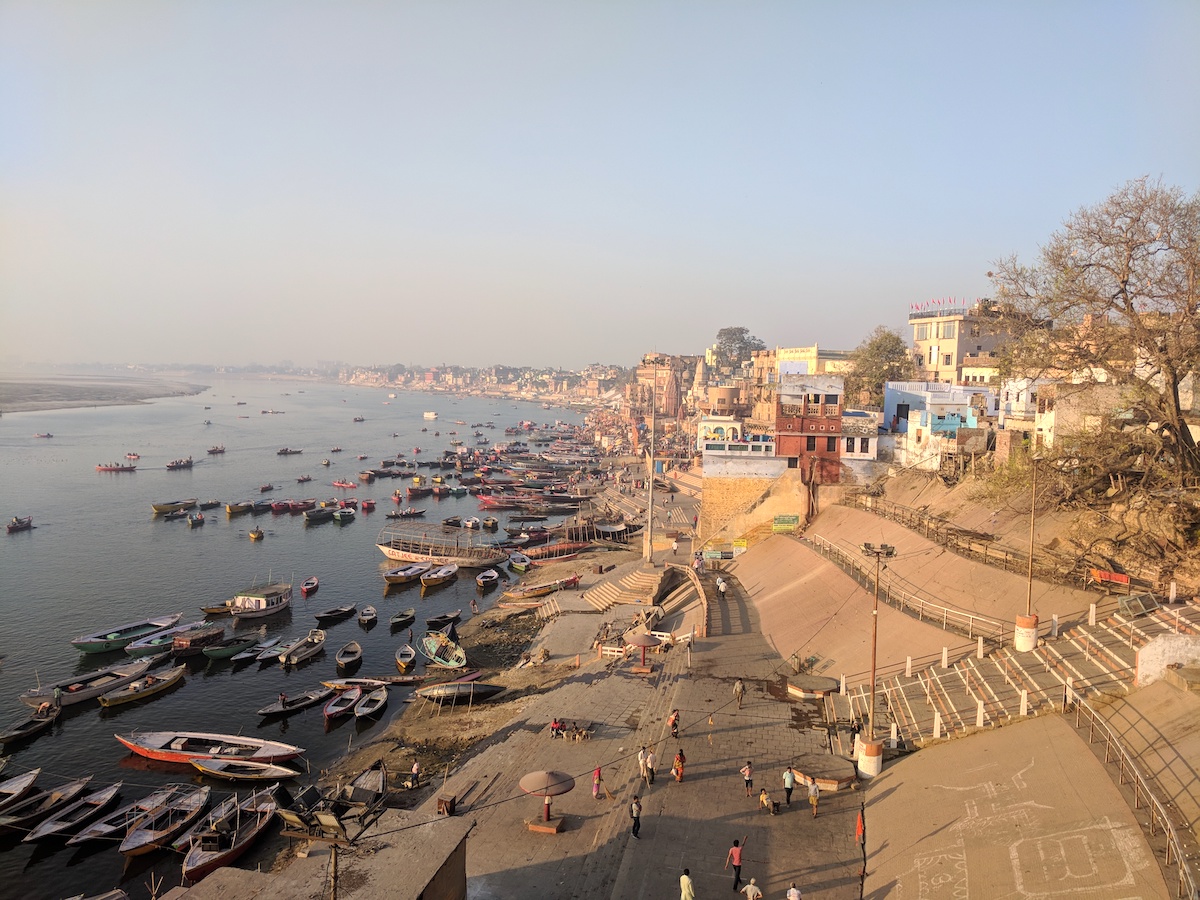 On the left the complex silk weaving machine we saw at the store we stopped at and on the right a view of the ghats from Hotel Alka.
Similar to our walking tour, the personality of the tour-guide overpowered many of the sites we visited. Our second guide was a staunchly pro-Modhi man that felt strongly that India was no longer poor and should be respected. The most memorable part was a conversation that got a little out of hand about cellphones. The Swedish man that was on the tour with us mentioned that he was considering getting a new cellphone while in India because he thought it would be cheaper than back home, maybe $50-$100 for a nice one. This clearly struck a nerve for the guide who passionately described how not only he but also his wife and daughter have phones that are $200, $300, or $400. That India is not a poor country and should not be seen as a beggar. Throughout the rest of the day he pointed out people on the street or at temples who were using very nice cellphones to indicate how developed India is now. While I can appreciate his point, India's middle class is growing, but in a country where 270 million people live below the poverty line and infrastructure is severely lacking even in the large cities we've visited, I think he may be overly optimistic.
After what felt like a very long tour, we ended up having a late lunch after the tour that we stretched out until time to leave for our train. Given the challenge of getting to the hotel, we decided to have the hotel help us get back to the train station as well. Unfortunately, this time it didn't go quite as smoothly. Just as before, we had someone walk us to the tuktuk but instead of taking us all the way to the train station, he just negotiated a ride for us and left but not before rejecting the first tip Nate offered and demanding a higher tip. He did at least let us know that he had specifically negotiated for the driver to take right up to the railway station. This became important when the driver tried to drop us off across a major street that was blocked by construction and have us cross the construction zone with our bags to get to the train station. The driver insisted we were being ridiculous because we just had to cross one street (through a metal barricade, over the ditch, dodge the beams we might hit our heads on, and then cross traffic on the other side) but after saying he could either accept half the fare or take us all the way to the destination we agreed on, he was disgruntled but lamented.
All that was left was to find our next train and cross our fingers that it wouldn't be 9 hours late.
How We Did with Our Budget
For our time in Varanasi, we had budgeted as much as 45 USD a night for accommodations. We ended up spending 60 USD per night for our room at Hotel Alka, choosing to spend the extra to be right on the Ganges since that's the main attraction of the area, and which made our stay much nicer than it would have been otherwise. With just two nights here, we were able to balance out that cost with other, cheaper bookings elsewhere in India pretty easily.
We had also budgeted 10 USD per day per person for food and 10 USD per day per person for entertainment. Out of that planned 40 USD total, we ended up spending 36 USD per day on average, including our full-day tour through Hotel Alka (32 USD). We ended up averaging 2.5 USD per meal per person, while getting to try a wonderful number of dishes through the Thali option at the different places we went.
---