17 Apr 2018
Beijing: Rain, Sun, and Smog

Beijing was our only stop in mainland China, and was included in our around the world air ticket mostly because we wanted to visit one of Amy's friends and because so many flights around Asia connect through it. We got really lucky with both the weather (great except for one day of rain) and the air pollution (only somewhat unhealthy) so got to spend a lot of time outdoors and in parks around Beijing. We also got lucky in getting to spend so much time socializing and seeing what life is like as a foreign student studying in Beijing, which was a great break from the tourism taking up most of our days.
Before arriving we had been mentally preparing for our time in Beijing to be similar to what we experienced in India but ultimately that wasn't the case at all. While it was definitely crowded in Beijing but it didn't have the feel of chaos or aggression we felt in crowds in India. The subway system was super easy to use, and we never felt uncomfortable walking around, even when picking our way through unfamiliar hutongs. The language barrier from us not knowing any Chinese was definitely real, but in general people were happy to try to help us with as much pointing and gesturing as we could muster, and no one seemed to be annoyed to be dealing with us.
We stayed in central Beijing, at the Siheju Courtyard Hotel in the Xisi Hutong. We booked a cool-looking Sunshine Room which had a glass ceiling and all-glass front with a balcony, but which ended up being unsatisfying due to the need to keep our drapes shut since the balcony was used to hang laundry constantly, and by the awful unrelenting smell emanating from the bathroom drains. The included breakfast was pretty weak as well, and very inconsistent, to the point where we ended up skipping it completely for our final two mornings.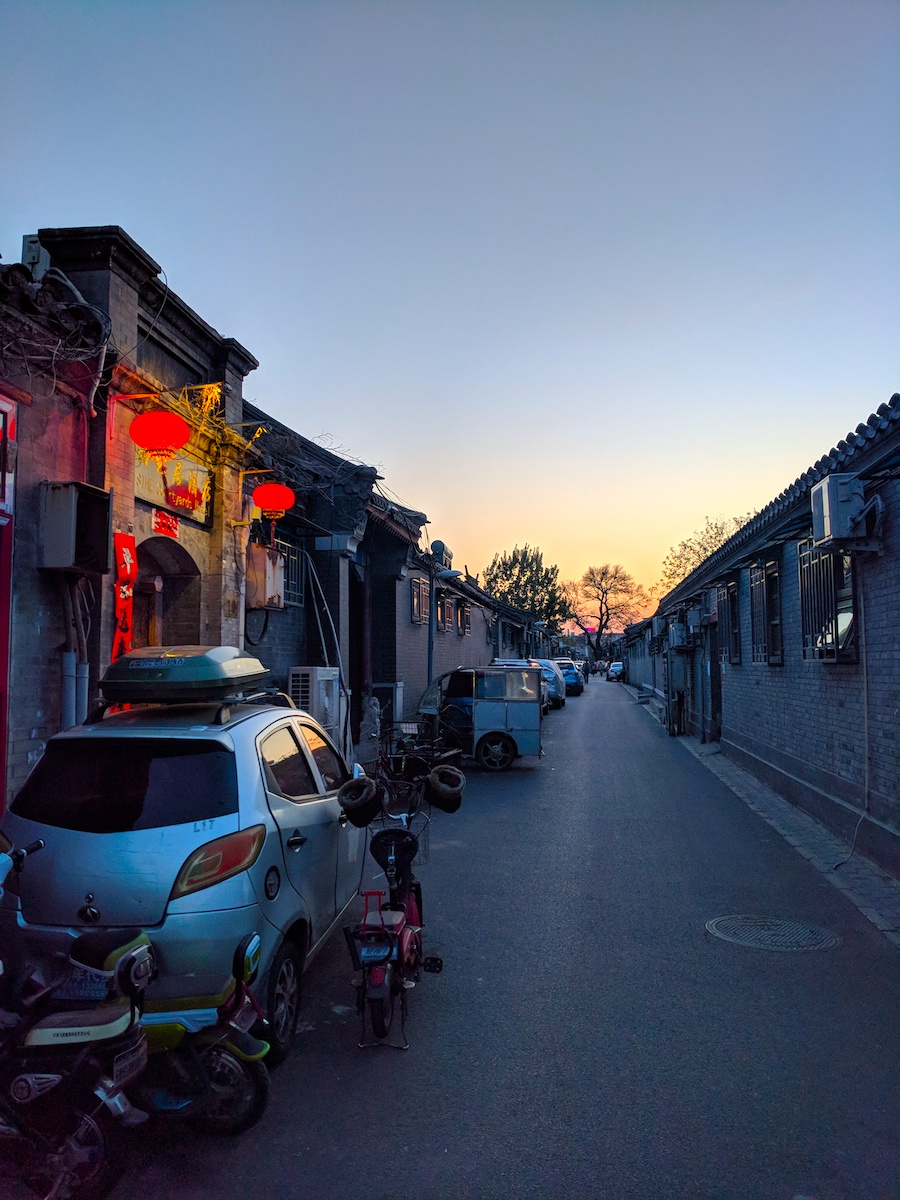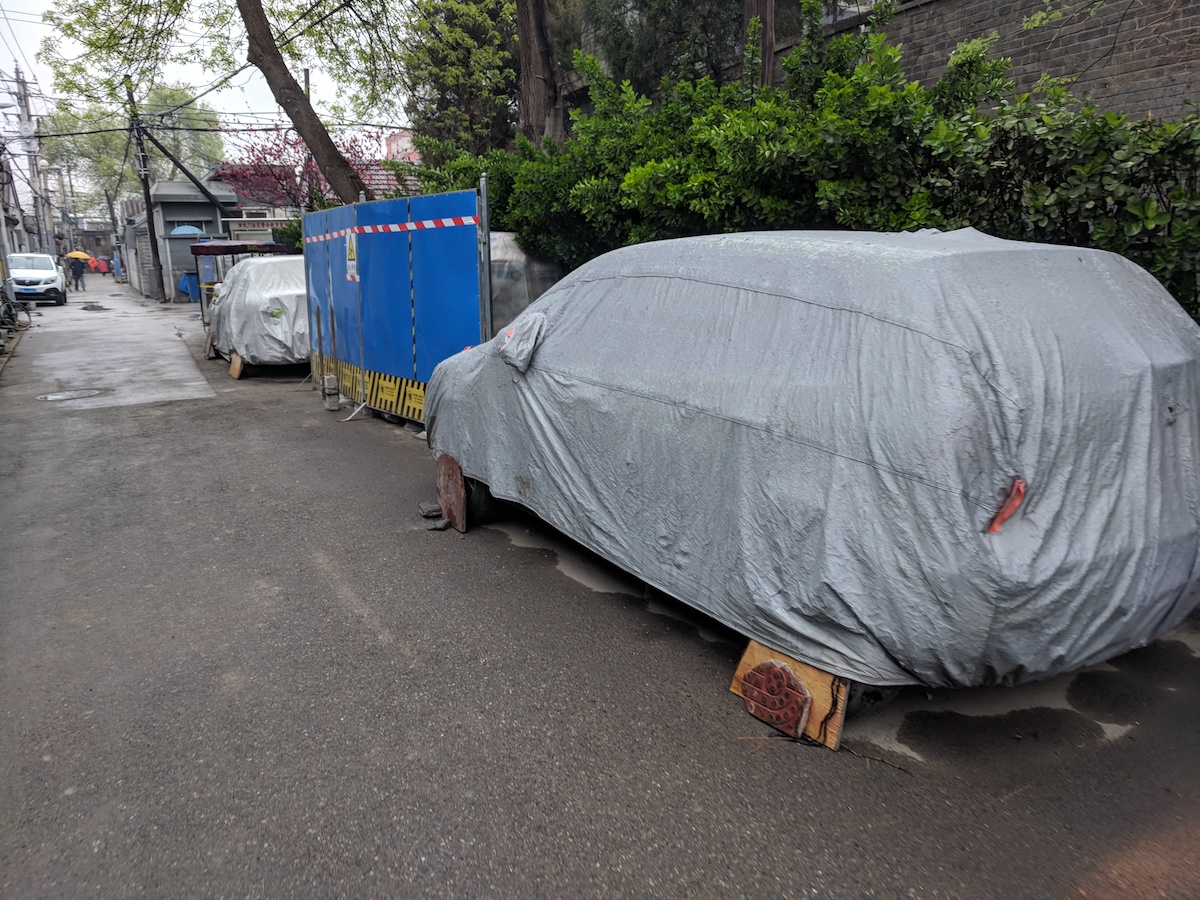 Left: The alley our hotel was on, at sunset. Right: Typical wheel coverings in narrow hutong streets to prevent scuffs.
What We Did in Beijing
Day 1: Our flight from Tokyo to Beijing was delayed by two hours because the baggage sorting system at Narita airport was apparently broken, so we arrived into Beijing very late in the evening. We made it through the longest immigration line we've had to endure on our trip, and then used a taxi to get to our hotel in Beijing central. After being a bit worried about having to take a taxi instead of the subway due to the late arrival, we had no issues getting to the right place and no problems with the driver attempting to overcharge us in any way, so score one for Beijing over a lot of other places!
Day 2: We were pretty tired, but got up in time to have breakfast during our hotel's 40-minute window for the included breakfast… and then rested a bit more before heading out into the city. Our first destination was Beihai Park, just a short walk away. We didn't have many expectations going in, but it turned out to be a really lovely park circling a small lake, with an island in the middle you could take a cheap ferry to in order to visit the temple built atop it. We made a full circuit around the park, climbed to the peak on the island, and then were pretty ready for lunch.
We were in serious need of a nap, so we got some food at Qing-Feng Steamed Buns, a cheap and ubiquitous chain throughout Beijing. We lucked out that they had an English menu for us to order off of, but after ordering we realized that everyone else there had gotten soup, while we got various steamed buns. So, we may have missed the mark with our order. Oh well! We also stopped at a bakery a couple doors down to stock up on snacks for when we got hungry out adventuring.
In the evening, with a bit more energy, we went out for another walk and went to the Shichaihai area, just north of the park we'd been at earlier in the day. It took us a bit to find the promised restaurants and bars, all of which are on the east side of the lake, and once we got there we were a bit overwhelmed both by how crowded everything was and how little english there was. We wandered through the area a bit before deciding to press on and go to Mr. Shi's Dumplings, a restaurant that a lot of other travelers have recommended. We found it in Doujiao Hutong after walking past it once without noticing it, and had some good food, including a fried banana and chocolate dumpling that was very different than everything else we had in Beijing. It was unfortunately a bit more expensive than we were expecting, and we ended up spending nearly 30 USD on dinner for the two of us, after spending just 6 USD total on lunch.
Day 3: While we've had really good luck on weather generally, both on our entire trip and in Beijing itself, this was the exception and it rained hard all day. After spending part of the morning hoping it would stop and working on some projects, we headed out into it to go to Siji Minfu Restaurant for lunch, which specializes in the famous smoked Peking Duck and is a big favorite among locals and domestic tourists. The restaurant was huge, with probably 80 tables, and we only avoided a wait because we arrived before noon. We ordered only half a duck, since it was just the two of us, and enjoyed watching the servers carve up full ducks beside tables around us. I enjoyed the meal, but to be honest it didn't hold a candle to the duck soup I had nearly every day in Koh Tao.
After lunch we walked through the rain to Jingshan Park, which is just north of the Forbidden City and has a nice view down upon it from its hilltop temple. The rainy weather was definitely not the best way to visit, but it did mean the park wasn't as jam-packed with people as it normally is, and it was nice to get some more fresh air.
For dinner, as the rain continued, we stuck near our hotel and ended up at 肉夹馍, a soup and noodles place just a few minutes away. They spoke zero English and didn't have a translated menu, but they were happy to let me point at some of their hanging photos to order and everything was great. I particularly liked their small meat sandwiches, which most customers got as an accompaniment to their main meal, and which were a little addictive. Not sure what kind of meat it is, nor what exactly was in our soup, but who needs little details like those!
Day 4: We got ourselves together early and headed out toward Tianamen Square and then into the Forbidden City, which is now a museum. We spent a little over two hours wandering through courtyards and visiting the smaller buildings off to the side of the main palaces, since they were a lot less crowded and included a few exhibits. The main palaces were just packed with people, to the point where if you wanted to get closer then 5-6 people deep to see what was inside you had to shove your way through the crowd. I think it's a must-visit while you're in Beijing, but ultimately wasn't that interesting since a lot of the spaces are just pretty and empty.
After finishing our route through the Forbidden City we walked up to the Dongsi Hutong and had lunch at Crescent Moon Uighur Restaurant, a well-reviewed places serving up the meat skewers and other specialities of China's muslim minority. I really liked their lamb and mutton skewers, while Amy wasn't really a fan, and the noodles we had were pretty mediocre. The one dish we both agreed was great was their broccoli, which was served in a steaming pool of rich golden stock that really added a lot of flavor to the greens.
We then walked up to the Dongzhimen Transit Hub to see what we could find out about the tourist bus to Huanghuacheng Great Wall and… completely failed. I had found numerous blogs talking about taking this bus, but it is not mentioned on any of the signage in the bus terminal and no one who spoke any English was around for us to ask more about it. It turns out that it may be available at a different bus station–Xuanwumen but we gave up after this attempt at finding it.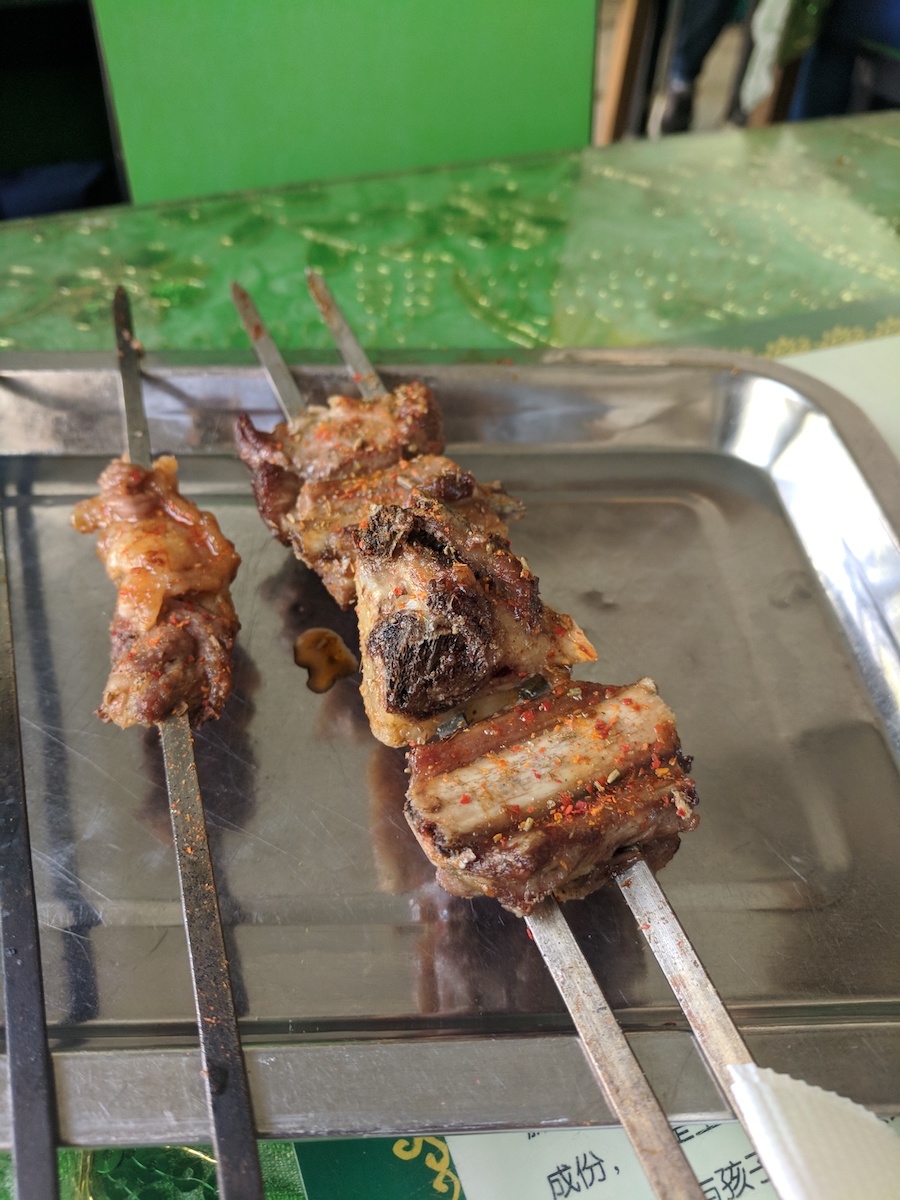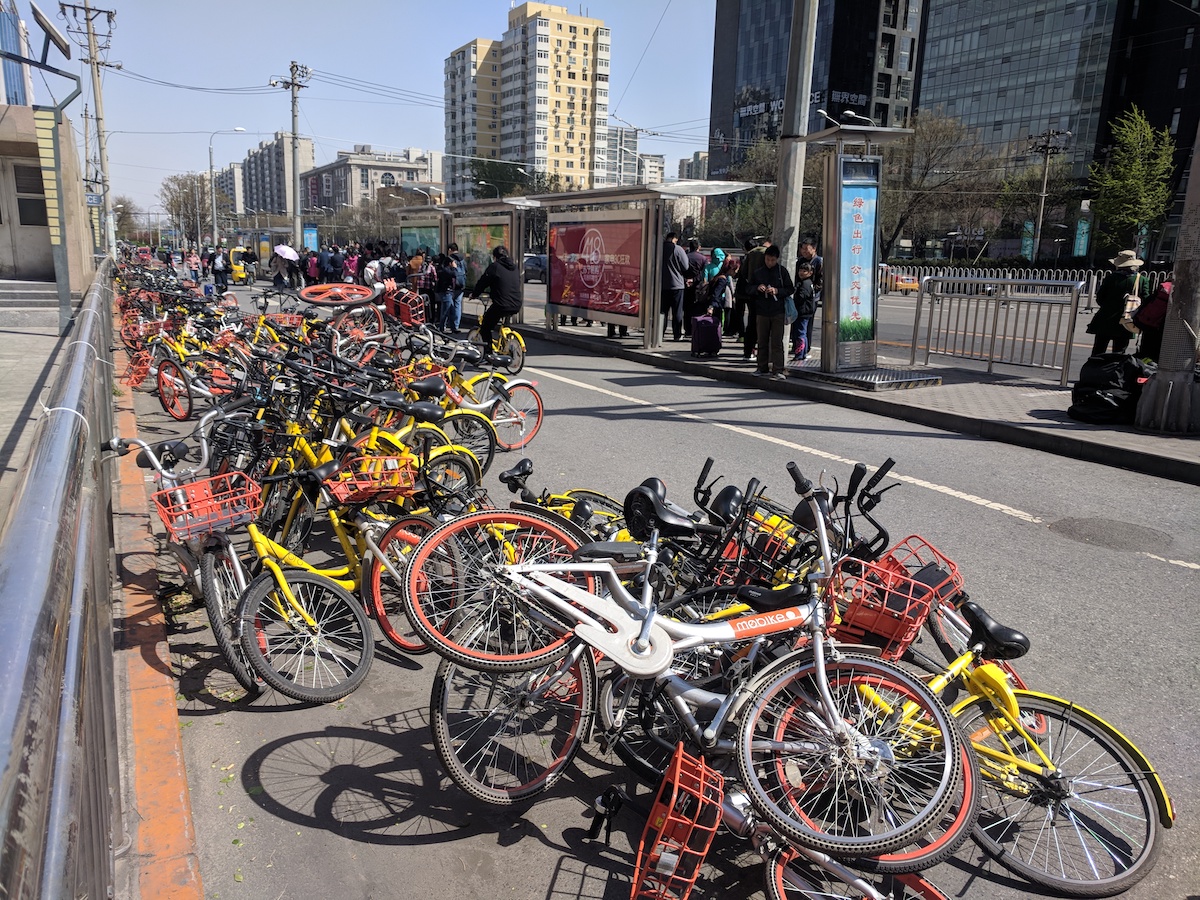 Left: Skewers at Crescent Moon. Right: One of the ubiquitous jumbles of bikeshare bikes scattered around Beijing.
For Saturday afternoon and evening we had the special treat of joining Ellie, one of Amy's good friends starting from all the way back in middle school, and her boyfriend who are attending a Masters program in Beijing this year. We met up at Peiping Machine Brewery in Jiaodaokou Hutong, which is pretty much as good a beer bar as you could find back home in DC, with 20+ varieties on tap and the ability to get flights to taste a bunch of different ones. After spending a couple hours there catching up we walked to Dali Courtyard, a fancier restaurant really popular with foreign tourists serving up an ever-changing set menu of dishes from the Yunnan region of China. We had a great meal, though the total lack of information about the dishes (servers would just put them down and walk away worldlessly) was a bit of a let down. After dinner we walked another couple of blocks to The Other Place, an apparently-new and definitely-weird bar that some friends of Ellie's from her school program had found. It was full of cats, you had to use a blacklight flashlight to see the prices on the menu, and it seemed like our group may have been their first real customers ever… Luckily we still had plenty to chat about, but we wouldn't recommend heading there. A much later night than we're used to when its just us, and grateful for all the socializing we normally miss out on, we got home around midnight and went straight to bed.
Day 5: The next morning we had another lame breakfast at our hotel and then went up to Ellie's campus where she treated us to a second breakfast in their dining hall, which was a really nice luxury. After spending a bit more time catching up, Amy and I walked over to the Summer Palace, one of the top tourist destinations in Beijing. It was absolutely beautiful out, and since it was a Sunday it wasn't just tourists filling the grounds. Even though it is a really large park it was completely overrun and not the most relaxing, so we walked around enough to get a sense of the place and then headed back toward our hotel.
For dinner we made a return trip to 肉夹馍, the neighborhood soup/sandwich place, and had another lovely (and cheap!) meal.
Day 6: Since we had failed at figuring out a reasonable way to get to/from the Huanghuacheng section of the Great Wall, we decided to just head to the easy and tourist-packed Badaling section. We got up early and took the subway out to Huoying and then made the short walk over to Huangtudian Station where all trains to Badaling now depart from. We were lucky and hit our subway connection perfectly and ended up walking straight on to the 8:04am train, when we'd been expecting to have to wait for the 8:43am train. At just over 1 USD per ticket, taking the train instead of a bus to this section is a really nice, relaxing way to do it, even though it takes about the same amount of time overall.
We arrived to the Great Wall by 9:30am, bought our pedestrian tickets (choosing to forgo the cable car, funicular, and chairlift options) and started our climb. The entrance at Badaling is in the middle of a well-restored section of wall, and we decided to go south from the entrance since we had read it was typically less crowded in that direction as the most popular cable car goes northward. While it was still quite crowded at first, once we got past the first couple of guard towers and the stairs got even steeper for a bit the crowd thinned out a lot and we enjoyed our time climbing up and down the rolling pathway atop the wall. We walked all the way to South Tower 6, the furthest you're allowed to go in this section, and then backtracked to the entrance. From there we could have gone on a full loop of the northern towers too, but after 10 minutes of walking that direction gave up since it was basically just a slow-moving line of people we couldn't make ourselves tolerate.
The food options at Badaling aren't amazing, but there is both a KFC and Qing-Feng, so you're covered for fast food whether you want to eat western or Chinese. We walked back to the train station and waited in a line that ended up wrapping around the station for the next train back to Beijing, getting back into the city around 3pm.
Since it was on the way to our hotel anyway, we got off at Ellie's university and joined them for dinner and a last chance to catch up before heading onward on our trip. It was really great to get to see Ellie and spend so much time chatting with someone besides ourselves–a rare treat!
Day 7: With yet-another early-morning alarm, we finished packing up and headed to the subway. We connected to the Airport Express line, which at 4 USD and only 20 minutes is definitely the best way to get out to the airport. We ended up arriving 2.5 hours before our flight because all the transit worked out perfectly, so we had some time to wander around the airport figuring out what we could get out of vending machines to spend our last remaining Chinese yuan on (Skittles and Fanta at 10am? Yes please!). We also had the nice and unexplained surprise of Cathay Pacific upgrading us to Premium Economy for our four-hour flight to Hong Kong, which was our first upgrade in over 7 months of traveling around.
How We Did with Our Budget in Beijing
For our time in Beijing, we had budgeted as much as 65 USD a night for accommodations. We ended up spending 72 USD per night for our disappointing hotel room at the Siheju Courtyard Hotel, though we didn't want to stretch our budget any higher so it may have been the best we could afford.
We had also budgeted 15 USD per day per person for food and 15 USD per day per person for entertainment. Out of that planned 60 USD total, we ended up spending 56 USD per day on average, including 26 USD total for 15 separate trips on the subway and the 100 USD total we spent on our great evening out with Ellie and friends on Day 4. Overall, we ended up spending 6 USD more than we had budgeted for our full visit to China, or less than one percent!
---