20 Apr 2018
Hong Kong: 48 Hours to Explore

Originally we had planned to spend longer in Hong Kong but after finding no reasonable Airbnbs and most hotel prices well outside our price range we decided to cut back to just 48 hours.
Hong Kong also felt the most like New York of anywhere we've been so far. It has the skyscrapers and the grittiness that makes New York feel like a challenge, and it even has its own SoHo. I won't hold its New York-ness against it though (those of you who know me well know I have good reason not to be fan NYC fan). Plus, there is dim sum and I love dim sum.
The biggest take-away from our time in Hong Kong is just how much they appreciate the value of real estate: everything is tall. There are skyscrapers in every bit of land solid enough to hold them, the buses and trams are almost all double-deckers, and even the historic ferries have multiple decks they can load/unload simultaneously. It's a bit overwhelming at first, but also seems to work better than a lot of American cities because of how good the public transportation is. We didn't enjoy Hong Kong as much as some other cities we've found to be more unique, but it is definitely a city to experience.
What We Did in Hong Kong
Day 1: We arrived in Hong Kong in the afternoon and with so little time we decided to head straight out to explore Kowloon. We headed north from the Travelodge where we were staying toward the Ladies Market and Flower Market. The Ladies Market was really just a street full of small vendors selling everything from women's clothes, bags, and tourist souvenirs. You might be able to get some good prices on all sorts of goodies but since we weren't actually interested in shopping, we liked the Flower Market more. Most of the shops seemed perfectly happy to have people just walk around and look at the beautiful selection of flowers. Seeing all the pretty flowers did make me wish we stayed anywhere long enough to make it worth getting a bouquet but then again, I would feel a little silly decorating our tiny hotel room.
After wandering the streets of Kowloon for a couple of hours we were ready for our late lunch/early dinner and headed to Dim Dim Sum. We didn't know much about it going in but we were very pleasantly surprised. It turned out that this would be our favorite dim sum of our time in Hong Kong, even topping the very popular Tim Ho Wan with its Michelin Star. We tried the pork buns, soup dumplings with black truffle, wontons, and Crystal vegetable dumplings. The pork buns were light and fluffy with a sweet meaty middle and the wontons were the crispiest I have ever had. I don't actually now how they managed it.
From there, we took a brief break back at the hotel to do laundry (back to hand washing for a while ☹️ ). Then for dinner Nate was already missing ramen and so we headed to Ippudo Ramen. I can't say enough that this has become Nate's favorite food. If the daily ramen we had in Japan wasn't enough, this sealed it.
After dinner we walked down to the waterfront to catch the Symphony of Lights, a light show set to music across the buildings along the waterfront. I had convinced Nate we should go see it, especially since we didn't have anything more than some Netflix shows waiting for us back at the hotel, but it was pretty underwhelming. We got there a minute into the 10-minute show and so we were standing behind all the other people who were already lined up to watch and while having the lights rigged up on all the skyscrapers is impressive, you basically see the full potential of the show after the first 30 seconds of watching. If you happen to be around when it happens, take a look but if not don't go out of your way to get there. Our last stop was going to the Avenue of Stars similar to the Walk of Fame in Hollywood. Unfortunately, it was closed off for renovations. The signs said the renovations were supposed to finish in March but they showed no signs of finishing any time soon.
Day 2 We got an early start because our hotel didn't include breakfast this time. So, we headed to The Flying Pan, an American-style diner for a big breakfast. In the end, the food was a little disappointing for the price but we were full and ready to do a self-guided walking tour I'd found of the Central area of Hong Kong.
We started at Western Market which was built in 1906 but now houses some interesting shops and a couple of restaurants. Then made our way down Bird Nest Street and Wing Lok Street looking at all of the Chinese medicinal herbs, varieties of dried seafood, and assorted other goodies we couldn't identify. Then we looped up to the Man Mo Temple and the park at Possession Point, where the British first raised their flag in 1841. The Man Mo Temple is to the Taoist gods of literature and war but the smell of incense was too overwhelming for us to go inside and investigate further.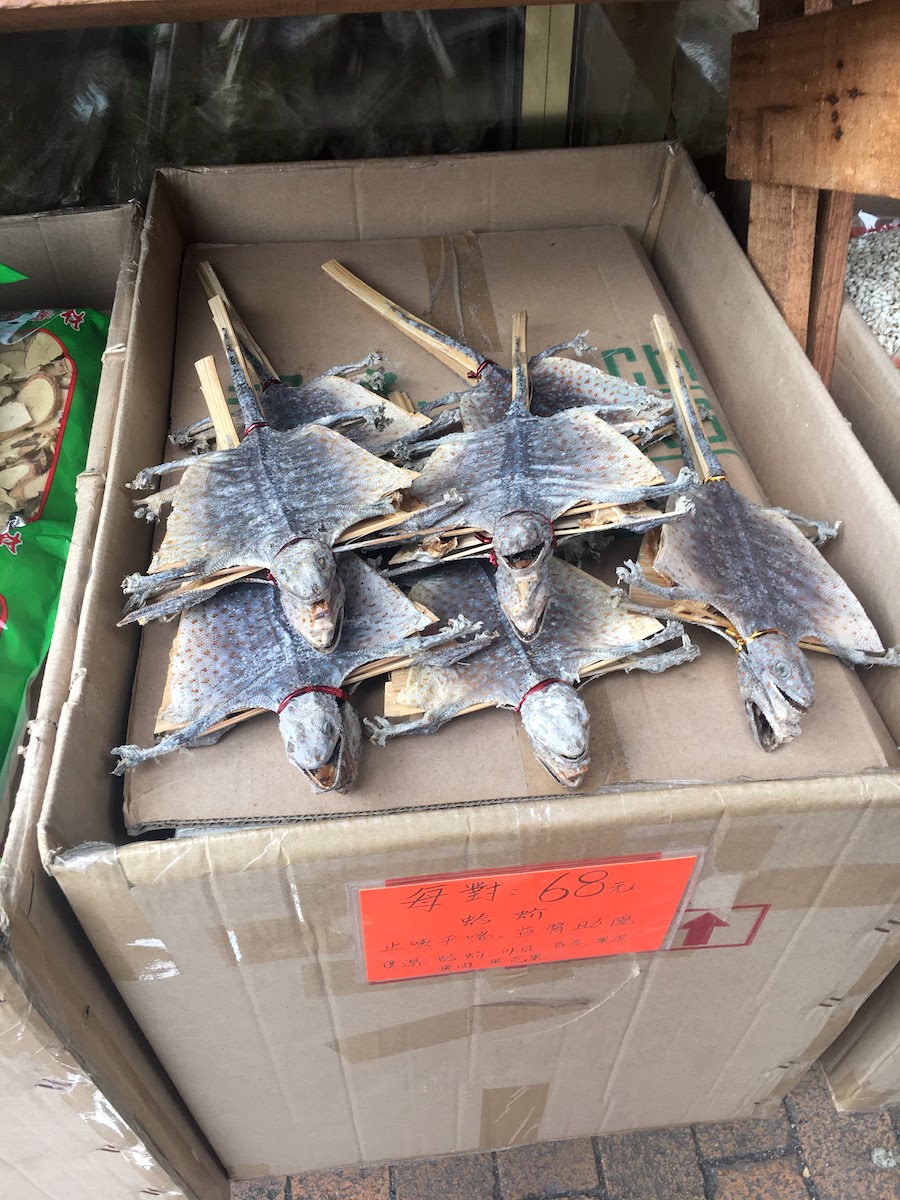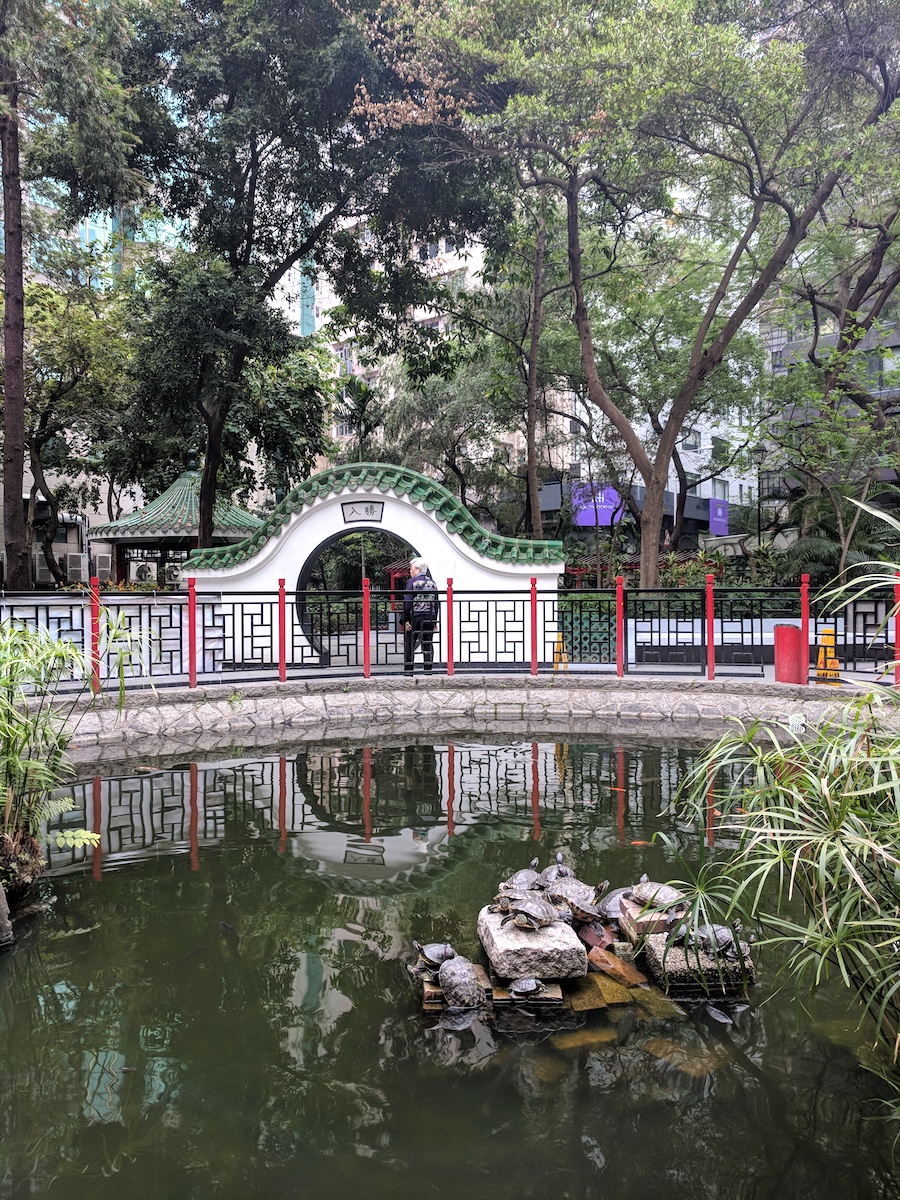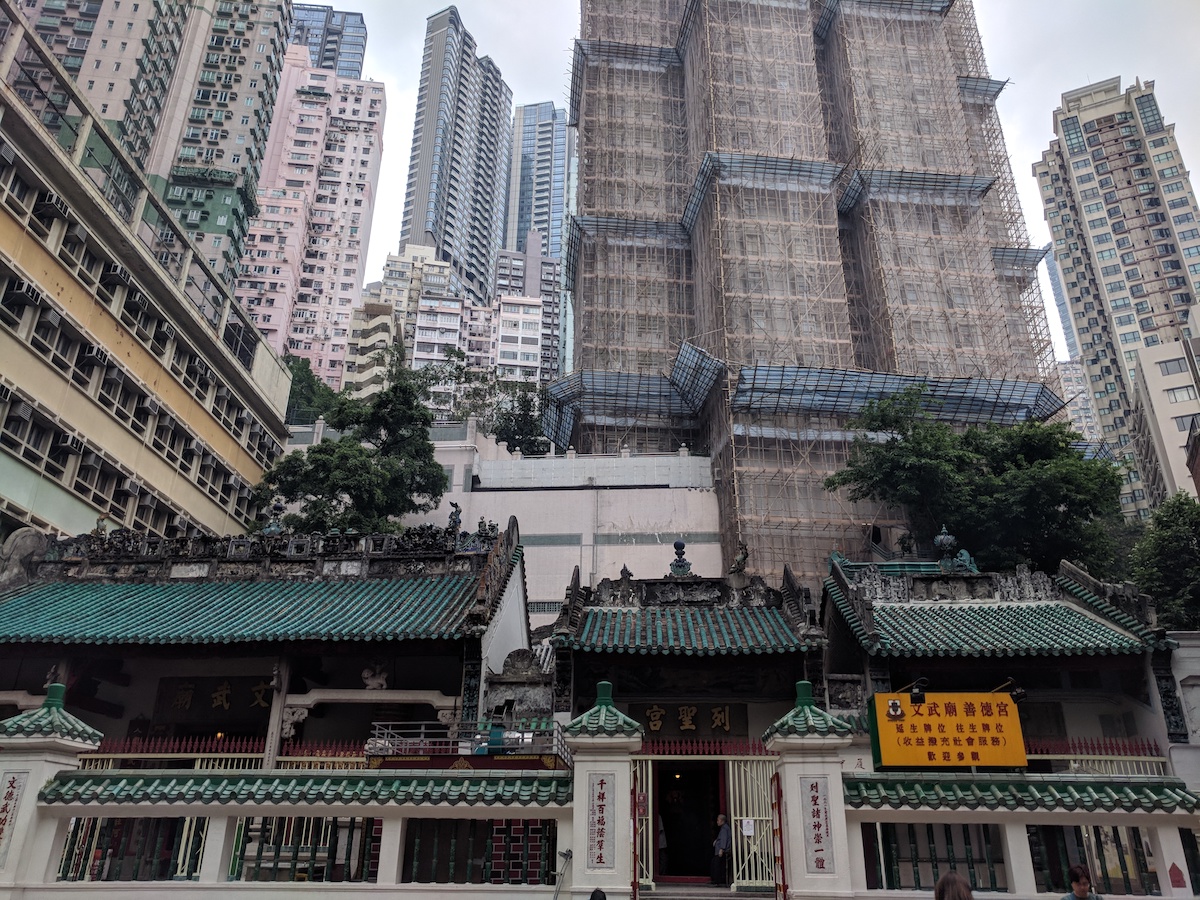 An unidentified dried creature on Wing Lok Street, a turtle pond at Possession Point, and the Man Mo Temple.
Then it was time to head up the escalators! Hong Kong has the world's longest covered outdoor escalator system at 800 meters long, granted I don't think there is very steep competition for this title. We didn't take it all the way to its end but detoured off to check out the Botanical Garden and Zoo. We got to watch some very active monkeys chasing each other around their enclosures and walk through a large aviary all for free.
From there we went to queue up for lunch outside of Kau Kee a bustling restaurant specializing in beef brisket noodle soup. The line moved quickly as the frenetic pace inside kept customers coming and going quickly filling their bellies with a hearty lunch before moving on. We had seen recommendations for this place and despite the wait, lunch was good and quite affordable for Hong Kong standards at 50 HKD per person or about 12.75 USD for both of us to have lunch.
We spent the rest of the afternoon back in Kowloon, first eating an egg waffle from a small shop and then heading to dinner at Tim Ho Wan. We were worried about a long wait, so we got there early and got seated straight away. Their pork buns were delicious with a very different style than others we've had they had a slightly crunchy, cornbread like shell. The other dishes we tried were not as good though. The spareribs we tried were so bad and difficult to eat that we didn't even finish them.
Day 3: We got another early start, this time we just had pastries from the nearby bakery.
We had lunch at Dim Dim Sum again because we liked it so much. From there we headed to the pier to catch the Star Ferry across to Central to catch a bus up to Victoria Peak. We opted for the bus instead of the more popular tram because the wait times for the tram were ridiculously long and the bus is quite a bit cheaper. The bus is quite an adventure though. Most of the buses and trams in Hong Kong are double deckers but it doesn't keep the drivers from speeding around curves and through traffic. At a couple of points, I thought I was going to end up sliding off my seat and into the aisle as our driver took a turn that felt like it might have toppled bus completely.
Once you get to the peak, there is plenty of opportunities for shopping and even a Madame Tussauds. We skipped all that to walk around the Peak Walk. The path is easy to walk, paved, and shady. There are a couple of sections with great views over the city. It was a good way to enjoy the beautiful weather and stretch our legs before our very long flight.
We had planned to go to SoHo after visiting the peak but on the bus ride back we ended up having to stand and I had to stand backwards, so I ended up horribly carsick. So, we head back to Kowloon to sit in the sun and for a short walk in the park instead so that I didn't have to face walking through the hills and crowds of Central any longer.
Finally, we picked up our bags from the hotel and hopped on the bus back to the airport. With only a short visit to Hong Kong, we'd covered a lot of ground and tired ourselves our to sleep well on our overnight flight to Jordan.
How We Did with Our Budget
For our time in Hong Kong, we had budgeted as much as 90 USD a night for accommodations. We had a lot of trouble finding a well-located place for that amount but after reducing our dates we ended up spending 84 USD per night for our room at the Travelodge Kowloon, which was perfectly fine.
We had also budgeted 15 USD per day per person for food and 15 USD per day per person for entertainment. Out of that planned 60 USD total, we ended up spending 59 USD per day on average, including our subway cards (27 USD to more than cover us both for three days) and our roundtrip bus from the airport (14 USD total). Overall, we ended up spending 15 USD less than budgeted for our 3-day stopover in Hong Kong, which is a lot better than we feared when we started looking at hotel prices.
---