12 Apr 2018
Hiroshima: Past and Present
Once Japan was included in our itinerary, we knew we wanted to stop in Hiroshima in addition to visiting some of the other big Japanese cities. As the first place an atomic bomb was dropped on an enemy, it has vital history engrained in it. We only stayed one night, mainly to visit Peace Park and the museum documenting the destruction of the bomb and its aftermath, but ended up really enjoying walking around Hiroshima and filling ourselves with more ramen.
What We Did in Hiroshima
Day 1: We used our Japan Rail Pass to take the Shinkansen bullet train from Osaka to Hiroshima, arriving around noon after a leisurely start to our morning. The speed and convenience of the Shinkansen once again really made us wish the US had a better rail system. We had eaten on the train, so we made the short walk to our hotel, dropped off our bags, and immediately set out toward the epicenter of the atomic bombing in 1945.
The Peace Park, oddly, was one of the more boisterous tourist stops we've been to on our trip. It was still around lunchtime, so there were local office workers enjoying bento boxes on the benches scattered throughout, and plenty of school groups getting guided tours of the park. The most interesting outdoor piece is definitely the Atomic Dome–a hollowed-out building which survived better than most because it was so close to directly under the bomb blast. We took our time meandering through the park, and then entered the museum itself. Unfortunately the main building is currently closed for major renovations, but most of the content seems to have been squeezed into an ancillary building so you can still learn plenty, just in a very small space. This may have been the museum on our trip that I've found the most interesting: it covers American documentation leading up to the bombing, accounts from survivors of what that day was like, lots of information on the after-effects of the fires and radiation, as well as some up-to-date displays about non-proliferation efforts worldwide.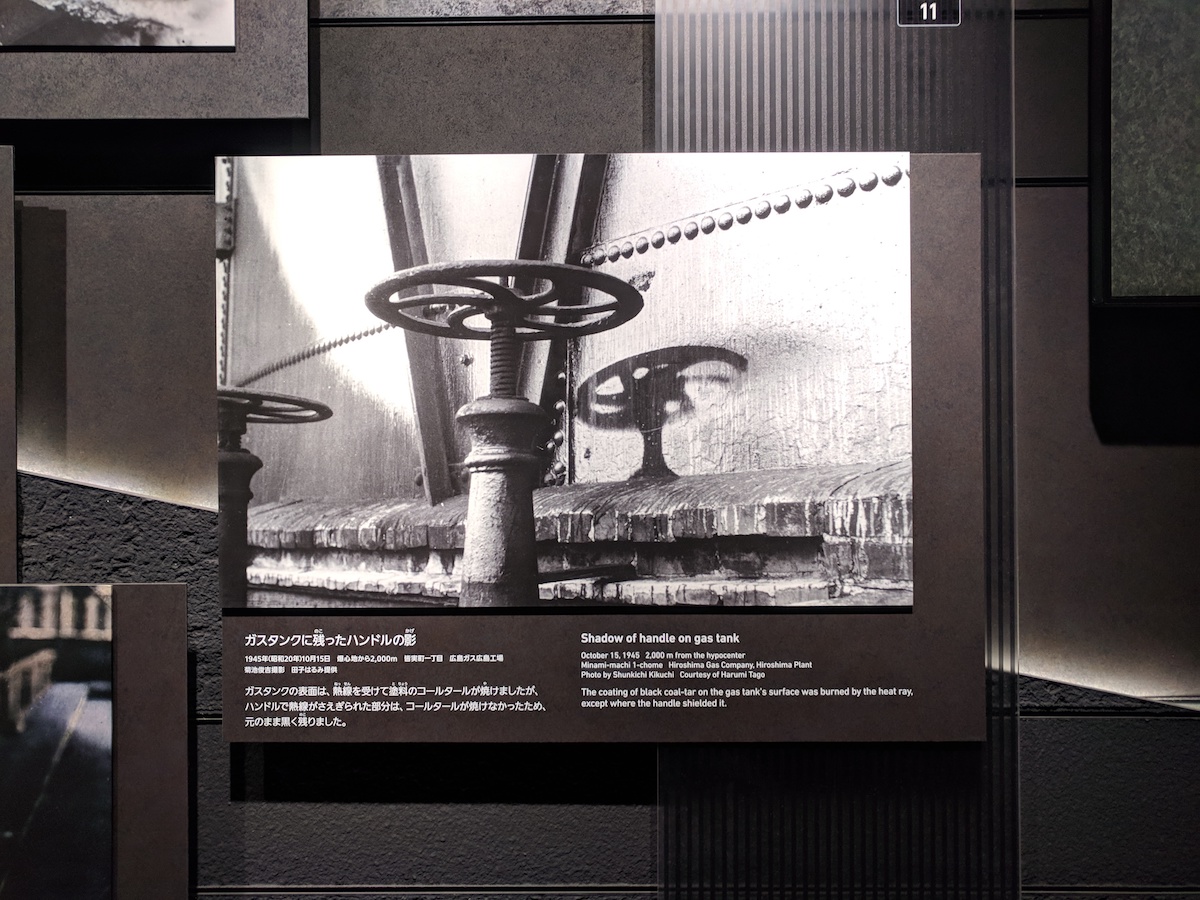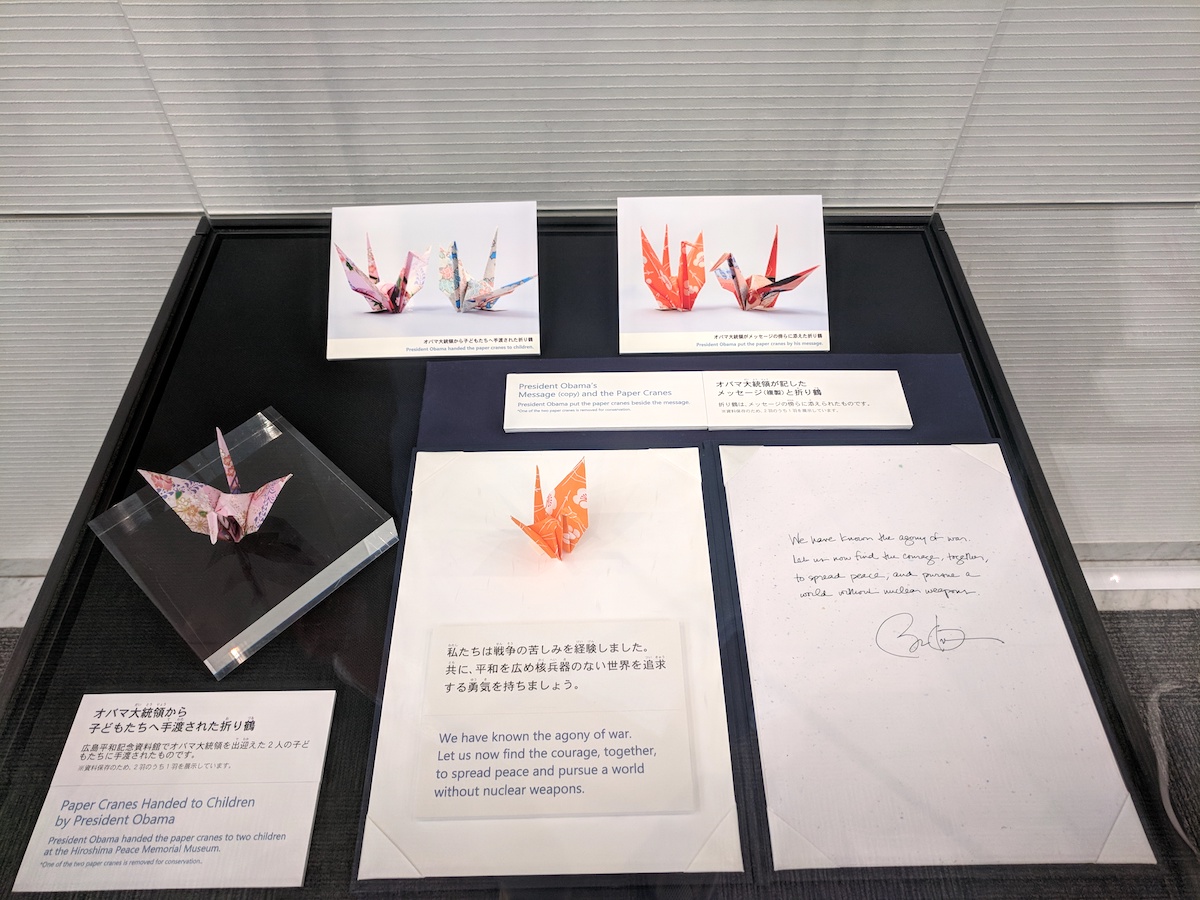 Left: The visible "shadow" of a valve that blocked the wave of fire from burning off parts of the wall. Right: Paper cranes folded by President Obama during a 2015 visit.
After studying every exhibit at the museum, we headed back to our hotel so we could check-in and get settled. For dinner, we ventured out to Hondori, a covered- and pedestrian-only street full of shops and restaurants. We ended up at Ippudo Ramen, which ended up having my favorite broth of any of the ramen we ate in Japan. While they had a menu of photos for foreigners to point at, the crowd seemed to be mostly locals enjoying a quick dinner before heading home after work.
Day 2: After a good night's sleep we had a tasty breakfast at the hotel (though not filling enough to prevent us from stopping at a nearby bakery later to fully fill up!). Then, I headed across the street to try to get my hair cut at a shop we had walked by that listed a price (~10 USD) that was about a third the next lowest price we'd seen. Having not had a cut since Koh Tao, it was well overdue, and ONE・SIDE did a fine job. There's definitely a bit of blind faith when you don't share a language with your barber, but luckily they use the same numbered razors in Japan as we do in the US and I had a photo handy to show him that I wanted the front left longer. The absolute best part, though, was that to prevent you from ending up with itchy small hairs afterward they *vacuum your head when they're done. Genius.
Before heading to the train station we took another looping walk around downtown Hiroshima. We visited the Hiroshima Castle, which was an enjoyable park to wander around and enjoy the cherry blossoms in, though we didn't actually go up in the castle tower. Then, we continued into Hiroshima's Central Park, which had a lovely manmade river running through it and lots of space to enjoy the fresh air. For lunch, we stopped at another branch of Ichiran Ramen, a Japanese chain we had enjoyed in Osaka. It was once again quite good, and the customization options they give you for your ramen are really a huge plus compared to a lot of the ramen we ate. Having gotten a nice walk in, and filled our stomachs, we grabbed our bags and headed back to the train station to hop on our Shinkansen bullet train all the way to Tokyo.
How We Did with Our Budget in Hiroshima
Our one night at Hotel Flex near the Shinkansen station in Hiroshima cost us 83 USD, more than the average nightly rate of our stays in either Osaka or Tokyo. However, it came with free breakfast, was in a perfect spot, and had a great view, so we felt it was worth it. We had also budgeted 20 USD per day per person for food and 15 USD per day per person for entertainment. Out of that planned 70 USD total, we ended up spending only 45 USD per day on average, including my haircut (10 USD) and bento boxes to enjoy on the train each direction (~10 USD per box).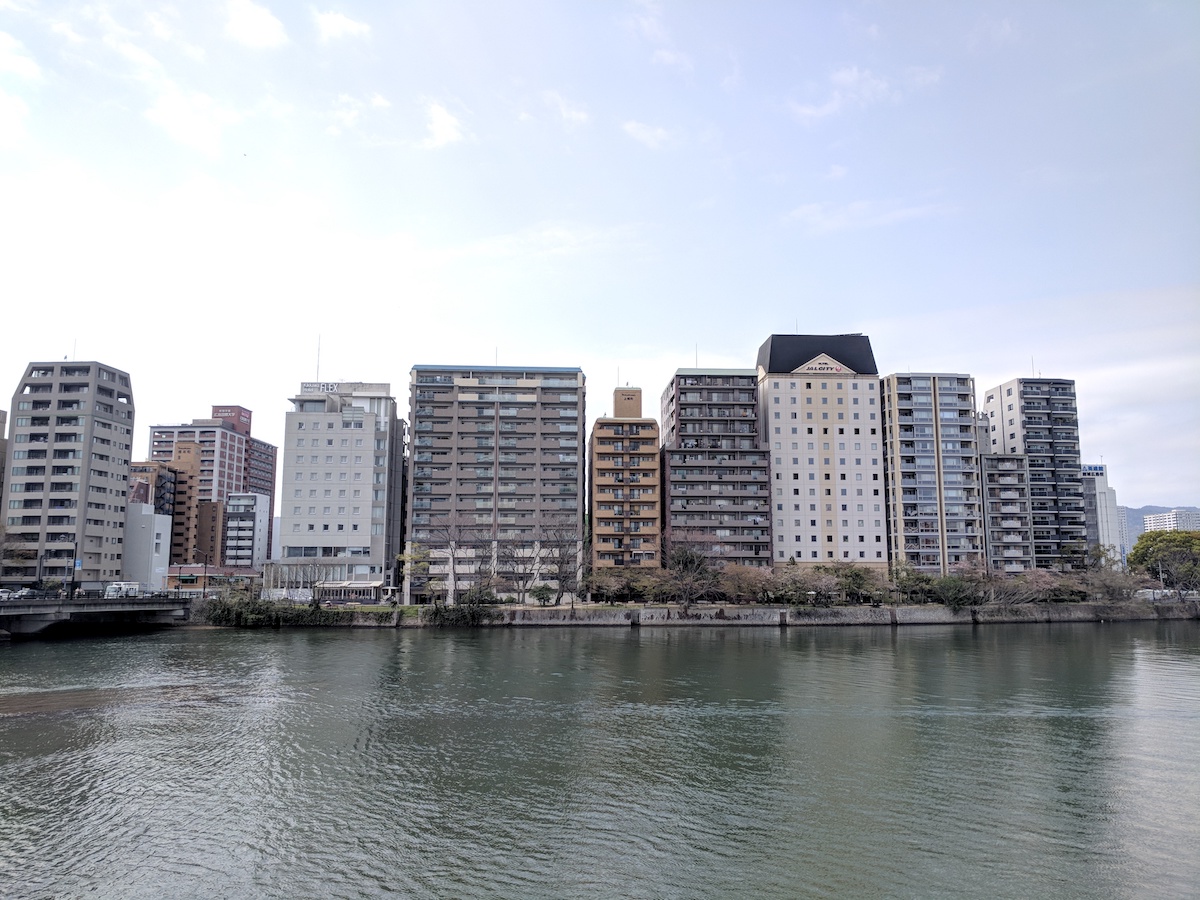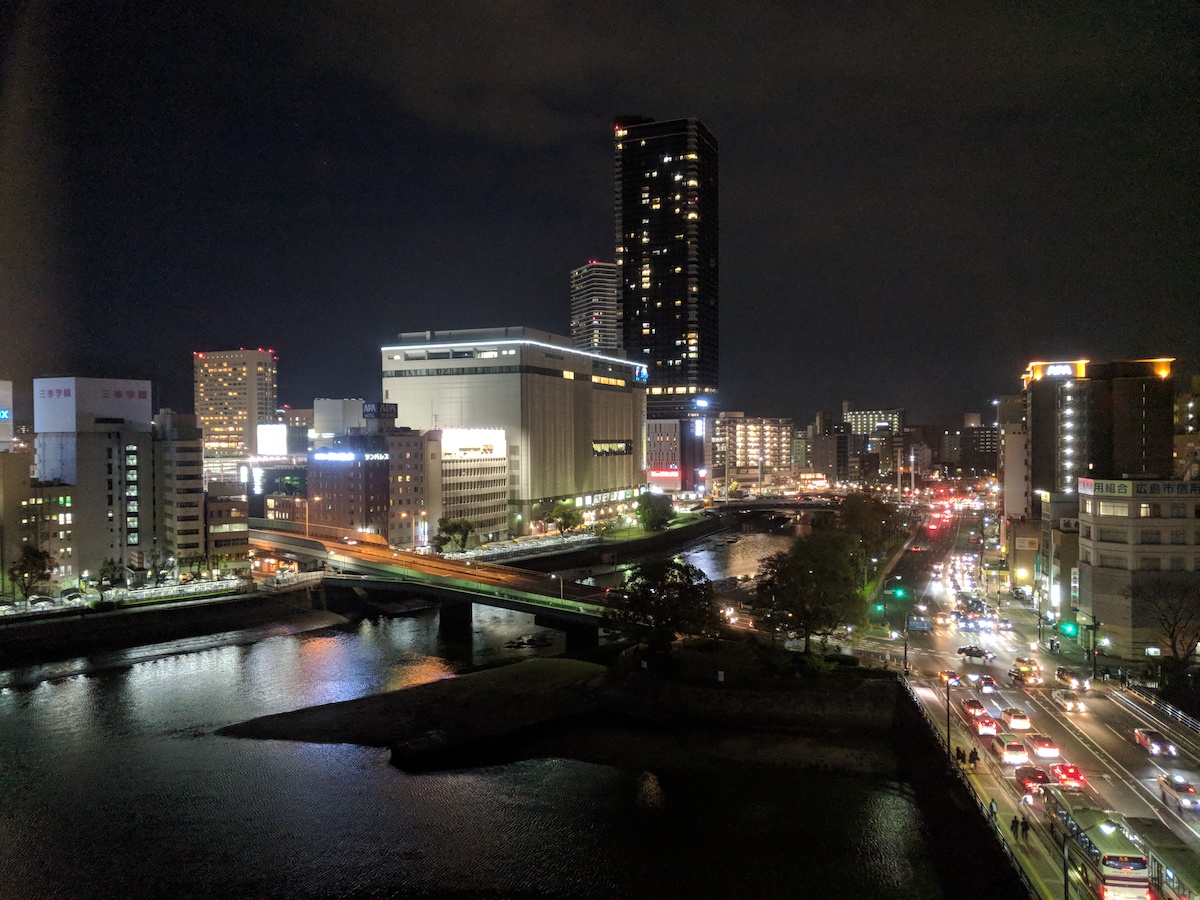 Left: Our hotel is the narrow beige building near the left. Right: The view from our window at nighttime.
---