25 Apr 2018
Petra: Hike Until You Can't Anymore
I had been excited about visiting Petra since I was still in graduate school and we had only just started planning our trip. Before we left for the trip, I would tell people it was in my top 3 things I wanted to do while we were traveling. I cut out pictures of Petra to go on the huge corkboard in our living room wehre we mapped out our stops. With all that anticipation, I was afraid I would be let down. I wasn't.
3-Day Petra Itinerary
Day 1:
Getting to Petra: If you are staying in Amman, like we were, the cheapest way to get to Petra is on Jet bus. I had tried to reserve tickets online about a month in advance only to be told that I need to wait until closer to the date. Once we arrived, we found the website wasn't working and the manager at our hotel said that because of the increased number of no-shows that they were no longer taking phone reservations either. So, we made our way to the office and bought tickets in person for the bus the next day. The bus did fill up, so if possible we'd recommend going 2 days ahead.
The bus leaves at 6:30am and makes a couple of stops elsewhere in Amman before making its way to Petra. There is a brief pause at a rest stop where you can buy (overpriced) snacks, souvenirs, and use the toilet but then it's straight to the Petra Visitors Center.
We had sought out a hotel close to the the Visitors Center and Hotel Esperanza was just a few minutes walking, so we were easily able to drop off our bags before heading back in to see the ancient ruins. If you can afford to stay at the Movenpick (we couldn't) it's directly across the street from the entrance to the park. Our hotel was sort of a mixed bag. The room itself was huge and had a little balcony but there were very bright street lights outside and no curtains over the window in the door that shone right on the head of the bed. Then there were the cars that sped by honking their horn to warn other cars coming around the bend to watch out.
As a side note, I'm not sure I've ever heard so many custom horns as while we were in Wadi Musa. Really not sure why that took off here.
Our First Look: For our first day, we knew we were not going to try to make the long hike to the Monastery. It was already around 11am by the time we got started and so we headed for the High Place of Sacrifice. Before you get there, every time you enter Petra, you make your way through the Siq. It is a long tunnel cutting through the mountain that leads into the ancient city. The rocks are gorgeous with reds, yellows, black, and white all swirled together in places. Some places you can barely see the sky through the crack in the rock high above you. It's a pretty long walk down the Siq to the Treasury but you'll become familiar with it, as there is no other way in or out.
You can get a horse ride to shorten the trip. It's supposed to be included in your ticket and that's what the men with the horses will tell you but you should expect to pay a sizable tip once you've reached your destination (a couple of men actually said that they charge 3 JD, though I'm not sure if that would've stuck once we were on the horse). We decided to walk but if you decided to ride, just make sure you know what you're expected to pay in advance.
At the end of the Siq, you'll get your first glimpse of the Treasury's facade before you actually make it out into the square in front of it. There will almost certainly be a line of people queued up to take a photo to let you know you've almost made it. Then you'll see the Treasury. How (or why) people thousands of years ago carved into the stone to create this impressive, multistory facade is beyond me but it's just as impressive as the pictures make it look. Unfortunately, you can only go up to the entrance of it and take pictures outside.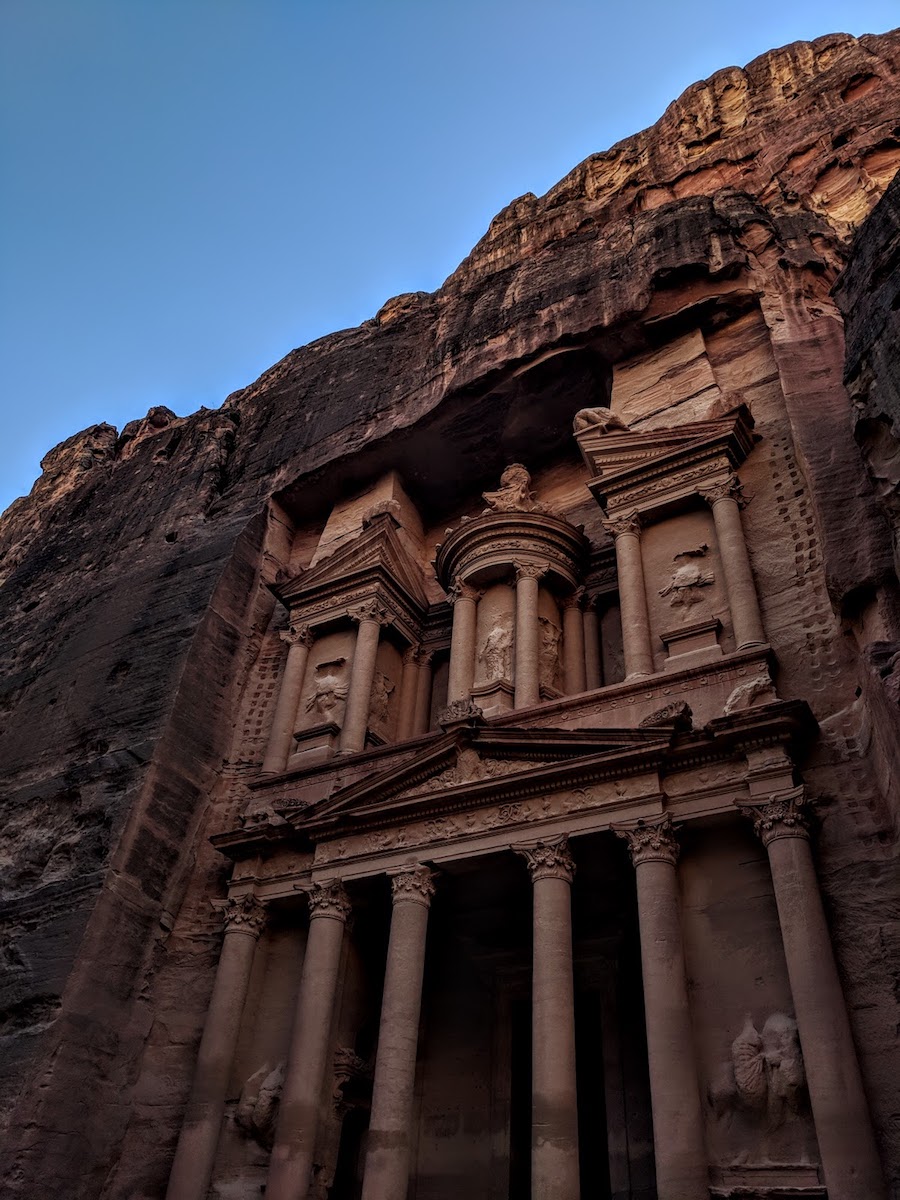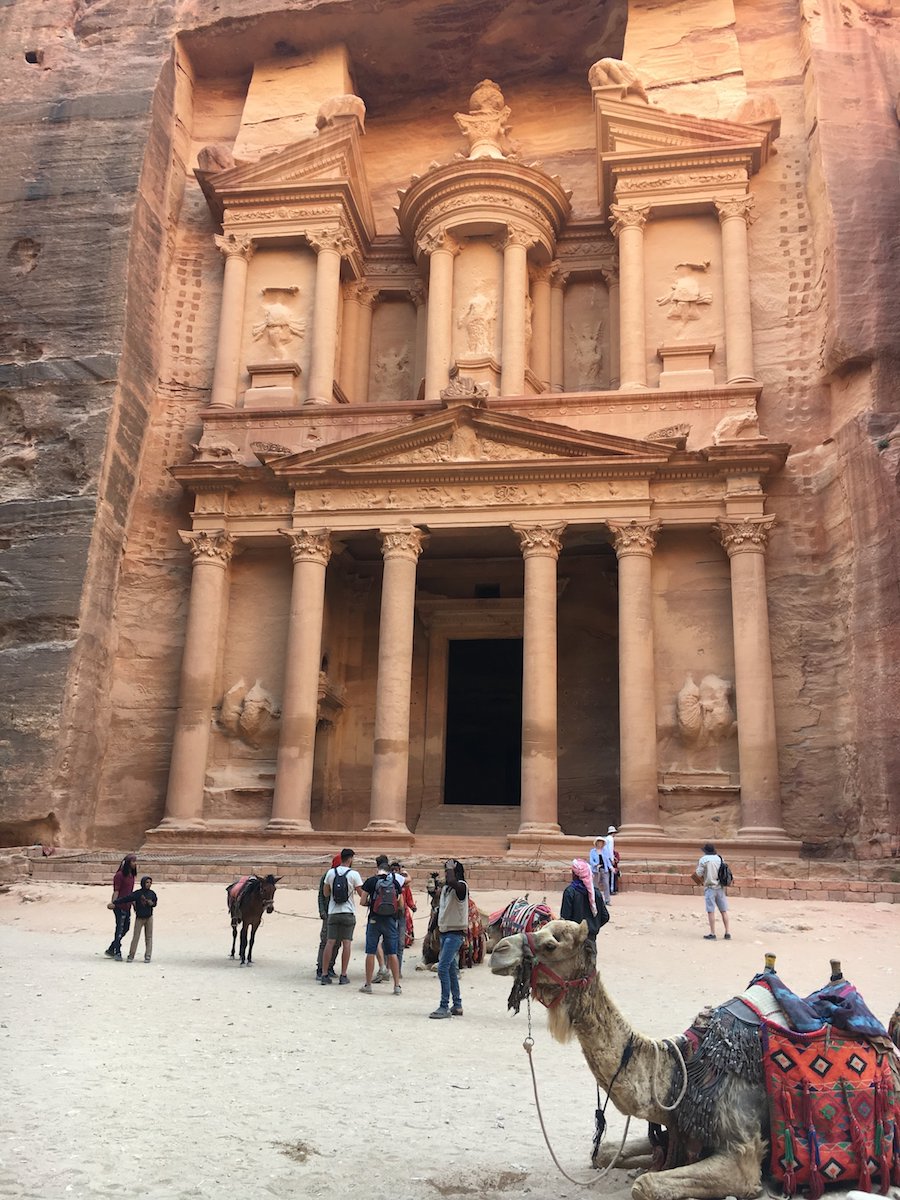 There are camels camped out in front of the Treasury to take you to the start of the trail for the Monastery.
From there it was time to actually make our way to our first climb. The Place of High Sacrifice requires climbing a lot of stairs. Honestly, most everything worth seeing in Petra requires climbing a lot of stairs. We had comfortable clothes and shoes on though and got lucky that it wasn't too hot.
The High Place of Sacrifice can be visited as part of a loop. You start climbing up the stairs cut into the rock up and up and then up some more. All along the way you can appreciate the rock formations around you and then you get to the top to see a view off into the valley and desert beyond. We opted to head down off the back of the mountain, rather than going back the way we came. That leads to Wadi Farasa and the Qasr al-Bint, a Nabataean temple set out from the mountain and unlike the other structures you'll see walking through Petra. At that point, we had to head back. We knew we were going to Petra at Night and definitely needed to rest our tired legs before we would be able to make the walk back through the Siq for the evening event.
So, it was back to our hotel for a rest and a huge dinner that we splurged on at the hotel to avoid having to go into the main town area to get food before returning for Petra at night.
Petra at Night: I was torn about whether Petra at night would be worth it. In the end, we decided to pay the 17 JD (~24 USD) each for tickets but if I had it to do over again, I would have skipped it.
The idea of Petra at night is lovely. There are wax-paper bags with candles in them lining the walkway through the Siq and all around in front of the Treasury building. Unfortunately, the other tourists did everything they could to ruin the romantic atmosphere.
Ways to be a bad tourist:
Flash photography was not permitted but that didn't stop hundreds of flashes from going off both during the walk and during the show. It makes it so much worse that using the flash at night isn't going to create the pictures you want anyway.
When you get to the Treasury, you are supposed to sit down and listen to a musical performance, people would not follow directions about where to sit, wandered through the middle of the area where the performer was playing and then multiple people almost set themselves on fire because they were not paying attention to the candles at their feet as they took photos with phones and iPads. Then when the bag caught fire someone had to run help them put it out. One man tried to put out the fire by waving his map at it, only to have it ignite with even more power.
The host asked everyone to sit and enjoy the light show for just 2 minutes before taking pictures. Not a chance.
Tea is served during the performance and a bin is set out with instructions about using it for the small cups the tea came in. Rather than cleaning up after themselves, people left paper cups scattered all around the beautiful ancient site. To be fair, there was a dog who was really enjoying drinking the leftover tea from the cups.
Okay, rant over.
Walking through the Siq with the candles below and the clear starry sky above is wonderful. I wish that the same glorious silence of my night walks at my silent meditation retreat was observed but even without that level of peaceful silence it was still enjoyable at times. The walk and the show just were not worth the cost. My recommendation would be to enjoy dinner and sunset from somewhere comfortable with your feet up and then enjoy Petra during the day with the ticket you've already purchased.
Day 2: We made the decision to skip setting an alarm after our very long day the previous day. We could have gone into Petra at 6am and avoided some crowds but the extra 2 hours of sleep we got instead was absolutely worth it. Sometimes you just have to accept that you need to sleep-in sometimes (yes, sleeping in for us means an 8am wake-up).
We had two main goals for our second day. Get to the overlook of the Treasury and get to the Monastery. Having both these items on our to do list meant we were in for a lot of stairs again.
There is an overlook of the Treasury that you reach by taking a set of stairs just off to the left of the facade but it is blocked off and local teenagers will charge you money to escort you up what looks like pretty steep and smoothed over steps. We had been warned against this already by our hotel and so we took the alternative route that winds around behind the Royal Tomb. This path does include a lot of stairs but in many places the are newly added and in very good condition. So, you might be tired when you get to the top but your risk of slipping is greatly reduced. At the top, we missed the first place where you can get a view over the Treasury and instead went into the little cafe built to obstruct one of the views.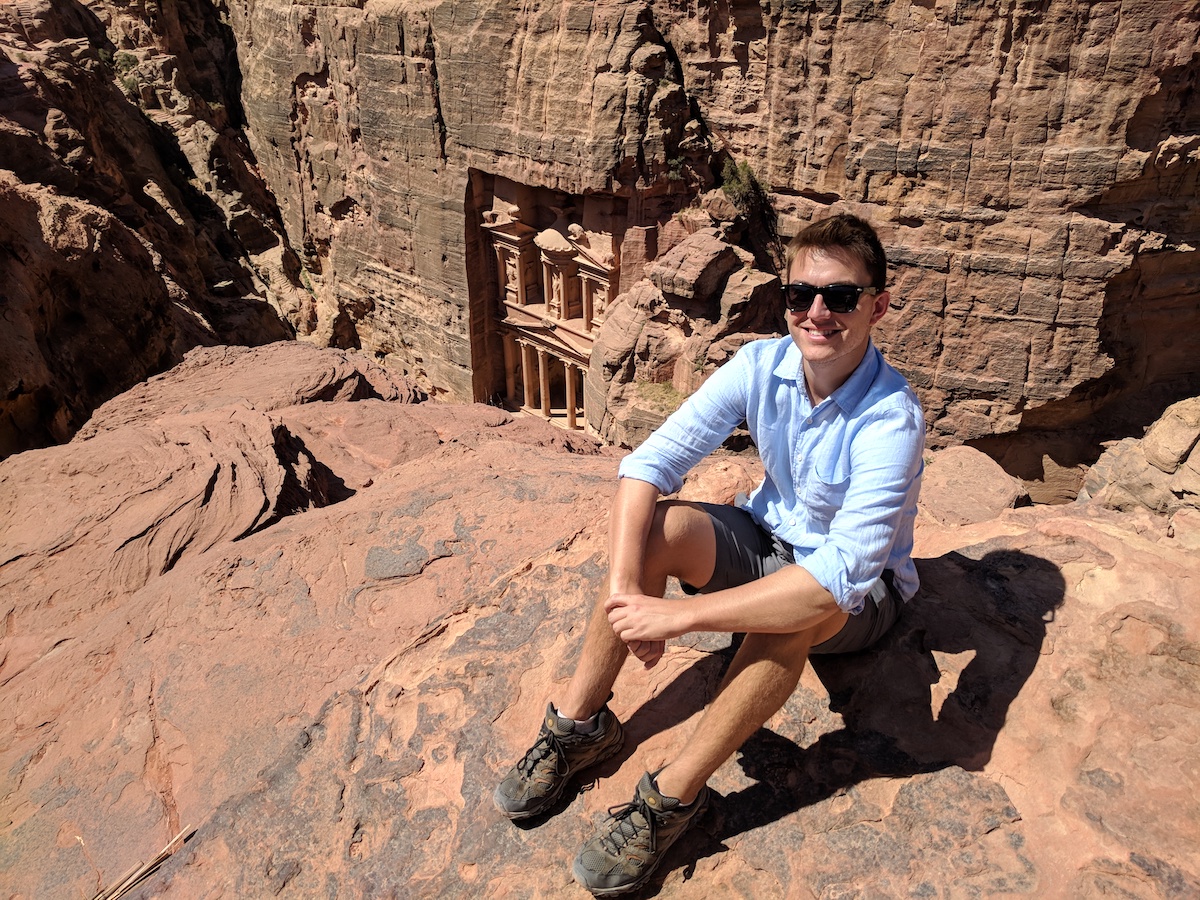 Just before the cafe, there is a point where you can get almost exactly the same view without anyone trying to charge you for anything. On our way back we stopped here for a couple more pictures.
By the time we got to the Monastery, it was already getting into the hottest part of the day. I can't say that one set of stairs would have been better to climb in the heat than the other but it's a long hike to the Monastery and I was struggling by the end.
Once you finish climbing about 800 stairs past plenty of little shops selling scarves and souvenirs (all advertising good for "just 1 JD" and then after getting interested folks letting them know that item is actually much more…) and some shops with cold drinks and ice cream, you come into an open courtyard in front of the massive Monastery facade. You can't go in but there's not much to see beyond a large room. It was apparently the gardens outside that were the focal point of the building anyway, not that you can imagine any sort of garden growning in the dusty dry climate while you stand there drenched in sweat.
Before we left, my favorite part of the day was climbing up to "the best viewpoint" as compared to its competitors "amazing viewpoint" and "breathtaking viewpoint". The Best Viewpoint was incredible. We didn't trek out to the other two to verify it's claim of superiority but I would believe it. You can see all the way to the desert beyond the mountains and it's just red rocks and blue sky in both directions. It makes you feel small and also makes you think about how many thousands of years it took for water to wash through these rocks to make the amazing tunnels and crevices that made Petra possible.

Day 3: To be honest, we could have done Petra in 2 days. We had already done the big trails and overlooks. The cost of adding the extra day was pretty low though and it meant we got to see some of the smaller ruins that we'd skipped over the first two days and explore areas we otherwise wouldn't. Plus, while we'd been lucky with weather our first two days it was good to have some buffer because on the third day it poured rain in the afternoon.
We started by going all the way to the start of the Monastery trail but then climbed up the stairs off to the left of it to loop around behind the mountain for some overlooks before wrapping back around to the Great Temple and the Winged Lion Temple. It is mind blowing to think about how long ago these huge buildings were created out of the stone that surrounded them. We also visited the museum, where we learned that the stone blocks for some of the free standing constructions were taken out of the large tombs using metal tools to carve them out based on detailed schematics drawn up as part of contracts with the builder.
Speaking of the museum, we also learned that women in the Nabataean Empire were considered equal to men with roles in politics and society as well as the ability to own property. Seems like it might not be a coincidence that this civilization was able to protect itself against several assaults from larger more powerful kingdoms and often used diplomacy to do it. Just something to think about…
As we made our final trip out through the Siq, i just tried to soak up as much of the grandeur of standing with these stone walls going hundreds of feet above your head. Many people say they had a spiritual experience visiting Petra, I'm not sure I would call it that but I understand it. It's so peaceful (when other tourists aren't being terrible) and reconnects you to the sense that you are small and only here for a short period of time. So, I guess connecting with your mortality and insignificance in a beautiful space is what you could call a spiritual experience. Regardless of the spirituality of it, I'm so glad we came to see this place. After waiting so long to get here, I was afraid I'd be disappointed. I wasn't at all.
Eating in Petra
Eating in Petra is not as easy as I would have hoped. The vendors inside the park are as overpriced as you would imagine and the restaurants immediately outside the park aren't much better. If you walk up the hill, very doable though at the end of hiking up a bunch of stairs may sound pretty terrible, there are some restaurants that have better prices.
Two we visited were Beit Al-Barakah and a small falafel shop just beyond that, right next to H20 Pharmacy, as you walk up from the Visitors Center.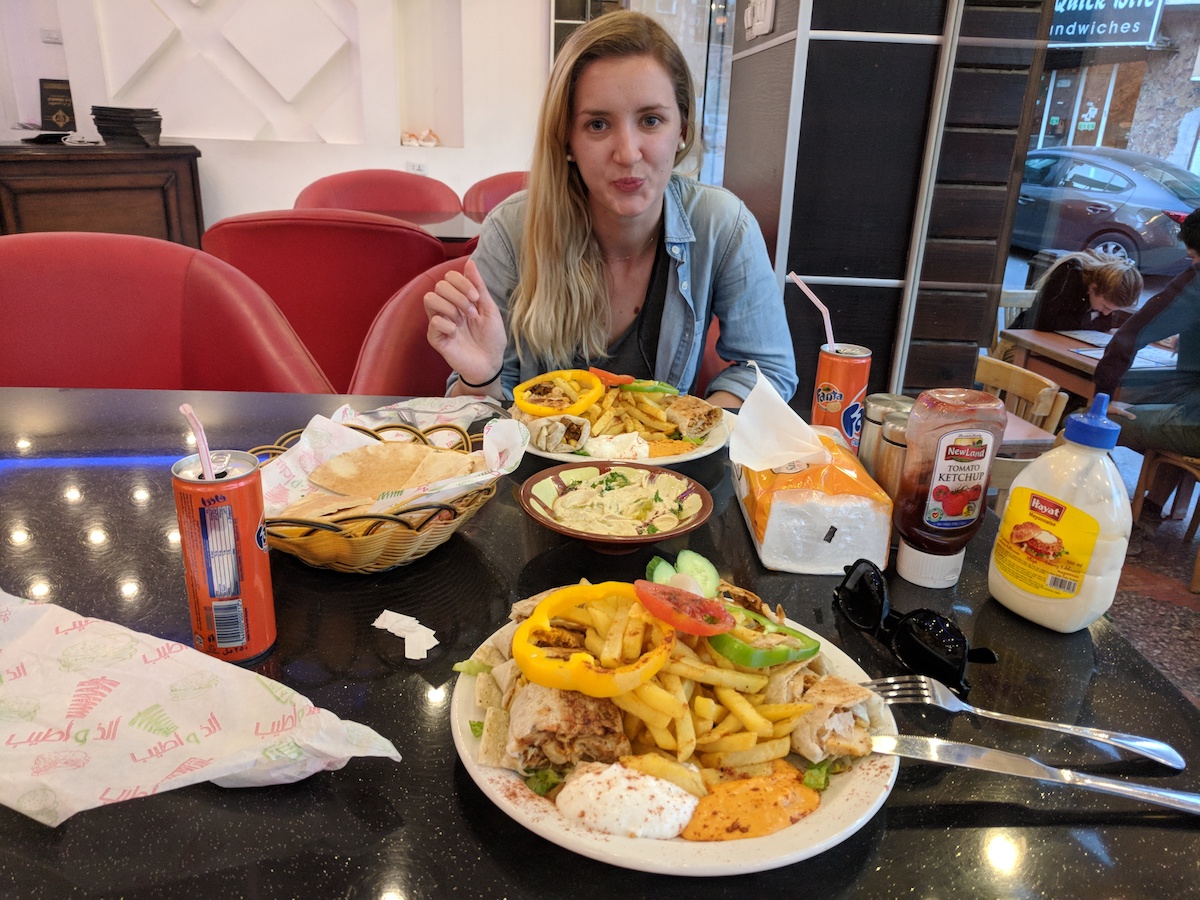 Dinner at Hotel Esperanza and dinner at Beit Al-Barakah, apparently huge portion sizes are the rule of thumb in Wadi Musa.
Beit Al-Barakah's prices on their face look slightly better than the other restaurants we checked out as we walked around looking for dinner. Had we known that when you order the shawarma platter (4 JD/person or 5.65 USD) that it is enough food for 2 people we would have had a very reasonable dinner. Instead we got two of them and an order of hummus and didn't come close to finishing all the food.
The falafel sandwich place we ate our final lunch at was delicious and included french fries inside the sandwich, which made me an instant fan. We stopped here after I read a blog post full of recommendations about Petra. The shop has a new sign and the cost of the sandwiches was 1.5 JD per sandwich but it was leaps and bounds better than the falafel sandwiches we paid 2 JD for on our first day just because the shop was next door to our hotel.
How We Did with Our Budget in Petra
For our time in Petra, we had budgeted as much as 60 USD a night for accommodations. We ended up spending 56 USD per night to stay in a nice, spacious room at the small Esperanza Hotel. We had also budgeted 15 USD per day per person for food and 15 USD per day per person for entertainment. Out of that planned 60 USD total, we ended up spending only 53 USD per day on average, including Petra At Night (48 USD) and two dinners at our hotel (14 USD per person), since there aren't many affordable options nearby. Our 3-day entrance to Petra itself would normally have cost ~85 USD per person, but was included as part of our Jordan Pass which also included our visas on arrival in Jordan and a bunch of other, smaller sites.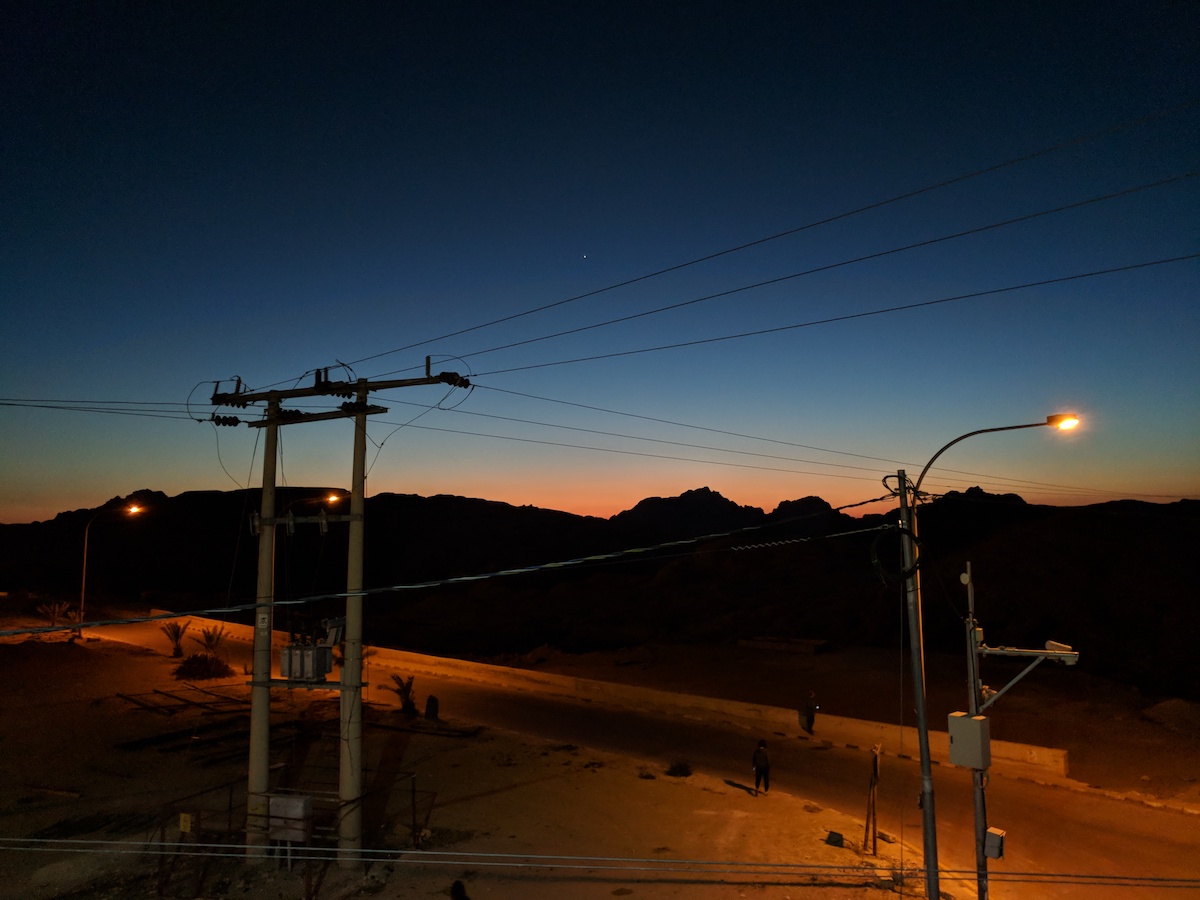 ---