28 Apr 2018
Wadi Rum: 24 Hours in the Desert
After we finished exploring Petra, we headed south to Wadi Rum, a protected area of desert popular for its tours and Bedouin tent overnight stays. We spent 24 hours in the desert, including both a jeep tour of the area and a night spent at a traditional Bedouin camp. Overall, Wadi Rum was a bit more crowded and a bit more touristy than we expected going in, but it was still really enjoyable to spend a night away from cities.
The desert itself is beautiful and almost majestic in how the rock formations and sand just continue as far as the eye can see. We didn't encounter any wildlife larger than a lizard (the camels used for tours don't count), but the rocks, dunes, and changing colors of the sand were enough to keep us amazed for at least a day.
What We Did in Wadi Rum
Arrival from Petra: We've been a bit surprised at the lack of infrastructure for getting between different areas in Jordan, especially when compared to the Southeast Asian countries we've spent a lot of time in lately. The only real option is to get around by road, and since rental cars are pricey we have been moving around by bus.
While we had taken a JETT Bus, Jordan's main long-distance bus travel operator, from Amman to Petra, they don't have a route onward to Wadi Rum. Luckily, there is an independent minibus that does this route every day and hotels near Petra can all set up tickets easily. We paid 8 JD (11 USD) each and got picked up right at our hotel and 2.5 hours later were dropped off at the Bedouin tour operator we were using in Wadi Rum, so it was quite convenient.
Jeep Tour: When booking our tour and tent for Wadi Rum we had trouble deciding what exactly we wanted to spend the day doing, as you can choose between jeep tours, camel rides, hiking, and scrambling up desert peaks. We knew we would be coming from Petra, where we would be doing a ton of hiking and wanted to see plenty of the desert, so we picked a full-day jeep tour that would stretch from our ~9am arrival through sunset. If we had it to do again, I would probably have picked a hiking option instead, as our tired legs would have risen to the challenge and we would have seen almost as much as we did by Jeep.
What we didn't understand when booking the tour is that all of the Bedouin families in Wadi Rum hosting tourists are required to only visit the same set of sites, following the established routes. So even though we had a full day, there were only about a dozen stops to make, and we were never alone at any of them as other tourists were also visiting them. We had also expected a bit more "guiding" from our guide, who really turned out to just be a driver. Beyond pointing toward whatever we had come to see at that stop, we got pretty much zero information from him.
Our favorite stop was Burrah Canyon, a narrow ravine running about half a mile that we got dropped off at one end of and picked up at the other end. We spent about half an hour inside walking, exploring, and enjoying a rare bit of time spent nearly-alone. We also enjoyed "Little Bridge", a small natural stone archway you can easily scramble up to, and which we hid under for about 20 minutes when a sudden rainstorm rolled in while we were up on top.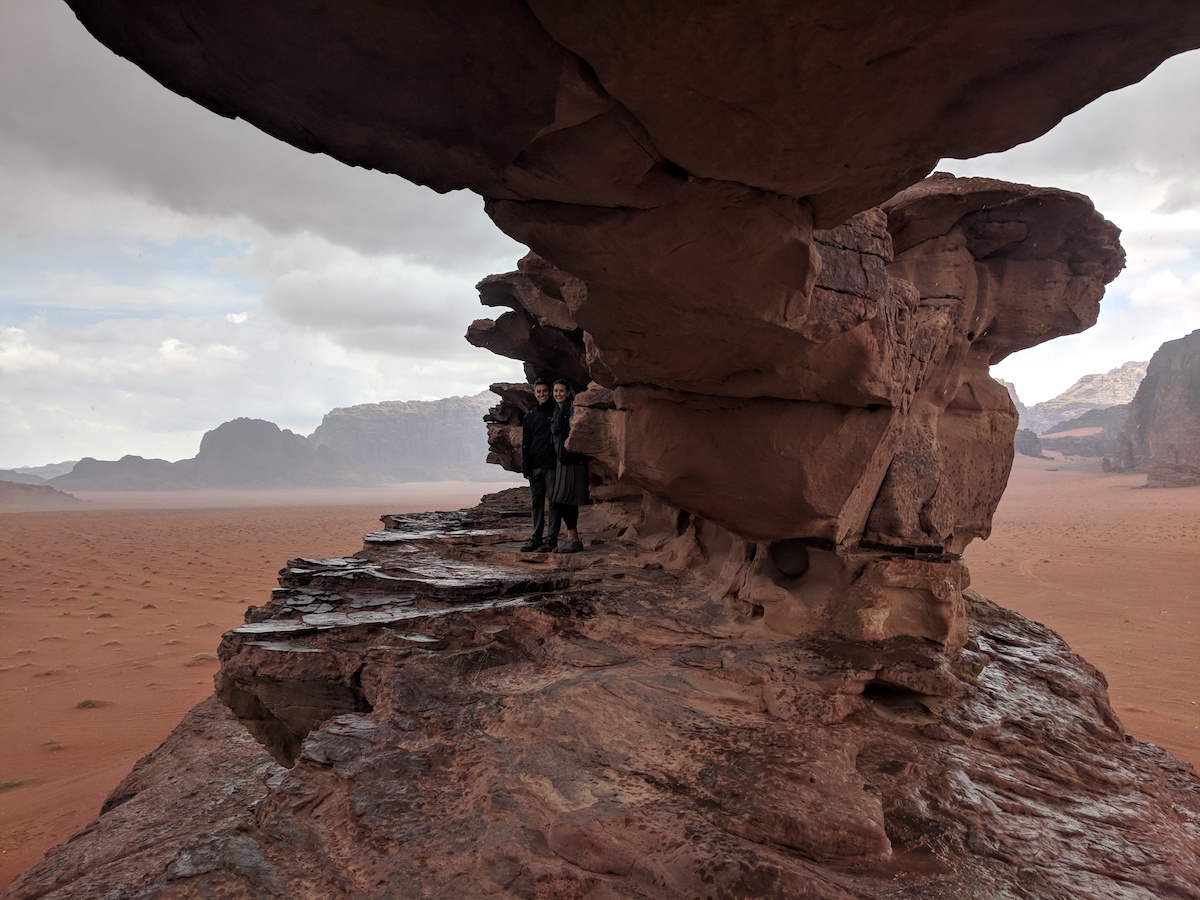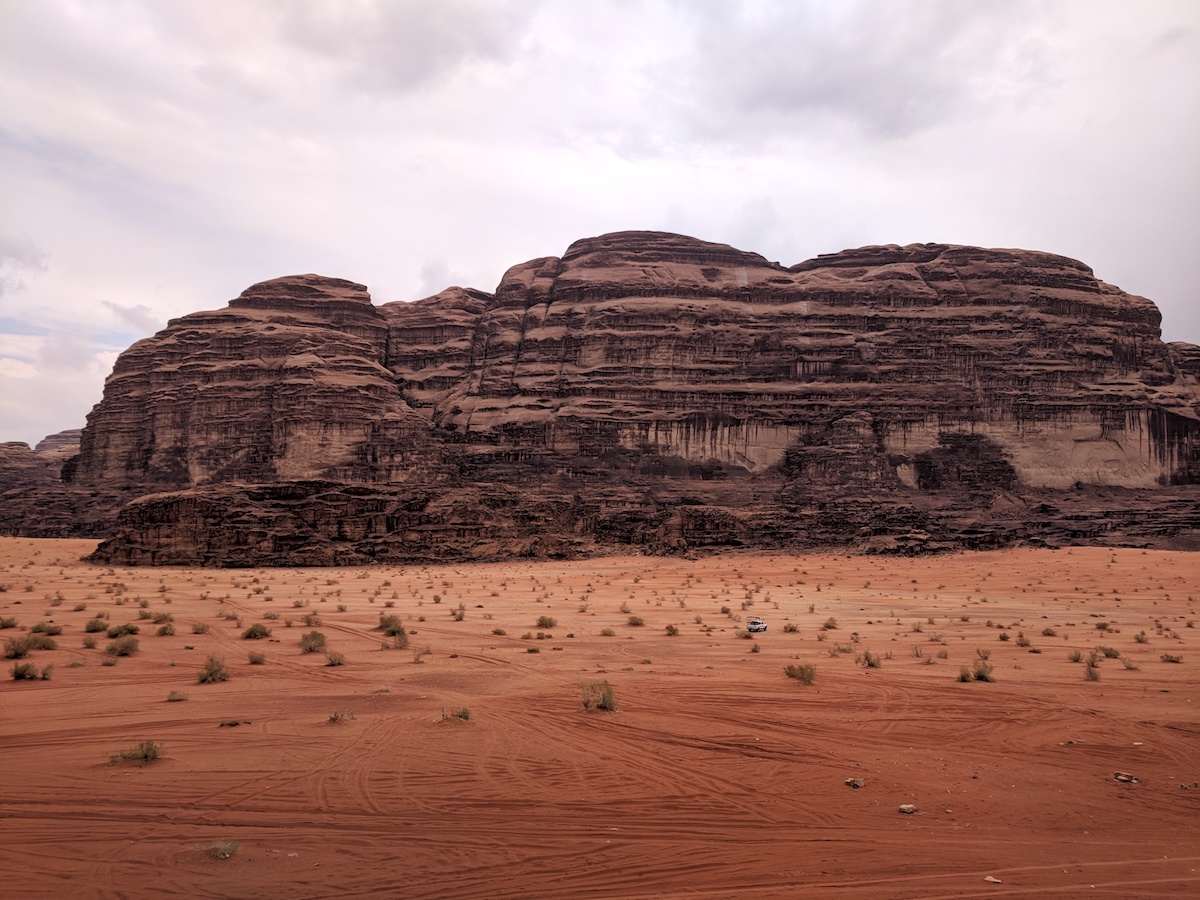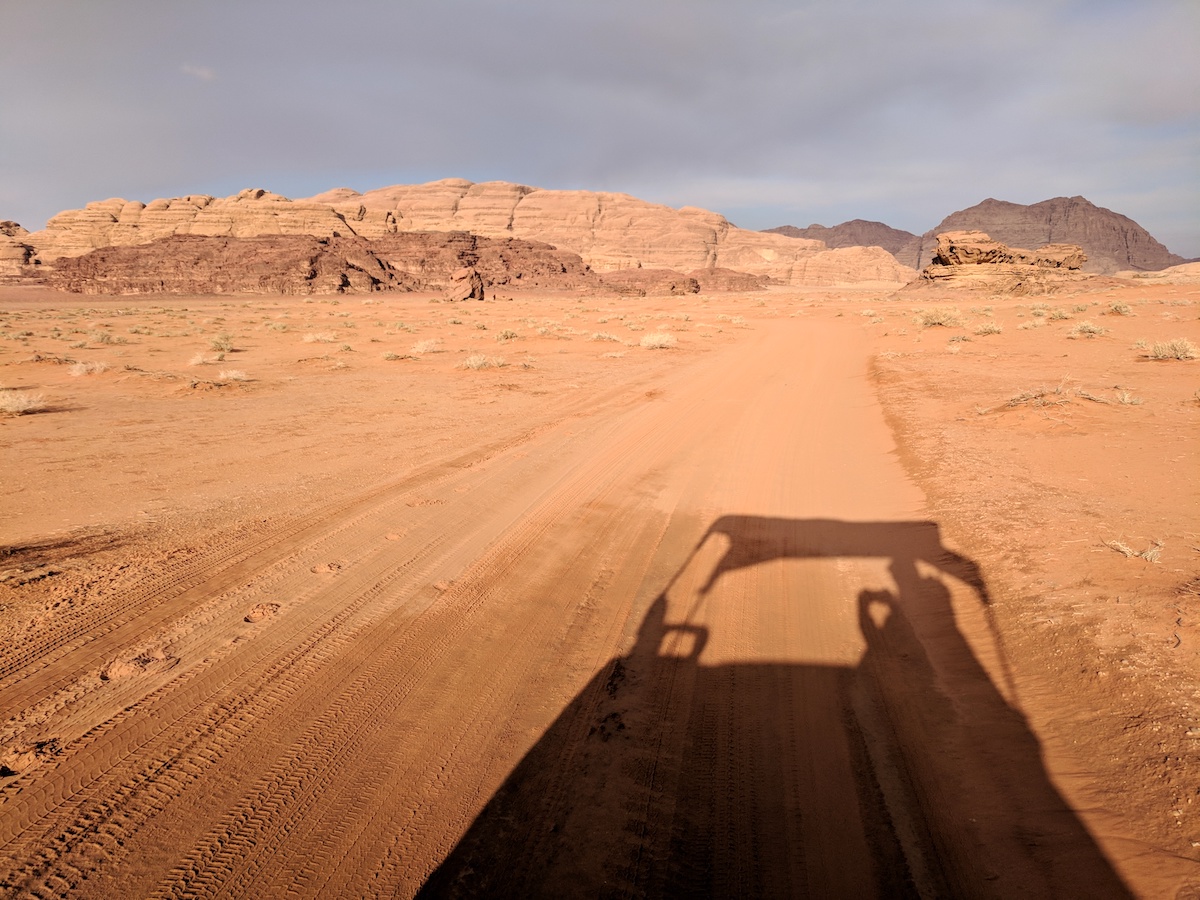 Left: Us hiding beneath the Little Bridge. Center: Rain dripping down the cliff face. Right: Later in the day, looking back across the hot, dry sand.
That rainstorm was apparently quite an unusual event for the area at this point in the year. Our guide told is it hadn't rained that hard in over two months, and rarely does at all. While we were a bit disappointed that the visibility wasn't as good as it was for our time in Petra, and a bit cold from getting soaked and then having to hang out in the wind, the guides were all nearly giddy with excitement over the rain having come. At every stop all the guides would gather together, drink tea, and talk about how good it was that the rain had come. Luckily for us once we got into the afternoon the rain departed and we had a nice, dry evening.
While our guide/driver didn't give us much information, and often was more interested in spending longer at a stop so he could have another tea and cigarette with the other guides than in showing us more of the desert, we can't say that any of the other guides we saw seemed to be behaving any differently. It also meant that we ended up drinking a lot of tea. The tea is served in very small glasses but we'd drink 2 or 3 at many of the stops while we were waiting and the tea is sweet. According to Amy, it easily rivals the sweet tea she grew up drinking in the Carolinas.
Overnight at a Bedouin Camp: We arrived to the Bedouin Directions camp site just after sunset, with light rapidly fading from the sky. Unlike many of the larger camps closer to Wadi Rum Village, this one is almost completely hidden from all sides by surrounding cliffs and is a pretty small operation. We were joined by another pair of young travelers and two German families, though each group had their own tent.
After enjoying some (very sweet) tea and warming up by the fire we all bundled back up and went outside to watch our hosts uncover our dinner, which had been cooking for hours in a zarb set-up underground. Getting to eat something prepared with a zarb was high on my list for our time in Jordan, and the method of sealing the food together with hot coals underground for hours does give it a really unique taste. I was a bit sad that we were having chicken instead of the more traditional lamb, but it was delicious nonetheless.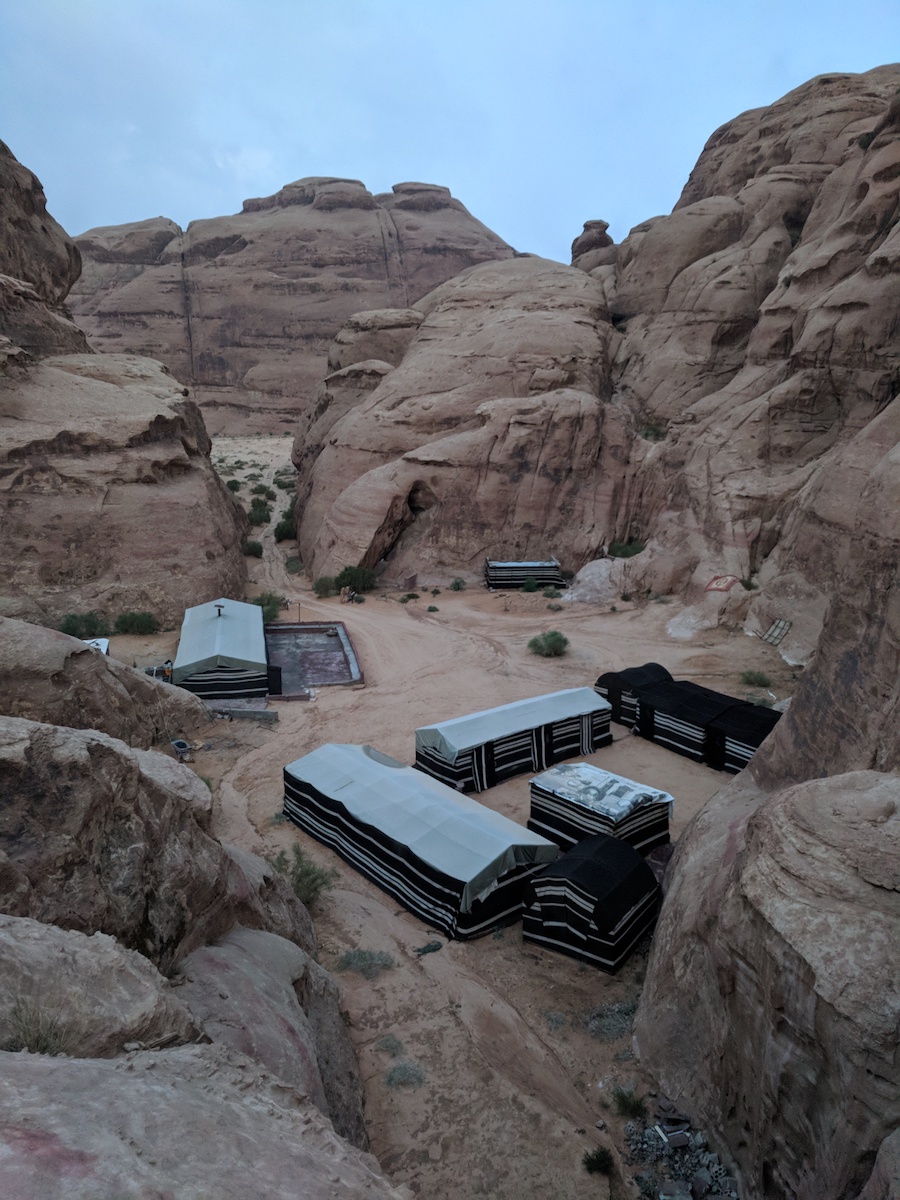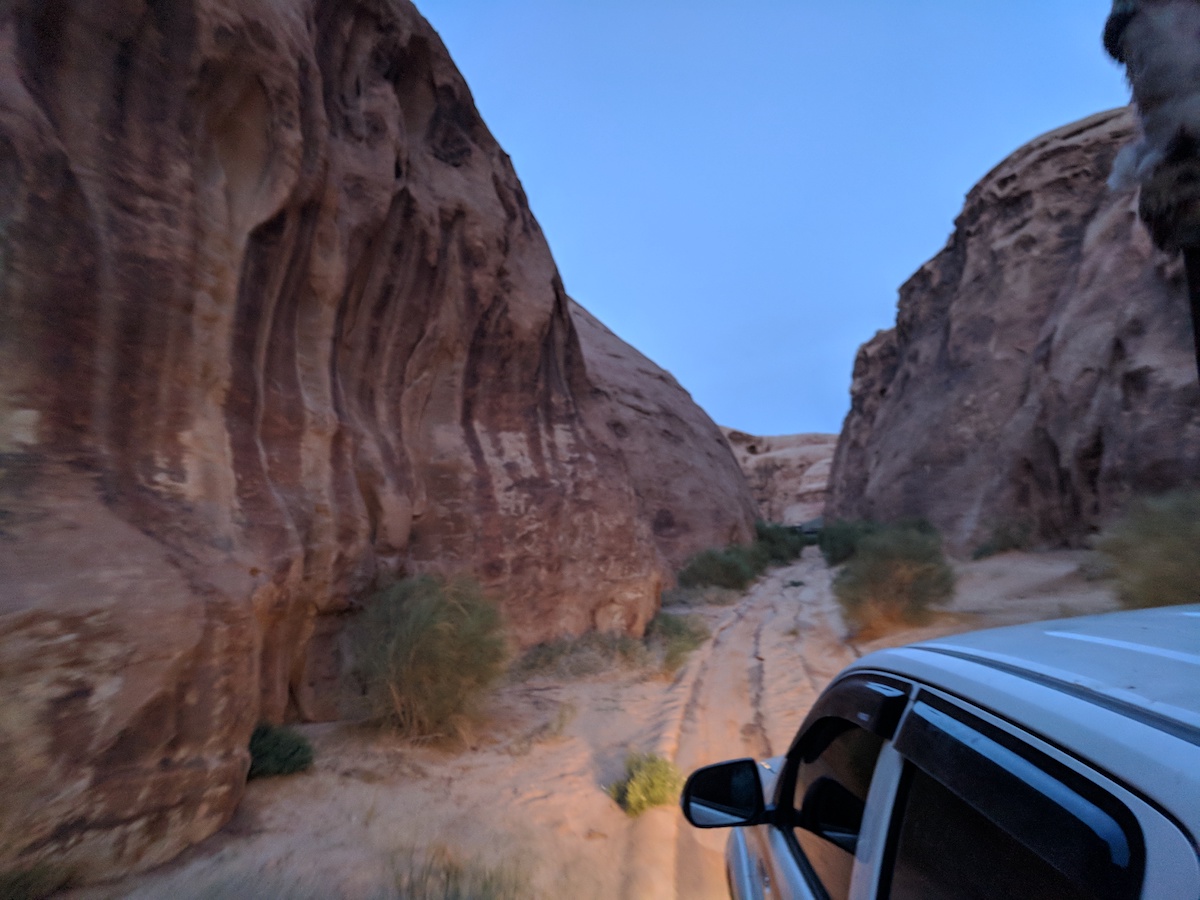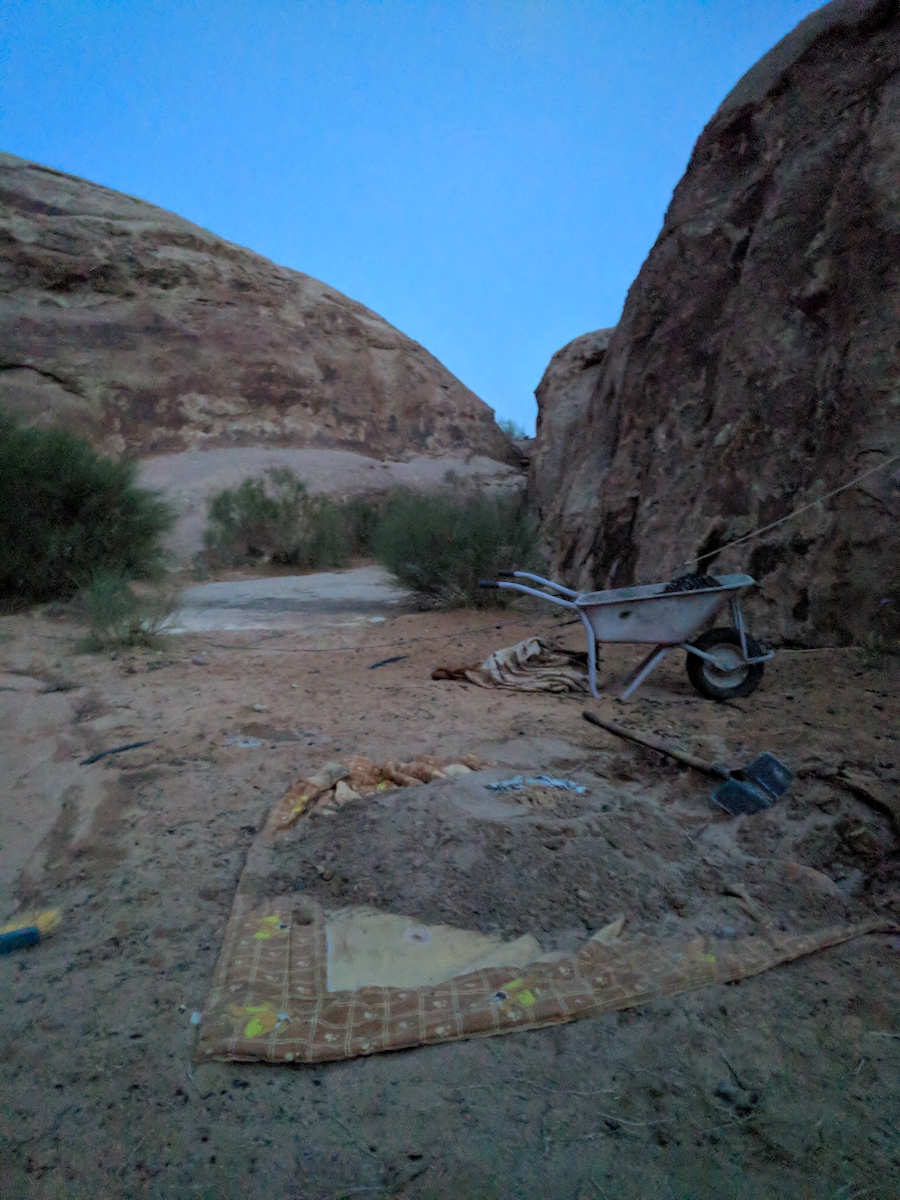 Left: Our Camp from one of the surrounding rock cliffs. Center: Arriving to Camp. Right: Our dinner cooking underground in their zarb set-up.
Over dinner and more tea we spent a long time chatting with the other young pair of travelers (who had grown up in DC) and one of the Germans about our age. It was great to get to have some real conversations that went beyond "where are you from?" and "how long will you be here?", though it also made me realize how out of practice I am at having real conversations with anyone but Amy.
Our tent was mercifully dry inside despite the daytime rains, and the utter silence and complete darkness once the Camp's electricity was shut off for the night were really wonderful. After a week of traffic noises and bright lights overnight in both Amman and Petra, we slept great for the first time in Jordan.
We woke up to a 5am alarm, bundled up, and followed our flashlight up a series of rocks on the west side of Camp, getting in place for a good view of sunrise over the desert. Unfortunately the thick clouds that rolled in overnight never parted and we didn't get much of a show. We still had time for a nice walk around the nearby sand before heading back to Camp for breakfast and then our 30-minute drive back to Wadi Rum Village.
Back to Amman: There are three options for getting from Wadi Rum back to Amman if you don't have your own car:
Hire a taxi for 100 JD (~141 USD)
Take a bus back to Petra for 8 JD (~11 USD) and then a JETT bus back to Amman for 11 JD (~15 USD)
Take a taxi an hour south to Aqaba for 20 JD (~28 USD) and then a JETT bus back to Amman for 8 JD (~12 USD)
While it wasn't the cheapest option, we picked option 3 since we'd have a much shorter layover than in option 2 and end up getting back to Amman around 3pm instead of around 8pm. It ended up working out perfectly, and we had no problems buying tickets last-minute on a mostly-empty JETT bus to our preferred stop within Amman.
On arrival in Amman we had our first truly bad experience with a taxi here, as the driver claimed to have turned on the meter (he didn't), then tried to get us to agree to a 5 JD (7 USD) flat price (we said no), then started the meter but manually added 2 JD to it thinking we wouldn't notice (we did, and told him to pull over so we could get out and find an honest taxi), before finally giving in and getting just 1.5 JD (2 USD) for the trip. Can't imagine why Uber is getting more and more popular here!
How We Did with Our Budget in Wadi Rum
We booked through Bedouin Directions after reading a lot of reviews of the various tour/camp operators in the Wadi Rum area. I think we picked well, but honestly everyone seems to offer a very similar experience. The biggest plus for us was definitely the location of their camp site, feeling much more tucked-away and private than a lot of the larger ones, some of which seemed to be right on top of each other. The tour program was formulaic and at the standardized price for all tour operators in Wadi Rum.
We paid 80 JD (~113 USD) for the full-day jeep tour including lunch and 50 JD (~70 USD) for the overnight at their camp site, including a dinner prepared in a zarb. While definitely one of the more expensive 24 hours of our trip, we're still glad we did it and spent little enough during our days in Amman that we'll still end up hitting our overall budget for Jordan.
If We Go Back
What we didn't understand before arriving to Wadi Rum is that while the desert is a Protected Area (think National Park), you don't actually have to use a tour operator to move around within it. While it seems pretty rare, and may require some small bribes, we did see one group in self-driven rented jeeps who were driving themselves around the desert going at their own pace to wherever they pleased. If we go back, I'm definitely going to try to figure out how to do that and just book the overnight itself with a tour operator.
---