17 May 2018
Sardinia: Hiking Italy's Natural Beauty

Looking eastward over the valley from the village of Baunei. Santa Maria Navarrese is behind the slopes at the left.
We are spending almost a month in Italy, but before we get to the big cities of the Italian peninsula we spent a full week on the island of Sardinia. We didn't know a ton about it before deciding to go. We mostly based our visit on my original plan of using it to connect Barcelona to Naples without having to take a flight. That ended up not quite working out (the ferry from Barcelona to Sardinia wasn't running on our dates, so we ended up on a cheap flight for that leg) but we're thrilled we ended up stopping in Sardinia.
While we only explored a small part of the island, focusing on the southern half of its eastern coast, but we found Sardinia to be a little island paradise. It seems to mainly attract people between 20-30 years older than us though. I guess we are just ahead of our time…
In addition to the beautiful blue water, stunning mountain ranges, and overflowing flower-boxes on houses in all different shades of pink; there is a laid back atmosphere that lends itself to long walks, reading on the beach, and enjoying sunset over wine. Honestly, we're not quite sure why it isn't a more popular destination, especially among travelers looking to enjoy outdoor adventures. For the time being, we're glad it's less crowded though.
We stayed in an Airbnb in the small town of Santa Maria Navarrese, a two hour drive north along the coast from Cagliari, where we arrived and departed Sardinia. Our plan was to go to beaches, hike, and hike to beaches every day we were there. Unfortunately some bad luck meant it rained about half the days we were there, and I ended up coming down with a cold for our first few days on the island, which left me stuck in bed instead of scrambling along the coast. We still managed to fit in some real highlights, but would happily head back to Sardinia in the future and cover more ground.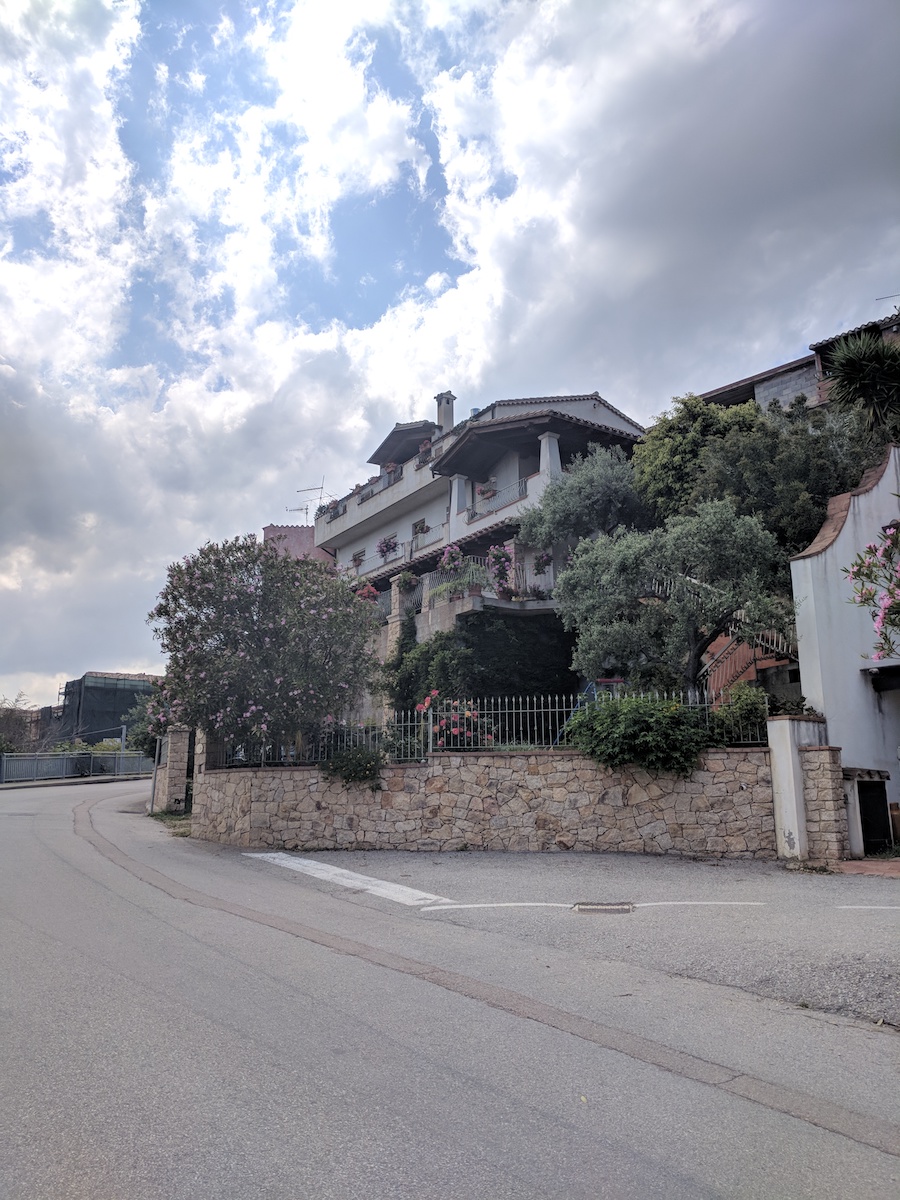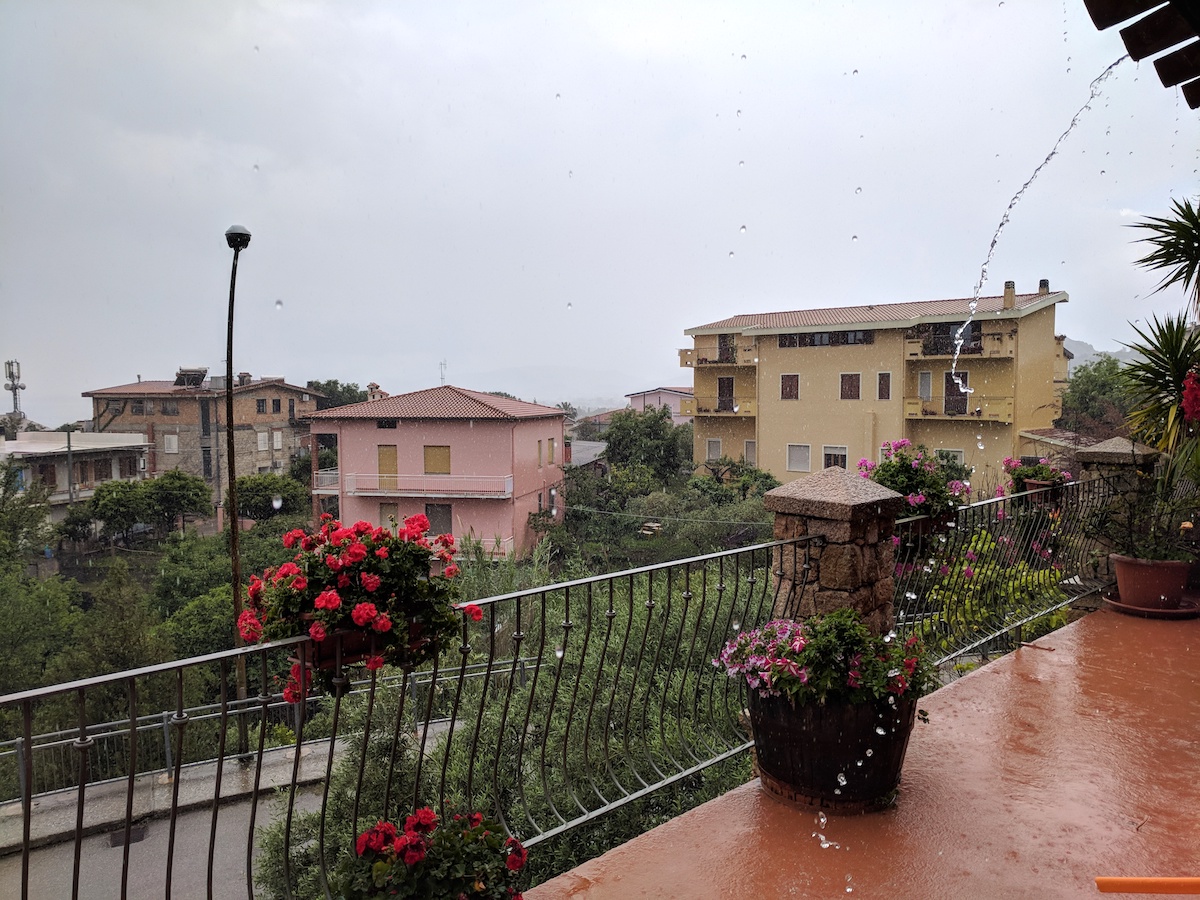 Left: Our Airbnb was on the primary floor of this big house. Right: Its terrace in one of the many rainstorms we watched roll through.
What We Did in Sardinia
Hiking
The longest hike we went on was to Gola di Gorropu, apparently sometimes referred to as "Europe's Grand Canyon" (though it's very different). Our trailhead was about an hour drive from Santa Maria Navarrese, but with amazing scenery the whole way. We passed through the small town of Baunei, one of the few towns in the area not on the water, which had some lovely viewpoints to stop at on the side of tiny twisty streets that rose and dropped precipitously in places.
Once we arrived and got on the trail, right by Hotel Gorropu, it took us 90 minutes to make it to the canyon floor. The trail wasn't too bad on the way down, though got increasingly steep as we went and had a couple areas where we were amazed they've been able to maintain a trail on such a steep slope. We also passed through one small area that seemed to have had a serious rock slide very recently, as the trail was destroyed and freshly-ripped-open trees we strewn about between the scattered boulders.
As you climb down the mountain, you get caught up watching your feet as you try not to trip on loose rocks or roots only to look up suddenly and get knocked over the head at how gorgeous the view is. There are green hills and mountains as far as you can see, colorful rock formations, and way down in the valley the river slicing through the forrest. Paired with the clear blue sky it was (as Amy often repeated) "so pretty it hurts".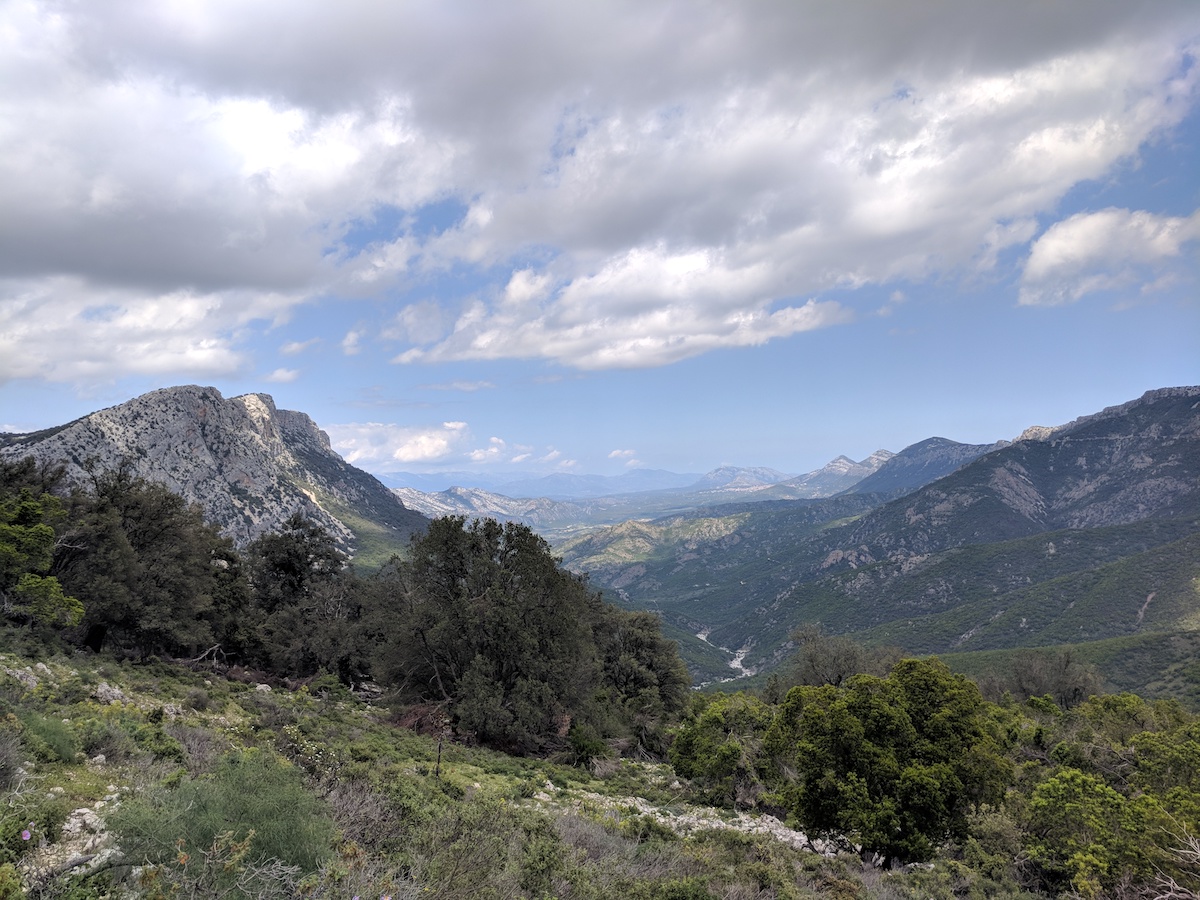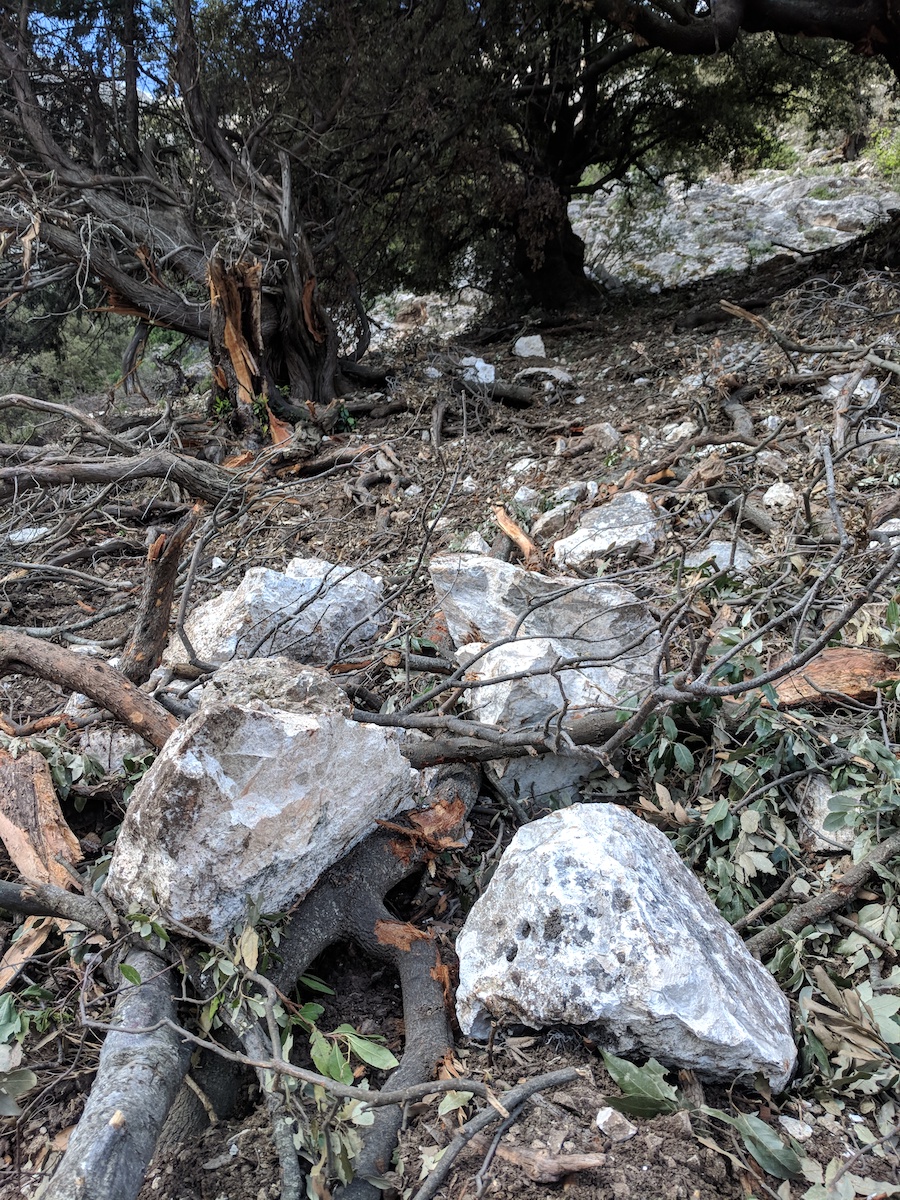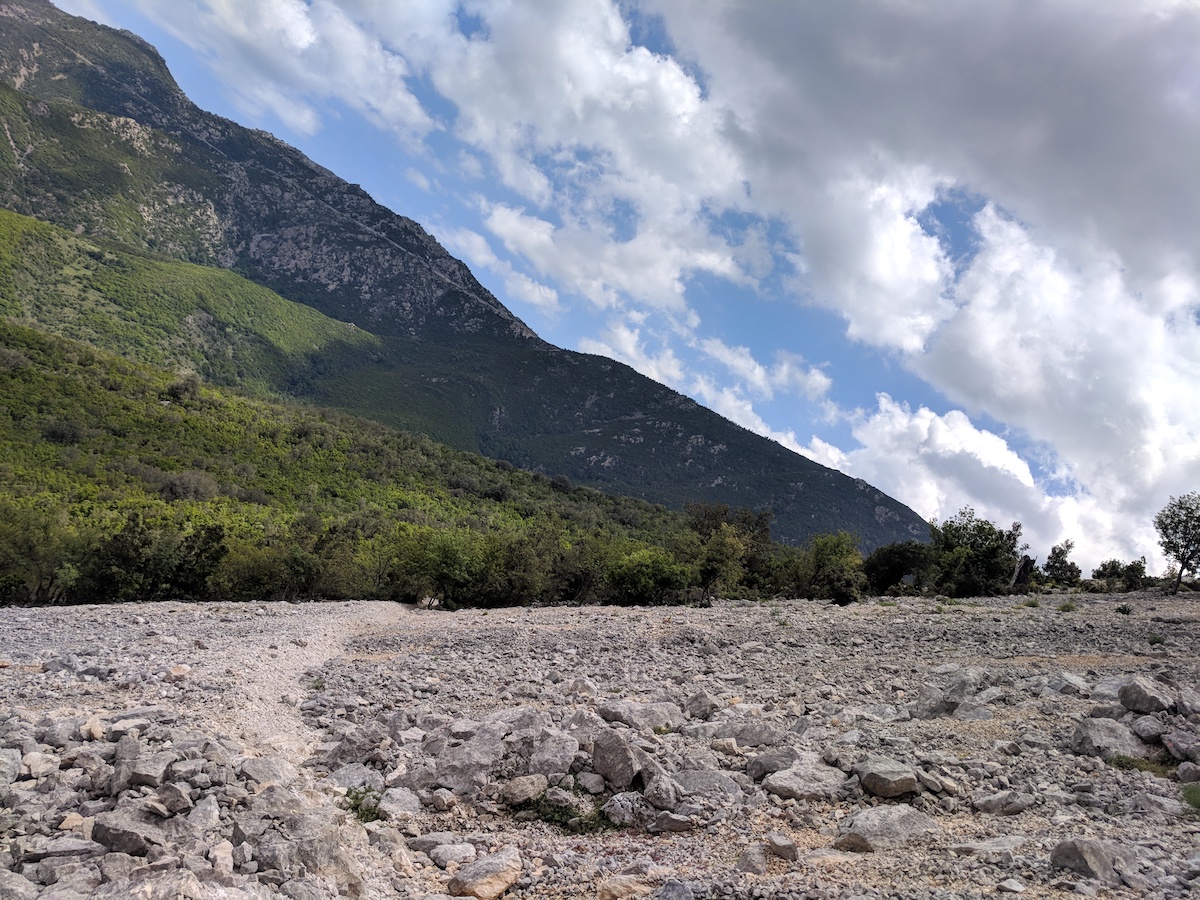 Left: The recurring view of the valley from the trail. Middle: A very recent rock slide had taken out a lane of trees. Right: A tilted perspective on a very-steep rock hill with a narrow trail arranged in it.
At the bottom of the trail, we paid a 5 euro entrance fee to go into the protected area of the canyon, got a briefing from the staff on the best route toward the narrowest part, and set off across white boulders between the cliffs. We were apparently there at an exceptional time, as there water present in parts of the canyon that haven't had any for almost two years. The rain clearly wasn't just falling on us at the coast. Unfortunately after about 20 minutes of hiking between the narrowing walls we hit a 30-foot section that was under about 4-5 feet of freezing water. While some hikers were prepared with sandals and towels and could go a bit further on, we were not, and had to settle for taking a few more photos before turning around and starting the trek up the mountain.
We'd read stories of it taking other hikers up to 3 hours to get back up to the road, but despite a small amount of huffing and puffing we amazingly made it back in only 89 minutes, beating our downhill time (though the many more photos we took on the way down may have had something to do with it!). We were pretty exhausted at the end, and covered over 7 miles of hills in total, but it was definitely worth it and was one of the best hikes we've done on the trip. Easily competing with our hike up Table Mountain in Cape Town or our long hikes to beaches on Ilha Grande.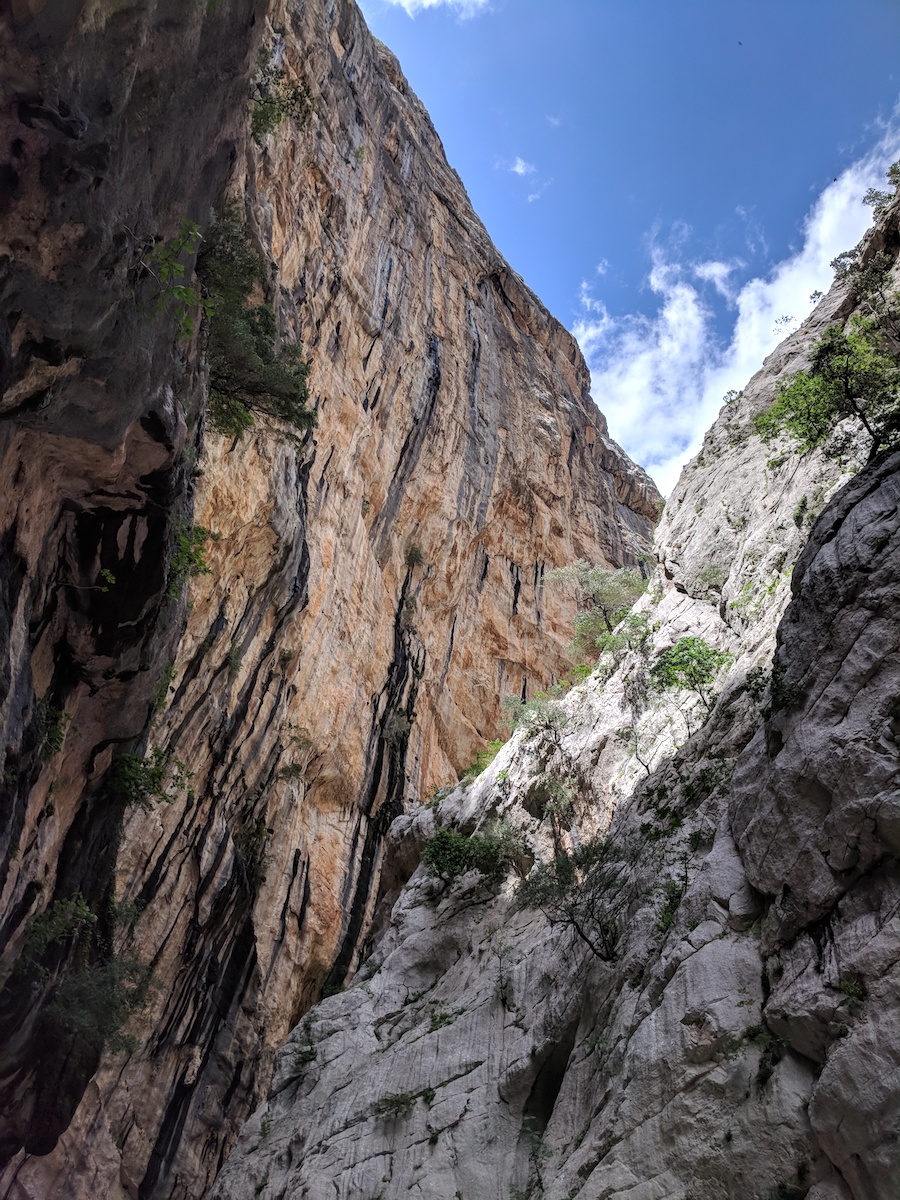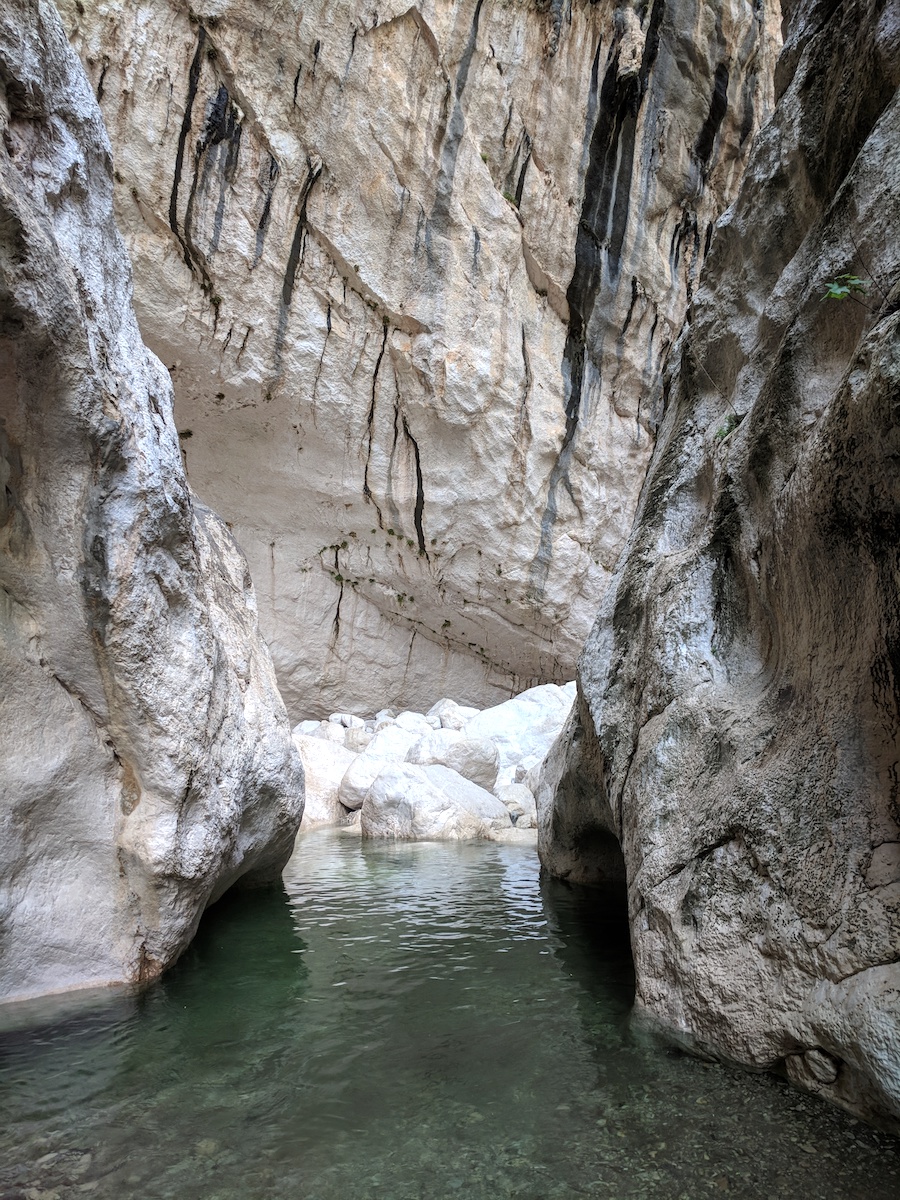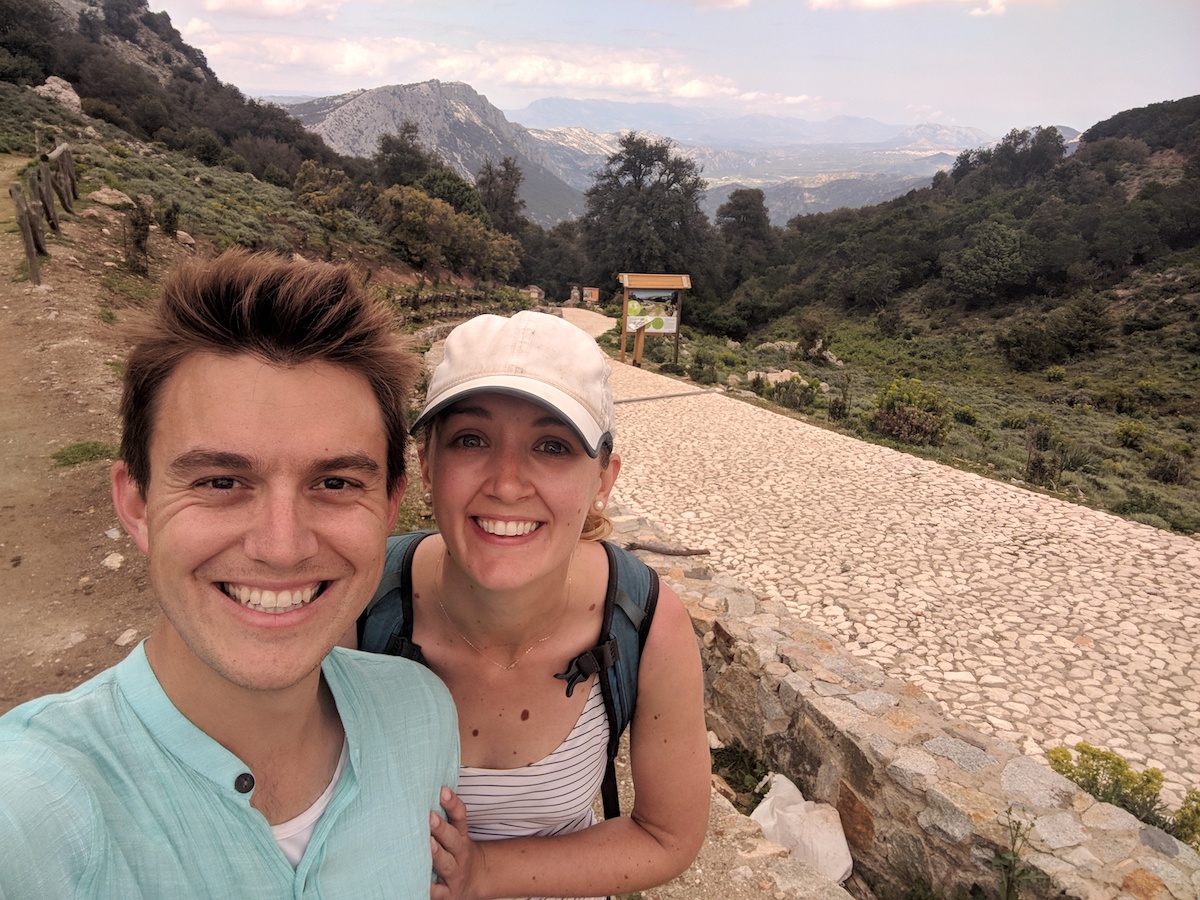 Left: The narrowing walls of the canyon. Middle: The water blocking our way, which was 4 feet deep instead of the usual 6 inches. Right: We made it back to the top!
Our other hike, which we actually did first, was the route from Santa Maria Navarrese to Pedra Longa a steep formation of rock cliffs right on the coast about 3 miles north of town. This had the benefit that we didn't have to drive to the trailhead, and the downside that when it started pouring rain as we were finishing the return portion of the trail we had no car to hop inside of (but did have our trusty and very stylish ponchos!). It's hard to make a comparison, but this trail may have been even more scenic than the canyon trail, with the colors of the ocean changing at every twist and turn. We read about this trail here, where these is more information about the route.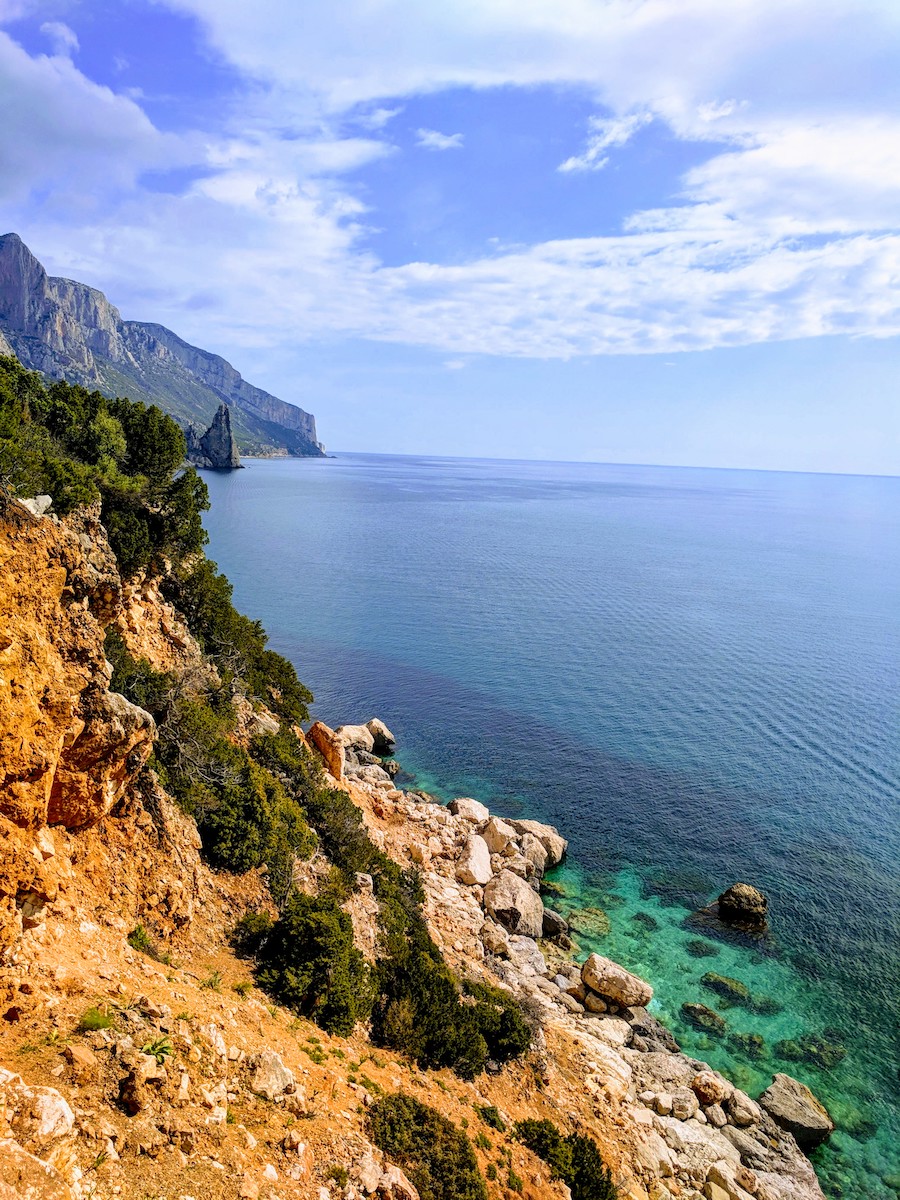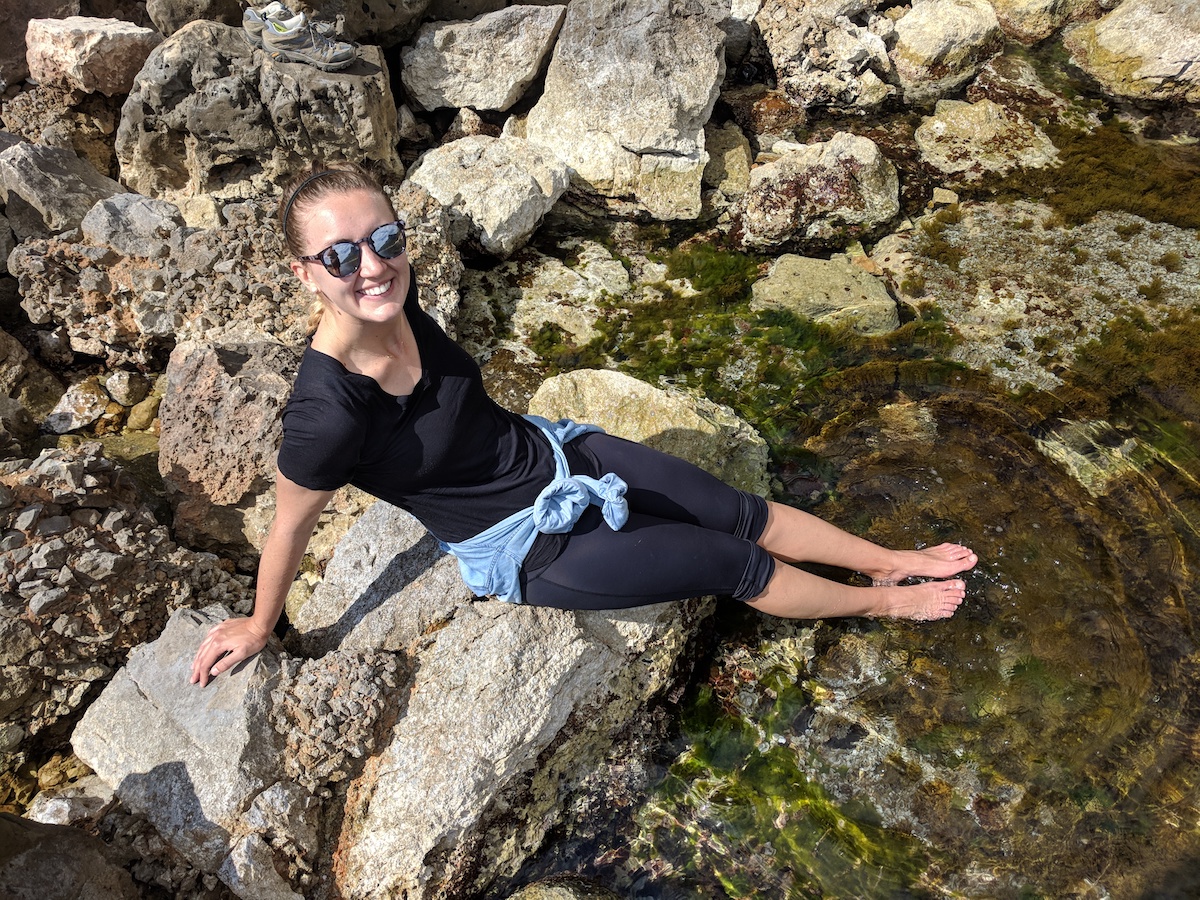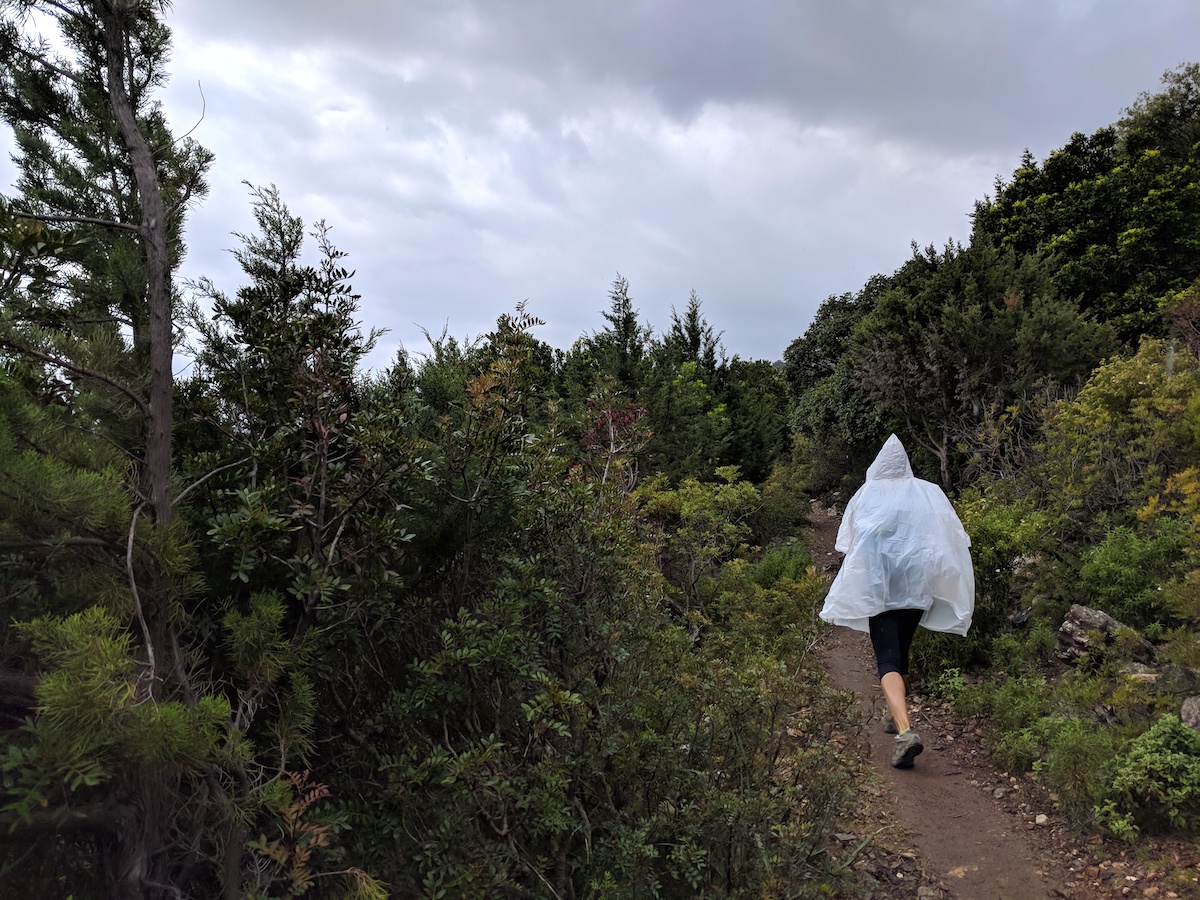 Left: Our first glimpse of Pedra Longo, along the beautiful trail. Right: We made it, and Amy cooled off a bit. Right: Hiking back in the rain, before it started really pouring.
We had originally been planning to hike to Cala Goloritzè, Tiscali, and Cala Luna but didn't because of all the rain and sickness, but they're high on our list for if we ever come back.
Beaches
Sardinia's east coast beaches are really at their best later in the summer, when temperatures climb and lots of Italians visit it as their beach destination of choice. While it was chilly in the mornings, we had some warm afternoons and still enjoyed a bit of time on the sand. The public beach in Santa Maria Navarrese itself was a bit rocky, but very beautiful, and was the only place we actually got in for a quick swim before deciding the water was too cold to enjoy. Sadly we didn't get to hike to any of the "secret" beaches only reachable by foot or boat, but there are a handful that look really amazing.
On our way back to Cagliari we had some time to kill and so made a quick stop at Costa Rei and the wide beach of fine white sand looked absolutely amazing, though is much more popular on nice days and has a lot less public beach access.
Driving
After over seven months of travel, Sardinia was the first place we had to rent a car (not counting the jeep, ATV, e-bike, and scooter we used for brief sightseeing along the way). Neither of us ever learned to drive with a manual transmission, so we were stuck paying extra to get an automatic for the week. I found a great deal through Sixt, but when picking up the car they tried to double the price by claiming an additional insurance policy wasn't actually optional "because there are so many accidents in Italy". Sigh. Luckily I had a back-up reservation with Budget, which while more than the great-deal I thought I had was considerably less than what Sixt was demanding. We ended up in a tiny Renault Twingo, which we had no problems at all with.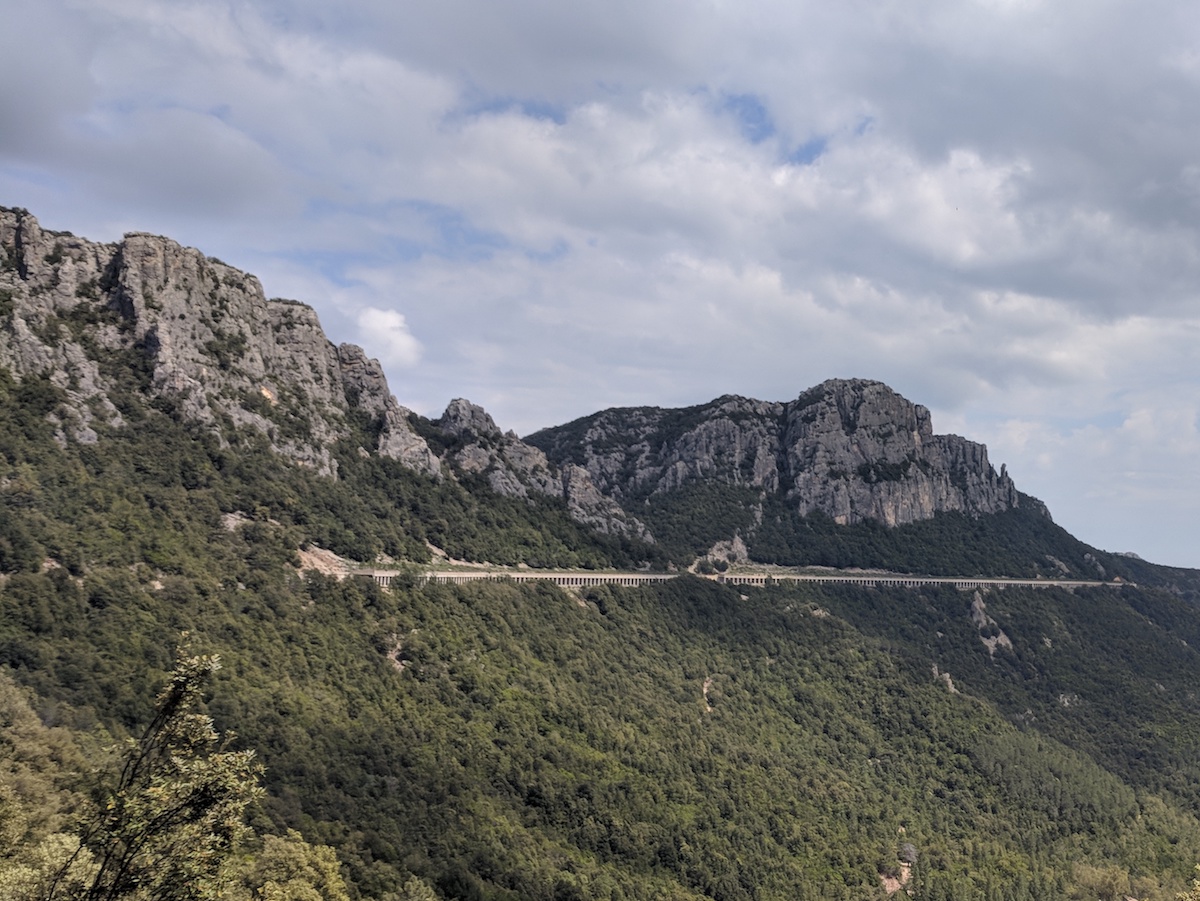 Driving in Sardinia was full of bridges, tunnels, and these charming mountainside three-quarter tunnels with amazing views.
To all the other drivers' chagrin, I stuck near the speed limits due to all the warnings of automated speed cameras, and having the freedom of movement that a car brings was really nice.
Cooking
Santa Maria Navarrese has a good restaurant scene, supposedly, but with most of it being rather-expensive seafood we decided to just self-cater for the full week. Our Airbnb came with a suitable kitchen so we successfully avoided eating out (other than gelato, of course) for the whole time we were there. It was actually really nice to not have to worry about picking new restaurants or dealing with tiresome waiters, even though it meant we got a bit less immersion than we've had in a lot of other places.
Getting to Naples
While the ferry from Barcelona to Sardinia didn't work out, we did successfully take a Tirrenia overnight ferry from Cagliari onward to Naples, and had a really lovely time. After killing some time between when the rental car was due back (1pm) and when our boat was set to depart (7pm) we arrived to the port, found the Tirrenia office, and boarded about 90 minutes before departure. I was surprised to find that most passengers cheap out on the onboard accommodations, so there was a bit of a competition to grab the best couches to later sleep on, but luckily we had pre-booked a private double cabin (at 160 euro total for two, with both transportation and a bed for the night it wasn't too pricey!) and spent most of the journey inside.
While the trip only lasts about 14 hours, the ship operates almost as a miniature cruise ship with multiple restaurants, cafes, bars, and even a game room. Our sailing seemed to be mostly empty, so only one deck worth of amenities was open. We enjoyed a bottle of wine we had brought with us in our cabin, had a mediocre dinner in the cafeteria, and slept soundly as we glided over the calm seas. If you're making the trip and not in a huge rush we highly recommend it–cheaper than flying, way more fun, and you arrive to Naples around 9am well-rested and ready to explore for a full day!
How We Did with Our Budget in Sardinia
For our time in Sardinia, we had budgeted as much as 75 USD a night for accommodations. We knew we wanted to be on the east coast and within driving distance of Cagliari, since that was our port of departure, and ended up staying in the very-lovely Santa Maria Navarrese just because that's where we found the best Airbnb in our price-range, complete with amazing views out over the Mediterranean and for just 55 USD total per night.
We had also budgeted 15 USD per day per person for food and 15 USD per day per person for entertainment. Out of that planned 60 USD total, we ended up spending only 38 USD per day on average, with the vast majority of that on groceries (20 USD per day) and gasoline (7 USD per day). Even with the cost of the rental car (35 USD per day including taxes/fees) we still ended up well under budget overall, which we'll gladly apply to some nice meals in the big cities of Italy.
---