27 Jan 2018
Siem Reap: Even More Temples!
After our somewhat disappointing time in Phnom Penh we took an actually-lovely minibus run by the Cambodian Post office to Siem Reap. The time flew by and the extra packages in the van didn't take up too much space 🙃 and before we knew it we were in the land of temples once again.
With five nights in Siem Reap, we split our time between exploring the impressive temples spread throughout the Angkor Archaeological Park with the help of a hired tuktuk/driver and relaxing at our surprisingly-nice hotel. We did miss the flexibility we had in Bagan to stop anywhere we liked, but especially on the first day it was very nice to get some quality narration from our driver. At the end of our stay, we made our way to Bangkok overland with the help of a taxi and a train full of local Thais.
What We Did in Siem Reap
Day 1: We arrived in Siem Reap before 3pm after a minibus ride from Phnom Penh and made the short walk to our hotel, the Reasey Boutique Villas which we had found on Airbnb even though it operates as a traditional hotel. With only five villas and a private pool, we were well taken care of. After getting settled we walked over to the Siem Reap River, the canal that cuts through the middle of Siem Reap and had a snack on the lovely rooftop of Palate before finding a cheap dinner place frequented mostly by locals, Chan Rah II Restaurant. We had some very good fruit juices and local specialties, including another fish amok, which was very good.
Tuk-tuk Days: After finding out that it's illegal for scooters to be rented to foreigners (more on that later) we decided to find a tuktuk driver who could take us around for the next three days. Since we'd be with them so long, we found some recommendations online and contacted them rather than just pick a random driver off the street. We ended up paying an average of about 25 USD per day, which is a bit more than we would have been able to negotiate with a random driver, but it was worth it to have Mr. Chenda WhatsApp: +85512257497 give us so much detail on the temples as we arrived. He had previously worked with a number of archeological teams and seemed to have both more knowledge and better english than any of the other drivers we encountered.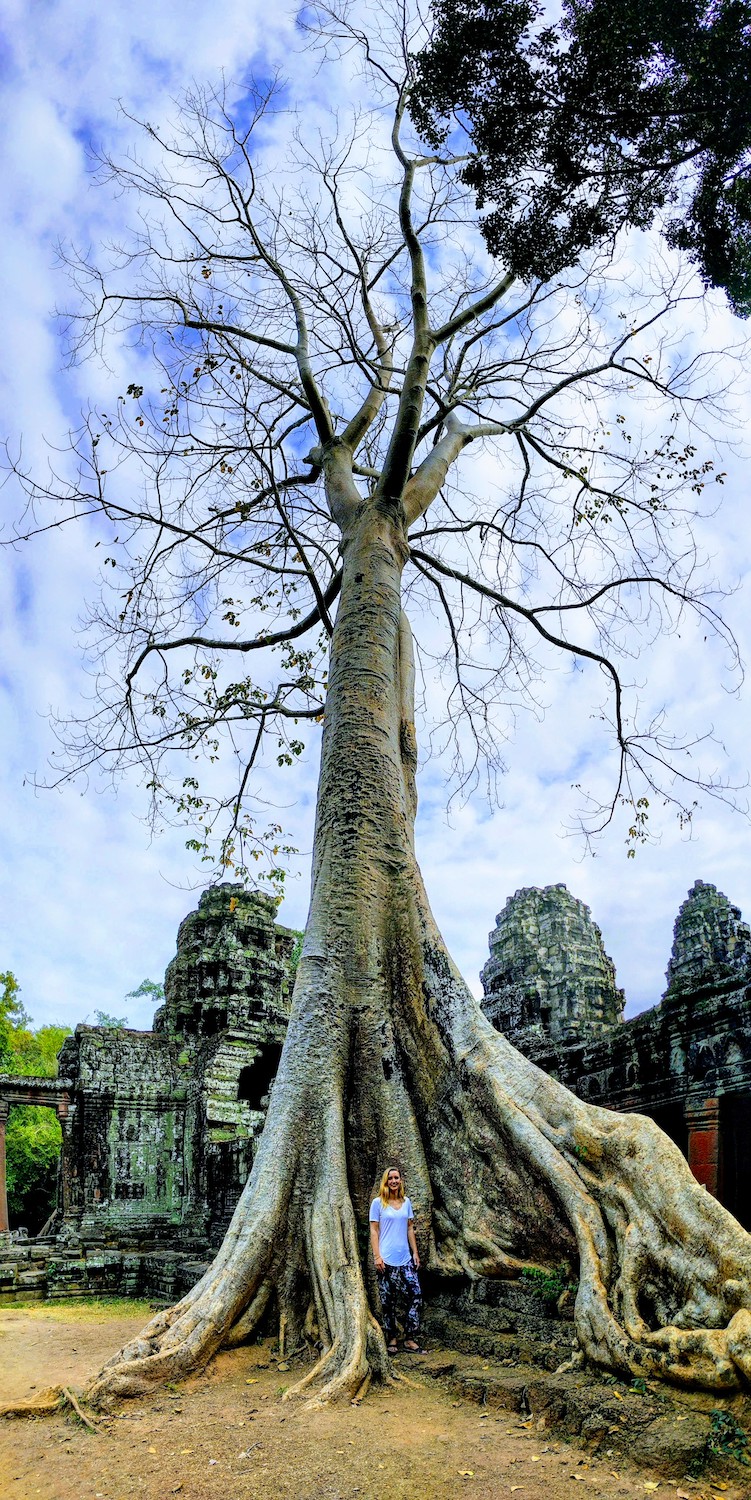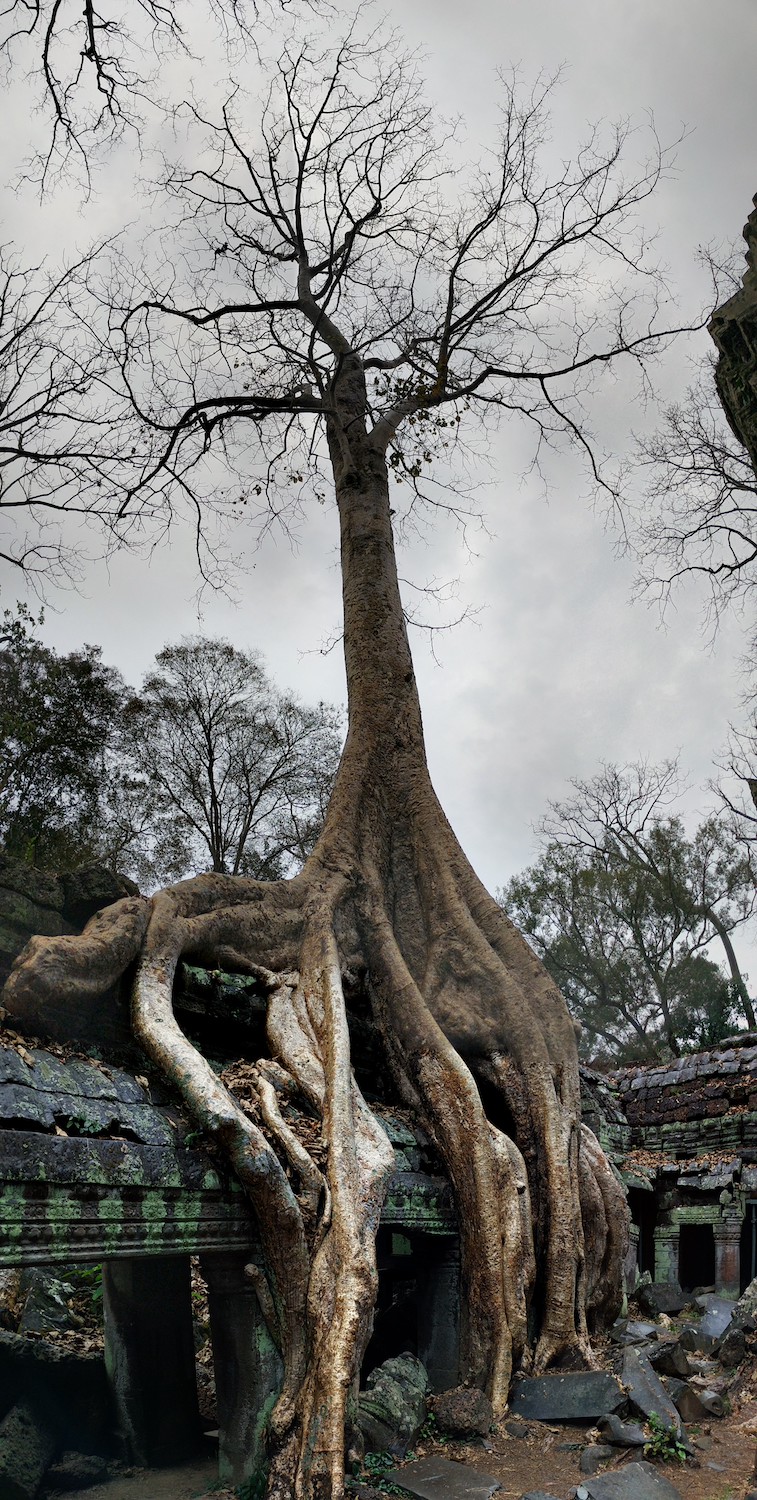 We really loved all the trees, from the famous "Tomb Raider" tree at Ta Prohm to the ones everyone else was ignoring.
One thing we found interesting about the Angkor area is that while tourism there has only really boomed since the political atmosphere stabilized less than 20 years ago, in some ways it has been prepared for tourism for over a hundred years. The occupying French formed the first Conservancy organization in 1908 and started building the loop roads that tie together the major temples–the same loop routes used by everyone today.
On our first day driving around, we stuck to the small circuit which includes the most famous temples as well as some smaller and less well-known ones. This route has a lot of tourist traffic on it, including the large tour buses popular among the countless Chinese tourists, but with some careful planning with our driver we were able to time most of our stops to be when the buses were elsewhere. Our favorite stop that a lot of people don't make was Ta Nei, a temple overgrown with trees and hidden down a dirt road away from the main circuit. There was only one other tuktuk there while we were there, and it felt a bit more like what I was expecting (temples hidden in the jungle) rather than what we encountered on the main roads (tour buses for days). We finished our first day inside Angkor Wat itself, watching the sky turn orange and the sun dip below the trees. We lucked out and were part of the last group of tourists allowed to climb to the top of the temple itself, after only waiting a few minutes in a line that often stretches to an hour.
At Mr. Chenda's recommendation we tried Try Me, a small restaurant a block from our hotel and were very impressed–their lime and mint shake (for reasons we still don't really understand it's called a lemon shake on the menu) was the most refreshing thing we had in Cambodia and all of their 3-4 USD entrees were fantastic. We would know, we tried many of them over several visits.
For our second day, we had planned a 4:45am pick-up time so we could get out near the temples and find a good spot to watch the sun rise. Unfortunately the only rainstorm our driver remembers passing through in the last couple months was exactly synced with sunrise and we didn't get to see anything but clouds. The early start did let us make a return visit to Ta Prohm right at opening time to have a much more peaceful experience exploring one of the most famous temples at Angkor. We then completed the large circuit which loops around Jayatataka lake and visits temples that are further spread out.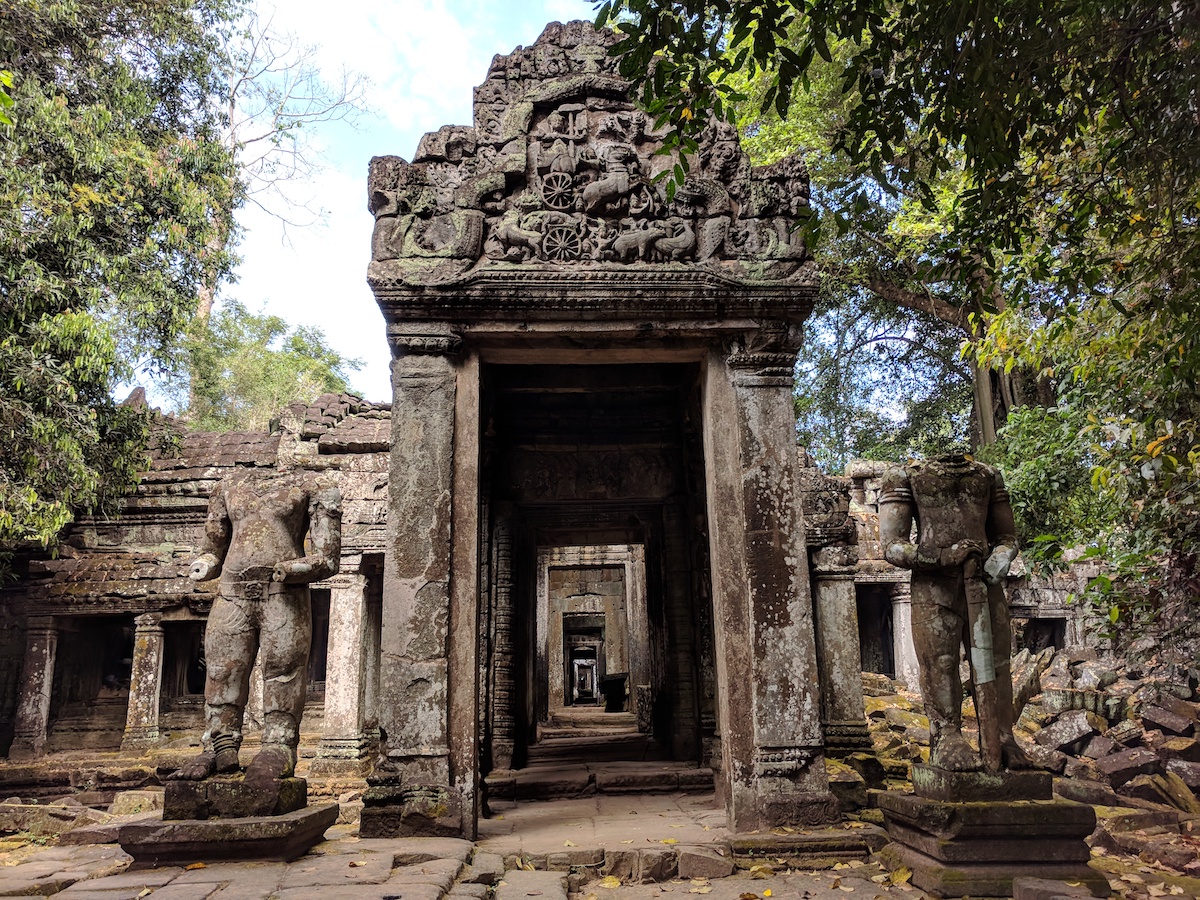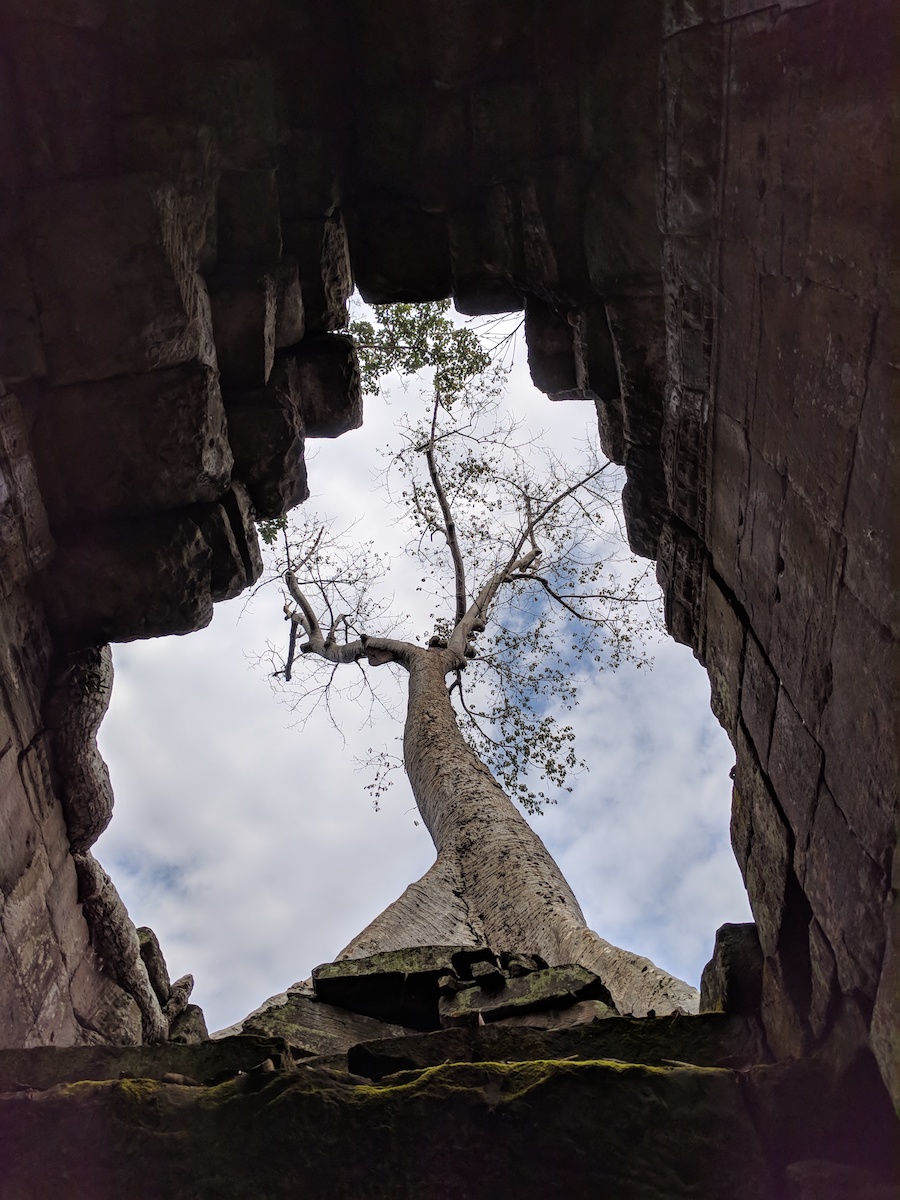 Left: One entrance to Preah Khan - the precision these temples were built with is impressive, with the tiny dot of light in the middle of the doorway coming from all the way on the other side of the complex. Right: A view upward through a broken ceiling at Preah Khan.
Our last stop was Phnom Bakheng, where tons of tourists watch sunset each evening, but where we were all alone climbing the steep steps in the blazing early afternoon sun. You can see Angkor Wat from the top, but not well. After that, we were pretty exhausted and had our driver drop us back off at our hotel in time to take our first dip in the pool and cool off.
On our third and final day driving around, we made the long trip out to the Landmine Museum. The Museum focuses on the story of one soldier as he went from planting landmines as a soldier for the Khmer Rouge to spending his life working to remove them all, and had lots of examples of landmines he had personally defused and removed. The variety of explosives was unexpected, ranging from those placed largely by the Khmer Rouge, to more modern Russian- and Chinese-made devices, and of course the many unexploded bombs that were dropped by the United States on Cambodia during the Vietnam War. The museum also has many examples of other munitions found in Cambodia, from small ones to some almost as tall as me, on display. The museum itself is not much more than a few small rooms with information and examples of ordinances that the founder deactivated but the grounds are also home to a school and residential center for disadvantaged youths that started as a home for children injured by landmines. Today, as the number of children injured each year declines, none of the children were injured by landmines but are able to receive an education here where they otherwise would not be able to.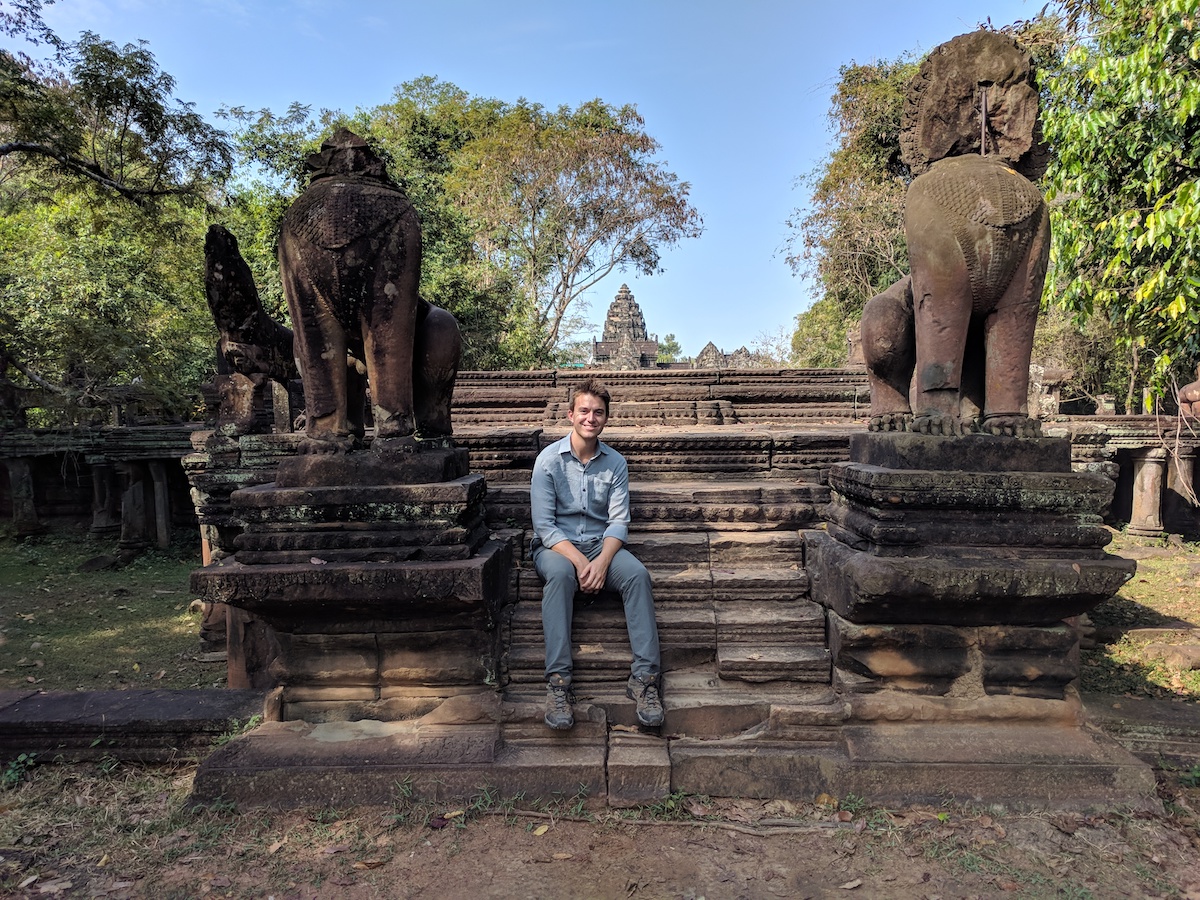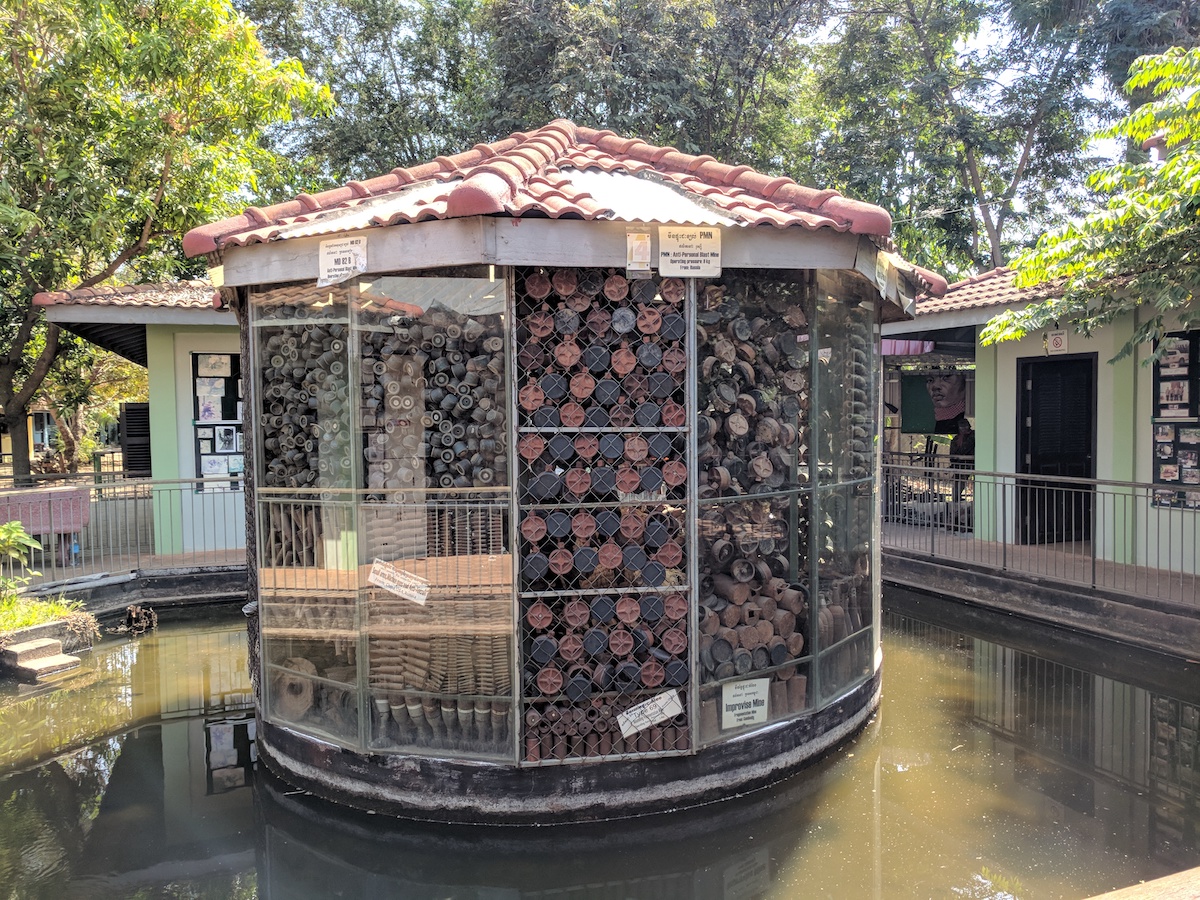 Left: Banteay Samre, where we stopped on the way to the museum. Right: Some of the mines the museum founder disabled.
We then explored Banteay Srei, a large temple complex with amazingly-well-preserved carvings that's worth the long drive all on its own. We spent longer here than at any of the other areas this size, as there is also a lakeside path and a exhibition room with additional information about the preservation and restoration of the site. After exploring Banteay Srei we headed back through Angkor Thom to our hotel and got a little more pool time.
While we really enjoyed the narration from our driver, especially on the first day as we got introduced to the temples, we were a bit jealous of another couple at our hotel who had found an electric scooter for rent, similar to what we had in Bagan. Apparently only real motorcycles are illegal to rent to tourists and it is possible to get e-bikes, which we wish we had spent more time looking for when we arrived before booking our tuktuk tour.
Day 4: After spending 3 days in the backseat of a tuktuk, being driven around for ~90 miles and walking over 30 miles while exploring the temples, we were tired and sore and glad we had built in a rest day before heading to Thailand. We spent more time at the pool, had a lovely lunch at Father's Restaurant and then for dinner went to the ever-wonderful Try Me for our fourth and final meal there.
Day 5: We left our hotel by 9am and headed to Thailand overland, a lovely experience.
How We Did with Our Budget
For our time in Siem Reap, we had budgeted as much as 45 USD a night for accommodations. We ended up spending 44 USD per night in Siem Reap for a really great room in a tiny hotel with wonderful service. We had also budgeted 8 USD per day per person for food and 15 USD per day per person for entertainment. Including our pricey 3 days of having a hired tuktuk/driver, we ended up spending 54 USD per day on average, plus our Angkor Wat tickets (124 USD total) and onward travel to Bangkok (22 USD total), which we had budgeted separately for. Luckily, since we didn't do much in Phnom Penh, for our time in Cambodia overall we ended up spending 70 USD less than the total we had budgeted, which we're sure will come in handy as the dollar continues to weaken and we start to plan the Europe portion of our trip!
---