9 Jan 2018
Hanoi: Welcome to Vietnam
Good morning Vietnam and Hello Hanoi
We arrived in Hanoi pretty exhausted after our overnight train from Bagan to Yangon and then a same day flight to Hanoi. By the time we finally arrived at the New Vision Palace Hotel it was after 10:00pm and we were faced with what we soon realized would be the most over-the-top costumer service experience we would ever receive. We were a bit overwhelmed by the amount of information we were provided and the number of questions asked about our plans, whether we needed arrangements, directions, recommendations, or anything else (all of which would be repeated by anyone we happened across coming in or going out of the hotel). The room was very nice though with a small balcony and blissfully-hot water.
We only had a few days to explore Hanoi and the weather wasn't very cooperative with misty mornings and afternoon drizzle. Honestly the best part about our time was the food.
Similar to Yangon, there are many street vendors selling a single particular dish to hungry diners on tiny plastic furniture and these inevitably were our favorites.
Food
Bun Cha: Grilled pork meatballs (typically grilled over open flame right on the sidewalk) with noodles and a sweet broth. One stall we tried (my favorite) added a kind of pastry wrapping to the meatballs and a bit of seafood flavor as well.
Pho: This is the noodle soup dish that most represented Vietnamese food for us living in the US but almost every bowl of it we've had here is way better - not sure if it's a longer cook time, different spices, or something in the water, but it is just better.

Bahn Mi: Bahn is just the word for bread or baguette that is a hold over from the French occupation of Vietnam. This is a tasty snack or meal. Nate was willing to try one with pate but I've passed on it so far.

Cha Ca: A fried white fish with heaps of fresh dill and ginger that you prepare yourself on a table-top burner. Eaten with noodles, peanuts, and broth.

Egg Coffee: Coffee made with egg yolks, sugar, and condensed milk. There is coffee and then a thick egg cream on top. It's definitely more dessert than coffee but it is delicious.
Attractions
We made the trip to the Ho Chi Minh Mausoleum only to find that it seemed to be closed but we couldn't figure out why. It's an imposing building with dressed guards at the door and patrolling the area. Because it was closed, we didn't see the embalmed Ho Chi Minh.
We walked across the Long Bien Bridge, which was bombed several times during the Vietnam War but was rebuilt again and again. The bridge today is functional but not the nicest walk. The "sidewalk" is really just concrete slabs across metal beams and some are cracked, some are loose, and there are gaps between all of them to see down to the ground/river below. Walking out for Nate to take a few pictures was probably the most uncomfortable I've been in a while, with my fear of heights kicking into high gear. It's not actually that high up but there seemed to be a much more real danger of falling through with one wrong step. We obviously didn't plummet to our deaths though and my heartbeat and adrenaline levels eventually receded.
One of the major attractions in Hanoi is the Hanoi Hilton (Hoa Lo Prison). It was originally built by the French to hold Vietnamese anti-colonial political prisoners. This history is the main focus of the museum with glowing propaganda about the "revered heroes and martyrs" who never gave up the fight, continued to spread the teachings of revolution and never turned against one another despite deplorable conditions imposed upon them by the "worldly-wise, cunning and experienced jailers, cruel overseers and stool-pigeons" (from the tourist information booklet you can purchase upon entrance).
There are also exhibits about the period of the prison's history when it was used to house American POWs shot down over Hanoi and the surrounding area. These exhibits spoke about the hospitable treatment of the Americans with an entire exhibit dedicated to letters written by POWs while they were being kept in the prison. One letter was written by a pilot to his family talking about how he now realized that he was a criminal, how wrong the war was, and how grateful he was for his gracious hosts. Reading this letter was probably the thing that made me most upset. Knowing that the circumstances under which it was written almost certainly involved torture made me cringe becauseit was now being shown in a museum as though it were a true tribute to the caring treatment POWs received. If you want to know more, here is John McCain's description of his time as a POW for context.
The language of the museum is clearly biased, there is an agenda, but it was still an interesting stop that I would recommend. Just bring a very healthy dose of skepticism with you.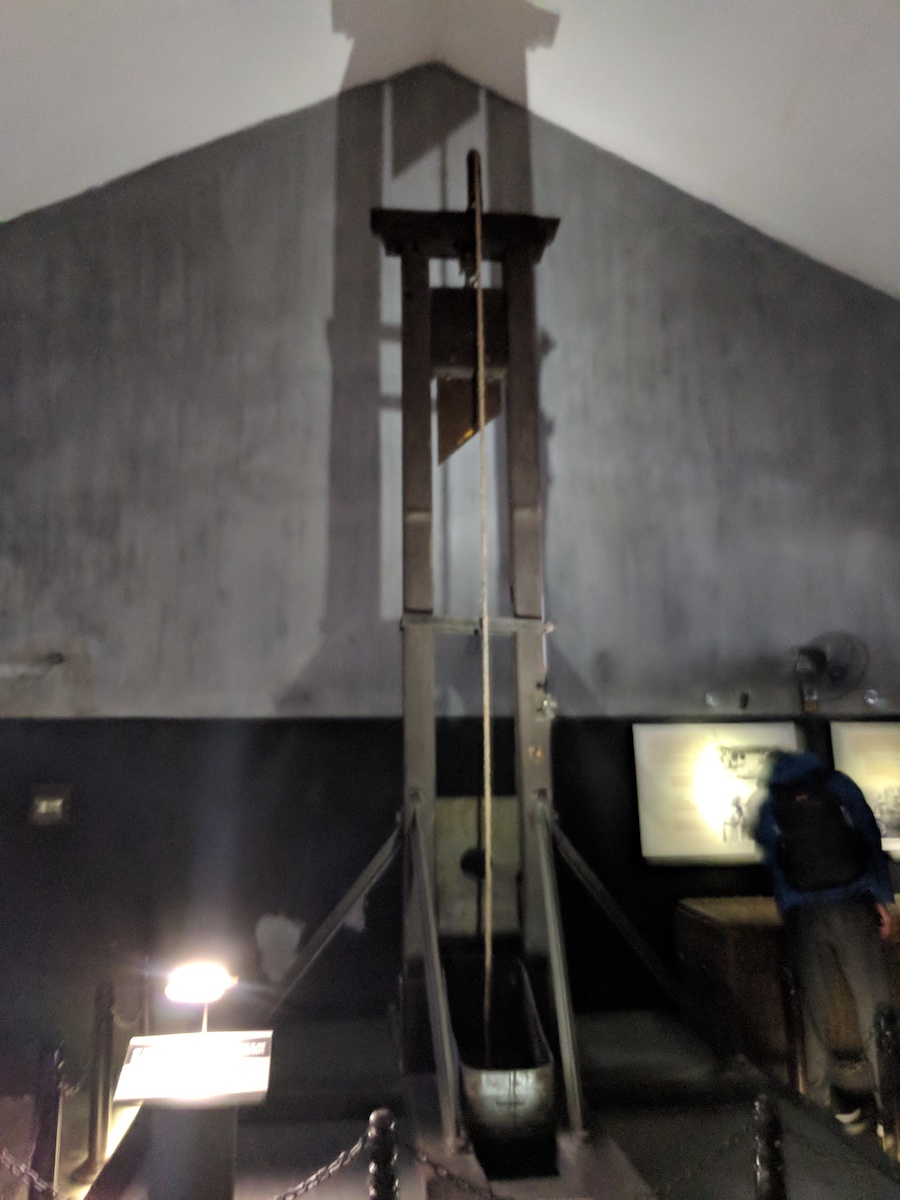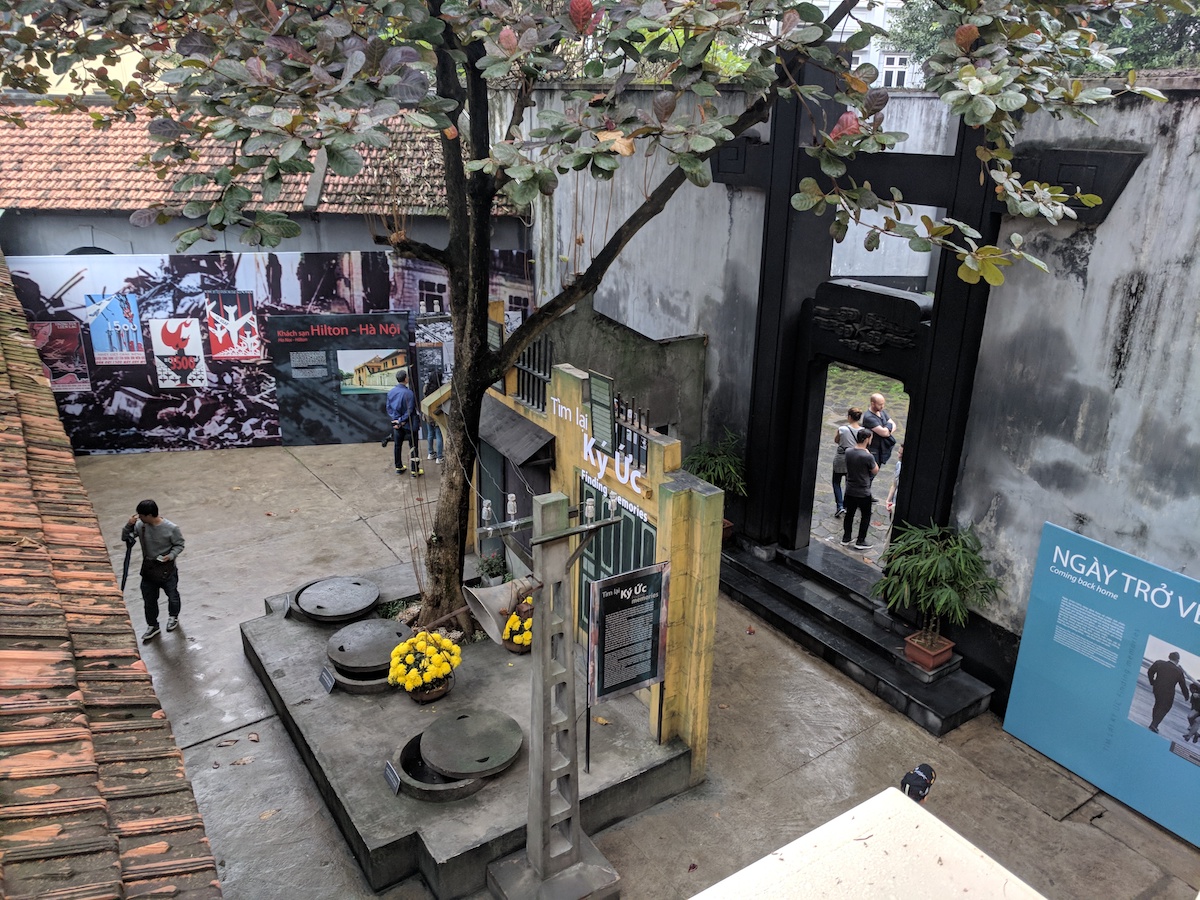 Left: A guillotine used to execute Vietnamese prisoners by the original builders of the prison–the French. Right: The museum courtyard, with placards about American POWs housed-in and later released-from the prison.
Far from the sobering visit to the Hanoi Hilton, we also made a trip to the popular street of bars and restaurants called Beer Corner. Maybe I'm becoming less fun as I get older but the packed street full of pushy touts getting in your face to try to bring you to their bar or yelling the happy hour specials was an overload in the worst way. We instead opted to have a couple of drinks at cafes on the fringe of the area and people watch, which was a much more enjoyable way to spend the evening.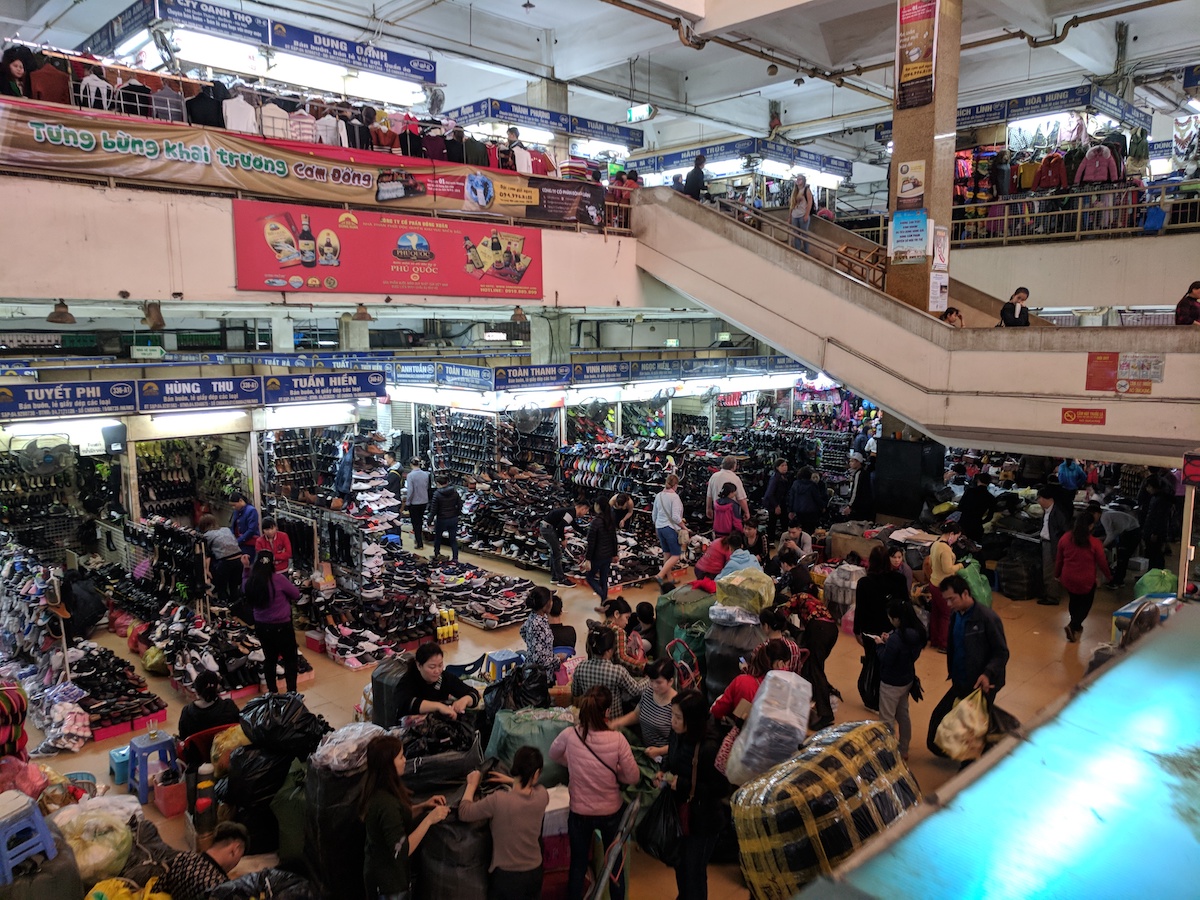 Dong Xuan Market is a huge, multi-level market packed to nearly bursting with clothes, shoes, and trinkets of all varieties. It is geared more toward locals than tourists and there are smalled shops lining the surrounding streets. We wandered through the tiny paths between vendors to explore but because it is technically winter (though still in the 60s-70s everyday) the main attraction was endless winter coats of every variety.
One of the more peaceful activities we enjoyed was walking along two of the lakes in Hanoi: Ho Tay lake and Hoan Kiem Lake. The first is larger and we only covered a small section but stopped for coffee at a coffee shop right on the water to watch the fish eating at the surface while I enjoyed a Vietnamese coffee complete with condensed milk and tasting like a delicious dessert.
Hoan Kiem Lake is much smaller and we walked around the entire area. There is a pedestrian path all the way around that is slightly removed from the cars and motorbikes weaving in and out. There are also plenty of benches to sit and enjoy the view. There are vendors, usually women, who carry produce or trinkets in baskets hanging from either end of a long wooden pole who will either try to sell you something or get you to hold their wares for a photo. Generally they would move on quickly though.
How We Did On Our Budget
For our time in Vietnam, including our visit to Cat Ba island, we had budgeted as much as $45 dollars a night for accommodations. We ended up spending $55 per night in Hanoi but only $24 per night for a pretty wonderful hillside bungalow overlooking the water on Cat Ba Island, which kept us under budget on average. We had also budgeted $8 dollars per day per person for food and $15 dollars per day per person for entertainment. Out of that $46 per day, we ended up spending only $38 per day on average, including our pricey daylong kayaking tour ($120 total) and our hydrofoil boat to Cat Ba tickets ($16 total).
---