29 Apr 2018
Amman: A Taste of the Middle East
Jordan was our only destination in the Middle East, and was included in our around the world air ticket once we decided to skip Istanbul because of the uncertainty around traveling there as an American. In addition to Amman, we enjoyed our time visiting Petra and Wadi Rum, and overall found Jordan to be full of gracious hosts and easy to explore.
For our time in Amman, we stayed downtown at The Sydney Hotel, right near main tourist destinations and most popular restaurants in Amman. While most people in Amman get around by car or taxi, we enjoyed walking where we could and exploring both old Roman ruins and different modern neighborhoods. We hadn't understood just how hilly Amman is before arriving: while there isn't any one hill as impressive as some of San Francisco's, the geography of downtown is completely dominated by separate steep hills that are mainly connected to the wider streets by steep staircases. The tourist infrastructure in Jordan is a lot less developed than in most of Southeast Asia, with many fewer transportation options and few tourist-oriented services available, but we easily managed and had a great time overall.
What We Did in Amman
Day 1: Our overnight flight from Hong Kong arrived at 5:30am and after one of the quickest trips through immigration and customs we've had on the trip we successfully took an Uber to our hotel, arriving a bit after sunrise at 6:30am. They obviously weren't ready for us to check in, but we stored our bags, charged our phones, and then headed out to Hashem Restaurant for breakfast. A staple of downtown Amman, Hashem is open 24/7 and is a really great value. While they don't have a menu, just telling the server you want their standard meal works out great: we paid 8 USD total for enough tea, bread, hummus, falafel, and baba ganoush to absolutely stuff ourselves.
After breakfast we walked down to the Roman Amphitheatre, a historic ruin that is in remarkably good condition. Once we got there, we realized we had left our Jordan Passes back at the hotel so couldn't get in for free, and headed back there instead to use some wifi and make a bit of a plan. After some rest in the lobby, we walked back out and up to the Amman Citadel, a set of old Roman ruins overlooking Amman. We spent a couple hours exploring the site as the sunshine warmed up the day, and enjoyed the amazing views over the rest of downtown.
We were still pretty stuffed from breakfast, so we stopped at Aima Ice Cream Parlor for a surprisingly-good ice cream "lunch" before heading back to the hotel, getting into our room, and relaxing for most of the afternoon.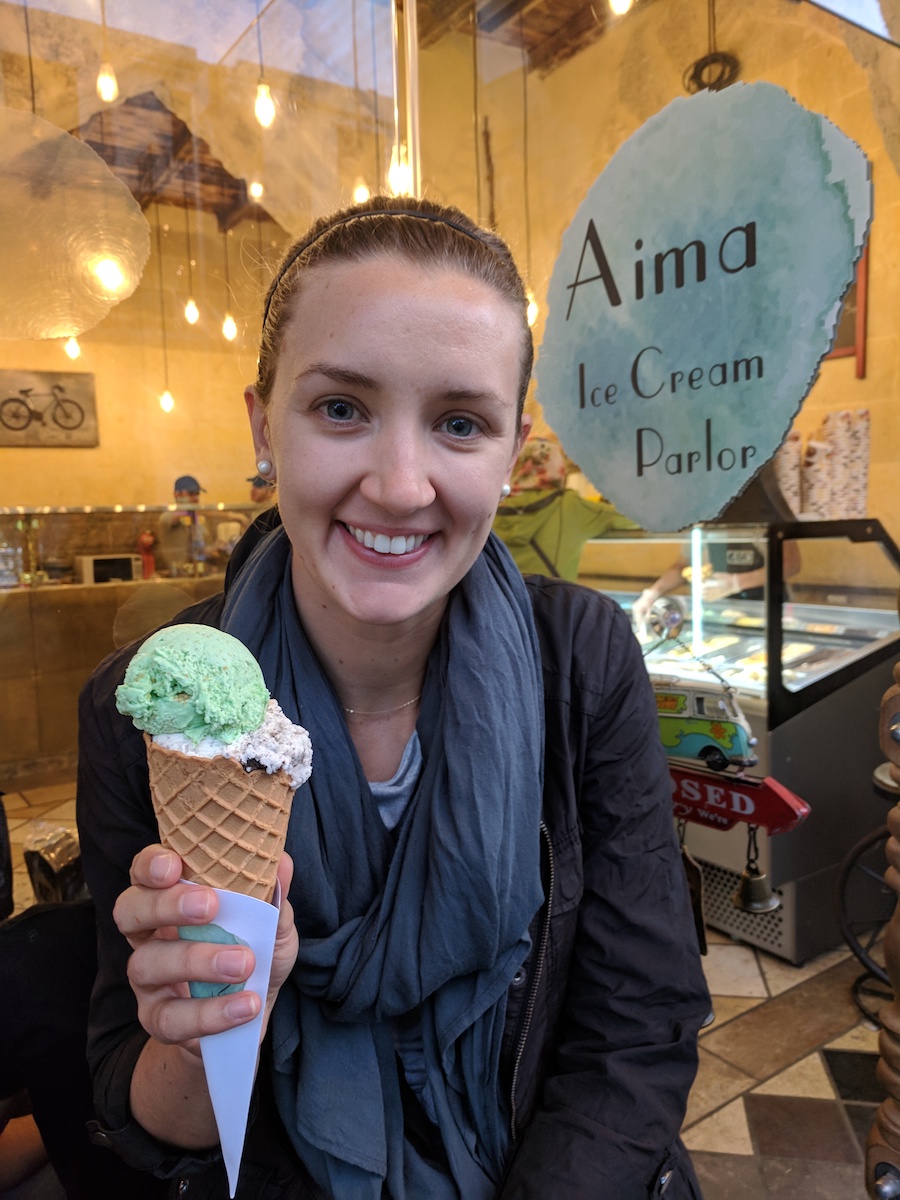 Left: Aima Ice Cream. Right: One of many beautiful views of the huge Jordanian flag flying over downtown.
In the evening, we tried another Amman mainstay: Al Qud's Falafel. A tiny shop serving nothing but falafel sandwiches, it's as cheap as anything you can get in Amman and really delicious. After enjoying a couple of them (they're small!) we walked down the rest of Rainbow Road seeing what makes up this famous-in-Amman street. We were a bit surprised how quiet it was, with just a handful of restaurants and some sleepy stores, and ended up finishing our dinner at a shawarma place down one of the side streets.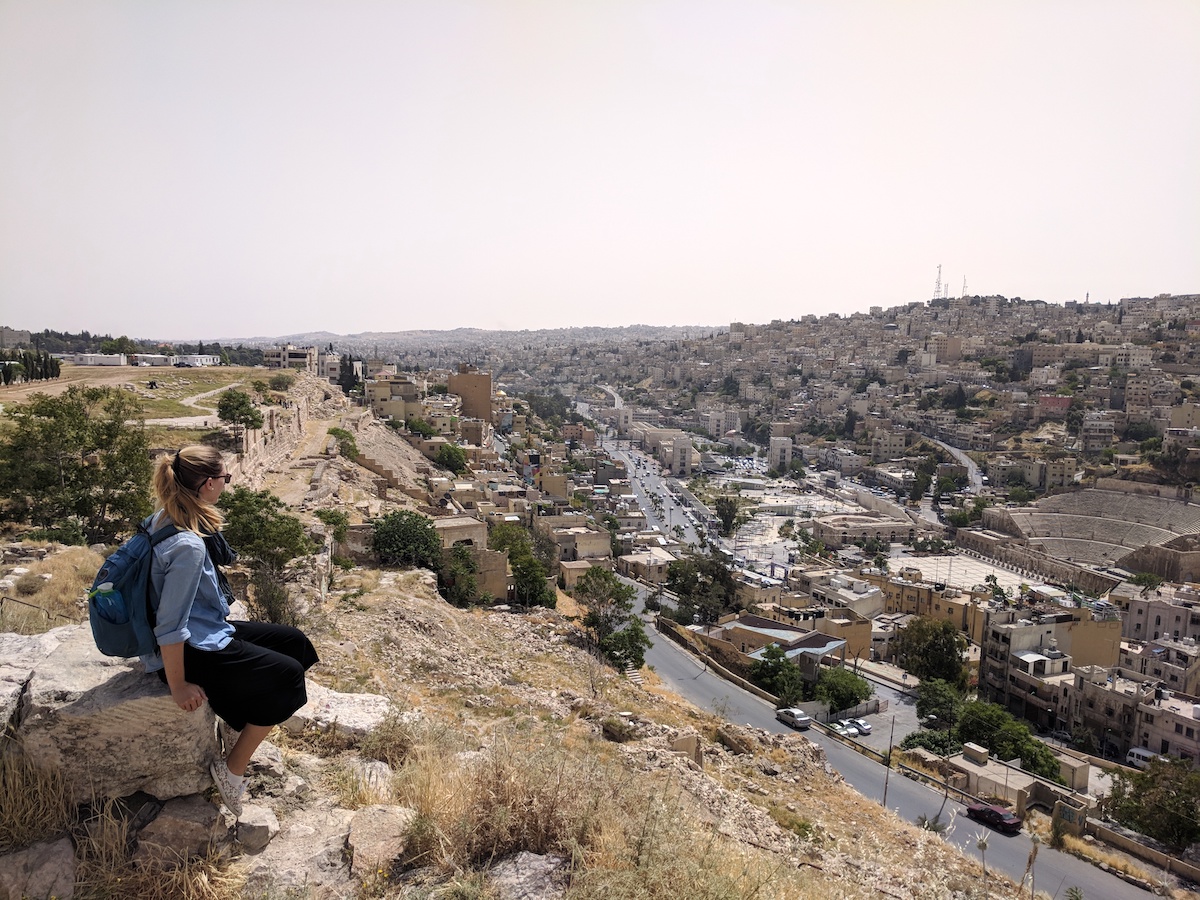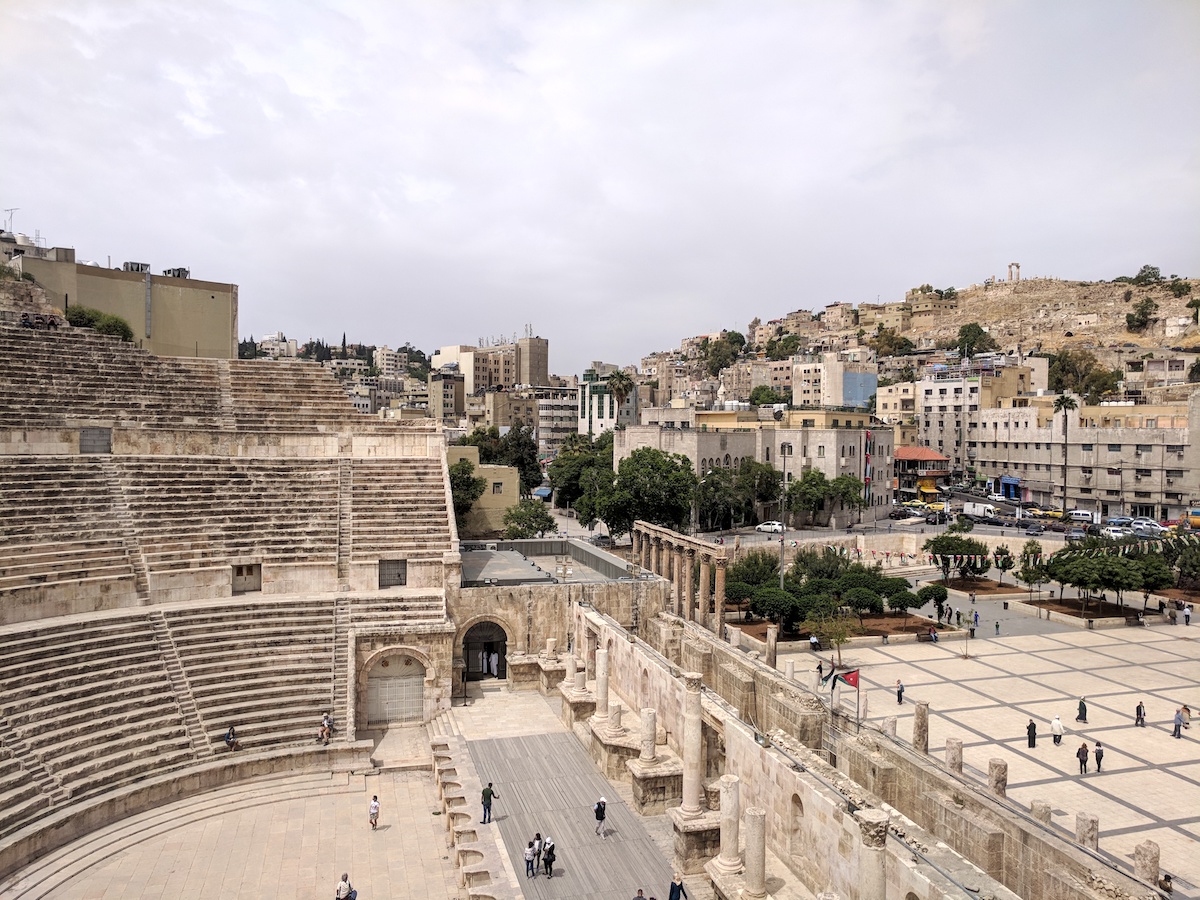 Left: The view of the Theatre from the Citadel. Right: The Theatre, with the Citadel visible in the upper right.
Day 2: We woke up early, still somewhat on Hong Kong time, and after a quick breakfast at our hotel headed back toward the Roman Amphitheatre, which was still pretty empty and great for exploring. We did a thorough walk through the theater itself, both on-site museums, and a smaller adjacent theater. As we were leaving it started to rain, seemingly surprisingly everyone out-and-about in Amman that day. We hoped the rain would pass quickly, so stopped at the downtown alleyway outpost of Habibah Sweets, a Jordanian chain famous for its kunafa, a traditionally-Palestinian delicacy of cheese pastry soaked in sweet syrup, cooked, and topped with chopped pistachios. We accidentally ordered larges instead of smalls, but they were delicious and at around 1 USD per piece are a huge hit for both locals and tourists.
The rain didn't stop, so we jacketed-up and continued on our way up to Paris Circle, the centerpoint of one of the hills surrounding downtown Amman. I had read about a really-good bakery nearby which we were unable to find, so we went down the backside of the hill to Saladin Bakery, which we had seen featured on the Amman episode of the (honestly god-awful) TV show "Ainsley Eats the Streets". Migrationology's blog post about the bakery gives a good run-down of it, but even armed with that information we were a bit bewildered to walk into the storefront and find ourselves in what seemed to be the middle of a kitchen. Luckily the cashier spoke a bit of English and told us to make our own sandwiches and then tell him what we used so he could charge us correctly. We ended up paying 2 USD total for two rolls, 3 amazing bread-oven-baked-eggs, and some cheese that satisfied our hunger for the rest of the afternoon.
The rain finally let up around dinnertime, but our jetlag left us pretty exhausted, so we walked down the hill to Hashem and had another great, cheap meal of vegetarian Jordanian specialities.
Day 3: After breakfast we spent a bit of time indoors for Amy could finish her latest Nerd Time post and then set out on a forced adventure: we were planning to take a JETT Bus to Petra the next day but apparently after a rash of no-shows they stopped accepting bookings online or by phone, so you have to physically go to an office to get tickets. Their Abdali office was only a couple miles from our hotel, so we figured we'd skip the stress-inducing taxi ride and just go for a nice long walk. We ended up walking back past the bakery we'd had lunch at the day before, and eventually made it to the office and got a couple of the last seats on our preferred bus with no problem.
Afterward we walked into a nearby mall and successfully (they broke two days later 😢) got Amy some new sunglasses to replace the original pair she had just broken and were now held together with duct tape. After enjoying spending a bit more time wandering around The Boulevard, a swanky new outdoor shopping promenade in the Abdali neighborhood of Amman, we set out back toward the hotel. We picked a different route back, stopping at Shawarma Reem, a famous hole in the wall on a busy street near downtown, which was definitely good but not better enough than the other shawarma we'd had to merit going out of our way in the future.
After getting back to downtown we completed a trifecta of great things: more falafel sandiches at Al Qud's, more kunafa at Habibah's, and then really-good shawarma and Shi Shawarma on Rainbow Street. I'm not sure if they're new or just under-appreciated by tourists, but for a place that doesn't even show up on Google Maps it was always packed with locals and completely filled us up for less than 5 USD per person.
Day 4: Our JETT Bus to Petra departed at 6:30am, so we booked a car through our hotel to drive us the 5 minutes to the station and were on our way without any issues.
Day 5: After having a great time in both Petra and Wadi Rum, we arrived back in Amman on another JETT Bus in the mid-afternoon and checked back in to the same hotel. We were pretty exhausted, so enjoyed the chance to shower, rest, and make the short walk back to Shi Shawarms for a quick dinner.
Day 6: For our final full day in Amman we headed out to the closest section of the Dead Sea, quite close to the Jordan/Israel border. We had originally set aside some money in our budget to spend a night at one of the nice hotels right on the Dead Sea, but for our dates they were extraordinarily expensive so we switched a day trip instead. We booked through Local Trips and paid 40 JD (~56 USD) for the roundtrip car service and another 30 JD (~42 USD) for two entrances into Amman Beach. While we had read a lot of bad things online about using this beach instead of paying more to access a private hotel beach it ended up being great for us.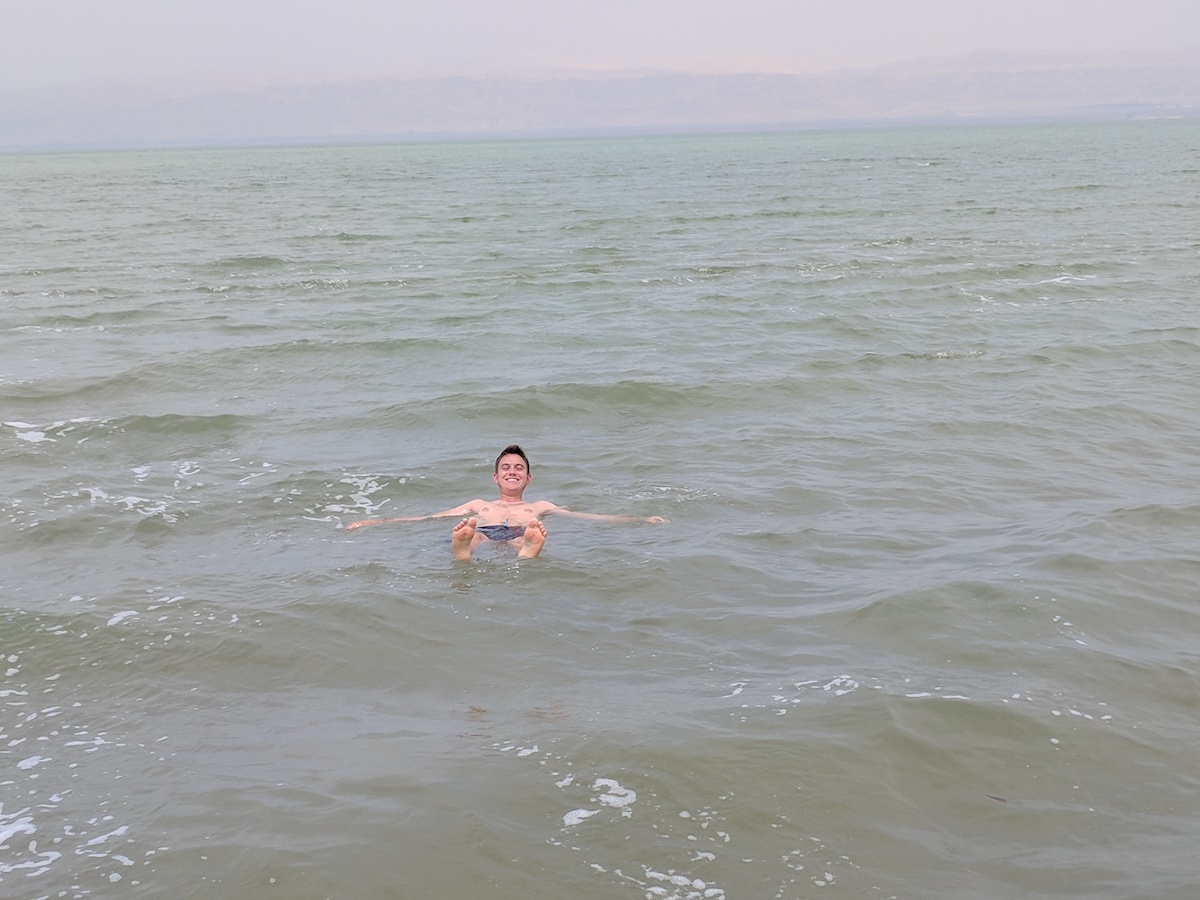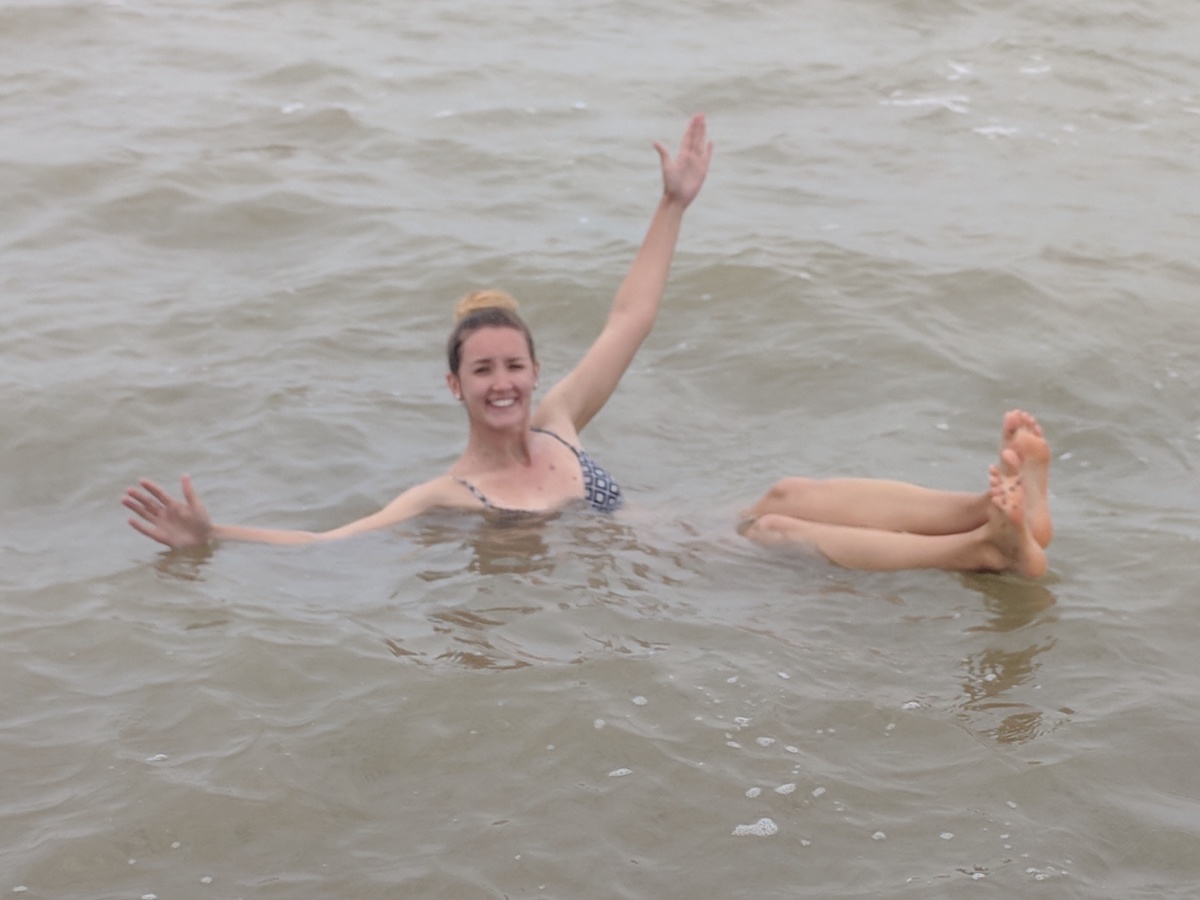 Floating is easy to the point of being unavoidable, even if you make yourself a vertical "pencil" in the water.
We spent two hours at the beach itself, getting into the super-dense Dead Sea water for fun 15-minute floats a few times and doing a traditional full-body mud treatment, which made our skin feel really amazing. The water itself really felt different from any other water I've ever been in: beyond just being super buoyant, it was also almost slippery when you rubbed it between your hands. The beach had areas where the tide going out had left huge, hard salt crystals, and getting any of the water in my mouth was a pretty awful experience. We lucked out with good weather and ended up being really happy that we planned for an early visit, arriving to an almost-empty beach at 10:30am and leaving at 12:30pm to an overcrowded beachfront area. While it's pretty crazy to pay over 100 USD total to spend two hours at the beach, I'm glad we had the money for it in our budget as it was a really memorable experience.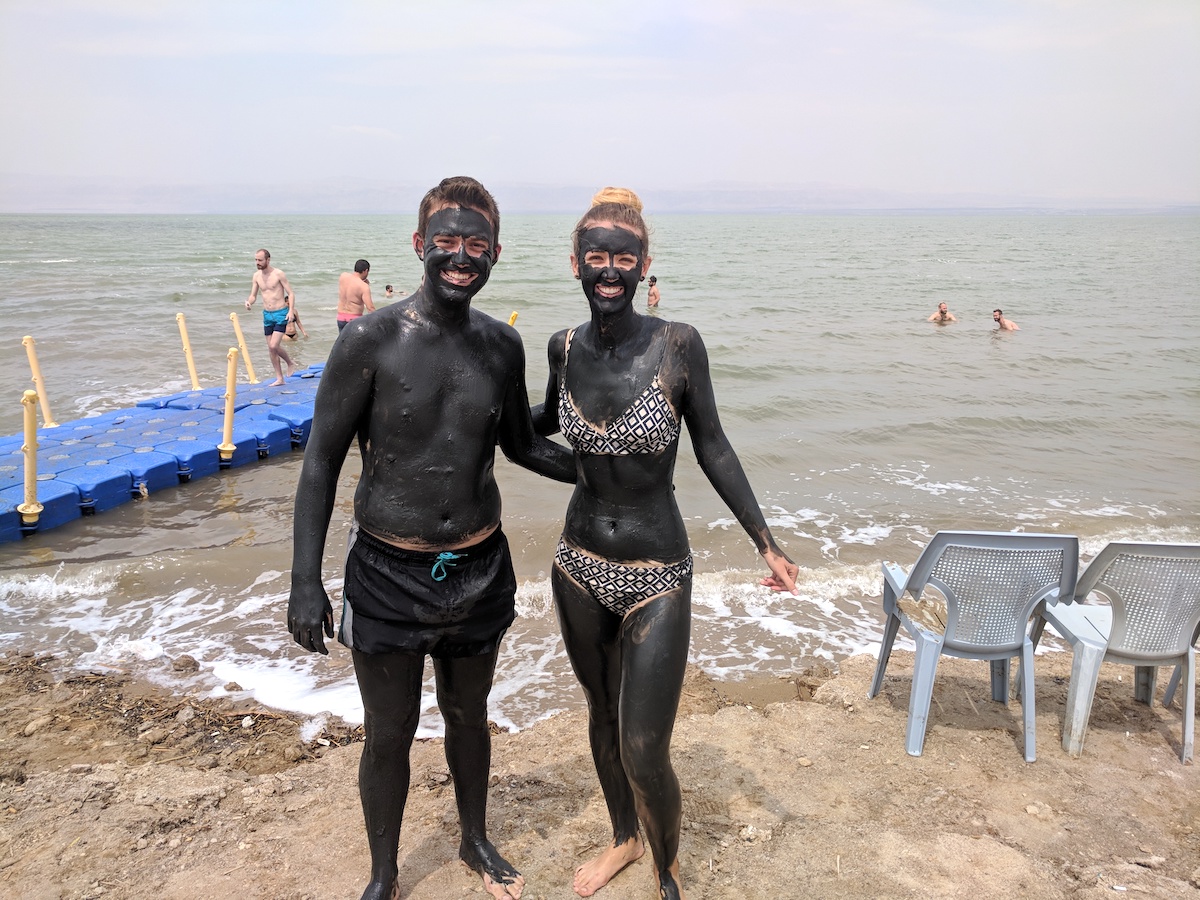 Put the mud everywhere, wait 15 minutes, wash your body off in the sea, then your face off in the freshwater shower: then, amazingly soft skin.
After getting back to Amman, we had a final meal at Hashem, a final kunafa at Habibah, and then relaxed the rest of the night and prepared to head out to Europe the next day.
Day 7: Our flight to Barcelona departed in the late morning, so we were lucky enough to have a normal breakfast, take our time checking-out, and then get in an Uber back to the airport and to the final continent of our trip. Our Uber driver was happy to get the large fare (20 JD/28 USD) to the airport, but absolutely paranoid about getting caught since Uber isn't technically legal in Jordan. We got some great coaching about what to say to any airport authorities who asked (we're friends!) and how to prevent them from seeing it was an Uber ride (by being sure to close the app on our phones). Luckily no one gave us a second glance and we were on our way out of the Middle East without a problem.
How We Did with Our Budget in Jordan
For our time in Amman, we had budgeted as much as 60 USD a night for accommodations. We ended up spending 49 USD per night for our room at The Sydney Hotel, where we stayed both before and after our trip to southern Jordan (ending up in the same exact room, actually!). The hotel was perfectly fine, though we would have preferred a more robust breakfast that was available earlier than 8am.
We had also budgeted 15 USD per day per person for food and 15 USD per day per person for entertainment. Out of that planned 60 USD total, we ended up spending 55 USD per day on average, including almost 50 USD total on trips from/to the airport, and 107 USD for our time at the Dead Sea. Our meals were a lot cheaper than expected, with our average meal costing less than 4 USD per person.
Overall, in Jordan, we spent a grand total of 65 USD less than our budget, which was entirely due to purchasing a Jordan Pass before arriving in the country. It covered our visa upon arrival, our 3-day entrance to Petra, and our entrance fees at the Citadel, Amphitheater, and Wadi Rum. While 116 USD per person is definitely steep, it ended up saving us 43 USD per person over what we would have paid if we'd paid each fee separately. If you're going to Jordan, it's almost-certainly worth it to buy in advance!
---