28 May 2018
Lerici: Tuscan Paradise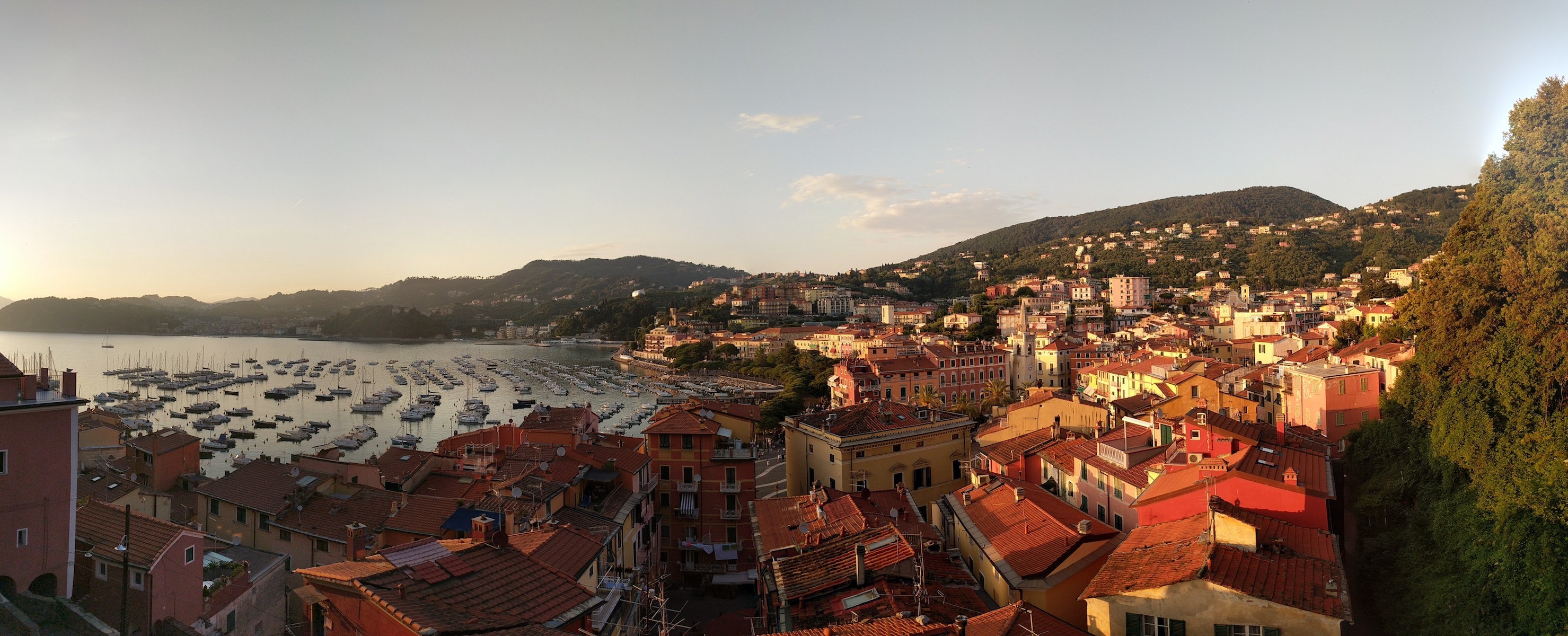 I had done no planning for our time in Lerici. In a move that was quite unlike me, I left all the planning to Shannon and Nate and apparently I should sit on the sidelines more often because we had 3 wonderful days in paradise on the coast of Tuscany.
While much less popular than the nearby Cinque Terre, Lerici has many of the same characteristics that draw tourists from all over the world. The town is nestled around a little bay with a couple of beaches and a big castle holding court from the highest hill on the water. There are hikes to other little coastal towns. There is delicious seafood and if you really can't get by without a trip to Cinque Terre, there is a boat that can ferry you there on the weekends.
The Best Airbnb
I don't often brag about the places we stay. Often, with our budget, they are nice enough but nothing that special. This Airbnb deserves praise though. Despite being small, with our bed on a raised platform and the head of Shannon's fold out sofa bed and little beyond that, it felt like plenty of space for our short stay. It also had a small but efficient kitchen making great use of all of IKEA's best space saving techniques and still finding room for everything we could possibly need.
There was one feature that blew us away though: this apartment had a balcony that overlooked the city and bay from its perch just high enough up on the hill so as to rise above the other buildings in the main square but still be less than a five minute walk from them. With little tables and chairs outside, we were able to eat breakfast and enjoy some wine in the evening with a postcard perfect view of the town.
Getting There
From Rome, Lerici is about 4-5 hours away by public transportation. We took a train from Rome to La Spezia, though we only narrowly made it on our train thanks to much-delayed tram, and then being saved by a 5 minute delay on our train's departure. It was definitely the closest we've come to missing any form of transportation for the entire trip. Once we reached La Spezia, we hopped on the S bus just a couple of blocks away and spent 30-40 minutes taking in the scenery as the bus wound its way through cute Italian towns before dropping us of at the main square in Lerici.
Hiking
Our only big activity for Lerici was a hike that ended up taking up most of our only full day in the city. We hiked to Montemarcello, a few towns south of Lerici along the coast. First, we made our way up a long staircase that cut through Lerici from the coast up into the hills. Then walked about a mile on the two-lane "highway" before getting to a trailhead just off a little parking lot. It would have been an easier start had we been able to drive to the start of the trailhead but then we would have had to make our way back to pick up the car, which made walking the mile along the not-so-busy road a better choice anyway.
The trail was well marked and led past more than a few little stone houses in ruins that we were able to poke our heads in and investigate. It also wound its way down to the ridge overlooking the beautiful blue water so we could enjoy the sounds of the waves from above. The trail did have to wind its way up through a forrest with a decent amount of incline that really made us work for our lunch but overall the hike to reach Montemarcello came in at around 5.5 miles and took us about 3.5 hours with stops to rest, check out the little stone houses, take pictures, and eat a snack along the way.
Once we got to Montemarcello, we quickly found a pizzeria for lunch only to be disappointed that the pizza that had motivated us through our uphill hiking was not available until dinner. Luckily, the pasta that was available was still tasty and we refilled our tanks with pasta and beer.
We did not make the 5.5 mile return trip though. We had missed the bus that would take us directly back to Lerici (too many photo stops along the way I guess) but we were able to take a bus toward Sarzana, an inland town that serves as a small transit hub for the area, that we waved down on the side of the highway as it curved down off the mountain. It took us to a little town of Romito by way of a 40 minute detour through beautiful countryside very unlike the coastal towns we'd seen so far. As the bus driver expertly navigated down the curvy mountain road we got a view of rolling green hills around a rive scattered with red tiled roofs. It was a little out of the way but an enjoyable way to sit back and still make it back to Lerici once we made and easy transfer to another bus.
The Food
We only ate out for dinner once in Lerici but we picked well. We had dinner at Il Frantoio, which was a couple of blocks off the main square in a little alley. When we arrived at 7:45 the restaurant was quiet and mostly empty, though in the course of our meal it filled out to have a lovely atmosphere. Shannon and I shared the seafood pasta that requires two people to eat it for you to be able to order it and Nate had a buttery linguine. I can't speak for his pasta but ours was the best I've had in Italy. It was simple, buttery with garlic and fresh seafood, but everything was fresh and cooked to perfection. Having not had much seafood (years of being vegetarian will do that to you) I couldn't remember ever having a shrimp as sweet and meaty as the ones in this pasta. We capped our dinner with espresso and enjoyed watching the bachelorette party complete with their phallic finery and a couple there for their anniversary who ate at least 6 courses that we saw while finishing a bottle of wine. We were in awe that they could consume so much, even though we knew it must be delicious, when we sat stuffed on just two courses.
The meal was everything we hoped meals would be in Italy and for a price that didn't blow our budget. If we had gone for a 6 course extravaganza, it would have been a different story though.
Beyond our dinner out on the town, we struggled to pull ourselves away from out balcony and enjoyed long, elaborate breakfasts there where we could watch the town slowly wake up in the morning. It was perfect and felt like a little vacation inside our trip.
Change of Plans
We had originally planned on taking a train from Lerici to Pisa to spend a couple of hours and get some photos of the leaning tower before we headed to Florence. Instead, when it came time to get ready to leave, we weren't willing to. It sounded much nicer to stay on the balcony to have another cup of coffee and then walk through the little market that was set up along the main street of town. Sometimes, you just have to do what feels right. So we may not have any silly tourist photos holding up the leaning tower but we didn't have to rush through our last morning in our perfect little town.
How We Did with Our Budget in Lerici
For our time in Lerici, we had budgeted as much as 95 USD a night for accommodations, using some surplus from other cheap places to try to find a better spot. With Shannon joining us we really wanted to have a great view and ended up paying 113 USD per night for our share of what ended up being a truly perfect Airbnb. Luckily its amazing balcony made us want to stay in and not spend too much going out! We had also budgeted 15 USD per day per person for food and 20 USD per day per person for entertainment. Out of that planned 70 USD total, we ended up exactly 70 USD per day on average, with the biggest expense being our nice dinner out at Il Frantoio (56 USD for the two of us).
Ultimately it was definitely a bit of a splurge to have this experience on the coast, but well worth it and so much more enjoyable than Rome was.
---