3 Jun 2018
Florence: Renaissance Land
Florence, the birthplace of the Renaissance and home of the infamous Medici family, was the destination in Italy that I was most excited for. Having just finished a 400+-page comprehensive history of the Medici family through their highs and lows, through the building their own little kingdom to the multiple banishments they endured, I was thrilled to walk the streets so changed but still so similar to those that Da Vinci and Michelangelo walked.
Florence is a much more laid back city than Rome, though it is every bit as packed with tourists around the Duomo as around the Colosseum. The gelato was better than anywhere else we visited but the pizza still didn't hold a candle to Naples (I now believe no pizza ever will).
We relaxed in the garden of our Airbnb, walked 10 miles a day, and generally loved our time in Florence.
What We Did in Florence
The Duomo: You can't come to Florence and not marvel at "The Duomo", actually called Cattedrale di Santa Maria del Fiore but you'd be forgiven for not knowing that because everyone just thinks of it as the church.
We walked by or visited the Duomo every day we were in Florence, it is the hub of the city and it's as though you are drawn to it, whether you realize it or not. Our first day, we just caught a glimpse of it as we walked past the River Arno and into the city to get ourselves acquainted after our train trip from Lerici. The next day we saw it from the terrace of the Uffizi looking strangely small and approachable and then from Piazzale Michelangelo where despite being further away the Duomo looms over the city like a giant towering over a tiny city. Then we spent a morning climbing to the top of the dome through dizzyingly small corridors and narrow stairways to the top of the coupula to float above the city. We explored the museum full of art and sculptures that had been taken out of the church to perserve them and we climbed the clock tower to get a better view of the dome. All this in just a few days.
I would highly recommend doing the climb of the cupola. You get to see the two layers of the dome (inner and outer) as you walk between them and the herringbone brickwork that supports the dome. Having read about Brunelleschi's masterpiece and remembering little from my visit 10+ years previously, appreciating this seemingly impossible feat of engineering for its time is the best may to admire the Duomo in my opinion. That said, I am not the most comfortable with heights. At multiple points as we made our way up through narrow staircases up, and up, and up some more; I became uncomfortable and had to breathe deeply and give myself a pep talk to keep going. The Duomo climb was much easier on me than the climb of the bell tower. I would absolutely climb the dome again but would absolutely not climb the bell tower again. The top of the bell tower has a much smaller platform and a wire cage that completely covers the top making it feel claustrophobic and sending my brain into a spiral. I spent maybe 1 minute on the platform before going back inside after climbing over 400 stairs to get there. Just a PSA from me to you.
There is a museum about the Duomo in the same square and it is probably the best museum I've been to outside of DC. It has really well done interactive displays, it is spacious and not overcrowded. It is also home to the original doors on the Baptistry (the ones on the actual Baptistry are just replicas) and the death mask of Brunelleschi as well as many other artifacts from the Duomo.
It seems impossible but we did do some things that were unrelated to the Duomo but even when we did, it was still watching over us.
The Uffizi: We started our second day in Florence at the Uffizi. The Uffizi is home to many masterpieces of the Renaissance but none more so than the Venus of Botticelli or their Adoration of the Magi by Leonardo da Vinci. It is much less overwhelming than the collection in the Vatican Museum but we still needed a solid 4 hours and by the time we had finished on the upper floor our interest had definitely waned. It is interesting to see the progression in the many versions of the Madonna and Bambino works over the decades as flat paintings transformed with feeling, realism, and perspective through the Renaissance. With that said, there are a lot of Madonna and Bambinos so don't feel the need to stop and adore each one. You'll end up exhausted.
Botticelli's Venus is wonderful as you would expect, though I wish they had placed the statue, which is also in the collection, that inspired her figure in the same space for comparison. Instead, the statue sits in a room you can only view form the doorway and completely divorced from the masterpiece it is related to.
Da Vinci has his own rooms on the lower level of the Uffizi, with multiple exhibits examining the unfinished masterpiece of the Adoration of the Magi. In typical Da Vinci fashion, he never finished this work and so some sections are left as drawings waiting to be painted and others lack the detailed features you'd expect. The painting has also been heavily restored and seeing the difference in the pre/post Adoration is amazing but leaves you wondering if it should have been left as it was rather than reconstituted.
Boboli Gardens: Behind the Pitti Palace that the Medici called home, is the Boboli Gardens. Cosimo Medici had supervised the creation of the gardens after the land was purchased around 1550 from the Bogoli family and the name was roughly taken from their family name. These gardens once were home to camels from India that Ferinando II Medici wanted to raise as an alternative to pack mules though this idea never really bore fruit. It was also where the Medici staged events to ingratiate themselves to the people of Florence when they short circuited the republic to make themselves rulers of the city.
The gardens were just a short walk from our apartment and were included with our entrance ticket to the Uffizi, so we spent a couple hours one morning slowly wandering through them. There are spectacular views of the surrounding hills and an overlook of the city. On one of the terraces art students were busy painting landscapes and there are still some lovely statues, as well as some odd modern additions, in the gardens.
We ended up being too hungry to visit the Pitti Palace at the same time as the gardens and then too tired by the afternoon when we made our way back but I wish I could have toured the palace as well. The history of the palace and the family it took its name from are fascinating and full of intrigue. The Pitti family were the arch rivals of the Medici for power in Florence and more than once tried to stage coups to kill or banish the Medici from the city. It was the Pitti family that had originally built the palace but left it incomplete until the Medici purchased it and set about turning it into a palace more grand than many in Europe. It was also in this palace that the Medici shifted from du jour to de facto rulers of the city. For decades they had ruled through stacking the councils that were meant to be democratic but eventually their aspirations took hold and they became rulers with a hereditary hold on power. They were the kings of Florence and Pitti was their palace.
Food
Gelato: We ate gelato every day in Florence. It's not the healthiest way to live but sometimes you have to do things that are good for your soul and not you waistline.
Gelateria del Neri: Our hands-down favorite gelato and the best I've ever had (that's include 3 weeks worth of regular gelato stops while we've been in Italy). The fruit flavors are amazing. The passionfruit flavor was so good you expect to crunch into a seed because it tastes so fresh. The chocolate amaro (bitter) was Nate's favorite, so they also do a good job with more traditional flavors. If you are ever in Florence and don't visit this place, you've missed out big time.

Gelateria La Carraia: a strong contender, mostly because of their tiramisu mousse, which is not gelato but is heavenly and a little lighter if you're feeling full from a big pizza or pasta dinner but still want gelato. This one is a chain with a couple of locations, we stopped at the one just across the Ponte alla Carraia.

Cantina del Gelato: This place was recommended to us but was really nothing special. None of the flavors stood out like the other places we visited. It wasn't bad. I mean, it is still gelato but I wouldn't go back.
We also splurged on a nice dinner out at Acqua al 2. A restaurant Shannon wanted to visit because it also has a location in Washington, DC that she has enjoyed previously. Shannon had their steak sampler in order to try their specialty blueberry steak and she loved every bite, though also ate about half of a cow worth of steak in one sitting. I enjoyed a wonderfully light mascarpone filled fresh pasta but Nate was pretty let down by his order of a pasta sampler. There were five samples but none of them were particularly flavorful and all too al dente for his taste.
Pizza: We tried two different pizza places to recapture the glory of the pizza we ate in Naples, neither were near the main tourist area around the Duomo but instead were in little neighborhoods on the periphery.
O'Munaciello Pizza: After we left Naples and experienced the disappointing pizza in Rome, Nate was set on finding some more Neapolitan pizza. His search led us to O'Munaciello, which was near the neighborhood where we were staying on the other side of the Arno. The large space was mostly empty for lunch and the three of us were seated in a very romantic gazebo with twinkling lights and fake flowers and greenery wrapped around it. The waitress was very nice and the pizza was the closest we got to the ones we enjoyed in Naples. We left stuffed and happy to go home for an afternoon nap.

Spera: This one came highly recommended by a friend we studied abroad in Florence. They have a counter for takeaway or you can go downstairs to eat. Unfortunately, they did not have the ingredients in-stock for either of the pizzas our friend had recommended we try or a third pizza I chose after the first two weren't possible. Finally Shannon and I settled on the "special" pizza with mushrooms and zucchini flowers while Nate went with a pepperoni and peppers pizza. While these may not have been what we originally wanted, they were delicious and would pass as average pizza in Naples.
We also got to enjoy watching the many different iterations of pizza eating from the locals also having lunch. We were eating like people in Naples by slicing and folding our pizza but several people were spending several minutes cutting small triangles of pizza around the crust with a large square remaining in the center. They'd then move the small triangles away from the large square to eat the square with their fork and knife before eating their tiny pizza slices with their hands.
I left feeling like someone should publish a map that indicates the most common way of eating pizza in eat part of Italy.
The other noteworthy meal we had was at a famous sandwich shop near the Uffizi called Ill' Antico Vinaio. You can tell this is not a secret spot for locals but the long lines spilling out of not one, or two, but three different store fronts of the same restaurant on the same block. We decided not to be discouraged and waited in line until we procured three gigantic sandwiches. Shannon and I had one stuffed with eggplant, truffles, and ham while Nate went with a classic prosciutto, mozzarella, and tomato. The sandwiches were as big as my head and Shannon and I wished we'd split a sandwich when we found ourselves completely stuffed and nowhere close to finished. At only 5 Euro a sandwich, it could make a very affordable lunch for someone very hungry or two normal people.
How We Did with Our Budget in Florence
For our time in Florence, we had budgeted as much as 95 USD a night for accommodations. After striking out on finding an acceptable Airbnb that could house all three of us we turned to HomeAway for the first time on the trip and ended up in a lovely ground-floor apartment in a residential area about a 15-minute walk from the Arno River. At 104 USD a night for our share it wasn't cheap, but it did at least have a kitchen we used to cook in multiple times and a garden we enjoyed when not being swarmed by mosquitos.
We had also budgeted 15 USD per day per person for food and 20 USD per day per person for entertainment. Out of that planned 70 USD total, we ended up spending 105 USD per day on average, including 65 USD for our Duomo tickets, 107 USD for our combo Uffizi/Boboli/Pitti tickets, and 75 USD for our splurge dinner at Acqua al 2. Overall, for our time in Lerici and Florence combined we ended up spending 225 USD more than we had budgeted so we could maximize our time while Shannon was with us.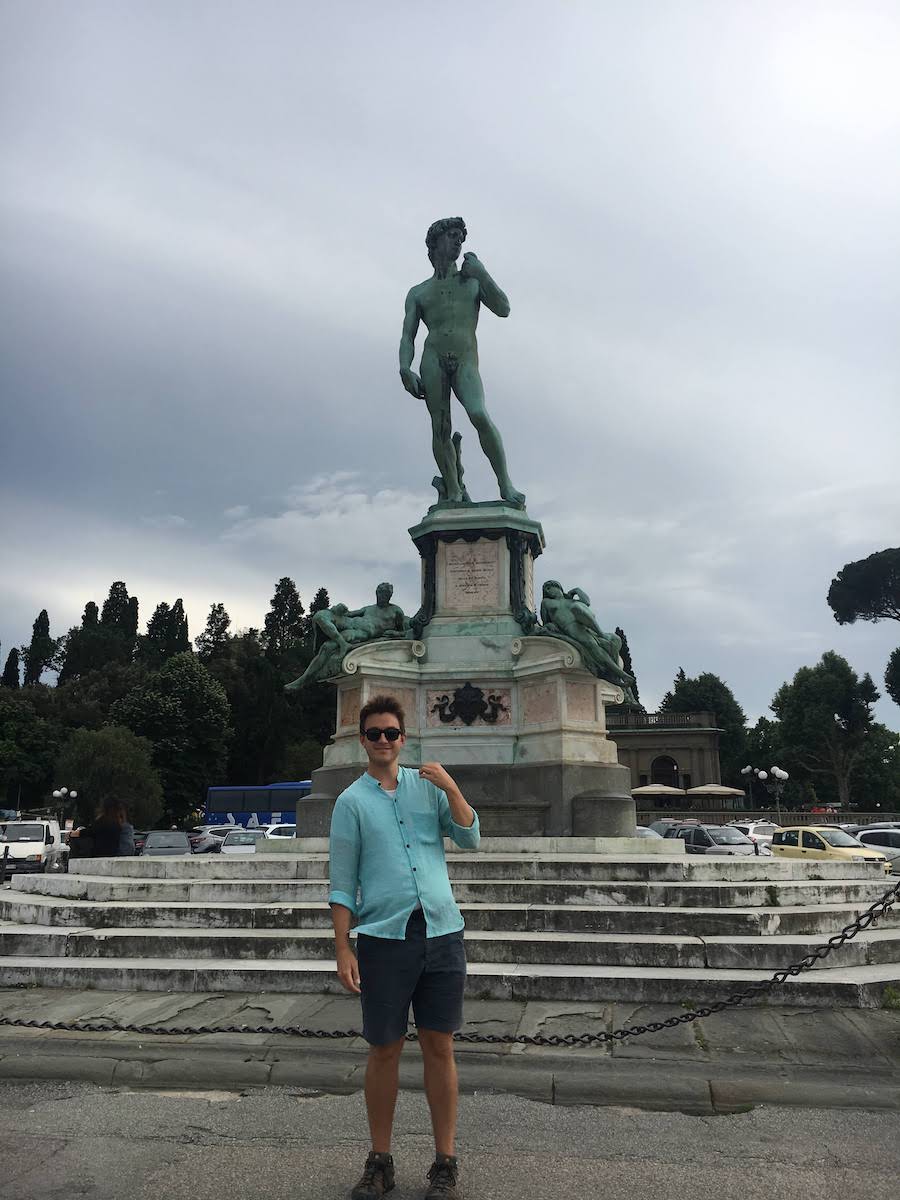 ---