24 May 2018
Rome: Very Crowded History
We had been looking forward to getting to Rome for months, not because of the city's amazing history and food (though that helps!) but because one of our friends from back in DC, Shannon, was using some vacation time to join us for almost two weeks of our time in Italy. She arrived a couple days into our stay, so we had time both to enjoy the laid-back rhythm of the Pigneto neighborhood we stayed in outside of the city center and to do a whirlwind tour of Rome's hottest sites.
As an American, it is pretty crazy to visit somewhere with so much long-ago history still standing and strewn throughout the fabric of the city. On the tram from the train station to our Airbnb we passed under an old Roman gate that is multiple times older than the U.S. and seemingly completely ignored by everyone in Rome because it's just a big wall. I hadn't understood just how nestled into the heart of the city all the big tourist attractions are before we took a cross-town bus for most of its route and slowly moved past the Colosseum, Palatine Hill, and Pantheon before heading right out toward the Vatican.
While it was wonderful to have Shannon join us, ultimately Rome was a bit of a mixed bag for me. We may have just been spoiled in our travels to some quieter destinations, but the sheer number of people everywhere in Rome was really overwhelming. Whether it was looking for somewhere to eat lunch (that didn't have an hourlong line) or just trying to see paintings inside the Vatican (through the dozens of huge tour groups) we ended up wishing we were back in Sardinia more than once. We were also a bit surprised at the disjointed public transit: we took trams, buses, and metros all across the city and almost always had to wait ~10 minutes for one side or the other of our connection, an eternity compared to the always-arriving transit we experienced throughout Asia's big cities.
We saw a lot, ate a lot, and walked around a lot, but our biggest win was probably taking advantage of a "secret" exit out of the Sistine Chapel and toward St. Peter's Basilica, avoiding a 3+ hour line in the rain without having to pay anything extra! More on that below…
What We Did in Rome
Tourist Sites
Compared to our usual habit of visiting only one big tourist site in any day, and spending the rest of our time just exploring the general area, Rome was busy. We visited:
The Colosseum - Weirdly, the Colosseum was both bigger and smaller than I expected. The first time we passed it on a tram I was in awe over how tall the walls are and astounded that a structure like that could survive for almost 2,000 years. When we went inside, I was again surprised at how cozy it felt. It seemed like no seat would have been a truly bad one and that the performance area was smaller than I expected. I think this is the one place I wish we had paid extra for a guided tour to take us to the under-floor areas otherwise off limits (none were operating while we were there, but they apparently exist). Our tip: Get here early. While tickets aren't timed, most of the tour groups arrive a bit later. We got in line just as they were opening at 8:30am and felt like it wasn't too jam-packed inside.
Palatine Hill and The Roman Forum - My biggest takeaway from our two hours of wandering around these ruins was astonishment that they've been successfully preserved this long. Not because of weather and earthquakes, though that's impressive, but because it is such valuable real estate right in the heart of the city. It is very interesting to walk through the Forum and feel like you're walking the same streets Romans have for generations, but the site could really use more informative signs about what each ruin used to be. (Though we were happy we skipped a guided tour, as we overheard guides sharing some pretty fantastic information directly contradicted by the few official signs…) Our tip: If you're short on time, skip Palatine Hill.
The Vatican Museum and Sistine Chapel - I am still amazed at how crowded our entire experience was at the Vatican. Other than some sparsely-visited rooms off the tour group circuit, everywhere was full of tourists shoulder-to-shoulder and slowly shuffling through. It really detracted from the visit and made it harder to enjoy the endless works of art, though at least we could skip ahead of some of the large groups instead of being stuck within one. The sheer number of works is staggering: I'm basically glad I don't know/care much about art because if I did I think I'd want to spend like a full week inside to properly appreciate everything.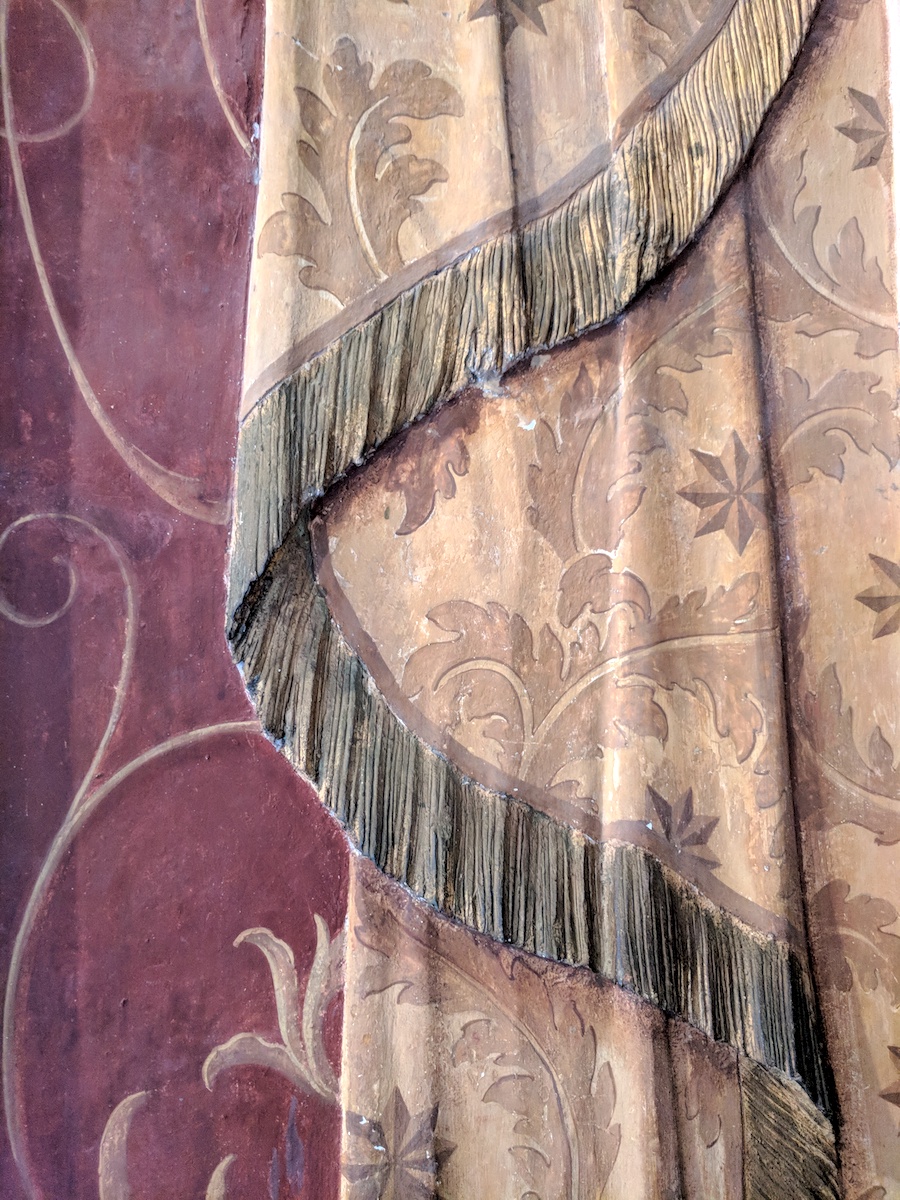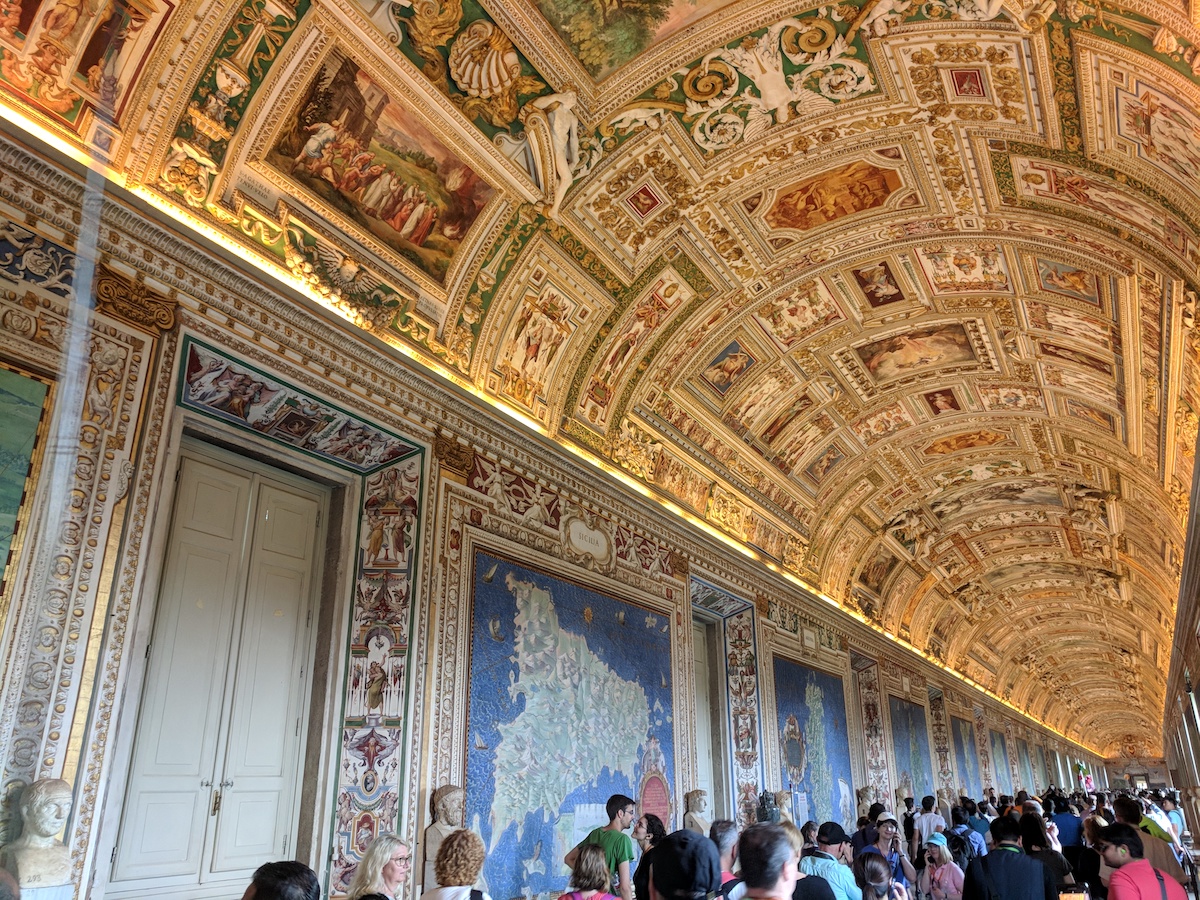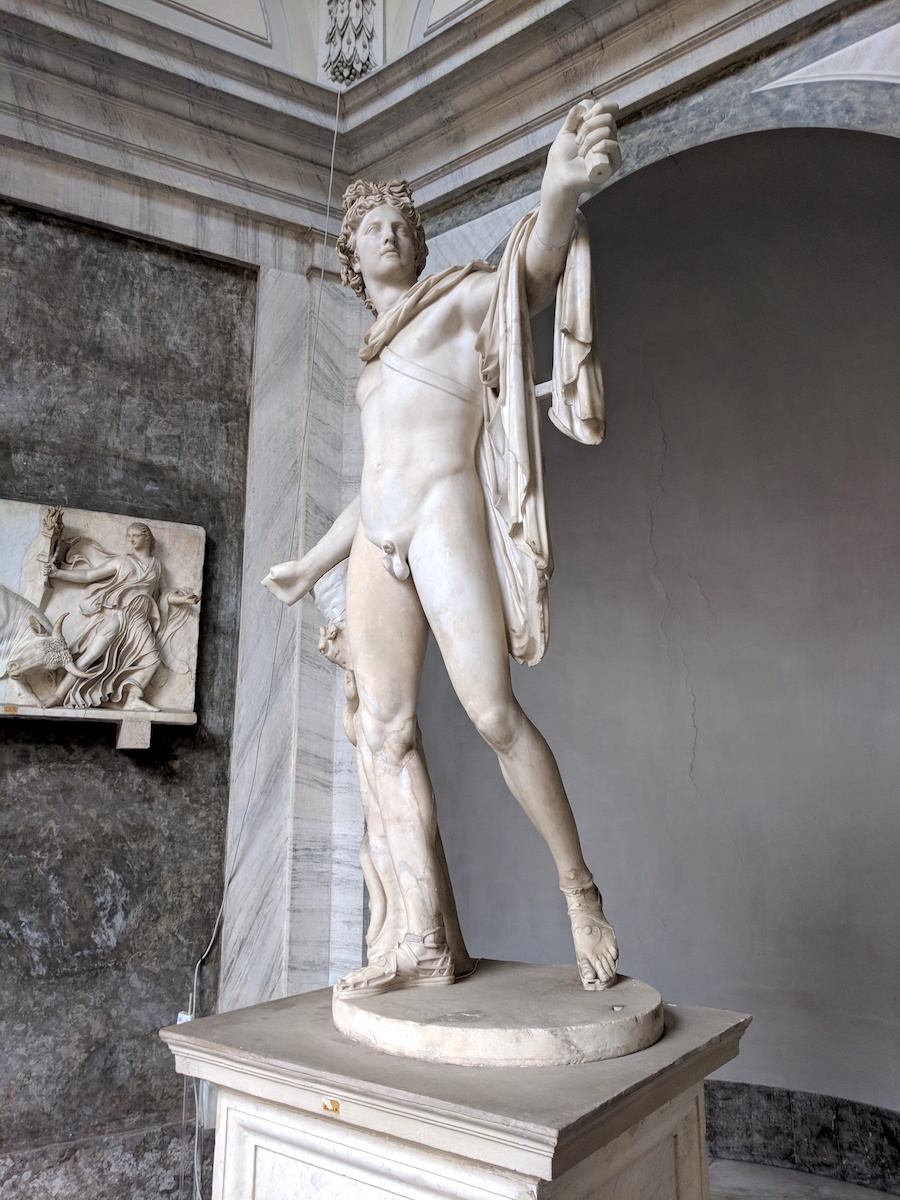 Left: Why have drapes when you can just sculpt some out of marble? Center: My favorite room in the Vatican Museum, with painted maps of different areas of Italy. Right: The thinness of some of the sculpture is dumbfounding to me.
The Sistine Chapel is obviously astounding, and a lot smaller than I had imagined before we arrived. Though, again, being packed in like sardines to stand there and stare up at the ceiling felt a bit less climactic than if we had been able to sit in pews and really appreciate all of the different motifs. Our tip: Buy a skip the line ticket for a few extra euro and use the partners line to get in: we had literally zero wait time to get all the way into the museum.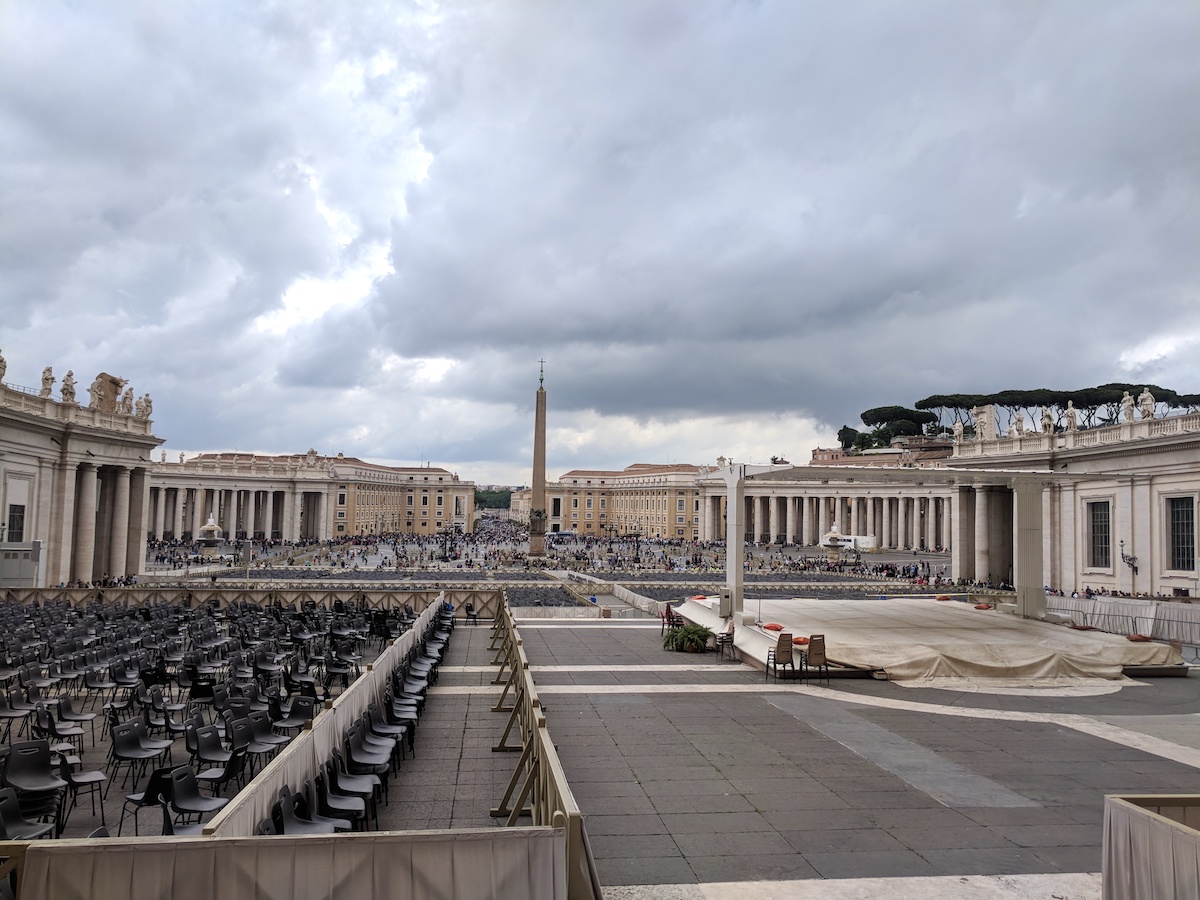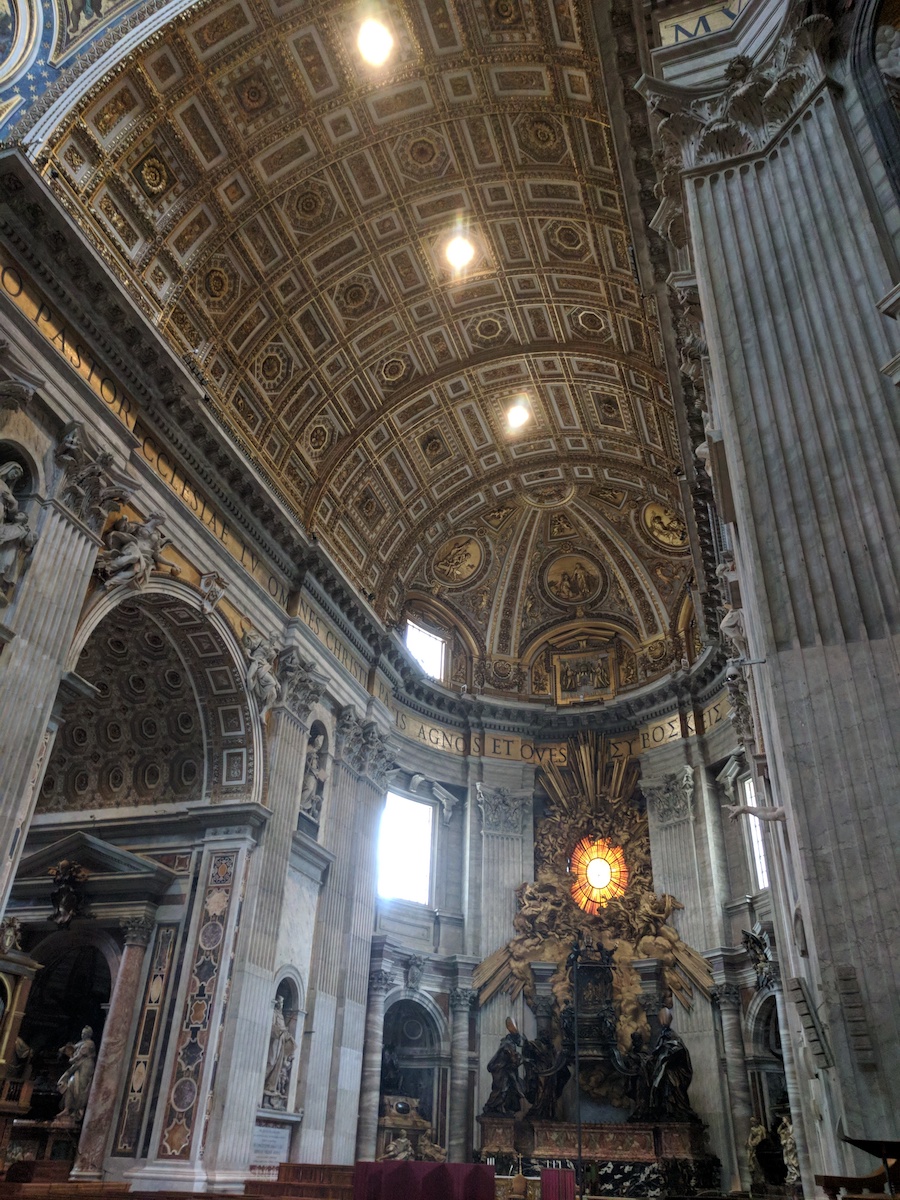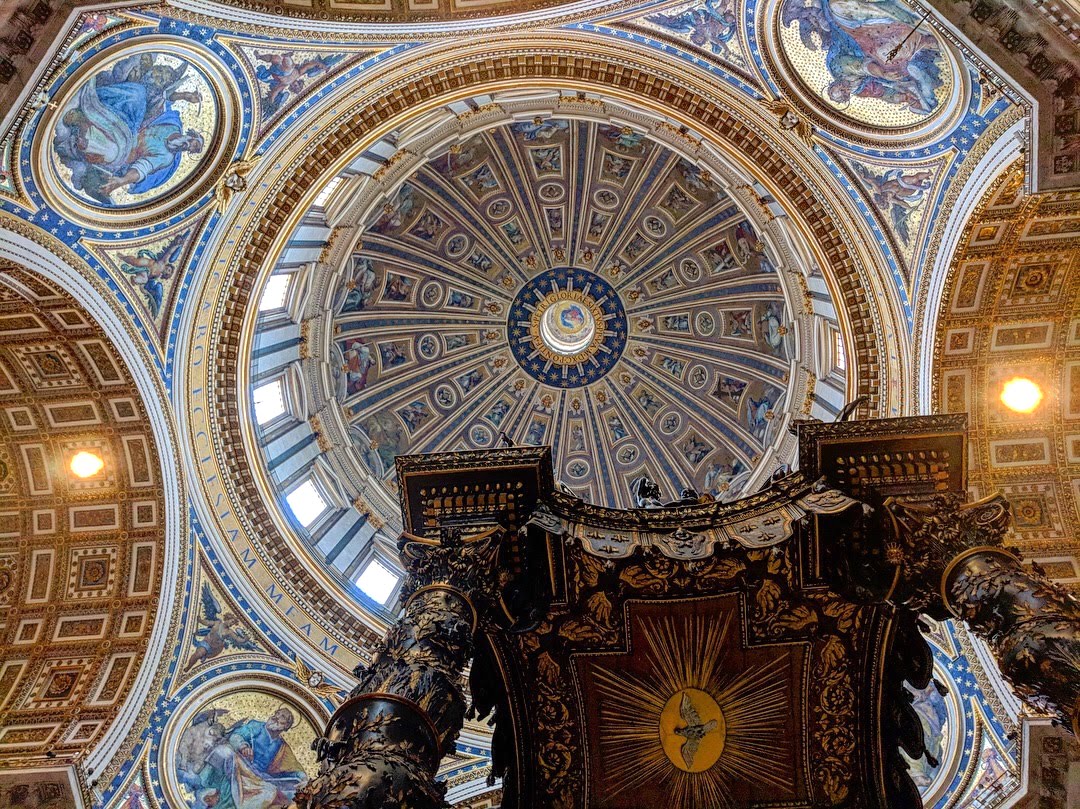 Outside and inside St. Peter's Basilica. The line of people on the far left curves around behind us, by the columns on the right, before getting to the entrance near the edge of the Basilica.
St. Peter's Basilica - Wow! This was the one place in Rome where it seemed like they properly meter the flow of tourists and we had space to both move around and actually appreciate the space. I'm sure it also helps that feeling that the Basilica is huge, way larger than I expected even knowing going in that it's the largest one in the world. Like Petra at Night or Luang Prabang's giving of the alms, visiting was a continual lesson in poor tourist behavior, but otherwise it was probably my favorite site in Rome. If we hadn't been starving by this point I think we could have easily stayed for hours exploring the main space and then the crypt. We didn't go to the top of the dome because the line was so long when we arrived, but when we were leaving it was only a few people so would have been possible. Our top tip for all of Rome: Use the "secret" exit from the Sistine Chapel that all the tour groups use to move directly to St. Peter's and skip the 3 hour line outside to re-enter once you'v left the Vatican Museum. We did it, the guards didn't stop us/didn't seem to care, and it was probably the only reason we actually got in to St. Peter's instead of just giving up when we saw the line, which had wrapped form the entrance along the columns that surround the square and all the way across to the other side of the Plaza.
Villa Borghese Park - Shannon had wanted to go to the art museum at Villa Borghese but by the time we looked for tickets every hour-long entry slot was fully booked for our entire time in Rome. Happy for me, sad for her, but we could still go and explore the free public gardens just to the north of the heart of Rome. Entering by the Piazza di Popolo we immediately got to a platform with stunning views across the Piazza, the River Tiber, and all the way to the Vatican. The rest of the park was an almost-empty green space we really enjoyed wandering through, and with good public transit at every exit it is the rare place in Rome that is truly convenient.
Giardino degli Aranci - We visited this small park overlooking the River Tiber on our first day, mostly because it was beautiful out and rain was forecasted for the rest of our time. It was a Saturday and the park was packed with both locals and tourists enjoying the sunshine. We took some lovely photos of the view across the river toward the Vatican but without any free benches we didn't stay long before heading down the steep stairs on its west side to walk along the river itself.
Trastevere Neighborhood - We had been told that Trastevere is the neighborhood for good eating in Rome, and also great to just wander around exploring endless narrow streets. What we didn't understand is that everyone is told this. Every restaurant we tried to stop at was fully-booked or had a line out the door, and the directionless wandering we're so fond of was a bit mired by hearing more English than Italian from everyone else doing the same thing. We did find a couple empty and interesting streets, but mostly we just felt like tourists have overwhelmed the area.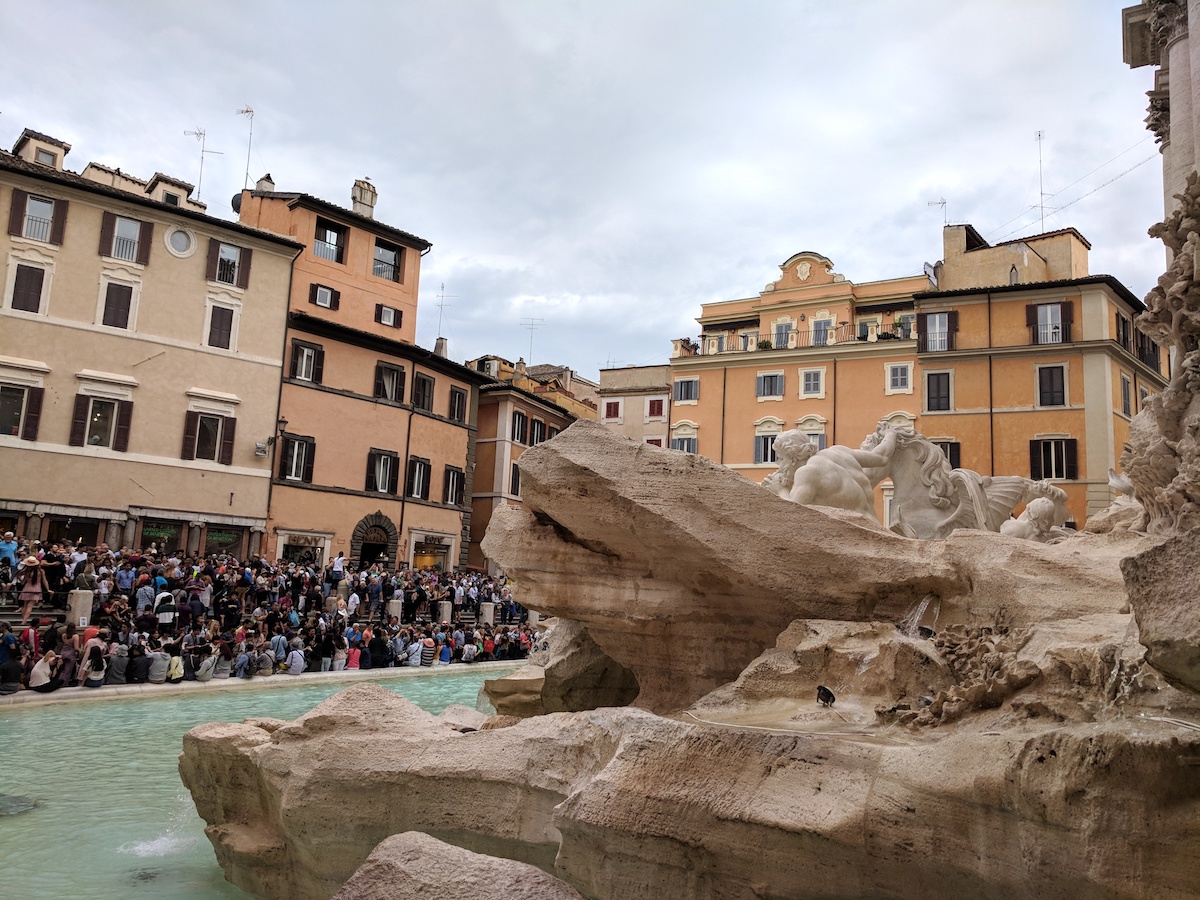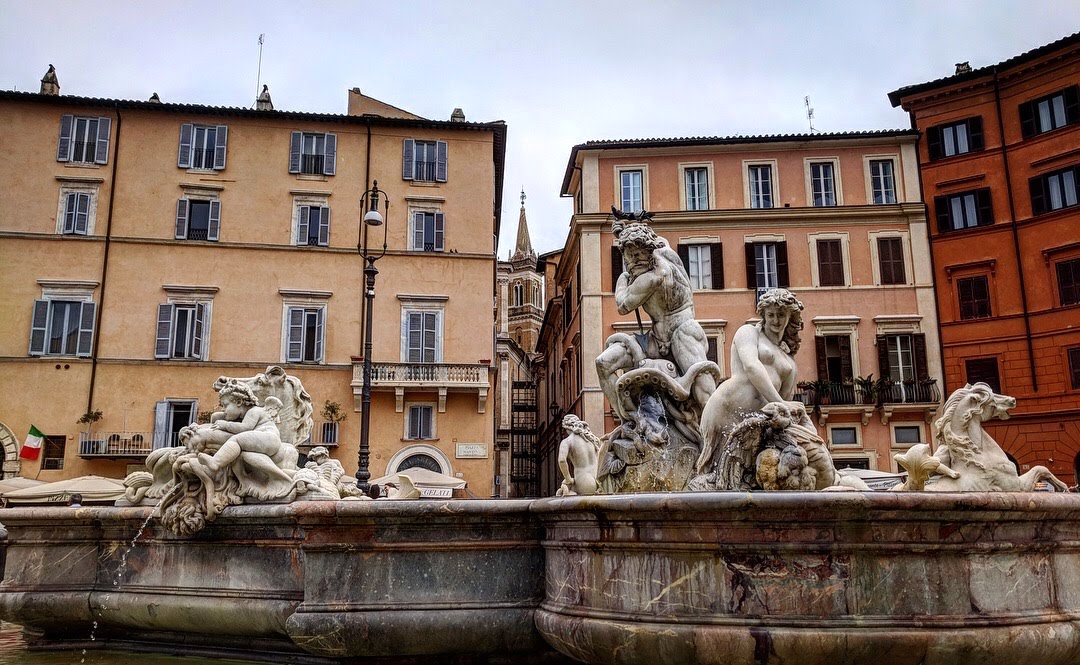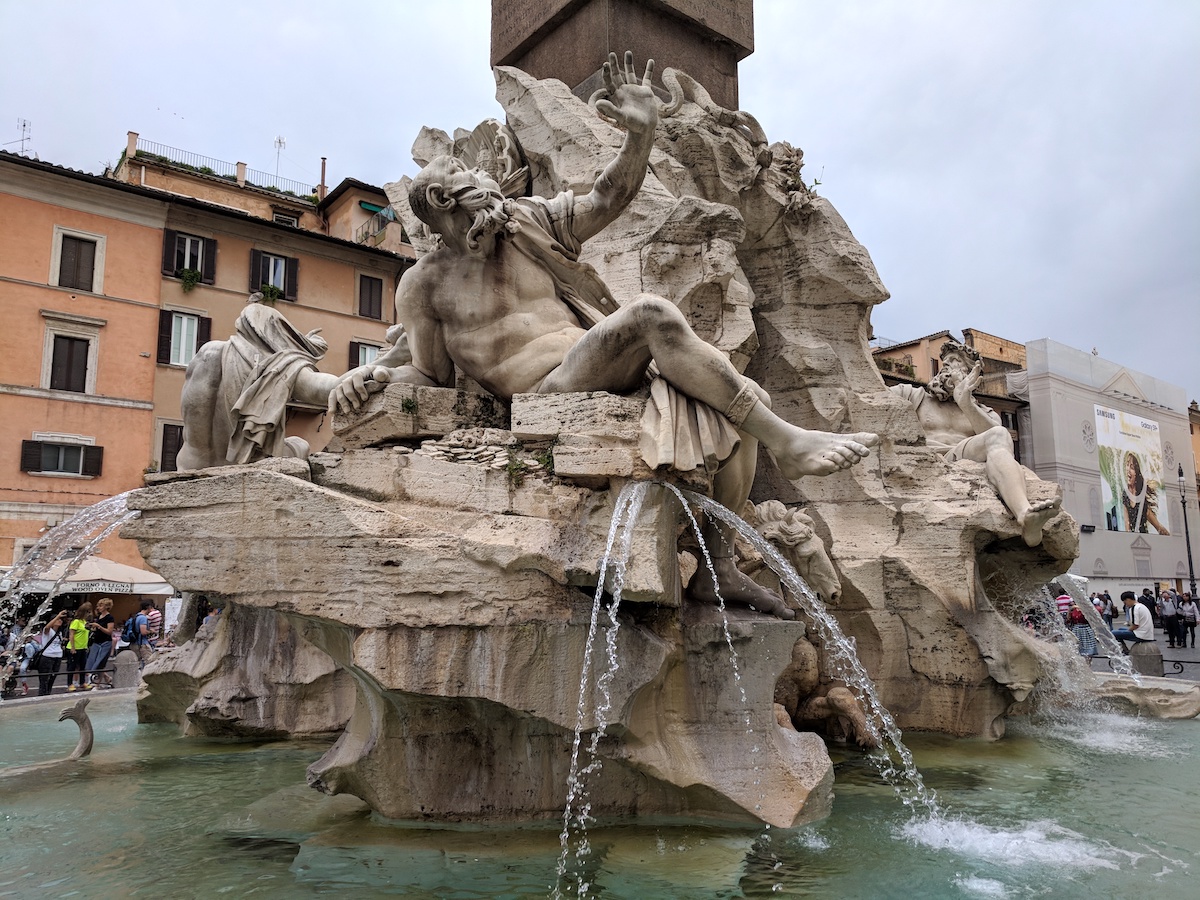 Left: The crowd at the Trevi Fountain. Right: Center: Fountain of Neptune. Right: The rivers of the Fontana del Moro.
Fountains - We visited the Trevi Fountain, the Moro (the Four Rivers), the Neptune, and countless other smaller ones. I hadn't realized just how big a thing these are for tourists, and every one we went to was (again) completely packed. Trevi was definitely worst, with so many tourists it was hard to move around, but there is definitely no sitting around, sipping coffee, and enjoying the sound of water at any of them. Oh well!
Pizza, Pasta, and More
Ordered roughly from the place we enjoyed the most to the least, it's worth mentioning our meals at:
Sora Margherita - This hidden gem in downtown Rome has definitely been discovered by tourists–the handwritten signs in English reminding you how to pay are evidence enough–but not changed by them and was our favorite meal in Rome. We arrived right when they were opening at 12:30pm and were lucky that we did as we got one of only two tables that weren't pre-reserved. The pasta was fresh and by far the tastiest we've had in Italy, though the biggest standout was their deep fried artichoke appetizer, which had amazingly crispy leaves, a soft heart, and was truly perfect. We'd go back in a heartbeat and bring bigger appetites so we could really indulge.
Pizzeria da Simone - This pizza and pasta place with a couple locations out in the neighborhoods away from downtown was our first meal in Rome and was a wonderful surprise. Despite us being the only non-Italian-speakers there they were happy to help us struggle through ordering and advised us well to try their suppli (fried balls of rice and sauce/toppings). We ended up ordering about twice as much as we could eat and they helped us package it up so we could have the rest for dinner, I'm sure laughing a bit at the silly Americans. Everything we had was great and we'd definitely head there again if we were nearby.
Campagna Amica Market (weekend-only) - We had a bit of a misfire on our first morning in Rome, when we got halfway to Trastevere on the tram only to be offloaded because Rome's Race for a Cure was taking place and a hundred thousand walkers were in our way… We fought our way through the crowds toward the river and then cut off to this weekend-only market tucked away in an old warehouse. While about half the people there had wandered over from the race, there were few tourists and the cheese and meat selection was phenomenal. We enjoyed some fried octopus and anchovies from a food truck in the courtyard and felt it was the best market we've been to since Asia.
Obicà - Billed as a "mozzarella bar", we had a totally-fine lunch at Obicà but weren't blown away by any of it. I got my first Italian carbonara, which I'd been really looking forward to, and ended up with a bowl closer to scrambled-eggs-with-noodles than anything I would normally associate with carbonara.
DaVero - Out in Pineto near our Airbnb, we stopped here for on our last evening in Rome for an aperitivo - traditionally a happy hour where you buy a drink and get free access to a robust buffet. Their concept was a bit different, with you ordering items rather than visiting a buffet, and everything was just okay.
Necci - Also out in Pineto, this seemed to be the biggest hotspot of the area. Highly recommended by our Airbnb host and seemingly always busy, we were turned away for lunch on our first day but later went back for drinks with Shannon. Their House Spritz was one of the worst drinks any of us had ever tasted (cough syrup!) but the prosciutto and mozzarella plate was large and tasty. When we just had to order new drinks and send the House Spritz back (it really was that bad), they didn't charge us though and so for that they get a few points. Definitely a cool spot, but we'd stick to wine/beer in the future…
Gelato
Shannon made a pledge to herself before setting out to Italy that she would have gelato every day she was there and while, sadly, we broke that streak after eating too much for lunch one day we still had our fill.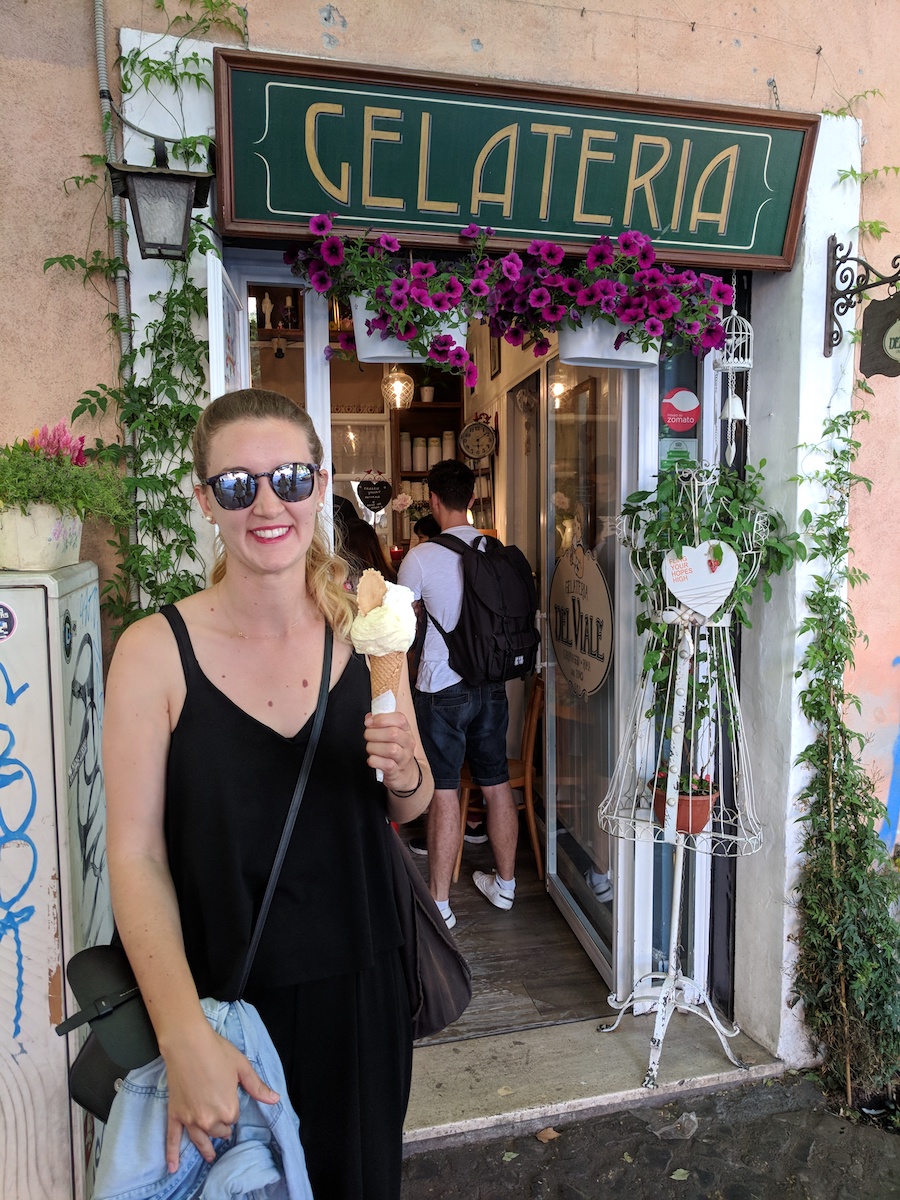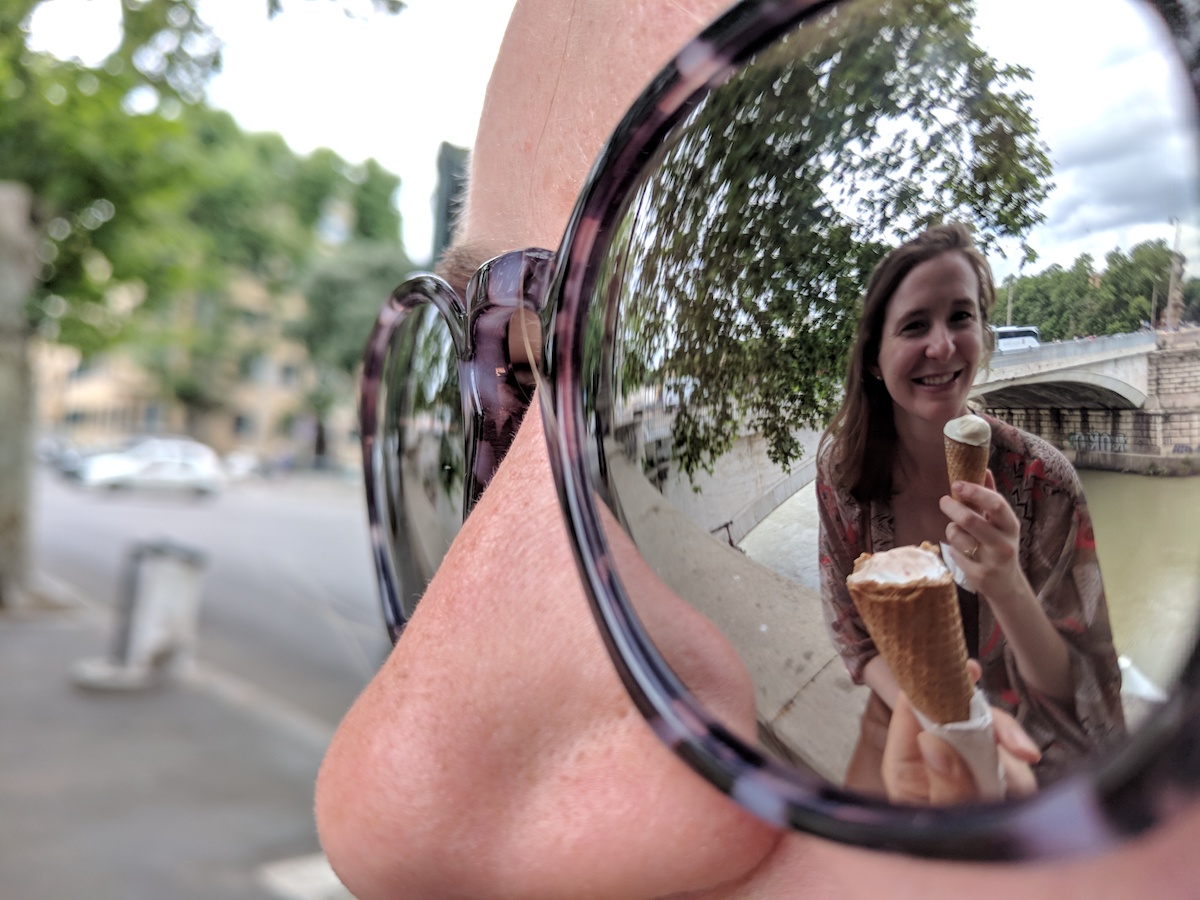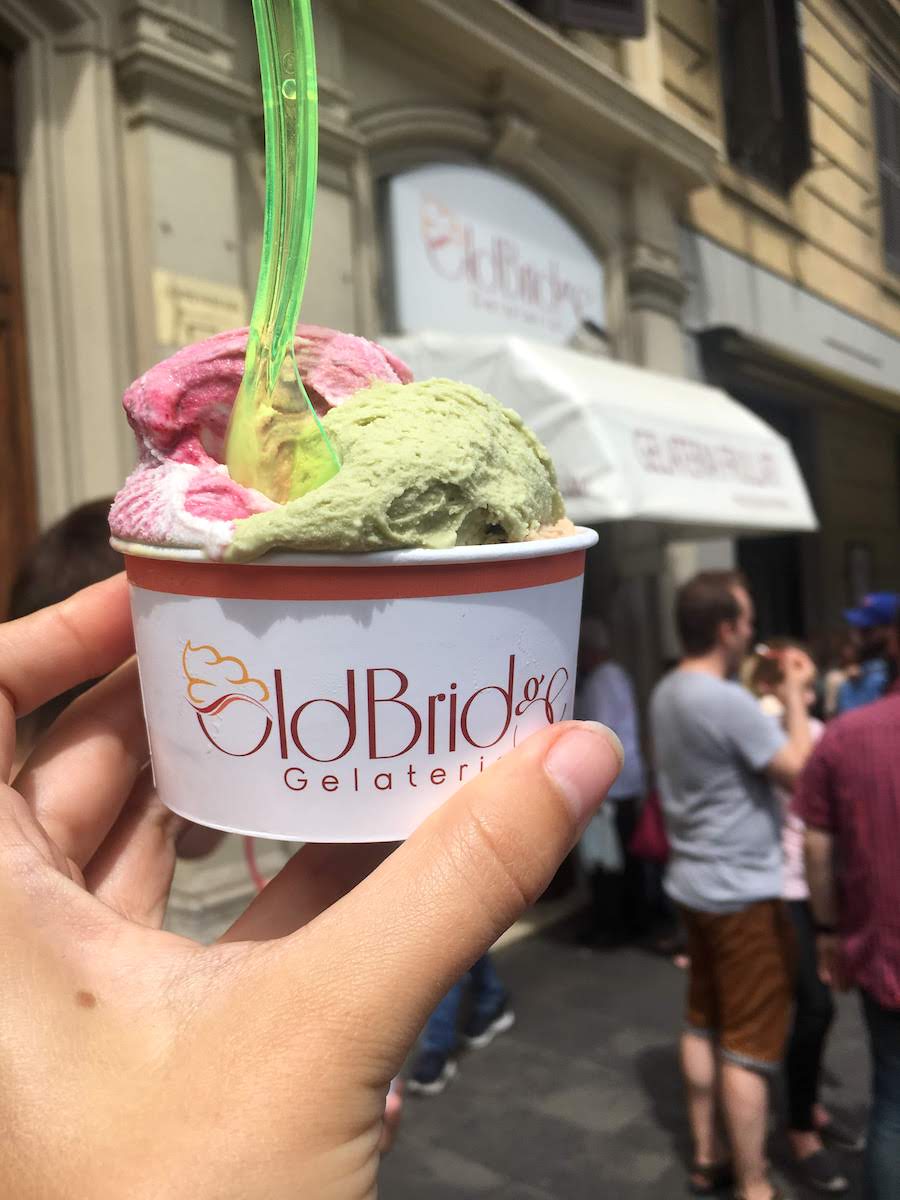 Left: Amy with her cone outside our favorite Gelato shop. Right: The famous, if not our favorite, gelato across from the Vatican.
We got a lot of recommendations from friends who've spent time in Italy, but our favorite by fare was Gelateria del Viale on the edge of the Trastevere neighborhood. Their fruit flavors were incredibly deep while still being very creamy, and their chocolate was the most savory I've ever had. If I were stuck on a desert island with one ice cream shop from anywhere in the world, this would be it.
We also tried the much-hyped Old Bridge Gelateria across the street from the Vatican line and thought it was good but not great. The flavors weren't quite as robust and their chocolate ended up feeling a bit slimey for reasons I don't understand. Our only bad experience was at Gelateria dei Gracchi near the Piazza di Popolo, which was probably the worst gelato we've ever had. They're popular and other people didn't seem disgusted, but ours were poor, tasteless imitations of good gelato.
How We Did with Our Budget in Rome
For our time in Rome, we had budgeted as much as 85 USD a night for accommodations. Since our friend Shannon was joining up with us for a couple of weeks beginning in Rome we needed a bigger Airbnb than normal and there wasn't much availability, but we finally snagged one out in the Pigneto neighborhood at 96 USD a night for our share of it. Being out of the city center was a nice change of pace and we enjoyed the locals-only restaurants scattered throughout the neighborhood, though the 30+ minute voyage to/from the city got a bit tiresome.
We had also budgeted 15 USD per day per person for food and 20 USD per day per person for entertainment. Out of that planned 70 USD total, we ended up spending 91 USD per day on average, with the biggest expenses being our transit passes (56 USD total) and lunches out (average of 33 USD total). Overall we ended up going about 100 USD over budget total for our time in Rome, which is more than offset by the money we saved up in Sardinia. We always knew Italy would be expensive and it's definitely worth it to spend down some of our surplus to really enjoy it!
Our very last taste of Rome was waiting 25 minutes for a tram that was supposed to arrive every 5 minutes and then sprinting through Roma Termini train station to try to make our onward train to Lerici, on the Tuscan coast. Luckily we just made it, thanks to a five-minute train delay, or our budget would have been blown replacing those tickets at the pricey day-of rate!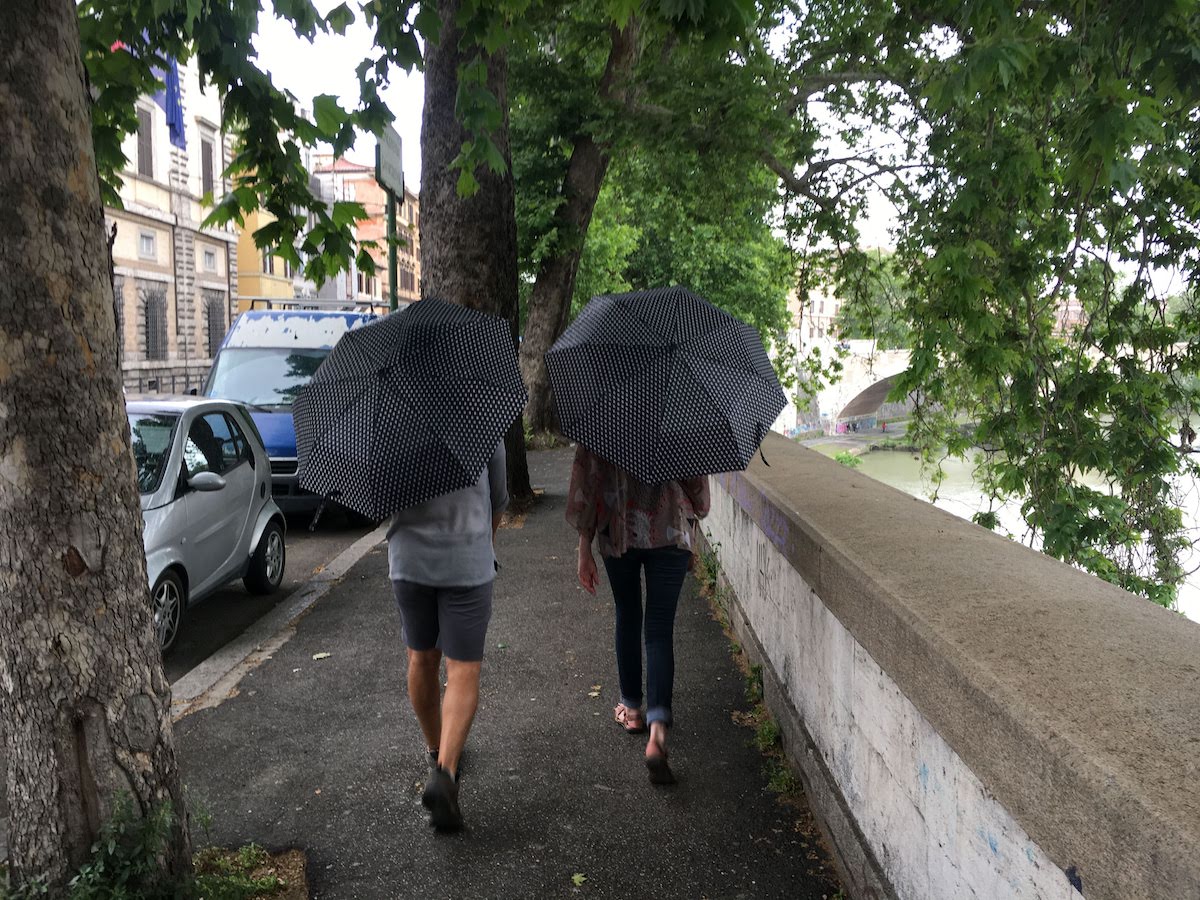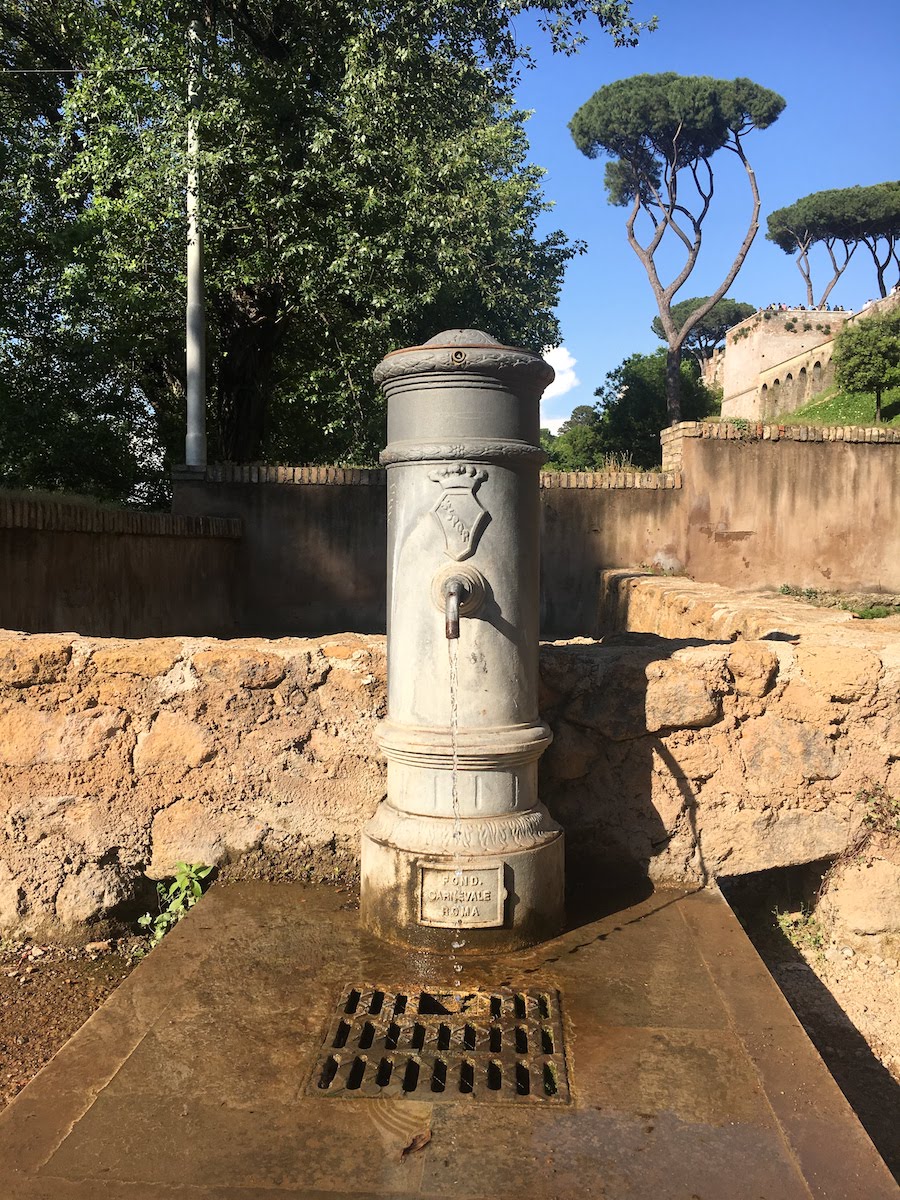 Left: We got good use of our matching umbrellas during the frequent short downpours. Right: One of many public faucets always pouring out water throughout Rome–guess they don't have a drought to worry about!
---