6 Jun 2018
Venice: Our Last Stop in Italy
After our experience in Rome, we were a bit wary of arriving in Venice and enduring the same level of over-crowding given how popular a destination it is. While it is certainly busy, and the tourist core is overflowing at times, we were pleasantly surprised by how easy it was to escape the crowds and find areas to wander through and eat where we felt almost like locals. Overall, we enjoyed our stay in Venice quite a bit more than expected, though after four days of exploring we were ready to board our train over the Alps into Switzerland.
We stayed at a perfectly-located Airbnb in the San Polo area of Venice, between the train station and the Rialto bridge. We were a ten-minute walk from anything, but also a bit removed from the most densely visited areas which was great to escape back to during the afternoon heat.
What We Did in Venice
Tourist Sites
…not much! After packing so many big sites into our itineraries in Rome and Florence, we took a much more laid back approach to Venice and just aimed to enjoy the environment as much as possible. We did not do a Gondola ride, since 90+ USD for 30 minutes is too insane for us to even consider (and the long lines of them slowly moving through the canals nose-to-tail didn't make it look too appealing either)!
We did do a ton of walking–36 miles in total over four days–so passed through Piazza San Marco a couple of times and saw the crazy lines to get in to the encircling Basilica and museums, further confirming our choice to skip all those entries.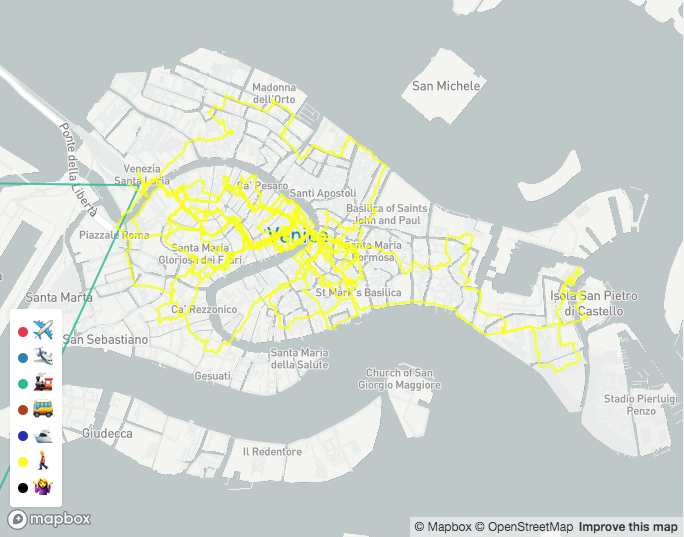 Our walk tracks from our time in Venice. Zoom in on any city we've been to on the homepage map and see every walk we've taken!
On our first morning, we took a Venice Free Walking Tour that focuses on less touristy neighborhoods and aims to give you information about the city and community as a whole, rather than about the most popular landmarks you can easily read about on your own. Our route took us across northern Venice, ending in the Jewish Quarter which still shows vestiges of a strict segregation of Jewish residents in Venice hundreds of years ago.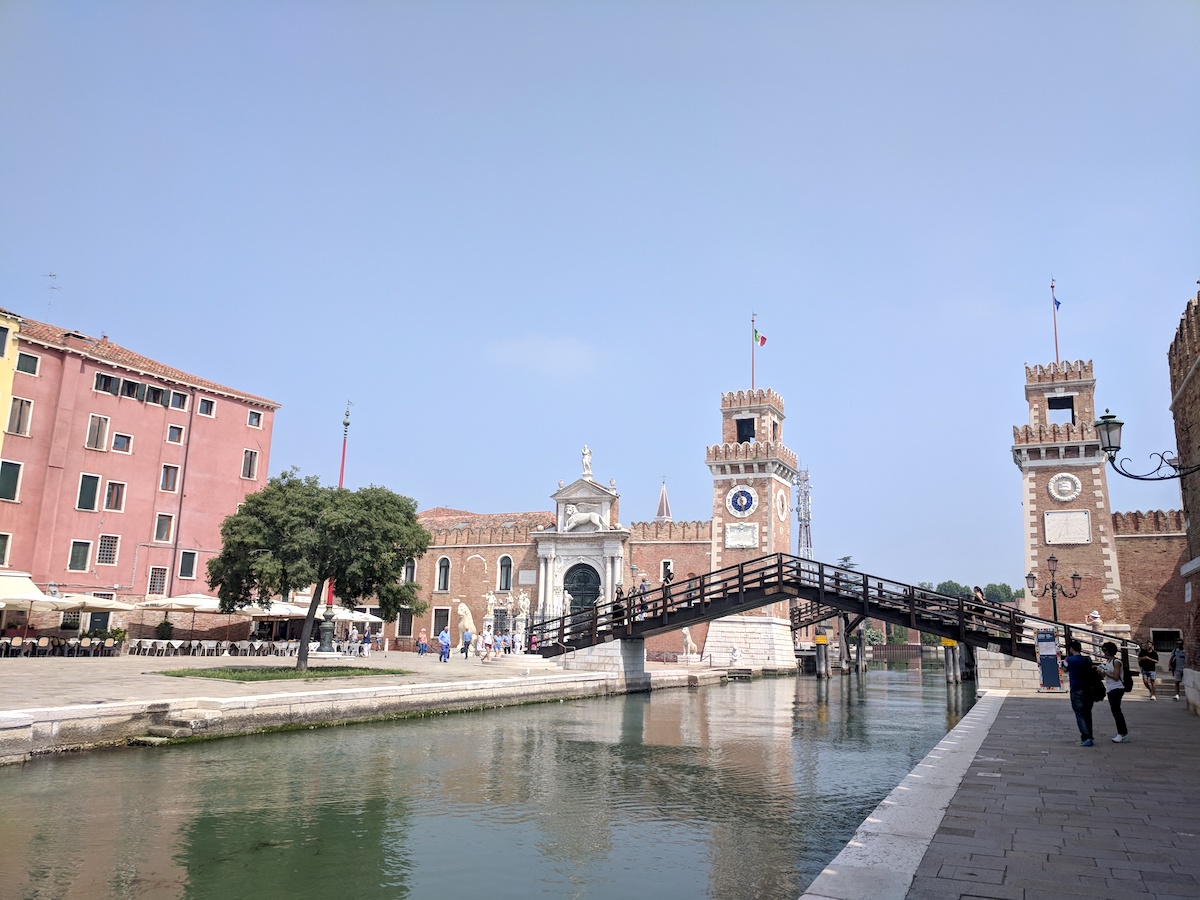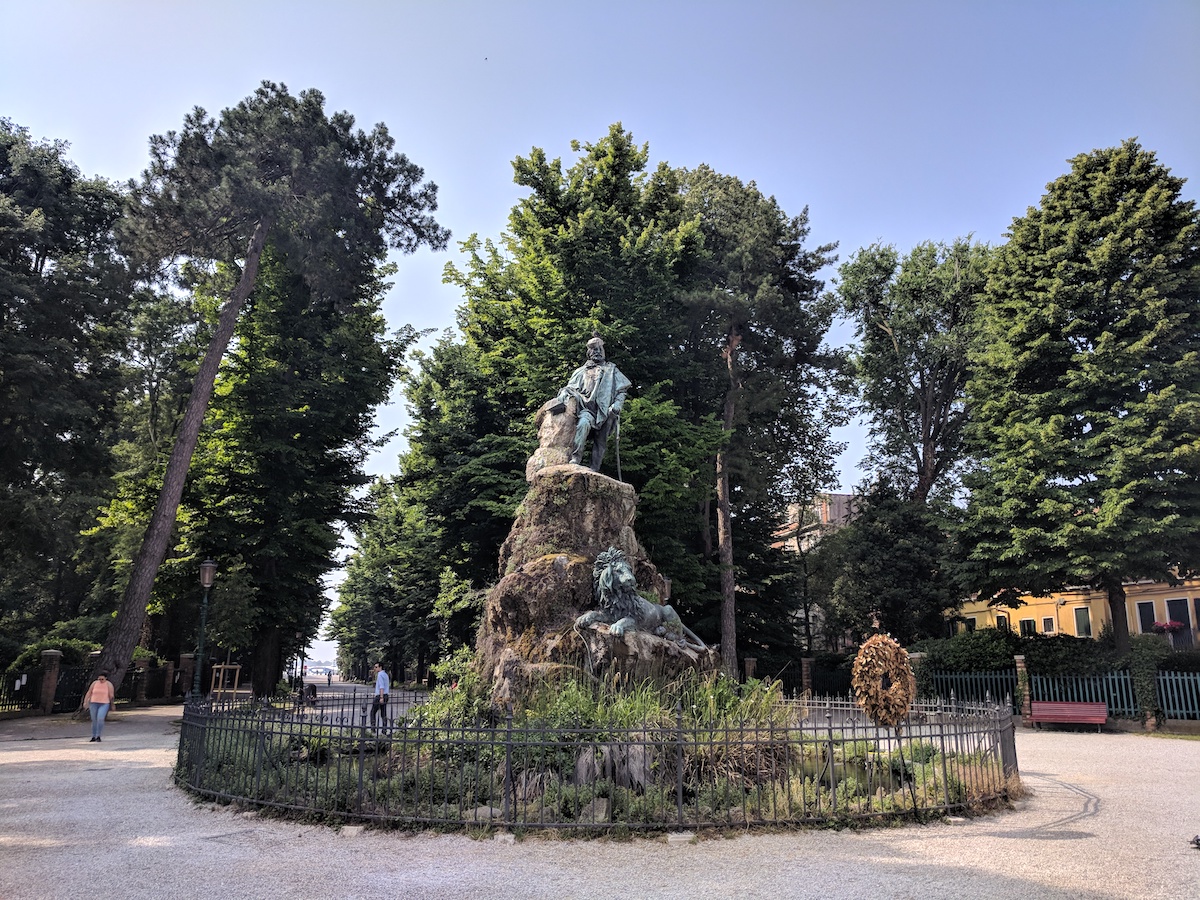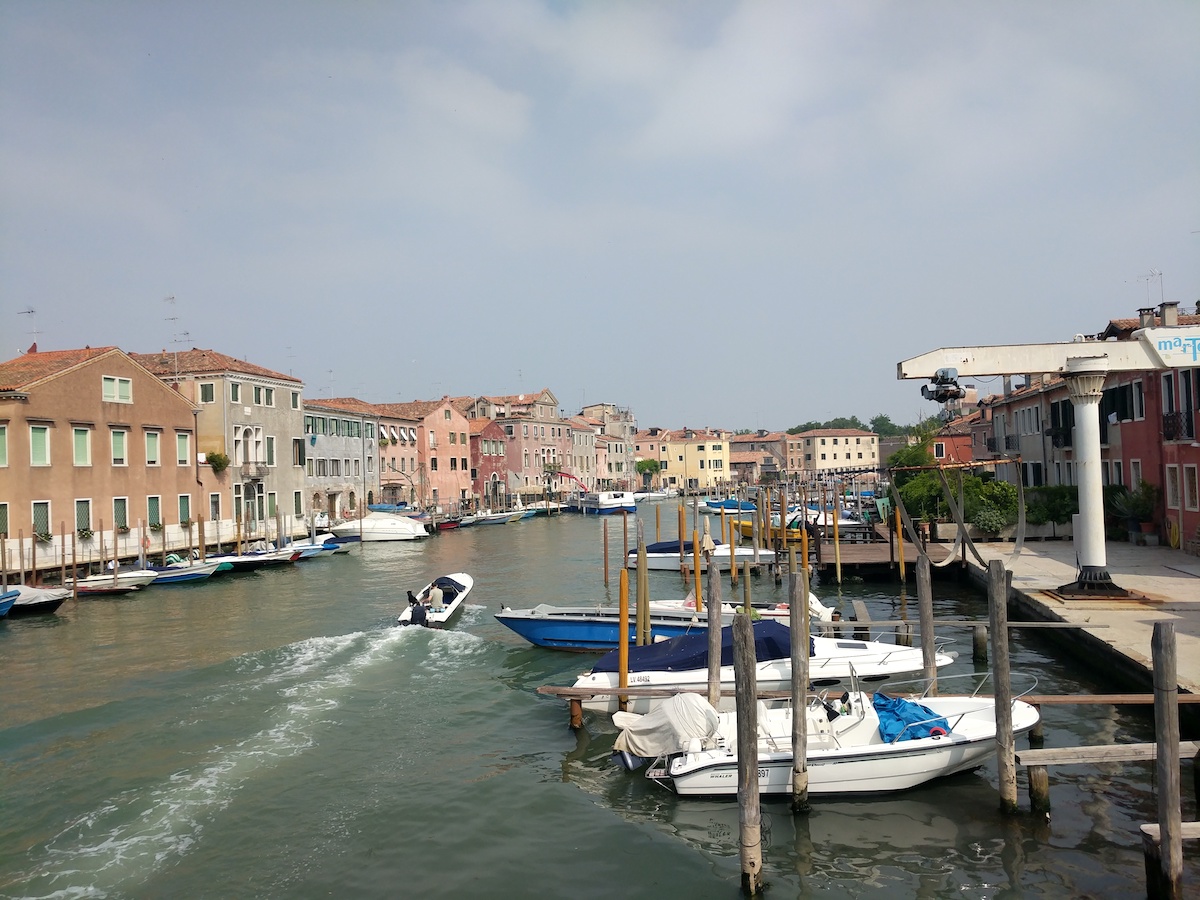 In the Castello area of Venice, just a 15-minute walk from San Marco but completely empty of tourists.
The rest of the time we purposefully took long, looping routes to get to restaurants we wanted to try and sought out the countless small squares (Campos because they used to be small fields of crops and grazing land for cattle) far from most tourists' radars and full of laughing, playing local children. I think if I were on a cruise ship that stopped in Venice and had only a day to spend in the tourist core I would have come away thinking it was awful, but having the time to explore lesser-visited areas made me really appreciate it all.
Pizza, Pasta, and More
Ordered roughly from the place we enjoyed the most to the places that were more average, it's worth mentioning our meals at:
Cantina Do Mori - Venice's primary contribution to the wide array of Italian food specialties is Cicchetti, which are small single-piece servings of traditional snack food like salted cod, meatballs, cured meat, and cheese. Don't call them tapas in front of a Venetian, but same idea. Our Airbnb was near this place, which is supposedly the oldest Cicchetti bar in Venice, and it was so enjoyable that we ended up going back for a second visit. Their wine selection is impressively board, not too expensive, and combined with really great, enthusiastic service of the type it is normally hard to find anywhere in Italy. Don't expect to stay too long as its meant to be an all-standing experience, but you won't feel rushed at all as locals flit in and out for a single drink and a couple of bites to eat.
La Zucca - One of my goals while in Venice was to have a good, freshly-made lasagna since I hadn't ordered one anywhere else in Italy. La Zucca is known as a really good restaurant for vegetarian food and is very popular so we were only able to get a reservation for lunchtime. Everything was very tasty, though I felt my eggplant lasagna was the clear winner, due to how deep the flavor of its cheese was. Amy would probably argue that her dish of roasted artichoke hearts was actually better, and it was definitely good.
Bigoi - After almost a month in Italy, including nearly two weeks with Shannon when we were indulging more than usual, both our budget and our waistlines needed a bit of moderation, so we headed to this take-out pasta place we had walked by on a meandering evening stroll. At just 5-6 Euro and enough of Venice's traditional extra-thick spaghetti to fill us up, it was a bargain. The best part was taking it to Piazza San Rocco, right nearby, and enjoying a great violin player while we ate.
Bacaro Quebrado - One of the experiences we had been searching for throughout Italy was a proper Aperitivo. Similar to happy hours back home, these are afternoon bar specials, but with the norm being that the purchase of a drink gets you access to unlimited food at a small buffet. We went to a poor imitation of this concept in Rome and despite Florence supposedly being full of them never found one that looked right. We happened to wander past this place and immediately decided to come back the next evening for their "Aperi-cena" and are happy we did. The owner is really energetic, clearly loves what he does, and we had a great time sitting outside, sipping our drinks, and filling up on included pasta and sandwiches. At just 8 euro a person for two drinks and a light dinner, its a deal that can't be beat in Venice!
Al Chianti - I had been on the lookout for good carbonara–the only one I'd had in Italy was an oddly-eggy version in Rome–and found some strong recommendations for this restaurant, which we decided to try even though it is suspiciously close to Piazza San Marco and all the overpriced tourist restaurants that come with it. It ended up being a good choice–rarely for the area they don't charge a "table" fee or service fee–and my carbonara was great. Amy and Shannon split some salad and a squid ink pasta, which was a lot more inky than they expected, though still quite good.
Birraria La Corte - Our final lunch in Venice, after seeing Shannon off to the airport, Amy and I went to this beer and pizza place in an old brewery in the very-relaxing Piazza San Polo. Everything was good, but of course the pizza couldn't compare to what we had in Naples.
Limoncello - Ever since I first tasted it while living with a well-traveled campaign supporter one summer during college, I have loved limoncello. Amy and I have even made our own at home, soaking lemon zest in high-proof alcohol for long enough to capture the flavor and then diluting it with water and sugar. I was really excited to try real Italian limoncello and ended up disappointed. Everything we had was too alcoholic, making it unpleasant to sip, and seemingly defeating the point of a nice apertif. Oh well!
Gelato and Tiramisu
After having the best Gelato ever in Florence, we were inevitably let down by the options in Venice, though of course that's not to say they were actually bad!
Suso - This shop had come recommended to us because of a specific specialty flavor they have: Opera, hazelnut ice cream with a swirl of nutella and a sprinkling of chocolate chips. That flavor was very good, but unfortunately everything else they had was a bit of a let down.
Fantasy Gelato - We tried this shop, much closer to Piazza San Marco and its crowds, and thought it was slightly better than Suso but also nothing to get too excited about after how spoiled we had been with good gelato elsewhere.
I Tre Mercanti - Amy had somehow gone through almost a month in Italy while wanting some tiramisu without actually getting any (possibly because of the huge portions of pasta and pizza that made ordering dessert impossible). We found this place after a bit of Googling and appreciated that they had pre-made tiramisu ready-to-serve, as opposed to being a full restaurant. Amy reported that it was very good, while I of course stayed away because of its coffee-soaked lady fingers.
How We Did with Our Budget in Venice
For our time in Venice, we had budgeted as much as 85 USD a night for accommodations. In general, everything was super expensive, especially considering we needed a place big enough to fit Shannon as well. We considered staying on Giudecca, across a canal from the main area of Venice and requiring a short boat trip back and forth, but decided it wouldn't end up saving enough money and booked a nice apartment in San Polo instead. The location was absolutely perfect for us, close to everything but out of the busiest areas. At 137 USD a night for our share it was definitely a splurge, but to stay under budget we'd probably have to have skipped Venice altogether.
We had also budgeted 15 USD per day per person for food and 20 USD per day per person for entertainment. Out of that planned 70 USD total, we ended up spending 80 USD per day on average, with the biggest expenses being our lunches out. Overall we ended up going about 250 USD over budget total for our time in Venice, the most of any destination we've been to on this trip. Luckily we were able to offset some of that by getting much cheaper than expected train tickets onward to Basel and are still at a surplus overall for the trip to date.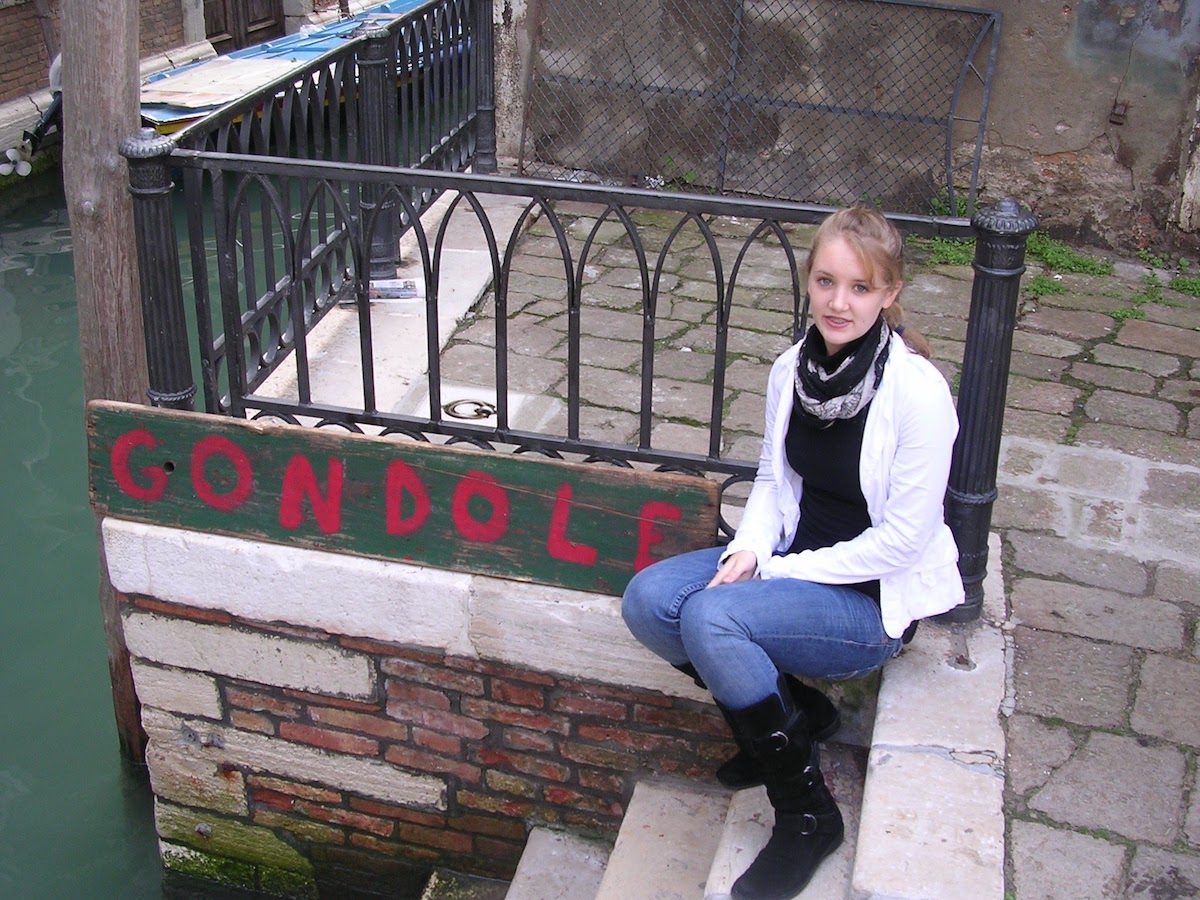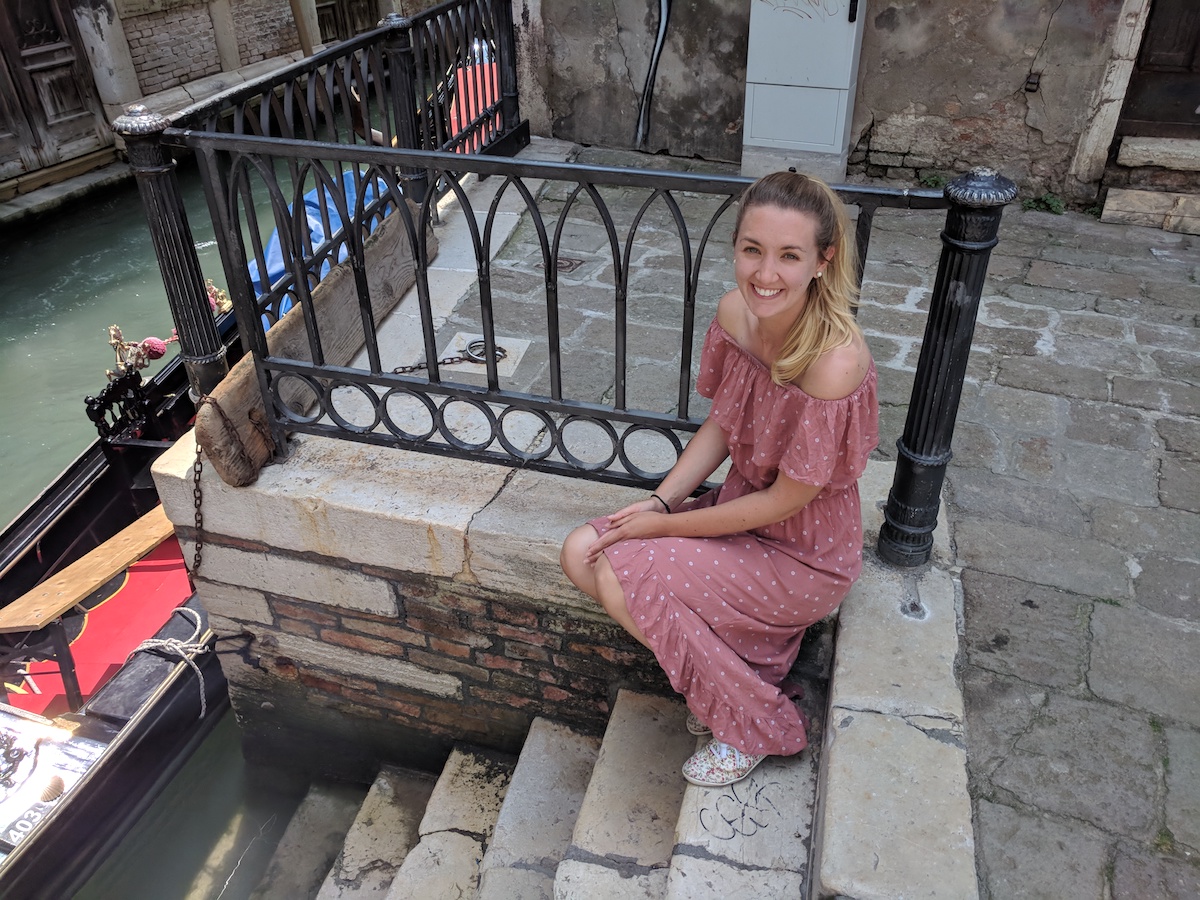 Amy managed to find the exact same spot she had taken a photo nearly 14 years ago–though the Gondole sign is a bit worse for wear!
---