11 Jun 2018
Salzburg: The Hills Are Alive
When I lived in Vienna, I made a couple of trips to Salzburg and the area around it. I remembered the school hiking trips, beautiful blue lakes, and looming mountains but I didn't remember very much about the actually city of Salzburg. We were very pleasantly surprised at how lovely it was to walk around and how accessible the region around the city is by bus.
We stayed at an unbelievably convenient Airbnb just steps from the main train station, so it took us about five minutes to get from our train to inside our apartment and allowed us to have a very leisurely morning before our train to Budapest. We were on the other side of the river from the Old Town but it was an easy 20 minute walk that we made most days.
What We Did in Salzburg
Tourist Sites
Salzburg is the home of Mozart and the Sound of Music. You cannot turnaround without being confronted with the face of Mozart staring out from mugs, shirts, and candy or of Maria from the sound of music from bike tours, bus tours, and walking tours. We skipped all things related to both of these famous contributions to the world (except for Mozartkugel, the chocolate and marzipan candy that I treated myself to from the grocery store because there are exactly the same as the ones all the tourist shops sell but much cheaper). We did do a self-guided walking tour through the Old Town to visit a few of the many churches, climb the stairs up to the fortress that looms over the city (though we decided not to go in because we felt it wouldn't be worth the admission for our level of interest), and browsed through the markets set up in the squares. The Old Town also is home to Mozart's birthplace where you'll see groups of tourists outside snapping pictures.
The best thing we did in the Old Town was take a walk from the fortress, after climbing a few flights of stairs to get up to it, along the hillside to the Museum der Moderne Monchsberg. There is an elevator at that point, which you can take down for a few Euro per person but it is an easy downhill walk back to the pathway by the river. Walking along the hillside give you great views over the city and the trail was easily manageable even in my sandals.
The Old Town overall is easily walkable and you can pretty much see everything in a day, even if you don't want to pass up the Sound of Music Tour or a visit to see Mozart's home.
On the other side of the river, the main attraction is the Mirabell Gardens, which are featured in a scene in the Sound of Music and attached to Schloss Mirabell. The gardens are fairly small but a lovely place to sit in the shade and people watch.
Hiking at Mondsee
I had originally planned to do two day-hikes from Salzburg but between the threat of rain and how tired we were after the first one, it didn't work out. The one hike we ended up doing was at Mondsee, about 45 minutes by bus from Salzburg. We were able to get the 140 bus directly in front of our Airbnb and take it almost to its terminus. The drive was scenic and so we didn't mind the time it took to get there.
Once in Mondsee, we stopped at the promenade on the lake so I could show off the beauty of the lake to Nate and justify why I had dragged him so far from Salzburg. The lake district in Austria is amazing and no matter which one you visit, you won't regret it. One day I would like to spend a month doing a bike tour just around the lakes in western Austria. The promenade was fairly quiet on a Thursday morning aside from a handful of tourists and a mommy-and-me exercise group working out in the grass. It offers great views of the mountains surrounding Mondsee, views across the water, and free public toilets. All good to have.
After enjoying the view, we started a hike toward St. Lorenz. We walked along the R2 bike path and quickly realized we should have rented bikes because we were the only people on foot. The bike path winds through a few neighborhoods away from the busy road and takes you along the water and through some fields to the beginning of trail 20 in St. Lorenz. Form there, we climbed into a forrest where we spent about an hour on the trail through the woods with occasional overlooks of the lake below. After walking in the sun through the fields, the shade of the forrest was a welcome reprieve.
The trail loops back around to the R2, so we were able to take it back into town to get a bus back to Salzburg, though we did manage to get caught in the afternoon thunderstorm right as we got back to town, at the end of about 11 miles of walking.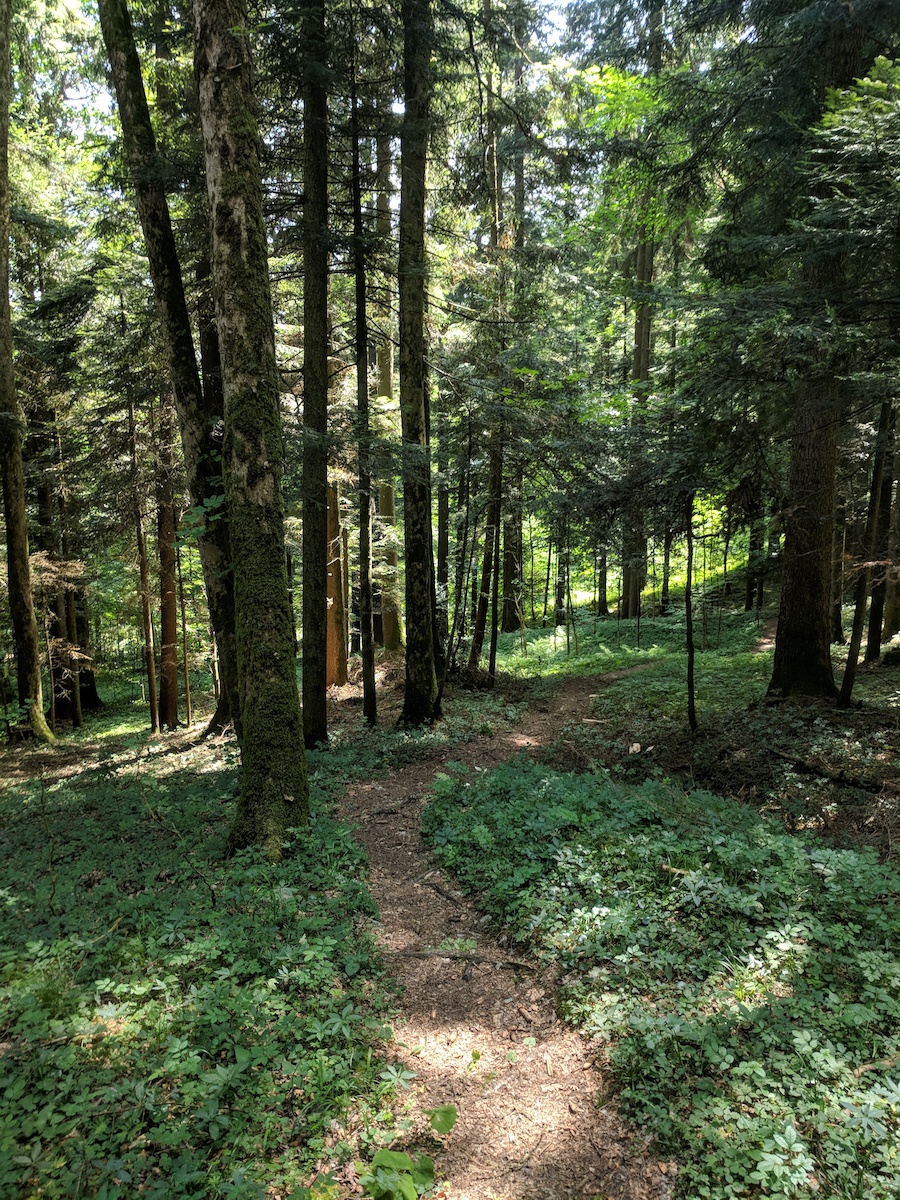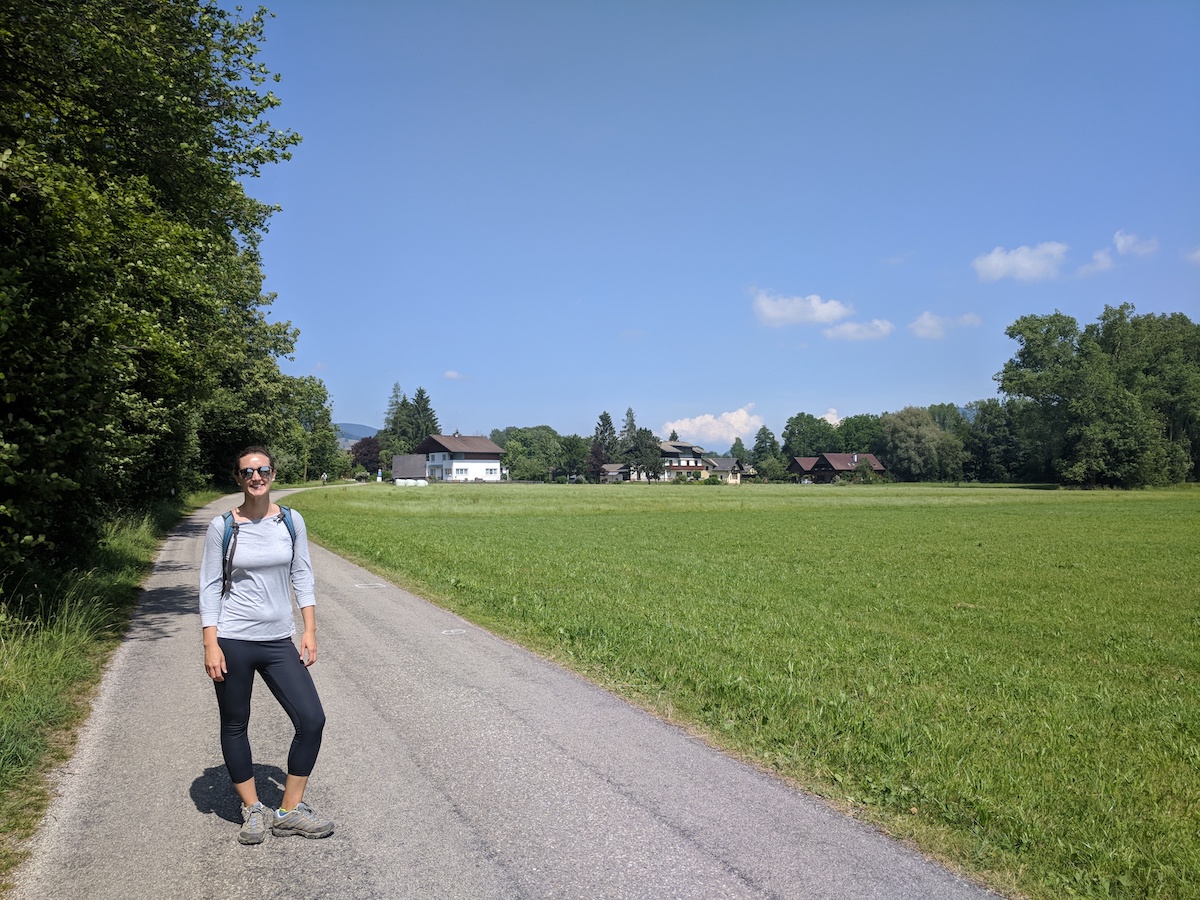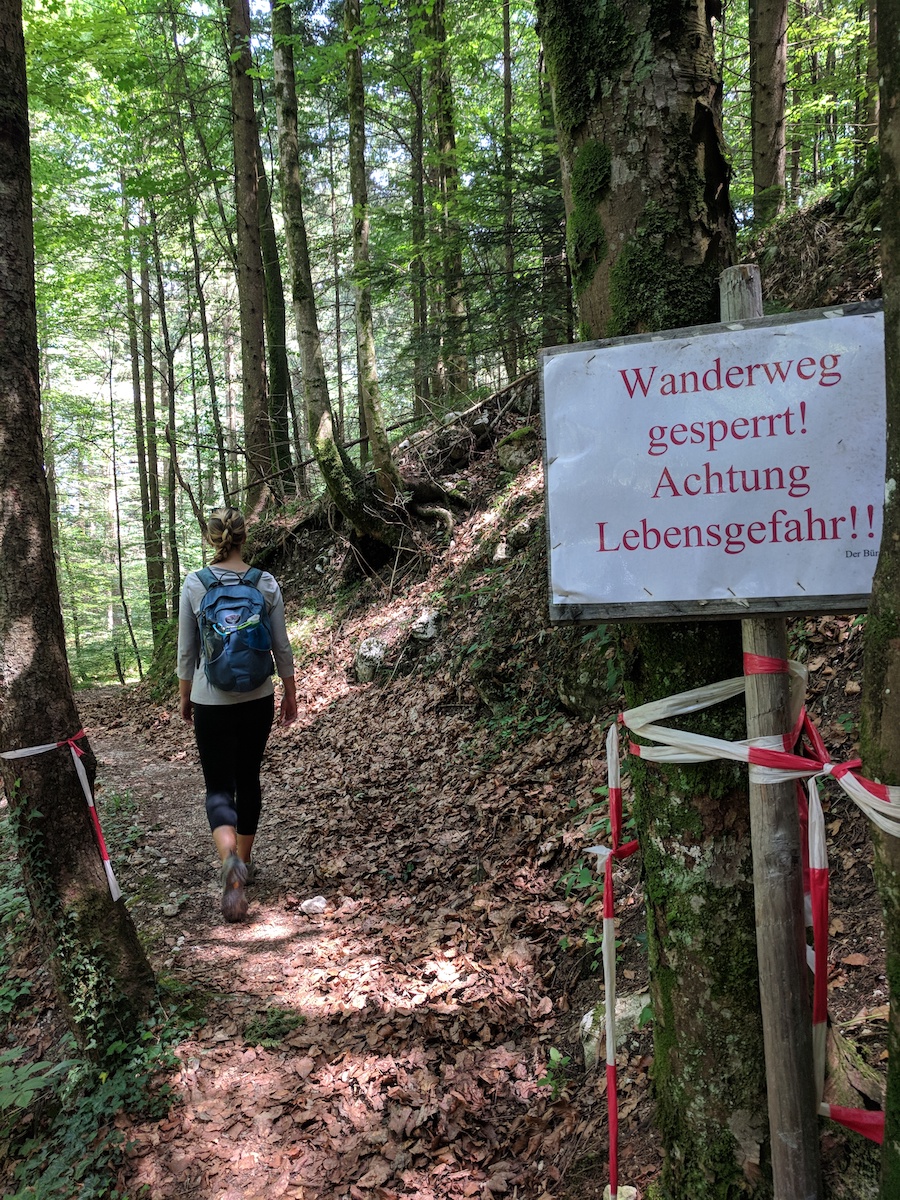 Hiking in Mondsee. The sign that warns about danger was on a trail that was probably dangerous when it was raining but when dry it was perfectly fine.
There are so many opportunities for hiking around Salzburg that choosing just one place was really difficult. Mondsee isn't the best hiking destination, unless you want to summit the mountain, which was more than we were prepared to do. I liked it because it didn't require a bus transfer and it wasn't too far away. Still, if I had spent more time researching I probably would have found a better hike that was less paved bike path and more natural trail.
Beer Gardens
One of my favorite things in Austria is their beer gardens. They are so much more superior to any imitation that we have in DC that it makes me so happy to get back to one.
In Salzburg we visited two, though one we returned to twice. The most popular one in Salzburg is Augustinerbräu, which is inside an old monastery. It is huge with a large garden that seems like it could possibly accomodate the entire population of Salzburg at one time, though it would be cozy.
Rather than table service, when you arrive you pay for the size beer you would like, grab a beirstein from the shelf, rinse it out to make sure it's nice and cool because the rapid turnover means mean are hot from the dishwasher, and then pass it off to a man behind a counter to be filled. This is not a place for picky beer drinkers. There is one kind of beer. It's what you'll get and you'll like it. There are non-alcoholic drinks and Radler (beer and lemonade) available though. Once you get your beer, you head out into the garden to grab a table, visit some of the many food stalls, or dig into the picnic you brought for yourself. The first time we visited, around 6pm on a Friday, we were easily able to grab a table to ourselves in the garden. It had recently rained so we had to dry off some seats but compared to the crowds we faced when we returned on a sunny Saturday afternoon, the place was quiet.
Beers are also very reasonably priced with a half liter costing a little over 3 Euro and a full liter just over 6 Euro.
On Saturday afternoon, it was beautiful outside and clearly the perfect time to visit the beer garden. Almost all the tables outside were packed. We skipped from table to table trying to grab seats. First we joined one couple, only to find that the woman was smoking like a chimney and so we had to abandon that table. The next one was only free until friends joined the couple that had staked it out. Finally we found two seats with some other tourists who were not smoking.
One of the things that continually surprises me when I'm in Europe-at least in Italy, Switzerland, and Austria-is how much smoking is done. Anywhere you sit outside you're at risk for lots of second hand smoke and you also see about every 3rd person smoking as you walk down the street. I had gotten so used to there being very little to no smoking around me in the US that I was not prepared for how wide-spread it is.
The other beer garden/restaurant we visited was Die Weiss, which was tucked away on our side of the river and much more of a local haunt. They had a sizable garden, though nothing compared to Augustinerbräu and many more choices when it comes to the beer. We were also able to get a Weinerschnitzel with potatoes and cranberry sauce, which was one of my favorite special treats when I lived in Vienna. The food is definitely better at Die Weiss and the atmosphere is much more laid back. If the crowds at Augustinerbräu overwhelm you, then head here to enjoy a meal and plenty of good beer.
How We Did with Our Budget in Salzburg
For our time in Salzburg, we had budgeted as much as 85 USD a night for accommodations. Our conveniently located Airbnb ended up being just over $91 but the extra cost was definitely worth how easy it was on arrival and departure.
We had also budgeted 15 USD per day per person for food and 20 USD per day per person for entertainment. Out of that planned 70 USD daily total, we ended up spending 50 USD per day on average, with the biggest expenses being our bus tickets to Mondsee at just over 37 USD for the two of us. Overall we ended up being about 160 USD under budget total for our time in Salzburg, though that was mostly because our onward train tickets to Budapest were much cheaper than we had originally predicted since we bought them well in advance.
---