21 Jun 2018
Budapest: Heat in Hungary
We arrived in Budapest straight from Salzburg and were immediately hit by how much hotter it was across the border. Leaving the mountains meant going from highs in the low-80s to the upper-80s and those 5-10 degrees really make a difference. Despite being the place Amy most frequently visited on school sports trips while she lived in Vienna, she hadn't really had a chance to explore the city properly since they were always on a schedule. Some parts felt familiar to her but most were as new to her as they were to me.
We ended up taking a pretty laid back approach to our time in the city, as we knew we were about to fly to North Carolina for a whirlwind few days to celebrate Amy's sister's wedding and didn't want to end up too exhausted. We ended up skipping the thermal baths because soaking in hot water, no matter how lovely, sounded like the worst thing we could do after a sweaty walk around the city and the "ruin" bars in formerly-abandoned buildings because we just didn't feel like making the effort to experience them. Sometimes, when you've been traveling for this long, you have to know when not to push yourself to check off everything on the "must do" list.
We stayed at an Airbnb in the Ferencváros area, just south of downtown. It was walkable to most of the sites, and was right by the main trams running through the city and up to Margitsziget Island, which ended up being super convenient. The downside was that like many places in Europe air conditioning is not a regular feature of buildings. We had a small fan and spent a great deal of time and energy trying to maximize the cool air coming into the apartment in the morning and evening. This experience made us miss our regular access to air conditioning in SE Asia, glad that we are headed north for the next few weeks, and left us dreading the heat we will face in Paris in August.
What We Did in Budapest
Food!
Budapest is not generally known for its food scene but we were pleasantly surprised by the diversity of options and how affordable it was to get some Hungarian classics.
Tuning Bar&Burger - On our first night in Budapest, we walked through the Gozsdu area of downtown, which centers on a pedestrian-only alleyway jam-packed on both sides with modern restaurants covering pretty much every cuisine you could want. It's all on the fancy side of what you find in Budapest, and we weren't feeling the club-volume music, so we kept walking until we got to Tuning, which is a burger and beer place a few blocks away that we had read about. We lucked into one of their last un-reserved tables and loved what we got: me a traditional beef burger and Amy a goat cheese "burger." Both were amazing, definitely the best burgers we've had outside the US.
Molnár's Kürtőskalács - Kürtőskalács–spirals of buttery dough rotisserie grilled and smothered in cinnamon sugar or chocolate–are a Budapest speciality and we did not want to miss out. Molnár's is supposedly the best around, and they definitely looked better than all the carts we walked by selling them. We went as a mid-morning snack so were able to get table service inside, meaning hot, fresh kürtőskalács instead of the cooled ones they sell for those getting them to-go. They were really good, though cinnamon was a bit better than chocolate to our tastes, and surprisingly filling.
Frici Papa - We did want to have some traditional Hungarian food while we were in Budapest, even though rich soups and meat didn't sound super appealing given how hot it was while we were there. We were very happy with our choice of restaurant, which was full of locals but had an English menu we could order from, and I had a really fantastic beef goulash. Similar to our experience in Italy we were amazed at how much some of the locals could eat in one sitting: a beef goulash, some potatoes, then a chicken dish, vegetables, and a small dessert–plus lemonade!
Istanbul Restaurant - We happened to walk by this place on our way out of Tuning and immediately marked it on our map: their falafel, hummus, and doner looked amazing when we walked by and ever since our time in Jordan we have been craving more mediterranean food. We went back a couple days later and were happy we did–not the least because we ordered some baklava to go with our pitas and really sweeten up our lunch.
Tourist Sites
Margitsziget Island - Probably our favorite destination in Budapest, this island park in the middle of the Danube is a lovely escape from both the heat and the crowds. Trams run right to its entrance, so its easy to get to, and at over a mile long there is plenty of park to explore. Probably its most fun feature is the large fountain that does a synchronized water/music show at the top of every hour, but all of the green space farther into the park is really nice as well.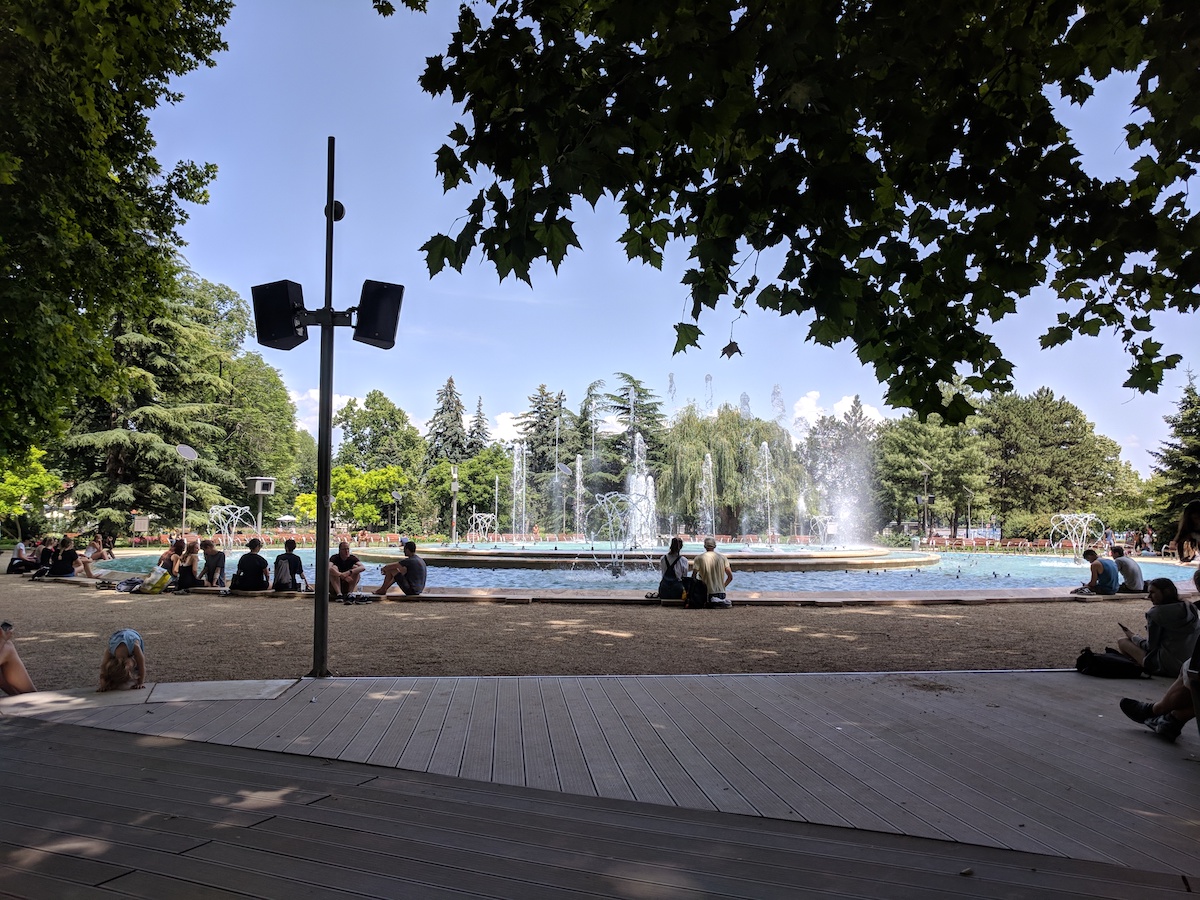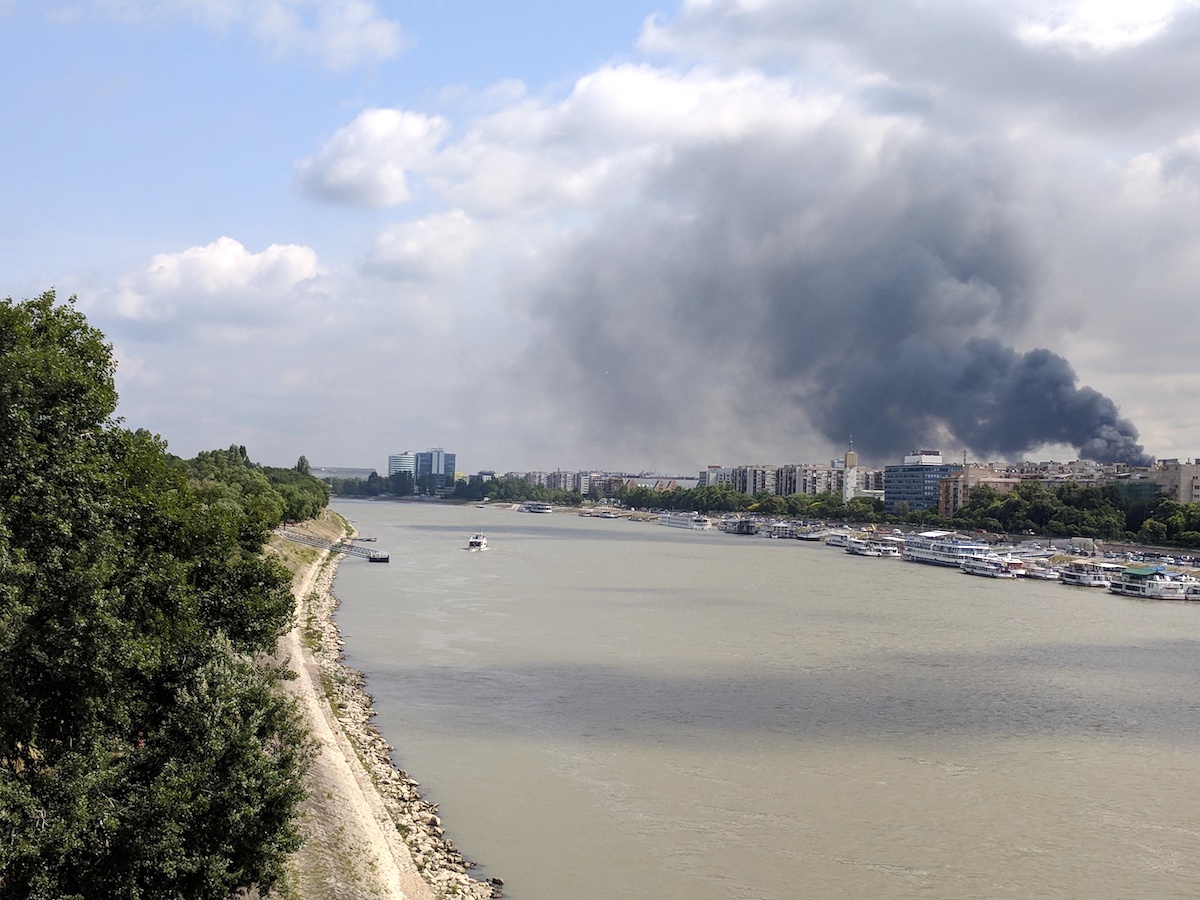 Left: The musical fountain. Right: Something big was on fire when we got to the island, never figured out what.
Fisherman's Bastion - High up on the hill running along the east side of the river, the Fisherman's Bastion has a great view over downtown Budapest and some pretty buildings to go along with it. We hiked up through the adjacent park, which was a bit more strenuous than we were expecting, but enjoyed the views throughout. We arrived after eating or otherwise we probably would have grabbed a table at the surprisingly-cheap restaurant right on the balustrade overlooking the city.
Citadella - A bit farther down the river, but otherwise similar to the Fisherman's Bastion, we again enjoyed hiking up the steep hills in the adjacent park and then getting beautiful views once on top of the ridge. We did stay long enough in the primary lookout point to notice that there was one shady bench all the tour groups ignored because it was partially behind some chainlink fence, which we then enjoyed as a place to sit and read in the breeze for a bit.
Central Market - As far as European markets go, this one was better than most we've been to, though it stills pales in comparison to all of the markets we visited in Southeast Asia. The food stalls on the north end of the 2nd floor were the most appealing, but since we were there in the morning most were still closed and we didn't end up getting anything.
Shoes on the Danube Bank - The final site we visited before departing Budapest was this memorial to those murdered during WWII, who would often be lined up on the river bank, told to strip, and then shot, falling straight into the river where their bodies would be carried away. The memorial is a long row of metal shoes along the edge, with candles and flowers left around them by recent visitors.
How We Did with Our Budget in Budapest
For our time in Budapest, the cheapest city we're visiting in Europe, we had budgeted only 55 USD a night for accommodations. We ended up spending only 47 USD per night for our Airbnb in Ferencváros, a residential area about a 20-minute walk from the core of downtown.
We had also budgeted 15 USD per day per person for food and 15 USD per day per person for entertainment. Out of that planned 60 USD total, we ended up spending only 41 USD per day on average since we took such a low-key approach to our time in Budapest, with the biggest expenses being our lunches out. Overall we ended up underspending our total Budapest budget by a solid amount, which we'll happily add to our Prague budget so we can book our first food tour in a while!
---