6 Jun 2018
Over the Alps on the Bernina Express
When finalizing our European itinerary we decided to change things up a bit in order to visit Basel, where Amy's parents are now based, and time things right for a quick trip back to North Carolina for her sister's wedding later this month. We knew going to Basel right after Venice was our best option, but the 8-hour train journey wasn't something we were particularly looking forward to.
Luckily, Seat61 once again came to the rescue by giving us the idea to take the Bernina Express over the Alps instead of the standard route through a long tunnel. A UNESCO-heritage-listed route with 196 bridges, 56 short tunnels, and over a mile of vertical climb in its first hour, this meant a longer journey, but a more scenic one, and also, using the trick detailed below, a cheaper one!
We really enjoyed the trip and are happy we took the time to do it.
Our Route
Once we knew we wanted to take the Bernina Express, figuring out the rest of our route was easy. The Express originates in Tirano, in northern Italy beside the Swiss border, and runs to Chur in central Switzerland.
Our final route was:
Venice to Milan by Frecciarossa high-speed rail
Milan to Tirano by regional rail
Tirano to Chur by Bernina Express
Chur to Basel by Intercity Train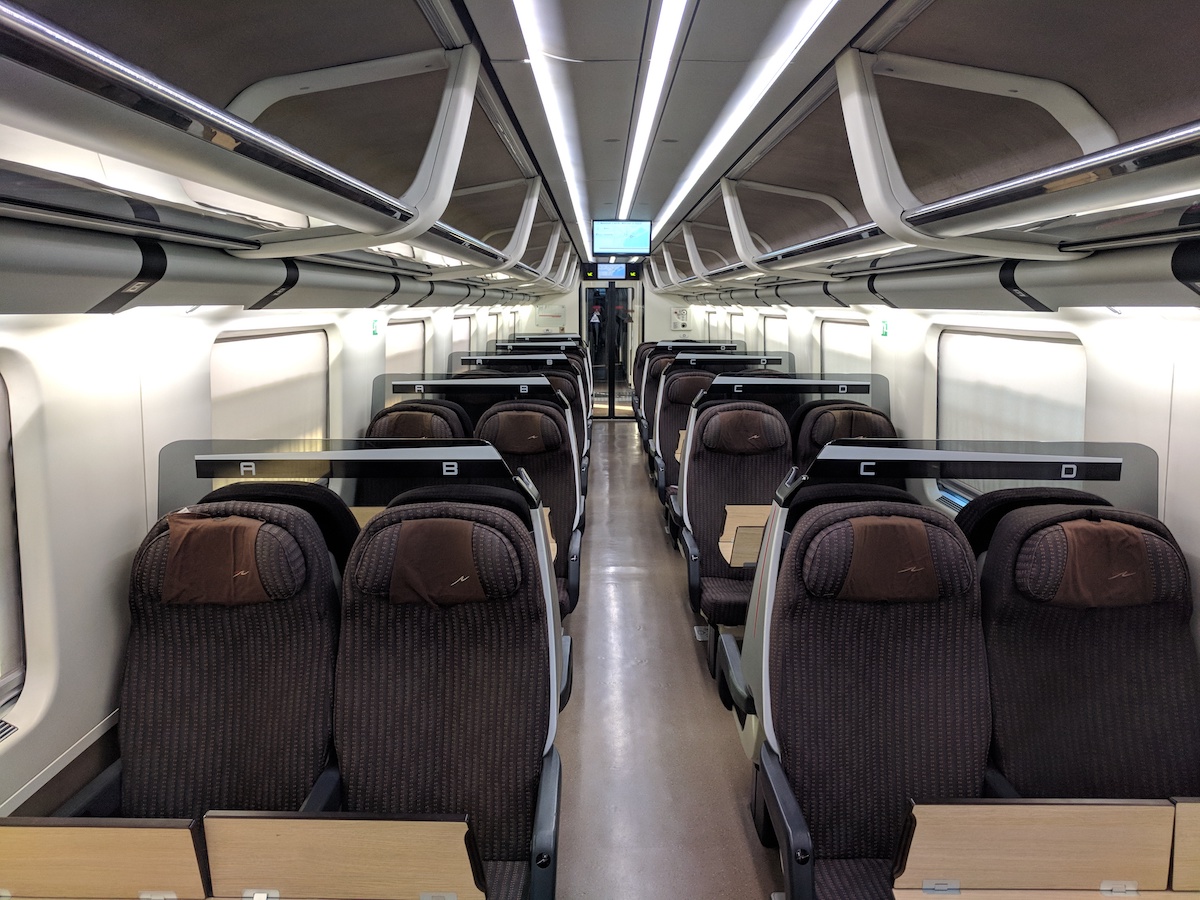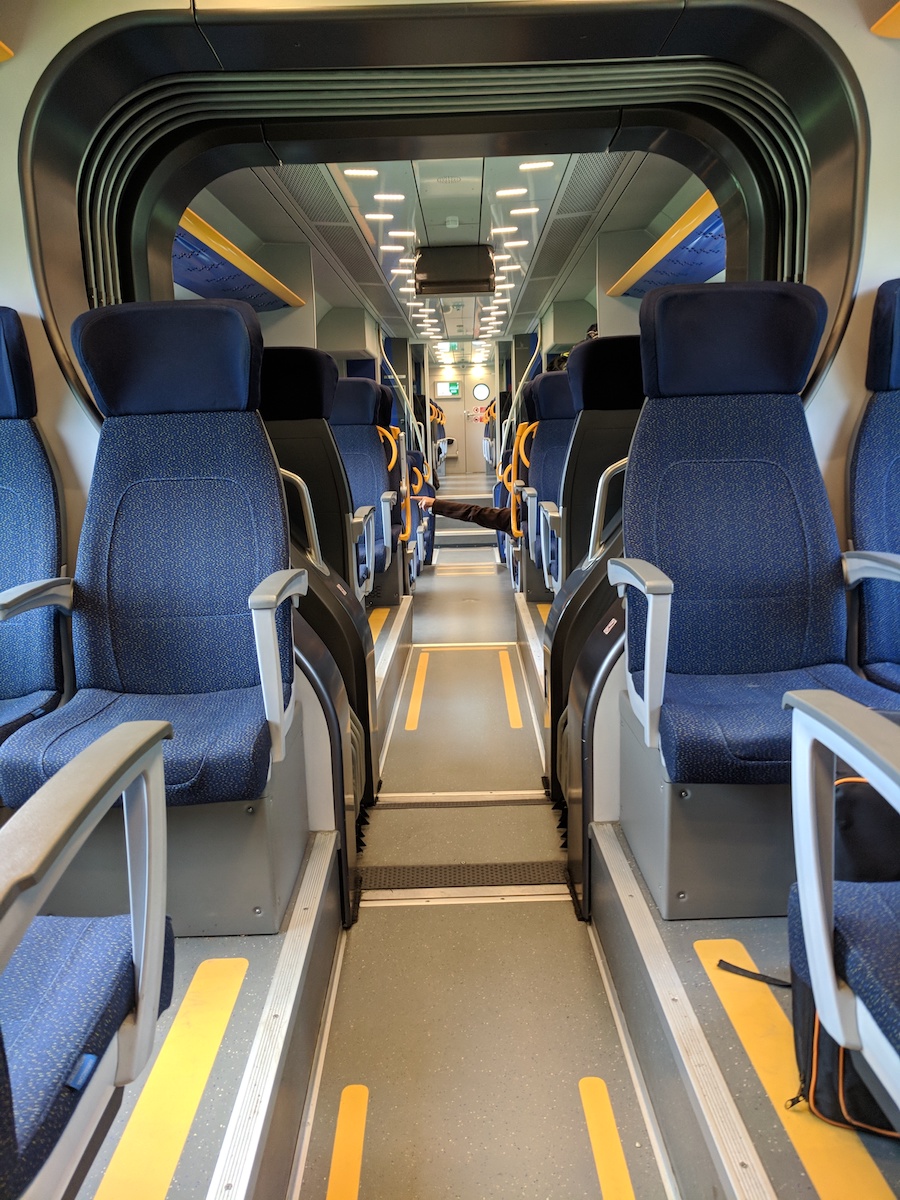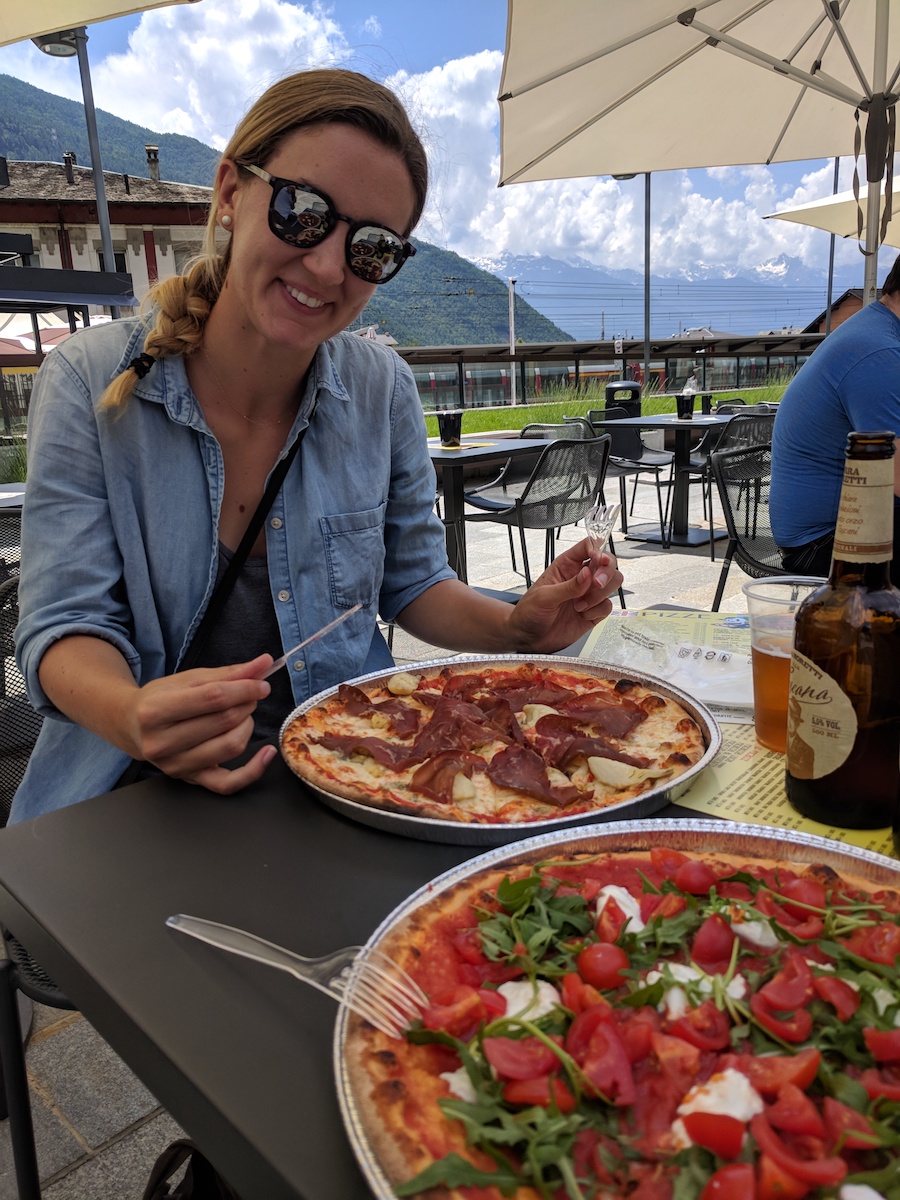 Left: Frecciarossa. Center: Regional. Right: Lunch at La Pecora Nera beside the Tirano station - delicious!
Our first train, departing Venice at 7:20am, was practically empty to the point that it felt like we had a private train car for our two-hour trip to Milan. Unfortunately that luxury ended with our change onto regional rail, which was packed up until Varenna Esino, an apparently-popular lakeside destination. We had reserved seats 61 and 62 in coach 3 of the Bernina Express, which ended up being perfect as they are the two window seats of the only 3-seat table in the cabin, and we weren't joined by anyone else. Finally, our OBB train from Chur to Basel was a sleek double-decker we enjoyed watching the sunset from.
Getting (Cheap!) Tickets
Like everything else in Switzerland, train tickets are crazy expensive. Residents all have annual cards that give them 50% off the posted rates, but visitors are generally stuck paying sky-high fares. Luckily, we were able to use Seat61's extensive instructions to book a Sparpreis ticket for less than a third of what a ticket would have cost us without this trick. We booked in two separate segments: Venice to Tirano on Trenitalia and then Tirano to Freiburg, Germany via Deutsche Bahn.
While we had no intention of going to Germany, booking a ticket to Freiburg allowed us to access their super-cheap Sparpreis Europa Schweiz tickets specially for customers traveling between any station in Switzerland (and Tirano, Italy counts for this purpose) and any station in Germany. We picked Freiburg because it was the closest city across the border from Basel, meaning we'd have change there where we could easily abandon the rest of the ticket.
We ended up paying 106 USD per person for all four train rides put together, including seat reservations in the Panoramic Coach of the Bernina Express. That's less than what you'd pay for just the Bernina Express if you weren't booking using this method!
Scenery
Amy had made sure to pack the laptop so it would be easily accessible so she could get some project work done during the four hour ride from Tirano to Chur. As it would turn out, both our sets of eyes were glued to the windows for every minute of it as the scenery gradually changed as we climbed out of sunny Italy, coasted past glaciers above the tree line, and then descended along Swiss rivers and lakes all the way to Chur. It was an incredible journey, and absolutely worth doing–and probably worth doing again in the winter to see even more snow!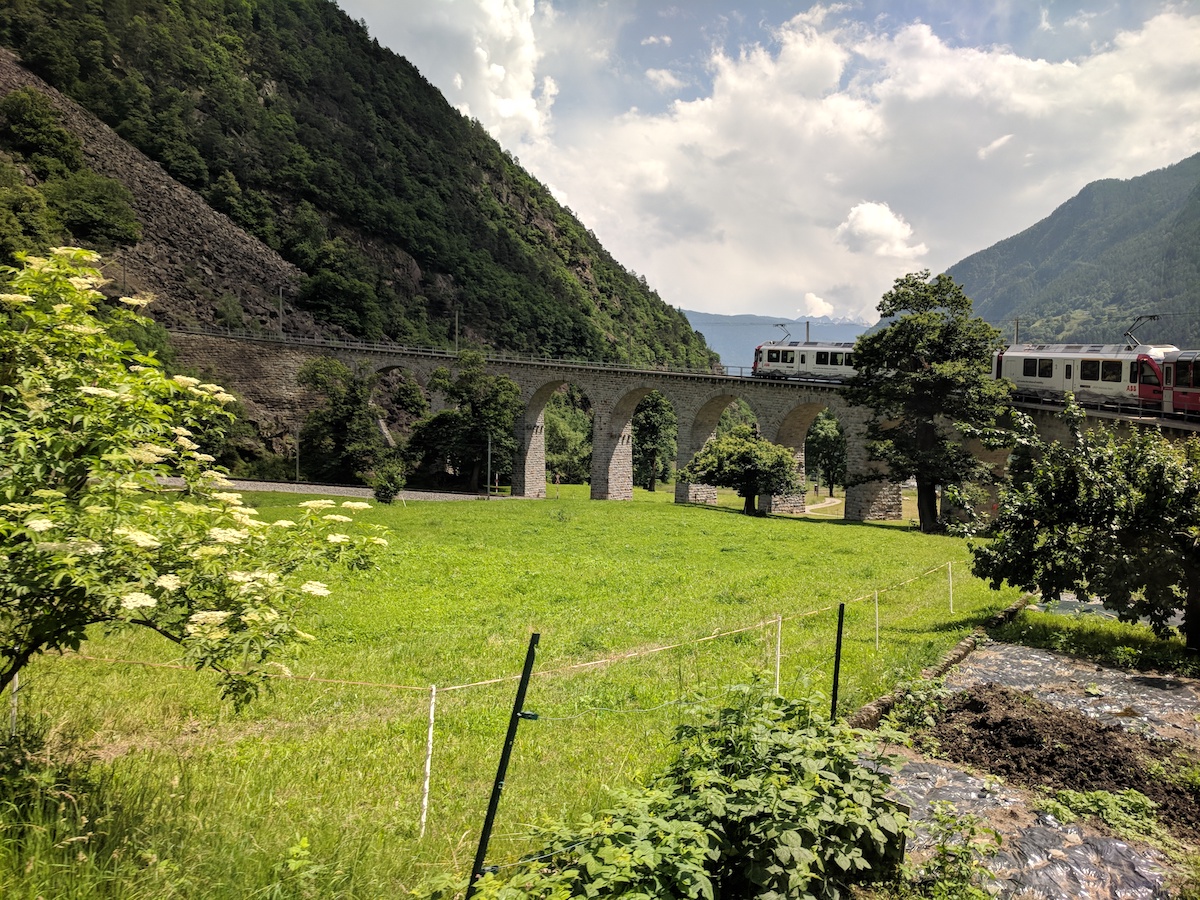 Circling up the Brusio Spiral Viaduct, where the train enters beneath one of the arches holding up its own track.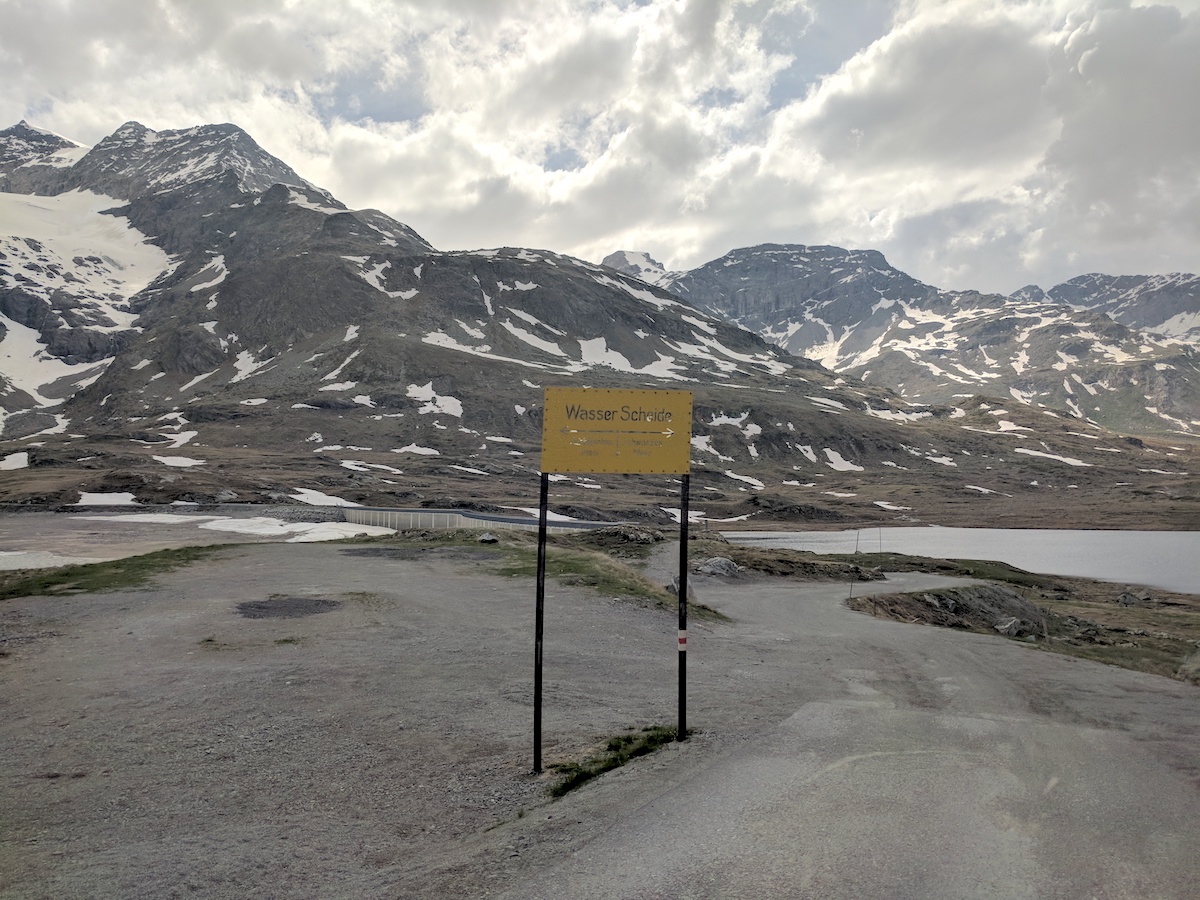 A sign marking the peak's watershed divide: water on the left flows into the Mediterranean while water on the right flows into the Adriatic.
---